This easy one pan dinner is going to change your life! Everyone will eat up their brussels sprouts if they're served roasted with chicken and mushrooms and drenched in a super delicious honey balsamic sauce. Quick & easy, loaded with superfoods, and ridiculously tasty.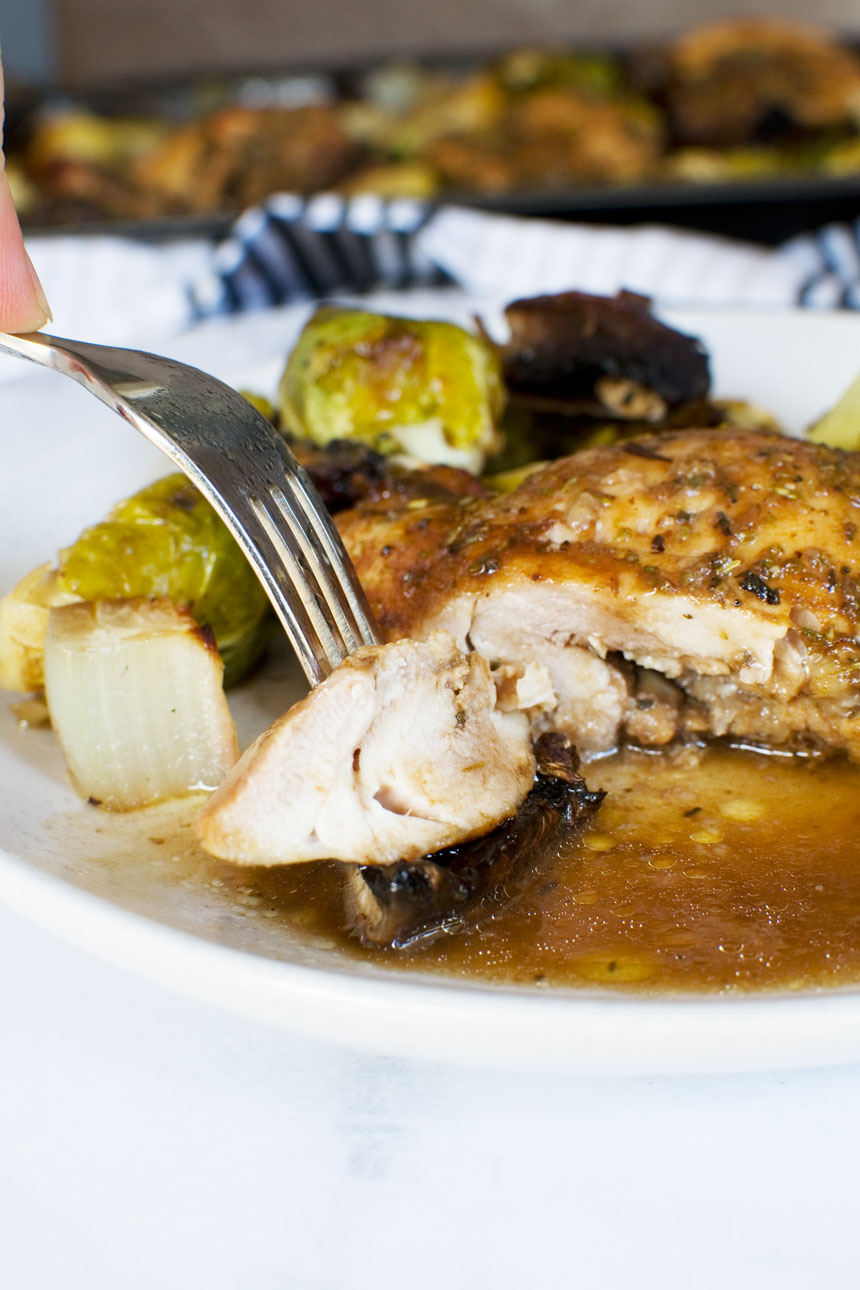 Why do most of my favourite quick and easy dinner recipes seem to involve throwing chicken thighs into a baking dish with various other veggies and flavours?
It's hard to pick absolute faves, but if I had to I'd say this easy chicken and sweet potatoes with maple orange sauce, this crowd pleasing Spanish chorizo and chicken or this amazing Greek chicken and potatoes first.
The thing is, they're crowd pleasers, they include HEALTHY and DELICIOUS roasted veggies, and of course they're SUPER QUICK & EASY. This honey balsamic chicken and brussels sprouts is certainly no exception.
Why you'll love it
This chicken traybake is a perfect easy weeknight dinner recipe for the following reasons (unless you happen to be a brussels sprouts or mushroom hater… and if so, I dare you to try this all the same!):
It's a skinless boneless chicken thigh recipe = super easy, affordable lean meat option.
It includes super healthy brussels sprouts, mushrooms & onions!
It's a sheet pan meal/traybake, which means minimal dishes to clean up.
It's incredibly easy to prepare. Just marinate the chicken in the sauce, then throw it onto a sheet pan with the veggies.
It's ready in a little over 30 minutes.
The honey balsamic sauce is absolutely divine – I can't imagine anyone not liking it!
If you're interested in finding tastier ways to serve super healthy green vegetables like brussels sprouts, then I'd highly recommend this recipe.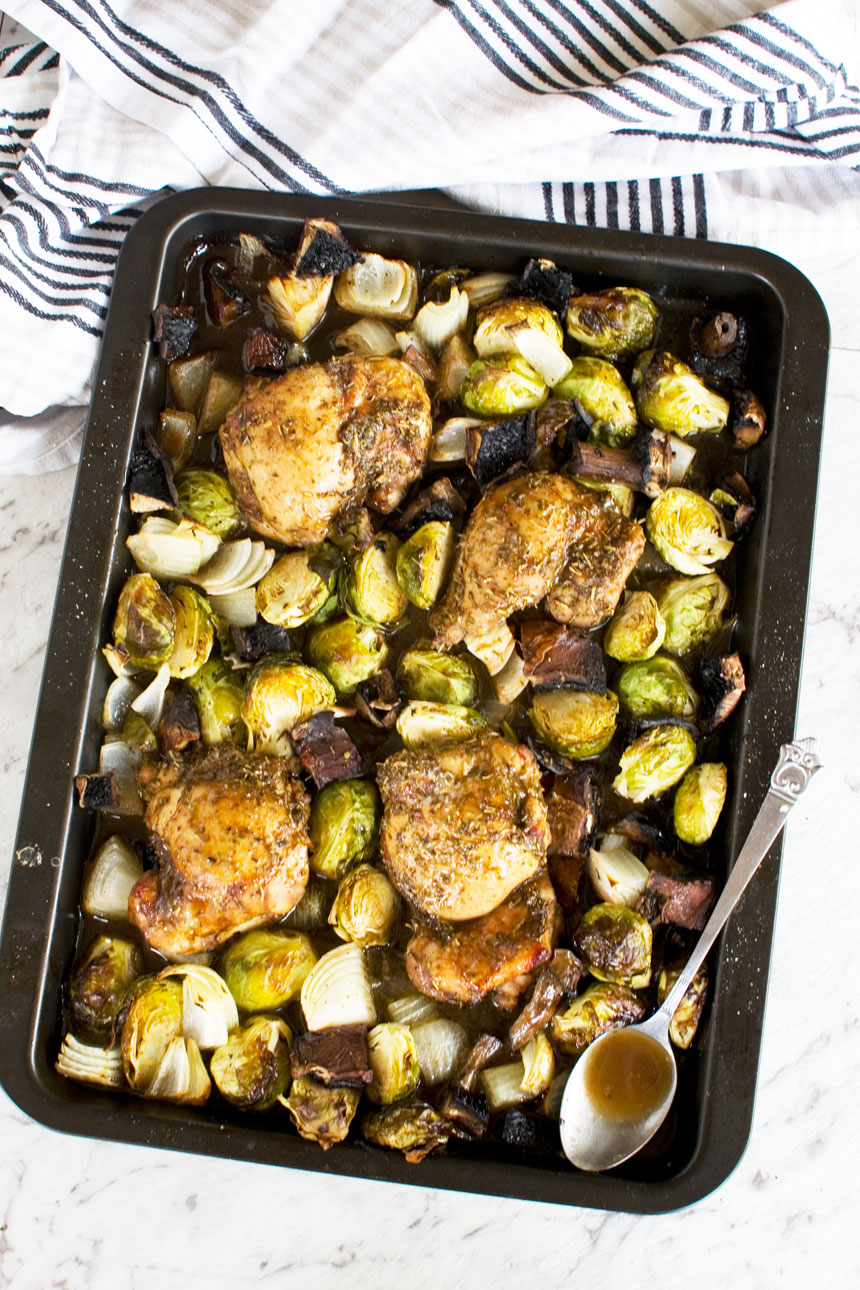 About the ingredients
Can you believe you only need FOUR MAIN INGREDIENTS to make this roast chicken and brussels sprouts dinner and 5 ingredients to make the yummy sauce?
Chicken thighs: I always use skinless boneless chicken thighs for this recipe, because they'll cook in the same amount of time as the rest of the ingredients. Choose 4 big ones to make a good meal for 4.
Brussels sprouts: I usually wash the brussels, top and tail them, and slice them in half so that they cook in the same time as everything else.
Mushrooms: I like brown mushrooms, but use any you like. Even plain old button mushrooms will work.
Onion: You just need a regular onion, either white or red. Just peel and chop roughly.
Butter: This is the 'magic' ingredient! Dot it all over the dish before it goes in the oven. The butter will melt into the sauce as it cooks. Yum!
5-ingredient sauce: honey, balsamic vinegar, mustard, herbs, corn-starch/cornflour. You can use any kind of mustard but I usually choose Dijon or Wholegrain for plenty of punchy flavour.
Garlic… or no garlic?
I considered including garlic too, but didn't bother in the end. Partly because I hate peeling garlic (!!) and also because the dish already includes onions.
I thought I could get away without bothering with garlic in this instance. If you want to include it in your marinade though, by all means do so! (2 cloves would probably be about right)
How to make it
One of the best things about this sheet pan chicken dinner is how easy it is to prepare. All you do is throw the chicken thighs into a Ziploc bag with the 4 marinade ingredients and smoosh around.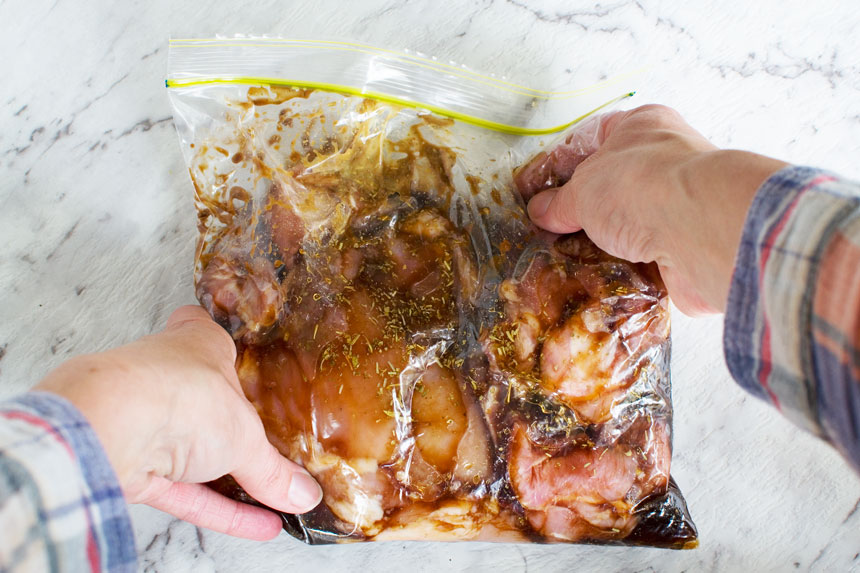 Pop the bag into the fridge while you prepare the vegetables. Scatter the vegetables over a baking tray, then nestle the chicken in among them.
Lastly, pour any leftover marinade in the bag over the chicken.
The perfect honey balsamic sauce
You'll find the sauce pools all over the tray, mixing with the chicken juices as it cooks, which is exactly what you want.
It doesn't drench the vegetables, so they're able to brown and begin to caramelise nicely on the top, but you still get plenty of the delicious sauce in every bite.
Another ingenius thing is the tiny bit of corn starch / cornflour you add to the marinade. It slightly (very slightly) thickens the sauce, which I think makes it just perfect.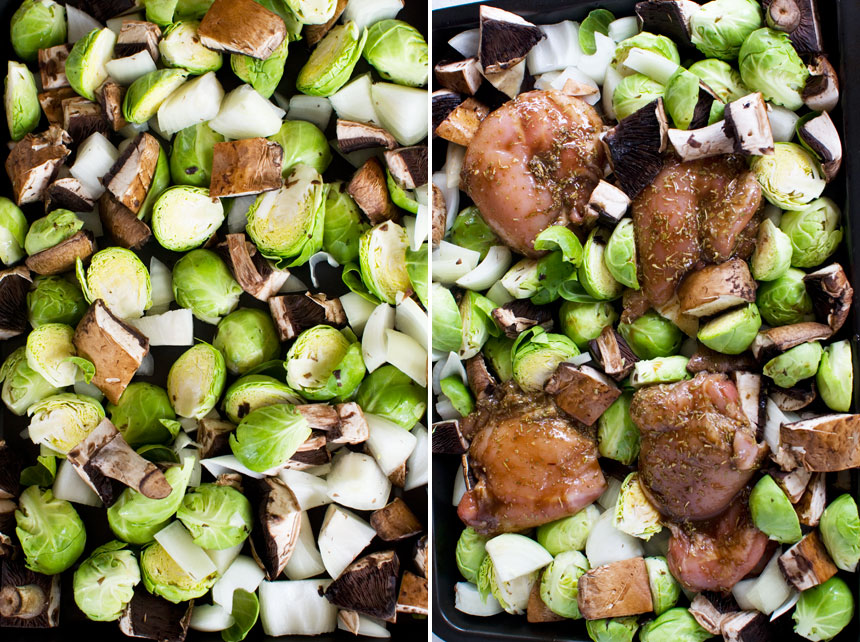 Variations for brussels haters
Brussels sprouts hater? No problem!
Various other vegetables would work. How about:
sweet potato or butternut squash cubes
All of these vegetables will do fine being in the oven for the half an hour that your chicken takes to cook.
If you choose sweet potato, butternut squash/pumpkin or eggplant, just make sure you cube them into fairly small pieces so that they're nice and soft at the end of the cooking time.
What to serve with it
I usually just serve this sheet pan chicken with toasted bread sprinkled with olive oil and salt. I do this with pretty much all the sheet pan dinners I make! I'm so (un) original.
It's just so tasty, and the easiest carb option…
Rice would work well too, as would some kind of potato side. I think it would go particularly well with this lemony Mediterranean rice with chickpeas. I'd probably make this the previous day, however, to keep the main meal nice and easy.
Or if you wanted to you could sneak a few diced potatoes onto the sheet pan. Just make sure you give the potatoes about a 20 minute head start in the oven if you decide to do this.
Maybe use a slightly larger baking tray, too. You don't want the ingredients to crowd each other out too much.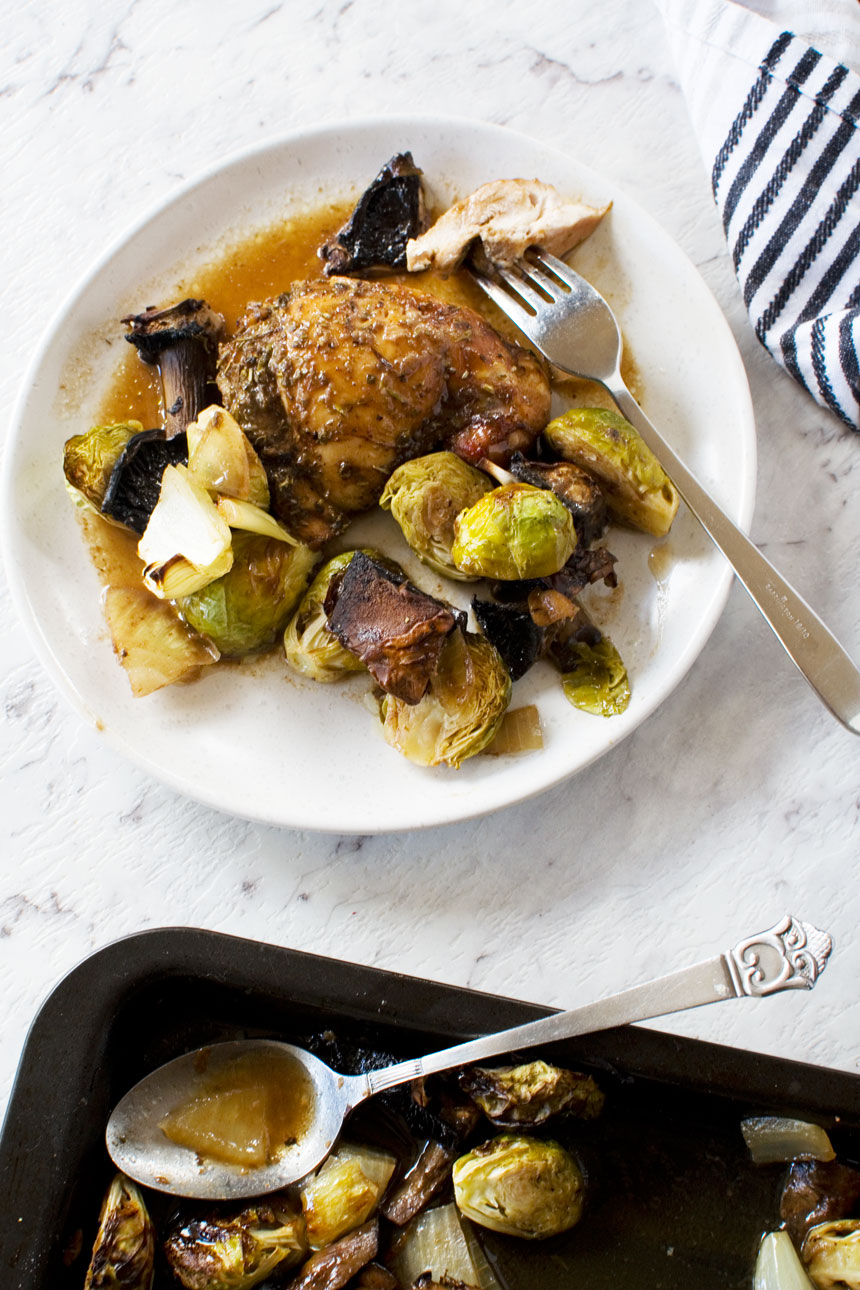 Helen's recipe tips and FAQ
Should I line my baking tray?
You really don't have to. However… I find this is one of those meals where the baking tray gets really sticky and messy. So what I do is line it with some baking paper. The baking tray may still need a wash, but the clean-up will be a lot easier.
Can I use skin on bone in chicken thighs?
You can, but I'd pre-roast them for 10 to 15 minutes before adding everything else to the baking tray. I like to use skinless boneless because they cook in the same amount of time as everything else.
Can I reheat the leftovers?
Absolutely! I find this is one of those meals that can somehow taste even better the next day. Just keep the leftovers well covered in the fridge until the next evening. Reheat covered on 80% power in the microwave for around three and a half minutes (check that the chicken is thoroughly hot and if not give it a bit longer).

The brussels sprouts won't be as crispy as they were when you first cooked them but the dish will still be mighty delicious!
Brussels sprouts season? Why not try these honey balsamic brussels sprouts with caramelized onions, pine nuts and feta too? They make an AMAZING side dish with a difference!
More sheet pan / one pan chicken dinners
Ever tried a tagine? This Moroccan chicken stew is aromatic, sweet and delicious – sure to become a family favourite!
IF YOU MAKE THIS RECIPE, LET ME KNOW HOW YOU GET ON BY LEAVING A COMMENT AND RATING BELOW… AND DON'T FORGET TO SIGN UP TO RECEIVE ALL MY NEW RECIPES BY EMAIL!
FOLLOW ME ON FACEBOOK, INSTAGRAM, PINTEREST AND YOUTUBE.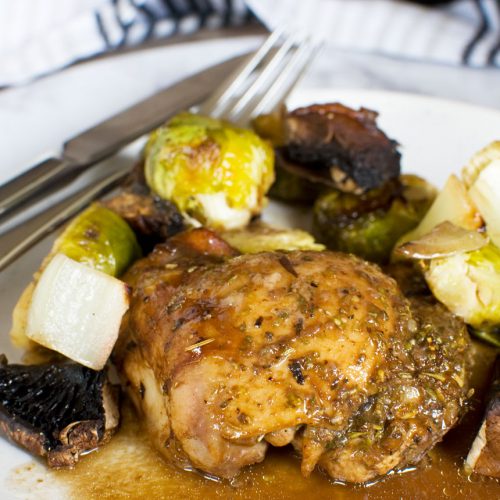 Honey Balsamic Chicken And Brussels Sprouts With Mushrooms
Quick & easy, loaded with superfoods, and ridiculously tasty. Is there any better one pan chicken dinner than this crowd pleasing honey balsamic chicken with mushrooms & brussels sprouts? Nope, don't think so!
Ingredients (UK/Australia? Click below for grams/ml)
4

chicken thighs

(large skinless boneless)

¼

cup

balsamic vinegar

¼

cup

honey

1

teaspoon

mustard

Any, but I'd recommend French, English or wholegrain

2

teaspoons

dried mixed herbs

1

teaspoon

corn starch

(mixed with a little water) UK = cornflour

14

ounces

brussels sprouts

5

ounces

mushrooms

sliced into large pieces

1

medium onion

sliced into large chunks

olive oil and salt & pepper

for drizzling

2

tbsp

butter

for dotting (rough estimate)
Instructions
Preheat the oven to 375F/190C.

Put the chicken thighs into a Ziploc bag, then add the balsamic vinegar, honey, mustard, herbs, and cornstarch (corn flour). Close the top of the bag and smoosh around until the chicken is well covered in the marinade. Place the bag on a plate and store in the fridge while you assemble the rest of the dish.

Line a baking tray with baking paper, then scatter the brussels sprouts, mushrooms and onions over the tray. Drizzle over a little olive oil, then toss with your hands or a big spoon.

Tuck the chicken from the Ziploc bag in among the vegetables, then pour the rest of the marinade over the chicken. Dot the top of the chicken with little bits of the butter.

Sprinkle with plenty of salt and pepper, then roast for 35 minutes, or until the chicken is cooked through and the vegetables are starting to caramelise in parts.

Serve with toasted crusty bread, rice or potatoes.
Notes
Baking paper
You don't have to cover your baking tray with baking paper, but I find the tray gets very messy and sticky otherwise. Let's not create more work for ourselves!
Reheating
We usually manage to make this meal last for 2 nights, so I often reheat the leftovers in the microwave the next night. You lose that little bit of crisp from some of the vegetables, but it's still absolutely delicious!
Alternative veggies to use
Brussels sprouts hater? No problem, use broccoli, cauliflower, or small cubes of sweet potato or butternut squash instead. If you do decide to use broccoli, just keep an eye on it – it can burn quickly when roasting!
Nutrition
Calories:
441
kcal
Carbohydrates:
33
g
Protein:
23
g
Fat:
25
g
Saturated Fat:
8
g
Cholesterol:
126
mg
Sodium:
184
mg
Potassium:
799
mg
Fiber:
4
g
Sugar:
23
g
Vitamin A:
1015
IU
Vitamin C:
87.1
mg
Calcium:
61
mg
Iron:
2.6
mg