This sheet pan chicken tikka with cauliflower and potatoes is not only one of the most delicious meals we regularly make in our house, it's one of the easiest. And the best part is that you need just 5 (or 6) ingredients to make it!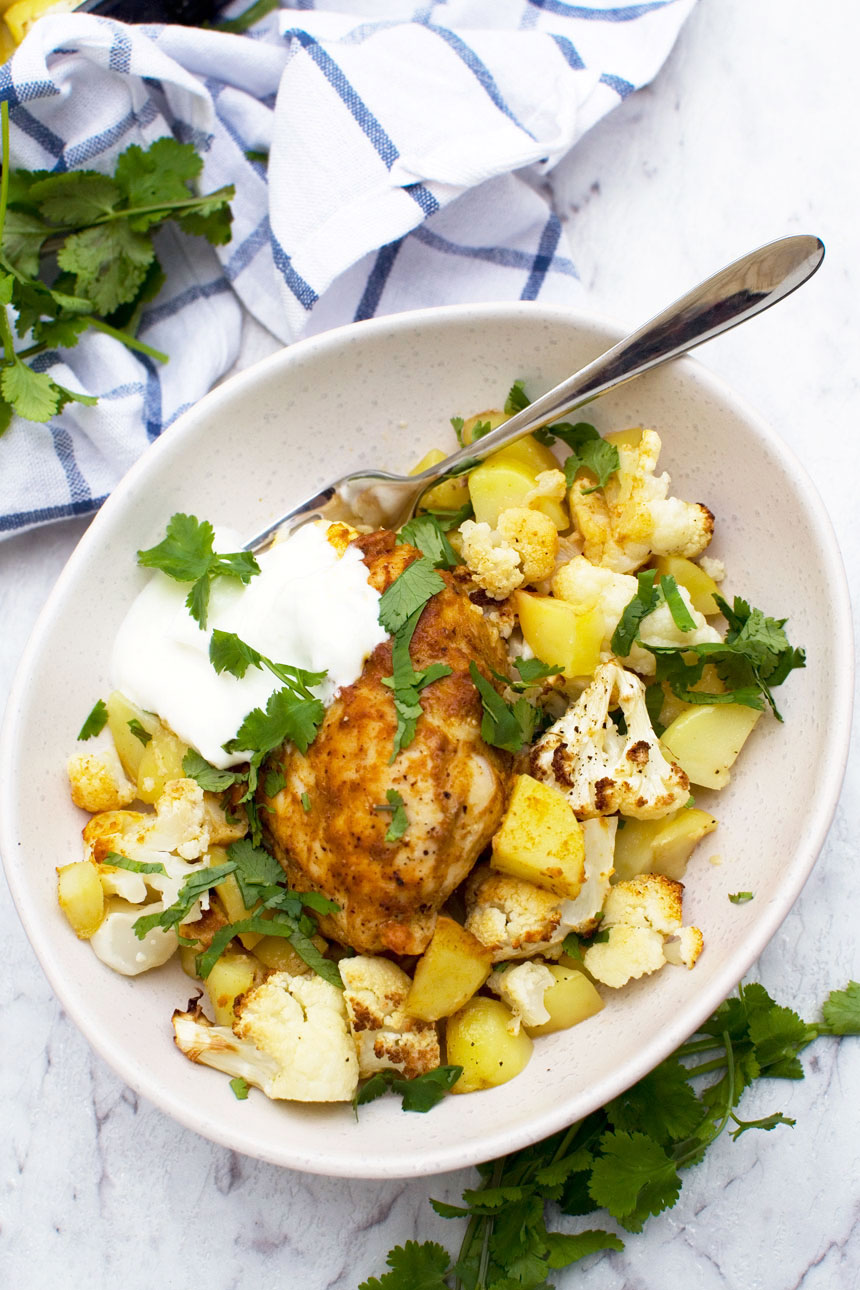 My favourite meals to post here are the ones that become our midweek go-tos. This amazingly delicious Greek chicken and potatoes appears on our dinner table regularly for very good reason, for instance. As does this baked chicken and chorizo with tons of cherry tomatoes and basil.
I know that if WE like it so much, then there's a pretty good chance many of you will like to have it in your regular meal rotation too!
I can't claim much credit for this sheet pan chicken tikka, though. I first saw a very similar recipe in Jamie Oliver's fabulous book 5 Ingredients (affiliate link – I highly recommend this book for people who like ridiculously easy and delicious recipes).
Jamie makes it with a whole chicken. Although I know that's often the more economical way to buy chicken, I generally find cooking with chicken thighs easier.
Anyone else not a huge fan of carving whole chickens?
So I decided to adapt Jamie's chicken tikka recipe into a tray bake (or sheet pan if you're in the USA) dinner.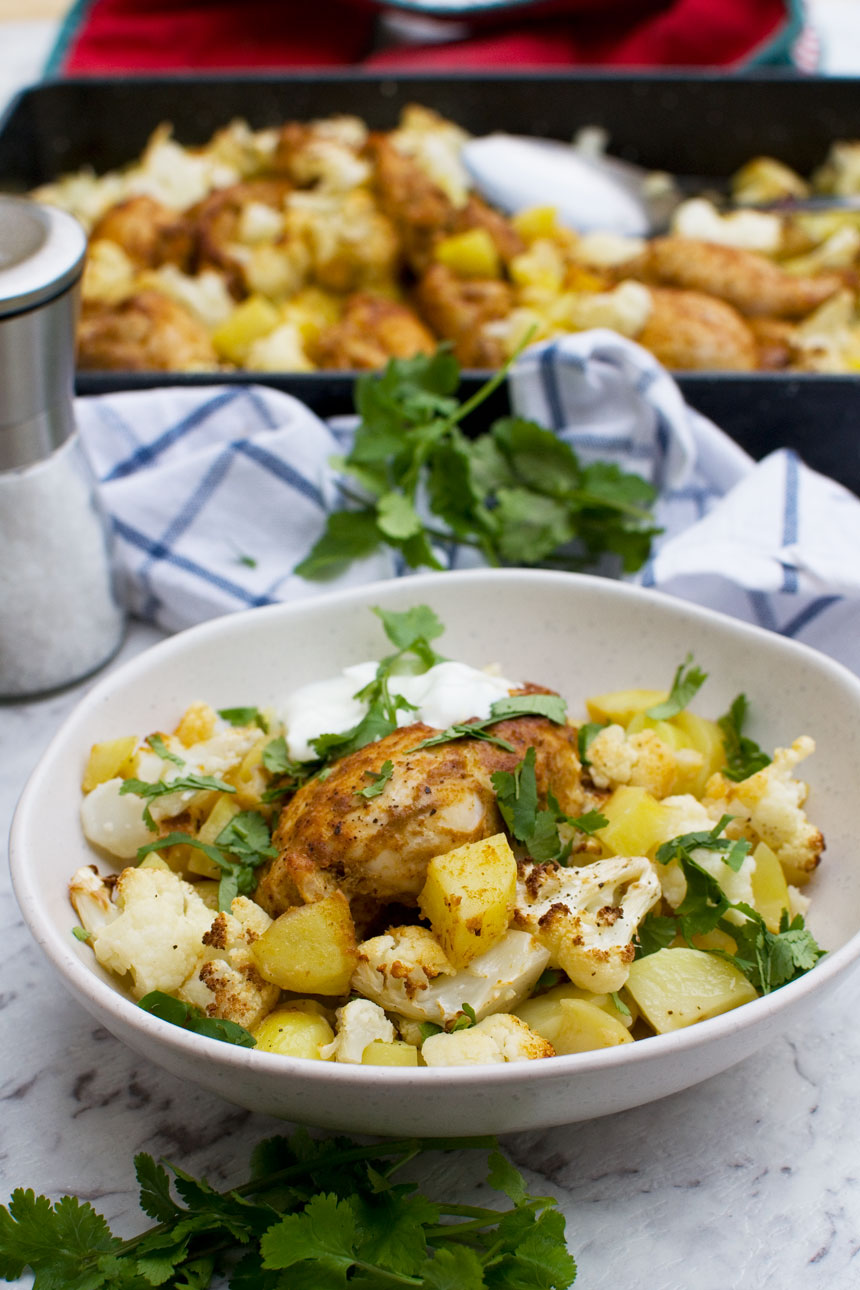 It doesn't really matter what you want to call it. This sheet pan chicken tikka with cauliflower and potatoes is off-the-charts delicious, and you only need FIVE essential ingredients:
chicken thighs
cauliflower
potatoes
chicken tikka paste (with so many yummy spices in it!)
Greek yoghurt (to dollop on the side!)
So how do you make sheet pan chicken tikka?
If I saw this recipe title for the first time, I'd assume it was tricky to make. But of course since you found it here, it isn't!
All you do to make it is chop up potatoes into small cubes and give them a 20 minute head start in the oven. Then you add chopped cauliflower, and chicken smeared all over with tikka paste to the tray. Bake for 45 minutes and you're done.
Really, that's it. And the result is breathtakingly delicious. The tikka paste drips off the chicken and onto some of the cauliflower and potatoes, and mingles with the chicken juices to make a heavenly juice.
The potatoes and cauliflower end up half crispy and half soft and sauce-y. The chicken is wonderfully covered all over in punchy but not too spicy Indian flavours.
But what's chicken tikka, anyway?
Just in case you're interested, chicken tikka originally comes from the Punjab region of India.
Traditionally, it's bits (which is what the word tikka means) of chicken baked on skewers after being marinated in spices and yoghurt.
A tikka paste typically includes:
ginger
garlic
chili
garam masala
cinnamon
saffron
salt
So there's quite a bit of flavour packed in there!
My version of chicken tikka is baked after marinating bits of chicken too – just in a slightly different way.
How do you serve this sheet pan chicken tikka?
Jamie Oliver adds another ingredient to this meal instead of yoghurt – coriander (cilantro). I also occasionally sprinkle a bit of this over my meal. Mr. Scrummy isn't a big fan of coriander though so sometimes I don't bother buying it just for myself.
As long as you have the delicious sauce-y Greek yoghurt to serve on the side, this Indian chicken feels complete to me. If I was serving it to guests though (and this meal would be a perfect choice for easy entertaining), I would definitely include the coriander – just for prettifying the finished dish!
I also sometimes serve some kind of toasted bread on the side – usually a brioche bun so that I can pile some of the yummy chicken, potatoes and cauliflower into it to make a burger.
I add a spoonful of Greek yoghurt and a few sprigs of coriander if I have them, and then I have myself a very fancy chicken tikka burger.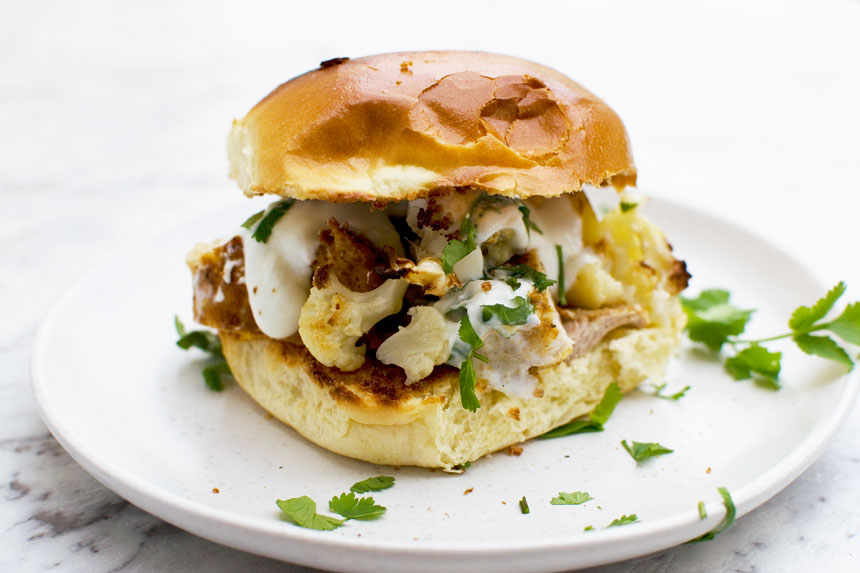 Don't forget to watch the handy how-to video (in recipe card on mobile, top of post on desktop!)
I actually didn't manage to capture in the video how moist and juicy this easy chicken tikka recipe is. Rest assured there was plenty of tasty juice hiding at the bottom of the pan!
Note that I smeared over the tikka paste after I'd added the chicken to the pan. You can do it this way too, it's just a bit more awkward than marinating the chicken first!
What pan should I use for this sheet pan chicken tikka recipe?
I like to use a really big baking pan like this one for this recipe. This way you have plenty of room for the cauliflower and potatoes to 'breathe', which makes sure you get plenty of crispy bits!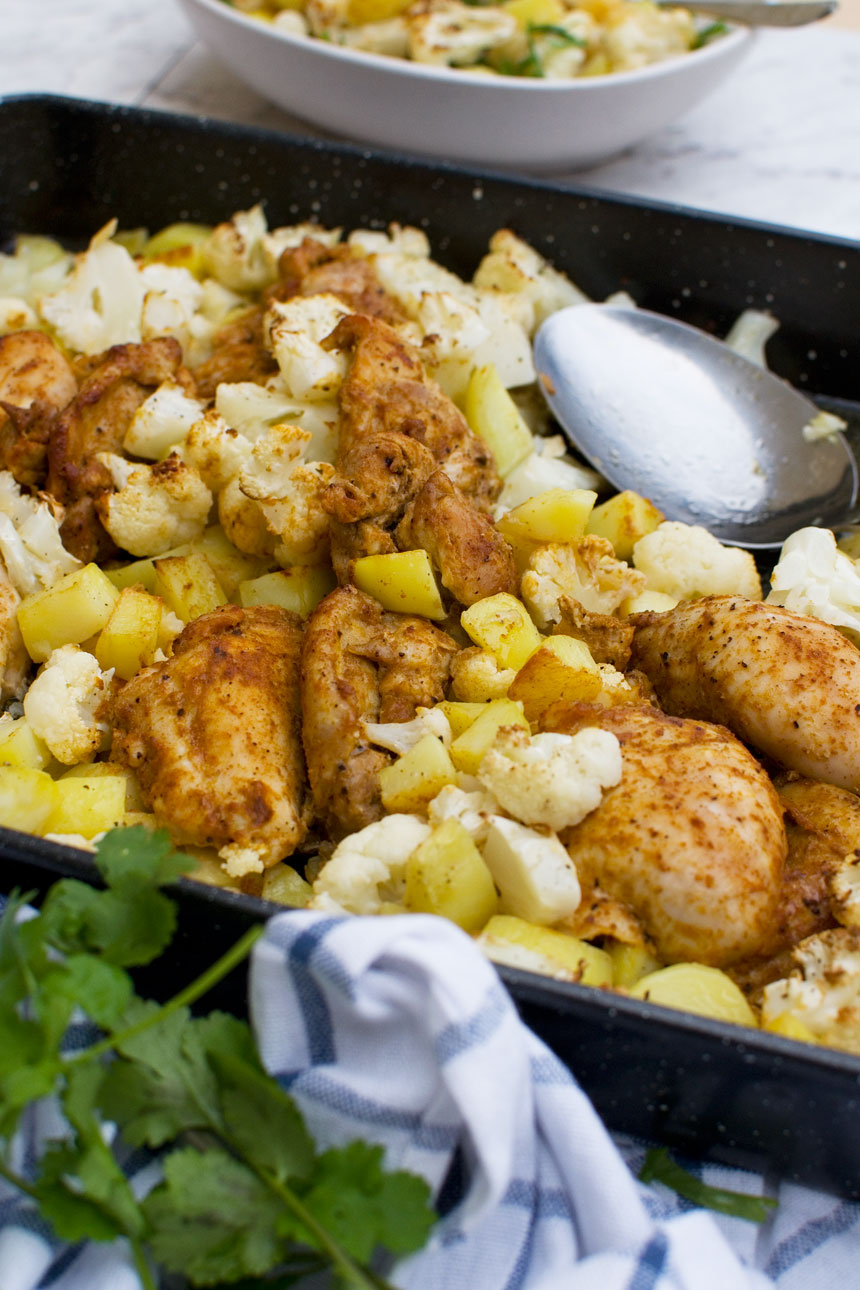 And it's a healthy dinner, too!
One more teeny observation about this delicious Indian chicken. It's a skinny dinner with just 472 calories per serving, if you don't count the optional sides.
But trust me, this may be a healthy, fairly low fat meal, but it's just as delicious as all the favourite naughty dinners you can think of (I know you never eat any, but just saying).
More healthy sheet pan dinners
IF YOU MAKE THIS RECIPE, LET ME KNOW HOW YOU GET ON BY LEAVING A COMMENT AND RATING BELOW… AND DON'T FORGET TO SIGN UP TO RECEIVE ALL MY NEW RECIPES BY EMAIL!
FOLLOW ME ON FACEBOOK, INSTAGRAM, PINTEREST AND YOUTUBE.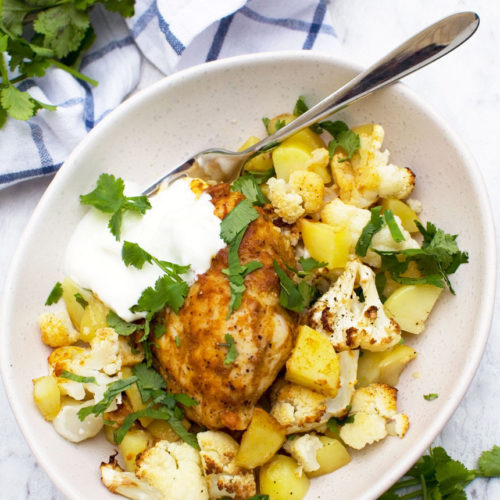 Amazing sheet pan chicken tikka
This sheet pan chicken tikka with cauliflower and potatoes is not only one of the most delicious meals we regularly make in our house, it's one of the easiest. And the best part is that you need just 5 (or 6) ingredients to make it!
Ingredients (UK/Australia? Click below for grams/ml)
8

skinless boneless chicken thighs

4

tablespoons

tikka paste

1.75

pounds

potatoes

peeled & cut into roughly 2cm cubes (you can peel them or leave the skins on)

1

cauliflower

chopped into small pieces

a few tablespoons of oil for cooking
to serve
¾

cup

Greek yogurt

this is an estimated amount

fresh coriander

optional

toasted bread with olive oil and salt

optional (I like to use brioche buns!)
Instructions
Pre-heat the oven to 355F / 200C.

Rub the chicken thighs all over with the tikka paste, then put into the fridge to marinate while you prepare the rest of the dish (or longer if you wish!)

Tip the potatoes into a large roasting pan, drizzle with a little oil and roast for 20 minutes.

Add the cauliflower to the pan and tuck the chicken in among the cauliflower and potatoes. Drizzle 2 or 3 more tablespoons of oil over the dish, then roast for another 45 minutes.

Serve with the Greek yoghurt and toasted bread on the side and sprinkled with the coriander (if using).
Notes
Recipe based on Jamie Oliver's similar recipe using a whole chicken from his excellent book 5 Ingredients (affililate link).
We sometimes eat the leftovers piled onto brioche buns and with a spoonful of yoghurt – delicious!!!
This is a fairly low calorie meal at just 472 calories per serving, but keep in mind that this does not include the optional sides (coriander/cilantro, Greek yoghurt & bread). Even if you do include these though this is a pretty healthy, light dinner!
Nutrition
Calories:
472
kcal
Carbohydrates:
31
g
Protein:
53
g
Fat:
14
g
Saturated Fat:
3
g
Cholesterol:
216
mg
Sodium:
727
mg
Potassium:
1506
mg
Fiber:
6
g
Sugar:
3
g
Vitamin A:
55
IU
Vitamin C:
35.5
mg
Calcium:
127
mg
Iron:
8.4
mg