Ever tried a tagine? This one pot easy Moroccan chicken tagine is a traditional North African chicken stew braised with herbs and spices, eggplant/aubergine, and a deliciously sticky secret ingredient. This is an easy version to make on your stovetop, but throw it in your slow cooker or pressure cooker if you prefer.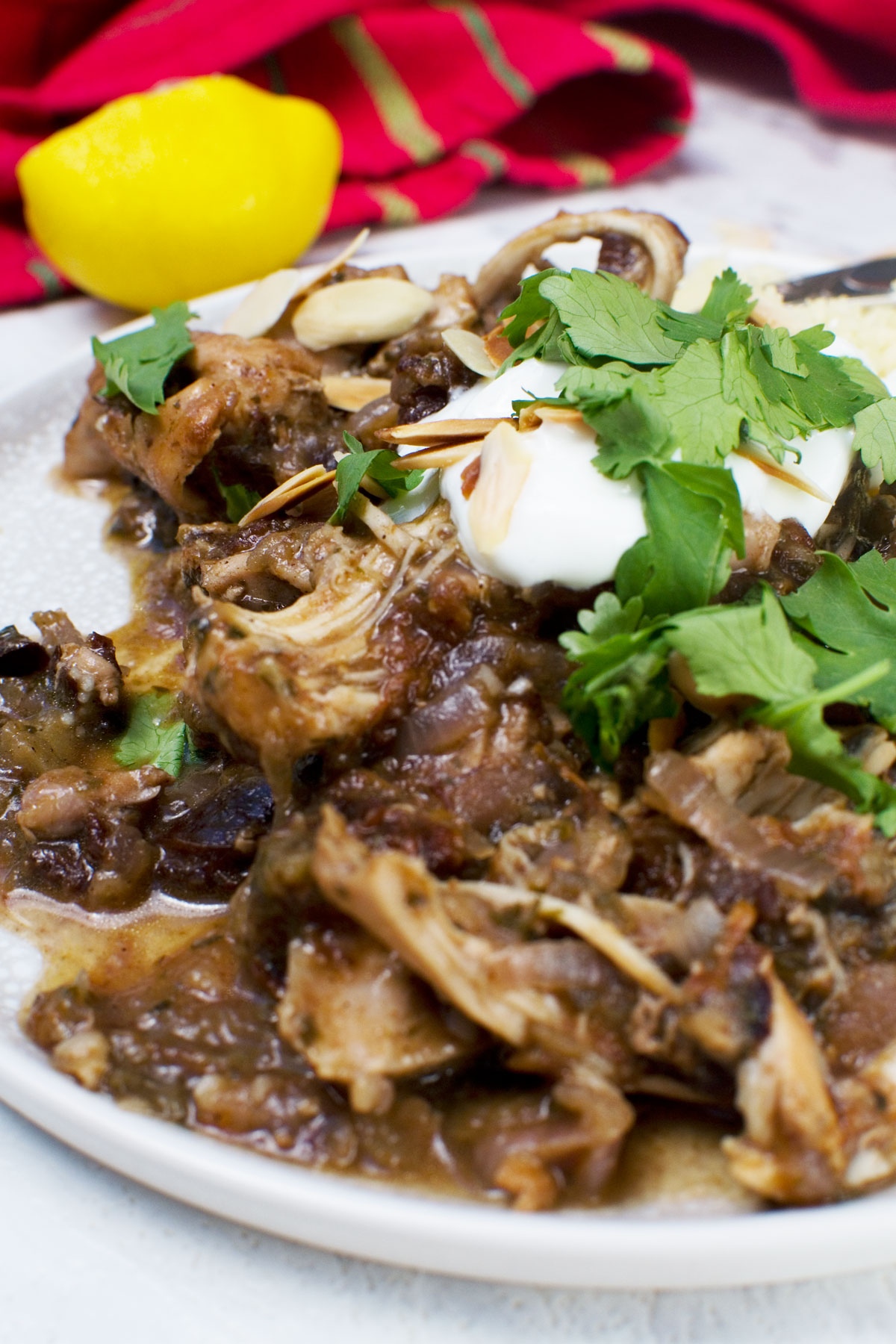 Fan of easy chicken dinners, and open to trying something a bit different? This easy Moroccan chicken tagine contains eggplant, prunes, lemon and loads of yummy herbs and spices.
You could say it's a bit like a curry. The texture is similar, and it's packed with complex and aromatic flavours, but it's far less spicy. A bit of sweetness from some dried plums (OK then, prunes!) might even sell it to your kids.
Before you look at the relatively long ingredients list and groan, you only need 10 minutes to get this meal bubbling away on the stove. Yes, all in one pot.
What you'll love
10 minutes prep time, then it's hands off until it's time to serve. Layer your ingredients up in a big pot, slow cooker or pressure cooker… and let it cook! No browning of chicken or onions necessary.
The cooking method – simmering gently – results in a rich chicken stew with complex flavours. Yum.
It's aromatic, rather than spicy, and sweet and slightly sticky from the dried plums. There's a good chance even your picky eater will like it!
Stuffed with lean meat, veggies, herbs and spices, it's a pretty healthy meal.
What's a tagine and do I need one?
A tagine (affiliate link) is both the name of a Moroccan stew and a traditional pot with a big cone-shaped lid on it.
The idea of a tagine is that the steam produced during cooking condenses on the inside of the lid and runs back down into the stew – the point being to keep your meat tender and the flavours and juices in.
But you'll be relieved to hear that you don't need a special pot to make this yummy stew! If I'm making it on the stovetop I just use a big heavy pan with a lid. Any large cast iron pan, Dutch oven or even a wok with a big domed lid over it works really well.
Alternatively, use a slow cooker or an electric pressure cooker (Instant Pot). They're perfect ways of cooking this Moroccan chicken, too!
About the ingredients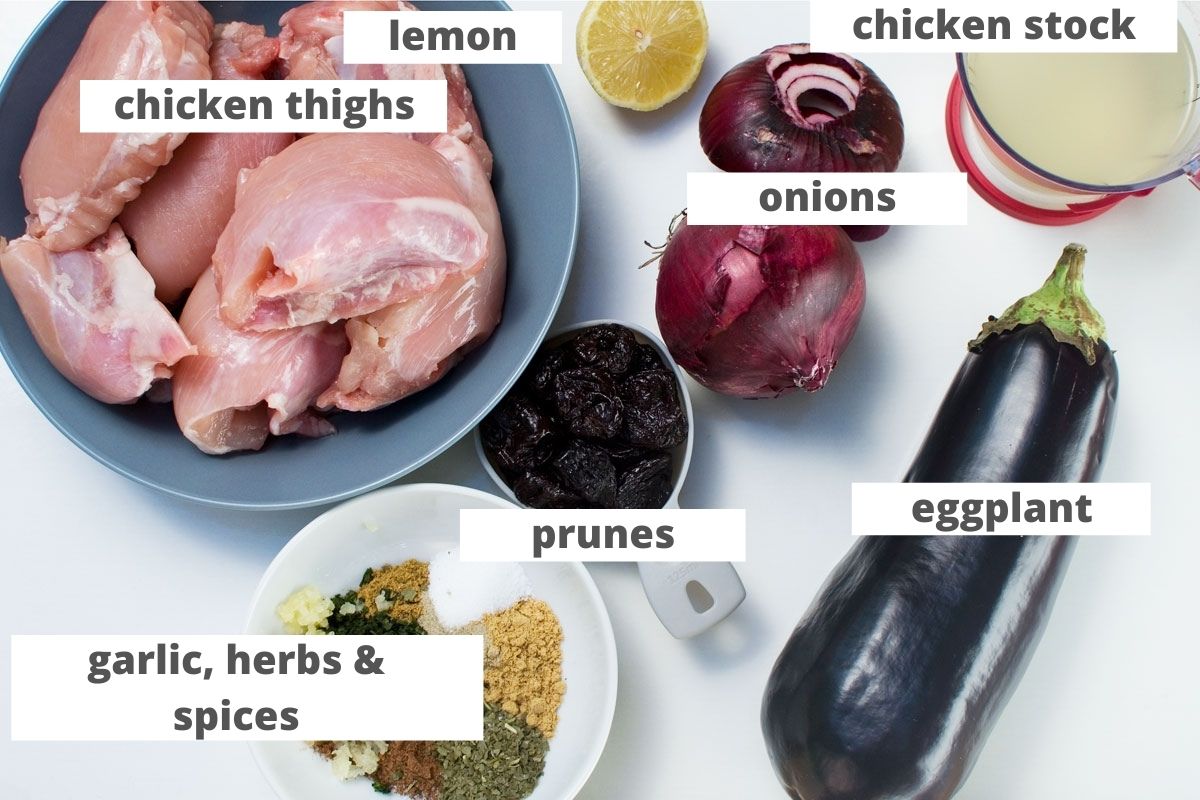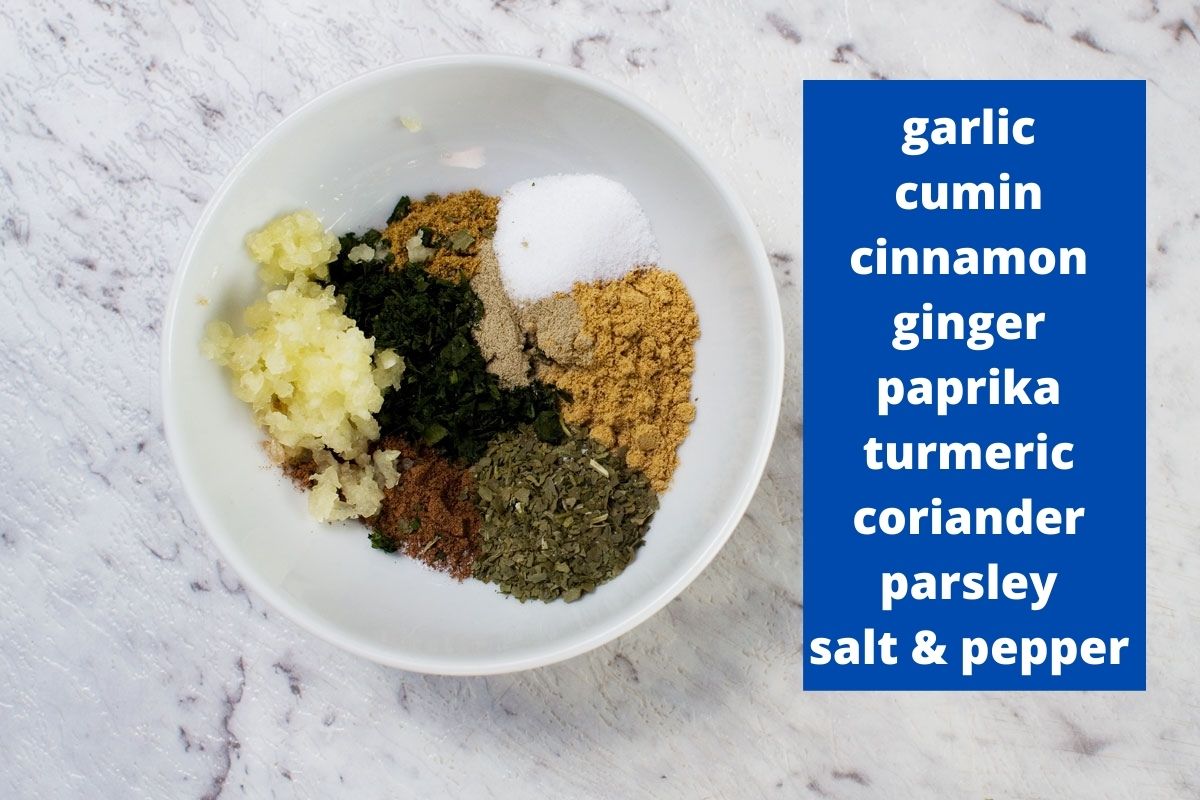 Onions and garlic: Plenty! I keep the onions in slices for a chunky, almost jammy result.
Chicken: Use skinless, boneless thighs. Either keep them whole or shred fairly lightly with two forks for a chunky curry-style stew.
Eggplant/Aubergine: It'll look like quite a lot, but it cooks down to the point you might not even notice it's there. It definitely adds to the yummy flavour and texture of this tagine, though.
Spices: I played around with the exact amounts of each flavour in the stew. Don't be afraid to tweak them some more. Equally, don't worry if you don't have one or two of the spices. It wouldn't be the end of the world to miss them out.
Fresh herbs: I usually just buy one bunch of fresh herbs to keep things simple. Also, this way I can reserve some to scatter over the top at the end. In the recipe I suggest parsley, but if you like you can go for coriander instead. Put a handful in the stew and scatter more over the top to garnish. Use dried parsley or skip it altogether.
Prunes: Don't skip these! Call them dried plums if you prefer. They're absolutely essential for a beautiful sweet and fragrant stew.
Flaked almonds: These add a lovely crunchy contrast to finish off the dish.
How to cook a tagine on the stovetop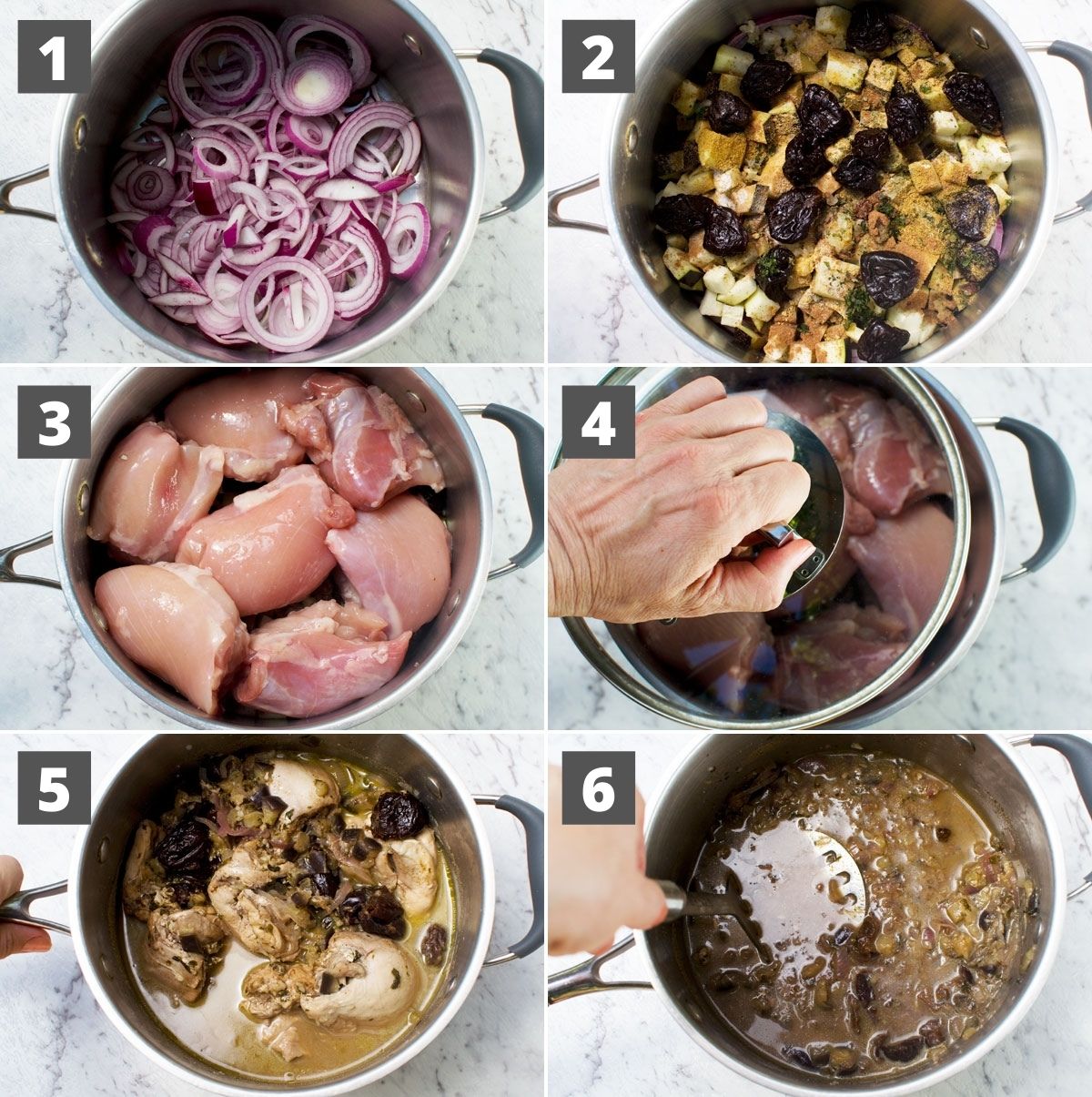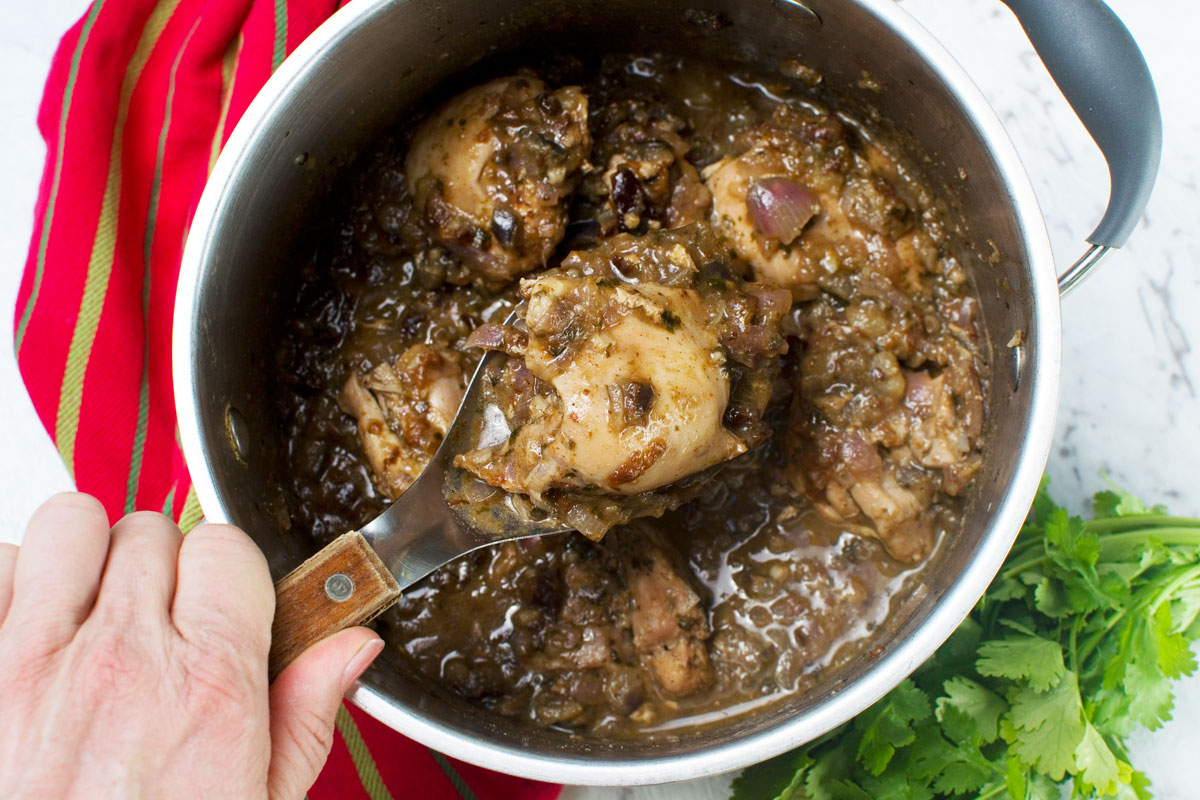 PREP: Layer everything up in your pot, slow cooker, or pressure cooker. Yes. Everything (apart from your garnishes of course!). The onions and garlic go on the bottom as a kind of protective layer, followed by the cubed eggplant/aubergine, spices, chicken, salt and pepper, herbs and dried plums/prunes. Lastly, pour over the lemon juice/zest and stock.
COOK: Put on a lid. Leave it slightly ajar to let the stew thicken slightly and to concentrate the flavours. Simmer fairly gently for 45 minutes to an hour. Stir half way through if you like.
SERVE: Either remove the chicken thighs from the pot briefly or push them aside. Then squish the prunes a little so that they 'melt' into the sauce. Finally, shred the chicken with two forks. I usually shred lightly because I like fairly big chunks of chicken. But it's up to you! Leave the thighs whole if you prefer.
My favourite way to serve this is with plain couscous. But see below for more suggestions.
The final step is to garnish – always important for a brown stew! Sprinkle over either fresh parsley or coriander, and toasted almonds for a contrasting crunch. I also sometimes add a small lemon wedge to everyone's plate.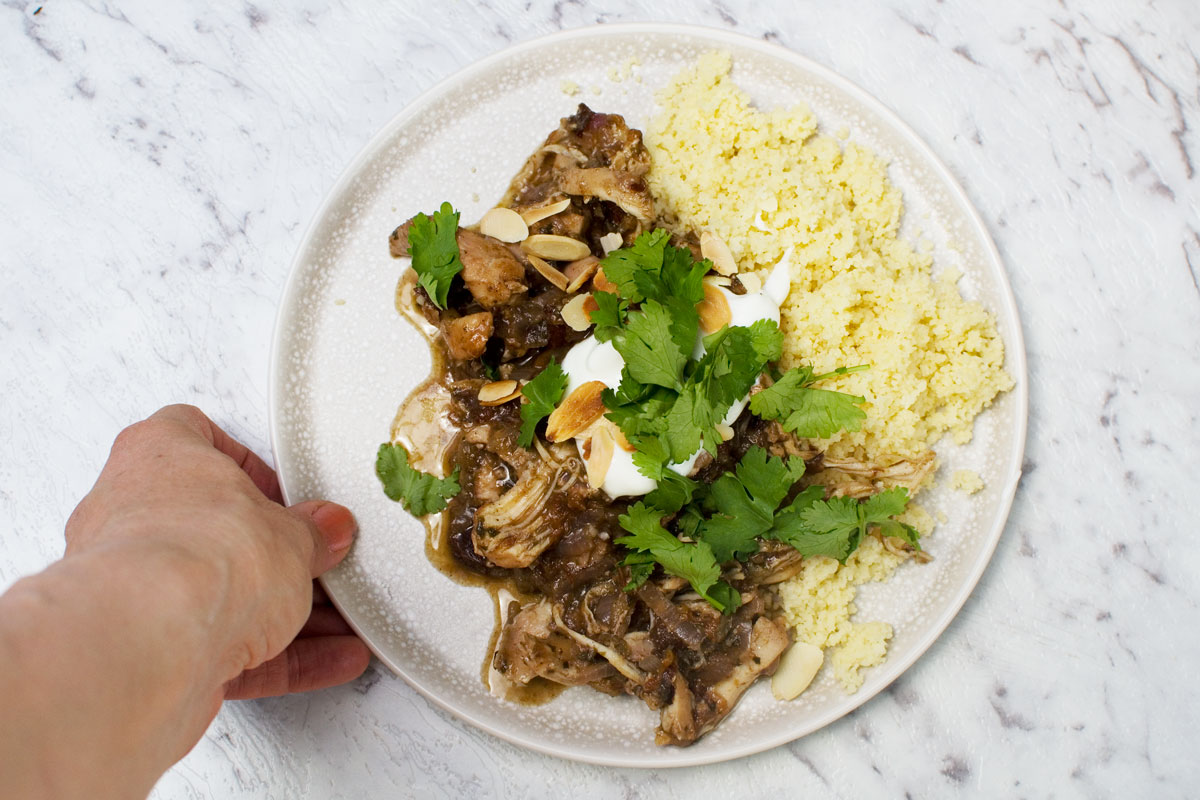 How to cook a tagine in your slow cooker or pressure cooker
Slow cooker
Now here's the clever part. As the magic of a tagine is due to the low, slow and moist cooking method, a slow cooker is also great for cooking a perfect Moroccan-spiced chicken stew.
Prepare the ingredients in the same way as you would if cooking on the stove. Reduce the amount of liquid to just 1/2 a cup. Then cook for 5 to 6 hours on low. Shred and squish as normal!
Pressure cooker/Instant Pot
The pressure cooker will take some time to come to pressure, of course, but this method should reduce the cooking time a bit.
Pressure cook on HIGH for just 7 minutes. Let the pressure realease naturally for about 10 minutes, then release the rest of the pressure manually.
Squish the prunes, shred the chicken and serve and garnish as with the stovetop and slow cooker versions!
How to serve it
My favourite way to serve this is very simply – with plain couscous (which as you know is incredibly easy to prepare). Scatter toasted almonds and a few fresh herbs on top and enjoy!
If like Mr. Scrummy you're not a huge fan of couscous, just serve with some toasted crusty bread on the side. Naan, flatbread or chapatis would work well, too.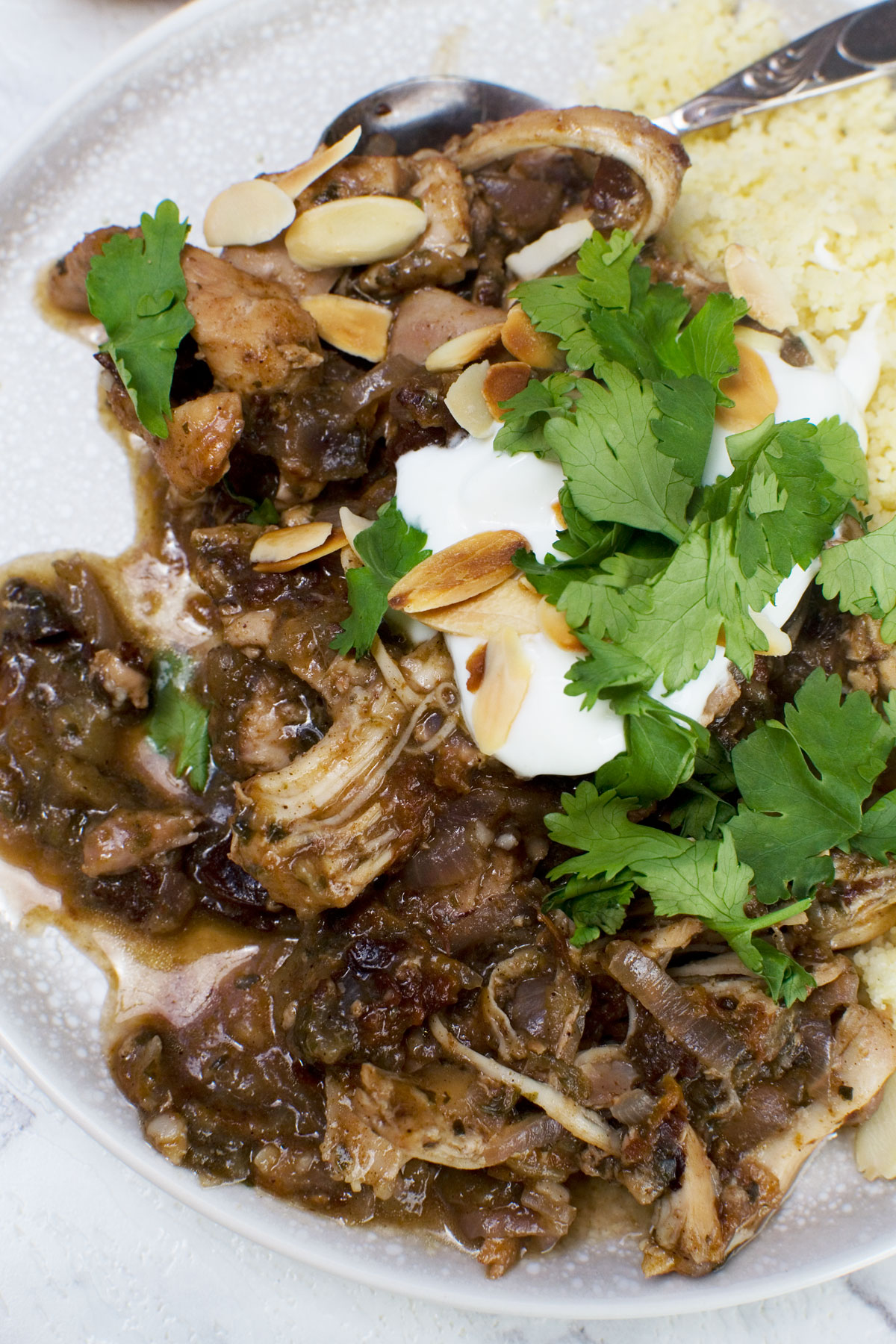 More things to know (recipe FAQ)
Is Moroccan chicken tagine spicy?
I'd say it's aromatic rather than spicy. It's a rich and fragrant chicken stew with a little kick from the delicious spices. If you're a spicy kind of person, feel free to add 1/4 teaspoon of cayenne pepper.
Is a tagine a healthy chicken stew?
Yes, I would say that it is! Essentially this is a braised chicken stew. Braising is a gentle, moist cooking method that's not only delicious but helps to preserve the nutrients. There are also plenty of super healthy ingredients in this stew – lean chicken, loads of onions and garlic, eggplant/aubergine, prunes and tons of healthy herbs and spices.
I don't like prunes. Can I skip them?
Didn't you know? Prunes have been rebranded as dried plums! Just trust me on this one and don't leave them out. They don't taste like prunes – they just add a very delicious and sticky sweetness to the finished dish that you don't want to miss out on. They also help to thicken the stew slightly.
Does it freeze and reheat well?
This is one of those meals that tastes better the next day. By all means keep any leftovers in a sealed container in the fridge for up to 5 days. Reheat either for 4 to 5 minutes in the microwave or gently on the stovetop.
More easy one-pot chicken dinners
IF YOU MAKE THIS RECIPE, LET ME KNOW HOW YOU GET ON BY LEAVING A COMMENT AND RATING BELOW… AND DON'T FORGET TO SIGN UP TO RECEIVE ALL MY NEW RECIPES BY EMAIL!
FOLLOW ME ON FACEBOOK, INSTAGRAM, PINTEREST AND YOUTUBE.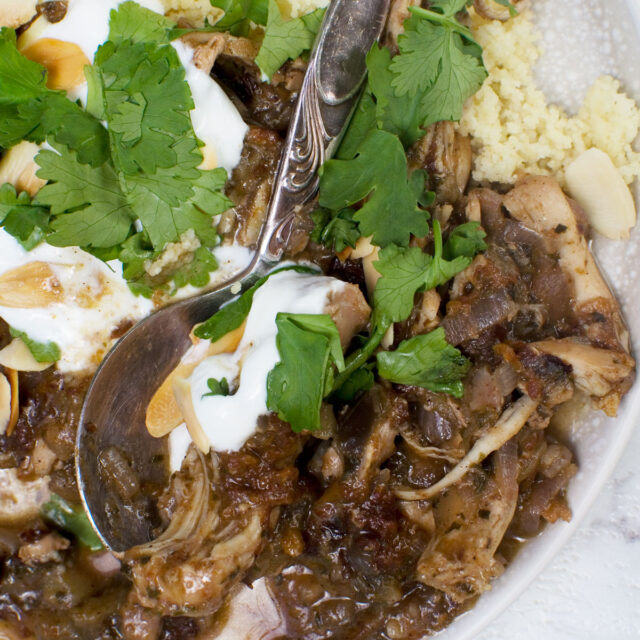 Easy Moroccan Chicken Tagine Recipe (Stovetop, Slow Cooker Or Pressure Cooker)
An easy version of a beautifully fragrant and spicy chicken stew with eggplant/aubergine, cinnamon, ginger and sticky dried plumes in the style of a traditional Moroccan 'tagine'. Cook slowly on the stovetop or in your slow cooker or pressure cooker for a delicious and healthy meal that might even become a family favourite!
Ingredients (UK/Australia? Click below for grams/ml)
2

tablespoons

olive oil

2

onions

sliced into rounds

5

garlic cloves

crushed or sliced

½

eggplant

cubed (use a whole one if it's small) UK = aubergine

1

teaspoon

cumin

1

teaspoon

ground cinnamon

2

teaspoons

ground ginger

1

teaspoon

paprika

1

teaspoon

ground coriander

½

teaspoon

turmeric

½

cup

prunes

stone-less (buy them already stoned) Sometimes they're called dried plums

½

bunch

parsley

chopped, plus extra for sprinking over the dish at the end

2

pounds

chicken thighs

(around 6, but it depends on the size)

1

teaspoon

salt

½

teaspoon

pepper

1

lemon

zest of a whole lemon, juice of ½ a lemon, save the other ½ lemon for garnish

¾

cup

chicken stock

US = chicken broth

2

tablespoons

flaked almonds
to serve
couscous, lemon wedges and extra fresh herbs
Instructions
Heat up the olive oil gently in a heavy flat-bottomed pan (or slow cooker/pressure cooker – see notes section below for more info). Then layer up the onions, garlic, eggplant/aubergine, spices, prunes and herbs (with the onions on the bottom). Lay the chicken over the top, then sprinkle over the salt and pepper.

Sprinkle over the lemon zest and squeeze over the juice. Pour over the chicken stock/broth. Put the lid on the pan and let the tagine simmer gently for 45 minutes to an hour. Stir the ingredients about half way through cooking.

Shortly before the end of the cooking time, dry roast the almonds in a frying pan until lightly browned. Put aside.

Push the chicken thighs aside and squish the prunes a little with a potato masher. Roughly shred the chicken in the pot with two forks (I like to leave some fairly large pieces).

Serve the tagine with hot couscous and lemon wedges from the leftover lemon half. Sprinkle over the reserved fresh herbs plus some toasted flaked almonds.
Notes
When your chicken stew is cooked: Either remove the chicken thighs briefly or push them aside. Then squish the prunes a little with a potato masher! This thickens the stew slightly and uses the prunes essentially as a sweetener. It's delicious!
Then shred the chicken lightly with two forks. You can leave the thighs whole if you like but this is how I like to serve the stew.
Slow cooker and pressure cooker instructions: To make this Moroccan chicken in a slow cooker, layer up the ingredients as in the stovetop version. Reduce the chicken stock to just 1/2 cup. Then cook on low for 5 to 6 hours. When it's done, shred the chicken and squish the prunes as in the stovetop recipe.
To use your pressure cooker/Instant Pot: Reduce the stock/broth to just 1/2 a cup. Cook on high pressure for 7 minutes. Let the pressure cooker release the pressure naturally for 10 minutes, then manually release the pressure.
If you like: Add a handful of green olives and/or a pinch of saffron to the layers before cooking.
Nutrition
Calories:
717
kcal
Carbohydrates:
32
g
Protein:
42
g
Fat:
48
g
Saturated Fat:
12
g
Trans Fat:
1
g
Cholesterol:
224
mg
Sodium:
831
mg
Potassium:
1056
mg
Fiber:
7
g
Sugar:
14
g
Vitamin A:
1226
IU
Vitamin C:
31
mg
Calcium:
98
mg
Iron:
4
mg