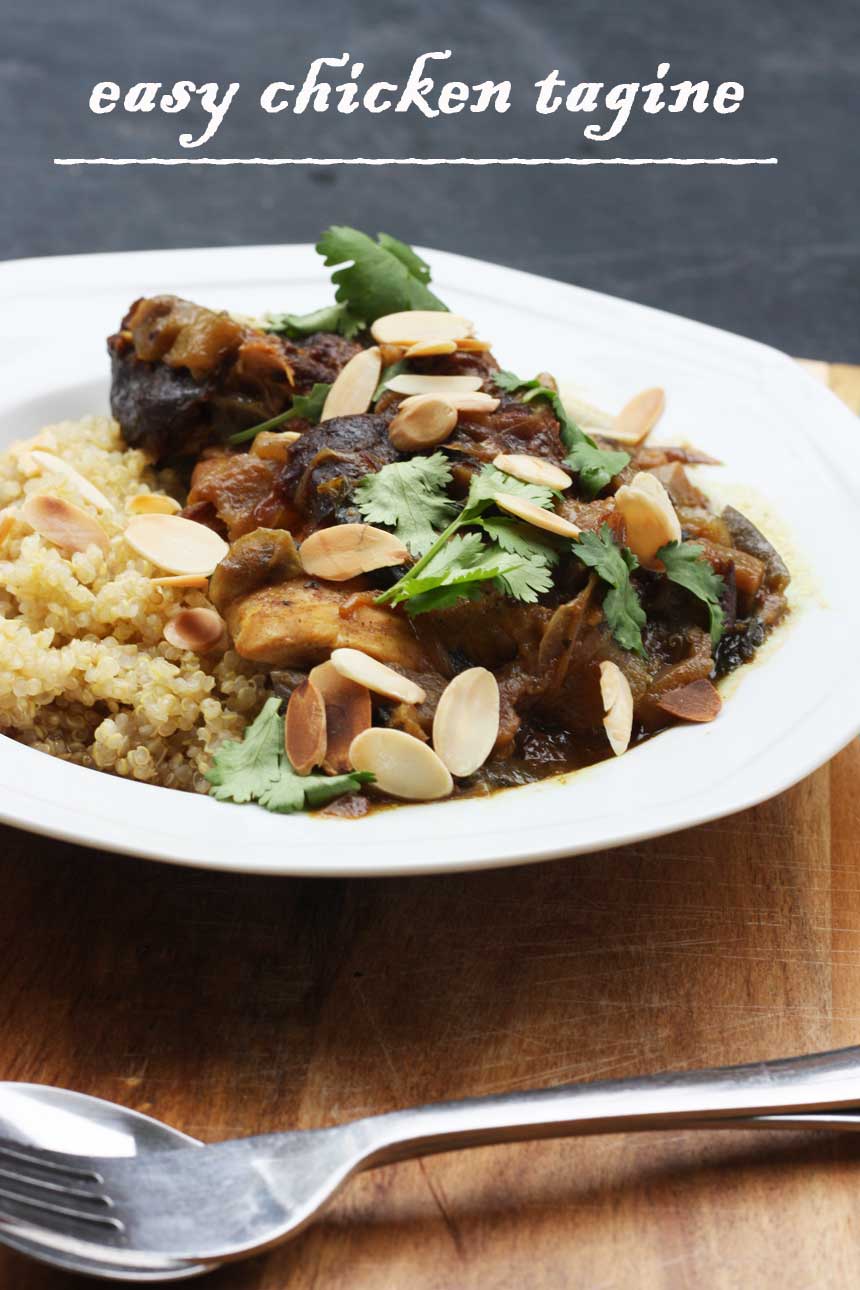 Now I'm not entirely sure whether a tagine originates from Morocco or not*, but I know that it's from vaguely that area and for that reason making this dish reminded me of the little trip into Morocco that I once took with a group of friends. I say 'little trip' because it was just that –one tiny 'day-trip zip' across the water from southern Spain and down to a city called Tétouan via mad death-defying taxi ride. (*OK, so I just checked and it does, so we're good here so far with this story).
This place was really a bit too far away to travel there and back to in just a day, but, intrepid 20-year-old travellers that we were, we did it anyway … and ended up being sort of glad that we had and sort of not. At first we had nothing at all to be unhappy about as we explored this beautiful Moroccan city complete with white-washed houses, decorative mosques and UNESCO-listed medina or old town teeming with craftsman such as jewellers and leather workers.
The medina was also teeming with carpet shops. Oh yes, plenty of carpet shops, which leads me onto the reason we might have been 'not glad' about our decision to go to Tétouan. While moseying along the labyrinth of interesting alleys, we let ourselves fall victim to that common-in-this-area-of-the-world-and-others fate of being drawn into the carpet shop of the 'uncle' (hmmm …) of a local young man. At first it was all smiles and cups of mint tea and at one point I even remember there being some dressing up in traditional costumes and hats and taking photos on the roof looking out over the beautiful city. It was all very convivial.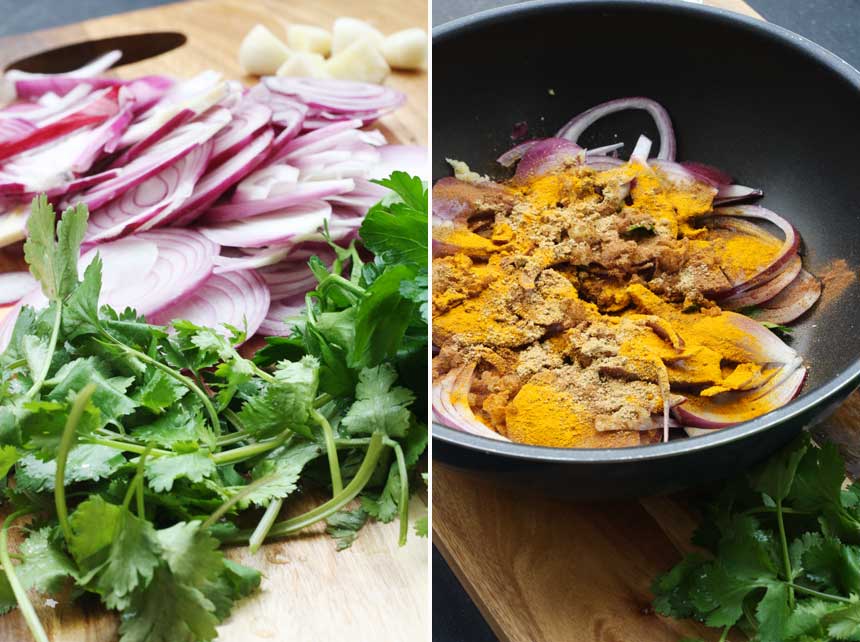 And then, of course, began the hard sell. Separated and backed into different corners of the shop, a furious attempt was made to harangue us into buying a carpet … one each, I presume! After many protestations that we were poor students with no spare cash or need for such luxuries, we managed to escape the shop. But there was a catch. 'Nephew' was still in tow. We walked around and around the twists and turns of the medina and were soon totally lost, but 'Nephew' would neither show us the way out nor leave us alone.
He finally did show us the way back to a main street, but then proceeded to ask us for money. We hailed a taxi and jumped in for our ride back to the port and, would you believe it, 'Nephew' jumped in, too. Refusing to leave the taxi, he continued to pester us for 'his money' as our taxi set off, threatening to tell the border police that we were drug smugglers when we got there! The cheek! Finally, the angry taxi driver stopped the car by the side of a busy motorway and literally pulled Nephew out of his car. We then got a bit of a telling off from the taxi driver. Oh dear. I have to admit that I was rather relieved to get back onto Spanish soil that day.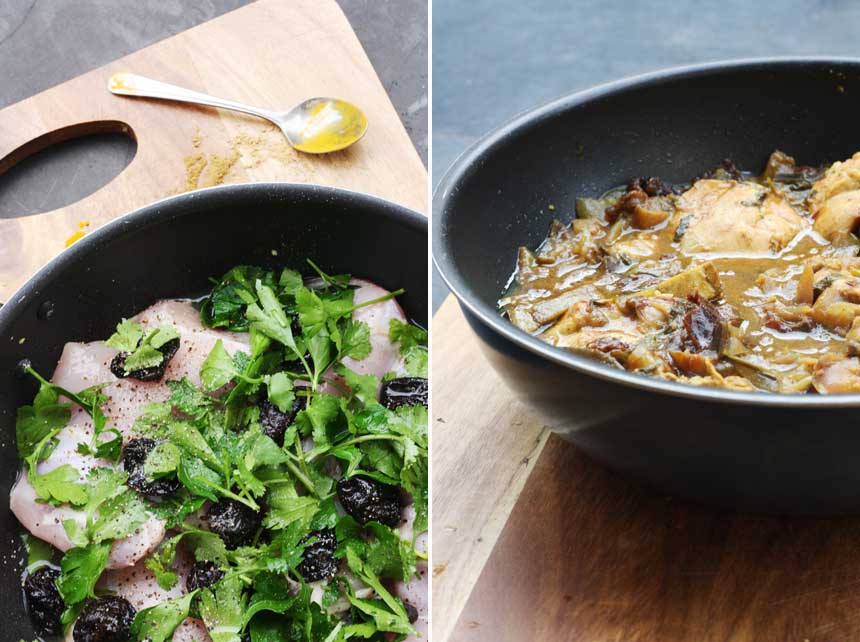 If I still had any kind of bad taste in my mouth about this little adventure, then this easy chicken tagine has definitely got rid of it now once and for all. If I may say so, it's delicious and, of course, a cinch to make. After a little recipe research and deliberation, I decided not to soften my onions or brown my chicken first but to simply layer up my ingredients with slices of onion on the bottom of the pan, followed by garlic, chopped aubergine, prunes, lemon juice, lovely warming spices – cinnamon, ginger, cumin and turmeric – chicken thighs, coriander and parsley. I then poured chicken stock over the whole lot, placed a lid over my pan and let the casserole simmer gently for 45 minutes or so until the chicken was nicely cooked. Couldn't be easier.
Now as well as 'tagine' being a tasty Moroccan casserole, it is also the name of the pot traditionally used to cook it in, as you probably know. I don't have a picture, but there's a nice one here
in case you are interested in splurging on one.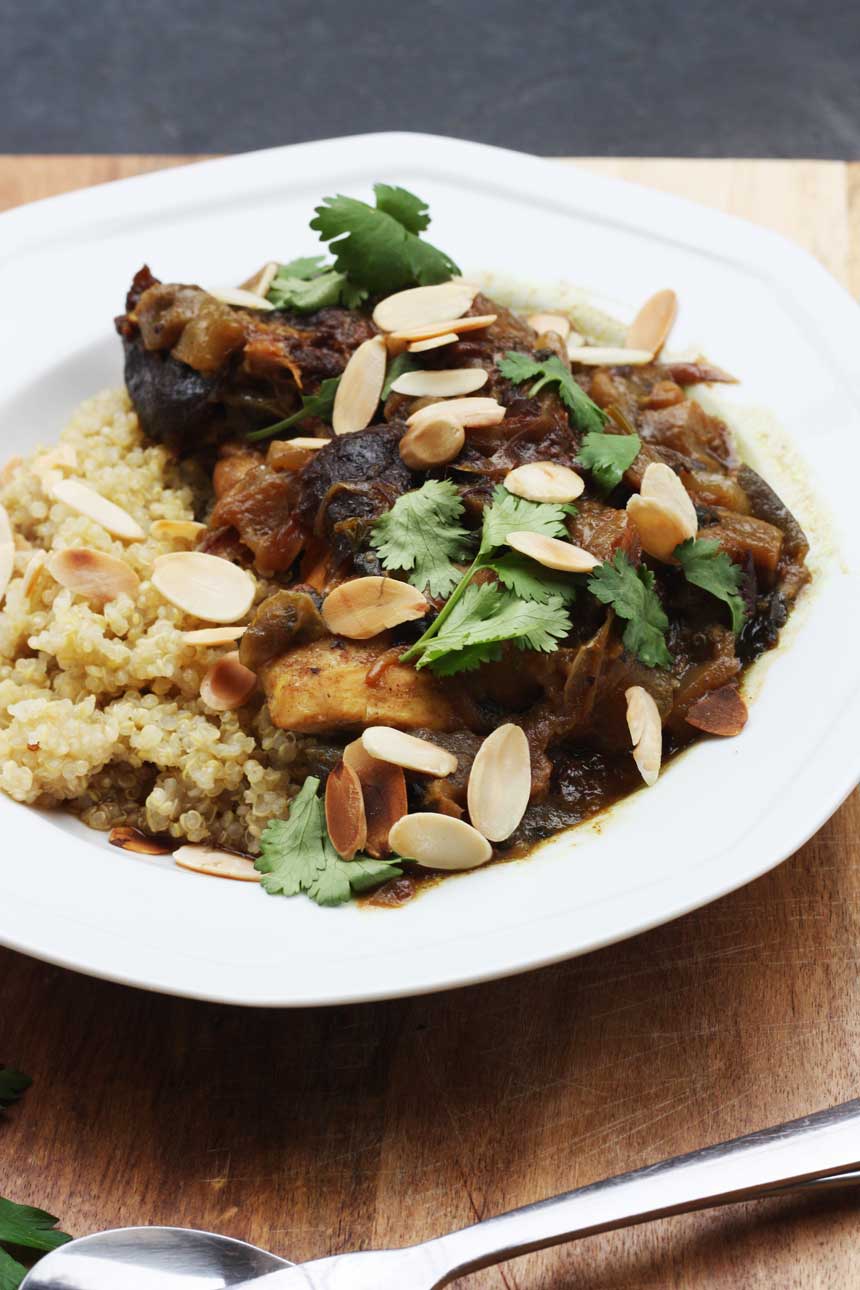 So what's a girl to do when she wants to cook a nice and easy tasty tagine for you but doesn't have a traditional tagine to make it in? Improvise, that's what. I used a wok-style pan with a heavy, flat base and then covered it with a big dome-shaped lid for the simmering stage. The idea of a tagine, apparently, is that the steam produced during cooking condenses on the inside of the lid at the top and runs back down into the stew – the point being to keep your meat lovely and tender and keep all the flavours and juices in.
Half way through cooking, I gave my stew a big stir. At the end, I removed the chicken momentarily and then squished the prunes into the sauce a little … mmmmm.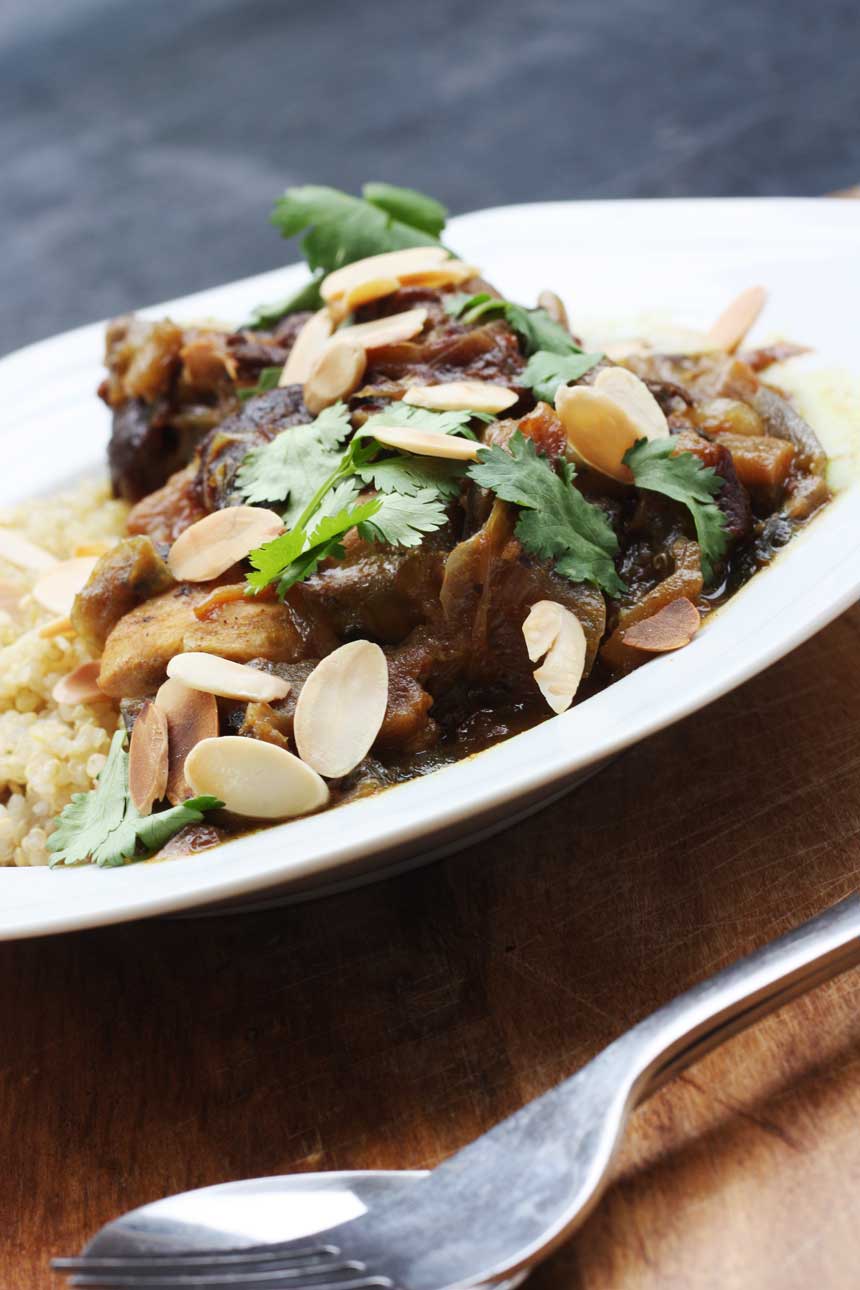 Maybe one day I'll feel brave enough to go back to Tétouan, find Nephew and give him a piece of my mind. Or maybe I'll just find a nice little traditional restaurant and try some food cooked in a traditional tagine. If it's anything like this yummy dish, I'll forget all about my slightly hair-raising experience pretty quickly.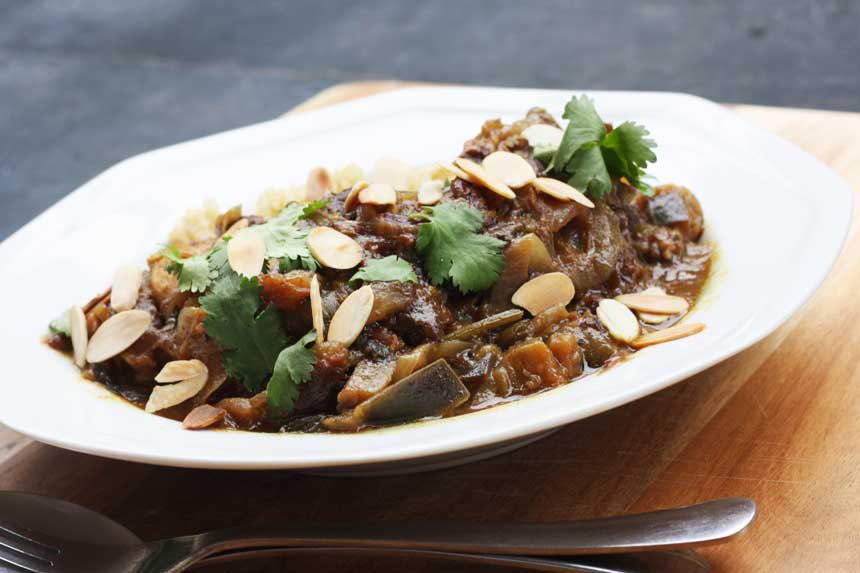 Easy chicken tagine
An easy version of a beautifully fragrant and spicy chicken stew with aubergine, cinnamon, ginger and cumin in the style of a traditional Moroccan 'tagine'.
Ingredients (UK/Australia? Click below for grams/ml)
2

onions

sliced into rounds (I used red but white are fine, too)

3

garlic cloves

crushed or sliced

1/2

a large eggplant/aubergine

cubed (or a whole small one)

1/2

cup

stone-less prunes

1

teaspoon

cumin

1

teaspoon

ground cinnamon

2

teaspoons

ground ginger

1/2

teaspoon

turmeric

2

tablespoons

chopped coriander

2

tablespoons

chopped parsley

plus a little extra for sprinking over the dish at the end

6

chicken thighs

salt and pepper

juice of 1/2 a lemon

3/4

cup

chicken stock

2

tablespoons

flaked almonds for sprinkling over at the end

couscous to serve
Instructions
Heat up the olive oil gently in a heavy flat-bottomed pan (or a

proper tagine

), then layer up the onions, garlic, eggplant/aubergine, spices, prunes and herbs. Lay the chicken over the top, then grind over a little salt and pepper.

Squeeze over the lemon juice and pour over the stock. Put the lid on the pan and let the tagine simmer for about 45 minutes to an hour. Stir the ingredients about half way through cooking.

Shortly before the end of the cooking time, dry roast the almonds in a skillet/frying pan until lightly browned. Put aside.

Serve the tagine with hot couscous. Sprinkle over the reserved herbs plus some toasted flaked almonds.
Notes
Although I haven't tried it, I suspect that this recipe would work very well indeed using a slow cooker. Let me know if you give it a go!
Nutrition
Calories:
516
kcal
Carbohydrates:
27
g
Protein:
31
g
Fat:
31
g
Saturated Fat:
8
g
Cholesterol:
167
mg
Sodium:
201
mg
Potassium:
842
mg
Fiber:
5
g
Sugar:
13
g
Vitamin A:
495
IU
Vitamin C:
8.7
mg
Calcium:
70
mg
Iron:
2.6
mg
I hope you enjoyed this post! You can subscribe to receive posts directly to your inbox by entering your email address in the box below or at the top of the sidebar on the right.
You can also find more from Scrummy Lane on Facebook, Pinterest, Twitter and Instagram and follow me on Bloglovin! Thanks so much for reading!
*This post contains affiliate links which means that if you click on a link and make a purchase I get a small percentage of the amount you spend. At no extra cost to you, of course! Thank you!*