You can never go far wrong with a one pan chicken dinner, right? But this one pan baked chicken and sweet potatoes dinner sets the bar really high. Chunks of sweet potato, loads of garlic, green beans and spinach are cooked all in one pan with a sweet and very simple maple and orange sauce. Add a sprinkle of pecans for a healthy and easy dinner that really does seem to have it all.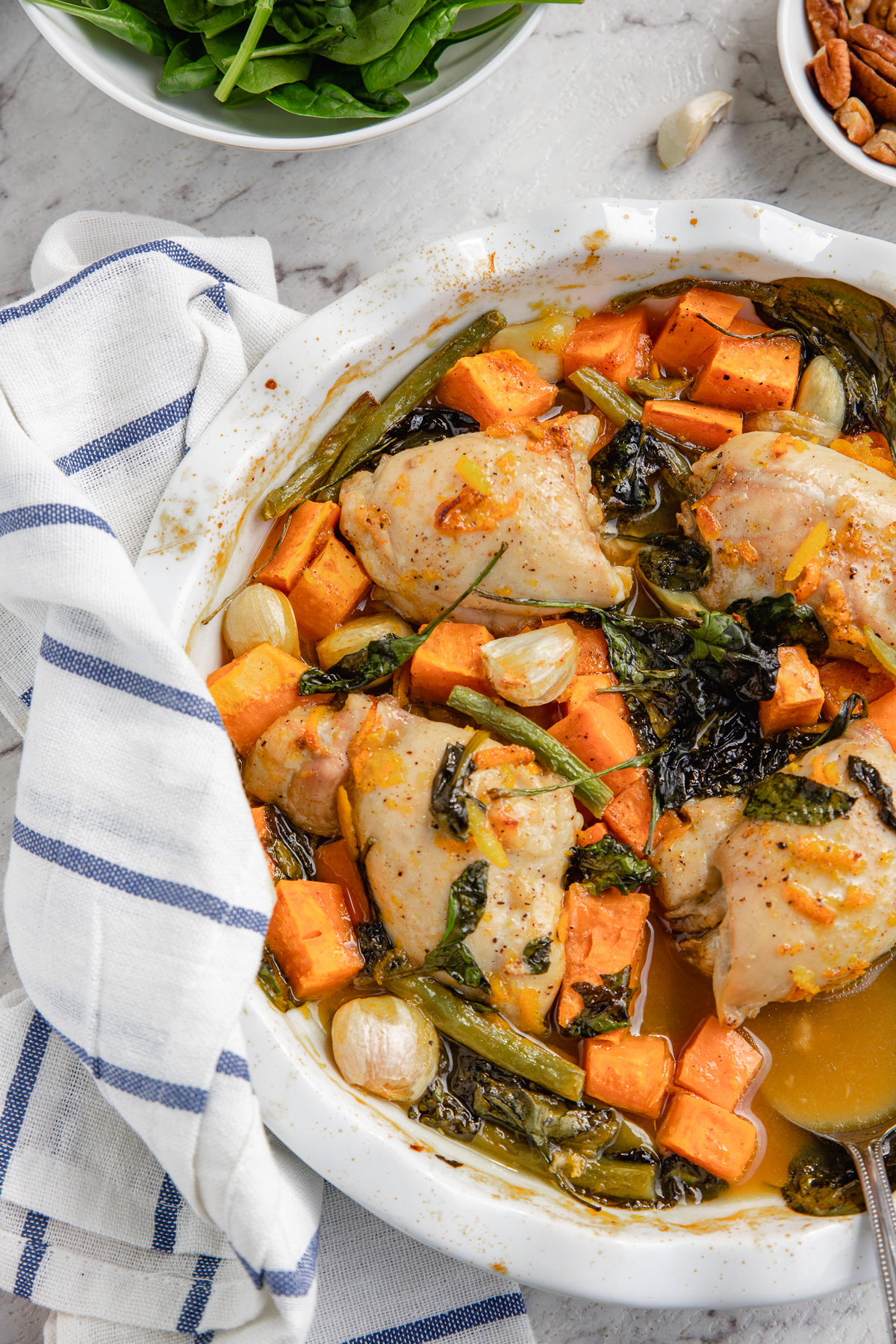 Why you're going to love it
If I had to choose just one favourite kind of meal, it would be one pan chicken dinners. I bet I'm not the only one! You just throw everything in a baking dish, throw the baking dish in the oven and hey presto, you have a delicious and healthy meal.
I have a few popular options on the blog already. We've been making this one pan baked chicken with chorizo and cherry tomatoes for literally years and it still never fails to disappoint. My personal favourite? This one pan baked Greek chicken and potatoes. It's phenomenal, and I don't say that lightly.
One of the other things I like about these meals is that they usually use just a few ingredients. This easy chicken and sweet potatoes is no exception. You need just 8 main ingredients, and really no side dish apart from perhaps a little toasted bread on the side to mop up the lovely juices.
Also:
It only takes around 10 to 15 minutes to prepare. Then chase your toddler around/put your feet up while the oven does its magic!
The maple orange sauce is so so simple (erm, actually just maple syrup and orange juice). But let it mingle with the chicken juices and garlic in the oven and be amazed how delicious it is.
It's family friendly. My pretty fussy child would eat the chicken and sweet potatoes, and probably some of the green beans too.
It can be on the table in about an hour from start to finish. But the oven does most of the work. I call that a big win!
About the ingredients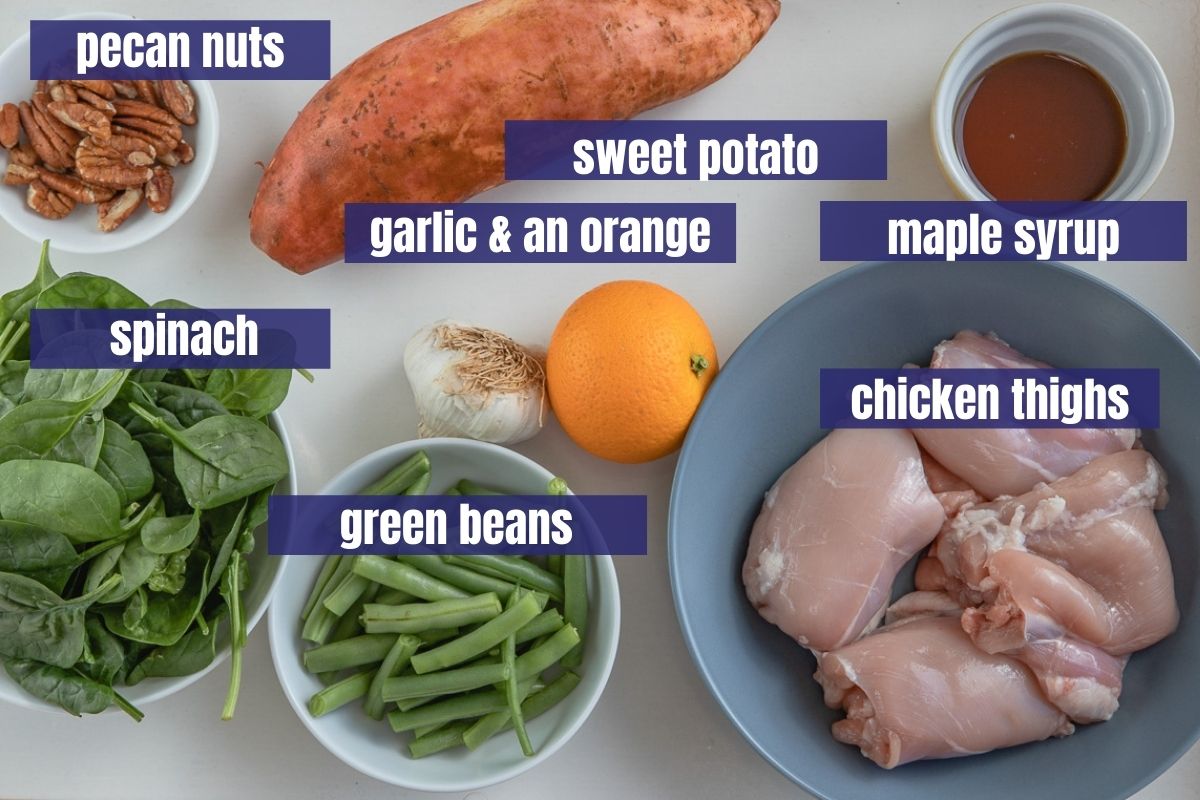 Sweet potato: I use about half a medium sized sweet potato. I peel it (but you don't have to) and chop it into smallish chunks (just 1 to 2 cm) so that they cook in the same time as the chicken.
Garlic: 8 cloves. Yep, that much. Throw the cloves in skin and all for quickness. Then smoosh them into the sauce on your plate. Yum.
Green beans: Just a handful. Top and tail and throw them in. You can even use frozen green beans if you prefer.
Chicken thighs: I use boneless skinless chicken thighs in this recipe so that everything cooks in the same amount of time. You can use skin on bone in chicken, but you'll probably need to add about 10 minutes to the cooking time.
Orange: Using both the zest and the juice of a whole orange give the simple chicken marinade plenty of flavour. I like to grate the orange with the large side of the grater so that there are nice chunky pieces of zest in the marinade, almost like marmalade!
Maple syrup: You just need around 3 tablespoons to whisk together with the orange zest and juice to form the basis of the sauce. No maple syrup? Use honey instead, or how about a few cheeky spoonfuls of marmalade?
Spinach: You'll need about a big handful, so not too much. I usually use baby spinach as it's easier to poke it into the dish towards the end of cooking. Alternatively you can just use ordinary spinach and chop it, of course.
Pecan nuts: I think the handful of pecans add the perfect bit of extra flavour and crunch. Of course if you have a nut allergy in your household or just don't have any pecans you can skip them and the meal will still be really good. Walnuts or hazelnuts would work well too.
How to make it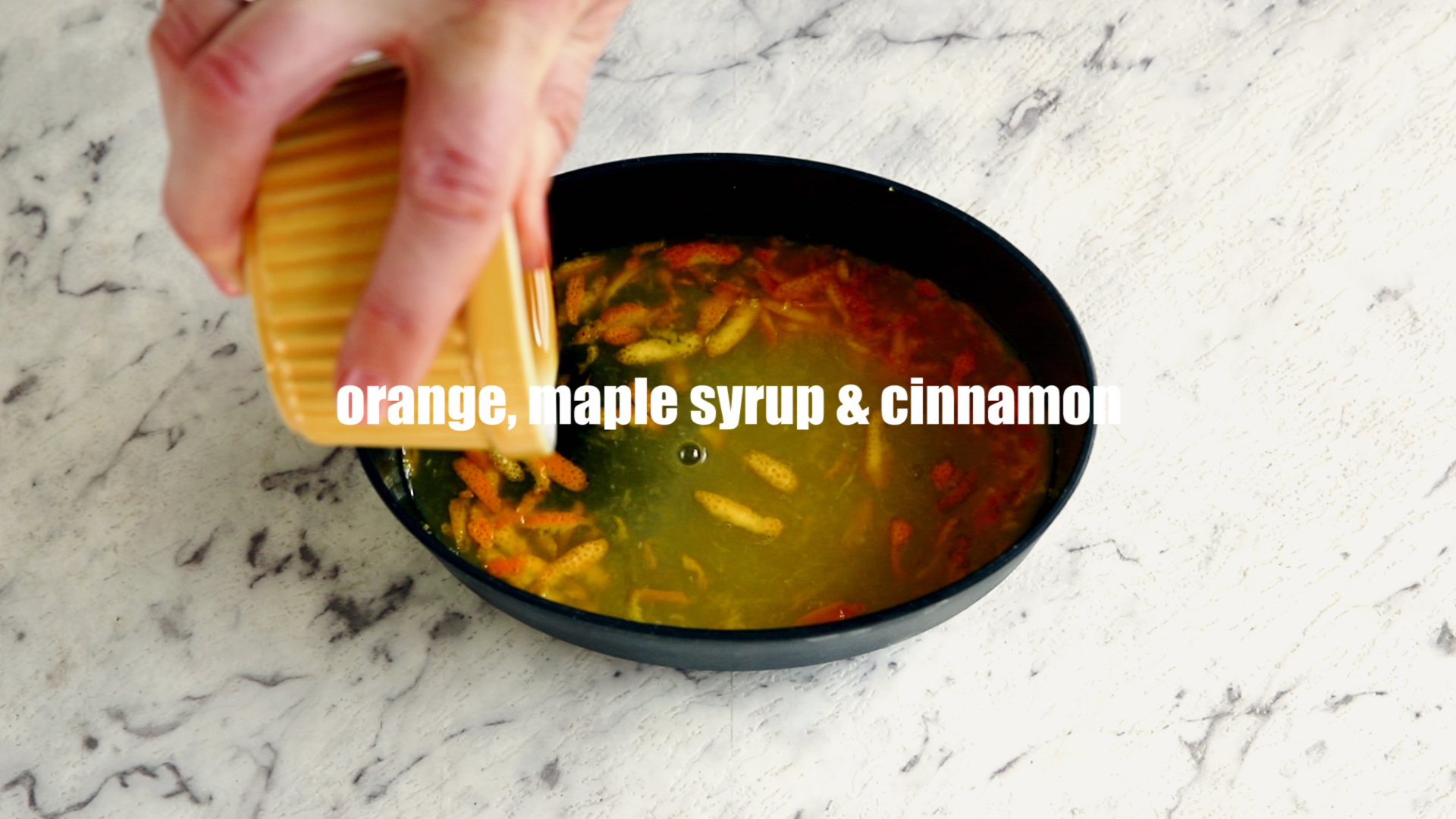 Step 1: Throw the sweet potato chunks, green beans and garlic cloves into a large baking dish or cast iron pan.
Step 2: Tuck the chicken thighs between all the veggies.
Step 3: Whisk together the orange zest/juice and maple syrup and drizzle it all over the chicken and veggies.
Step 4: Bake for roughly 35 minutes, then take the dish out of the oven. Wilt the spinach into the sauce and sprinkle over the pecan nuts.
Step 5: Bake for another 10 to 15 minutes until the chicken is well cooked and the sweet potato is tender.
Step 6: Serve immediately either by itself or with crusty or toasted bread.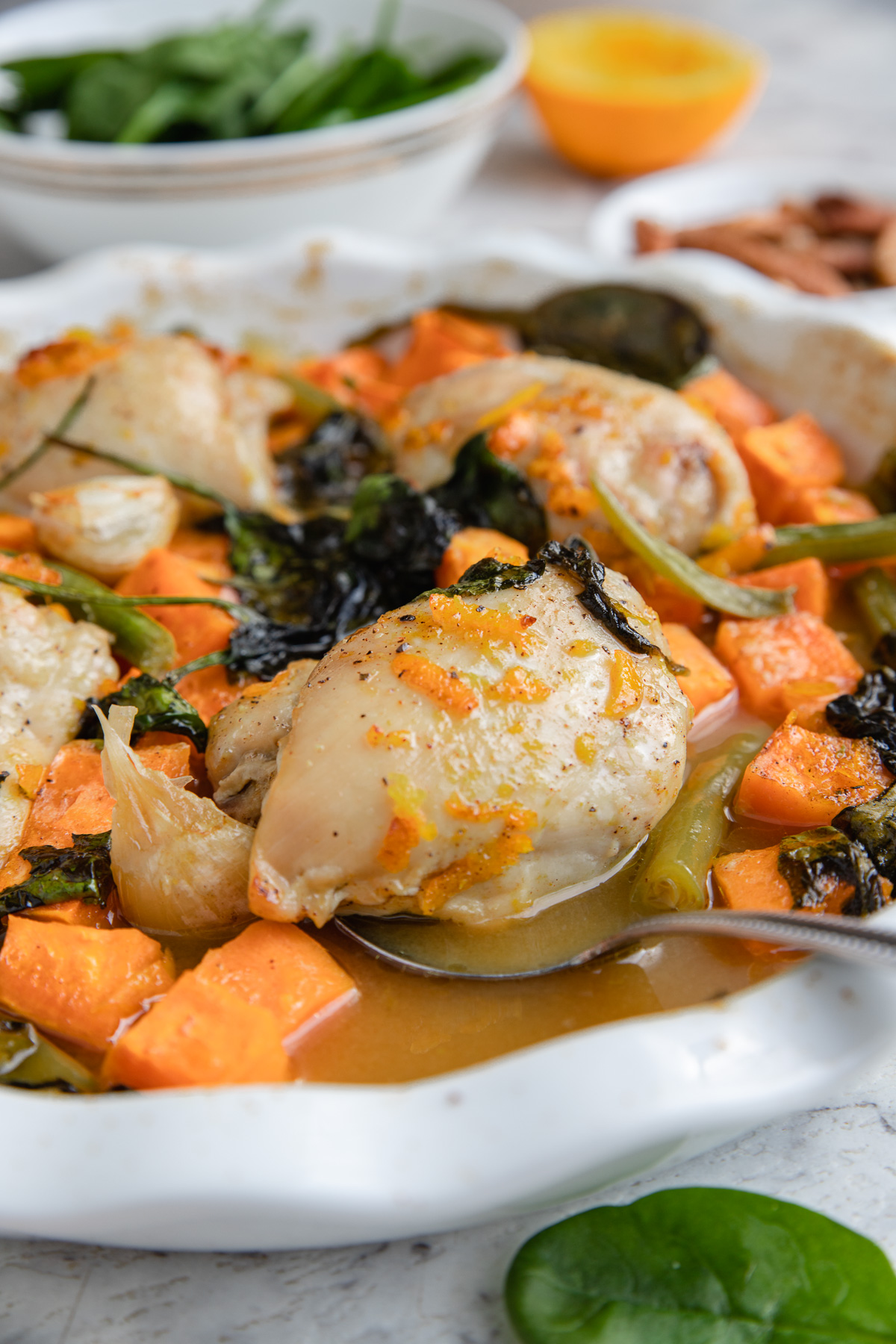 How and when to serve it
How
This chicken and sweet potato dish is a true one pan meal. There's meat, vegetables and sauce in there, so you don't really need a side dish.
I do like to serve it with some good quality toasted bread on the side, though. It would be a shame not to mop up every drop of that gorgeous maple orange gravy!
Click here to read more about my famous 2-minute toasted bread with olive oil and salt!
It also goes well with a little bit of plain rice. Those little microwavable pouches are perfect if you don't want to dirty another pot!
When
This is a favourite midweek meal for us. You only need 10 minutes of hands-on time to make it, which makes it a perfect option for when everyone's busy.
It's also the sort of thing that even our fussy youngest will eat without too much inspecting and whining!
However… the magic of this particular chicken and sweet potatoes is that it can be equally as good a choice for entertaining!
When I'm having guests over, I can only cope with easy meals. I like everything to be prepared and in the oven when they arrive so I can mostly concentrate on talking to them.
You can even prepare this ahead. Just get everything (apart from the spinach and pecans) in the baking dish ready to go, then cover and store in the fridge until you're ready to bake it.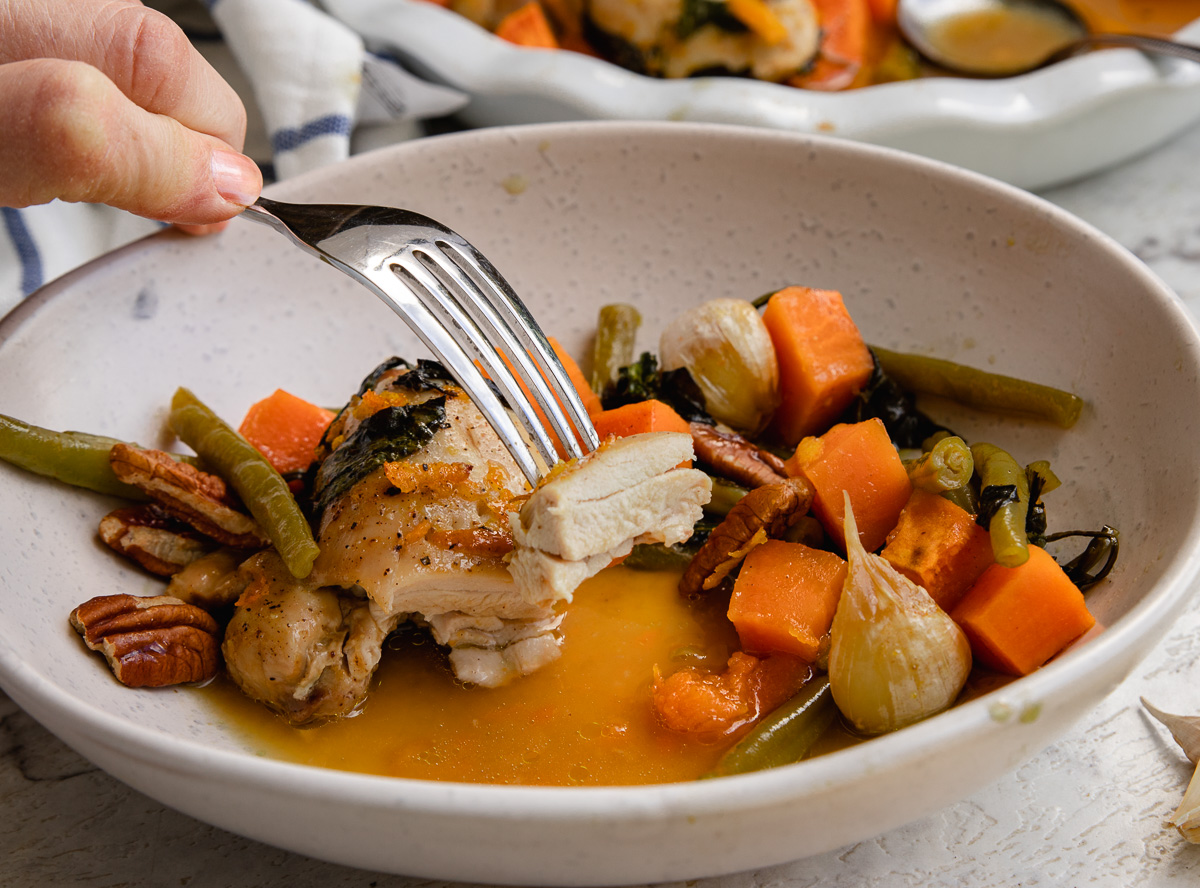 Ways to vary it
Use broccoli or brussels sprouts instead of green beans. Make sure you halve the brussels so they cook in time.
No pecans? Use walnuts, hazelnuts or macadamias instead. Nut allergy? We have one of those. Just skip the nuts altogether.
Sprinkle a little bit of crumbled feta or blue cheese over the dish just before serving. It's divine!
Try exactly the same recipe… but with skinless salmon! The only difference is that you only put the sweet potatoes and garlic in at the start. Give both of these a 15-minute head start, then add the rest of the ingredients and cook for another 15 to 20 minutes until the salmon is cooked. I'd also skip the pecans.
Why not try this similar dish: one pan maple orange sausage and sweet potatoes?
More things to know (FAQs)
Can I prepare it ahead?
Actually, yes! Just assemble the dish as if you were going to put it in the oven right away. Then cover and store in the fridge until you're ready to eat.

For this reason I find this chicken and sweet potatoes meal a perfect option for easy entertaining. All you do is throw everything into one baking dish, but I think the flavours taste more complex than they are. And it's just that little bit different, don't you think?

Keep your main course easy and concentrate your energy on the dessert. How about this 6-ingredient gooey Swedish chocolate cake?
Are you sure I don't need to peel the garlic?
You can if you like, but when it's roasted garlic squishes out of its skin very easily. I really like squeezing the garlic out of its skin and smooshing it into the sauce on my plate. 😉

If you dislike peeling garlic as much as I do, why not save yourself the effort?
Can I use bone in skin on chicken thighs instead?
You can, but you may need to cook the thighs for about 10 minutes longer. The sweet potatoes should be fine, but add the green beans about half way through the cooking time so they don't get overcooked.
More easy one pan dinners
IF YOU MAKE THIS RECIPE, LET ME KNOW HOW YOU GET ON BY LEAVING A COMMENT AND RATING BELOW… AND DON'T FORGET TO SIGN UP TO RECEIVE ALL MY NEW RECIPES BY EMAIL!
FOLLOW ME ON FACEBOOK, INSTAGRAM, PINTEREST AND YOUTUBE.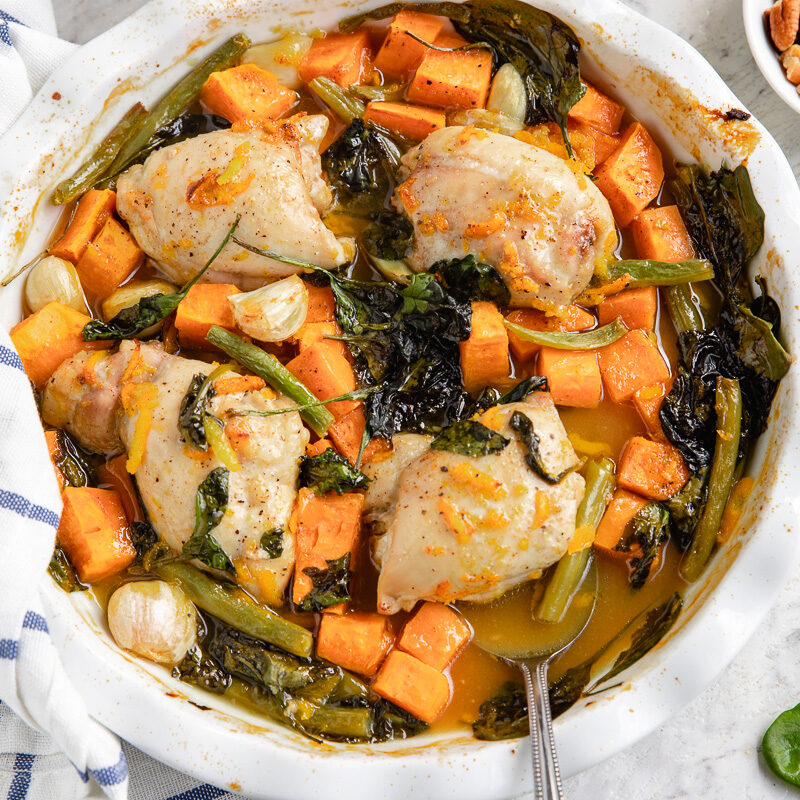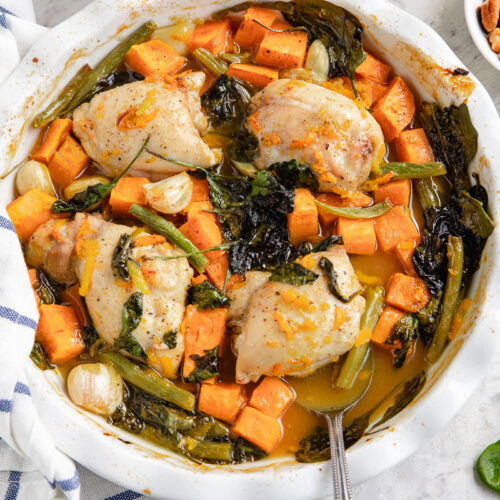 One Pan Baked Chicken And Sweet Potatoes With Maple Orange Sauce
I can't get enough of easy one pot chicken meals. They're great for crowd pleasing midweek meals, but also for easy entertaining. Sweet potatoes, green beans, garlic, spinach, and chicken all get bathed in a delicious sweet maple orange sauce. Oh, and don't forget those lovely crunchy pecans.
Equipment (affiliate links)
Ingredients (UK/Australia? Click below for grams/ml)
½

sweet potato

(medium) peeled and chopped into small chunks (1 to 2cm)

8

cloves

garlic

unpeeled

3½

ounces

green beans

(about 1 large handful, topped and tailed and sliced in half)

1

pound

chicken thighs

skinless boneless, 4 to 5 large thighs

1

orange

zest and juice (try zesting the orange with the thick grater for larger pieces of zest)

3

tablespoons

maple syrup

¼

teaspoon

ground cinnamon

(or a large pinch) optional

1

tablespoon

olive oil

salt and pepper

to taste

1

cup

spinach

(I used baby spinach – a big handful)

1

ounce

pecan nuts

(about a handful)
to serve
toasted bread with olive oil and salt, or rice
Instructions
Preheat the oven to 390F / 200C.

Add the sweet potato, garlic and green beans to a medium baking dish. Tuck the chicken between the vegetables.

Whisk the zest and orange juice with the maple syrup. Add a large pinch of ground cinnamon, if using.

Drizzle the whole dish with the oil, then pour the juice / syrup over the chicken.

Grind over plenty of salt and pepper, then bake for 50 minutes, or until the chicken is cooked through and the sweet potatoes are tender.

15 minutes before the end of the cooking time, add the spinach, tucking it down into the sauce as much as possible, and sprinkle over the pecans.

Serve with the bread or rice.
Notes
Using bone in skin on chicken thighs: This is fine, but you might need to add around 10 minutes to the cooking time. Also add the green beans around half way through to stop them overcooking.
Garlic: No need to peel before adding to the dish. Squeeze the garlic out of its skin and into the juices as you eat. Delicious!
No maple syrup? You can use honey instead!
Orange zest: I like to zest the orange with the large side of the grater so that there are bigger pieces of zest in the marinade.
No pecans, or got a nut allergy to consider? No worries. Either skip the nuts altogether (the dish will still be delicious) or replace with hazelnuts, macadamias or walnuts.
Making ahead: This is a perfect dish to make ahead, especially if you're entertaining. Just throw everything into the dish apart from the spinach and pecans. Cover and refrigerate until ready to eat.
A note on portion size: This dish serves 4, but the portions are on the modest side! If you or your guests have appetites on the larger side, I'd suggest using a bigger baking dish and adding a little more of everything 😉
Try it with salmon: Give the sweet potatoes and garlic a 15-minute head start in the oven (drizzle with a bit of olive oil first). Then add everything else including the salmon and cook for another 15 to 20 minutes until the salmon is cooked. I'd also skip the pecans!
Nutrition
Calories:
427
kcal
Carbohydrates:
25
g
Protein:
21
g
Fat:
28
g
Saturated Fat:
6
g
Polyunsaturated Fat:
6
g
Monounsaturated Fat:
13
g
Trans Fat:
1
g
Cholesterol:
111
mg
Sodium:
113
mg
Potassium:
569
mg
Fiber:
3
g
Sugar:
14
g
Vitamin A:
5049
IU
Vitamin C:
25
mg
Calcium:
81
mg
Iron:
2
mg