This baked chicken and chorizo risotto recipe will satisfy your cravings for a tasty, comforting and fuss-free meal perfectly. The flavorful dish brings together tender chicken, smoky chorizo, and creamy risotto rice, all prepped in around 15 minutes and then cooked to perfection in the oven – so no constantly stirring in the pan!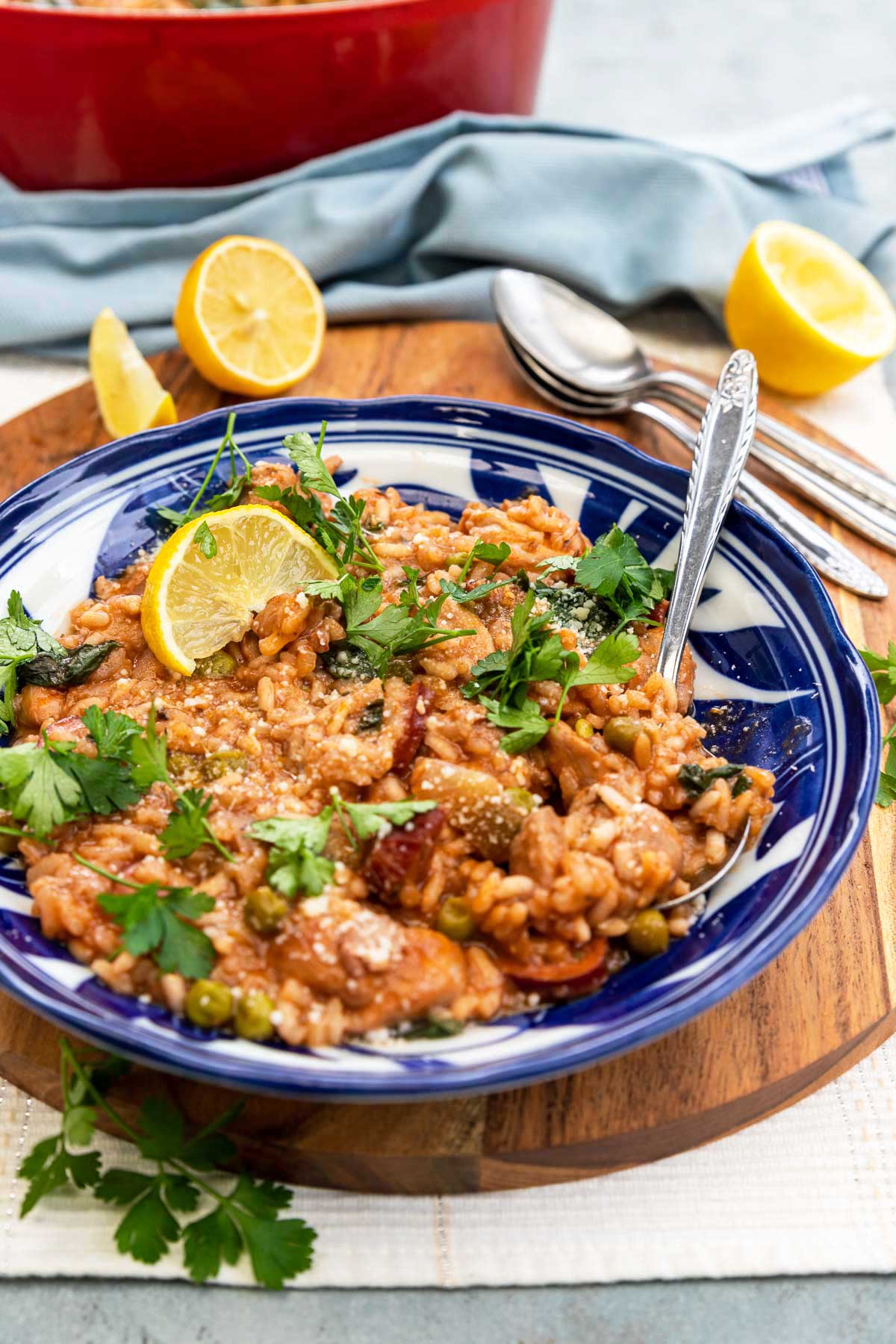 Chicken and chorizo are one of those 'match made in heaven' sorts of food pairings. If you need proof check out the many 5-star reviews on this very popular one pan chicken and chorizo with cherry tomatoes recipe.
We've been consistently loving this dish for so many years that I thought I'd try another kind of chicken and chorizo recipe. I'm confident you'll enjoy this chicken and chorizo risotto just as much!
Why you'll love it
✔ Delicious contrasting flavors. The smoky, spicy, and savory chorizo complements the mild tasting, juicy chicken really well.
✔ Creamy and comforting. Creamy parmesan adds richness and more punchy flavor to the dish.
✔ Perfect texture. No mushy, gloopy rice here! The risotto is baked only until the rice is al dente tender, just as risotto rice should be.
✔ ONE pan! Easy clean-up is always a bonus, right? A dutch oven is the perfect pan for this recipe, but any stove-to-oven pan is fine.
✔ Hands-off cooking. We all know you have to lovingly stir a risotto while it's cooking. But not this one! Once all the ingredients are combined, pop your chicken chorizo risotto into the oven to bake for around 45 minutes.
✔ Perfect for busy weeknights. The no-stir method makes this recipe the easiest risotto to make when you're short on time.
✔ An all-in-one dish. This baked risotto has it all – meat, veggies and rice. No need to serve anything on the side unless you want to.
About the ingredients
Apart from the chicken thigh, chorizo and perhaps the lemon, most of the ingredients you'll need to make your baked chicken risotto are simple pantry ingredients that you probably already have.
Here's what you need to know.
Onion: A large regular yellow or brown onion is perfect for maximum flavor. A red onion would be fine too, although the flavor will be sweeter and milder.
Garlic: If you can, try to choose fresh, plump cloves.
Chicken: Chopped boneless skinless chicken thighs are perfect since they stay moist and juicy, especially when baked in the broth. Buying ready-chopped would save some time.
Chorizo: You'll need a Spanish chorizo sausage (don't mistake this for the Mexican variety which is completely different). The spiciness level can vary, with some versions being milder while others have a bit more kick. Both options are acceptable – just use whichever you prefer.

However, since the chorizo is such a key flavor in this dish, try to find a good quality dark colored chorizo with an intense smoky, 'umami' (savory) flavor.
Paprika, mixed Italian herbs, salt and pepper: We keep things simple with just a few key flavors. Paprika adds a little color and more smoky but sweet flavor. I wouldn't skip this. The mixed herbs are an easy flavor win, but can easily be substituted for different dried herbs.
Rice: OK, so this is important. The ideal rice types for risotto include Arborio rice, Carnaroli, or Vialone Nano. Sometimes you'll find rice that's just labelled 'risotto rice' which is also a good choice. All these rice varieties absorb liquid and release starch during cooking, resulting in the creamy and velvety risotto texture that we're looking for.
Chicken stock/broth: Try to grab a good quality stock, or use whatever you already have.
Wine: This really does give the risotto extra flavor. Either white wine or red wine works. Alternatively, if you really don't want to include it, simply replace with more chicken stock.
Tomato paste: Note that this is often called tomato puree or concentrate in the UK. We're looking for the concentrated stuff, not simple tomato sauce or passata.
Frozen peas: Because who wants to make a separate side dish? Simply add them to the dish straight from frozen before baking. Add even more veggies if you like.
To stir in at the end.
Baby spinach: Actually, any spinach is fine. Fresh is great, or I often freeze fresh spinach to add straight from frozen into dishes such as this.
Parmesan cheese: I usually keep ready-grated parmesan in the freezer to use straight from frozen (it defrosts very quickly!). I wouldn't recommend skipping this since it adds most of the creaminess that's characteristic of a good risotto (not to mention extra flavor).
Lemon: Stir in the juice of a whole lemon (or about 2 tablespoons) just before serving to add freshness and zingy flavor.
Butter: Just a tablespoon adds more flavor and creamy richness.
Fresh herbs (entirely optional!): A scattering of a fresh herb such as parsley or basil, along with a little extra parmesan, will make your finished baked risotto with chicken and chorizo look incredible – definitely good enough to eat!
How to make chicken and chorizo risotto
Step 1 is to cook the chopped onion in a little olive oil in a heavy oven-proof pan such as a cast iron dutch oven – just for a couple of minutes until starting to soften.
Then add the chopped chicken thigh and cook on a medium heat until browned all over – just a couple more minutes. At this point add the garlic and stir-fry briefly.

The next step is to add the chopped chorizo, paprika, salt and pepper and herbs. Cook for just a minute or two until the flavors begin to be released.
Then add the rice and stir-fry again, briefly, just until all the rice is coated with cooking juices and looks translucent.

Now add the chicken broth/stock mixed with the wine, tomato paste and frozen peas. Stir well. Your risotto is now ready to go into the oven!

Bake in a pre-heated oven for 40 to 45 minutes or until most (but not all) of the liquid has been absorbed and the rice is 'just' tender (al dente!). No need to cover the pot!
And now for the part where you make your baked risotto even more creamy and flavorful. Add the spinach, parmesan, butter and lemon juice and give the pot a really good stir.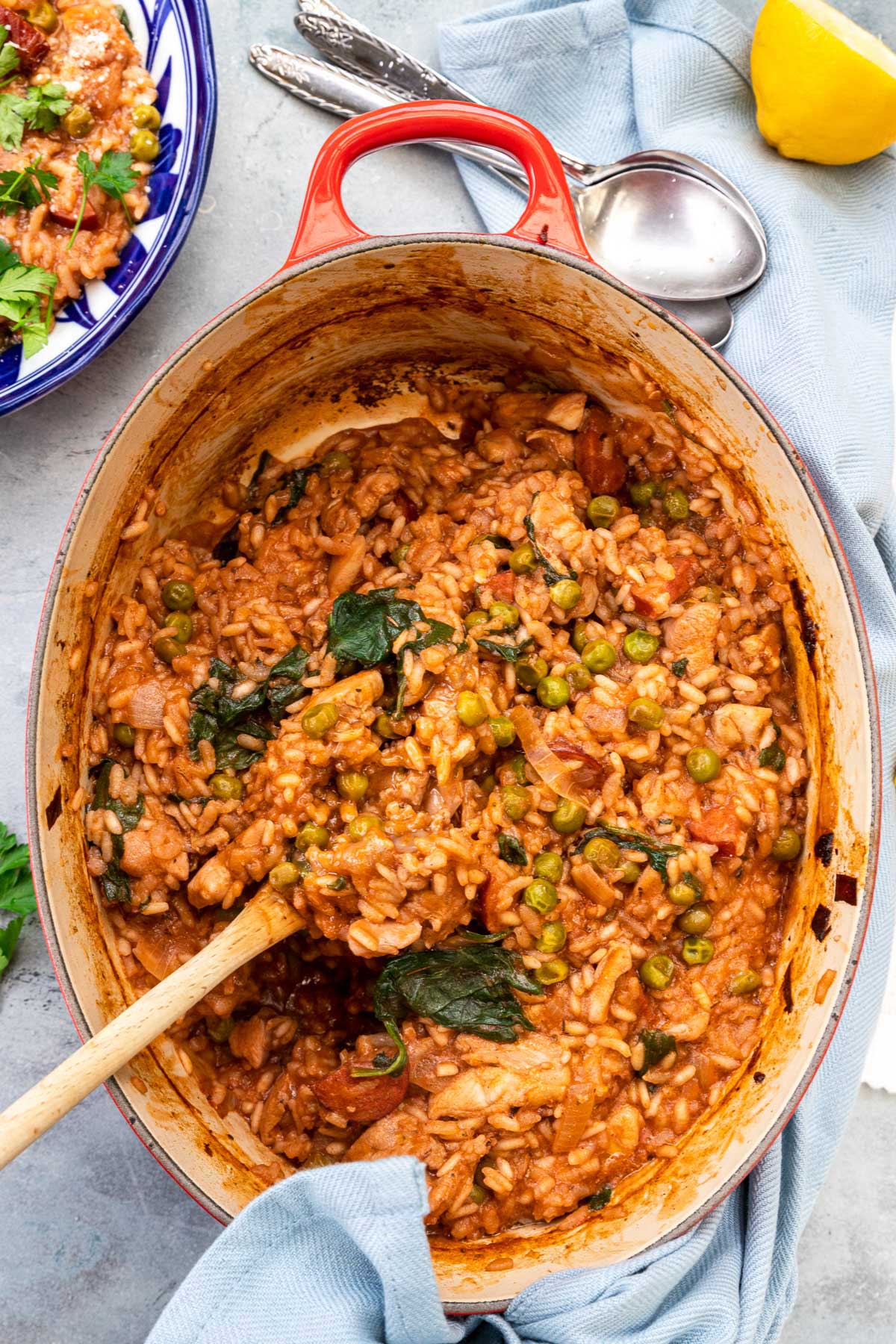 Serve immediately while oozy, creamy and completely delicious!
Helen's top tips
Keep an eye on the risotto towards the end of the cooking time. If it's starting to look a bit dry but the rice is not yet cooked enough, simply add a drizzle more water or stock. There should still be some liquid visible in the dish.
Don't wait to serve. If you let it stand for too long the rice will start to soak up too much of the lovely moisture.
Got leftovers? Consider using them to make arancini balls! Simply grab tablespoons of risotto and tuck a small cube of mozzarella cheese inside before forming into small balls. Dip into flour, then egg and finally panko breadcrumbs. Shallow fry in hot olive oil, shaking the pan until deliciously crisp on all sides. Grab some marinara sauce for dipping and enjoy!
How to serve
One of the things I love about this risotto with chicken and chorizo is that it is an all-in-one balanced meal packed with meat, vegetables and rice.
To be honest, I don't usually serve anything at all on the side. All I do is sprinkle extra parmesan and fresh herbs (if I have them) over the top and serve.
But if you would like a few extra veggies, consider these 10-minute frozen green beans. They're so easy to make.
If serving to guests, you could serve with a simple green salad instead, if you like.
Speaking of which, do I think a baked Spanish risotto such as this is suitable for serving to guests?
Yes, absolutely! You can prepare the dish just before your guests arrive, then put it in the oven to bake while you greet them and prepare to eat. Just bear in mind that a risotto is best served immediately after cooking, or it can begin to dry out. But plan carefully and it could be a great way to wow everyone at your next dinner party!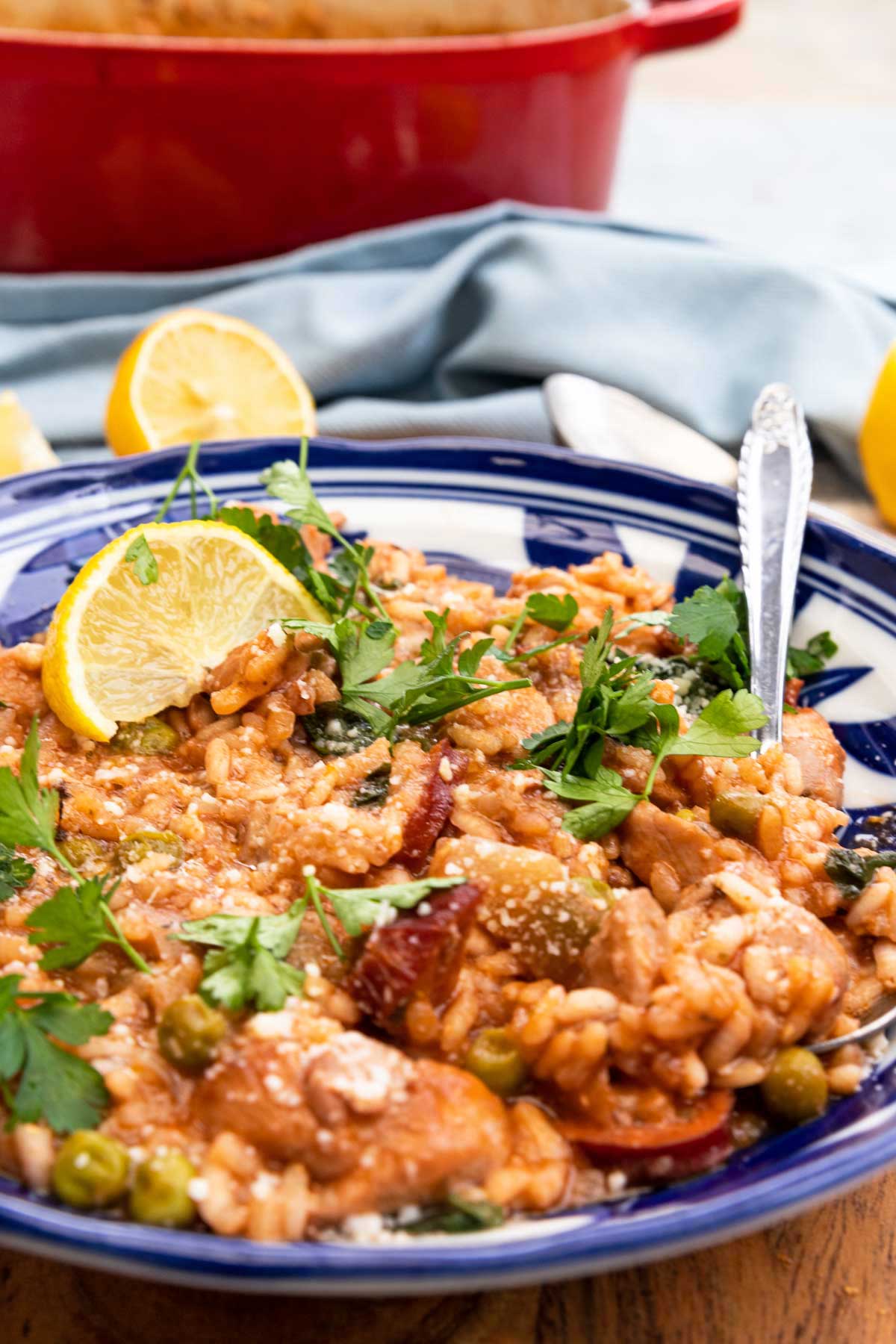 Variations
The strong, smoky and spicy flavors of the chorizo are absolutely key in this dish. If you wanted to, however, you could try it with chunky, smoked pancetta or bacon instead (or as well!).
Try cubes of pork instead of chicken.
Add some cherry tomatoes (or chopped ordinary tomatoes) for extra tomato-y bursts of flavor.
Add a little seafood for more of a paella spin on the recipe! How about adding prawns (or shrimp) to the pot around 5 to 10 minutes before the end of the cooking time?
Try adding different vegetables to the dish. Red peppers would work well (keep them in large chunks), as would butternut squash or mushrooms. Replace or add to the spinach with kale, swiss chard or arugula (add kale at the beginning of cooking, not at the end).
Instead of or as well as frozen peas, try frozen broccoli or green beans, or fresh chopped asparagus or zucchini.
Recipe FAQs
I don't have a dutch oven/stove-to-oven pot. What can I use instead?
You could use a cast iron skillet or an oven-safe skillet with a heatproof handle. Alternatively, if you don't have one of these either you can cook the initial steps on the stovetop using a regular skillet or saucepan. Once the dish is ready for oven baking, transfer it to a casserole dish and proceed with the recipe.
What wine goes well with chicken and chorizo?
Consider a fruity red wine like Rioja, Malbec, Shiraz, or Cabernet Sauvignon. Prefer white? You couldn't go wrong with a refreshing Sauvignon Blanc.
How can I store leftover risotto and can I reheat it?
A risotto is always at its best when first cooked. However, you can store leftovers covered or in an airtight container in the refrigerator for 2 to 3 days. It's important to cool the risotto quickly after cooking by transferring it to shallow containers and refrigerating it promptly. When reheating the leftovers, heat them thoroughly either in the microwave for 3 to 4 minutes or gently on the stovetop with a little extra water or stock until they are piping hot.
Can I freeze it?
Yes, risotto can be frozen. Cool it completely, portion it out, and store it in airtight containers or freezer bags and freeze for up to 2 months. Thaw overnight in the refrigerator and reheat in the microwave as described above. Bear in mind that the texture may not be quite as good as when fresh, but it should still taste delicious!
IF YOU MAKE THIS RECIPE, LET ME KNOW HOW YOU GET ON BY LEAVING A COMMENT AND RATING BELOW… AND DON'T FORGET TO SIGN UP TO RECEIVE ALL MY NEW RECIPES BY EMAIL!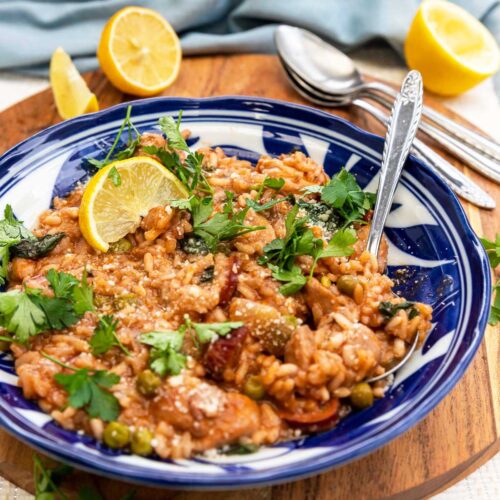 Baked Chicken And Chorizo Risotto (One Pot!)
A delicious and mostly hands-off one-pot baked risotto that combines tender chicken, smoky chorizo, and creamy rice. Using mostly pantry ingredients and frozen veggies, this is a hassle-free all-in-one dish. No constant stirring of the rice as it cooks, and the dish doesn't even really need a side dish. A perfect crowd pleaser for midweek or any time!
Equipment (affiliate links)
Ingredients (UK/Australia? Click below for grams/ml)
1

large

onion

yellow or brown, peeled and chopped

1

tablespoon

olive oil

for pan-frying

1

kilo

skinless boneless chicken thighs

chopped into medium sized chunks

3

large cloves

garlic

peeled and crushed

150

grams

chorizo

(This is roughly 1 Spanish style chorizo sausage, sliced into thin rounds)

1

teaspoon

paprika

(regular or smoked)

1

teaspoon

salt

¼

teaspoon

pepper

2

teaspoons

mixed dried herbs

(Italian style or similar)

460

grams

Arborio rice

(2 cups) or another kind of 'risotto' rice such as Carnaroli, Vialone Nano or Baldo

750

ml

chicken stock

or 3 cups (= chicken broth USA)

125

ml

wine

(½ cup, white or red) or replace with more chicken stock

3

tablespoons

tomato paste

concentrated (UK = sometimes called tomato puree)

170

grams

frozen peas

(1 cup)
To stir in at the end
30

grams

spinach

fresh or frozen (1 cup)

45

grams

grated parmesan cheese

(½ cup) plus a little extra to serve

1

tablespoon

butter

1

lemon

(juice only – about 2 tablespoons) plus extra lemon wedges to serve if you like

fresh parsley or basil (optional)

for sprinkling over everyone's dish before serving
Instructions
Preheat the oven to 180C/355F.

In a large dutch oven, or other oven-safe pot/pan, pan-fry the chopped onion in a large drizzle of olive oil on a medium high heat until starting to soften.

1 large onion,

1 tablespoon olive oil

Add the chopped chicken pieces and cook and stir until browned all over (2 or 3 minutes).

1 kilo skinless boneless chicken thighs

Add the crushed garlic and then the chorizo, paprika, salt and pepper and dried herbs. Cook, stirring, for another minute or two.

3 large cloves garlic,

150 grams chorizo,

1 teaspoon paprika,

1 teaspoon salt,

¼ teaspoon pepper,

2 teaspoons mixed dried herbs

Add the rice and stir briefly until it all turns translucent.

Finally, add the chicken stock and wine, concentrated tomato paste/puree and frozen peas. Give the pot a final good stir.

750 ml chicken stock,

125 ml wine,

3 tablespoons tomato paste,

170 grams frozen peas

Bake the risotto (uncovered) for 40 to 45 minutes or until the rice is 'just cooked' (al dente). If the dish looks too dry toward the end of cooking, you can add a little more stock or water. Most of the liquid will be soaked up but there should still be some left in the pot.

Stir through the spinach, parmesan, butter and lemon juice.

30 grams spinach,

45 grams grated parmesan cheese,

1 tablespoon butter,

1 lemon

Serve immediately with extra parmesan and the fresh herbs (if using) and if you like lemon wedges on top.

fresh parsley or basil (optional)
Notes
What pan to use: A large dutch oven style pot is perfect for this recipe. Otherwise, use any large stove-to-oven pan, such as an oven-safe saucepan with heat-proof handles. If you don't have anything like this, that's OK – simply use a large heavy pot or pan and then transfer everything to a large (preferably deep) baking dish to bake.
Chorizo: Use Spanish chorizo, not Mexican (two different things!). Look for Spanish style dark-colored chorizo sausage rather than the paler kind which tends to be less flavorsome. Also, I usually grab a whole sausage rather than the very thin pre-packaged slices.
Variations: You can use pancetta or even bacon instead of chorizo if you prefer, although the flavor of the risotto will be slightly different. Also feel free to add different vegetables such as frozen broccoli, fresh chopped asparagus or red peppers.
Storing and freezing: Store covered well or in an airtight container in the fridge for up to 3 days. Make sure you cool and put in the fridge quickly. You can also freeze in airtight containers for up to 2 months. Let defrost in the fridge overnight, then reheat either in the microwave for 3 to 4 minutes or gently on the stove with a bit of extra liquid.
Idea for leftovers: Make arancini! Scoop up tablespoons of refrigerated risotto, push a small cube of mozzarella into the middle, then roll in first flour, then egg, then panko breadcrumbs. Shallow fry in plenty of olive oil on all sides until crispy. Enjoy dipped in store-bought marinara sauce!
Nutrition
Calories:
456
kcal
Carbohydrates:
77
g
Protein:
13
g
Fat:
9
g
Saturated Fat:
3
g
Polyunsaturated Fat:
1
g
Monounsaturated Fat:
4
g
Trans Fat:
0.1
g
Cholesterol:
16
mg
Sodium:
788
mg
Potassium:
481
mg
Fiber:
5
g
Sugar:
6
g
Vitamin A:
1104
IU
Vitamin C:
27
mg
Calcium:
104
mg
Iron:
5
mg