This one's for fans of moussaka! Papoutsakia, which means 'little shoes', are cute eggplant halves stuffed with a delicious meat sauce and topped with bechamel sauce. They taste just like moussaka, but they're heavier on the eggplant, and easier to make!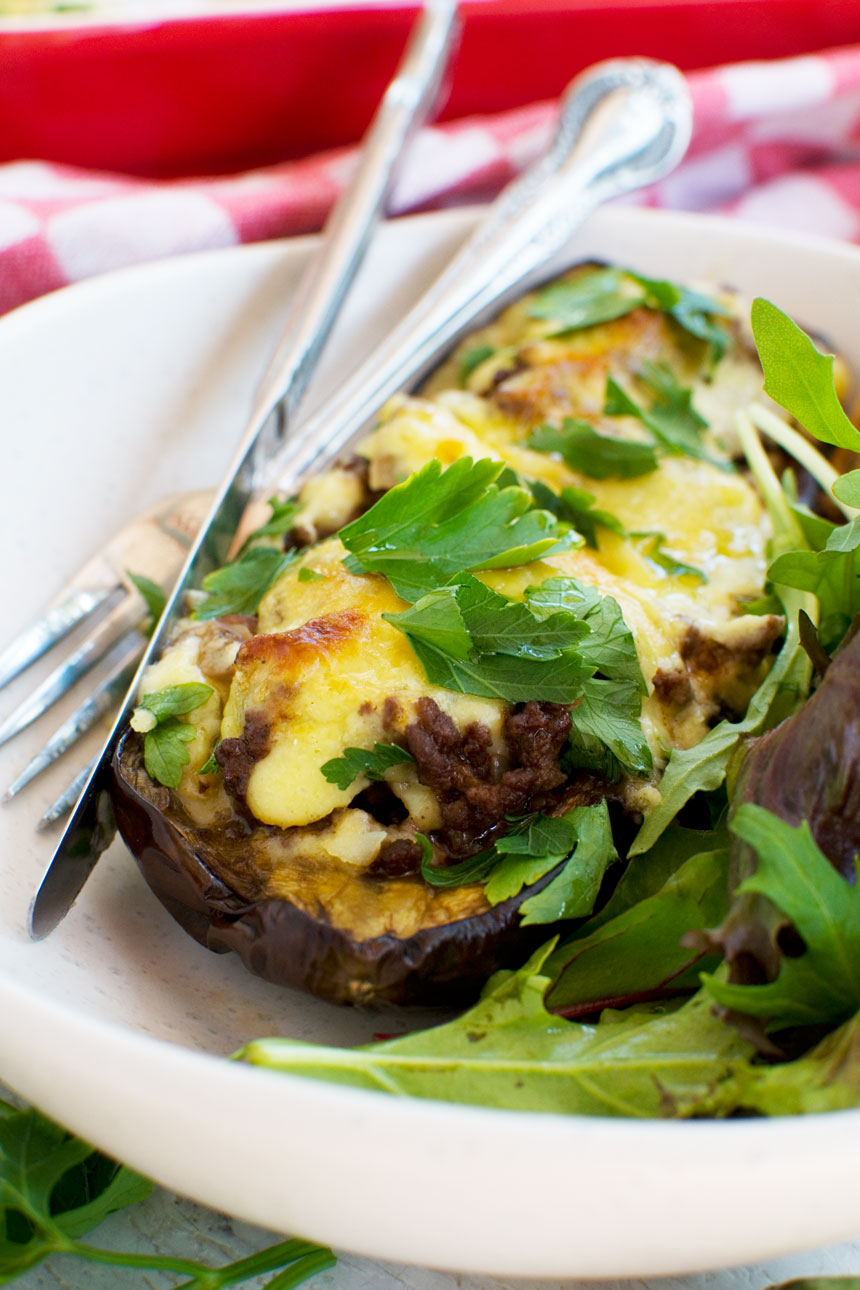 Greek food at its cutest!
When I lived in Greece, I would never miss the chance to order either moussaka. Or… these stuffed eggplant, also called papoutsakia or eggplant papoutsaki!
Now here's the cute part. Papoutsakia (pap-out-sak-ia) means 'little shoes', or eggplant or aubergine slippers. I suppose they are shaped a bit like shoes or slippers. Have you heard a cuter name for a dish?
So here's why you should give them a go:
They're super cute and fun and will impress everyone you make them for. You'll feel like a Greek god or goddess when all the compliments roll in 😉
They're like a slightly easier but just-as-delicious version of moussaka. It's quicker to prepare the eggplant and there's only one layer of each component – eggplant/aubergine, meat filling, and bechamel sauce.
They're a great meal to make for guests since they're satisfying, comforting, and impressive! You can make the three components ahead (even the day before) and pop the stuffed eggplant in the oven just before eating.
What ingredients you need
To keep this recipe as easy as possible, I use almost the same recipe as I use to make my easy moussaka.
Here are the 3 components of this delicious Greek dish:
Eggplant/aubergine. I use 4, each sliced in half.
A simple meat filling made out of ground beef/beef mince and lots of yummy Greek flavours – cinnamon (trust me, it tastes great), oregano, red wine, garlic, onion, tomato paste, and fresh parsley if you like.
A traditional Greek bechamel sauce. You make this exactly like you'd make a bechamel sauce for a lasagna – with melted butter, flour, milk, and parmesan cheese -or the yummy hard Greek cheese called kefalotiri if you can find it. The only difference is that you add 2 whisked egg yolks into it so that it puffs up a bit during cooking – a bit like a souffle.
How to make them
Step 1: Prepare the eggplant! First slice them in half lengthwise. Then score around the edge, leaving about a 1cm border. Score deeply but without cutting into the skin on the bottom.
Score in a criss-cross pattern then brush all over with a bit of olive oil. There are some photos below if you'd like to 'see' how I do this. Or you can watch the video!
Step 2: Bake the eggplant and make the bolognese sauce. While they're baking, make the delicious meat sauce on the stove top. It's pretty easy and only takes about 30 minutes.
Start by softening the onions, then add the herbs and spices, meat, and finally the mixture of tomato paste and wine and water.
Simmer until fairly dry. At the end you can add some fresh parsley if you like.
Just like this: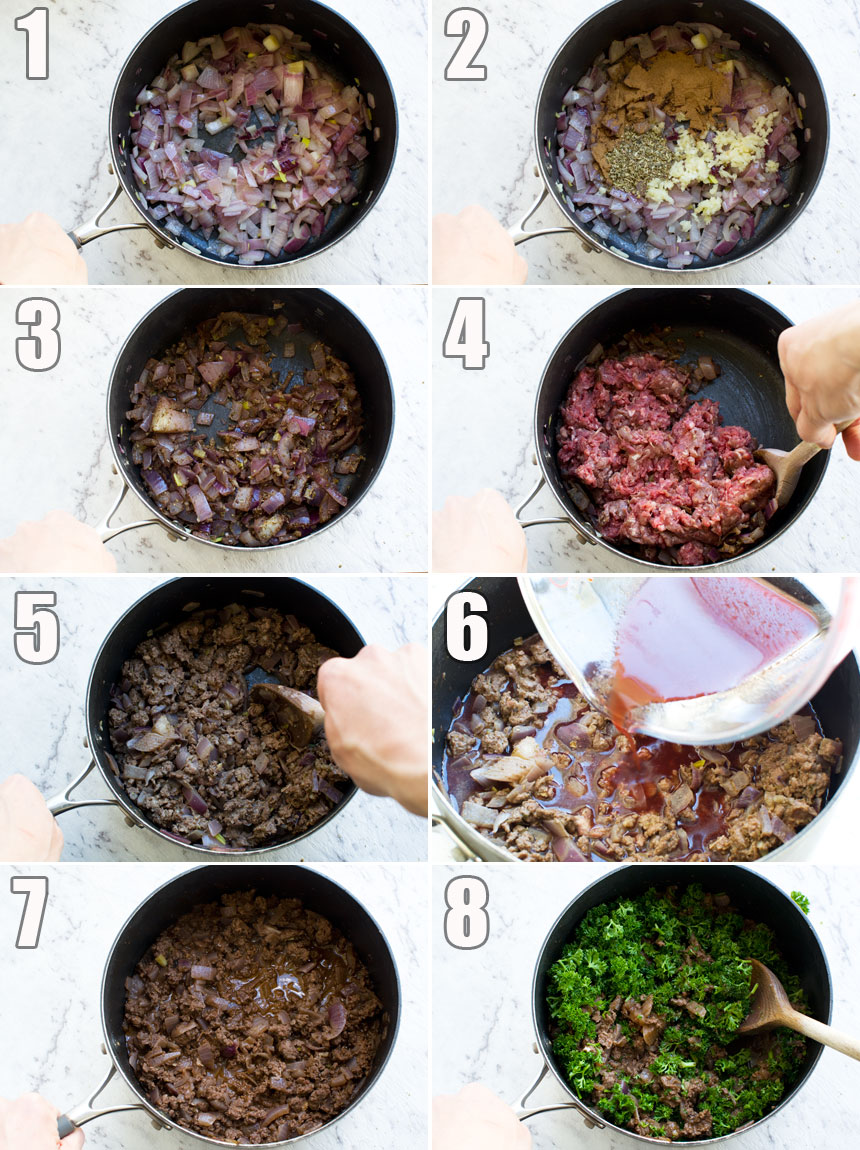 Step 3: Make the Greek bechamel sauce. Melt butter and add flour. Cook for a minute or two. Slowly add milk and stir and heat until the sauce thickens. Add cheese and a bit of nutmeg.
Let cool, then whisk 2 eggs yolks in. Set aside to cool a little!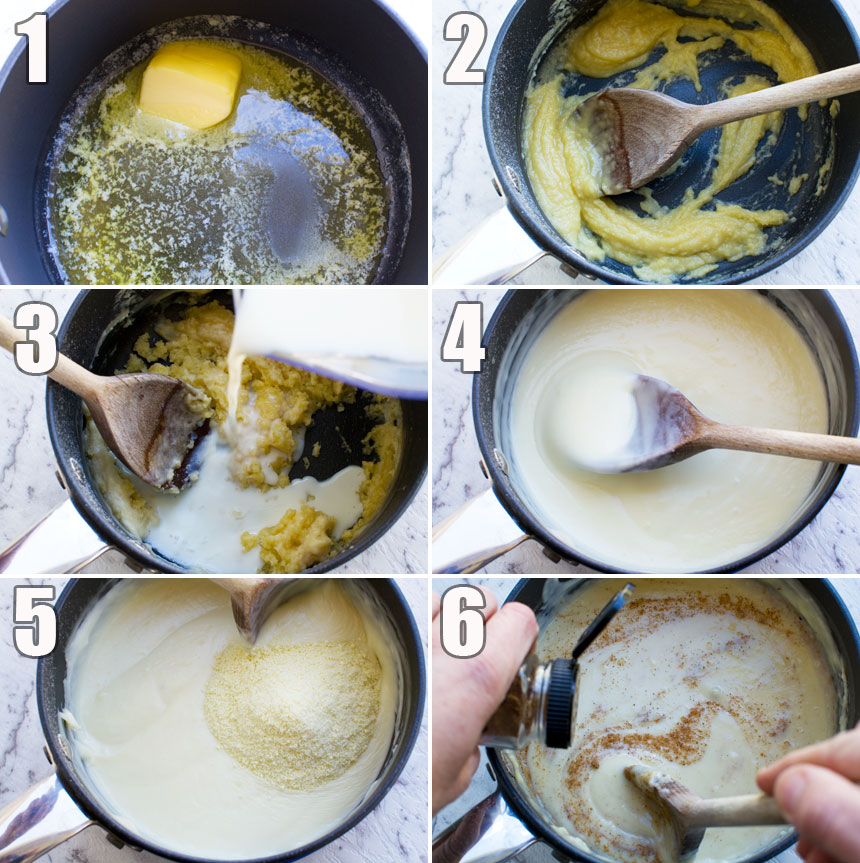 Note: The photos above don't show me adding the egg yolks. Just let the sauce cool a little (so that they don't turn into scrambled eggs), then whisk them in quickly.
How to assemble papoutsakia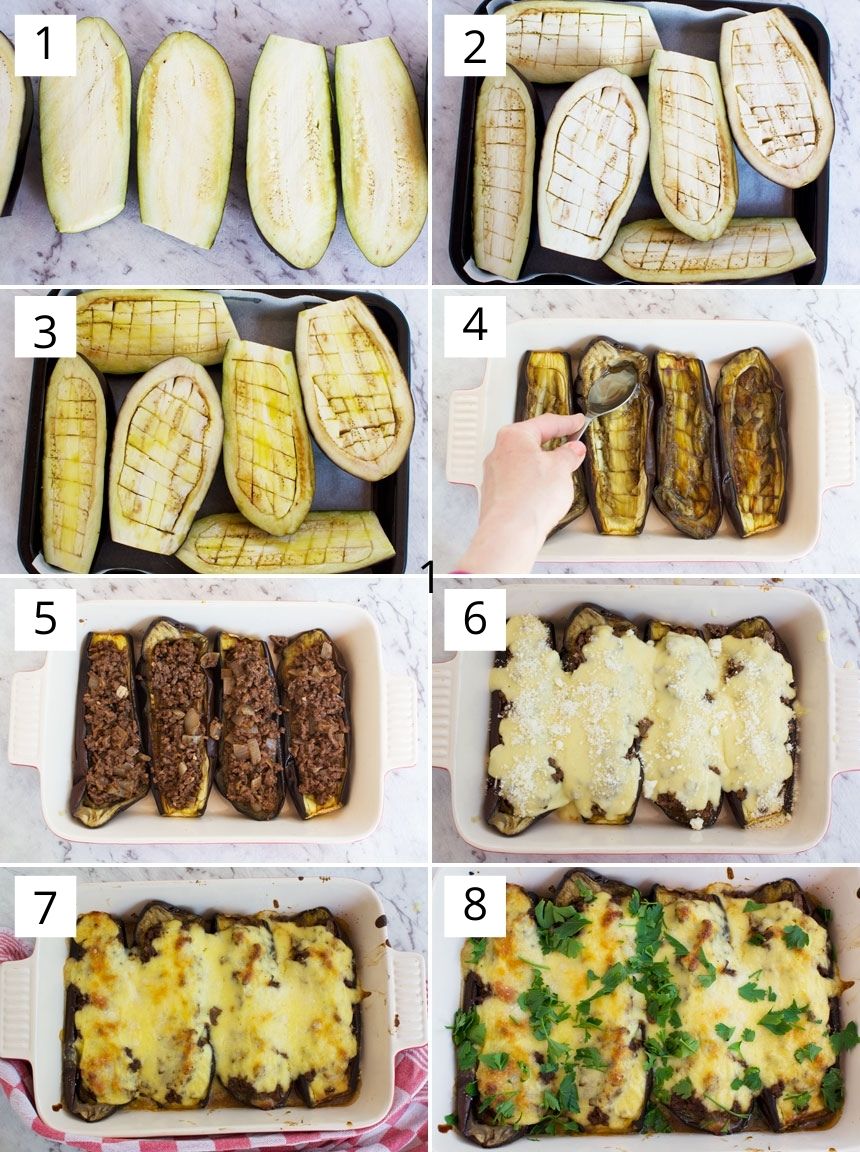 Putting the dish together is very easy – and kind of fun.
Before you start, remember it doesn't have to look perfect. Some of the meat sauce and bechamel will probably fall off into the baking dish, but that's perfectly OK.
So here's what you do:
Squash down the middle part of the eggplant with the back of a metal spoon. They should be nice and squishy now. This will make some space for the filling.
Fill each eggplant half with some of the meat filling. Don't be shy!
Spoon some of the cooled bechamel sauce over the top. Sprinkle with a bit more cheese if you like.
Bake for about 30 minutes or until nice and browned on top. Sprinkle with some fresh parsley to serve.
This is what it looks like when it comes out of the oven. Mmmm!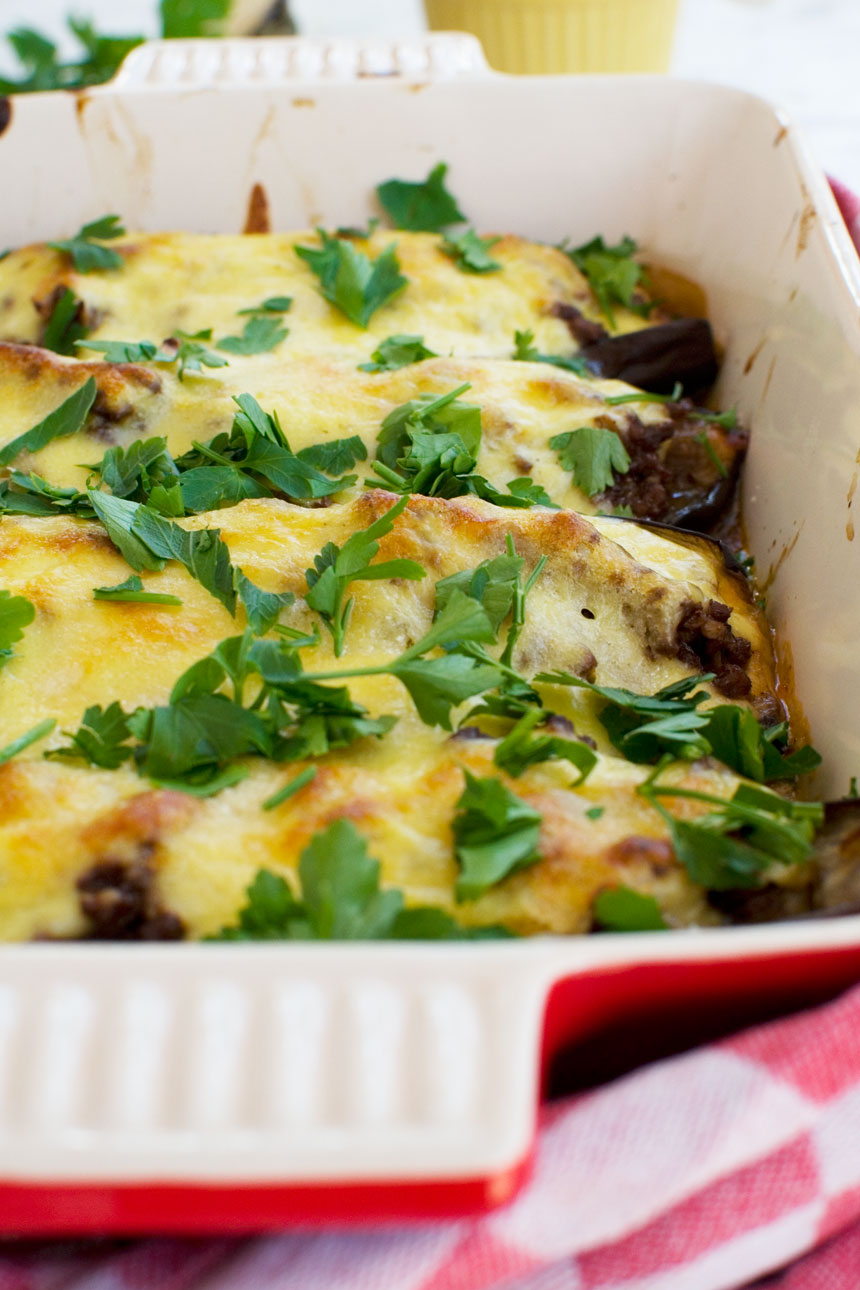 How to serve stuffed eggplant
I usually serve this meal exactly like I would moussaka – with a big Greek salad, tzatziki (or just plain Greek yoghurt), and toasted bread with olive oil and salt.
It's a perfect mini Greek feast, suitable to make for a family meal, or to impress guests.
Preparing ahead and freezing
The best part about making this for guests (or even for a family meal) is that you can prepare it ahead.
You can fully assemble the dish, and then just cover the baking dish with plastic wrap and pop it into the fridge.
Take it out of the fridge half an hour or so before you want to bake it to take the chill off. Then bake as normal.
You can even freeze it once it's assembled! Just make sure it's wrapped really well with plastic wrap and/or aluminium foil. You can freeze it for up to 3 months. Let it defrost in the fridge, then bake as normal.
Cooked leftovers freeze well too! Just let defrost then reheat for about 20 to 30 minutes at 160C/320/F or until well warmed through.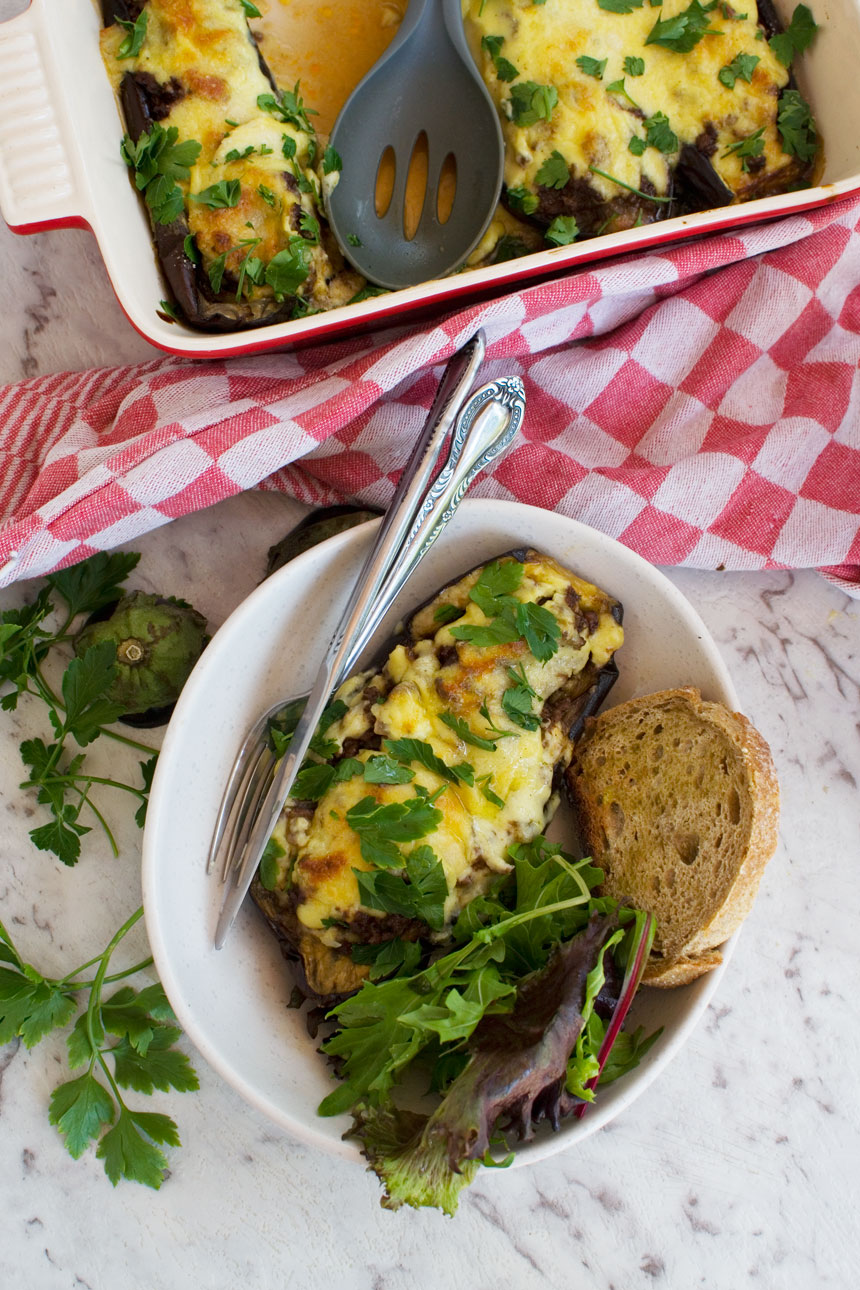 Make the recipe your own
The most traditional way to make papoutsakia is with eggplant/aubergine. BUT you can also make them with zucchini/courgette, big tomatoes, or even peppers. I once made this recipe with big ball-shaped zucchini. Mr. Scrummy said they looked like a volcano with a bit of the meat sauce running down the side!
There's also no reason why you can't use chicken or turkey or pork mince instead of beef.
Or skip the meat and make a vegetarian version out of mushrooms, cubed sweet potato and maybe even black beans.
Make this recipe even easier by skipping the bechamel altogether. Instead, just serve with a good sprinkle of feta cheese and a big blog of Greek yoghurt. Your papoutsakia will still be super delicious served this way!
Use mini eggplant for an even cuter dinner!
So next time you think you're in the mood for a Greek moussaka, why not make these 'little shoes' instead? You'll impress everyone you make them for, including yourself 😉
If you love eggplant, you have to try this popular Greek baked eggplant with tomato and feta, too. It's absolutely delicious either served by itself or with some simple meatballs!
Helen's top tips
Want to skip a step to make this meal even easier? Swap the béchamel for ricotta cheese (just stir it well and add a handful of parmesan or feta cheese).
If you don't have parmesan, pecorino or kefalotiri, use crumbled feta! You can also sprinkle a sneaky handful of crumbled feta on top of the finished dish if you like.
Freeze any leftover meat sauce and bechamel. I find there sometimes is some. You can make a smaller amount of stuffed eggplant another time!
Let the bechamel cool down a bit before you spread it on top of the stuffed aubergines. It'll thicken a bit more which means it won't all slide off into the dish.
More things to know (recipe FAQ)
How can I prepare this ahead?
Make the three components of this dish (eggplant, sauce and bechamel) ahead and freeze them until you want to make the dish. Or you could make double of everything and freeze half for another time.

You can freeze everything for up to 3 months before using it. This is especially useful when entertaining, right?
How can I make papoutsakia vegetarian?
Great question! This is totally possible. Just replace the meat sauce with a tomato and onion sauce like in this Greek baked fish recipe. Your papoutsakia will be just as delicious!
More favorite Greek dinners
Or if you're just enjoying the whole Greek food vibe in this post, you might like to check out my Greek recipes archives!
IF YOU MAKE THIS RECIPE, LET ME KNOW HOW YOU GET ON BY LEAVING A COMMENT AND RATING BELOW… AND DON'T FORGET TO SIGN UP TO RECEIVE ALL MY NEW RECIPES BY EMAIL!
FOLLOW ME ON FACEBOOK, INSTAGRAM, PINTEREST AND YOUTUBE.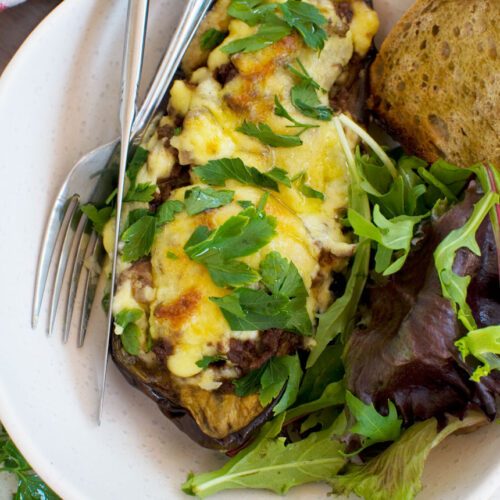 Easy Greek Stuffed Eggplant (Papoutsakia Or 'Little Shoes'!)
This easy version of traditional Greek stuffed eggplant or aubergine is sometimes called papoutsakia or 'little shoes'. Bake eggplant, stuff with a simple but delicious beef bolognese sauce, top with Greek bechamel sauce and cheese, and bake again. They're cute, they're easy to make ahead or freeze, and they're an easier but just as delicious version of moussaka. Give them a try!
Ingredients (UK/Australia? Click below for grams/ml)
For the eggplant/aubergine
4

eggplant

medium (UK/Australia aubergine)

olive oil

for brushing the eggplant
For the Greek bolognese sauce
1

onion

finely chopped

4

garlic cloves

crushed or chopped

2

teaspoons

cinnamon

1½

teaspoons

dried oregano

1

pound

ground beef

or lamb or chicken/turkey (ground beef = minced beef in UK/Australia)

2

tablespoons

tomato puree

/ paste mixed with about ½ cup/125ml water

⅔

cup

red wine

salt and pepper

1

bunch

fresh parsley

chopped
For the béchamel sauce
2

ounces

butter

4

tablespoons

plain flour

2

cups

milk

warmed slightly in the microwave or in a pan

2½

ounces

parmesan cheese

or Italian pecorino / Greek kefalotiri if you can find it!

¼

teaspoon

nutmeg

2

egg yolks

lightly whisked (you can also use the whole eggs if you like)
Instructions
Eggplant/Aubergine
Pre-heat the oven to 355F/180C. Slice each eggplant in half lengthwise. On the cut side, score around the edge of each, leaving around a 1cm border. Then on the inside, score in a criss-cross pattern. Go as deep as you can without slicing through the bottom of the eggplant. This isn't as tricky as it sounds!

Place the eggplant halves on a large baking tray lined with baking paper. Brush all over with olive oil. Turn them over so that the cut side is now down. Bake for 30 to 40 minutes, until the flesh of the eggplant is soft.
Meat sauce
Meanwhile, make your meat sauce. Heat a little olive oil in a large saucepan, then cook the onion for a few minutes. Add the garlic, cinnamon & oregano and cook for a minute longer.

Add the meat to the pan and brown while breaking up with a wooden spoon.

Add the tomato puree, water and wine. Simmer the sauce until it has thickened (about 30 minutes).

Stir in the parsley and salt and pepper to taste.
Béchamel
To make the béchamel, melt the butter in a medium saucepan, then stir in the flour until you have a paste.

Take off the heat, then stir in the milk little by little.

Put the pan back on the heat and stir until the sauce has thickened and is just bubbling. Add about three quarters of the cheese and all of the nutmeg.

Let cool for about five minutes, then whisk in the egg yolks (whole eggs are OK too).
Assembling & baking
Arrange the baked eggplant (cut side up) in a 12 x 9 inch baking dish.

Use a big metal spoon to squash down the eggplant inside the border you scored.

Spoon some of the meat sauce inside each eggplant. It's OK if it's piled up a bit.

Top each stuffed eggplant with a few spoonfuls of the cooled bechamel sauce. Sprinkle with the rest of the cheese.

Bake for 30 minutes or until the bechamel sauce is golden and bubbling. Serve with a Greek salad, toasted bread and tzatziki (or Greek yoghurt), or just a nice fresh green salad.
Notes
Instructions for making this dish ahead
I sometimes like to make the three components of this dish (eggplant, sauce and bechamel) ahead. This way you can assemble it just before you cook, making for a very easy delicious dining experience!
This is especially useful when entertaining. You can even make the sauce way ahead (or make double) and freeze it until you want to use it. The same goes for the bechamel sauce, surprisingly!
Freezing instructions
You can either prepare the different components of this dish separately and freeze them until later. OR you can assemble the dish completely. After you've topped with the bechamel and cheese, let it cool then cover really well and freeze the whole dish.
It will freeze like this for up to 3 months (or even longer but I'd stick to 3 months for it to be at its best).
When you want to eat your papoutsakia you can simply defrost the whole dish and bake as normal for 30 minutes until delicious and bubbling.
You'll find there's some bechamel sauce left over. I like to freeze this for the next time!
Serving your papoutsakia
Serve with a Greek salad and toasted fresh bread! I also like to serve Greek yoghurt or tzatziki on the side.
If you want to keep it really simple, just serve with a fresh green salad!
Nutrition
Calories:
384
kcal
Carbohydrates:
24
g
Protein:
19
g
Fat:
23
g
Saturated Fat:
11
g
Cholesterol:
116
mg
Sodium:
270
mg
Potassium:
884
mg
Fiber:
8
g
Sugar:
12
g
Vitamin A:
1090
IU
Vitamin C:
16
mg
Calcium:
240
mg
Iron:
3
mg