Salmon makes a quick and easy weekday meal, but how do you make it interesting? This sheet pan salmon with asparagus and potatoes is certainly that. What a delicious, healthy springtime meal – and you'll only have one pan to wash!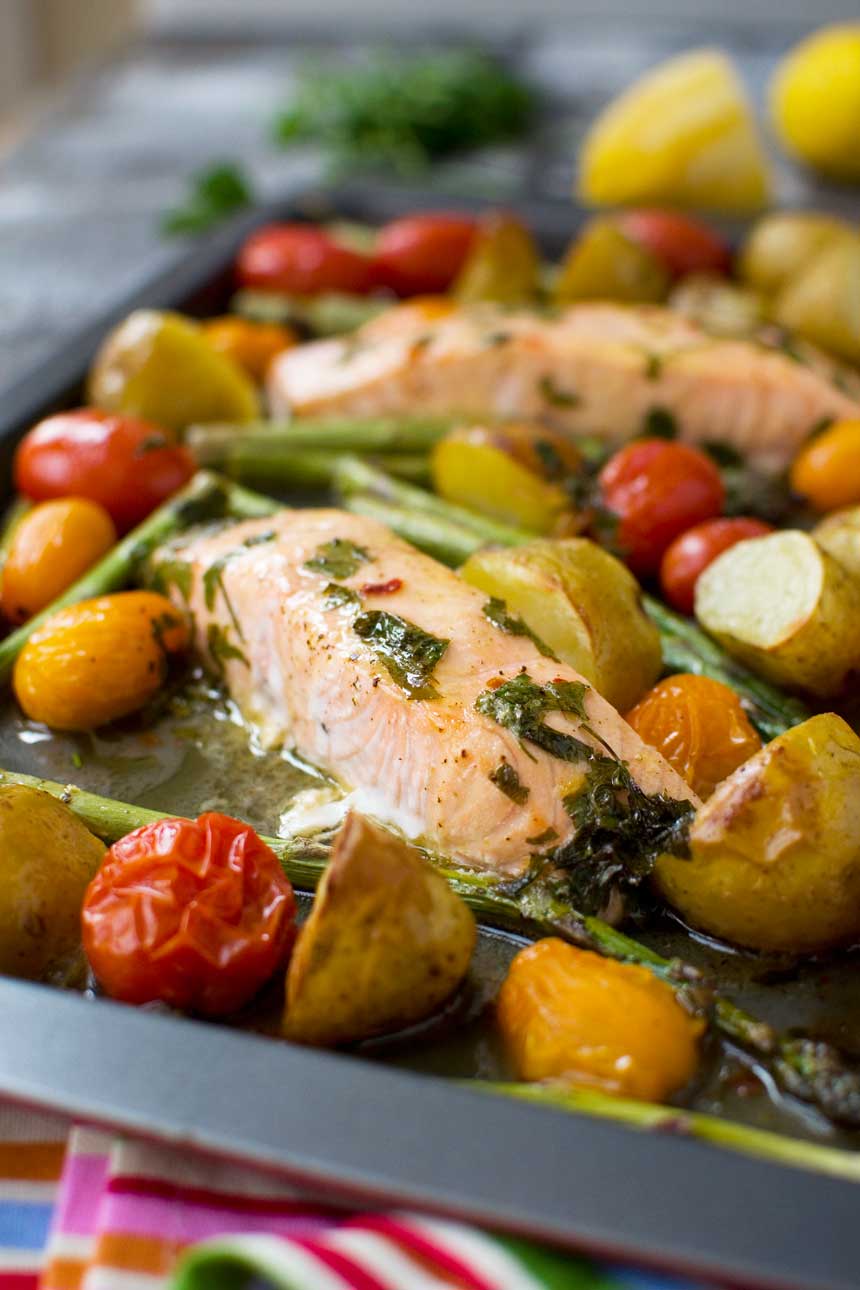 One of our go-to easy weekday meals is simple baked salmon and roasted vegetables, but I decided to switch things up a bit and make a slightly fancier springtime variation.
So how exactly is it fancier? Well, lemon butter sauce for one thing. Asparagus for another. Lovely lightly crispy potatoes for yet another.
Is your mouth watering yet?
The lemon butter sauce you've quite possibly got all the ingredients for already. The asparagus you'll most likely need to make a trip to the shops for, but how can you not make the most of this seasonal little beauty?
Asparagus has got to be one of my favourite foods. It's so delicious pan fried or baked, and hardly takes any time to cook, which makes it a perfect addition to this salmon sheet pan dinner!
The beauty of this meal is that all of the ingredients take an equal amount of time to cook – just ten minutes! Think about it – salmon (roughly ten minutes), asparagus (bake for ten minutes), mini tomatoes (beautiful roasted after just ten minutes).
The only part of this that takes a little longer is the roasted potatoes. And we take care of this by popping them into the oven with a little olive oil for about 25 minutes before adding everything else to the sheet pan (that's a baking tray if you're in the UK!).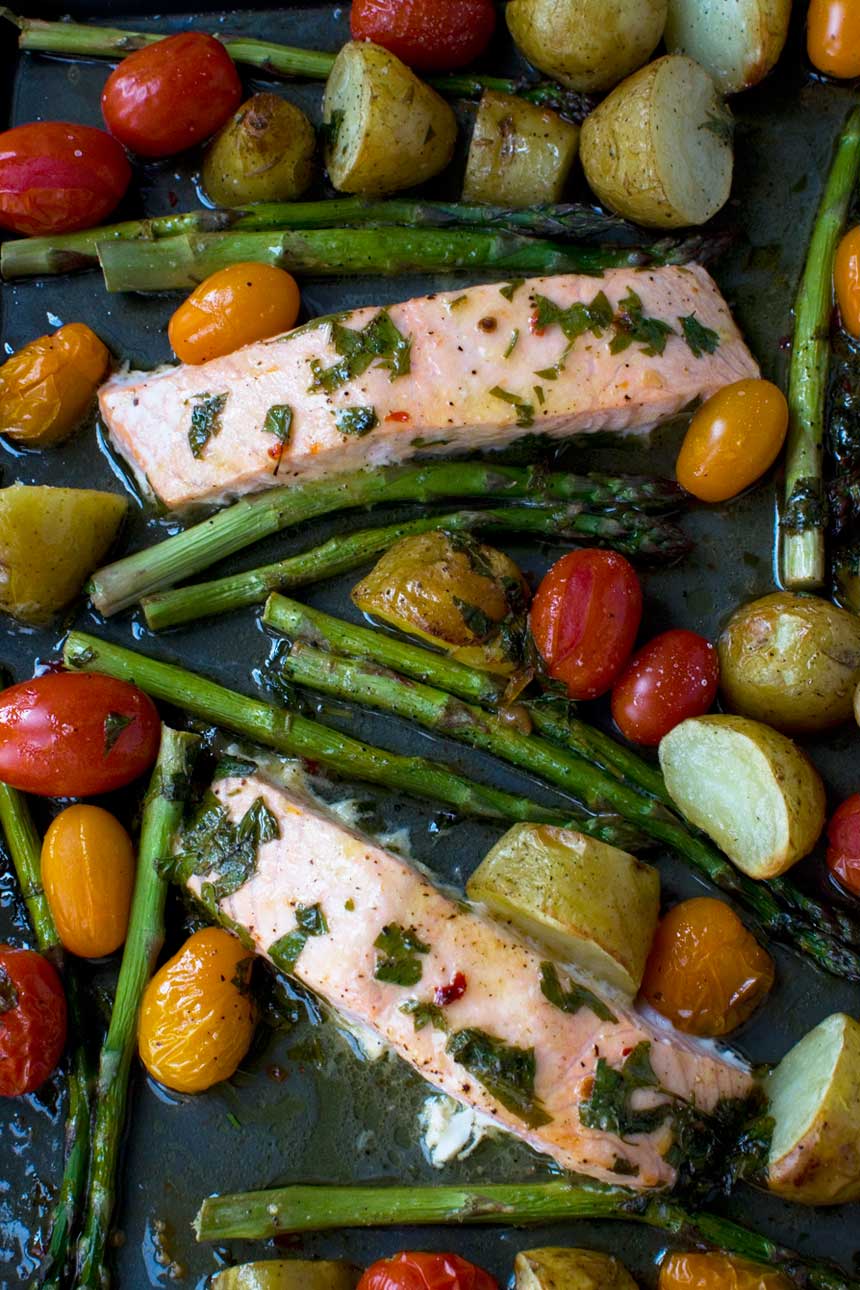 You might be quaking at the knees already at the sound of that delicious lemon butter sauce. But it's even more delicious after the sweet and juicy tomatoes have mingled with it. Have you ever tried butter with tomatoes? Trust me, it's delicious (and I'm not even a fan of butter!).
I find the best way to eat this salmon sheet pan dinner is with some lovely fresh crusty bread to mop up the scrumptious juices.
And just in case you have a demanding young child like I do and need to prepare dinner whenever you can, I discovered that you can make this ahead. Simply reheat it by covering with aluminium foil and popping in the oven at 325F/140C for 20 minutes. I wasn't sure how cooked fish would turn out reheated, but it wasn't at all dry or overcooked!
A quarter sheet pan is perfect for sheet pan dinners for two. Go up a size for four! (affiliate links)

Lemon butter sheet pan salmon with asparagus and potatoes
Prep time:
Cook time:
Total time: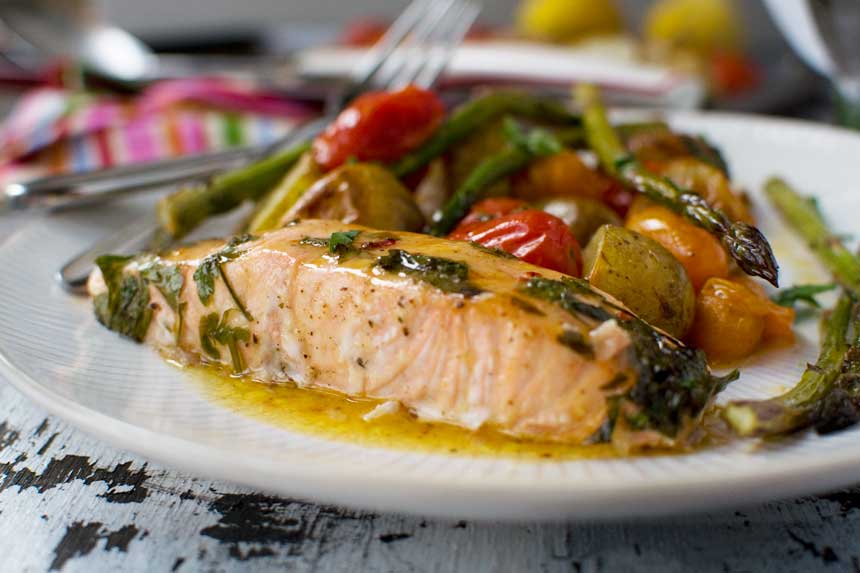 If you're looking for quick, easy and interesting way to bake salmon, this lemon butter sheet pan salmon with asparagus and potatoes is it! And there'll be only the one pan to wash!
Ingredients
300 to 350 grams (10 to 12 ounces) small potatoes (with skin on), scrubbed and chopped in half or thirds (or more depending on size of potatoes)
50 grams / 1.75 ounces butter (3 heaped tablespoons)
2 garlic cloves, crushed
juice of ½ lemon
1 tablespoon sweet chili sauce
2 tablespoons chopped fresh parsley
100 grams / 3.5 ounces (about 14 stems) asparagus, woody parts removed
200 grams / 7 ounces mini tomatoes
2 fillets salmon (approximately 200 grams / 7 ounces)
salt and pepper
to serve
fresh crusty bread! (optional)
Instructions
Preheat the oven to 355F / 180C.
Roast the potatoes in a little olive oil on a sheet pan / baking tray for 25 minutes.
Meanwhile, melt the butter in a small saucepan, then add the garlic. Cook for a couple of minutes.
Add the lemon, sweet chili sauce and chopped parsley and stir. Remove from the heat and set aside.
Remove the sheet pan with the potatoes on from the oven and add the asparagus and tomatoes.
Tuck the salmon in amongst the vegetables, then drizzle the lemon butter sauce over the salmon. Grind plenty of salt and pepper over the whole pan.
Bake for 10 minutes until the salmon is just cooked and the potatoes are tender.
Serve drizzled with the lovely sauce and with fresh crusty bread.
Notes
Keep the potatoes fairly small (cut small potatoes into halves or even thirds) so that they are tender within the cooking time.

You can (surprisingly) make this ahead. Simply reheat it by covering with aluminium foil and popping in the oven at 325F/140C for 20 minutes.