Grab a can of tuna, a can of tomatoes and a packet of pasta from your pantry. Toss them together with a few other simple flavours. Within 15 minutes you'll have a tasty and healthy meal on the table that everyone will love!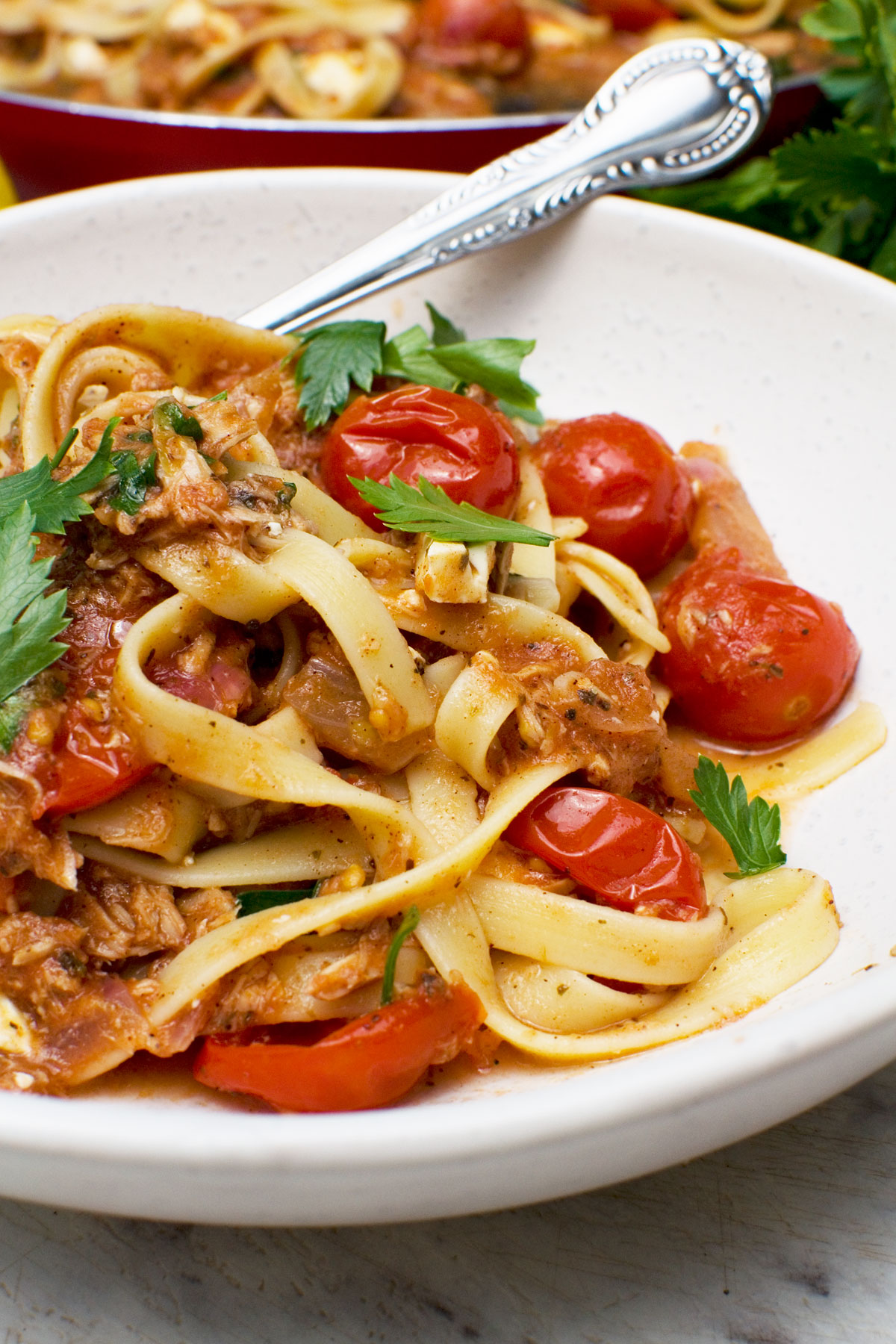 So you thought you'd left tuna pasta behind with your student days? Think again! I've added a delicious lemony, Mediterranean twist to this simple and yet elegant version of a classic quick, easy and economical meal.
What's so great about THIS tuna pasta recipe?
Do a search for tuna pasta and you'll find hundreds of different versions. Here's why I think this lemony Mediterranean tuna pasta's worth your time:
It's essentially a pantry meal – perfect for those days when there isn't much left in the fridge.
It's very quick and easy to make and can be on the table in around 15 minutes.
It uses just a few simple ingredients, but is extra tasty. Lemon, cinnamon, basil and 2 cheeses – parmesan and feta – take it to next level deliciousness.
Admit it – you have various odds and ends of pasta in your pantry. This is a perfect recipe for using them up. I've called it tuna spaghetti, but really you can use any kind of pasta.
It's a crowd pleaser! Young or old, everyone in your family is likely to enjoy this flavourful meal.
About the ingredients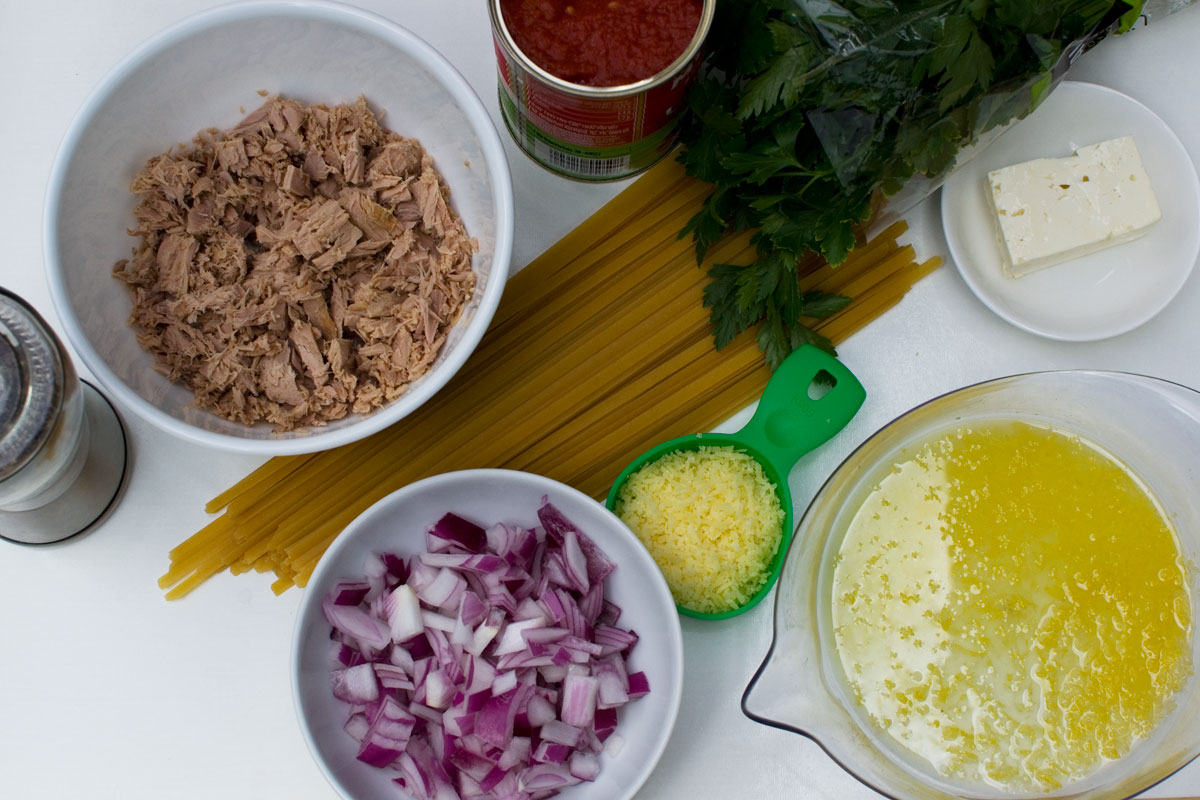 Pantry essentials: spaghetti (or any kind of pasta – you'll see I used tagliatelle in my photos here), a small can of tuna (it goes a long way in the sauce!), a can of tomatoes (I prefer cherry tomatoes, but any tomatoes are fine)
Fresh ingredients: both the zest and the juice of a lemon for a nice hit of lemon flavour, a chopped onion, a couple of cloves of garlic and some fresh basil or parsley
Other herbs and spices: ground cinnamon (trust me), dried herbs, plenty of black pepper, a pinch of chili flakes or half a chopped chili if you like
cheeses: a handful of parmesan to mix in with the sauce, and some feta cheese for some extra Mediterranean tang
How to make it
After you've prepared all your ingredients, this can be on the table in around 15 minutes. Put the water on to boil for the spaghetti and by the time the pasta is cooked the tuna tomato sauce can be ready too.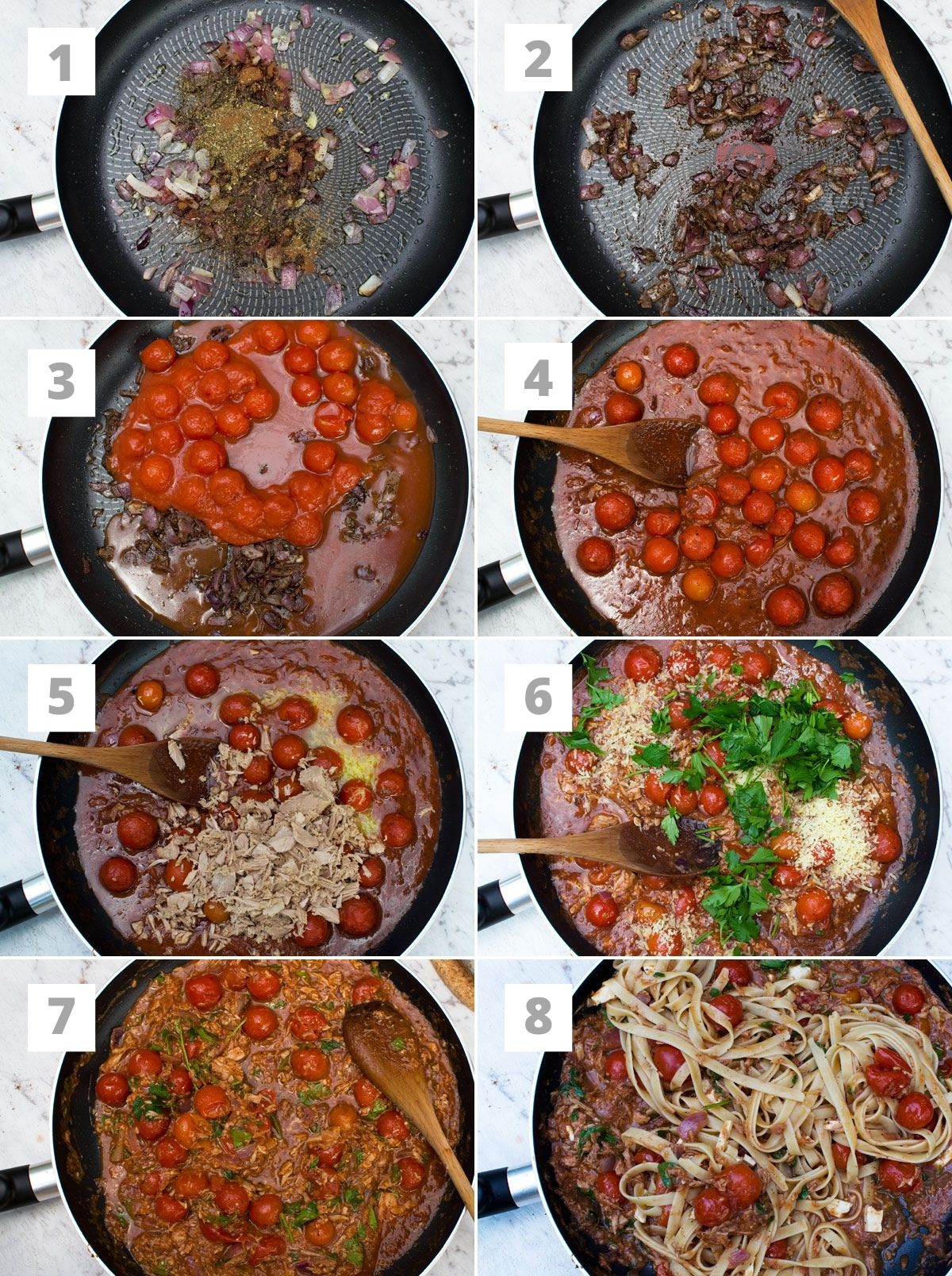 Here are the basic steps:
Step 1: Cook pasta. While it's cooking, make the sauce.
Step 2: To make the sauce, soften onion and garlic. Add dried herbs and spices.
Step 3: Add tomatoes and let simmer with a bit of water for a few minutes.
Step 4: Stir through tuna, lemon (both zest and juice!), cheeses and any fresh herbs. Add optional spice!
Step 5: Transfer pasta straight from the water into the pan. Serve and enjoy!
Pro tips
The key to getting a thick, glossy sauce (instead of a watery one) is to use small kitchen tongs to transfer the spaghetti straight out of the cooking water and into the pan that you've cooked the sauce in.
As a follow on from the above, once you've added the pasta add a bit more cooking water to get the consistency just right.
How to serve it
Serve the pasta immediately while the sauce is still glossy. Sprinkle with a little extra parmesan and fresh basil if you like.
It's delicious served with a fresh green salad and olive oil toasts on the side. Or just serve it as it is.
When eating up some of my son's leftovers, I discovered that this tuna spaghetti also tastes pretty good cold. Leftovers would make a great school or work lunch!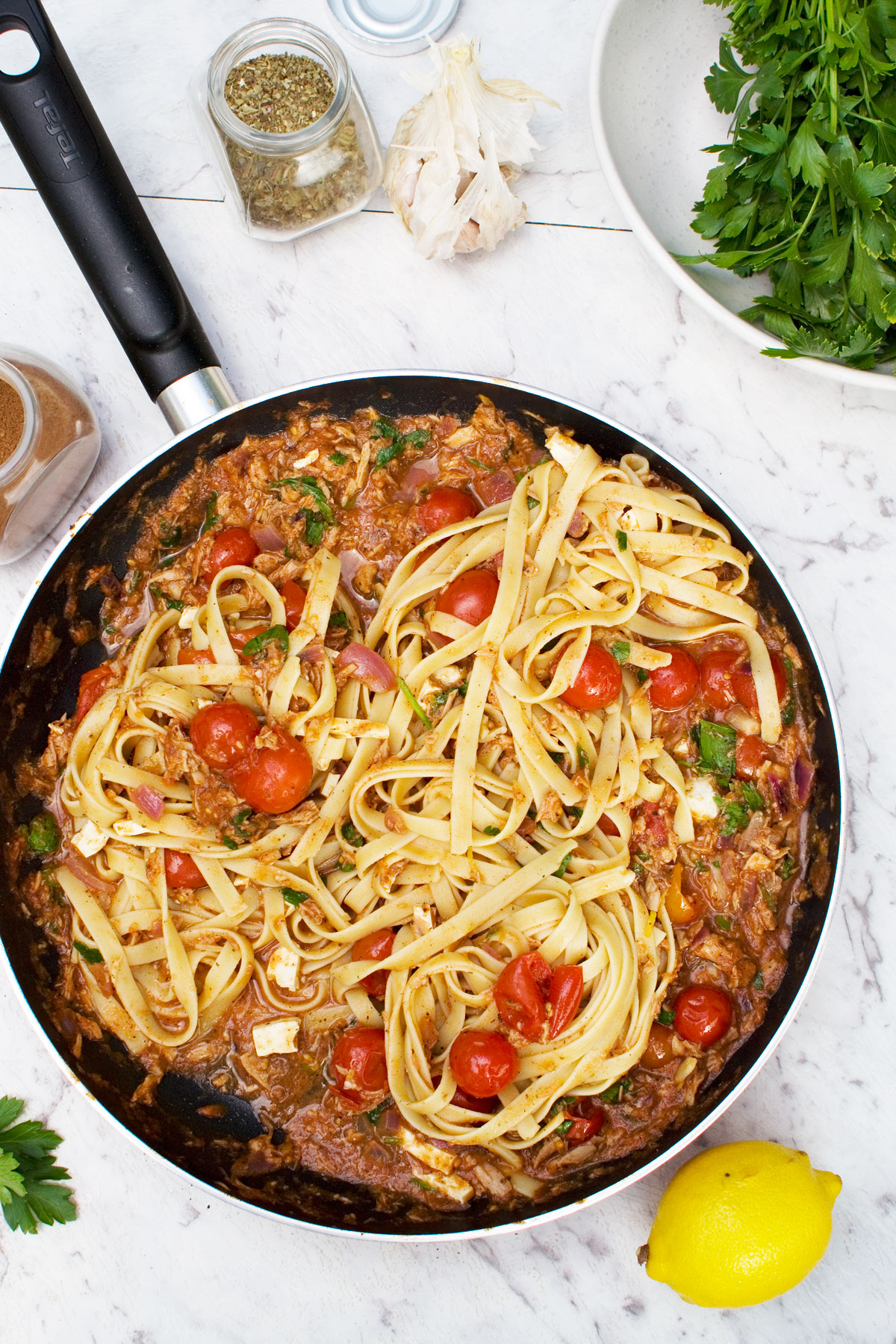 More easy pasta recipes
Or take a look at all my pasta recipes.
FOLLOW ME ON FACEBOOK, INSTAGRAM, PINTEREST AND YOUTUBE.
IF YOU MAKE THIS RECIPE, LET ME KNOW HOW YOU GET ON BY LEAVING A COMMENT AND RATING BELOW… AND DON'T FORGET TO SIGN UP TO RECEIVE ALL MY NEW RECIPES BY EMAIL!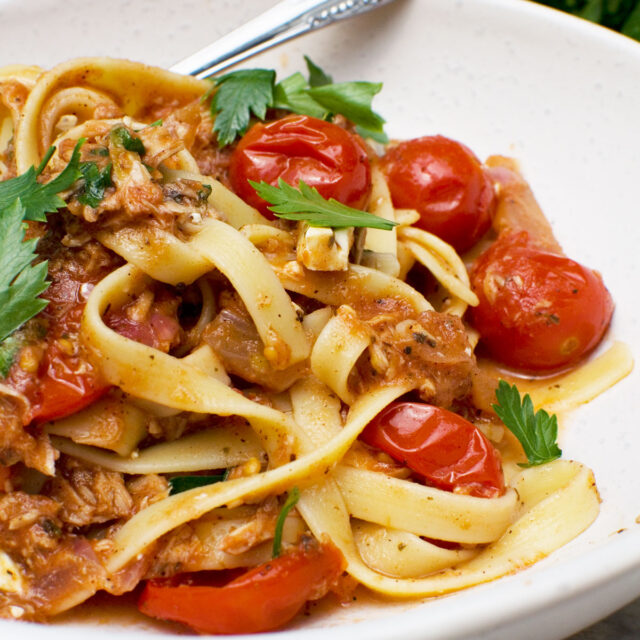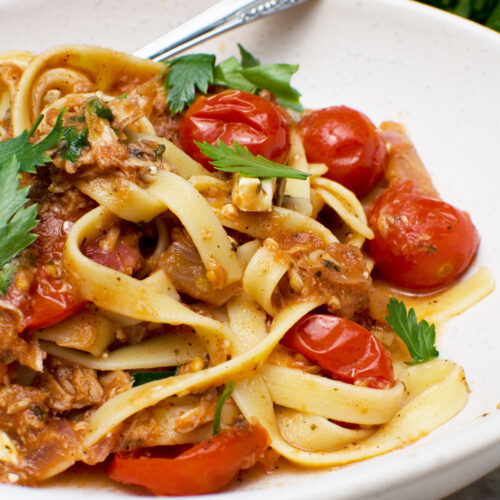 20-minute lemony Mediterranean pasta
This is a classic crowd pleaser of a tuna pasta recipe with a lemony, Mediterranean twist! It's perfect for those days when you don't have a lot in the pantry, but you do have some canned tuna, a lemon, any kind of pasta and a few other pantry ingredients.
Equipment (affiliate links)
Ingredients (UK/Australia? Click below for grams/ml)
5

ounces

spaghetti

(or linguine, tagliatelle, or any other pasta)

1

onion

chopped

2

cloves

garlic

crushed

1

teaspoon

ground cinnamon

1

teaspoon

mixed Italian herbs

(or choose 1: thyme, oregano, basil)

1

can

cherry tomatoes

(14-ounce or 400-gram can) Ordinary canned chopped tomatoes are fine too

1

pinch

chili flakes

(optional)

1

tablespoon

honey

6.5

ounces

tuna

(1 can or 185 grams) Drained. I usually go for tuna in spring water or in olive oil

1

lemon

zest and juice

¼

cup

parmesan cheese

grated

½

bunch

fresh basil

plus a little extra to garnish (or parsley if basil isn't available)

salt and pepper to taste

⅓

cup

feta cheese

crumbled or cubed (around 50 grams or 1.75 ounces)
to serve
fresh green salad and toasted bread with olive oil and salt

(optional)
Instructions
Cook the pasta according to the cooking instructions.

Meanwhile, soften the onion in a little olive oil in a frying pan or large saucepan. After a few minutes, add the garlic and cook for a minute longer. Then add the cinnamon and dried herbs and cook for another few seconds.

Add the tomatoes and around half a cup of water to the pan. Simmer for around 5 minutes or until the sauce has reduced slightly and the pasta is cooked. Stir in the honey.

Now stir in the tuna, lemon zest and juice, parmesan cheese and fresh herbs. Grind in some salt and black pepper to taste.

Use kitchen tongs (or a slotted spoon if not using long pasta) to lift the pasta straight out of the water and into the tomato sauce. Add the feta cheese. Stir well, adding a ladle or two of pasta cooking water if needed.

Serve into bowls immediately. Sprinkle with extra parmesan and fresh herbs if you like.
Notes
Timing: Prepare all your ingredients first. So chop onion and peel garlic, open can of tomatoes, grate parmesan, wash herbs etc. Then put your pasta on to boil. You should then have enough time to make the quick sauce while the pasta is cooking.
Adding the pasta to the sauce: Use kitchen tongs (for spaghetti or tagliatelle or linguine) or a slotted spoon (for other types of pasta) to transfer the pasta straight out of the cooking water and into the sauce. This will help you to get a nice silky consistency to your sauce.
Ingredients substitutions: I sometimes use linguine, tagliatelle or even pappardelle (like wide tagliatelle) for this dish instead of spaghetti. Really though you can use any kind of pasta you happen to have.
I think that adding a pinch of chili flakes or half to 1 finely chopped chili to this takes it to next level delicious. Usually I don't do this because of my young son, but if you like a little spice, go for it!
I like to use fresh basil whenever I can get hold of it. Occasionally though my supermarket doesn't have any, in which case I use fresh parsley instead (along with a teaspoon of dried basil).
To serve: If you like you can serve this with fresh green salad and toasted bread with olive oil and salt (for those with a bigger appetite)!
Nutrition
Calories:
269
kcal
Carbohydrates:
38
g
Protein:
18
g
Fat:
5
g
Saturated Fat:
3
g
Cholesterol:
32
mg
Sodium:
358
mg
Potassium:
274
mg
Fiber:
3
g
Sugar:
8
g
Vitamin A:
206
IU
Vitamin C:
17
mg
Calcium:
182
mg
Iron:
2
mg