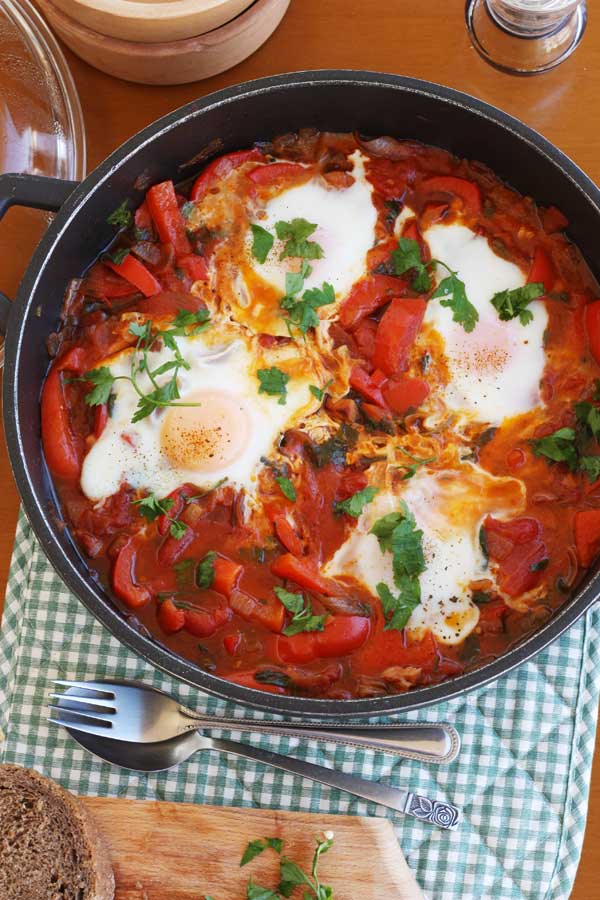 What are your feelings about cookbooks, if any? Do you own any? And if so, just a few, or truckloads? Do you leaf through them and drool over the pictures a few times then shove them on a shelf where they remain for years gathering dust? Or are your favourite ones used so often that the pages are crumpled, stiff with water stains and splattered with salad dressing and cake batter?
Me? Easy. Buy me a cookbook for Christmas and I'm one HAPPY girl (see my Amazon wishlist, family and friends! Ha! Only (half) kidding!) Once lunch and the Queen's speech are over on Christmas Day, you may just find me curled up on the sofa anti-socially for the rest of the afternoon leafing through the pages of my latest acquisition. And the heavier and thicker the book is, and the nicer the cover, the better!
But thanks to the somewhat 'always-sort-of-on-the-move' lifestyle I've led over the past decade or so, actually I have ended up owning surprisingly few cookbooks. I have my well-worn ever-faithful Jamie Oliver , Nigel Slater and Nigella Lawson tomes and a few others, but not nearly as many as I would have if I had free rein (aka suitcase space) to raid my favourite bookshops' cooking sections whenever I liked. But this is about to change. Once we're settled in the UK, expect to find me on the sofa in my pyjamas at 2pm buried under a big pile of cookbooks! Don't say I didn't warn you, Mr. Scrummy!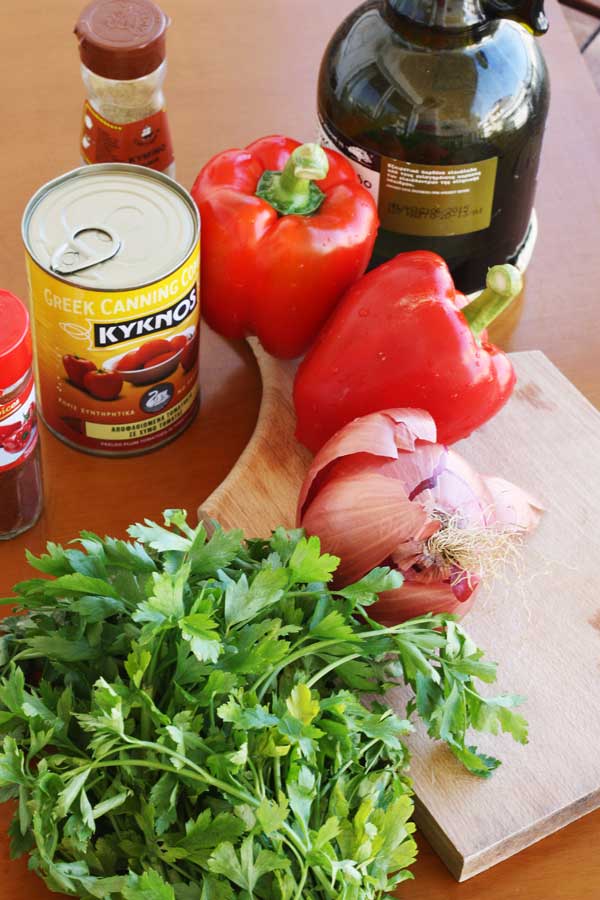 So don't laugh, but one of my favourite cookbooks is one that I don't actually own yet! I know what you're thinking: 'Aha! She just scours the Internet for recipes from well-known cookbooks instead of buying them. Cheap-skate!' Ahem. Well, I may have done this once or twice. Or three times. But honestly honestly, as soon as I get that permanent bookshelf space in this as-yet-non-existent new house or flat of ours in the UK, I will be a cheap-skate-cookbook-recipe-Internet-scourer no more! I'm getting those lovelies ordered by first-class post!
So this 'much-loved' book of mine that I haven't even read yet is Yotam Ottolenghi's Jerusalem: A Cookbook. I know, how ridiculous that I am saying this. But in my defense, I have stroked the front cover and furtively leafed through display copies several times while lurking for far too long in bookshops, as well as ooh-ed and ah-ed over a few of the recipes published in newspaper food sections or adapted on other blogs. Just take a look at the recipes here, for instance. Drool drool! So how can you think that it's at all premature of me to declare this book a favourite?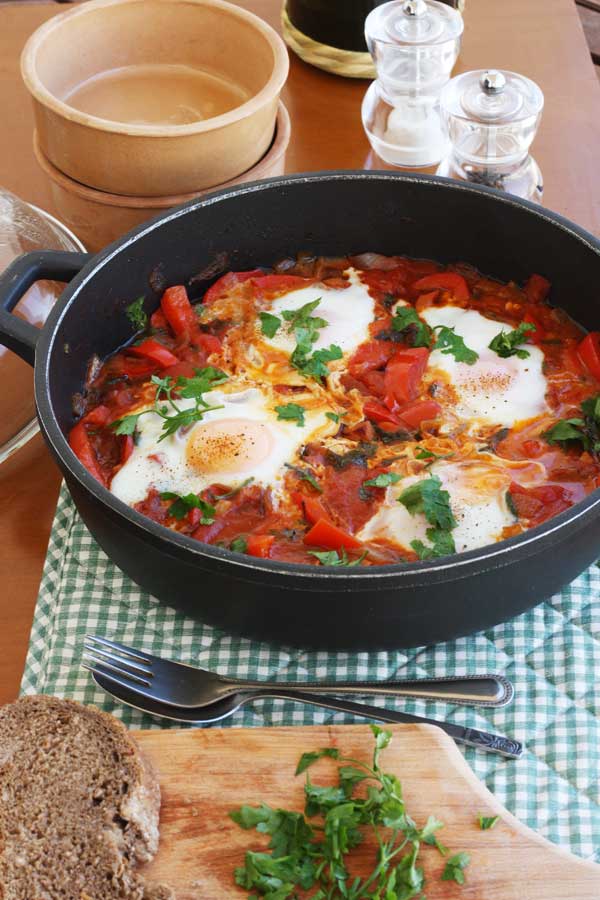 So this eggs in tomatoes, red peppers and bacon sauce is inspired by a recipe in this very book for shakshuka, which if you didn't know is a popular breakfast dish in both North Africa (where it is believed to have originated) and in Yotam's homeland, Israel. I certainly wouldn't call my version shakshuka, especially with the addition of the bacon, and in fact if you preferred it to be like a more traditional shakshuka you could easily leave out the bacon and add some spicy heat instead! But what I found so inspiring and worthy of copying from his recipe was the suggestion to pan-roast the cumin first to bring out its flavour and then add more olive oil than you would think sensible to the pan and stir it around to let it infuse into the oil really well. Simple and yet genius!
As is usual for the recipes on this here little corner of the Internet, putting this together for a lazy weekend breakfast is easy-peasy. And yes, if you were wondering, I did mean to post this in time for this last weekend but had a little 'mishap' related to emailing myself the post from the computer that I wrote it on. As in, I forgot to. I nearly posted something else today as a result, but … nah! You can plan to make this next weekend instead. Never mind at all that it's only Tuesday because, let's face it, it's always good to be well prepared for the weekend!
Anyway, back on track … after doing 'the cumin thing' as described above, you simply add the onions, bacon, peppers, herbs and paprika to the pan before adding a tin of tomatoes and a little brown sugar and letting everything simmer gently for about 20 minutes. Finally, you crack in four to six eggs depending on how many you'd like to feed, or how greedy you'd like to be, cover the pan and let the eggs cook for about ten minutes for runny eggs, slightly longer if you like them not-so-runny. Finito!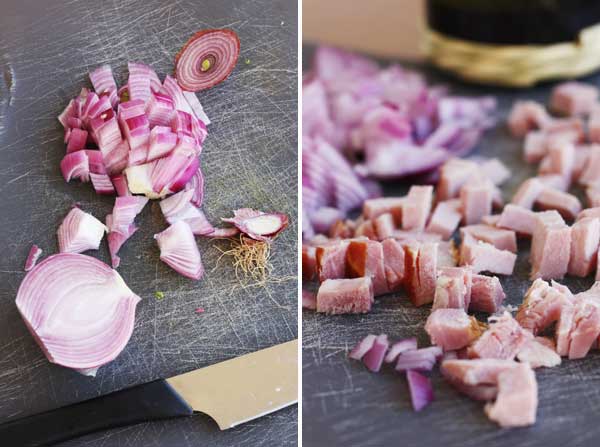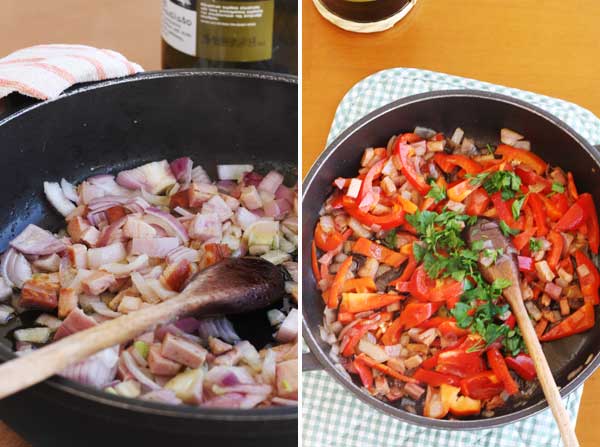 I'll leave you with the recipe below, and with an important question. Anyone got any more favourite cookbook suggestions for me? All recommendations gratefully considered!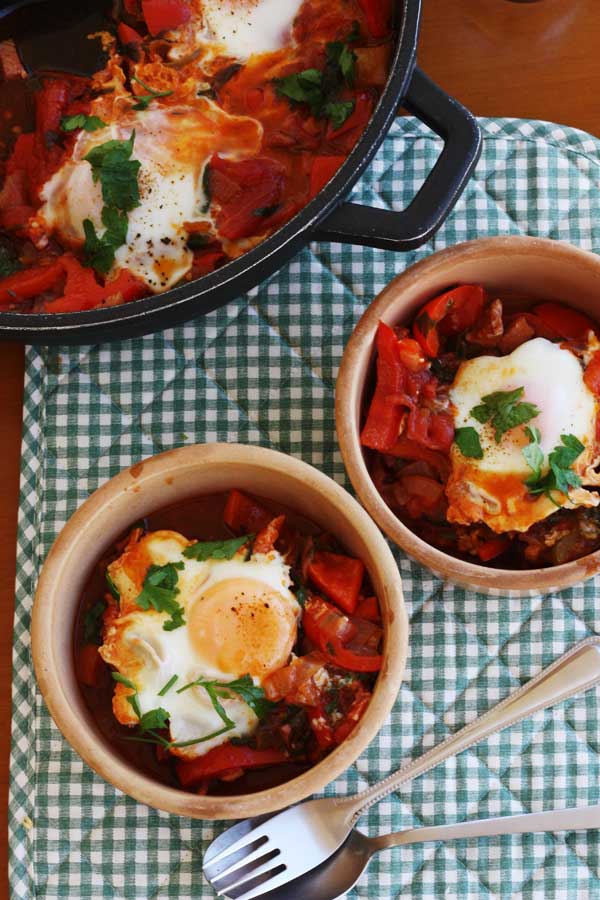 Eggs with tomatoes, red peppers & bacon
Inspired by North African/Middle Eastern Shakshuka, this is a delicious and healthy weekend brunch of eggs cooked in a tomato, red pepper and bacon sauce lightly spiced with paprika and cumin.
Ingredients (UK/Australia? Click below for grams/ml)
1/2

teaspoon

cumin seeds

1.5-3.5

ounces

bacon or pancetta, chopped

1

onion

1/3

cup

olive oil

plus a little more for drizzling

2

red peppers

or 1 red & 1 green or yellow

2

teaspoons

brown sugar

1

teaspoon

paprika

2

bay leaves

1

tablespoon

chopped fresh parsley plus another for sprinking at the end

14

ounces

can of tomatoes

(1 can)

salt and pepper to taste

4-6

eggs
Instructions
In a large skillet/frying pan (choose one that has a lid), dry-roast the cumin for a couple of minutes to bring out the flavour.

Add the oil and bacon and fry for a few more minutes.

Add the onion and cook for yet another couple of minutes, then add the peppers, paprika, bay leaves, parsley & sugar and cook for a little longer to bring out the colour.

Now add the tin of tomatoes, then half-fill the empty can with water, swirl it around and add the water to the pan as well. Bring the mixture to a boil, then lower the heat and let it all simmer for about 20 minutes. Add a little more water if it starts to get too dry (the consistency should match that of a pasta sauce).

Add a little salt and pepper to taste, then crack 4 to 6 eggs into the pan. Put the pan lid on and cook until the eggs are set to your liking (about 10 to 12 minutes – I cooked mine for about 12 minutes and I would have liked them a little runnier!)

Drizzle a little more olive oil over, sprinkle with the reserved fresh parsley and serve immediately, with pitta/flat bread (or any other kind of bread) if you like.
Notes
A few tips were taken from Yotam Ottolenghi's wonderful book Jerusalem: A Cookbook to make this dish.
You can leave the bacon out and add a pinch of cayenne pepper or a little chopped chili if you would like it to more closely resemble the more traditional North African/Middle Eastern shakshuka.
Nutrition
Calories:
278
kcal
Carbohydrates:
12
g
Protein:
7
g
Fat:
22
g
Saturated Fat:
3
g
Cholesterol:
163
mg
Sodium:
210
mg
Potassium:
424
mg
Fiber:
2
g
Sugar:
8
g
Vitamin A:
2545
IU
Vitamin C:
88.6
mg
Calcium:
66
mg
Iron:
2.5
mg
I hope you enjoyed this post! You can subscribe to receive posts directly to your inbox by entering your email address in the box below or at the top of the sidebar on the right.
You can also find more from Scrummy Lane on Facebook, Pinterest and Twitter and follow me on Bloglovin! Thanks so much for reading!
*This post contains affiliate links, which means that if you buy a product after clicking on the link I will get a very small commission. Thank you!*