Last Updated on
Fish pie is a pub classic here in the UK. This version is a slight twist on the usual with a delicious (and easy) crispy, cheesy crushed potato topping.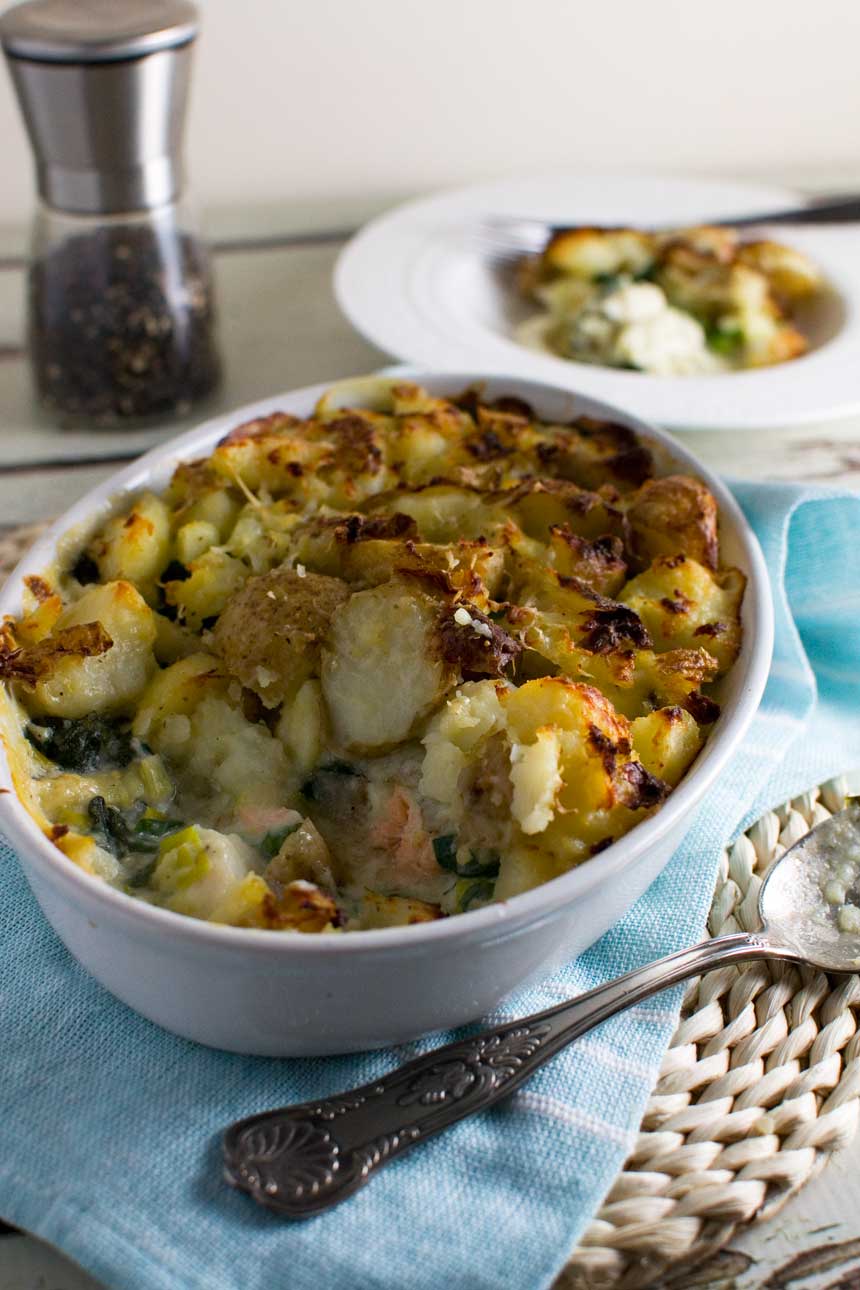 I have no idea how much of 'a thing' fish pie is in your country, but here in the UK it's pretty big business.
What's fish pie, anyway?
Go to any so-called 'gastro-pub' (in other words, a pub that serves food) and there's a good chance you'll find a fish pie on the menu.
And I don't mean pastry filled with fish. I'd say a classic British fish pie is more like the fish equivalent of a cottage or shepherd's pie. Think a creamy white sauce with big chunks of fish in it, and possibly a few veggies, all topped with mashed potatoes, plus cheese if you like.
It's seriously scrummy, and a perfect winter warmer. It's one of those classic dishes that every serious British chef has their own version of.
I usually turn to Jamie Oliver when looking for a really good classic version of something, and indeed for my take on a fish pie I did turn to him for a few little tips. But my main inspiration for this was a recipe from Mary Berry Cooks the Perfect
Step-by-step.
I've used Mary Berry recipes here for inspiration before, because honestly, she rocks. What particular drew my attention to her fish pie recipe though was the crispy small potato top she chose over a traditional mashed potato one.
How do you make fish pie?
A traditional fish pie is actually really easy to make. All you do is make a white sauce, stir in your choice of fish, then pour into a dish. Top with mashed potato and bake.
Except I decided to make my fish pie even easier by adding a crispy cheesy potato topping instead of mashed potatoes. It's just slightly easier, and of course anything 'easier' and 'crispy' gets bonus points around here!
Usually UK fish pies have a few prawns in them, but Mr. Scrummy is allergic to shellfish. So while traditional fish pies tend to contain a mixture of fish and shellfish, I just stuck to chunks of plain white fish fillet and salmon. I skipped prawns or smoked fish, which Mr. Scrummy also turns his nose up at!
Of course though if you love prawns you can add a few of those (remember to add them raw as they cook in no time, as I'm sure you know!). For extra oomph, add a bit of smoked fish too.
But fish is expensive!
It's true that fish can be expensive – at least here in the UK. But on the other hand a little goes quite a long way, as this pie is quite big, serving at least 6.
Also, you can make it a bit more economical by replacing a bit of the fish with some hard-boiled eggs. It might sound weird, but trust me, it works really well.
Either that or you can pray that you luck out like I did. There was no price on the packs of fish I picked up the last time I made this, so I got them for free. Bonus!!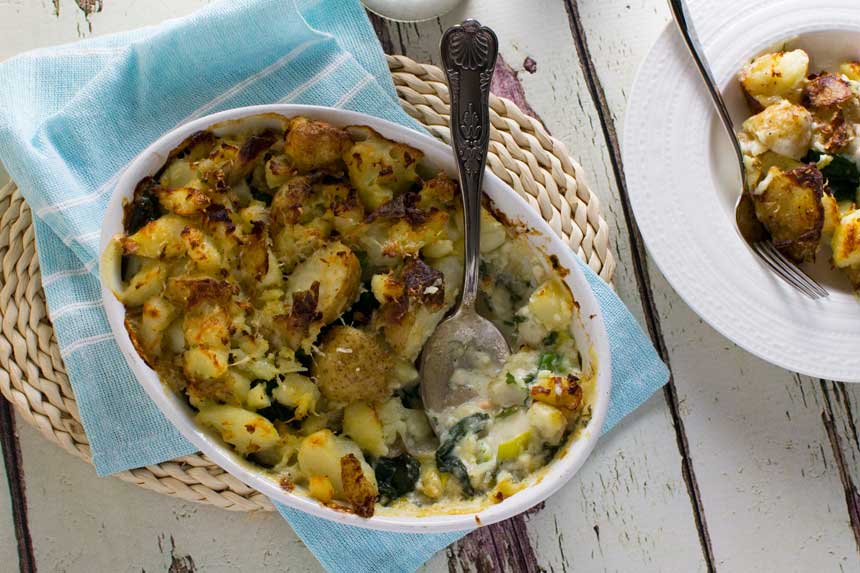 So tell me – I'm interested. Is a fish pie similar to this something you'd find on a menu where you live?
If not, why not give this recipe a go? It's perhaps something just a little bit different from what you usually make, but it's really easy, and usually a real crowd pleaser too.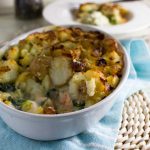 Print
Crispy fish pie
A creamy and delicious fish pie with a crispy, cheesy crushed potato topping. Mmmmm!
Ingredients (UK/Australia? Click button below for grams & ml)
For the pie filling
1/2

stick butter

1

leek

washed and chopped

1/4

cup

plain flour

2 1/2

cups

warm milk

1/4

cup

grated cheese

small bunch fresh parsley

chopped

1 1/2

tablespoons

chopped fresh dill

optional

grated rind ½ a lemon

1

heaped teaspoon mustard

salt and pepper

1 3/4

pounds

fish of your choice

e.g. white fish fillet, salmon, smoked fish, raw prawns, skinned if necessary and chopped into large chunks

7

ounces

fresh spinach
For the crispy potato topping
2 1/4

small potatoes

scrubbed (you can leave the skins on)

4

tablespoons

olive oil

handful of parmesan cheese

grated

sprinkle of paprika

optional

salt and pepper
Instructions
Melt the butter in a large saucepan and fry the leek for a few minutes until softened. Stir in the flour and cook for a minute or two, then remove from the heat and very slowly add the warm milk, stirring all the time. Return to the heat and stir until thickened and smooth (a good few minutes). Add the cheese, parsley, dill (if using), lemon rind, mustard and salt and pepper to taste.

Add the raw fish to the sauce and stir, then remove from the heat and pour into a medium baking dish (about 10 by 7 inches or similar).

Put the spinach in a colander and pour a kettle of boiling water over it to wilt it. Squeeze out as much of the water as possible by squeezing with the back of a spoon. Scatter over the fish and sauce filling.

Now while the filling cools a little, preheat the oven to 180C / 350F, and make the topping.

Boil the potatoes for 15 minutes, then drain and return to the pan. Crush lightly with a fork and stir in half the olive oil and the parmesan cheese.

Spread the topping evenly over the cooled filling, then drizzle over the rest of the olive oil, the cheese and paprika (if using). Grind over a little salt and pepper.

Bake for 30 to 40 minutes or until the filling is bubbling and the potatoes browned and crisp. Serve with a salad or vegetables of your choice.
Notes
Adapted from Mary Berry's recipe from Mary Berry Cooks the Perfect Step by Step.
This makes a great freezer meal. I doubled the recipe and froze some fish pie for a lazy day. Assemble ahead, then pop in the freezer. When you're ready to eat the pie, defrost, then cook.
Feel free to replace some of the fish with hardboiled egg to make this a more economical dish.
Letting the filling cool a little will make sure the topping doesn't sink into it!
Nutrition
Calories:
373
kcal
|
Carbohydrates:
22
g
|
Protein:
34
g
|
Fat:
16
g
|
Saturated Fat:
5
g
|
Cholesterol:
81
mg
|
Sodium:
181
mg
|
Potassium:
1074
mg
|
Fiber:
3
g
|
Sugar:
5
g
|
Vitamin A:
3560
IU
|
Vitamin C:
20.2
mg
|
Calcium:
228
mg
|
Iron:
4.9
mg
Follow me on Pinterest!
Follow @scrummylane to pin more quick and easy recipes for later