Fish and chips aren't usually the healthiest meal. But this homemade version of this amazing British classic is not only quick and easy, but healthy too. It's also got a delicious lemon butter sauce, so it's kind of fancy!
I don't know about you, but I'm not a big fan of deep frying at home. So let's leave traditional fish and chips to the experts and have a go at this delicious twist on the classic recipe instead!
Delicious, healthy and easy, but… fancy!
Here are the best things about this version of homemade fish and chips with a twist:
You can use any white fish you like.
Instead of deep frying your fish in batter, you make a very simple but delicious crumble topping made of just 4 ingredients: bread crumbs (panko or home made), lemon zest, parmesan cheese, basil.
You pan fry then briefly grill/broil the fish instead of deep frying it. The entire recipe, including the chips, takes just over half an hour to get on the table.
The 'icing on the cake' is the lemon butter sauce. You need just 2 ingredients to make it: lemon juice and butter!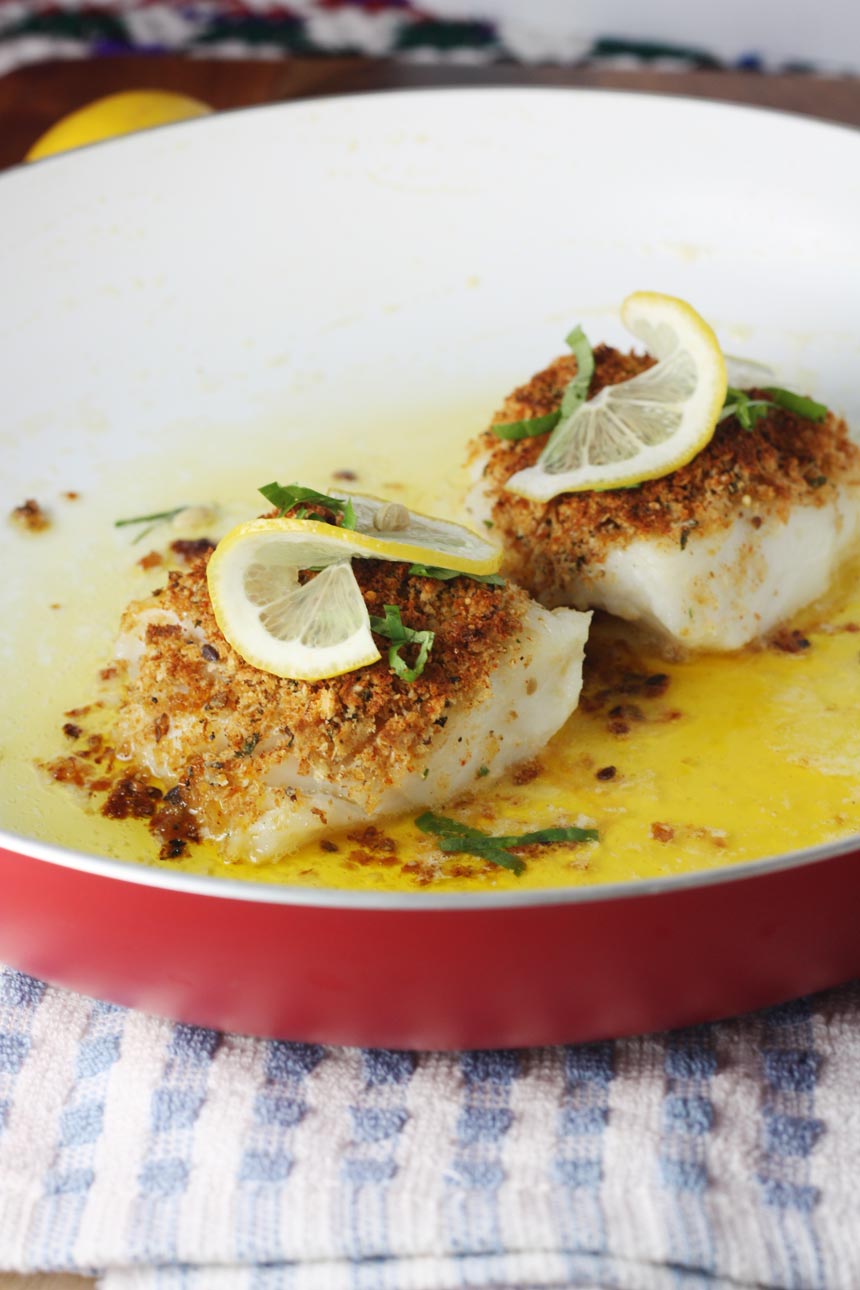 How to make it
This fancy fish and chips meal is super easy to make in just a few simple steps:
Parboil chips.
Prepare quick crumble topping.
Pan fry fish.
Pile topping on fish and grill/broil.
Add ridiculously easy lemon butter sauce.
Serve with homemade chips (and frozen peas if you like).
Pretty healthy too, right?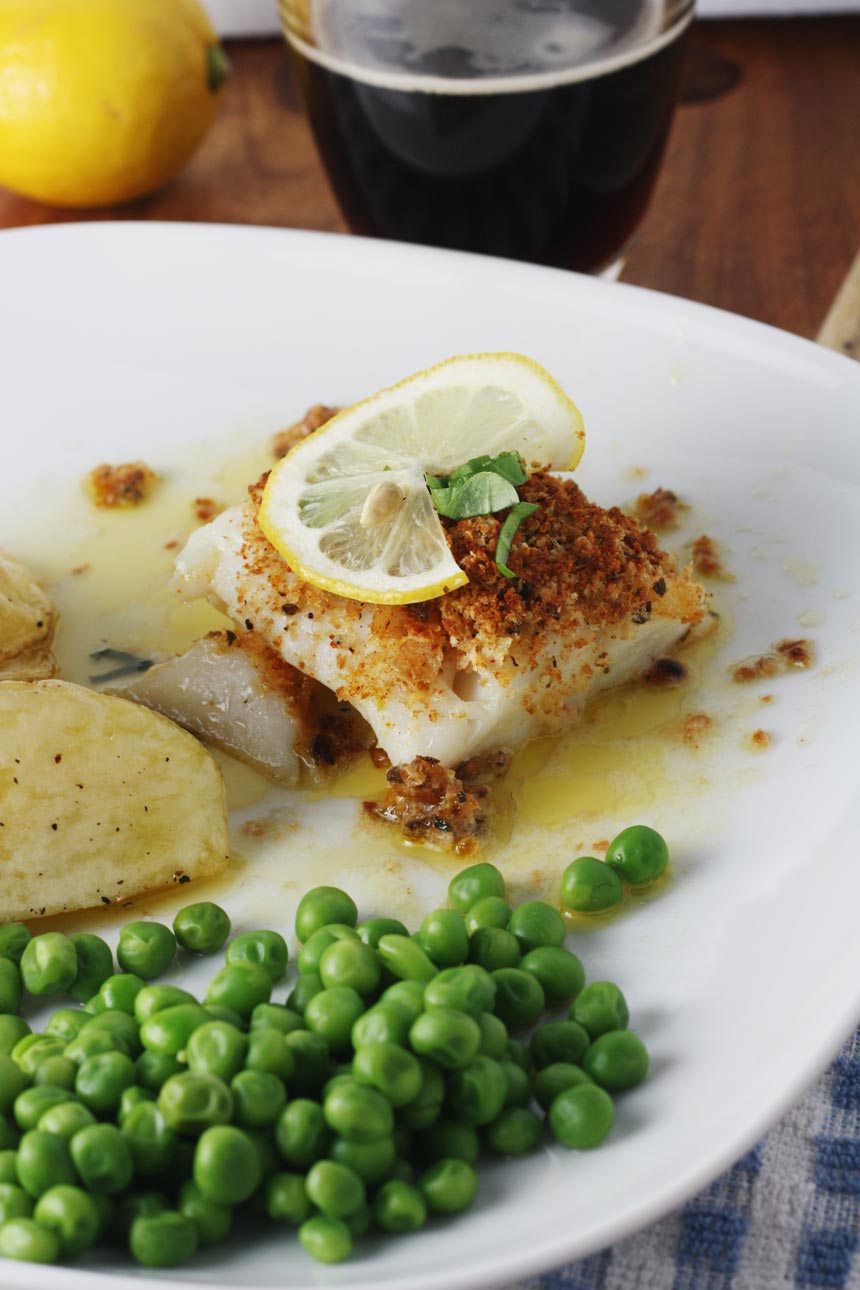 How to make perfect homemade chips
Homemade chips are one of our staple easy side dishes that I make at least once or twice a week.
I prepare them one of two ways:
Put the sliced potatoes/wedges in cold water and bring to the boil. Boil for another 2 to 3 minutes, then drain. Let steam, then scatter in one layer over a baking tray lined with baking paper or foil. Drizzle with olive oil, toss with your hands, then bake for around 30 minutes or until golden and crispy.
Parboil in water that's already boiling for around 10 minutes. Drain and let steam dry for a few minutes. Then proceed as above.
Sometimes, I parboil double the amount of potatoes that I actually need for that night's meal. I let the leftovers cool completely, then I freeze them for a couple of hours in a single layer on a baking tray.
Then throw them into a freezer bag and into the freezer.
Next time I want to make homemade chips for dinner, I simply cook the chips from frozen. They need a little longer to cook, but just keep an eye on them until they're golden and crispy.
Freezing homemade chips is especially useful if you have lots of potatoes that you don't think you'll be able to eat before they go bad.
Other meals you can serve homemade chips with
IF YOU MAKE THIS RECIPE, LET ME KNOW HOW YOU GET ON BY LEAVING A COMMENT AND RATING BELOW… AND DON'T FORGET TO SIGN UP TO RECEIVE ALL MY NEW RECIPES BY EMAIL!
FOLLOW ME ON FACEBOOK, INSTAGRAM, PINTEREST AND YOUTUBE.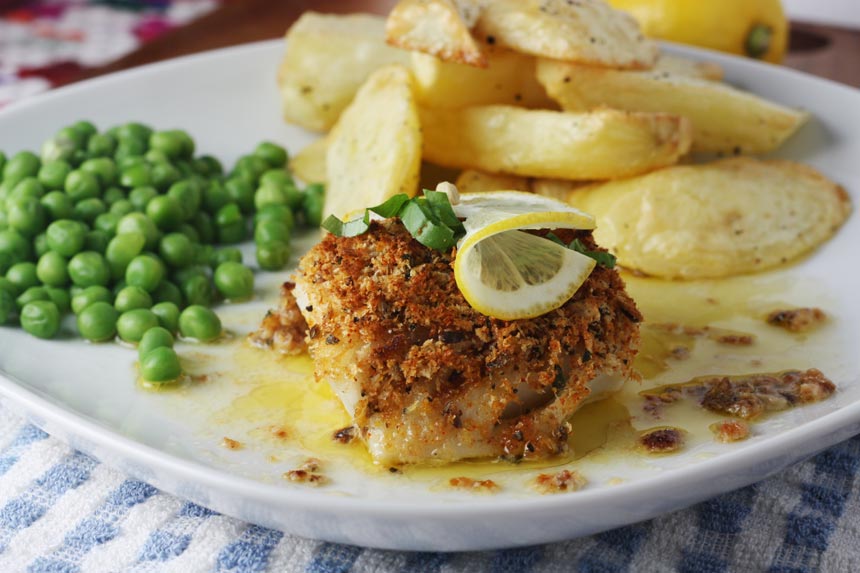 Posh fish and chips with lemon butter sauce
An easy, tasty, healthy and fancy twist on a classic fish and chips. The fish is lightly pan-fried and topped with a tasty crumb mixture including parmesan cheese, basil and lemon. Served with a light butter lemon 'sauce' – and oven baked chunky chips and peas, of course! Delicious!
Equipment (affiliate links)
Ingredients (UK/Australia? Click below for grams/ml)
For the fish
1/4

cup

breadcrumbs

panko breadcrumbs, or make your own in the food processor out of any bread you have

grated zest of 1 lemon

2

tablespoons

fresh basil

1

small handful

grated parmesan cheese

salt & pepper to taste

2

white fish fillets

skinless & boneless (double recipe if dinner's for 4)

2

tablespoons

butter

1

tablespoon

olive oil

(or use 1 more tablespoon butter instead)

½

lemon

(juice) or the juice of a whole lemon, depending on how 'lemony' you'd like the finished sauce to be
For the chips
4

medium

potatoes

peeled and chopped into chunky chips (or allow around 7 ounces/200 grams/1½ to 2 medium potatoes per person)

2

tablespoons

olive oil

frozen peas

to serve (optional)
Instructions
Preheat the oven to 200C. Then put the potatoes into a large pot of salted water and bring to the boil. Boil for 2 minutes, drain and let steam. Alternatively, boil for 10 minutes in water that's already boiling.

Tip the drained potatoes onto a large baking sheet lined with baking paper or foil. Drizzle with the olive oil and toss with your hands. Bake in one layer for around 30 minutes or until golden and a little crispy.

Meanwhile, combine the bread crumbs, lemon zest, basil, parmesan and salt and pepper in a small bowl and put aside.

Heat up an oven-proof frying pan on the stove top with a good drizzle of olive oil. At the same time, heat up the grill (broiler). Cook the fish fillets for 2 to 3 minutes in the pan.

Flip the filets over and pile a good layer of the crumbs onto each. Transfer the skillet/frying pan to under the grill (broiler) and grill/broil for another 2 to 3 minutes until the crumbs are golden and the fish fully cooked through.

Transfer the frying pan/skillet back to the stove top. Melt the butter around the fish and add the olive oil and lemon juice. Serve immediately with your cooked chunky chips and a side of peas, if you like.
Notes
Adapting the recipe for 4
You could easily make this for four by cooking four fish filets instead of two. You don't need to double any of the other ingredients – but of course do double your chips!
If you're making this for just 2 people, you can freeze the remaining breadcrumb mixture for next time if you like.
What pan to use
Make sure you use a frying pan or other pan that's oven safe (you're going to be putting the pan under the grill, remember). A cast iron pan is a good option!
Nutrition
Calories:
760
kcal
Carbohydrates:
65
g
Protein:
48
g
Fat:
37
g
Saturated Fat:
11
g
Cholesterol:
116
mg
Sodium:
338
mg
Potassium:
2337
mg
Fiber:
12
g
Sugar:
2
g
Vitamin A:
455
IU
Vitamin C:
63
mg
Calcium:
182
mg
Iron:
16
mg