An amazing British classic they may be, but fish and chips aren't usually the healthiest meal. Why not give this healthier baked panko cod a try? It has a ridiculously easy lemon butter sauce that will give the meal a restaurant quality feel. The crispy panko crust is so easy to make and the whole meal is ready in just 45 minutes. You could call it posh fish and chips! They have all the flavour and more of fried fish, but none of the grease. Perfect for a midweek meal, but classy enough to serve to guests.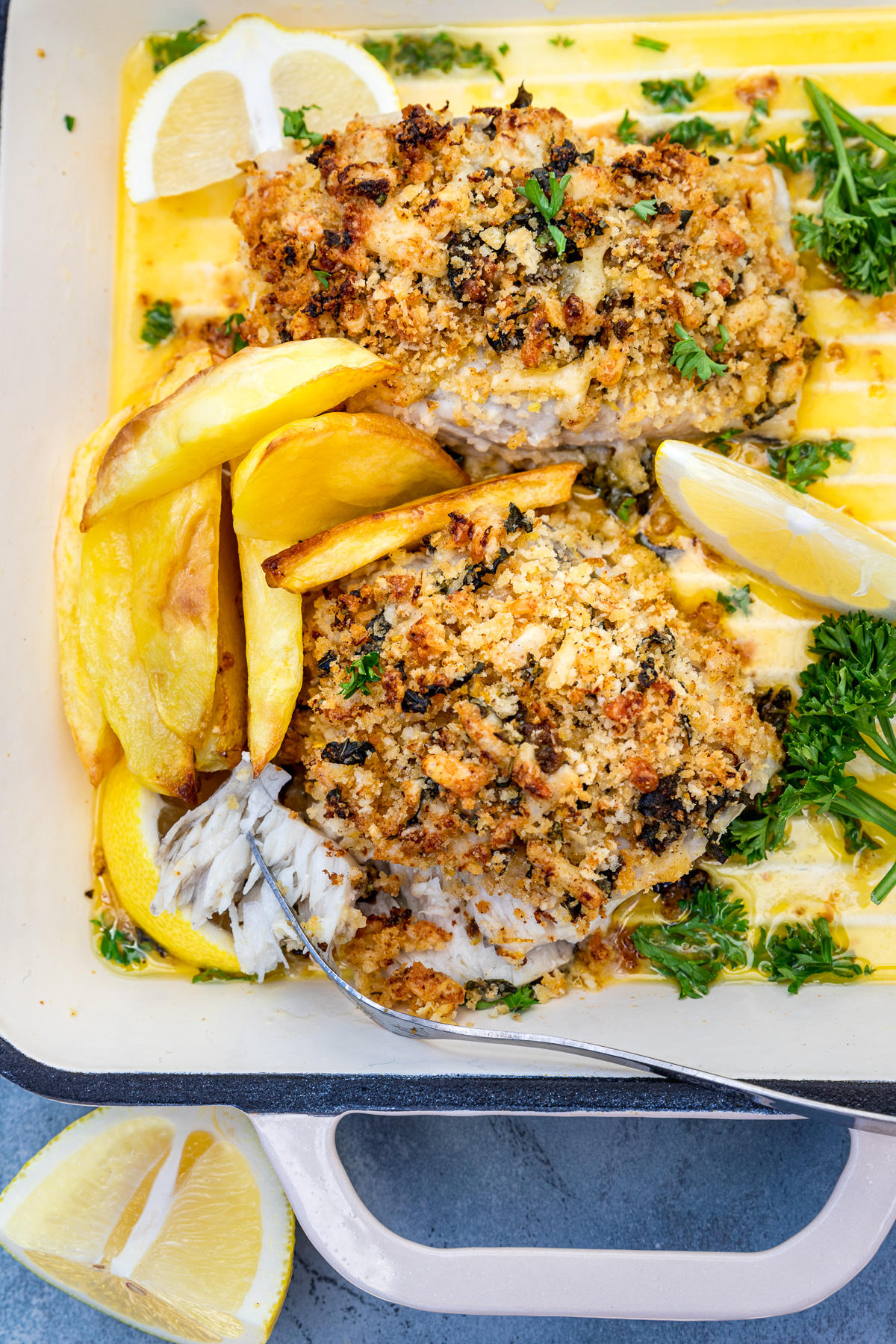 Posh fish and chips – why you'll love them
EASY… BUT FANCY: Panko-crusted cod is a crowd pleaser – great for a healthy midweek meal for the family, but also impressive enough to serve to guests!
RESTAURANT QUALITY: You only need a few ingredients for this baked fish and chips meal, but you won't believe how tasty it is. The crispy topping packs a real punch, and it contrasts beautifully with the mild flaky fish and simple lemon butter sauce.
USE ANY WHITE FISH: Although this is a recipe for cod, use any white fish that's available. Fresh or frozen (defrosted) are both fine.
HEALTHY FISH AND CHIPS: Instead of deep frying your fish in batter, you make a simple panko topping with just 4 tasty ingredients and bake the fish.
READY IN AROUND 45 MINUTES: It sounds and looks posh, but it's quick and easy to make in just 5 main steps.
3-INGREDIENT SAUCE FOR YOUR FISH AND CHIPS: The 'icing on the cake' is the lemon butter sauce with just 3 ingredients – you guessed it, lemon and butter, plus a little olive oil. When you taste it you'll see why I call this meal 'posh'!
This makes a great simple weekend meal! If you need more ideas, check out this list of 100 best lazy Sunday dinner ideas.
About the ingredients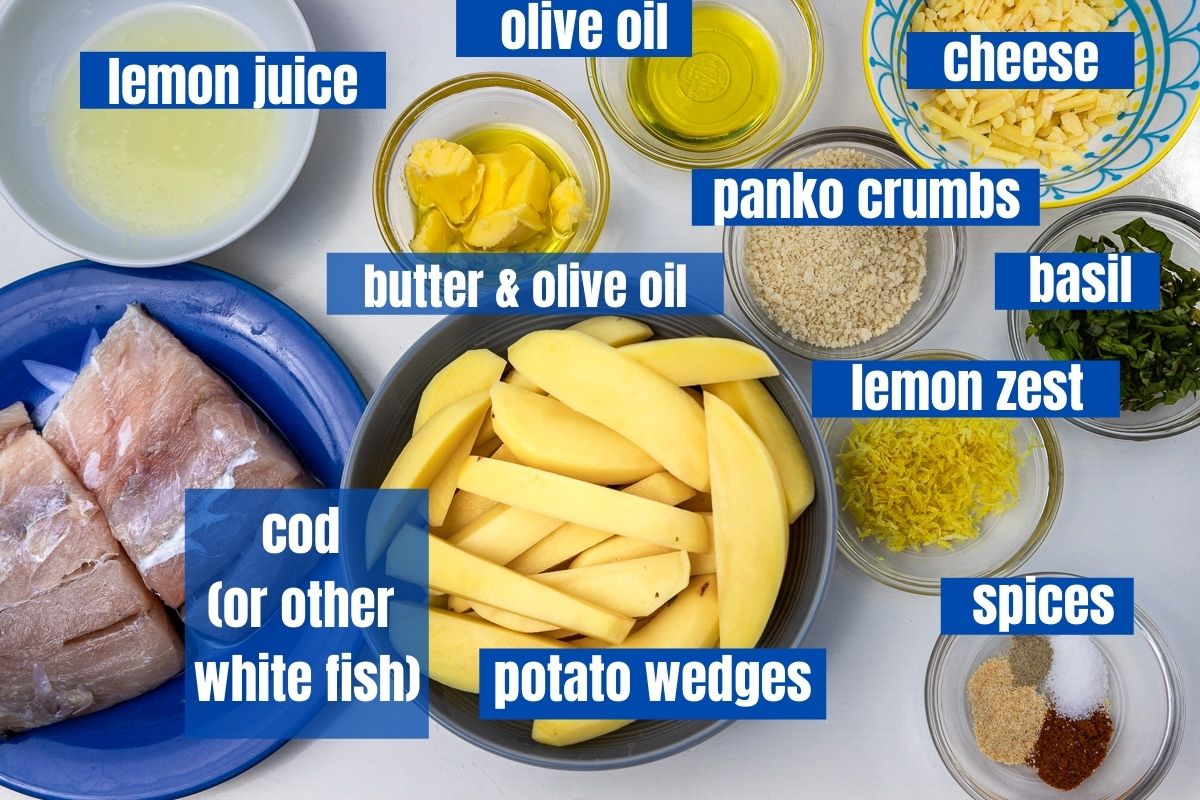 Cod fillets: Both skinless and boneless fish or fish with skin is fine. Either fresh or frozen (defrosted) is fine, too. Panko crusted cod is nice, but actually you can use any white fish fillets. Here in Australia, I love barramundi!
Panko breadcrumbs: You can actually use any breadcrumbs, but I like Japanese style panko as it's so easy and crispy. Got leftovers? I love this chicken katsu curry, these crispy chicken burgers, and this mustard parmesan crispy chicken.
A lemon: You only need one lemon, but you'll use both the zest and the juice. The zest gets mixed in with the panko crumbs, and the juice is used to make the lemon butter sauce.
Fresh basil: To mix in with the topping, and also to sprinkle over the finished crispy baked cod if you like. If you don't have any fresh basil, by all means use dried. The general rule is 1 teaspoon of dried herbs for every tablespoon of fresh.
Grated parmesan: This makes all the difference to the topping, but you'll only need a small handful (about an ounce/25 grams or an eighth of a cup).
Garlic powder and paprika: These are both optional ingredients, but they do add a little extra 'something' to the topping.
+ salt and pepper (for the topping)
A tablespoon of olive oil: I stir this into the topping = extra crisp!
Butter and olive oil: I like to combine both of these to make the lemon butter sauce for the best of both worlds – buttery flavour with Mediterranean vibes!
How to make it
Make your delicious panko baked cod and chips in just a few simple steps:
Parboil chips/fries, then pop them into the oven to finish cooking while you prepare the fish. See below for more tips!
Meanwhile, prepare quick crispy panko topping.
Arrange fish in a medium baking dish or oven safe pan (I like cast iron). Pile topping on fish.
Bake fish for 10 to 15 minutes or until just cooked through. I set the oven to 410F/210C which works well for just-cooked but crispy fish and chips. It's pretty easy to see when the fish is ready as it will look completely white. If in doubt, just check the internal temperature with a meat thermometer. It should read at least 145F/63C.
Melt the butter and olive oil around the fish and add the lemon juice. You have your ridiculously easy lemon butter sauce!
Serve with the homemade chips/fries (and frozen peas if you like).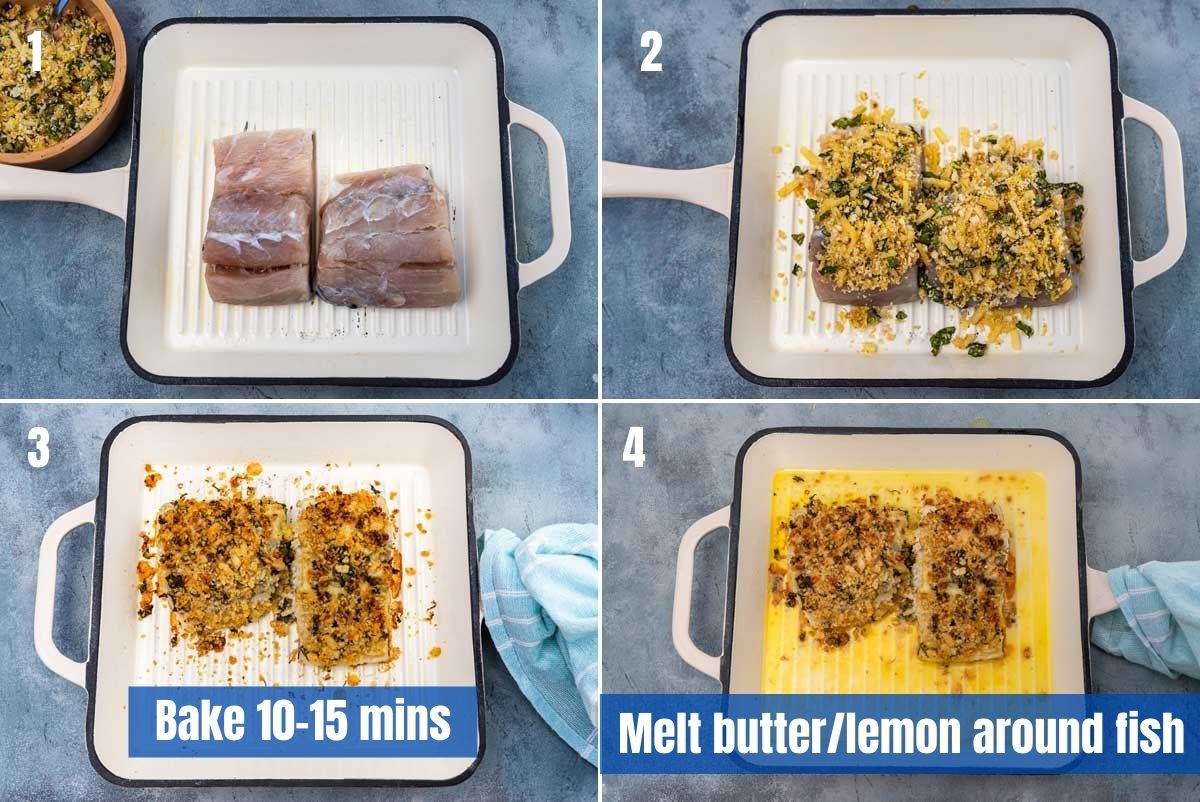 Tips for perfect homemade chips/fries
Homemade chips/fries are one of our staple easy side dishes that I make at least once or twice a week.
I prepare them one of two ways:
Put the sliced potatoes/wedges in cold water and bring to the boil. Boil for another 2 to 3 minutes, then drain. Let steam, then scatter in one layer over a baking tray lined with baking paper or foil. Drizzle with olive oil, toss with your hands, then bake for around 30 minutes or until golden and crispy.
Parboil in water that's already boiling for around 10 minutes. Drain and let steam dry for a few minutes. Then proceed as above.

Sometimes, I parboil double the amount of potatoes that I actually need for that night's meal. I let the leftovers cool completely, then I freeze them for a couple of hours in a single layer on a baking tray.
Then throw them into a freezer bag and into the freezer.
Next time I want to make homemade chips for dinner, I simply cook the chips from frozen. They need a little longer to cook, but just keep an eye on them until they're golden and crispy.
Freezing homemade chips is especially useful if you have lots of potatoes that you don't think you'll be able to eat before they go bad.
Serving suggestions
I like my homemade fish and chips served very simply with just some frozen peas and lemon wedges served on the side. I don't want to make a simple meal more complicated than it needs to be.
As my fish and chips are coming out of the oven I usually quickly microwave the peas for around 3 minutes.
However… asparagus is a good option too when it's in season. It's also very quick and easy to cook (around 5 minutes to cook on the stove top, or use your air fryer).
Coleslaw also goes well with this meal – if you happen to have some.
Alternatively, you may wish to add some tartar sauce!
Above all, it's important to serve this baked panko cod immediately, while the fish is hot and flaky and the topping is beautifully crispy.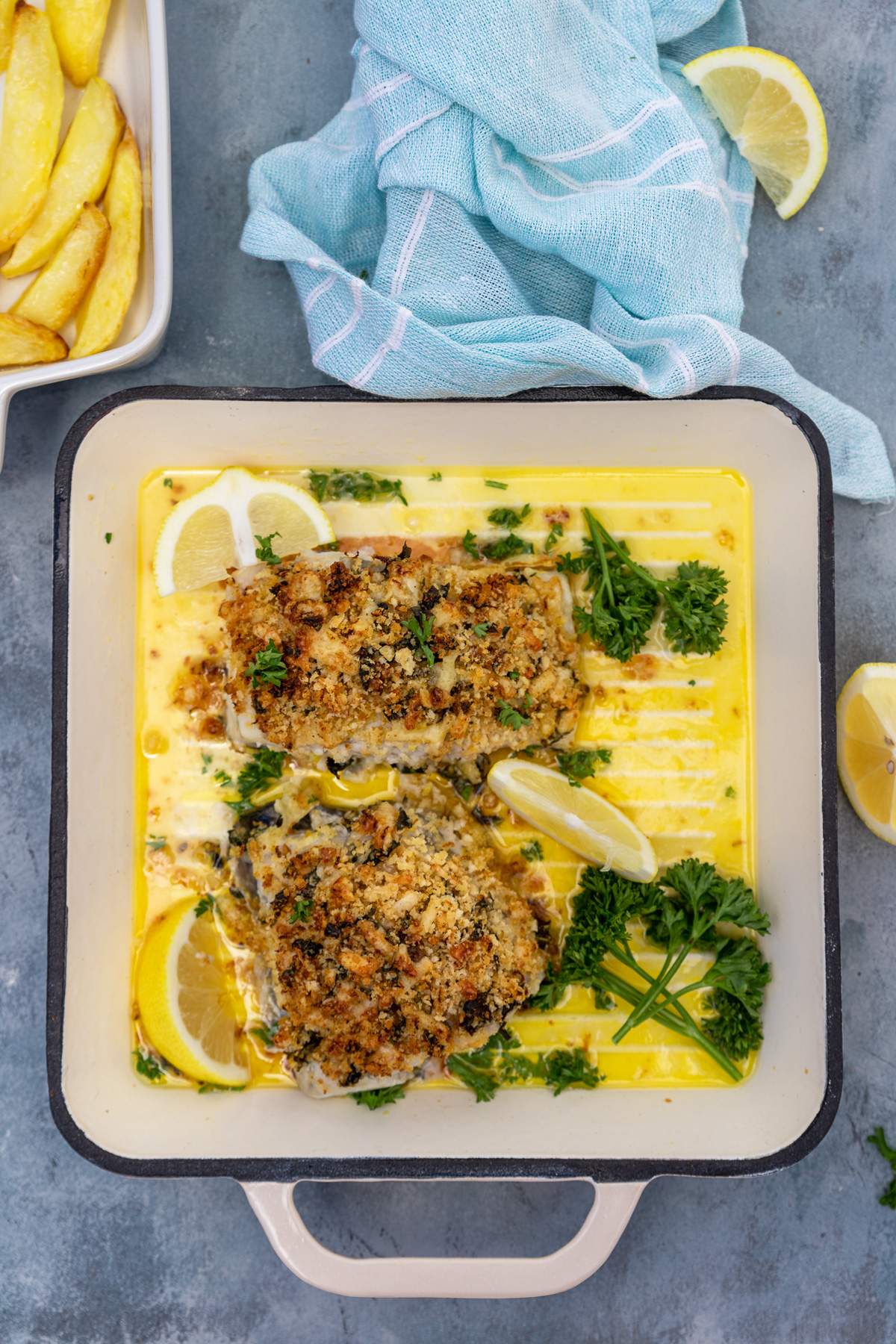 More things to know (recipe FAQ)
How do I make my panko crisp?
If you follow the recipe closely, you shouldn't have a problem with soggy panko! As the oven temperature is quite high, the topping easily gets nice and crisp. Also, don't forget to add the tablespoon of olive oil to the panko topping before piling it on the fish. This also helps the panko to crisp up nicely.

If by any chance your topping is not as crispy as you would like (ovens can vary!) simply pop it under the grill (broiler) for a minute or so. Not for too long as you don't want to risk overcooking the fish!
I don't have any parmesan. Will the topping still taste good?
Yes, absolutely! The parmesan cheese adds extra flavour and crisp to the topping, but if you don't have any the meal will still be really delicious. Alternatively, use a different kind of cheese. I often use a strong cheddar if I don't have parmesan. Crumbled feta, pecorino or another strong tasting hard cheese would also work.

As always, there is nothing wrong with making the recipe your own!
I don't have any panko breadcrumbs. What else can I use?
Again, there are other options! I like panko because it's easy and crisps up nicely. However, feel free to use something else – ordinary breadcrumbs, crushed crackers, pretzels, cornflakes, tortilla chips or even potato chips!

It's also easy to make this meal gluten free by using either gluten free breadcrumbs or one of the above options – but of course choose a gluten free version.
How do I know when the cod is cooked?
There's a fine line between perfectly cooked, flaky fish and overcooked fish. Cooking time will vary a little depending on the thickness of the fish, so keep a close eye on it. It should be cooked in between 10 and 15 minutes. You can tell it's cooked when the the flesh has just turned all white.

Remember it will continue to cook a little when you take it out of the oven so don't be tempted to leave it in for too long. If in doubt test it with a meat thermometer. The internal temperature should be at least 145F/63C.
More easy fish dinners
Seafood is a great go-to on a busy weeknight when you need a crowd pleasing and healthy dinner in a hurry!
Or see all my fish recipes.
IF YOU MAKE THIS RECIPE, LET ME KNOW HOW YOU GET ON BY LEAVING A COMMENT AND RATING BELOW… AND DON'T FORGET TO SIGN UP TO RECEIVE ALL MY NEW RECIPES BY EMAIL!
FOLLOW ME ON FACEBOOK, INSTAGRAM, PINTEREST AND YOUTUBE.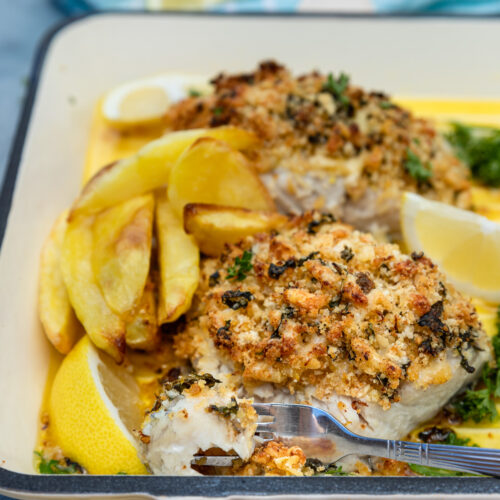 Baked Panko Cod With Lemon Butter Sauce
Baked panko cod with lemon butter sauce… or posh fish and chips?! Top the fish with a super tasty and crispy panko mixture, bake, then melt a light butter lemon 'sauce' around it. If it sounds fancy to you, you'd be right. This is such an easy and delicious meal that's equally as perfect for a midweek meal for the family or a classy meal for guests. Sooo yummy and easy served with homemade chunky chips/fries… and ready in just 45 minutes!
Ingredients (UK/Australia? Click below for grams/ml)
For the fish and potatoes
3

ounces

cod

(2 small fillets) with or without skin, use any kind of white fish if cod not available

4

medium potatoes

peeled and chopped into chunky chips (or allow around 7 ounces/200 grams/1½ to 2 medium potatoes per person)

2

tablespoons

olive oil

approximately

¼

cup

breadcrumbs

panko breadcrumbs, or make your own in the food processor out of any bread you have

1

lemon

zest only (save the juice for the sauce)

2

tablespoons

fresh basil

or 2 teaspoons dried basil

1

ounce

parmesan cheese

grated (a small handful) / or use a strong cheddar or other hard cheese

½

teaspoon

garlic powder

optional

½

teaspoon

paprika

optional

⅓

teaspoon

salt

¼

teaspoon

pepper
For the sauce
2

tablespoons

butter

1

tablespoon

olive oil

(or use 1 more tablespoon butter instead)

1

lemon

(use the juice of the lemon you zested for the panko topping)
To serve (optional)
frozen peas

or another vegetable side e.g. pan-fried asparagus
Instructions
Spray a medium sized baking dish or oven proof pan e.g. cast iron with olive oil to prevent sticking. Place the fish into the dish/pan skin-side down (if the fish has skin).

Preheat the oven to 410F/210C. Then put the potatoes into a large pot of salted water and bring to the boil. Boil for 2 minutes, drain and let steam. Alternatively, boil for 10 minutes in water that's already boiling.

Empty the drained potatoes onto a large baking sheet lined with baking paper. Drizzle with olive oil and toss with your hands. Bake in one layer for around 30 minutes or until cooked through, golden, and a little crispy.

Meanwhile, combine the panko crumbs, lemon zest, basil, parmesan/other cheese, garlic powder and paprika (if using), salt and pepper in a small bowl.

¼ cup breadcrumbs,

1 lemon,

2 tablespoons fresh basil,

1 ounce parmesan cheese,

½ teaspoon garlic powder,

½ teaspoon paprika,

⅓ teaspoon salt,

¼ teaspoon pepper,

1 tablespoon olive oil

Pile half of the panko mixture onto the top of each of the fish fillets in the baking dish/pan. Bake for 10 to 15 minutes – just until the flesh has turned completely white. The inside of the fish should be at least 145F/63C (check with a meat thermometer if you like).

Quickly melt the butter around the fish while it's still in the pan. Then add the lemon juice and swirl a little with a spatula or wooden spoon to combine.

2 tablespoons butter,

1 tablespoon olive oil,

1 lemon

Serve the crispy cod and sauce immediately with the cooked chips/fries and a side of frozen peas (if you like). Scatter a little more fresh basil over the top if you like.
Notes
Making the recipe for 4: You could easily make this for four by cooking four fish filets instead of two and doubling all of the other ingredients too.
About the fish: While this recipe is for cod, it works just as well with any other white fish fillets. I'm in Australia and love barramundi! Use whichever white fish is most readily available where you live, if you like.
You can use fish with skin on or without. If using frozen fish, defrost in the fridge overnight before beginning the recipe.
Ingredients substitutions: No panko? Use ordinary breadcrumbs, crushed crackers, crushed cereal or even crushed pretzels instead. The results will not be exactly the same as with panko, but your crispy baked cod will still be very delicious!
No garlic powder/paprika/basil/parmesan? As long as you have a lemon and some panko crumbs or a substitution, you can make the topping with whichever dried herbs you have. No problem if you want to skip one or more of the ingredients in the topping.
Nutrition
Calories:
794
kcal
Carbohydrates:
96
g
Protein:
25
g
Fat:
38
g
Saturated Fat:
13
g
Polyunsaturated Fat:
3
g
Monounsaturated Fat:
20
g
Trans Fat:
1
g
Cholesterol:
58
mg
Sodium:
865
mg
Potassium:
2191
mg
Fiber:
13
g
Sugar:
7
g
Vitamin A:
863
IU
Vitamin C:
142
mg
Calcium:
289
mg
Iron:
5
mg