Last Updated on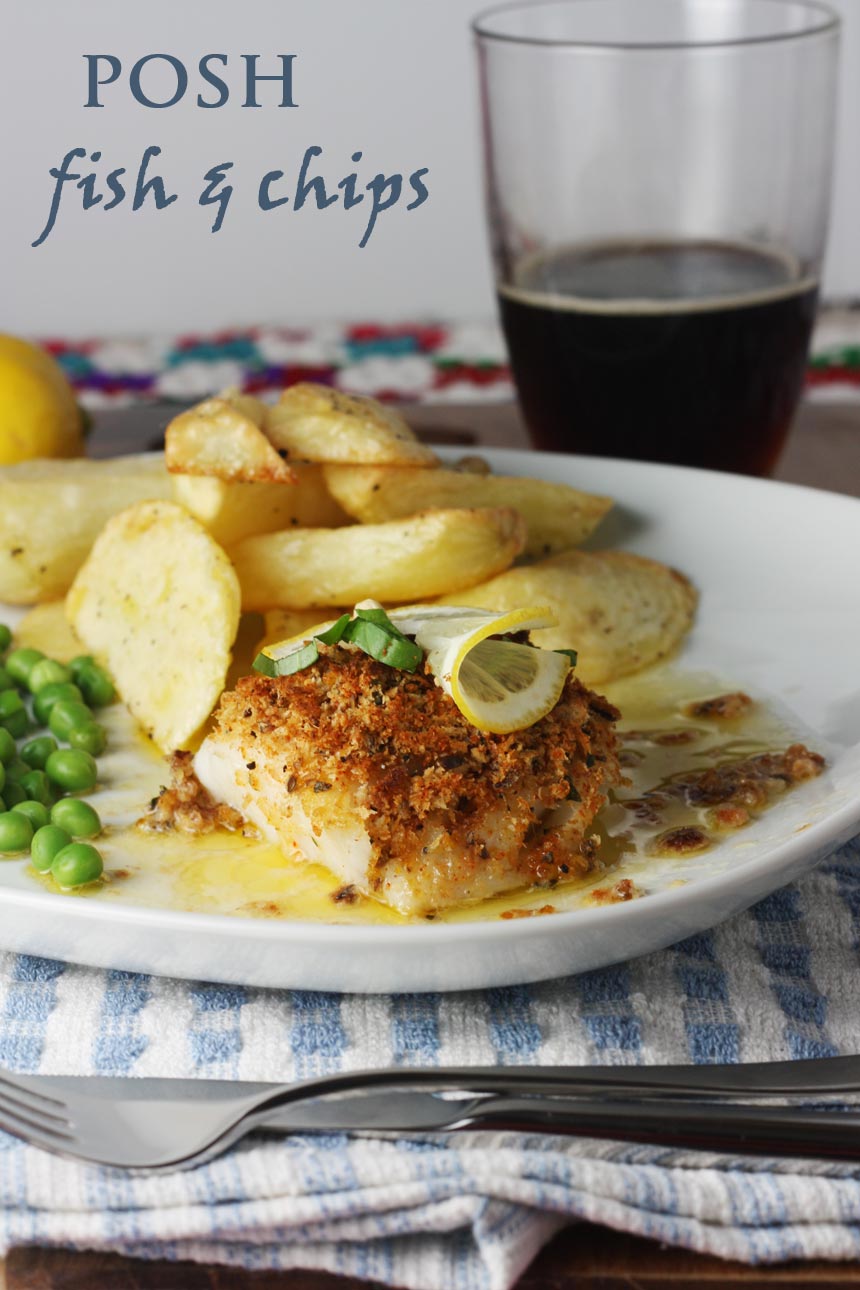 If you're a regular reader, you may or may not remember that Mr. Scrummy and I very recently returned to the UK from Perth Australia to live. We've already lost count of the number of people over here who've wondered aloud what on earth we are thinking in doing so (could this have anything to do with the dull, grey weather over here, I wonder …). But from our point of view, so far so good.
Now if you've been wondering at all what we've been doing since we got back, I can sum it up in one word – shopping. Honestly, this is pretty much all we've been doing. Our first week back we sleepwalked our way through Ikea, local department stores, supermarkets, hardware and electronics stores, Gumtree furniture ads, clothes shops (to get a warm coat) and what feels like a hundred other shops in a jetlag-induced zombie-like stupor. We bought pots and pans and mops and buckets and a hundred (at least) other things you need to set up house … oh, and far too many red kitchen appliances. You should have seen how much 'stuff' we have been 'stuffing' into the car. The scene from Mr. Bean where he can't fit everything in his car and he ends up sitting on the top steering it with a broom or something equally as stupid  comes to mind.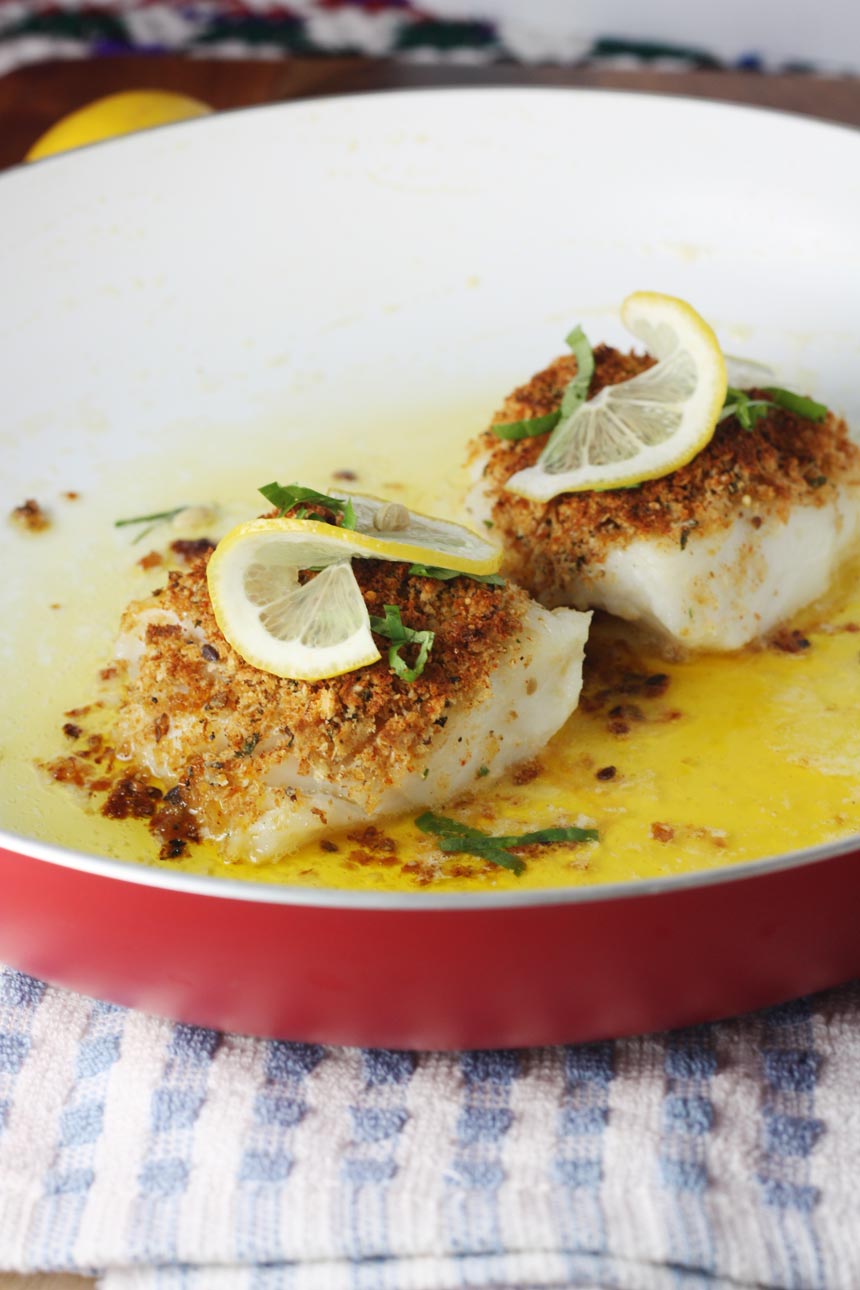 In the evenings, we'd sit in my parents' living room and promptly fall fast asleep. And by promptly I mean in about 2 minutes flat. On the first Saturday night, we had delayed moving into our new rented flat by a day mostly to keep my dad company while my mum was away. My dad set up a great movie for us all to watch together, we sat down to watch it and then … zonk. Mr. Scrummy lasted for about 5 minutes and I might possibly have made it to 10. My poor dad sat there and watched the whole thing by himself after all.
But despite the exhaustion which still hasn't really ended (this weekend still consisted of standing in front of irons and printers feeling steadily more stressed out as we tried to decide between about 30 irons and printers that all looked pretty much the same), we're getting nicely settled in our new flat … and, most importantly, our new kitchen.
So one of my first dinner creations in this shiny new kitchen was this posh fish & chips. I nearly called it 'posh and easy' because …well, because it's very quick and easy to make, too. The fish is cooked in one frying pan (that's skillet to you Americans) and then shoved under the grill (broiler in the US … why can't we all just use the same words?) in the same pan to finish off before adding butter, olive oil and lemon juice to make a simple 'sauce'. The chips are simple, too – all you do is bring a pan to the boil with some chunky-cut potatoes in, then bake the chips for 20 minutes with olive oil, salt and pepper. I called it posh because it has tasty crumbs sprinkled on the top of the fish with lemon zest, parmesan and basil in. Once you've made the crumb mixture and pan-fried your fish for 2 to 3 minutes, all you have to do is pile the crumbs on top of the fish and grill for another couple of minutes. Just so easy … and healthy, too.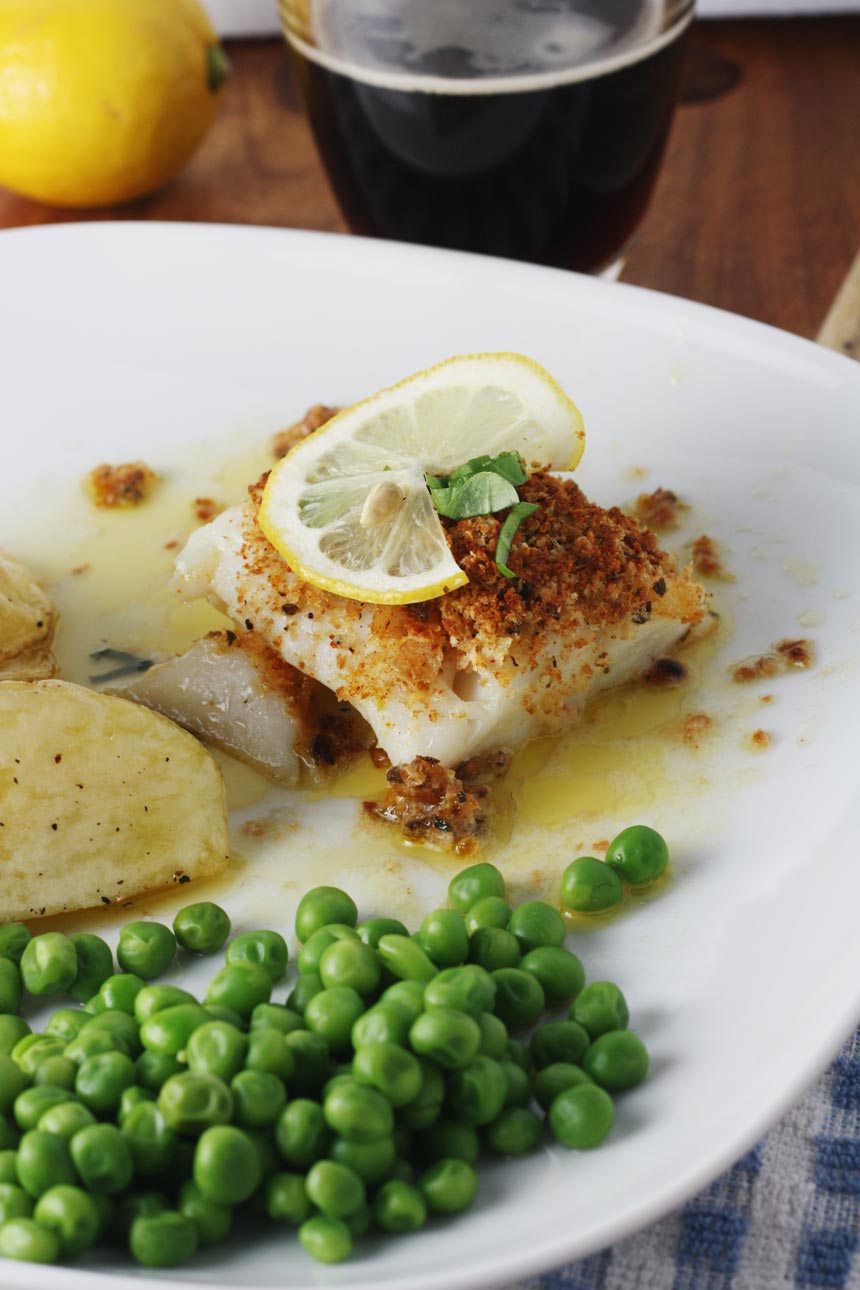 In other words, you don't have to mess around with batter or a deep fat fryer but the resulting fish and chips are most definitely a cut above the average … in my humble opinion, of course.
I suspect this dinner is going to become a regular feature in our new little flat.  In the meantime, hopefully we can stop shopping and chill out a bit more!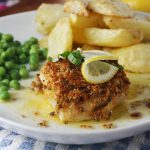 Print
Posh fish & chips
An easy, tasty and oh-so-posh version of fish and chips. The fish is lightly pan-fried and topped with a tasty crumb mixture including parmesan cheese, basil and lemon. Served with a light butter lemon 'sauce' - and oven baked chunky chips and peas, of course! Delicious!
Ingredients (UK/Australia? Click button below for grams & ml)
For the fish
1/4

cup

breadcrumbs

I whizzed 1 slice of wholemeal up in the food processor – any bread will do, of course

grated zest of 1 lemon

2

tablespoons

chopped fresh basil

small handful of grated parmesan

salt & pepper to taste

2

fish fillets

skinless & boneless (4 if dinner's for 4)

2

tablespoons

butter plus a large drizzle of olive oil

or 3 tablespoons butter & no olive oil, if you prefer!

juice of 1/2 to 1 lemon

depending on how 'lemony' you'd like the finished 'sauce' to be
For the chips
potatoes

peeled and chopped into chunky chips (enough for the number of people you're serving)

olive oil

salt and pepper, to bake

frozen peas

to serve (optional)
Instructions
Preheat the oven to 200C. Then put the chipped potatoes into a large pot of salted water and bring to the boil. Boil for 2 minutes and drain.

Dump the drained potatoes onto a large baking sheet and toss them well with your hands with a good drizzle of olive oil (the potatoes should all be lightly covered). Spread them out in one layer on the tray and bake for 20 minutes until a light golden colour.

Meanwhile, combine the bread crumbs, lemon zest, basil, parmesan and salt and pepper in a small bowl and put aside.

Heat up an oven-proof skillet/frying pan on the stove top with a good drizzle of olive oil. At the same time, heat up the grill (broiler). Cook the fish fillets for 2 to 3 minutes in the pan. Then flip the filets over and pile a good layer of the crumbs onto each. Transfer the skillet/frying pan to under the grill (broiler) and grill/broil for another 2 to 3 minutes until the crumbs are golden and the fish fully cooked through.

Transfer the frying pan/skillet back to the stove top, melt the butter around the fish and add the olive oil and lemon juice. Serve immediately with your cooked chunky chips and a side of peas, if you like.
Notes
Recipe adapted from BBC Good Food. You could easily make this for four by cooking four fish filets instead of two. You don't need to double any of the other ingredients – but of course do double your chips! I made this dish just for the two of us, so I froze the remaining breadcrumb mixture in a small bowl. There were enough crumbs left over for two more fish and chip evenings!
Nutrition
Calories:
155
kcal
|
Carbohydrates:
9
g
|
Protein:
2
g
|
Fat:
12
g
|
Saturated Fat:
7
g
|
Cholesterol:
30
mg
|
Sodium:
199
mg
|
Potassium:
26
mg
|
Vitamin A:
455
IU
|
Calcium:
25
mg
|
Iron:
0.6
mg
Follow me on Pinterest!
Follow @scrummylane to pin more quick and easy recipes for later
I hope you enjoyed this post! You can subscribe to receive posts directly to your inbox by entering your email address in the box below or at the top of the sidebar on the right.
You can also find more from Scrummy Lane on Facebook, Pinterest, Twitter and Instagram and follow me on Bloglovin! Thanks so much for reading!
*This post may contain affiliate links which means that if you click on a link and make a purchase I get a small percentage of the amount you spend. At no extra cost to you, of course! Thank you!*