These stuffed spinach and ricotta pasta shells look quite impressive (if a bit messy!) don't they? But they're so, so easy to make. The homemade spicy marinara sauce and oozy mozzarella cheese on top make this perfect spring comfort food.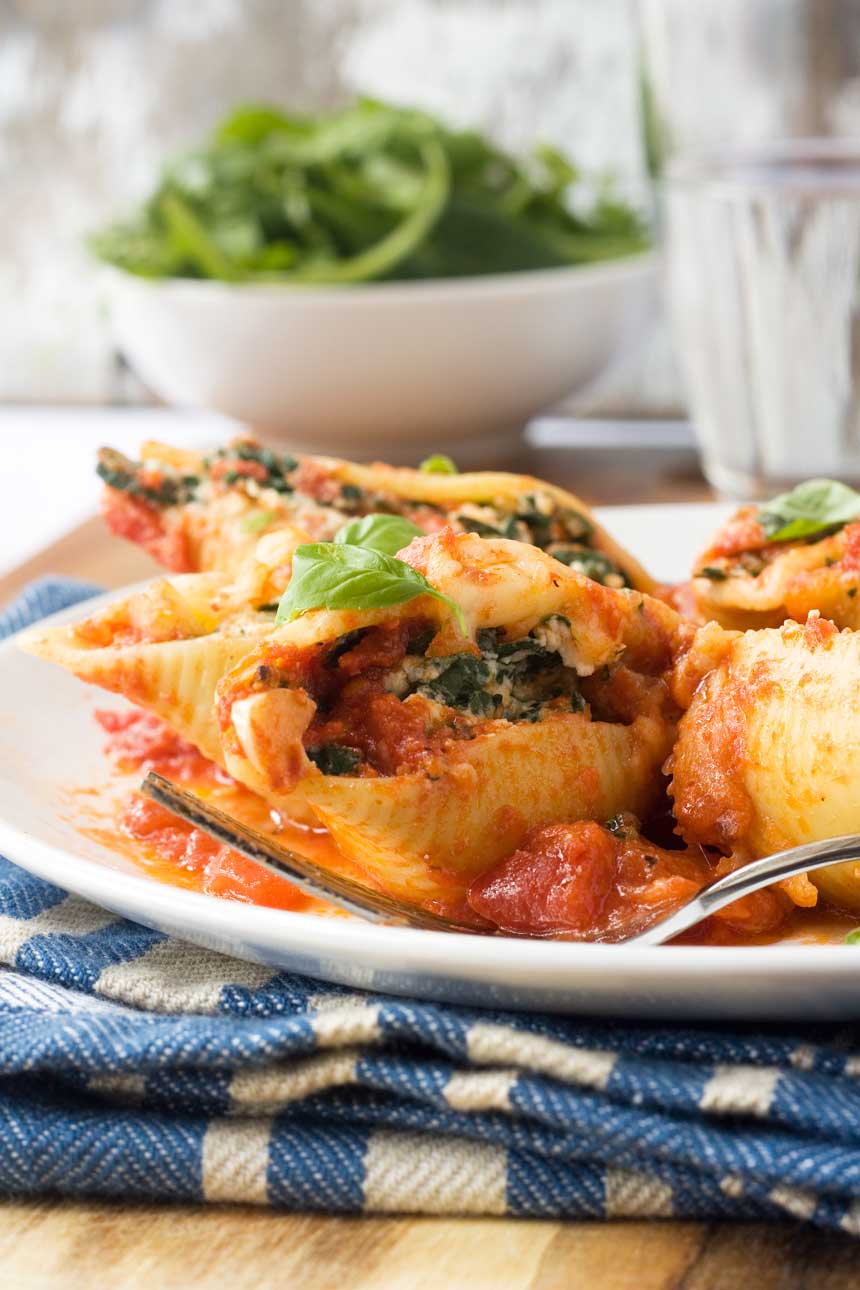 This post has been quite a while in the making!
I first thought about making spinach and ricotta pasta shells over a year ago, but my plans were unexpectedly thwarted when I just couldn't find any pasta shells big enough to stuff. Big sad face, and then I moved on to another idea.
So when I spotted them in a local supermarket recently, I snapped them up and resurrected my idea. Cue big happy face!
There's nothing earth-shattering in this recipe – just a spinach and ricotta mixture, pasta, and a beautiful homemade tomato sauce – but the flavours really are a match made in heaven. Spinach and ricotta and tomatoes just works.
Having said that, if you're not careful something like this just could end up being a little bit bland. What I did to make sure that didn't happen was add plenty of garlic, both in the spinach-ricotta mixture and in the classic marinara sauce, and also a good pinch of chili flakes. But of course you can reduce the amount of chili if you like, or not use any at all. The garlic and a good amount of basil, along with some black pepper, makes sure there's still plenty of 'oomph'.
Feel free to use a supermarket marinara sauce, of course, but I would definitely encourage you to make your own. You only need tinned tomatoes, garlic, olive oil, maybe herbs and chili (if you like), and 15 minutes to make it.
I must admit I was tempted to carefully arrange and style my dish before photographing it, but in the end I decided firmly against that. To be honest, I hate it when I see an absolutely perfect photo of a recipe, and then it looks nothing like that when I make it! I decided instead that you might rather see the finished dish as it looks when the average person makes it. Maybe you're not the average person and yours will look much prettier than mine, but hey, take me and my baked spinach and ricotta stuffed pasta shells just as they are!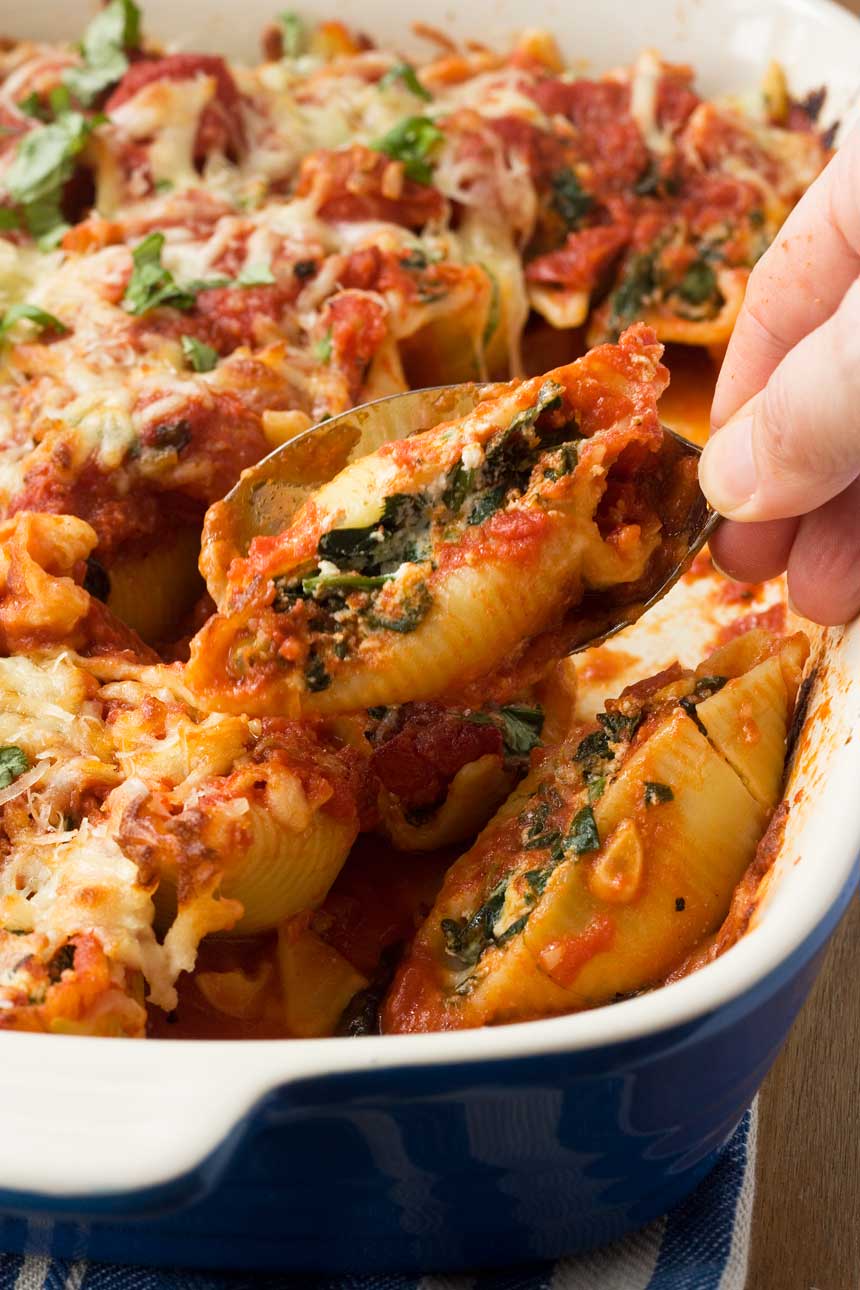 Now I know what you're thinking (well, what you might be thinking, depending on where you live… ). How to get those darn jumbo pasta shells?
Well, hopefully it's no big deal where you are. If you're in the UK, I got mine from Tescos. You can buy Barilla Jumbo Pasta Shells in the US (Walmart stock them, for instance). In Australia, I'm afraid I couldn't find them in either Woollies or Coles when I was there, but try a deli.
As a last word… this is REALLY good with toasted focaccia bread drizzled with olive oil and sprinkled with salt (yup, we have this with a LOT of our meals!). I also like to serve a simple green salad in a light dressing on the side. Then you really are looking at perfection. 🙂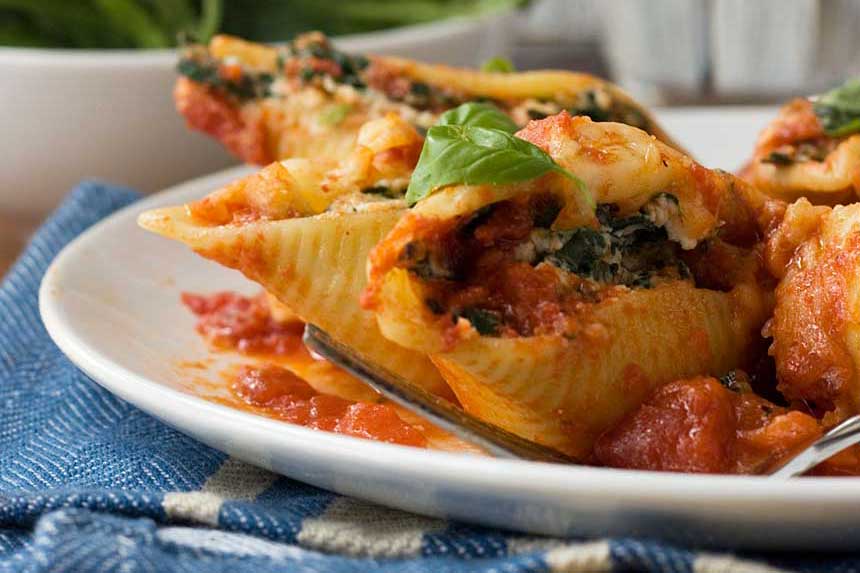 Baked spinach and ricotta pasta shells
I'd been wanting to make these baked spinach and ricotta pasta shells for ages, but had to wait until I could find some pasta shells. They were worth the wait! They're nothing fancy - just a spinach and ricotta filling stuffed into the shells, then the whole dish is drenched in marinara sauce and oozy mozzarella - but it's really easy, and looks so impressive. Hope you give it a go!
Ingredients (UK/Australia? Click below for grams/ml)
2

quantities of my homemade marinara sauce

recommended! or about 3 cups of store-bought

10.5

ounces

dried pasta shells

I used medium ones, but you can use giant if you prefer – they just need to be big enough to stuff

1

pound

baby spinach

4 to 5

garlic cloves

sliced or crushed

17

ounces

ricotta cheese

1

beaten egg

1/2

cup

parmesan cheese

grated

1/4

teaspoon

a good grinding of fresh nutmeg

1

small bunch fresh basil

chopped

freshly ground pepper

1/2 to 1

cup

mozzarella cheese
To serve (optional)
toasted focaccia bread drizzled with olive oil and sprinkled with salt

green salad with a light dressing
Instructions
Make the marinara sauce if you're using homemade (you need about 3 cups)*, and set aside.

Blanch the spinach in a large pot of boiling water until just wilted (less than 1 minute). Remove to a colander with a slotted spoon (reserving the water), rinse in cold water and squeeze with your hands to remove most of the water.

Cook the pasta shells until al dente according to the packet instructions in the same water you blanched the spinach in. Drain and drizzle with a tiny bit of olive oil to stop the shells from sticking.

Meanwhile, make the stuffing for the shells. Transfer the spinach to a large bowl, then add the garlic, ricotta, egg, parmesan, the nutmeg, and most of the basil. Grind in plenty of pepper, then mix well.

Pre-heat the oven to 180C / 355F. Spread about a cup of the marinara sauce over the bottom of a large baking dish, then stuff each of the pasta shells with the spinach-ricotta mixture (you can fill them up to the top). Arrange them in the dish on top of the sauce.

When the dish is filled with shells, drizzle over the rest of the marinara sauce, then sprinkle with the mozzarella cheese.

Bake for 25 minutes, then remove from the oven and sprinkle with the mozzarella cheese. Bake for an additional 15 minutes, then serve.
Notes
*I like to add either a whole chili to the sauce (removing at the end) or a good pinch of chili flakes, but leave the spice out if you like!
This is a great recipe to make ahead and store in the fridge before baking. You can also freeze it for a few months - just make to step 6 and cover well with plastic wrap and foil before freezing.
Nutrition
Calories:
461
kcal
Carbohydrates:
51
g
Protein:
25
g
Fat:
17
g
Saturated Fat:
10
g
Cholesterol:
88
mg
Sodium:
331
mg
Potassium:
761
mg
Fiber:
3
g
Sugar:
2
g
Vitamin A:
9060
IU
Vitamin C:
25.5
mg
Calcium:
425
mg
Iron:
3.8
mg

Made one of my recipes? Take a pic and tag @scrummylane on Instagram so I can see it!
You can also find more from Scrummy Lane on Facebook, Pinterest, Twitter and Instagram and follow me on Bloglovin! Thanks so much for reading!
*This post may contain affiliate links* 🙂