Welcome to your new go-to chicken thigh curry! This easy Thai chicken and butternut squash curry truly deserves the spot it's had on our dinner table (and in our freezer) for YEARS now. Imagine a cross between a Thai red curry and a chicken satay curry – with hidden veggies – and you get the idea. It's creamy, tomato-y, peanut-y. Make it on the stove top, in the slow cooker, or in the pressure cooker. Perfect!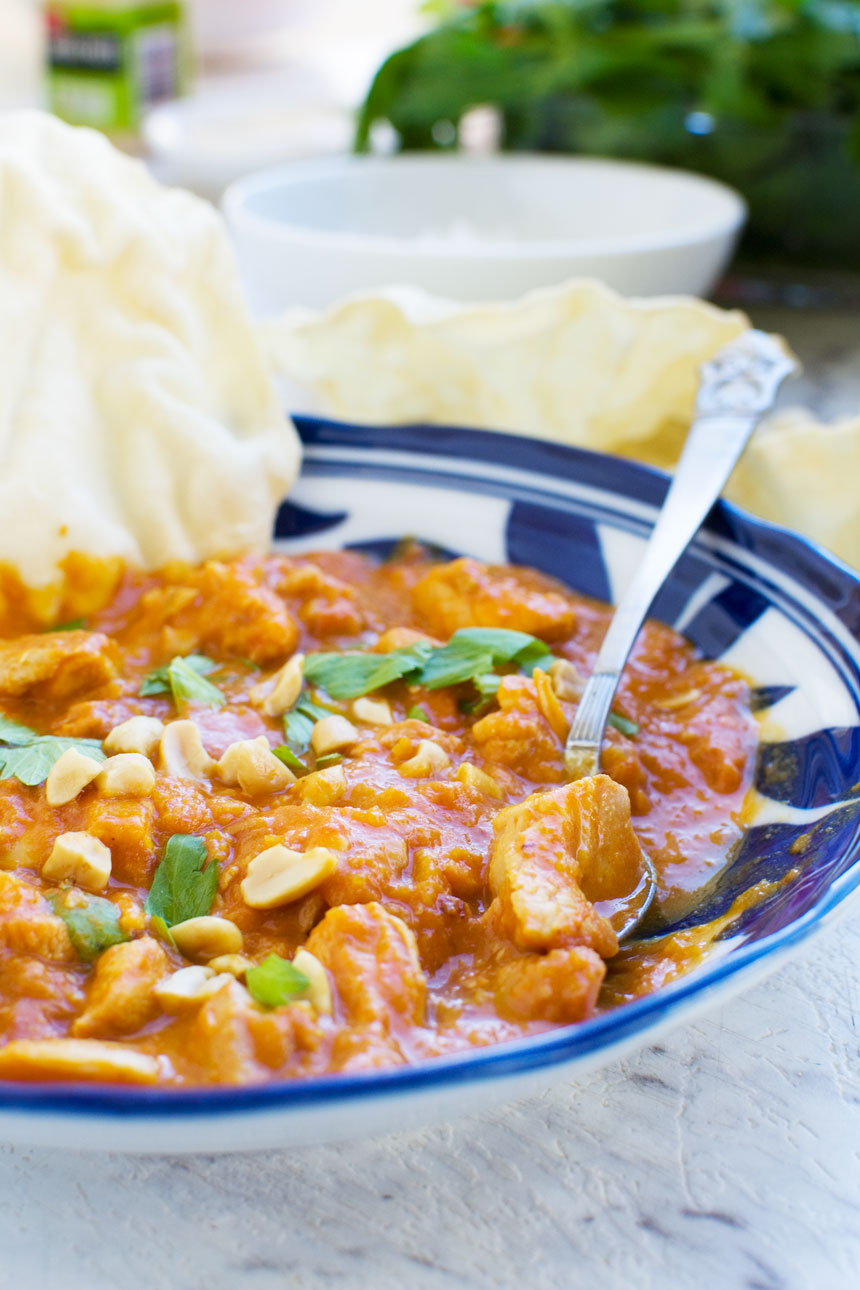 'Perfect' – really?
I preface my recipe titles with bold words like 'best', 'life-changing' and 'perfect' very sparingly! But when I do, I really mean it, and it's usually because the recipe has been tested a ridiculous amount of times. It's become one of our family's go-to recipes.
To see what I mean, check out the best Greek potatoes (they really are the best, and go with almost anything), and these life-changing fried halloumi bites!
But back to this amazing easy Thai chicken curry.
So Mr. Scrummy and I have been licking our lips over this curry for literally YEARS, and here's why…
Why this is a perfect curry recipe
I've tweaked this recipe to our taste over the years, but I owe my inspiration to this squash coconut curry from the popular food blog Pinch of Yum. Any recipe from this site usually gets my vote!
It has the most delicious creamy coconut curry sauce made out of curry spices, coconut milk, tomatoes, and… peanut butter. So if you're a fan of chicken satay, read on.
It's quick and easy. You need just 10 minutes to prep everything. The biggest job is chopping the butternut squash.
Pat yourself on the back after eating this because… hidden veggies! The soft butternut squash gets squished into the curry to thicken the delicious sauce. Wilt spinach into the sauce too for extra brownie points.
It feeds a crowd! It makes 8 medium portions at least, or up to 10 small ones. Have it for dinner, then freeze the rest!
Pro tips: 1. Use the best quality red curry paste you can find. An authentic Thai one is always a safe bet! 2. Chop extra butternut squash and freeze it for next time.
About the ingredients
butternut squash, chopped into small(ish) pieces. Feel free to use pumpkin instead.
A few simple kitchen cupboard spices [curry powder, chili powder, turmeric]
garlic (quite a lot) and ginger
Thai curry paste (try to use an authentic, good quality one)
coconut milk, canned tomatoes & peanut butter (I like crunchy peanut butter but whatever you have is fine)
honey (adds a touch of sweetness to balance the sharper flavours)
Plus:
yummy garnishes: coriander, peanuts & (very optional) lime
yummy sides: rice, poppadoms, yoghurt (I don't like to skip the yoghurt!)
How to make it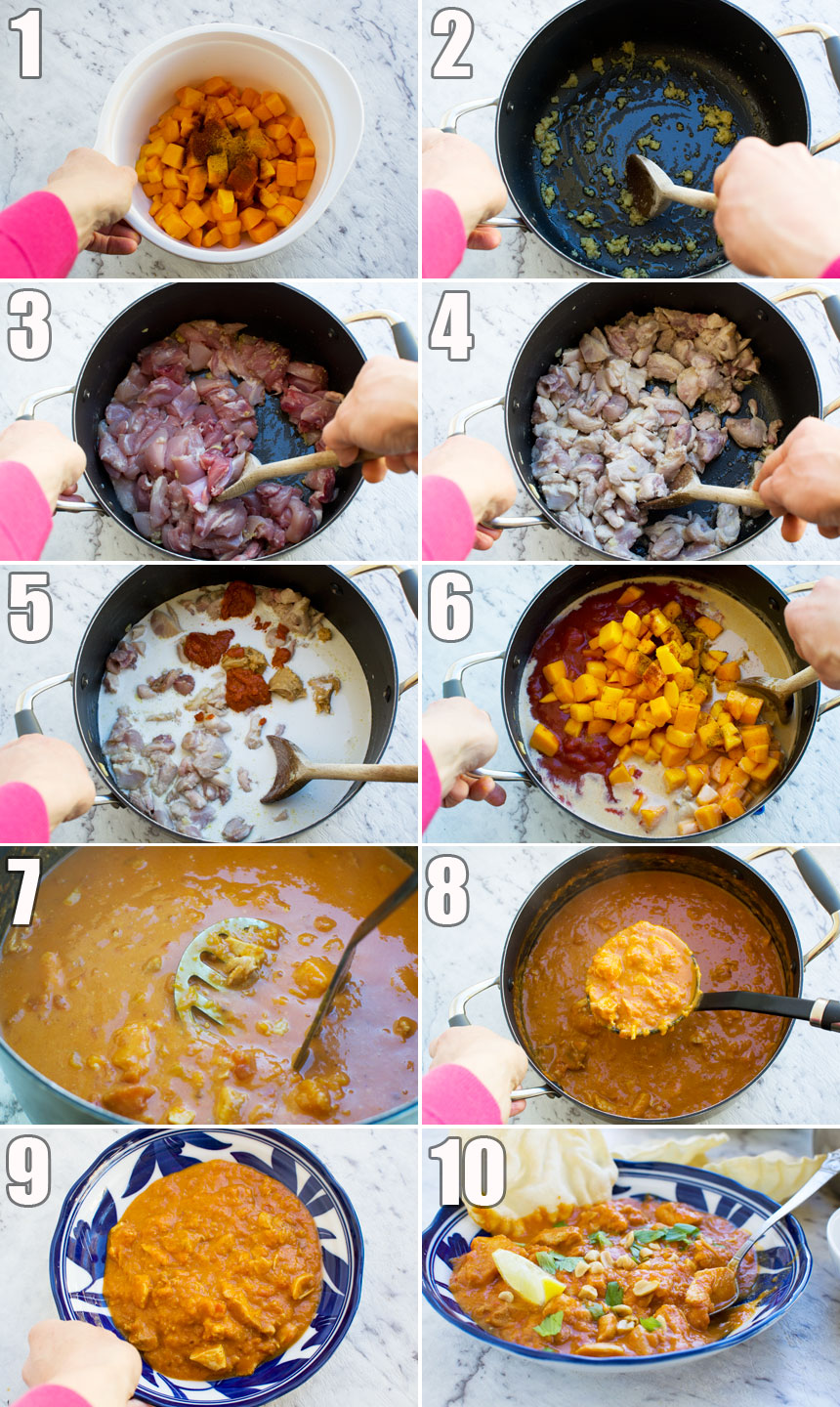 You're only these 5 simple steps away from coconut curry heaven!
(Photo 1) Sprinkle spices (curry, turmeric, chili powder) over chopped butternut squash.
(Photos 2-4) Soften garlic and ginger and brown chicken.
(Photos 5-6) Stir in peanut butter, red curry paste, and honey, then the tomatoes and butternut squash.
(Photos 7-8) Let the curry simmer until the butternut squash is soft (about 30 minutes), then squish most of the butternut squash into the curry. This will thicken it nicely!
(Photos 9-10) Serve with poppadoms, peanuts and coriander. For extra yum, I also serve my curry with rice and Greek yogurt on the side.
How to serve it
I recommend serving this curry over rice and scattered with fresh coriander and crushed peanuts. A squeeze of lime is optional, but don't skip the coriander or peanuts!
I also consider a huge splodge of natural yoghurt and a pile of poppadoms on the side to be obligatory!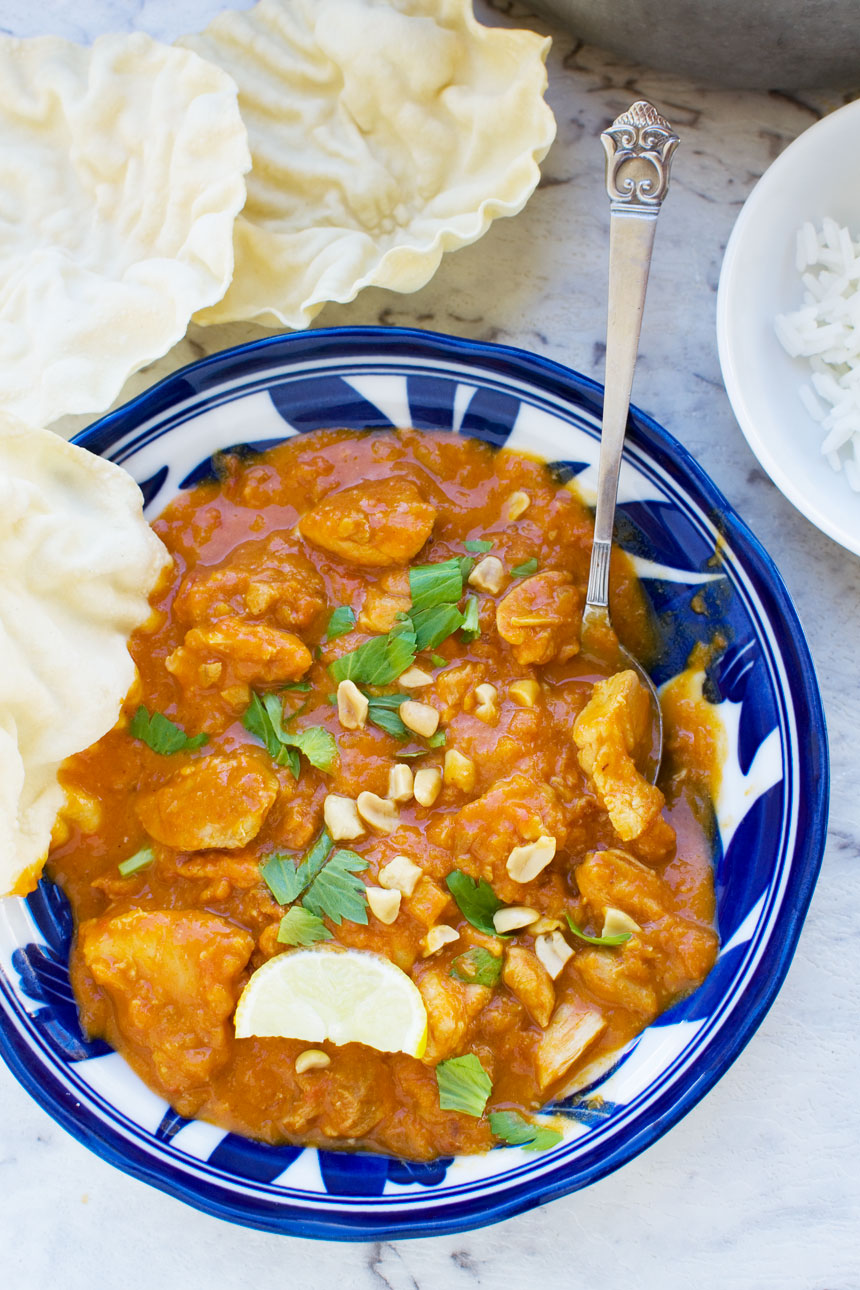 Can you make this in a slow cooker?
To my delight… YES!
A reader helped me to figure out the best way to adapt this recipe for a slow cooker (thank you, Paula!). It worked perfectly!
Follow the stove top cooking instructions up to step 4 in the recipe below (if you have a slow cooker that also sautes, just saute the spices/chicken etc in the bowl of the slow cooker).
Reduce the amount of chopped tomatoes to just 1 can.
Add a tablespoon of tomato paste/puree to make sure you still get the same hit of tomato-y flavour.
If you don't have a saute function, it's fine to just throw everything in the pot without any pre-cooking. You'll still get a delicious curry!
Slow cook for 6 to 8 hours on low.
Squish some of the pumpkin into the curry as you would if making it on the stove top and… enjoy!
You can use whichever slow cooker you have. Just don't use a tiny one because this recipe makes quite a lot of curry!
How to make this in a pressure cooker
These days I often use a multi-cooker to make this (I have a Breville, but the most popular one is the Instant Pot (affiliate link). I either use the slow cooker setting, or the pressure cooker setting, depending on how organised I am that day.
If you'd like to try making this in your pressure cooker, simply follow the slow cooker instructions, but cook on high pressure for 7 minutes. Choose a quick steam release setting (I use auto quick release on my Breville pressure cooker).
Don't forget to squish the squash into the curry at the end, as with the other cooking methods!
Another one of our go-to one pan chicken recipes is this Amazingly delicious Greek chicken and potatoes. Add a Greek salad, crusty bread and tzatziki and you have a meal fit for a (Greek) king!
More things to know (FAQs)
Can I use green or yellow curry paste instead?
Yes, definitely! The curry will still look red due to the tomato paste and can of tomatoes, but it may be a slightly duller red. The taste will be just as delicious!
Is it best to make it on the stove-top, in the slow cooker or in the pressure cooker?
I've made this curry all three ways. If I'm honest, I prefer it made on the stove-top. However, these days I usually make it in my electric pressure cooker, just because it's very hands-off this way.

It's still very delicious made in the pressure cooker or slow cooker, but the chicken falls apart a little more. I also find the flavours slightly more enhanced when made on the slow cooker. But honestly, make it in the way that's most convenient for you. It's a top class meal whichever way you choose to make it!
Can I use pumpkin instead of butternut squash?
Yes! Use about half a small pumpkin. I find different types of squash/pumpkin cook at different rates so just keep checking if the pumpkin is soft before squishing it into the curry a little!
Can I freeze it?
Absolutely! This curry is perfect for freezing. Simply freeze in glass containers for up to 3 months, then defrost and reheat either in a saucepan or a microwave.

I find the recipe makes at least 6 portions. These days we eat slightly smaller portions in our house though so I find it can stretch to 7 or 8 portions, especially if you add rice and/or naan bread and poppadoms!
More delicious curries
IF YOU MAKE THIS RECIPE, LET ME KNOW HOW YOU GET ON BY LEAVING A COMMENT AND RATING BELOW… AND DON'T FORGET TO SIGN UP TO RECEIVE ALL MY NEW RECIPES BY EMAIL!
FOLLOW ME ON FACEBOOK, INSTAGRAM, PINTEREST AND YOUTUBE.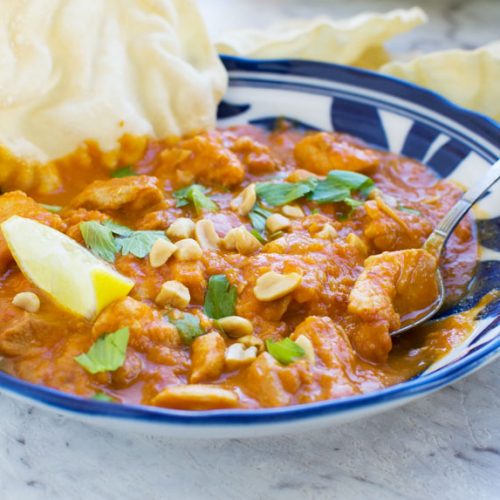 Perfect Thai Chicken And Butternut Squash Curry
If you're looking for a go-to chicken curry, this Thai chicken and butternut squash curry just might be it. It's quick and easy to make with just chicken thighs, a few spices and curry paste, coconut milk, peanut butter, tomatoes and butternut squash. Top with plenty of peanuts and you get a delicious cross between a chicken satay curry and a Thai red curry. Choose to make it on the stove top, in the slow cooker, or in your pressure cooker!
Ingredients (UK/Australia? Click below for grams/ml)
1

pound

butternut squash

peeled and chopped into smallish cubes

1

teaspoon

chili powder

1

teaspoon

curry powder

½

teaspoon

turmeric

6

cloves

garlic

crushed

2

inches

fresh ginger

peeled and chopped finely

2

pounds

chicken thighs

chopped into small pieces

14

ounces

coconut milk

(1 can)

3

tablespoons

peanut butter

crunchy or smooth

3

tablespoons

Thai red curry paste

good quality – authentic Thai brands are good

1

tablespoon

honey

28

ounces

chopped tomatoes

(2 x 14 ounce / 400 gram cans)
To serve
fresh coriander / cilantro, crushed peanuts & natural yogurt

(I use Greek yogurt)

rice & poppadoms
Instructions
Toss the butternut squash in a large bowl with the chili powder, curry powder, and turmeric, and set aside.

Heat up a big drizzle of oil in a large cast iron pan or saucepan, then cook the garlic and ginger together for a couple of minutes. Add the chicken and cook for another two minutes or so or until white.

Add the coconut milk, then stir in the peanut butter, Thai curry paste and honey. Then add the tomatoes and butternut squash/spices.

Simmer for about 30 minutes or until the chicken is cooked through and the squash is tender. Squish about half of the squash into the curry to thicken it.

Serve over rice, garnished with the coriander and peanuts, and with yoghurt and poppadoms on the side (if you like).
Notes
Adapted from Pinch of Yum's 30-minute squash coconut curry
Butternut squash
If you can't find butternut squash, any kind of pumpkin is fine. I'd use about half a small pumpkin instead of a butternut squash. I find different types of pumpkin/squash cook at slightly different rates, so you may want to shorten/lengthen the cooking time a little accordingly.
I have stated 500 grams in the recipe, but 500 to 700 grams is fine.
If cooking on the stove top…
Put a lid on the pan for the first half of the cooking time, then take it off for the last half to allow the sauce to thicken up (then the sauce thickens even more when you squish the butternut squash in).
Peanut butter/coconut milk
When adding the coconut milk and peanut butter, I'd recommend pushing the chicken out of the way so that you can easily mix them together in the bottom of the pan.
Spices
This is a fairly spicy dish. You might like to go a little easier on the curry paste (and on the chili powder) the first time you make this curry. I find authentic Thai pastes tend to be the spiciest.
I find 3 level (not heaped) tablespoons of paste to be about right, for a pretty spicy but not set-your-mouth-on-fire-all-day result. Ultimately though it's down to personal taste. Good luck!
Making this curry in a slow cooker or pressure cooker
To adapt this curry for a slow cooker, simply reduce the tomatoes to just 1 can, then add a tablespoon of concentrated tomato puree/paste.
Cook for 6 to 8 hours on low, then squish the pumpkin/butternut squash into the curry before serving.
To make it in a pressure cooker/Instant Pot, follow the slow cooker instructions, but instead of cooking for hours, cook on high pressure for 7 minutes. Use a quick auto release to release the pressure.
Freezing instructions
This curry is perfect for freezing. Simply freeze in glass containers for up to 3 months, then defrost and reheat either in a saucepan or a microwave.
Nutrition
Calories:
445
kcal
Carbohydrates:
18
g
Protein:
23
g
Fat:
33
g
Saturated Fat:
15
g
Cholesterol:
111
mg
Sodium:
271
mg
Potassium:
788
mg
Fiber:
3
g
Sugar:
7
g
Vitamin A:
7192
IU
Vitamin C:
23
mg
Calcium:
91
mg
Iron:
4
mg
Note: This post has been updated from its original version to include a few tweaks in the recipe after years of making it (!), new photos, step-by-step cooking instructions, an FAQ, similar recipes, and a how-to video. I hope you like it!