Last Updated on
I love Thai red curry, and I love satay. I also love quick and easy recipes that make enough for Mr. Scrummy and I to have for at least two dinners. So this one is a sure fire winner for me. Hope you like it too!
This recipe has taken a long time to star on this blog, and I'm not sure why.
Mr. Scrummy and I have been licking our lips over this chicken and butternut squash satay curry for literally YEARS. I've been really eager to share it with you, but have just never got around to posting it until now.
I think what happened is that we made it four or five times when living in Australia – and even passed the recipe on to Mr. Scrummy's mum, who still makes it often when friends come round because she gets so many compliments.
Then when we moved to the UK, we made it in the slow cooker and … It. Just. Didn't. Work. I think it was something to do with too much liquid and not high enough quality curry paste.  To make our disappointment even worse, we'd invited a friend over for dinner that time, and raved about how good this curry was before we served it. It only took a few mouthfuls to realise … oops. Not so tasty after all. Awkward.
UPDATE 2019: SCROLL DOWN FOR EXCELLENT SLOW COOKER INSTRUCTIONS!
There was one more failed attempt to recreate this gorgeous meal that we'd always enjoyed so much, then we managed to nail it again. The key? Not skimping on the flavours or amounts of chicken, squash and peanut butter, and using the best quality red curry paste we could find.
The most delicious easy curry imaginable – and feeds a crowd!
Honestly, this is SO delicious. It also makes LOADS – enough for six hungry people at least. Or two hungry people to scoff on two consecutive nights, plus two portions for the freezer. Absolute winner!
Veggie or chicken curry – both work
I originally adapted this chicken and butternut squash satay curry slightly from a 2013 recipe on the popular food blog Pinch of Yum . Lindsay's recipe is a squash and coconut curry, but we really like to add chicken to ours. I use butternut squash in the UK, because that's the type of squash that's the easiest to find here, but in Australia we use whichever pumpkin or squash happens to be on sale.
Another little change we've made is to squish about half of the squash/pumpkin into the finished curry, which both thickens and sweetens it. Squish that squash!
We both really love this spicy, rich, creamy, nutty curry. It's perfect served over rice and scattered with fresh coriander and crushed peanuts. And don't forget the big splodge of natural yoghurt and a pile of poppadums on the side.
I'd like to try and master a slow cooker version of this eventually because it would make a perfect throw-in-the-pot-and-walk-away recipe (fewer tomatoes plus a bit of tomato puree maybe to reduce the liquid?) – if you get there before I do, please do let me know! (SEE DIRECTLY BELOW!)
Soooo… CAN you make this curry in a slow cooker?
Yes!
Simply reduce the amount of chopped tomatoes to just 1 can, and add a tablespoon of tomato paste/puree to make sure you still get the same hit of tomato-y flavor (thank you, Paula!)
Throw in all the ingredients together and cook for 6 to 8 hours on low.
Squish some of the pumpkin into the curry before serving (don't forget this step), and… enjoy!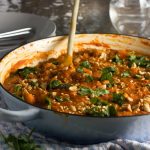 Print
Chicken and butternut squash satay curry
If you like curry, and you like satay, you'll love this simple chicken and squash satay curry. We make it again and again!
Ingredients (UK/Australia? Click button below for grams & ml)
1

butternut squash

(medium to large), peeled and chopped into smallish cubes

1

teaspoon

chili powder

1

teaspoon

curry powder

0.5

teaspoons

cayenne pepper

0.5

teaspoons

turmeric

6

cloves

garlic

crushed

2

inches

fresh ginger

peeled and chopped finely

2

pounds

chicken thighs

chopped into small pieces

14

ounces

coconut milk

(1 can)

3

tablespoons

peanut butter

3

tablespoons

Thai red curry paste

good quality – authentic Thai brands are good

1

tablespoon

honey

28

ounces

chopped tomatoes

(2 x 14 ounce / 400 gram cans)
To serve
fresh coriander / cilantro, crushed peanuts & natural yogurt

(I use Greek yogurt)

rice & poppadums
Instructions
Toss the butternut squash in a large bowl with the chili powder, curry powder, cayenne pepper and turmeric, and set aside.

Heat up a big drizzle of oil in a heavy skillet, then cook the garlic and ginger together for a couple of minutes. Add the chicken and cook for another two minutes or so or until white.

Add the coconut milk, then stir in the peanut butter*, Thai curry paste and honey.

Add the butternut squash and spices and the tomatoes, and simmer for about 30 to 40 minutes* or until the chicken is cooked through and the squash is tender. Squish about half of the squash into the curry.

Serve over rice, garnished with the coriander and peanuts, and with the yoghurt and poppadums on the side.
Notes
Adapted from Pinch of Yum's 30-minute squash coconut curry
A note about the butternut squash
If you can't find butternut squash, any kind of squash or even pumpkin is fine. I'd use about half a small pumpkin instead of a butternut squash. I find different types of pumpkin/squash cook at slightly different rates, so you may want to shorten/lengthen the cooking time a little accordingly.
A note about getting the right consistency
I find it works best to put a lid on the pan (if you have one) for the first two thirds of the cooking time (roughly!), then take it off for the last third to allow the sauce to thicken up a bit (then the sauce thickens even more when you squish the pumpkin/squash in!).
When adding the coconut milk and peanut butter, I'd recommend pushing the chicken out of the way so that you can easily mix them together in the bottom of the pan.
A note on the spice
The spicy-ness of this dish can vary a bit according to the potency of the curry paste you use. Maybe go a little easier on it (and on the cayenne and chili powder) if you know you're using a really spicy paste (I find authentic pastes tend to be quite spicy).
I find 3 tablespoons of paste to be about right for us, for a pretty spicy but not set-your-mouth-on-fire-all-day result, but at the end of the day it's down to personal taste. Good luck!
A note on adapting this curry to a slow cooker
To adapt this curry for a slow cooker, simply reduce the tomatoes to just 1 can, then add a tablespoon of tomato puree/paste. 
Cook for 6 to 8 hours on low, then squish the pumpkin/butternut squash into the curry before serving. 
Nutrition
Calories:
615
kcal
|
Carbohydrates:
29
g
|
Protein:
30
g
|
Fat:
44
g
|
Saturated Fat:
20
g
|
Cholesterol:
148
mg
|
Sodium:
362
mg
|
Potassium:
1224
mg
|
Fiber:
4
g
|
Sugar:
10
g
|
Vitamin A:
14910
IU
|
Vitamin C:
40.8
mg
|
Calcium:
144
mg
|
Iron:
6
mg
This post may contain affiliate links to products I use to make this recipe!