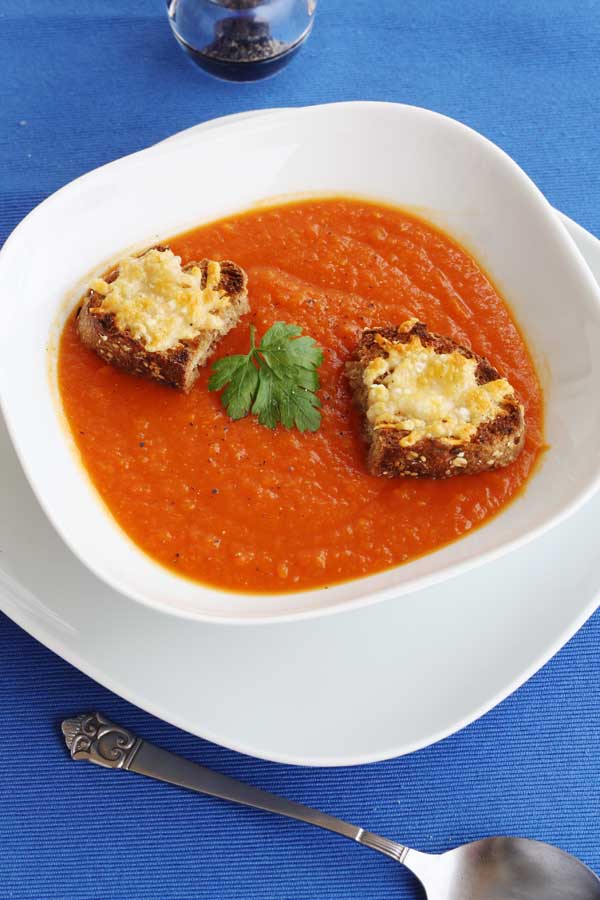 What do you consider to be 'happy foods'?
By this, I suppose I mean which foods do you reach for or rustle up in the kitchen when your spirits need lifting a little? Your personal comfort foods, in other words?
Now I'm going to resist answering my own question with 'chocolate', because let's just take it for granted that chocolate is firmly on most people's 'happy foods' list! Instead, I'll agree with Mr. Scrummy who remarked last night how much he likes colourful dishes. As he was putting the finishing touches to the beautiful chicken dish he was cooking for me, I might add. And yes, I know, I'm a lucky girl being cooked for on a fine Saturday evening!
But in a roundabout way I told you that I liked colourful foods in my last post, didn't I? I called this blood orange and roasted fennel & radish salad a 'Happiness Salad' because of all the lovely colours of the rainbow that popped out at me with every mouthful.
So you're probably wondering what this has got to do with this roasted butternut squash & tomato soup. Well, as I was thinking about what I would write about it, I happened to see a little fact-file in February's edition of the UK Delicious magazine called 'The top five comfort foods'. The list was based on a study that measured how filling and warming dishes were, as well as how much they triggered happy childhood memories. And lo and behold, there proudly positioned in spot number 3 was tomato soup!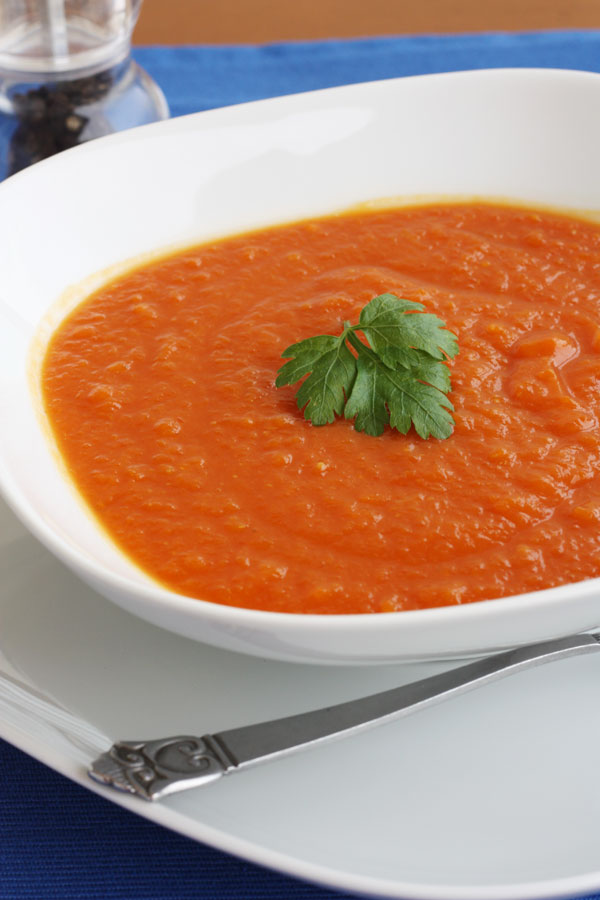 To me, this is not at all surprising, really. I always got excited about being given a brimming bowl of jolly bright red tomato soup. Albeit of the almost radioactive shade of red that canned soup tended to have! Well, it was the 80s … . With cheese on toast to dip in it. Yummy yum! Incidentally, I happened to have a can of soup of this same brand (mentioning no names!) fairly recently and it honestly tasted like tomato ketchup. I have nothing against ketchup of course, but not in a big bowl with a spoon! No, not so yummy yum! My tastes have definitely changed since the 80s, thank goodness!
And while we're talking about ketchup (sort of), check out this video of the talented comedian Jim Gaffigan talking about ketchup. It's hilarious!
http://www.youtube.com/watch?v=2wdljCDuOIU
But anyway, enough of the waffling about tinned soup memories (and ketchup – my, where did that come from?) and back onto this wonderful homemade soup which for me ticks a lot of boxes. Its bright orangey-red colour firmly makes it a 'happiness food'. It's filling and warming in a suitable-for-early-spring-up-and-down-temperatures kind of way. It's tomato soup (with a few additions), so it must be good. But also of course it's wholesome without being at all complicated to make, like most homemade soups, really!
So all you have to do to make this beautifully happy soup is to cut your butternut squash in half and roast it cut side down with a clove of garlic tucked under the hollow of each. You then soften a chopped onion, stir in some health-boosting turmeric and fresh ginger, then add the scooped-out flesh of the squash, the garlic, a can of good quality tomatoes and some chicken broth. Simmer for 20 minutes to let all the lovely flavours infuse in, blend, and you're done!
Just like this …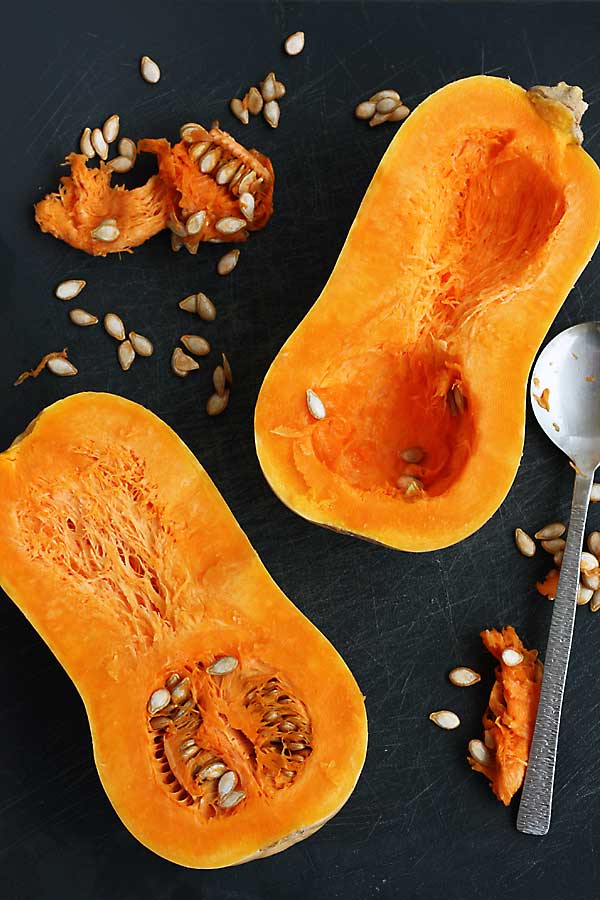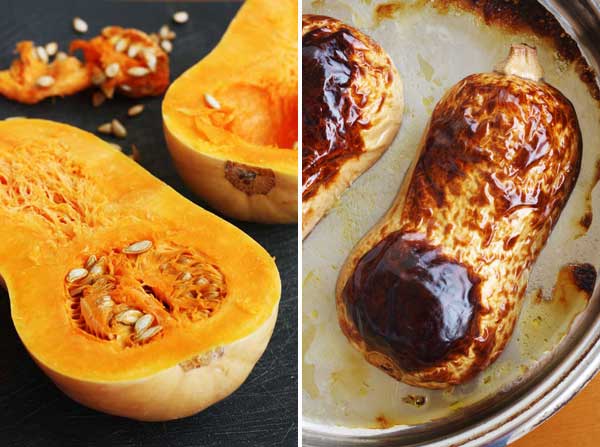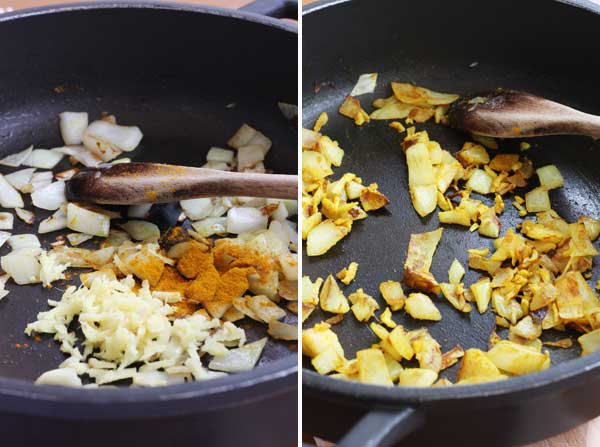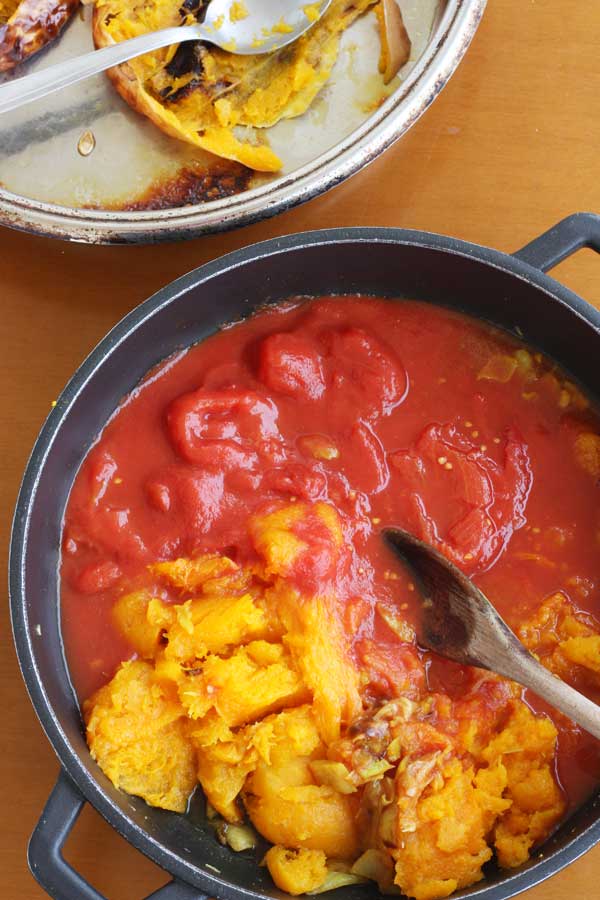 All that's left to do is to pop some pieces of bread topped with parmesan cheese – or any cheese of your choice really – under the grill (that's the broiler to you North Americans, I gather!) and you have a lovely warming bowl of cheer. No real reason to buy pre-packaged tomato soup again! Apart from the fact they don't have it in the supermarkets over here in Greece. Ahem … OK, so I admit that probably provides a little extra 'impetus' for me to make my own!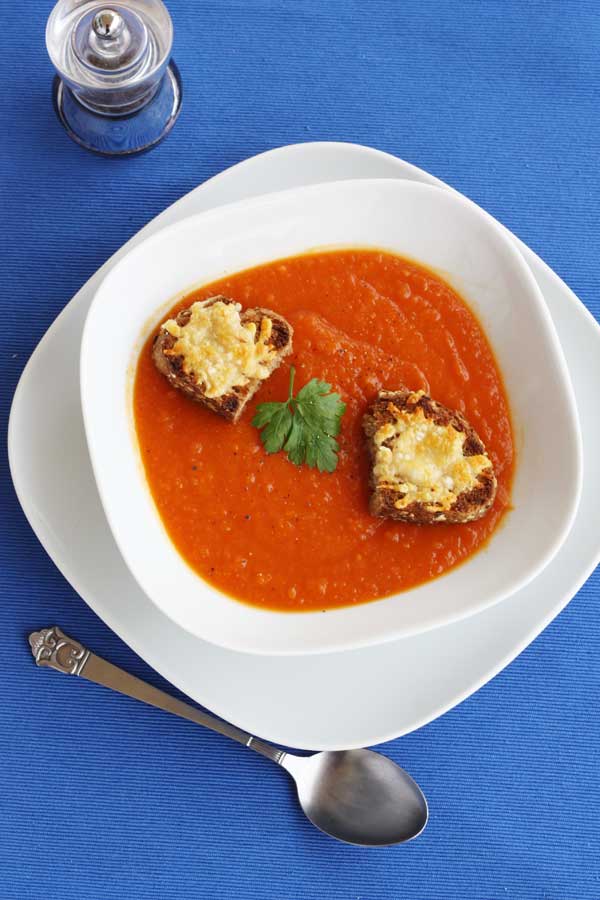 Now I know you NEED to know what else was on that top comfort foods list, don't you? Or you won't be able to sleep tonight. I know, I know. OK, so the list went like this: 1. Beans on toast; 2. Sausage and mash; 3 Tomato soup; 4 Chicken and mushroom pie; 5 Macaroni cheese. A very British list, of course, but nonetheless interesting, I hope!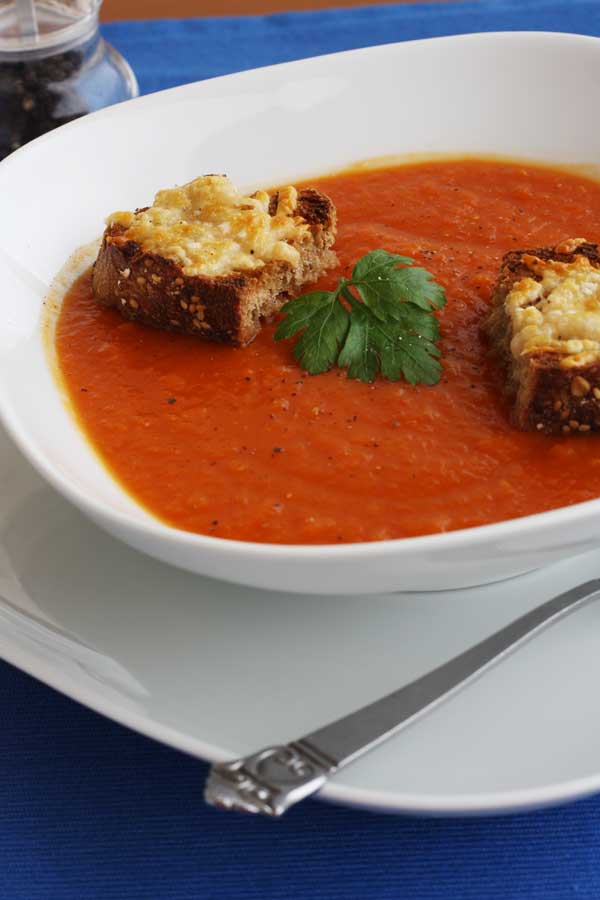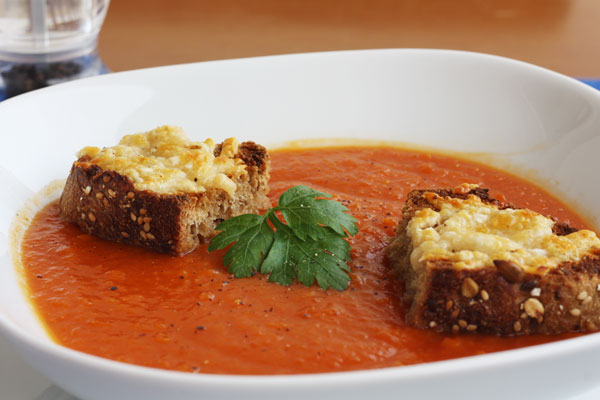 Roasted butternut squash & tomato soup
A warming and cheery roasted butternut squash and tomato soup with a hint of immune-boosting garlic, ginger and turmeric. Top a bowl of this with some crunchy, tangy parmesan toasts and you'll have the perfect early-spring comfort food!
Ingredients (UK/Australia? Click below for grams/ml)
1

butternut squash

halved lengthwise & with the seeds scooped out

2

cloves

of garlic

a little olive oil for roasting

1

onion

chopped

1

tablespoon

grated root ginger

1

teaspoon

ground turmeric

1

teaspoon

salt

14

ounces

of good quality tomatoes

1 can in their juice

1 1/2

cups

chicken stock/broth

black pepper

small pieces of crusty bread and a little grated parmesan cheese

to serve (optional)

a little chopped parsley

to serve (optional)
Instructions
Pre-heat the oven to 400F/200C.

Brush a baking sheet with oil, then place the squash cut-side down on the sheet. Place a clove of garlic under the hollow of each half. Roast for 45 minutes or until the squash is tender. Then leave it to cool for a short while before scooping out the flesh and putting it to one side along with the roasted garlic.

Heat a good drizzle of oil in a large skillet/saucepan or heavy-based pot and fry the chopped onion for a few minutes until it softens. Then add the ginger, turmeric and salt and stir for about a minute longer.

Add the squash, garlic, tomatoes and stock/broth to the pan and stir together. Bring to the boil, then simmer for about 20 minutes.

Blend the soup in batches. Then, put back in the pan with a little more water if you like to thin the soup out slightly (I added about another 1½ cups as I remember, but it's up to you). Reheat the soup a little on a low heat. Add black pepper and a little more salt if you like to taste.

Meanwhile, prepare your parmesan toasts, if making. Top small pieces of sliced crusty bread with the grated parmesan and grill/broil until bubbling and browned! Serve the soup with the toasts and chopped parsley on top (if you like).
Nutrition
Calories:
219
kcal
Carbohydrates:
48
g
Protein:
8
g
Fat:
2
g
Cholesterol:
3
mg
Sodium:
1133
mg
Potassium:
1464
mg
Fiber:
8
g
Sugar:
14
g
Vitamin A:
26860
IU
Vitamin C:
68
mg
Calcium:
181
mg
Iron:
4.1
mg
I hope you enjoyed this post! You can subscribe to receive posts directly to your inbox by entering your email address in the box below or at the top of the sidebar on the right.
You can also find more from Scrummy Lane on Facebook and Pinterest and follow me on Bloglovin! Thanks so much for reading!
*This post contains affiliate links so if you buy a linked product from here then I get a small commission. Thank you!*