Looking for a crowd pleasing baked chicken and potatoes dinner? Just throw chicken thighs and potatoes into a pan, pour over a lemon, olive oil and oregano marinade, and bake. Made with just 6 ingredients, this one pan chicken dinner is perfect for a midweek meal, but impressive enough for guests. Don't forget a Greek salad on the side!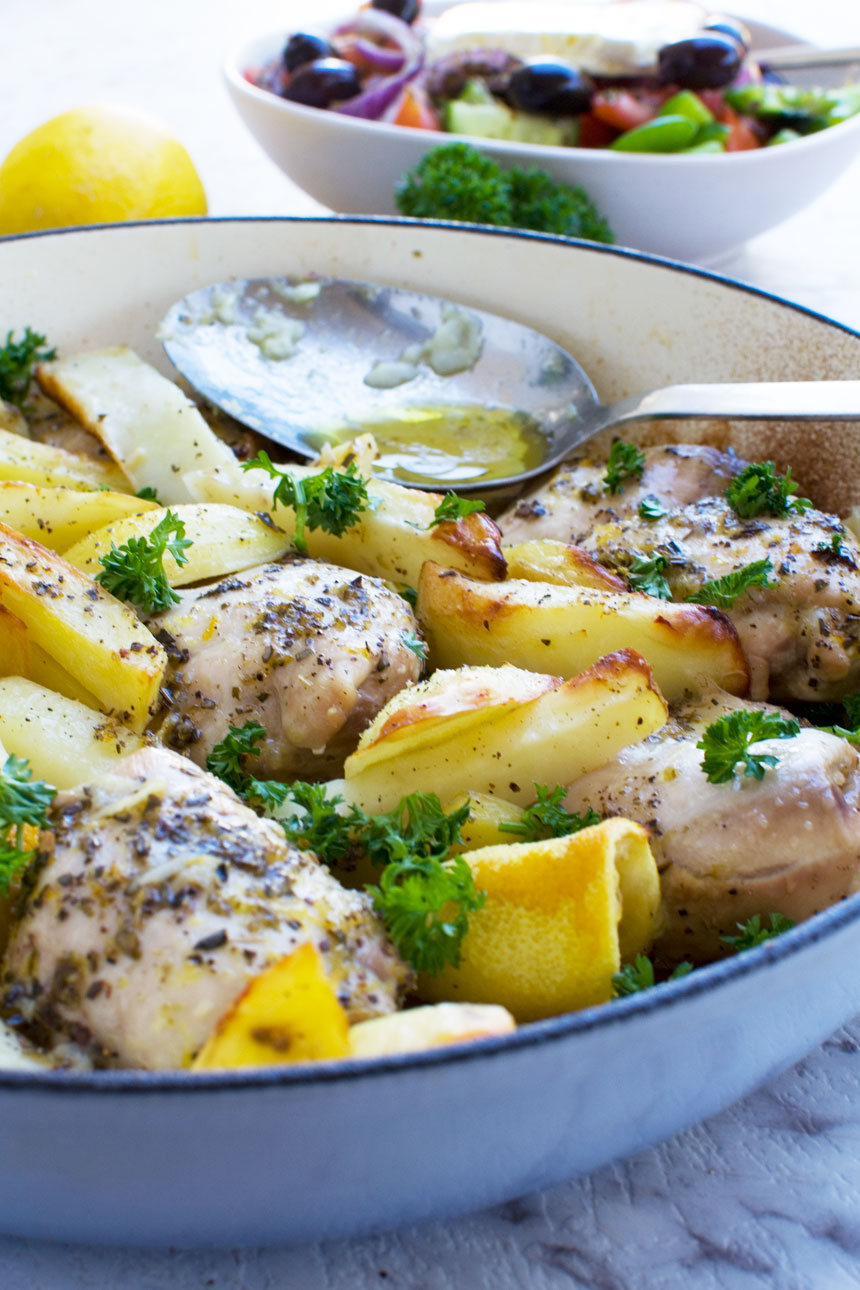 Transport yourself to sunny Greece
One of the fastest ways to imagine yourself eating in Greece in a cute taverna with blue wooden chairs is to make this easy chicken and potatoes in the oven.
It's one of the simplest every day meals in Greece. If you'd grown up there, something like this would have appeared on the dinner table regularly.
But while this is an authentic recipe for Greek chicken (which is what you can proudly tell your friends when they're tucking into it!), It doesn't have a fancy name. It's just called oven baked chicken.
You could say it's the Greek aunt of this simple stove top chicken and rice.
This is one of the many reasons I love Greek food so much. It often doesn't sound (or even look) anything special, but one bite and you'll be blown away…
Why this will become one of your go-to recipes
It's a one pan meal. And who doesn't love those?
You only need about 10 minutes hands on time to make it.
It's a 6-ingredient recipe made with everyday ingredients. Buy some chicken thighs and a lemon and you probably have everything else already.
It's a crowd pleaser. Even the pickiest eaters will love it.
It's easy – but it's impressive! Serve it as an easy midweek meal for your family, or for guests with a Greek salad, crusty fresh bread and tzatziki sauce (recipe in this post). It'll look like a Greek feast!
You can prepare the potatoes and marinade ahead. All you have to do when you're ready to eat is pop the potatoes in the oven for 20 minutes, nestle in the chicken, then pour over the marinade and bake.
It's an easy and super delicious way to try out the Mediterranean diet! (Hello olive oil, oregano, and super healthy Greek salad ingredients!)
Ingredients
This is all you need (I told you it was easy):
potatoes roughly sliced into chunky wedges
skinless boneless chicken thighs
For the Greek chicken marinade:
the juice and zest of a lemon
lots of olive oil (but it doesn't taste oily)
dried oregano
And finally:
Yep, just 6 ingredients!
Pro tip: Grind more salt over this dish than you would usually. Just trust me on this one!
I'm convinced – so how do you make it?
You only need to follow 5 simple steps to get this on your dinner table in about an hour (with only about 10 minutes hands-on time!)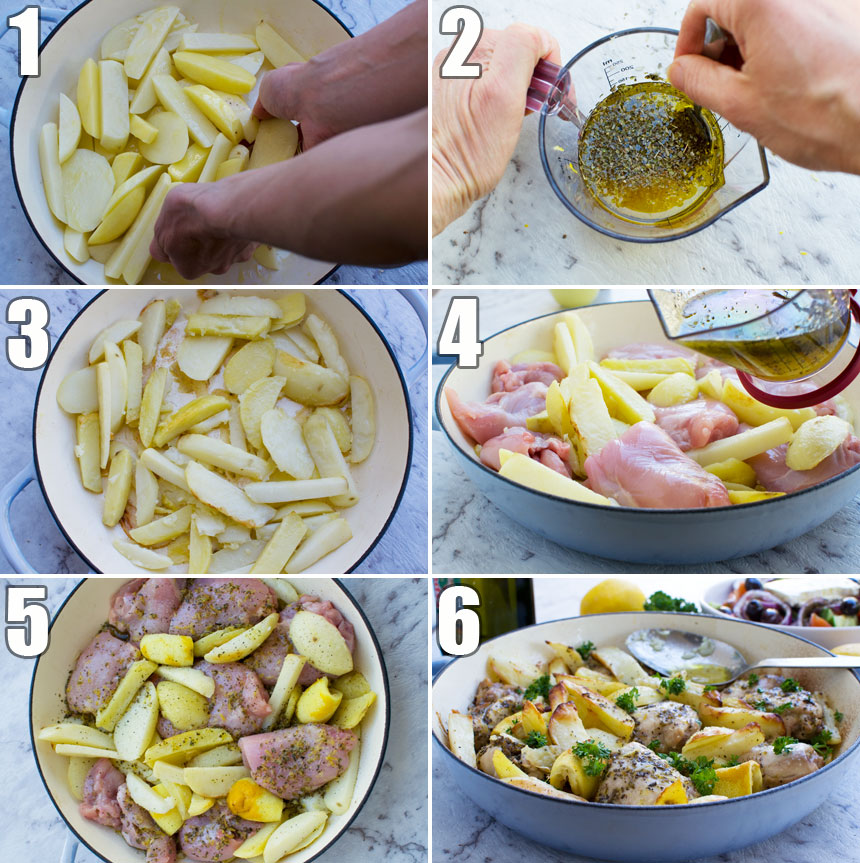 Step 1: Toss some potato wedges in olive oil, then roast in the oven for about 20 minutes. To give them a head start! (Photo 1)
Step 2: Make the easy Greek marinade. (Photo 2)
Step 3: Nestle chicken thighs in among the part cooked potatoes (Photo 3), then drizzle over the marinade. Mostly over the chicken, but it doesn't matter if some goes over the potatoes too. (Photo 4)
Step 4: Drizzle the whole dish with the delicious Greek chicken marinade. (Photo 4)
Step 5: Tuck the used lemon halves into the pan as well, then sprinkle generously with salt and pepper. Bake for about 45 minutes. (Photos 5 and 6)
Erm… that's a lot of olive oil!
As you make the marinade, you might be thinking it's a lot of oil to use.
But again, trust me. As the chicken cooks, the juices run into the marinade and create the most delicious lemon oregano 'sauce' to mop up with your bread.
What to serve with this meal
I don't know about you but I always like to know how to serve a meal I find online. The best way to serve this is with:
a traditional Greek salad (see this post: how to make a Greek salad for a perfect recipe and how-to video!)
fresh crusty bread. We like to toast ours and drizzle it with olive oil and sprinkle it with salt.
tzatziki (or just Greek yogurt if you like – that's what I usually serve!)
Don't skip these amazing Greek side dishes. They turn a good meal into a fantastic meal – one you can just as equally enjoy as an easy midweek meal, or as a delicious Mediterranean feast to serve to guests.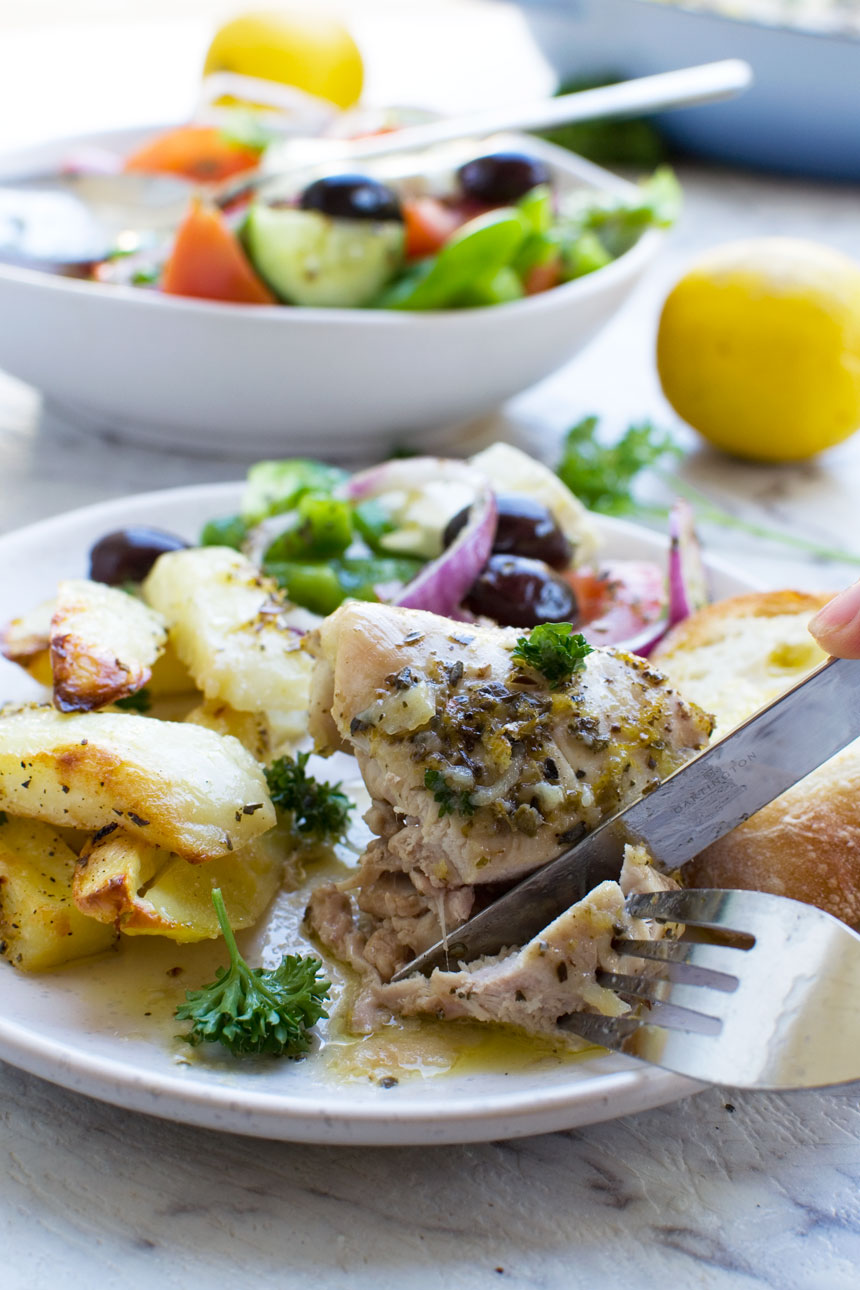 Can I reheat the leftovers?
Surprisingly… yes! I usually just reheat slowly (on 50% power) in the microwave. There are fewer crispy bits, but it's more intensely flavoured by the marinade by the second day.
Final thoughts…
After you've made this a couple of times, you could probably make it without the recipe. Have you added a little more or less of each ingredient? No problem!
You will find that the potatoes are half crispy and half soaked in the delicious lemony oregano 'sauce'. This is exactly how they are supposed to be. Enjoy!
If you find your potatoes stick to the pan a bit (or a lot), no problem! In fact, all the better. Scrape up all those delicious crispy bits and the person who gets them will be one very happy diner!
FORGET THE CHICKEN, JUST FEED ME POTATOES! If you just need a potato side dish that's easy but a little bit different, try these amazing crispy Greek potatoes. They truly are the best! Serve with chicken, fish, steak, anything…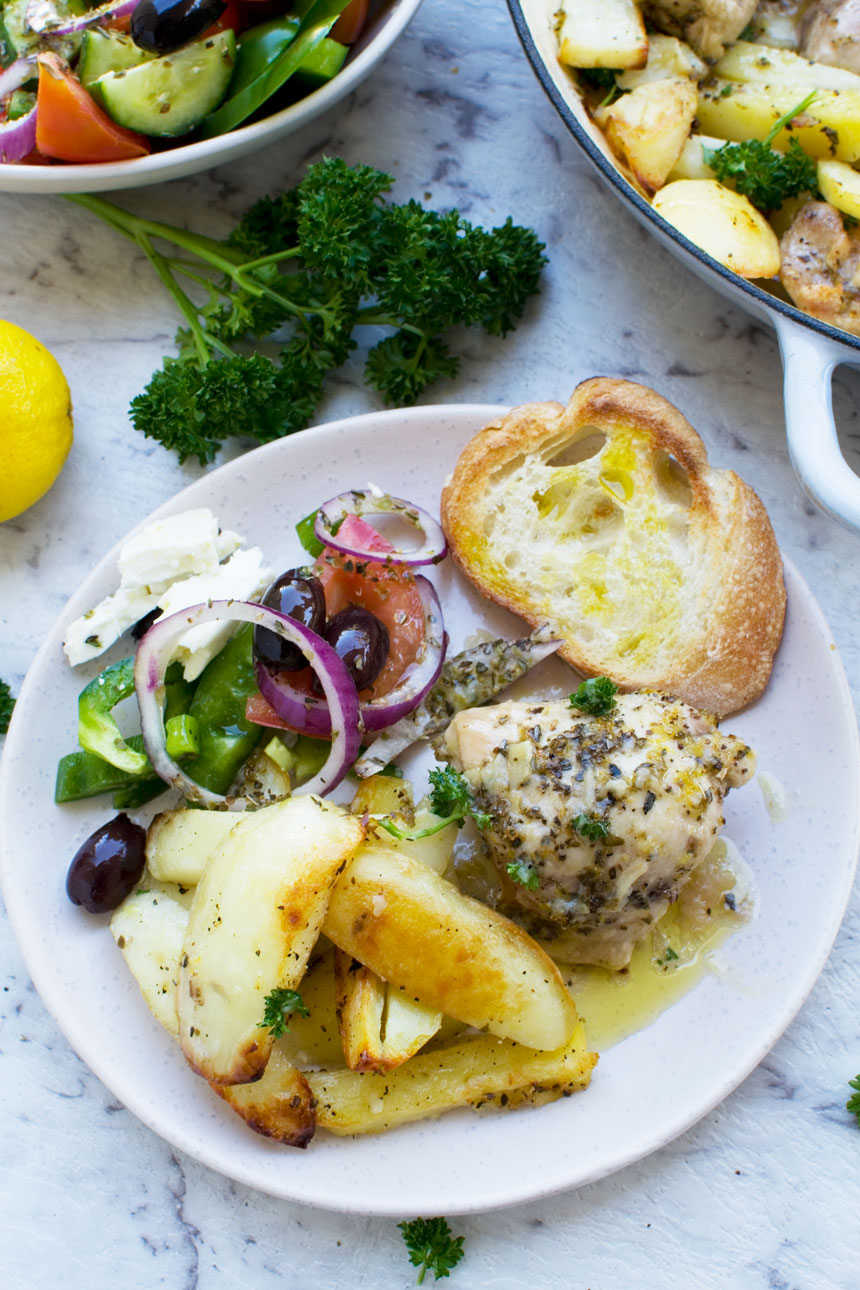 More scrumptious Greek main meals
Or if you're just enjoying the whole Greek food vibe in this post, you might like to check out my Greek recipes archives!
Last but not least: Need a quick and easy dessert to serve after this meal? Here are 11 really easy dessert recipes (6 ingredients or less).
IF YOU MAKE THIS RECIPE, LET ME KNOW HOW YOU GET ON BY LEAVING A COMMENT AND RATING BELOW… AND DON'T FORGET TO SIGN UP TO RECEIVE ALL MY NEW RECIPES BY EMAIL!
FOLLOW ME ON FACEBOOK, INSTAGRAM, PINTEREST AND YOUTUBE.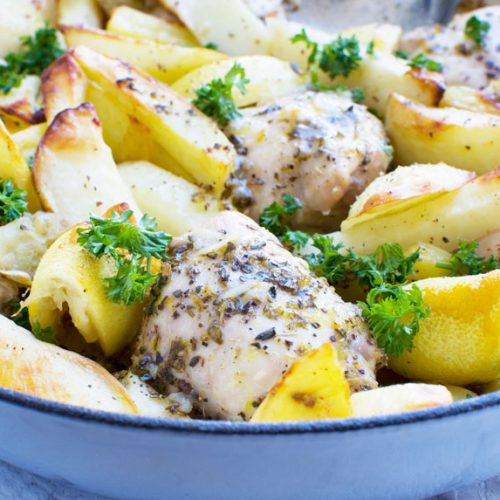 Amazingly delicious Greek baked chicken and potatoes
I call this 6-ingredient Greek baked chicken and potatoes dinner 'amazingly delicious' for good reason! It's the simplest but one of the most popular everyday Greek recipes, and millions of Greeks can't be wrong! Just bake chicken and potato wedges with a really easy olive oil, lemon and oregano marinade. Don't even think about skipping the Greek salad and tzatziki (or yogurt!) sides!
Equipment (affiliate links)
Ingredients (UK/Australia? Click below for grams/ml)
1¾

pounds

medium-sized potatoes

peeled & sliced into wedges

¼

cup

olive oil

plus a little extra

2

pounds

skinless boneless chicken thighs

(8-10 thighs)

1

lemon

zest & juice

1

large teaspoon

dried oregano

salt & black pepper
Instructions
Pre-heat the oven to 390F/200C.

Put the raw potato wedges into a large baking dish or roasting pan (in one layer if you can). Drizzle with a little olive oil, toss with your hands and bake for about 20 minutes.

Remove the potatoes from the oven and nestle the chicken thighs in amongst them in the dish. Add the squeezed lemon halves as well.

Whisk together the olive oil, lemon juice & zest & oregano and drizzle all over the chicken and potatoes. Grind over plenty of salt and black pepper, then put the dish back in the oven and bake for 45 minutes or until the chicken juices run clear when you poke the meat with a knife and the whole dish is golden.

Serve with a big traditional Greek salad, Greek yogurt and crusty bread.
Notes
Feeding a crowd?
This can very easily be doubled or tripled for a larger number of people – just use a HUGE dish (or you could use 2 smaller ones of course).
Potatoes
Don't worry if the potatoes are a bit (or a lot!) stuck to the baking dish after you've pre-baked them. Just loosen them and toss before adding in the chicken. This will just make the potatoes all the more crispy and delicious when you serve the final dish!
Obligatory sides!
Serve with a traditional Greek salad of tomatoes, cucumber, onions, green peppers, black olives and a big slab of feta cheese. Sprinkle the salad with oregano and plenty of olive oil just before serving.
Reheating leftovers
We often reheat the leftovers the next day and eat them with a fresh Greek salad. I usually just reheat on 50% heat for a few minutes in the microwave until the chicken is piping hot. The potatoes are often a bit less crispy, but just as if not more delicious!
Nutrition
Calories:
512
kcal
Carbohydrates:
27
g
Protein:
49
g
Fat:
23
g
Saturated Fat:
4
g
Cholesterol:
215
mg
Sodium:
222
mg
Potassium:
1412
mg
Fiber:
5
g
Vitamin A:
55
IU
Vitamin C:
37
mg
Calcium:
91
mg
Iron:
8.6
mg
Note: This post has been updated from its original version to include new photos, step-by-step cooking instructions, an FAQ, similar recipes, and a how-to video. I hope you like it!