You won't believe how quick and easy these spinach and feta stuffed chicken breasts are – but also how phenomenally moist, juicy and altogether delicious! Perfect either for a midweek meal or special occasion, you can make them as they are or add the optional (but highly recommended!) lemon butter sauce. Ready in just 30 minutes.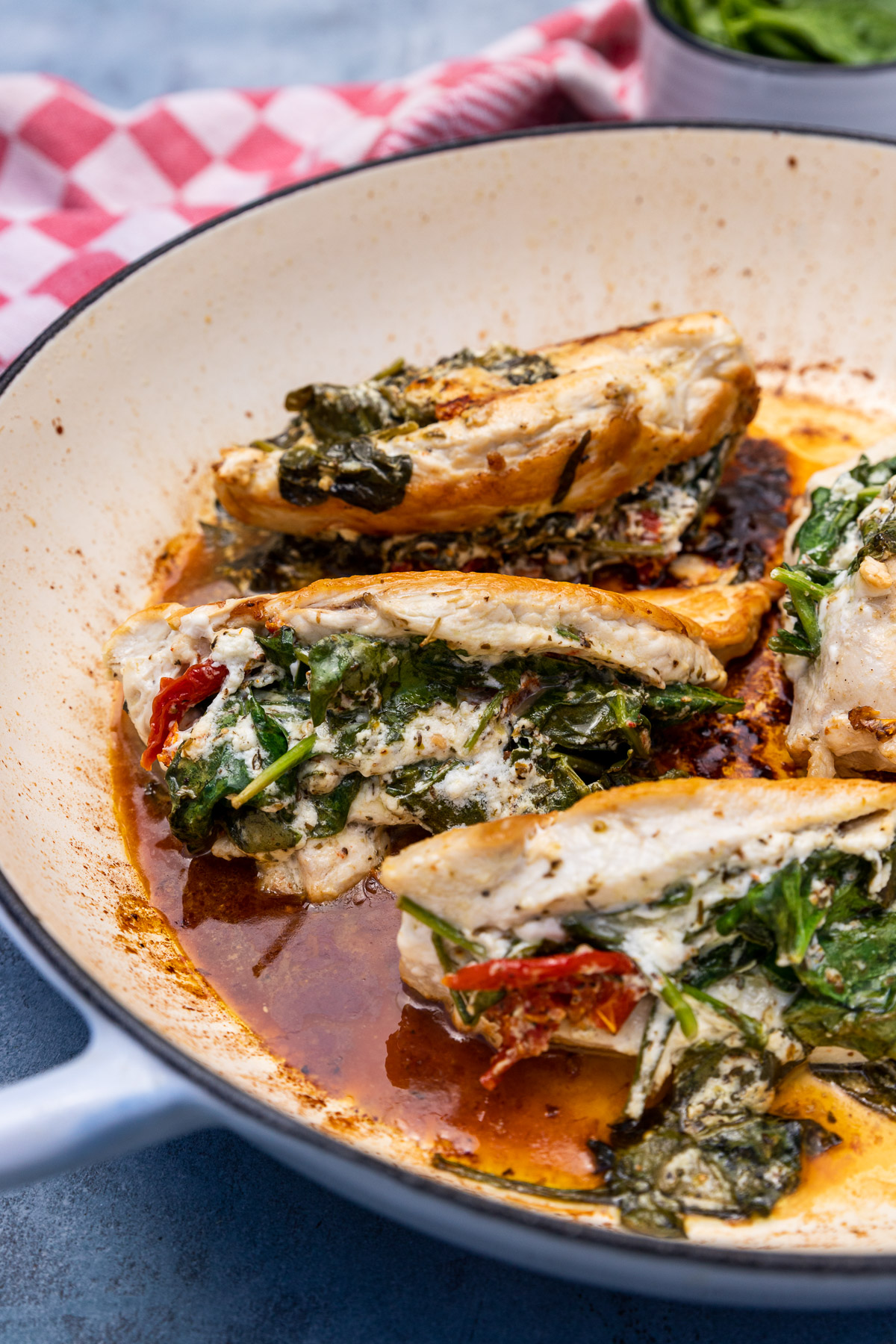 The spinach and feta combo never gets old around here. This Greek spinach and feta filo pie is eternally popular, these spinach and feta filo parcels are great for parties, and for fusion food lovers I even have Greek quesadillas and Greek mac and cheese (all with spinach and feta the star of the show!).
Wouldn't you know it, this perfect pairing also makes a fantastic easy stuffing for chicken breasts!
Why you'll love this
This stuffed spinach and feta chicken breast recipe can be perfect for either an easy weeknight dinner OR a special dinner party. I even think you could serve it as an easy alternative to your usual Thanksgiving or Christmas roast turkey!
You only need a few simple ingredients to make this dish. But no one will ever believe it. It tastes and looks so fancy!
VERY delicious. This method of quickly pan frying chicken breasts stuffed with juicy ingredients like spinach and feta helps keep the chicken beautifully moist.
Ready in just 30 minutes. This is a SUPER easy stuffed chicken breast recipe since there's no chopping or pre-cooking of the stuffing ingredients. No dry chicken breasts here!
Easy to 'make your own'. Not a fan of feta cheese? Just replace with a different cheese. Scroll down for more ways to adapt the recipe to your taste.
You can serve it in different ways, from a hearty meal with mashed potatoes and vegetables to a simple topper for pasta or rice.
About the ingredients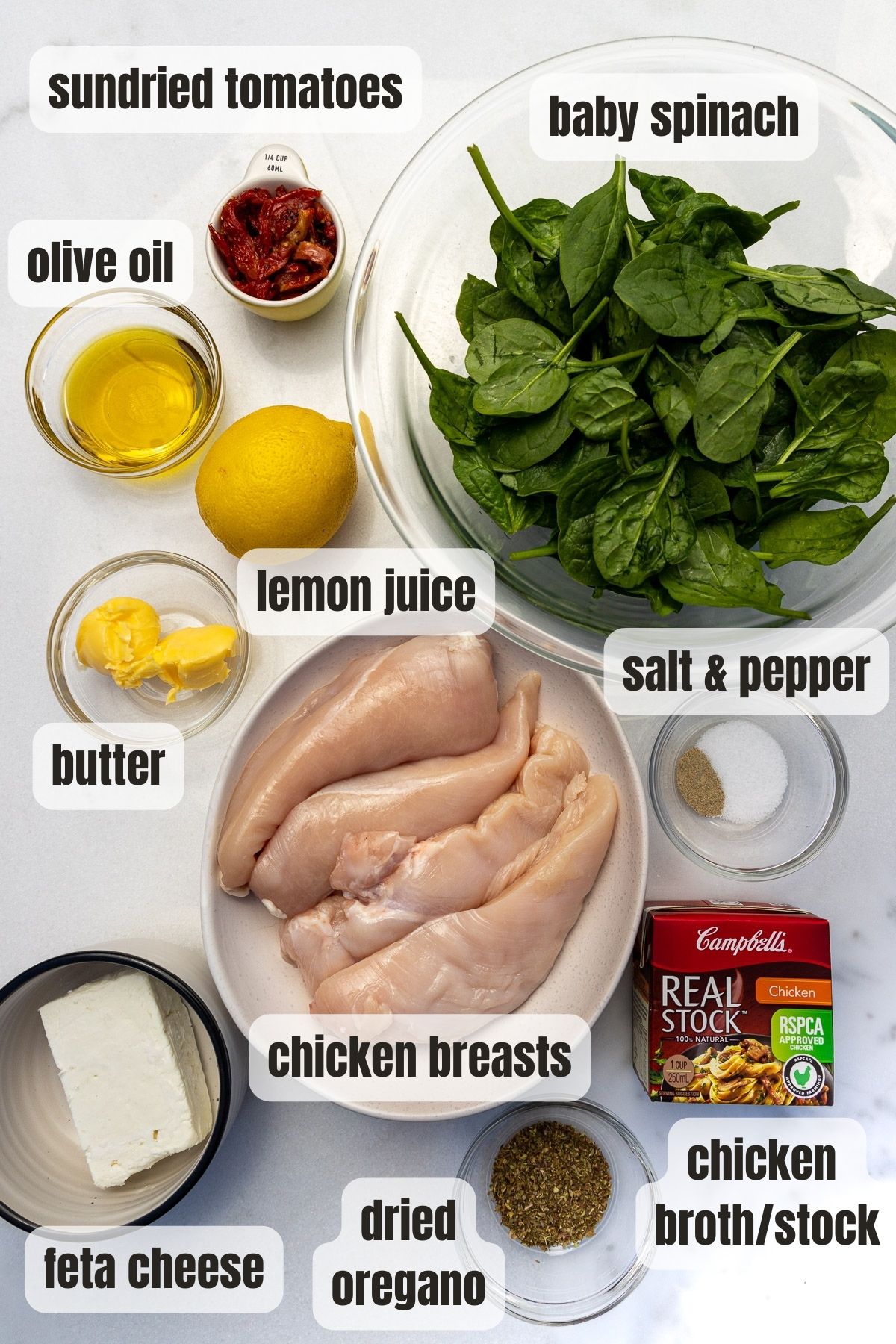 Chicken breasts: Small to medium sized skinless boneless chicken breasts are best. If you can only find large chicken breasts, you may need to cook the chicken for a few minutes longer. You can also consider cutting the finished feta spinach stuffed chicken in half and splitting it between two people.
Feta cheese: You can experiment a little until you find your favorite brand. I like the softer, creamier types. An authentic Greek style feta such as Dodoni is great. Soft Danish feta works well, too.
Sun-dried tomatoes: I love the extra flavor that these add to the stuffing! I usually go for strips so that I don't have to do any extra chopping. Semi-dried tomatoes are fine, too.
Fresh spinach: Fresh baby spinach is perfect for this recipe. You won't need to chop it or pre-cook it. Also, the leftovers can make a great sneaky spinach salad to serve with your chicken as a no-fuss side! Can you use frozen spinach instead? Sure! Just be sure to squeeze any excess water out of it before using.
Dried oregano: No Greek style chicken dish is complete without oregano in it! However, you can easily replace it with another dried herb such as basil or thyme, or mixed Italian herbs.
Salt, pepper and olive oil: For seasoning and pan-frying.
For the optional but highly recommended lemon butter sauce: Good quality chicken broth/stock, lemon juice, and butter. Yep, that's it. These combine with the chicken pan juices to make a simple, tasty gravy that will blow your mind!
How to make it
The step-by-step guide below should help you make the recipe perfectly first time. Scroll down to the end for the full recipe including ingredient amounts.
The first easy step is to combine all the ingredients in a medium bowl for the simple spinach and feta stuffing.

Then grab a knife and cutting board (I like a sharp, medium sized knife) and cut a horizontal slit or deep pocket into the thicker edge of each chicken breast. Be careful not to cut all the way through!
Pack the feta and spinach mixture into each pocket. As much as you can! Then sprinkle salt and pepper all over the chicken.

How can you tell I'm not a fan of handling raw chicken? 😉
Heat up the olive oil on a medium high heat in a large pan with a lid. Cook the chicken for about 5 minutes without moving it. Then turn (kitchen tongs are great for this!) and cook for another 5 minutes without moving.

After this time, pop a lid on the pan and cook for another 2-3 minutes or until the chicken is fully cooked through. You can check if it's ready by checking with a meat thermometer. The chicken should be 165F/75C inside the thickest part.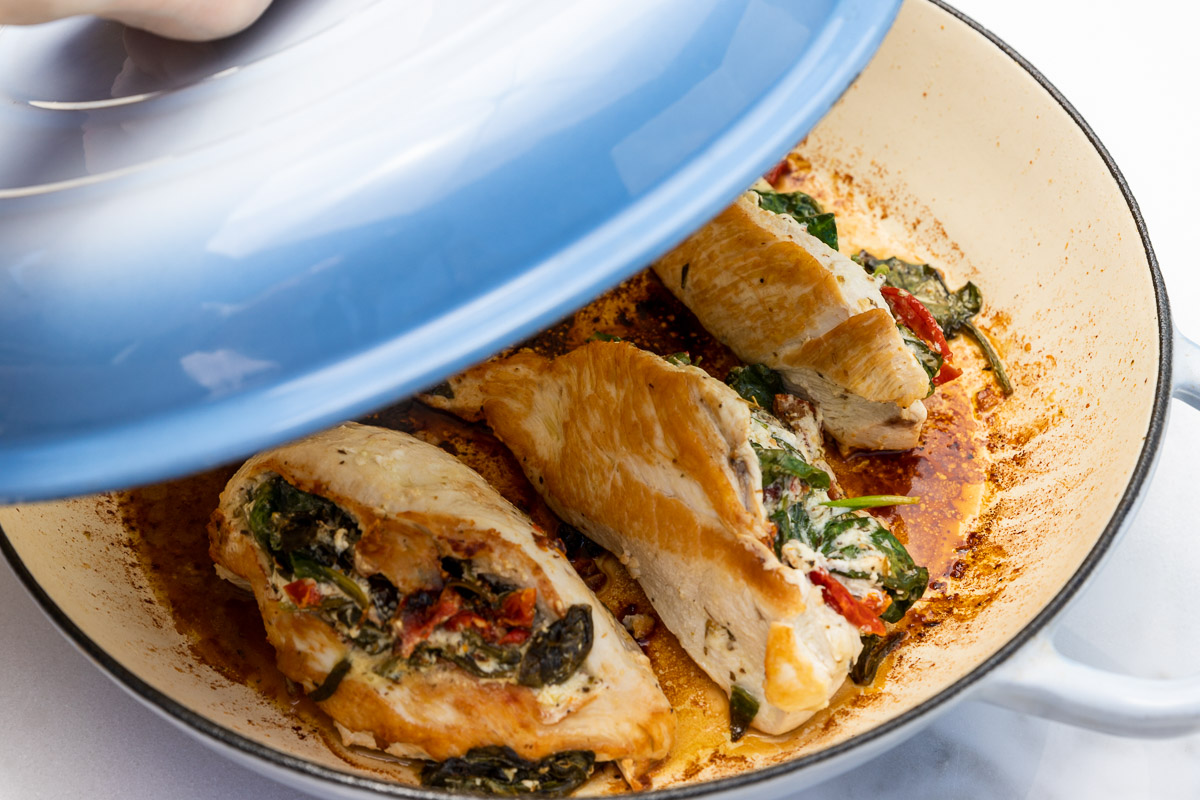 Transfer the chicken to a dish and cover to keep warm.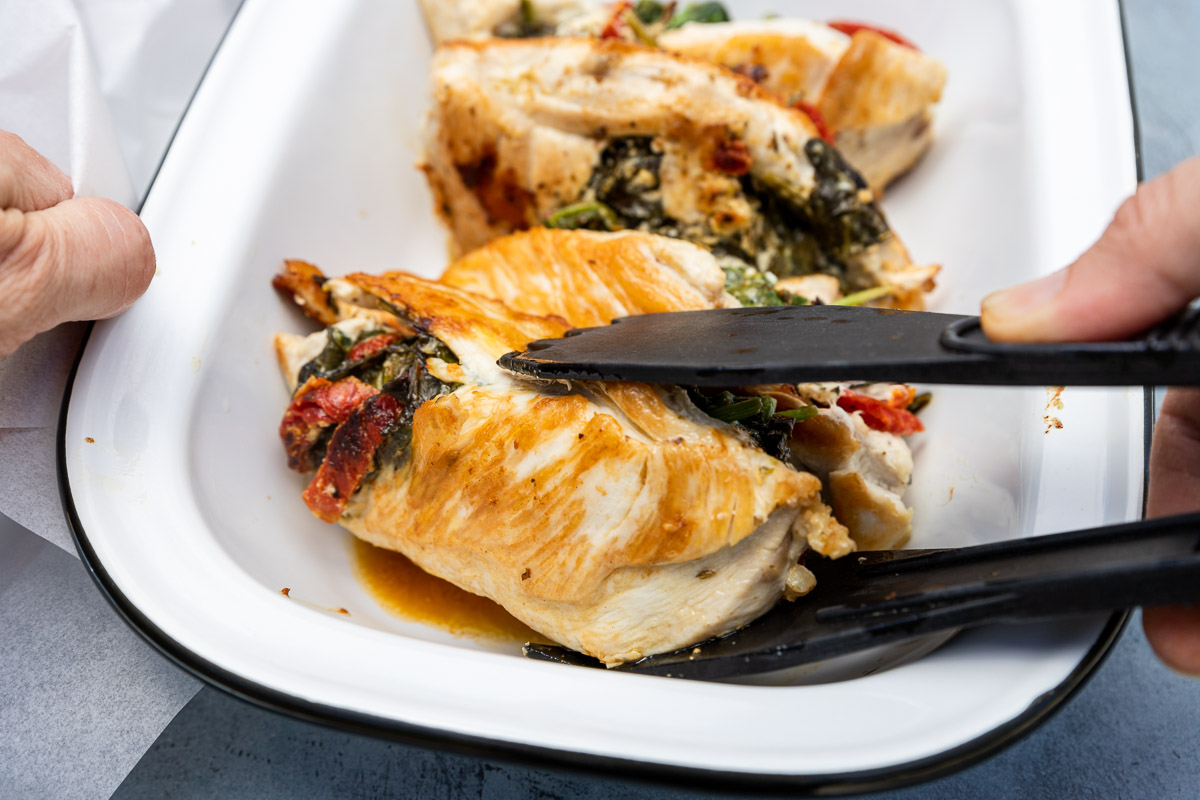 If making the sauce (it's very easy!), add the chicken broth/stock, lemon juice and butter to the pan that you cooked the chicken in. Stir it into the juices and sticky bits already in the pan.
Remember to also add any juices from the resting chicken. Cook for a couple of minutes until reduced/thickened slightly and you have a simple but very delicious gravy. Mmm!
You can serve the stuffed chicken breasts as they are, cut in half at an angle or even cut into thick slices. Whichever way you choose, serve with the delicious lemon butter sauce drizzled over the top!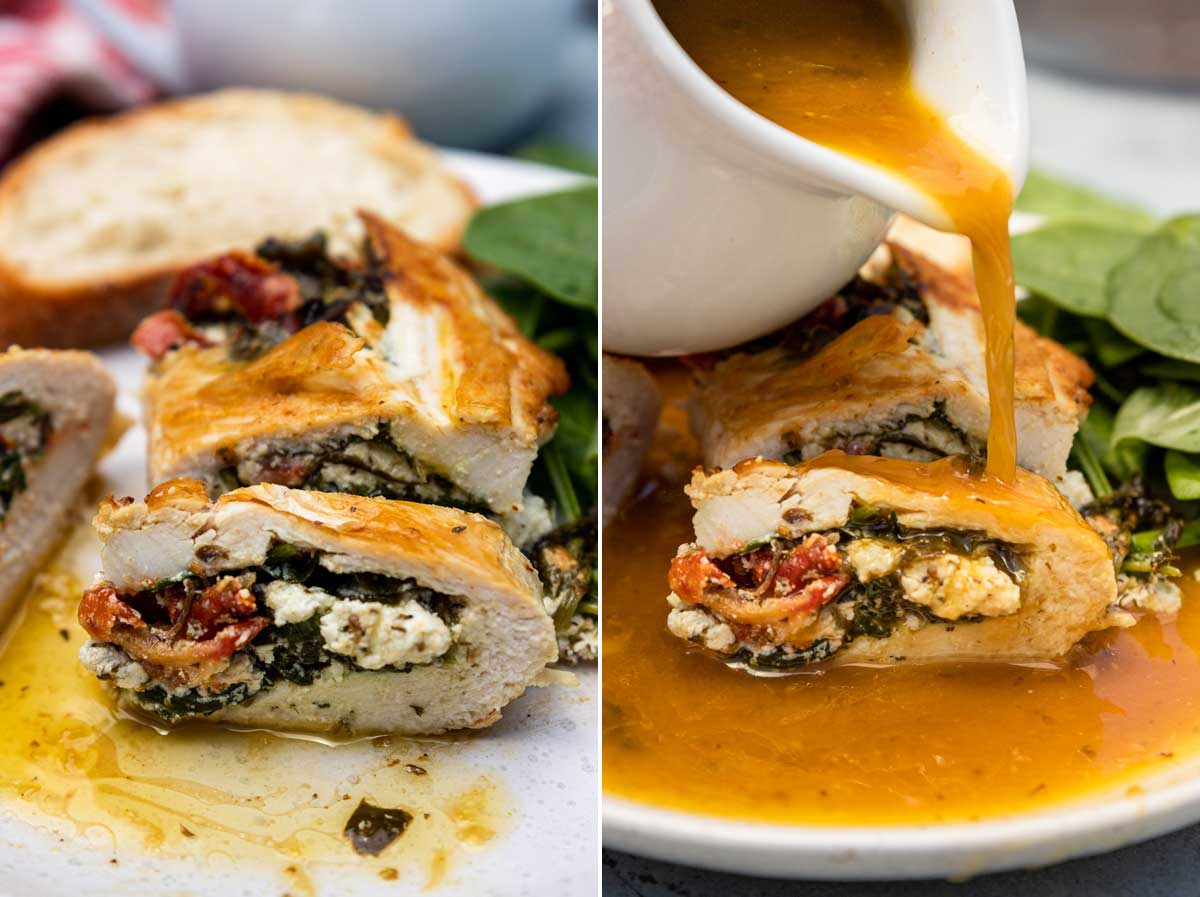 Helen's top tips
For the most delicious stuffed chicken, pack as much spinach feta filling inside as possible. If you're worried about it spilling out in the pan, you can use cocktail sticks to secure it while cooking the first side. However, I find that cooking the chicken for about 5 minutes on each side without moving it at first 'seals' the filling inside.
Don't be tempted to overcook the chicken. You may need to adjust the cooking time slightly depending on how big the chicken breasts are. If you stick to small to medium, the stated time should be enough. The best way to check is with a meat thermometer!
You can choose to make the tasty lemon butter sauce or not. It does elevate the meal to something pretty special – but with very little extra effort.
If your chicken breasts are very big, you can cut them in half lengthwise or widthwise if you like. Then cut a pocket into the two halves and stuff as normal.
Serving ideas
One more great thing about these chicken breasts stuffed with spinach and feta is that you can serve them in several ways.
I love serving them with mashed potatoes (try these incredible cauliflower mashed potatoes or simple-but-fancy truffle mash potatoes!) and easy sautéed green beans or another bonus serving of greens such as frozen sautéed broccoli or asparagus. Don't skip the easy lemon butter sauce if serving the dish this way!
Similar to the above, but I just have to mention (again): I actually think this spinach and cheese stuffed chicken would make a great 'cheat's' Thanksgiving or Christmas meal option! Much easier than roasting a whole turkey or chicken, but just as delicious with your favorite roast potatoes (try this amazing Greek potatoes recipe or these easy mini roasted potatoes!), honey roasted parsnips and carrots, sautéed butternut squash and other holiday sides.
Making this for a quick and easy family meal? Keep things very simple by serving with crusty bread or 2-minute olive oil toasts. Pile any leftover baby spinach drizzled with your favorite salad dressing on the side.
This is also an easy way to keep your easy chicken dinner gluten free and low carb, if either of those qualities are important to you.
You can also serve your delicious spinach stuffed chicken sliced on top of an easy vegetarian rice or pasta side dish. Try this Greek lemon rice or this penne pesto pasta recipe. Or keep things simple by slicing the chicken on top of plain pasta tossed with some of the lemon butter sauce.
Did you know… ? The sauce can be an easy all-purpose sauce that can be used in many different ways. Read all about it in my dedicated post all about Lemon & butter sauce!
Variations
Not a fan of feta? You can easily replace it with cream cheese or Boursin, goat cheese, a mixture of ricotta and parmesan cheese, mozzarella, provolone, gruyère, or even blue cheese. Virtually any cheese will work!
Add chopped artichokes, roasted red peppers, toasted pine nuts, pecans or walnuts, chopped scallions/spring onions, cherry tomatoes, chopped olives or a spoonful of pesto to the basic spinach stuffing mixture.
Trying adding some cooked bacon, chorizo and/or mushrooms to the stuffing for an extra burst of flavor.
Recipe FAQ
Can you prepare stuffed chicken breasts ahead of time?
Absolutely, since the stuffing is not cooked. If you're including anything cooked, such as bacon, just make sure the stuffing is completely cold before stuffing the chicken. Then simply cover the raw stuffed chicken breasts and keep them in the fridge for up to a day until you're ready to cook them.

Cooked stuffed chicken breasts will keep covered in the fridge in an airtight container for up to 3 days.
My chicken breasts are a bit tough and dry. What did I do wrong?
You possibly overcooked them. For small to medium sized chicken breasts, you will only need to pan fry them for about 5 minutes on each side and then another few minutes with a lid on on a medium high heat. To double check they're ready, just test the thickest part of the breast with a meat thermometer. The temperature should be at least 165F/75C.
How do you reheat stuffed chicken breasts?
To reheat stuffed chicken breasts without drying them out, simply put them in a baking dish and add a splash of broth, sauce or water. Cover the dish with aluminium foil and reheat at 350F/175C for 15 to 20 minutes or until piping hot again (165F/75C inside).

Alternatively, you can reheat the breasts individually in your microwave. Simply add a splash of liquid to the chicken in a dish as in the oven method. Then cover well with plastic wrap and reheat on 80% power for 1 to 3 minutes or until it reaches the correct temperature inside. It's best to start with 1 minute then reheat in 30-second bursts until hot so that you don't risk drying the chicken out.
Can I bake or air fry the chicken instead?
Yes, you can. To bake, try searing on both sides for a minute or two in an oven proof cast iron pan. Then transfer straight to the oven (pre-heated to 355F/180C) for around 15 minutes or until the internal temperature of the meat is at least 165F/75C.

To air fry, rub the outside of the stuffed chicken with olive oil. Then air fry for around 15 to 20 minutes or until the chicken reaches 165F/75C inside.
More easy stove-top chicken recipes
Or browse this list of 10 best easy Greek chicken recipes.
IF YOU MAKE THIS RECIPE, LET ME KNOW HOW YOU GET ON BY LEAVING A COMMENT AND RATING BELOW… AND DON'T FORGET TO SIGN UP TO RECEIVE ALL MY NEW RECIPES BY EMAIL!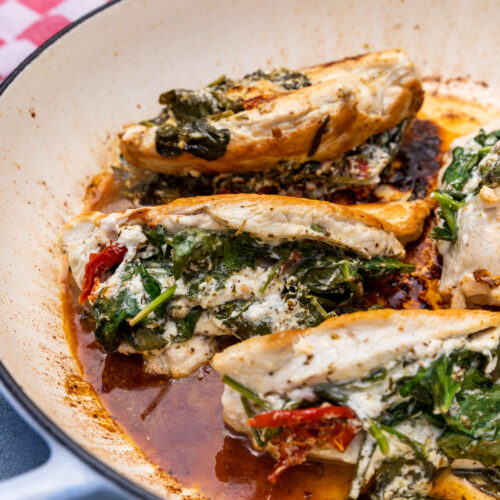 Easy Spinach And Feta Stuffed Chicken Breasts
This 30-minute spinach and feta stuffed chicken makes the most delicious easy midweek meal. But it might surprise you that it can also be perfect for a special occasion such as Thanksgiving or Christmas. Stuffed with a very simple spinach, feta and sundried tomato stuffing that you don't have to pre-cook or even chop, the chicken is moist and juicy. The light and simple butter lemon sauce is optional, but I don't recommend skipping it. You could call this a 'Cheat's roast chicken dinner'!
Ingredients (UK/Australia? Click below for grams/ml)
2

cups

baby spinach

washed

3.5

ounces

feta cheese

crumbled (about ¾ cup)

¼

cup

sundried tomatoes

(strips or chopped for ease)

2

teaspoons

dried oregano

(or replace with dried basil or mixed Italian herbs)

4

chicken breasts

skinless boneless (small to medium-sized, if very large consider cutting in half either lengthwise or widthwise)

½

teaspoon

salt

¼

teaspoon

pepper

3

tablespoons

olive oil

for pan frying
For the simple sauce (optional)
1

cup

chicken broth

or stock (good quality)

1

lemon

juice only

2

tablespoons

unsalted butter
Instructions
Add the baby spinach, crumbled feta, sundried tomatoes and dried oregano to a medium bowl and mix well.

2 cups baby spinach,

3.5 ounces feta cheese,

¼ cup sundried tomatoes,

2 teaspoons dried oregano

Slice a deep pocket into the slightly thicker edge of each chicken breast (be careful not to cut all the way through).

Stuff each pocket with as much of the spinach and feta mixture as you can (push it all the way in). Then sprinkle each side of the chicken with the salt and pepper.

½ teaspoon salt,

¼ teaspoon pepper

Heat up the olive oil on a medium high heat in a large cast iron pan or skillet with a lid. When it's hot, put the chicken in. If you have one, cover with a splatter screen. Let the chicken cook without moving it for about 5 minutes.

Now use kitchen tongs to turn the chicken over and cook for about another 5 minutes without moving it. Then turn the heat down slightly, put a lid on the pan and cook for a few minutes longer until the chicken is cooked through. Use a meat thermometer to check the internal temperature in the thickest part of the meat. It should be at least 165F/75C.

Transfer the chicken to a dish and keep warm, leaving any juices in the pan. Then add the chicken broth/stock to the pan, scraping any sticky bits from the pan into it. Then stir in the lemon juice, butter and any resting juices from the chicken. Cook the sauce for a couple of minutes until it has reduced and thickened just slightly (it will still be quite thin – that's fine).

1 cup chicken broth,

1 lemon,

2 tablespoons unsalted butter

Serve the breasts whole, cut each piece in half at an angle, or slice into three or four even slices. Serve with the sauce poured over the top (if making), and with more baby spinach, salad dressing and bread, or mashed potatoes and vegetables, if you like.
Notes
Chicken breasts: Try to buy small to medium breasts for faster cooking and a 'just right' serving size. If the breasts are larger, consider cutting them in half before stuffing (either lengthwise or widthwise works).
Knowing when the chicken is cooked: Try to resist overcooking. To check for doneness, it's best to use an instant read meat thermometer. The internal temperature of the chicken in the thickest part of the meat should be 165F/75C.
Variations: The stuffing recipe is very adaptable. If you like you can try adding other ingredients that don't need pre-cooking such as chopped artichokes or roasted red peppers, chopped olives, or toasted pine nuts or other nuts. You can also vary the cheese you use. Goat cheese, provolone, blue cheese, ricotta/parmesan mix are all good choices to try.
You can even try adding some mushrooms, bacon or chorizo, but cook these for 5 minutes before adding them to the stuffing.
Sauce: Lemon & butter sauce can be used in many different ways! Read all about it in my dedicated post.
Simple serving ideas: For a super easy meal, serve with extra baby spinach and your favorite easy salad dressing and crusty bread or 2-minute olive oil toasts. For a more satisfying, filling option, serve with mashed potatoes (love these cauliflower mashed potaotes) and a simple vegetable side such as sautéed frozen green beans.
You can also serve over pasta, rice, couscous or orzo with the simple lemon butter sauce poured over the top.
Storing and reheating: You can store the raw stuffed chicken covered in the fridge for up to a day if you want to get ahead. You can keep the cooked stuffed chicken in the fridge well covered or in an airtight container for up to 3 days. Reheat for 15 to 20 minutes either in the oven at 350F/175C in a baking dish with a little liquid and covered with aluminium foil. Alternatively, reheat individual breasts in the microwave covered with plastic wrap and with a little sauce or broth or water at 80% power for 1 to 3 minutes in 30-second bursts until piping hot.
Nutrition
Calories:
502
kcal
Carbohydrates:
9
g
Protein:
54
g
Fat:
28
g
Saturated Fat:
10
g
Polyunsaturated Fat:
3
g
Monounsaturated Fat:
12
g
Trans Fat:
0.3
g
Cholesterol:
183
mg
Sodium:
1075
mg
Potassium:
1235
mg
Fiber:
2
g
Sugar:
4
g
Vitamin A:
1839
IU
Vitamin C:
24
mg
Calcium:
184
mg
Iron:
3
mg