If like me chicken satay is on your 'food heaven' list, why not learn how to make it at home? These chicken satay skewers with peanut sauce are very simple to make but still pack in tons of umami flavour!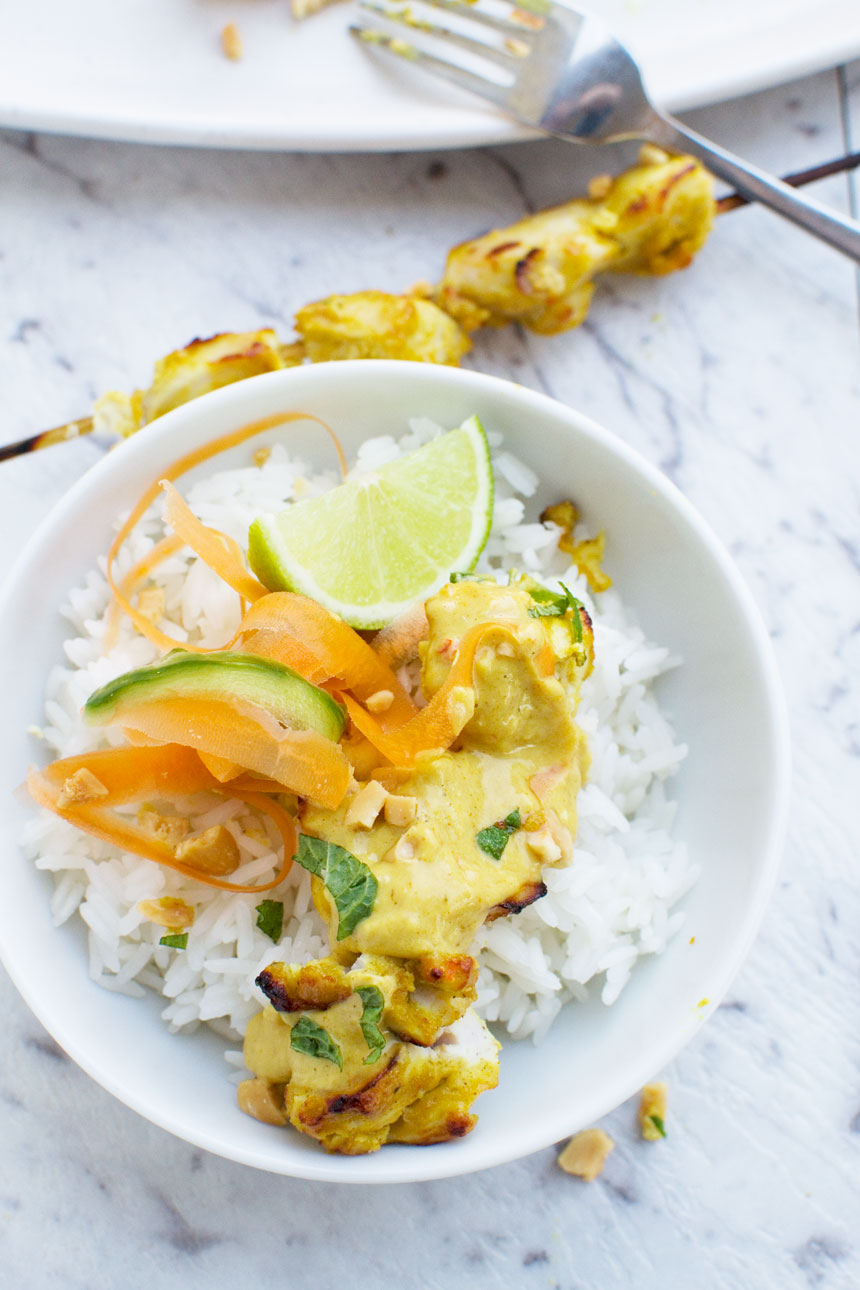 If I see anything 'satay' on a menu, you can pretty much guarantee I'll order it.
I'm very boring like that!
But really there's nothing boring about these chicken satay skewers with peanut sauce.
I've stripped the ingredients down to the bare essentials to keep the meal super simple, but in my humble opinion NOT at the expense of flavour.
I realise there are many many different versions of satay, and to be honest I've never met a version that I didn't like!
So how do you make a satay sauce?
What I particularly like about this version of satay sauce is that you mix up one lot of ingredients and use them as both the marinade for the meat and the peanut sauce for drizzling over the final dish.
Which means… no messing around with separate marinades and dipping sauces!
Here are the ingredients I use for my sauce:
peanut butter (of course!)
garlic & ginger
soy sauce
kecap manis (a sweet soy sauce that adds great depth of flavour – don't leave this out!)
fish sauce
sweet chilli sauce & curry powder (for sweetness & spice!)
coconut milk
lime juice
This may look like a long ingredients list for an easy recipe blog like this one, but many of them are store cupboard ingredients like soy sauce and garlic. You may have to buy a few new bottles of things, but they're all things that will keep for aaages, so you can make this many times more, or use the ingredients in other recipes such as my mee goreng (Indonesian spicy noodles – also veeery delicious!)
Several of the satay sauce recipes I've seen before include even more spices like turmeric and cumin, but I figure that these things are already in the curry powder so I leave them out of my version.
I find that this satay sauce ends up with just the right amount of sweetness and spice!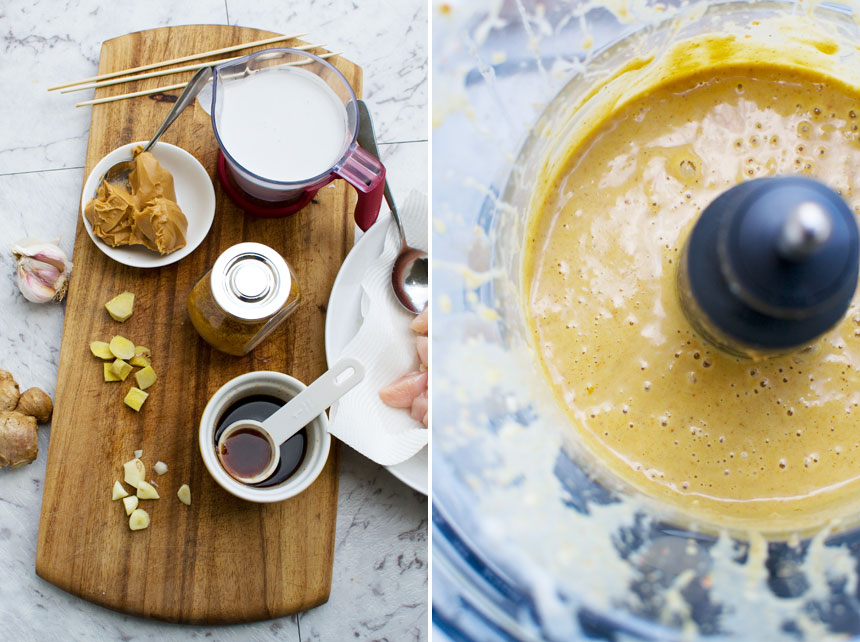 Soooo easy
As always with the recipes on this blog, there are very few steps to this delicious meal.
There's little more involved than threading bits of chicken onto skewers (get the disposable gloves at the ready for this part!), then whisking together the sauce / marinade ingredients in a food processor. Divide the mixture in half and use half to marinate the chicken skewers and the other half to heat up later as a dipping / pouring sauce.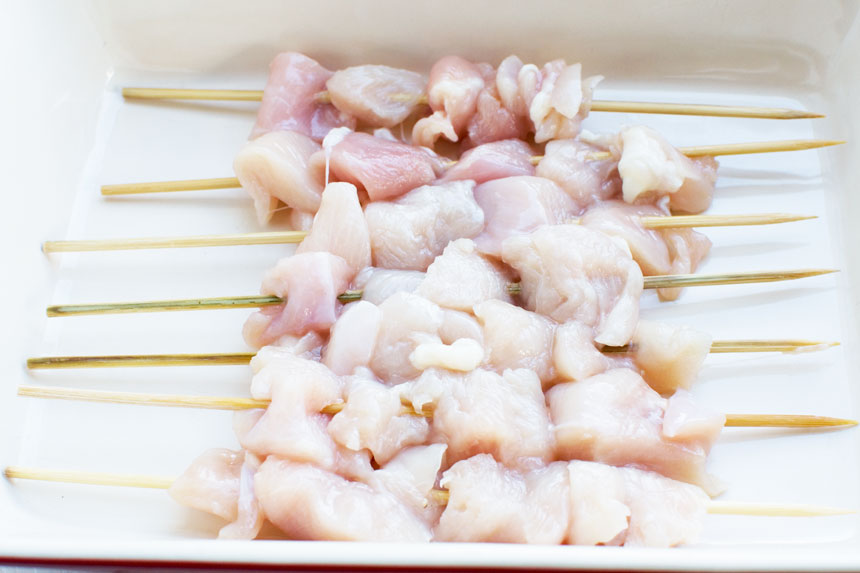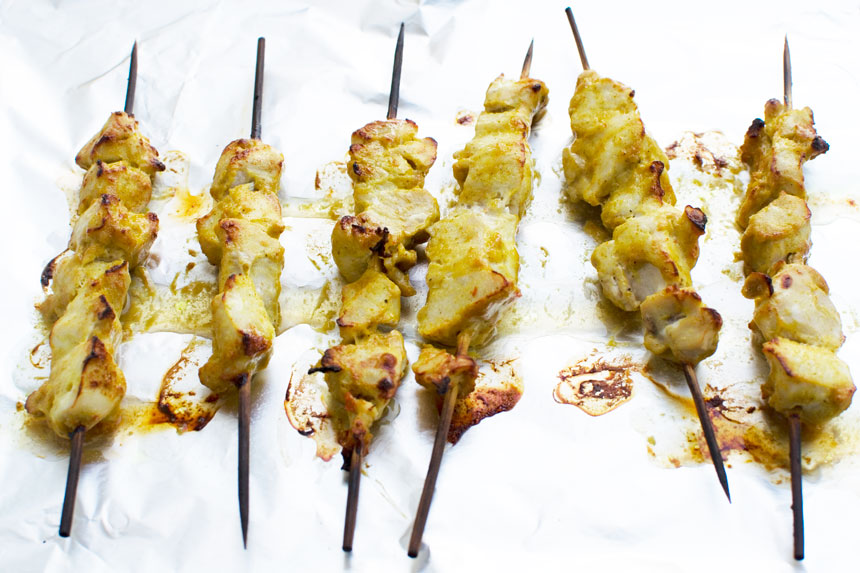 …aaaand grill! And yes, I did burn the ends of the skewers. It doesn't look too pretty, but other than that it doesn't really matter.
Finally, grill or broil your marinated skewers for a few minutes on each side, then serve over rice with warmed peanut sauce and some kind of vegetable.
It's definitely the sort of meal you can serve to guests, or you can just as easily make it for yourself on a busy weeknight if you're in the mood for something extra delicious.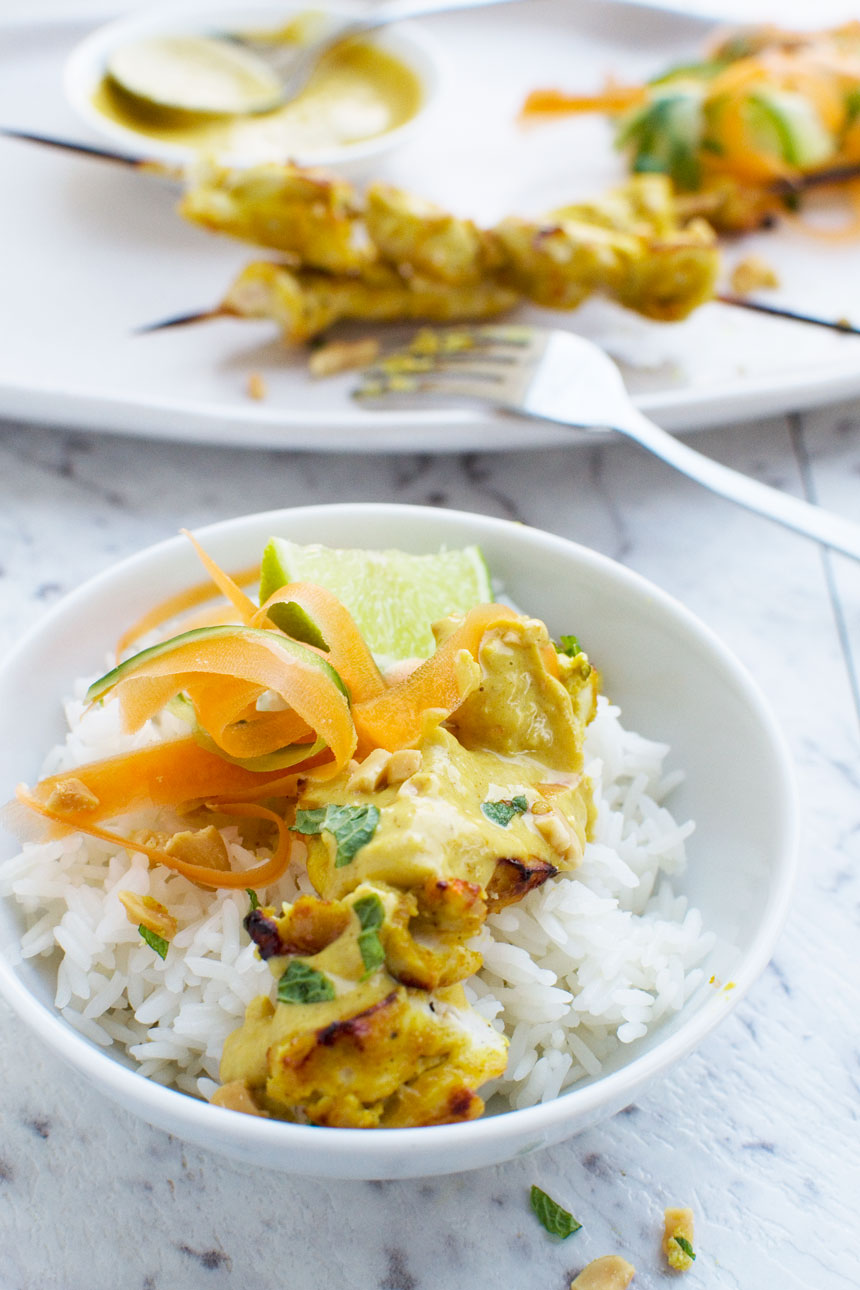 Sounds great, but…
How do I stop my wooden skewers burning?
Erm… good question!
To be honest I always seem to burn my wooden skewers!
Some say that you can prevent this by soaking the skewers in water for about half an hour before you thread your meat and/or vegetables onto them.
Perhaps the ends of the skewers will always burn a bit.
I'm OK with this, but if you're not (I suppose they don't look as pretty as unburnt ones) you could always buy metal skewers!
How should I serve this?
There are a couple of ways you can serve this easy chicken satay:
Arrange 3 chicken skewers per person on top of rice and drizzle over some of the peanut sauce, then add ribbons of raw carrot and cucumber on the side.
Put skewers, rice, and ribbons of carrot / cucumber separately on each plate, then add a little dish of peanut sauce on the side.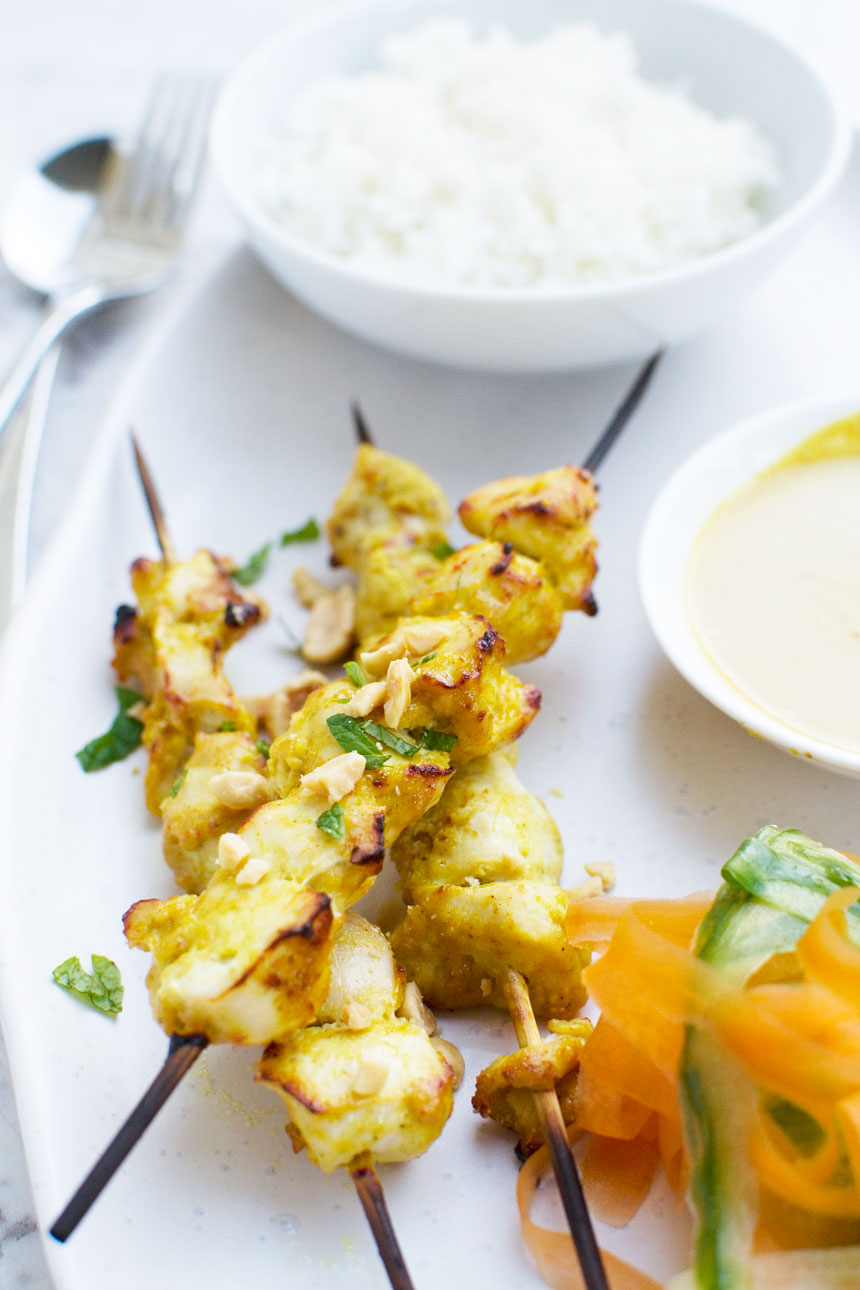 If I was serving this to guests I'd go with approach number 2 because it looks a little prettier and allows everyone to add as little or as much sauce as they like.
But if I'm making dinner for 'just us' I'll usually just put the rice and skewers in a bowl and pour the peanut sauce right on top. Add steamed broccoli or some green beans on the side and you've got yourself a delicious midweek treat!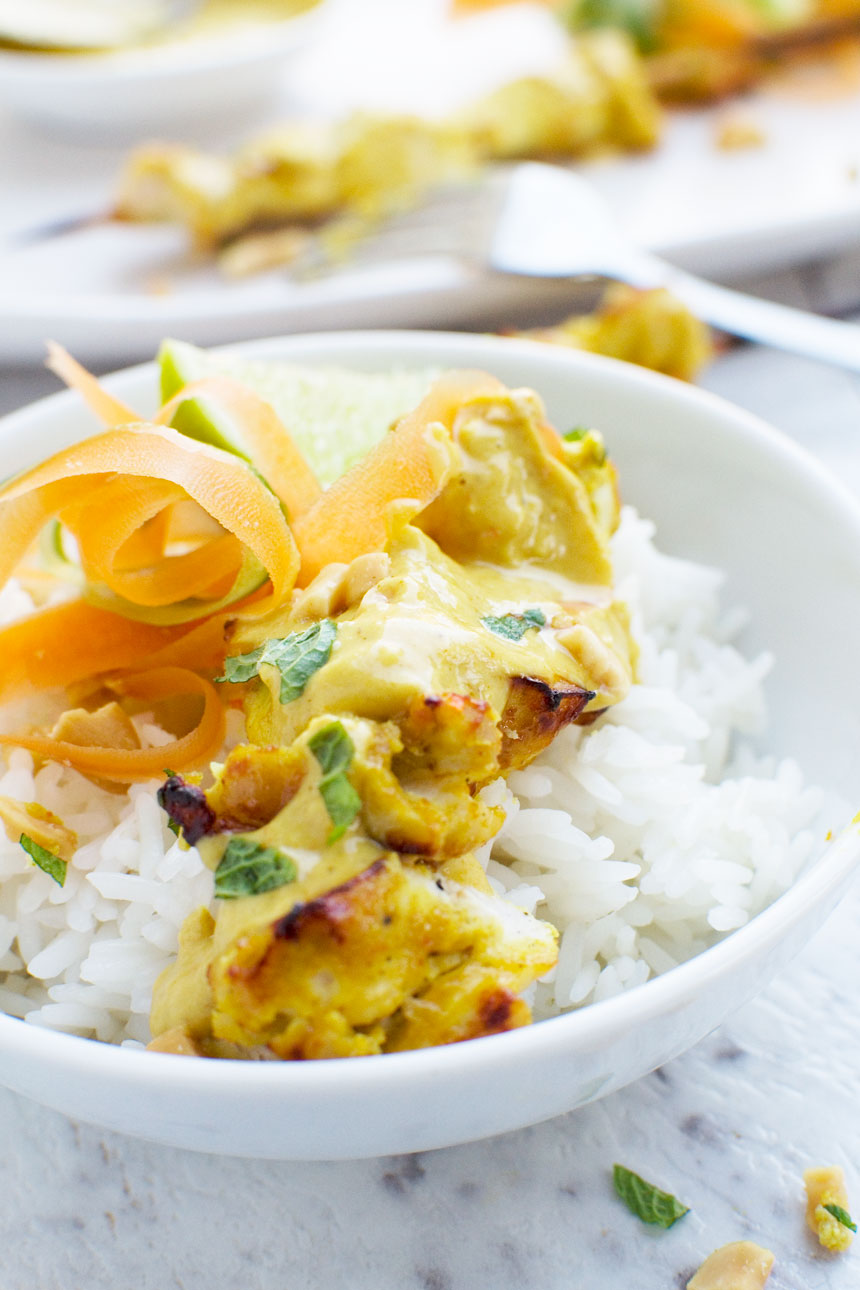 Equipment / Ingredients used for this meal (affiliate links):
Bamboo skewers or metal skewers
A food processor (not essential but you can use it to blend the dipping sauce ingredients if you like). I have something like this Breville food processor and couldn't be happier with it! Extremely easy to use and a powerful piece of kit.
And if like me you enjoy 'anything peanut', you'll also love:
this one pan spicy Thai peanut chicken – I'd go as far as to say this is one of the most delicious meals on the blog. You've got to try it!
Then there's this chicken and butternut squash satay curry, which I've made many many many times. In fact we've usually got some of this stashed away in the freezer at our house to pull out on lazy nights. Just serve with rice and a big dollop of Greek yogurt. You don't really need extra veggies unless you want some as it's packed full of nutritious butternut squash.
Finally, there's this easy massaman chicken curry with peanuts that's ready in just 30 minutes!
IF YOU MAKE THIS RECIPE, LET ME KNOW HOW YOU GET ON BY LEAVING A COMMENT AND RATING BELOW… AND DON'T FORGET TO SIGN UP TO RECEIVE ALL MY NEW RECIPES BY EMAIL!
FOLLOW ME ON FACEBOOK, INSTAGRAM, PINTEREST AND YOUTUBE.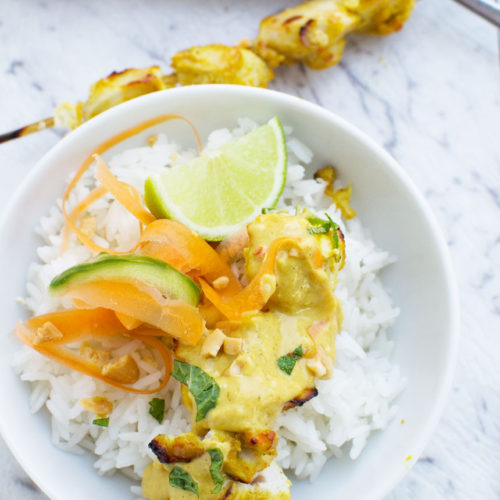 Chicken satay skewers with peanut sauce
A really easy version of one of the most popular (not to mention delicious) Asian meals: chicken satay skewers. Mix together just one set of ingredients to make both a marinade and peanut dipping sauce.
Ingredients (UK/Australia? Click below for grams/ml)
For the chicken
1

pound

chicken thighs

(or breast) chopped into small pieces (they don't really need to be an exact size, just don't make them too big – mine were about 2 to 3 cm wide / long)
For the marinade / dipping sauce
3

tablespoons

peanut butter

either smooth or crunchy

2

cloves

garlic

chopped roughly

2

inches

fresh ginger

chopped roughly

1

tablespoon

light soy sauce

1½

tablespoons

kecap manis

Indonesian sweet soy sauce

1

tablespoon

sweet chilli sauce

½

tablespoon

fish sauce

1

cup

coconut milk

2

teaspoons

curry powder

juice of 1 lime
To serve
rice and vegetables

veggie ideas: ribbons of raw cucumber & carrot, steamed broccoli

lime wedges for squeezing over

peanuts and fresh coriander or mint for scattering over at the end

optional
Instructions
If using wooden skewers, soak in water while you're preparing the marinade.

Put all the marinade / sauce ingredients together in a food processor and pulse until well blended.

Thread the chicken pieces onto the skewers (about 4 or 5 pieces per skewer). Lay the skewers side by side in a long dish (a baking dish works).

Pour half of the marinade / sauce over the chicken skewers, keeping the wooden ends clean if possible. Turn a little to coat well, then refrigerate for at least 30 minutes (overnight if you like).

Grill (UK) / Broil(US) the skewers for a few minutes on each side.

Meanwhile, gently heat the peanut sauce and prepare your rice and vegetables.

Serve 3 skewers per person with the rice/vegetables and peanut sauce. Top with lime wedges, peanuts and/or fresh mint/coriander if you like.
Notes
Despite soaking my wooden skewers, they still burn during the cooking process. To be honest, I don't worry about it! If it does bother you, just buy metal skewers! You can also wipe the ends of the wooden skewers with some kitchen paper before grilling/broiling.
I usually serve this meal in one of two ways (both delicious!):
1. Arrange 3 chicken skewers per person on top of rice and drizzle over some of the peanut sauce, then add ribbons of raw carrot and cucumber on the side.
2. Put skewers, rice, and ribbons of carrot / cucumber separately on each plate, then add a little dish of peanut sauce on the side.
I find the skewers only take a few minutes on each side to cook, but of course this will depend a bit on how big your chicken pieces are. You may have to adjust your cooking time a little.
I like to top my chicken skewers with lime wedges, peanuts and maybe a bit of chopped fresh mint from my garden, but of course these final touches are totally optional!
*Please note that nutrition facts exclude rice and veggies!
Nutrition
Calories:
477
kcal
Carbohydrates:
14
g
Protein:
23
g
Fat:
37
g
Saturated Fat:
17
g
Cholesterol:
111
mg
Sodium:
742
mg
Potassium:
474
mg
Fiber:
1
g
Sugar:
8
g
Vitamin A:
90
IU
Vitamin C:
1.1
mg
Calcium:
32
mg
Iron:
3.3
mg