This honestly is the best recipe ever for Indonesian noodles, otherwise known as mee goreng. A street food favorite in Indonesia, Malaysia and other parts of South East Asia, they're so easy to make at home. Mildly spicy, packed with sweet, sticky, delicious flavours and ready in just 30 minutes.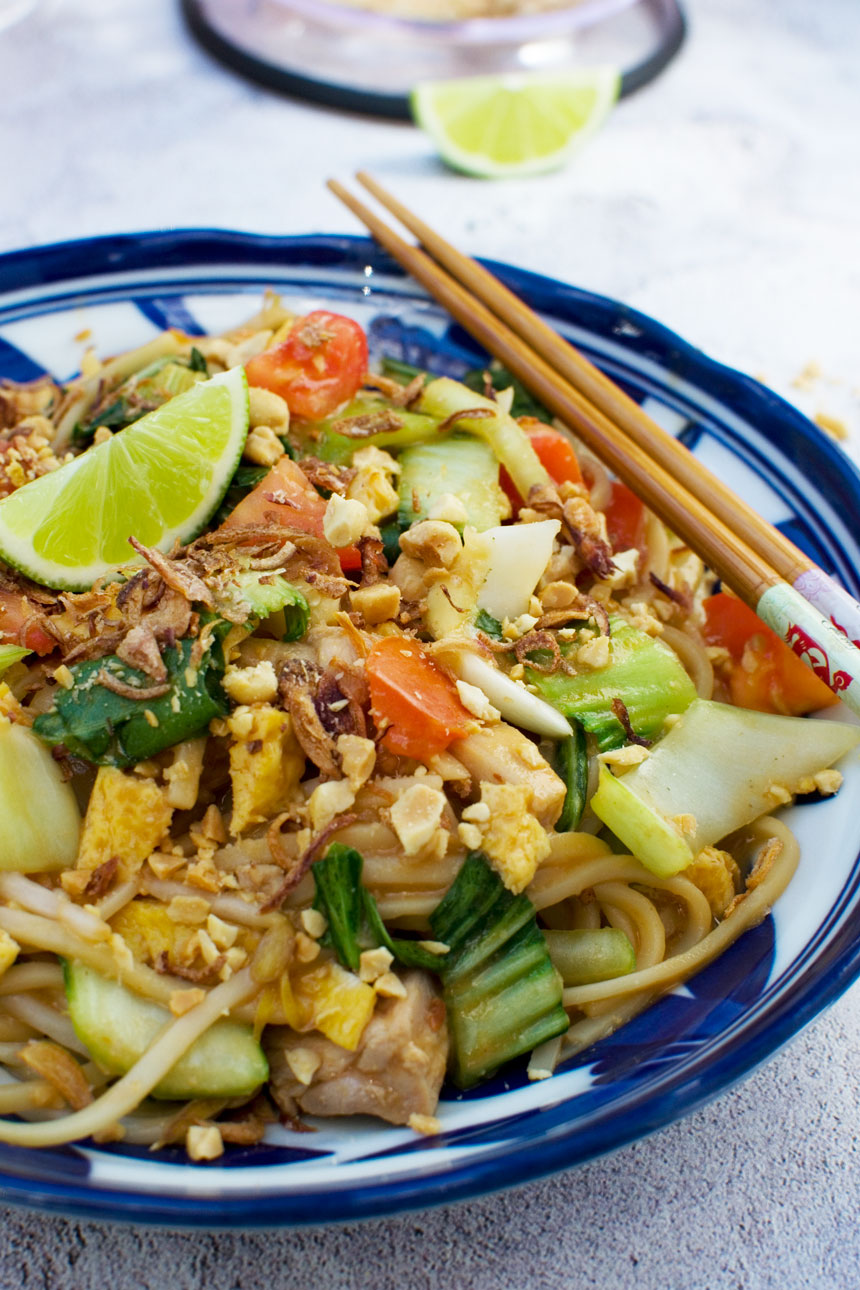 When I visited Singapore, Mr. Scrummy and I ate virtually every meal in the incredible street food markets there. One of the dishes we both enjoyed the most was mee goreng, an amazingly tasty fried egg noodles dish.
From the moment we got home, I was on a quest to make the best version of this new favourite dish I'd discovered. I hope you give it a try and enjoy it as much as we still do.
What is mee goreng?
I first discovered this dish in Indonesia, but it's popular in Malaysia and other parts of Asia, too.
Essentially mee goreng (sometimes called mi goreng or mie goreng) is a mildy spicy chicken noodle stir fry with egg and Asian greens and beensprouts and other yummy things.
One of the things I love about it is that there is a range of textures. So in mee goreng you'll find:
fresh and crunchy Asian vegetables
tasty chunks of tender chicken
a tangy, mildly spicy sauce (plenty of it in my version!)
a crispy, crunchy garnish of peanuts, crispy dried onions (my favourite!) and lime segments.
Just slice down the middle of Asian greens like the baby pak choi shown here length-ways, then chop like you would a leek. Then wash really well! It can be gritty!
Why I think this is the best recipe
I don't claim my mee goreng recipe to be perfectly authentic. Over time I've developed it to include all the best things from the different versions of the recipe I've seen.
This is one of those dishes that everyone has their own version of. Some recipes include eggs, for instance, so I do too. There are chopped tomatoes in my version, too, for extra juice and taste.
The dish ends up neither too spicy nor too bland. Full of 'bits' but with plenty of the comforting noodles, too.
But what really takes these Indonesian street noodles from good to delicious? Easy – the sauce and the toppings!
The sauce
I used to be afraid of long lists of ingredients in Asian stir fry recipes. I still am – a bit – but luckily the sauce in this recipe only contains 6 ingredients + water.
The sauce contains a sticky, sweet version of soy sauce called kecap manis. Don't worry, it's easy to find in major supermarkets. I also include… wait for it… tomato ketchup in my version of the sauce!
There's also light soy sauce, a bit of chili sauce – not too much, and oyster sauce.
Lastly, I add a sneaky tablespoon of peanut butter. Just because.
You could say this version is actually a mee goreng basah, which roughly (very roughly!) translates as very saucy, I make sure there's just the right amount of sauce!
The toppings
Oh, the toppings. They are not optional. They really aren't 😉 They are just as important as all the other ingredients to get that perfect flavour explosion in your mouth.
This is what I recommend:
dried onions, which you can usually grab in the supermarket (if not, it's well worth hunting them down in an Asian shop!)
lime segments to squeeze all over just before eating
Oh, and I suggest adding more of the toppings as you eat. Just trust me on that!
How to make it
Like with any stir fry, I find it's best to get all the ingredients washed, chopped and otherwise prepared before starting to cook. You can even do some of the prep ahead so that it's a super fast meal when dinnertime comes around.
The prep will take a little while – 15 to 20 minutes. But then it's just a case of throwing everything together in a wok or other big pan.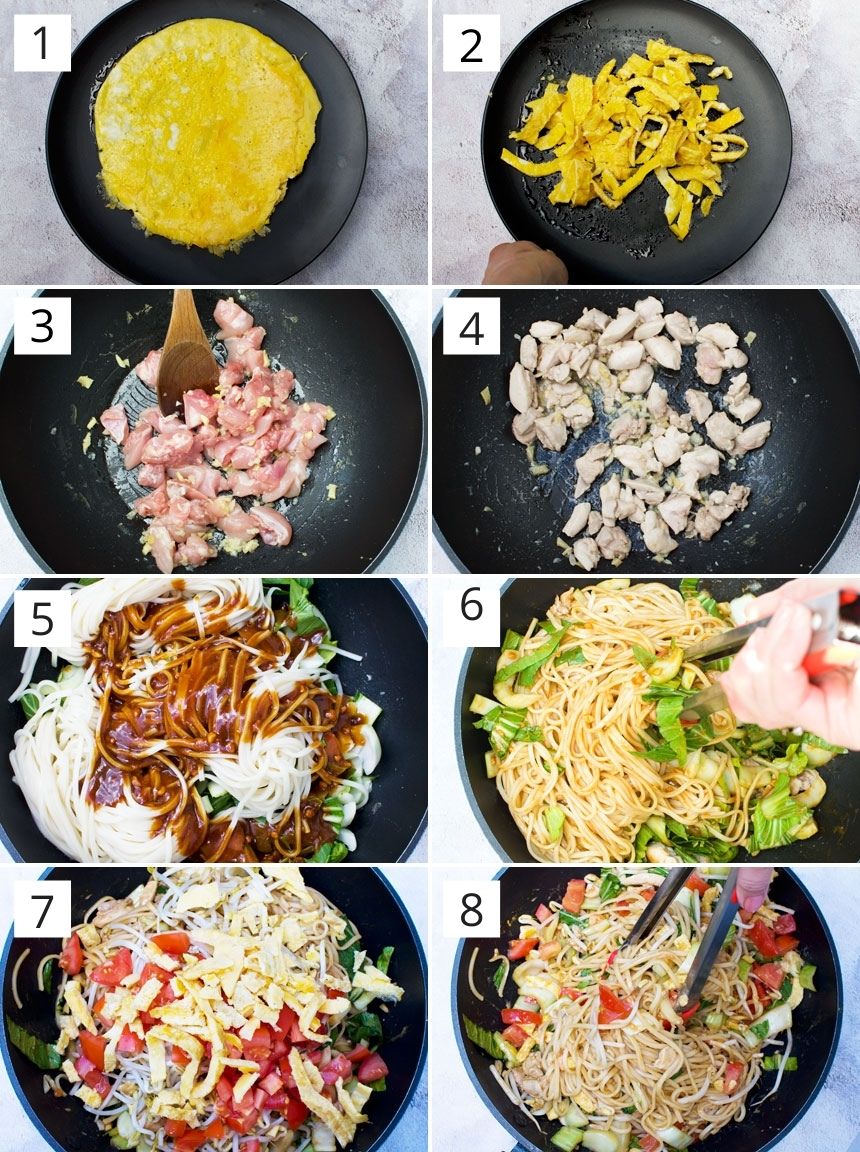 There are really only 5 main steps to the recipe:
Step 1: Cook the egg. Cook it like a big flat omelette. Then roll it up, chop it up, and put it aside. Easy.
Step 2: Cook the chicken with yummy garlic and ginger. At the same time, you can be cooking your egg noodles, which only takes a few minutes.
Step 3: Throw in the greens, noodles, and the sauce.
Step 4: Add the rest of the ingredients – so chopped tomatoes and egg, and the beansprouts. Add a drizzle more water to keep it nice and 'saucy'.
Step 5: After serving into bowls, sprinkle with the delicious toppings. Grab your chopsticks and eat!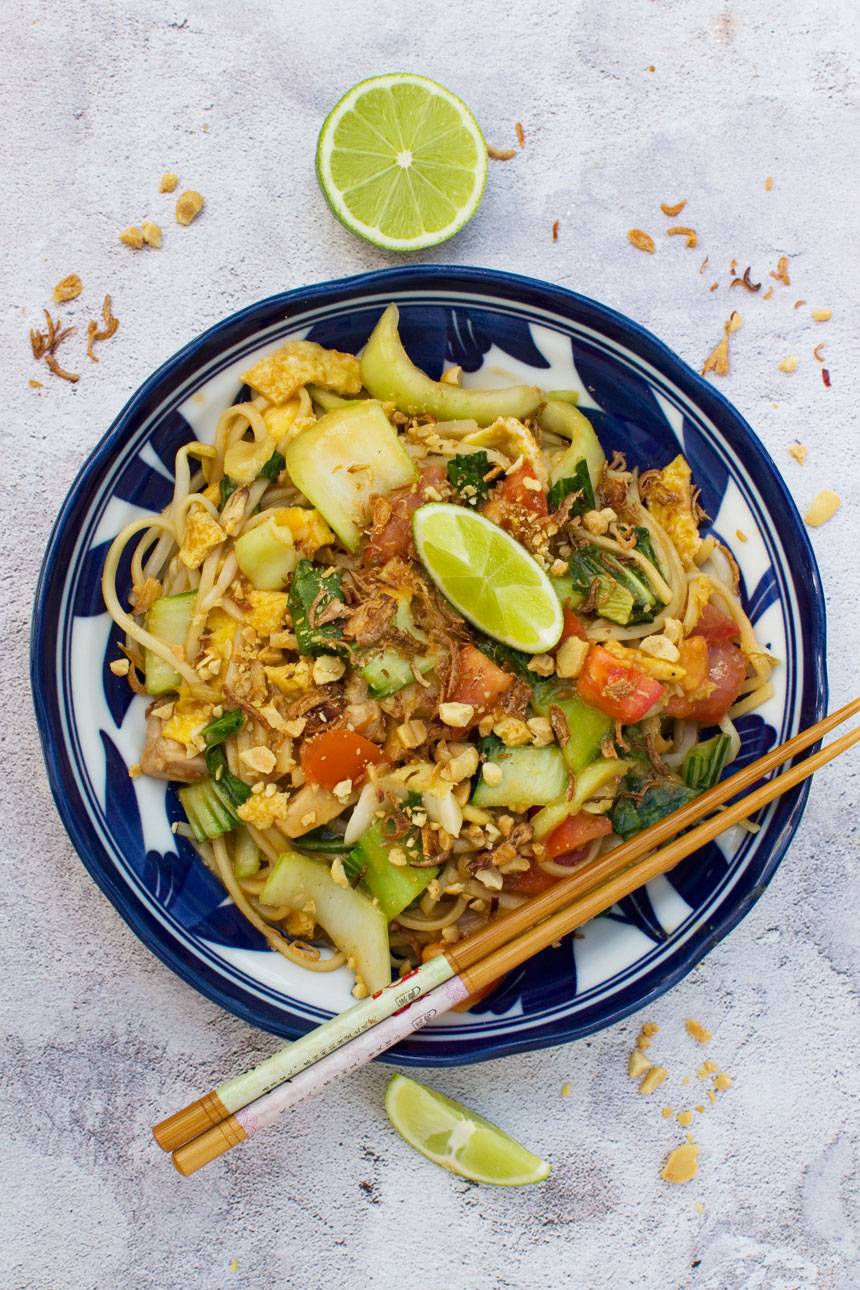 What kind of noodles to use
This dish is made with egg noodles. I usually use medium sized egg noodles – so neither super thick nor super skinny.
But really it's up to you. You can even use a different type of noodle like wheat or rice noodles if that's what you have.
Sometimes I buy fresh noodles, called Hokkien noodles in the supermarket I go to. Other times I buy dried egg noodles. Again, it really doesn't matter.
The only important thing is to use less than half the weight of fresh noodles if you're using dried. For example: Use 400 grams or 14 ounces of fresh noodles but only 170 grams or 6 ounces of dried noodles.
Make the recipe your own
I've already told you that I took a while to refine this recipe to make it my own.
Mine's an egg noodle stir fry with chicken, but you could make yours a shrimp, pork or beef mee goreng. Or you could skip the meat and add tofu or more vegetables if you prefer.
My stir fry is just mildly spicy, so add more chili sauce if you like to feel the heat. If you like, you could also add an egg on top of your noodles before serving. Yum. The world's your noodle!
More things to know (recipe FAQ)
Can I use dried noodles instead of fresh?
Yes. If you prefer to use dried noodles, use just under half the amount of fresh. So you'll need around 6 ounces or 170 grams of dried noodles for this recipe.
Can I make mee goreng with a different protein?
I usually make this dish with chicken, but there's no reason why you can't use pork, beef strips, shrimp/prawn, tofu or just loads of vegetables instead. The method won't really change because the dish is cooked so quickly. Just cook any protein you like at the same time as you would cook the chicken.
Is mee goreng spicy?
I always use chili sauce in my mee goreng recipe. I use around 3 teaspoons so that the noodles are just mildly spicy. Honestly though, tweak the amount to your heart's content! It can be as spicy (or not) as you like.

I usually grab a bottle of sriracha sauce from the Asian aisle at my local supermarket. But really any kind of chili sauce works. You can even use sambal oelek as a substitute, or you can skip the chili sauce altogether and just add more ketchup if you're not a fan of spicy dishes at all.
Can I reheat the leftovers?
Gosh yes. Like any good takeout style dish, the leftovers reheat really well. Simply cover and reheat for 3 to 4 minutes on 80% power in your microwave. Sometimes I add a little drizzle of water before reheating so that the dish is nice and 'saucy' again.

Alternatively you can reheat the leftovers in a wok. Just add a drizzle more water and stir fry again for a few minutes until piping hot.

Add some fresh toppings (peanuts, lime, crispy shallots, coriander) after heating for a meal that's as good as new. Yum.
What's the difference between mee goreng and nasi goreng?
Ha! Great question! I always used to wonder that too.

Basically, 'mee goreng' means fried noodles in Indonesian. 'Nasi goreng' means fried rice. So they are similar stir-fried dishes with sweet soy sauce, vegetables and protein but one is made with noodles and the other with rice!

Here is a recipe for nasi goreng from Nagi at Recipe Tin Eats if you'd like to try that too.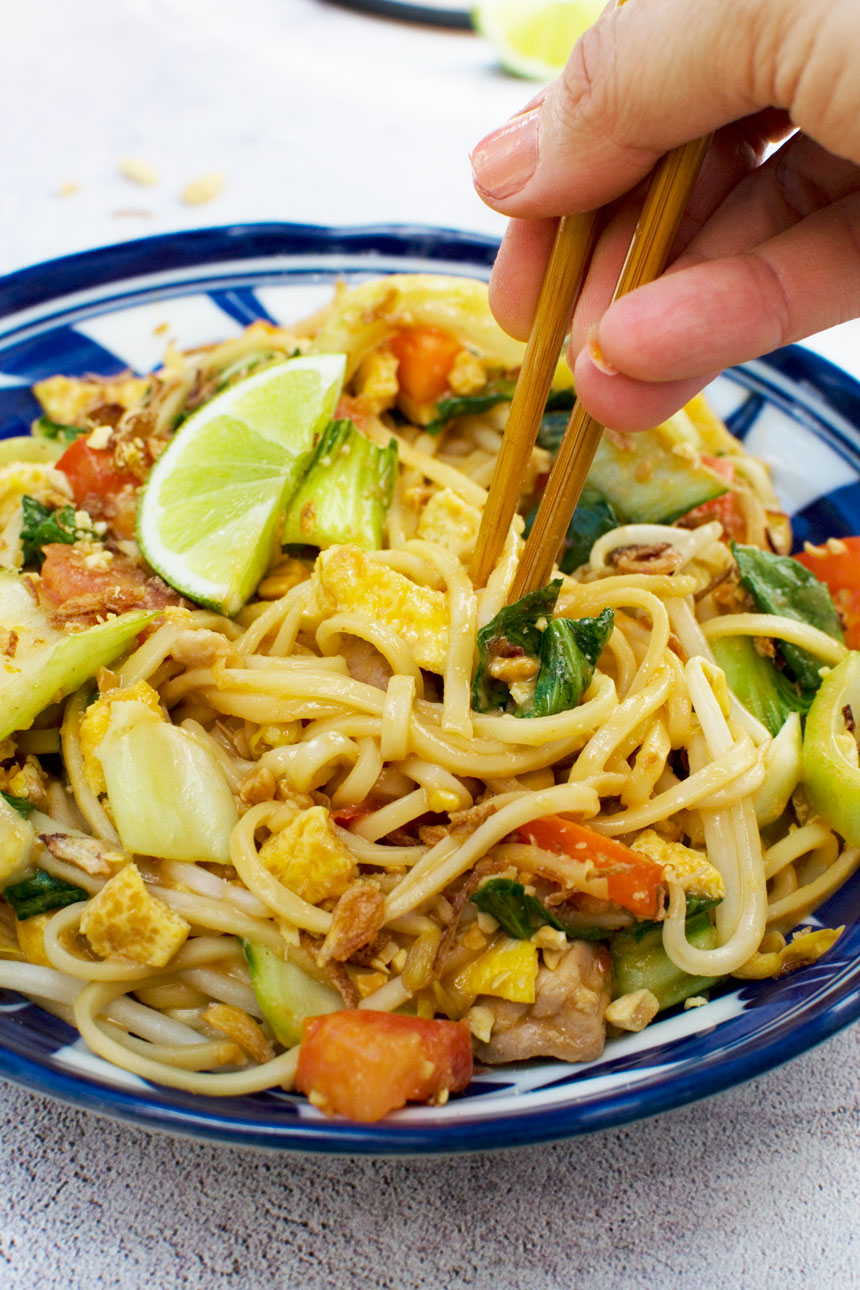 More easy Asian meals
Mee goreng makes a great simple weekend dinner! If you need more ideas, check out this list of 100 easy Sunday dinner ideas.
IF YOU MAKE THIS RECIPE, LET ME KNOW HOW YOU GET ON BY LEAVING A COMMENT AND RATING BELOW… AND DON'T FORGET TO SIGN UP TO RECEIVE ALL MY NEW RECIPES BY EMAIL!
FOLLOW ME ON FACEBOOK, INSTAGRAM, PINTEREST AND YOUTUBE.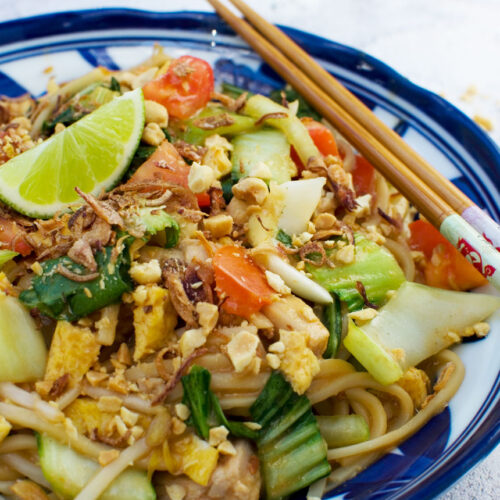 The Best Indonesian Noodles (Mee Goreng)
This one's for fans of Asian street food… or for quick, easy and delicious stir fries. This Indonesian chicken noodle stir fry is otherwise known as mee goreng basah. The 'basah' part means 'wet' so there's plenty of delicious tangy sauce.
Equipment (affiliate links)
Ingredients (UK/Australia? Click below for grams/ml)
for the sauce
1

tablespoon

peanut butter

1

tablespoon

kecap manis

(thick sweet soy sauce)

1

tablespoon

light soy sauce

3

teaspoons

chili sauce

I used sriracha, but any is fine

1

tablespoon

tomato ketchup

2

tablespoons

oyster sauce

3

tablespoons

water
for the noodles
1

tablespoon

vegetable oil

for cooking (or sesame oil)

2

eggs

lightly whisked

2

garlic cloves

chopped finely or crushed

3cm piece fresh ginger

(about a thumb's width) peeled and chopped finely

7

ounces

chicken breast

or 2 chicken thighs, chopped into smallish chunks

9

ounces

baby pak choi

chopped and washed

14

ounces

fresh egg noodles

or 6 ounces/170 grams dried

3.5

ounces

beansprouts

I use fresh but canned would be OK too. (3.5 ounces is 100 grams or 2 large handfuls)

2

medium tomatoes

roughly diced
toppings
lime segments

crushed peanuts or cashew nuts
Instructions
In a medium bowl or jug, blend the kecap manis (thick sweet soy sauce) and light soy sauce into the peanut butter, then whisk in all the other sauce ingredients. Set aside.

Add a drizzle of oil to a wok on a medium heat. Then pour eggs in. Roll the pan to spread it out, like you would a pancake. Cook for about a minute. Flip over for a few seconds, then transfer to a plate, roll up and cut into thin strips. Set aside on a plate.

Add another drizzle of oil to the heated wok/pan, then add the garlic, ginger and chicken. Stir fry until just cooked through (2 to 3 minutes).

Add the pak choi to the pan and stir fry for another couple of minutes until wilted. Then add the noodles. Pour in the sauce at this point and combine all the ingredients well.

At the last minute, add the beansprouts, tomatoes and eggs and combine well once again. Add a little extra drizzle of water if you think the dish needs it.

Serve the noodles immediately, topping with the lime, crispy shallots and crushed nuts. Enjoy!
Notes
Noodles: If you prefer to use dried noodles, use just under half the amount of fresh. So you'll need around 6 ounces or 170 grams of dried noodles for this recipe.
Sauce: I usually add a drizzle more water to the whole dish at the end to make the stir fried noodles nice and 'saucy'. You'll find that the noodles begin to soak up the sauce as they sit so serve them as soon as you can.
chicken: I usually make this dish with chicken, but there's no reason why you can't use pork, beef strips, shrimp/prawn, tofu or just loads of vegetables instead. The method won't really change because the dish is cooked so quickly. Just cook any protein you like at the same time as you would cook the chicken.
Pak choi: I find that pak choi or other Asian greens can sometimes be quite dirty when you buy it. I usually wash it before I cut it. Then I throw it in a big colander and wash it thoroughly again after it's been chopped up into pieces.
Leftovers: Leftovers will keep for a few days in the fridge. Store them in a sealed container. When you want to eat them, simply reheat in a microwave for about 4 minutes on 80% power (if it's a powerful microwave!). Check the noodles are thoroughly heated and if not microwave for another minute or two.
Alternatively you can reheat in a wok. Just add a drizzle more water and stir fry again for a few minutes until piping hot.
Nutrition
Calories:
574
kcal
Carbohydrates:
82
g
Protein:
31
g
Fat:
14
g
Saturated Fat:
5
g
Cholesterol:
197
mg
Sodium:
834
mg
Potassium:
715
mg
Fiber:
5
g
Sugar:
9
g
Vitamin A:
3090
IU
Vitamin C:
34
mg
Calcium:
123
mg
Iron:
3
mg