Ever heard of mee goreng? I hadn't until I met Mr. Scrummy and he told me how delicious these spicy Indonesian (or Malaysian!) street food noodles are. He was right, of course, and guess what? Great news – they're pretty easy to make at home and taste just as delicious!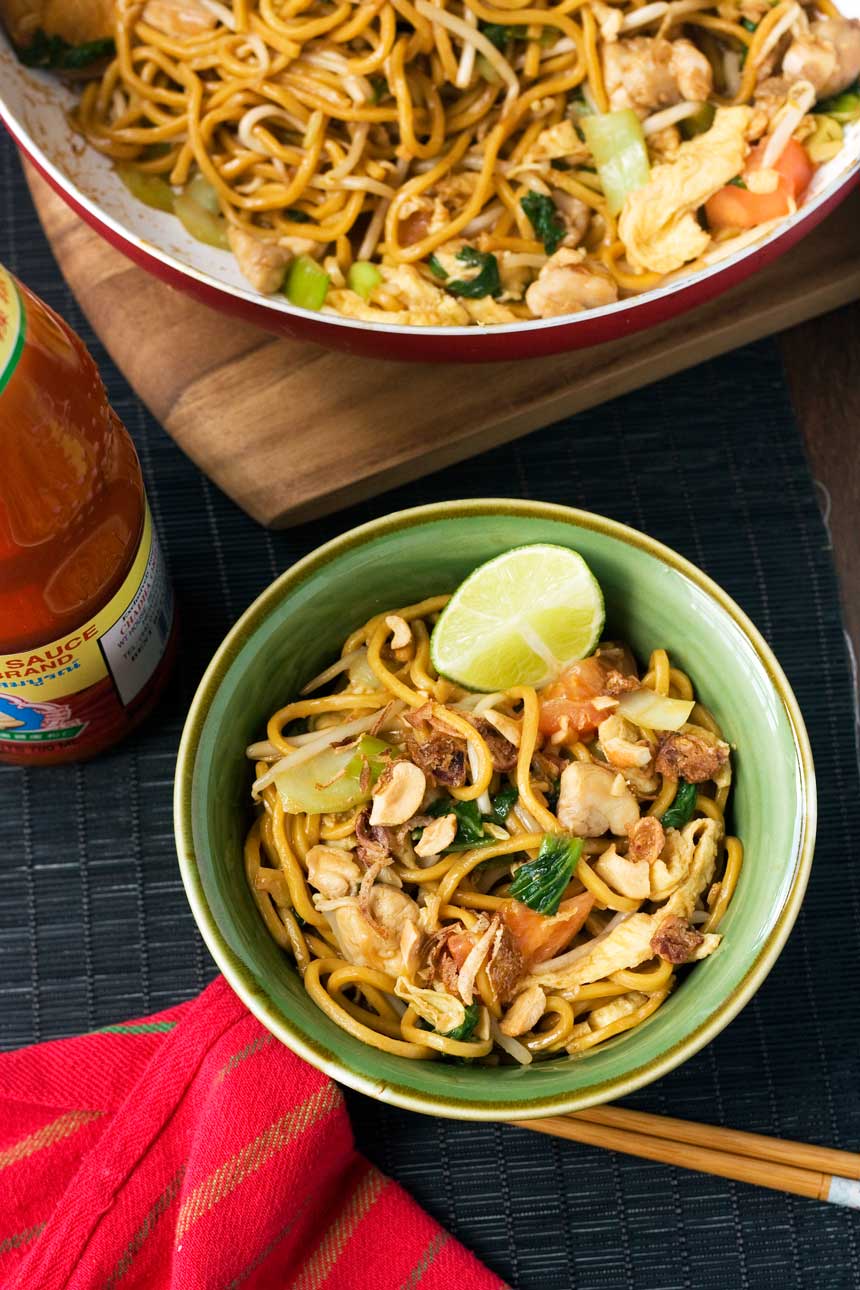 Almost exactly 2 years ago, I got married to the ever scrumptious Mr. Scrummy. And because we're a bit of a complicated couple, instead of jetting off to some tropical island straight after the wedding for a fortnight of honeymoon bliss, we headed straight to Perth Australia where Mr. Scrummy is from and spent a few days in Singapore on our way. And in true foodie fashion, instead of lying around the pool in our luxury hotel staring lovingly into each other's eyes like any normal just-married couple, we hit the streets of Singapore and ATE. We couldn't believe our eyes when we walked into our first 'hawkers' bar' of tens of different food stalls. We didn't stop ooh-ing and ah-ing over amazing plates of noodles and the like until we waddled our way back to the airport a few days later.
One of the dishes we both enjoyed the most there was 'mee goreng' or spicy stir-fried noodles. While we were in Perth, it was really easy to get all the ingredients cheaply from Asian stores, or even just from ordinary supermarkets, so I decided I'd try to make us some mee goreng at home!
I've had a few 'dud' attempts along the way resulting in noodles either too rich or not flavourful enough, but now 2 years down the track I reckon I've finally managed to figure out the 'perfect' mee goreng recipe. I say 'perfect' (imagine air quotes) because obviously this is just in my opinion. You may well read my recipe and think "Wha …? This is nothing like mee goreng!" Disclaimer: these noodles may not be at all authentic, although I would like to think I've included most of the 'must-haves' in order for it to be actually called mee goreng!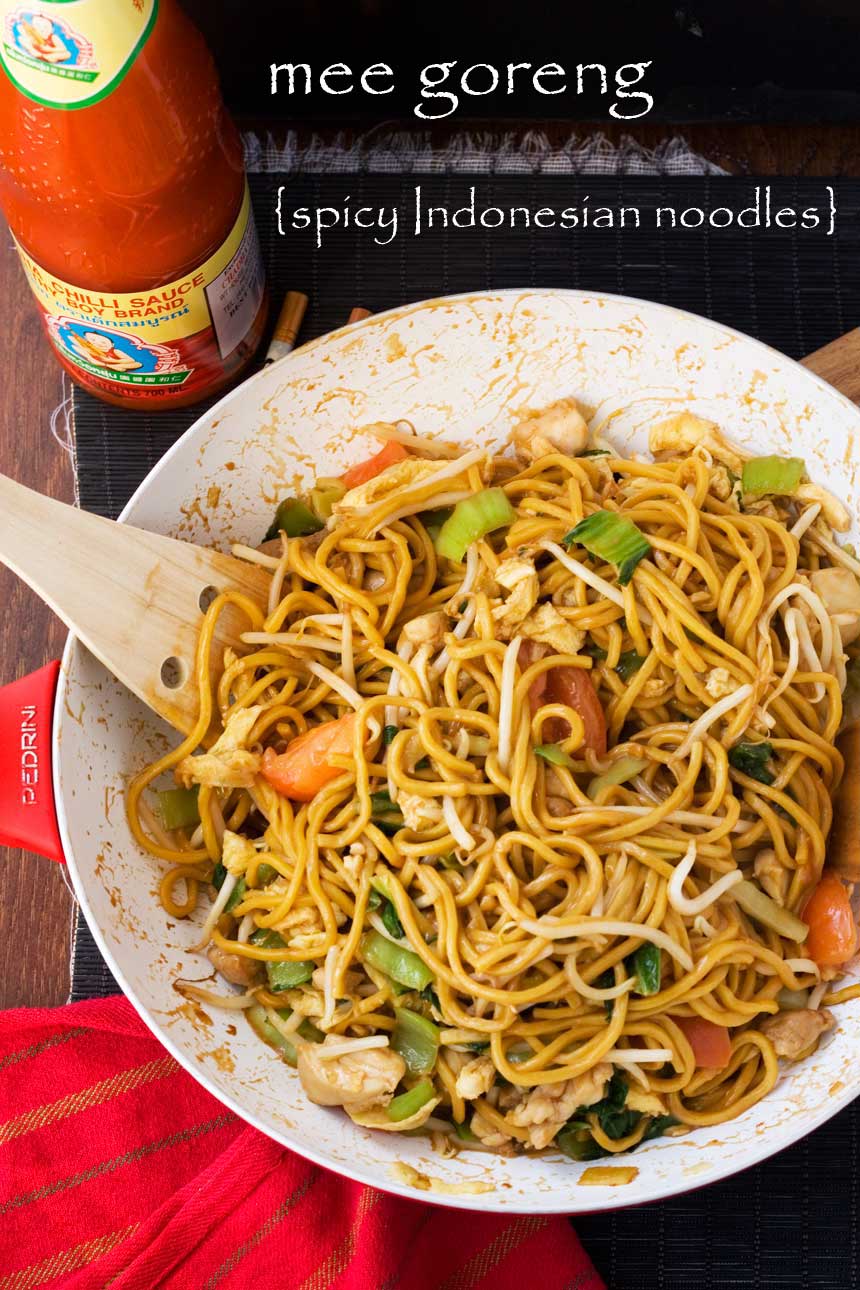 You see, over time I've developed this recipe to include all the best things from the different versions of the recipe I've seen. Some recipes, for instance, include tomato ketchup, of all things, so I added a bit of that to give the sauce some extra tang. Most include egg. Some also include fresh chopped tomatoes, as well … so in go tomatoes in my version, too! Lastly, I add a tablespoon of peanut butter. I'm not sure that's in a traditional mee goreng at all, but some people like to add it to theirs. And so do I!
And of course, this recipe is really only a guide! Use tofu instead of meat if you like or make it a shrimp mee goreng. If you want more spice, just throw in some more chili sauce
. If you want a stronger, saucier taste, just add a tad more of all the different sauces. If there aren't enough veggies in for you, throw in some more of those, too. The world's your noodle!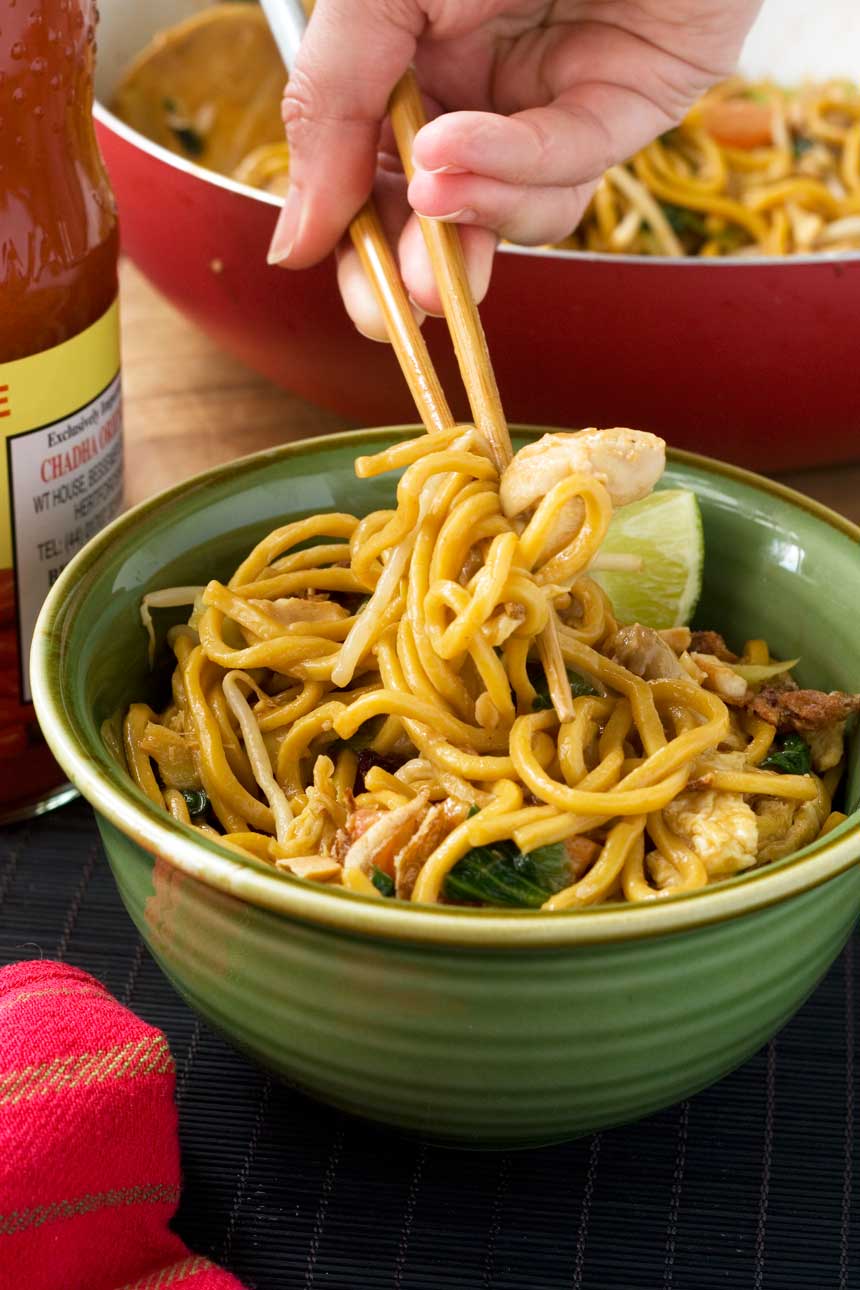 Personally, I think the noodles are just right. Neither too spicy nor too bland. Neither too saucy nor too dry. Full of 'bits' but with plenty of the comforting noodles, too. I also love the toppings … crushed peanuts (or cashews … why not?), dried fried shallots and lime juice. Oh, and I suggest adding more of the toppings as you eat. Just trust me on that!
One more tip. Maybe this is obvious, but I'll say it anyway. I find it's best to prepare everything first before you start cooking, as the dish takes hardly any time at all to cook. So slice your garlic, ginger and veggies, chop up your chicken and stir all the sauce ingredients together so that everything is ready to throw into your pan or wok when you're ready to eat!
Oh, and please don't be afraid of the uncharacteristically long (for here!) ingredients list. Most of the ingredients are for the sauce, which takes only a minute or so to whip together. You'll spend more time on your trip to the Asian supermarket and getting all the different jars and bottles out of your cupboard! But it's worth it, I promise!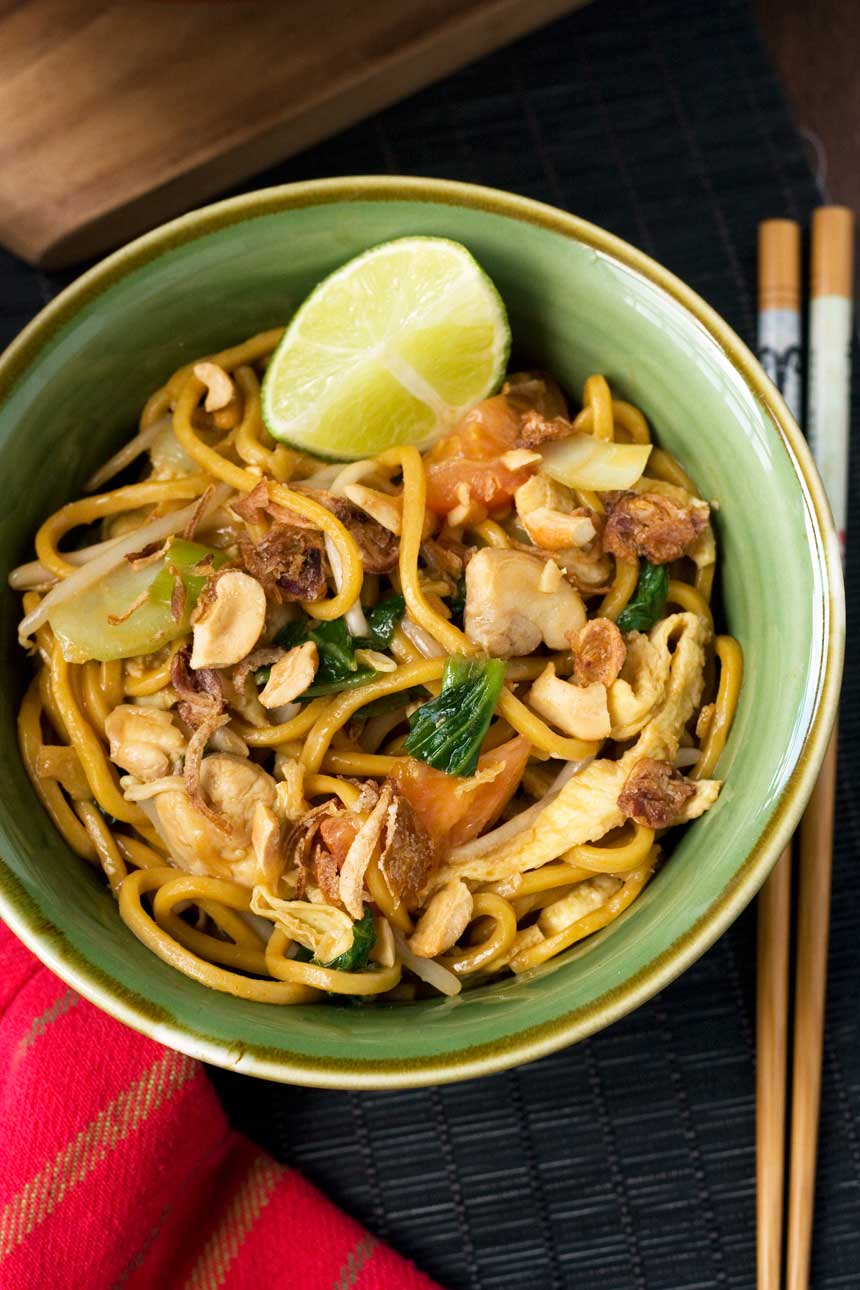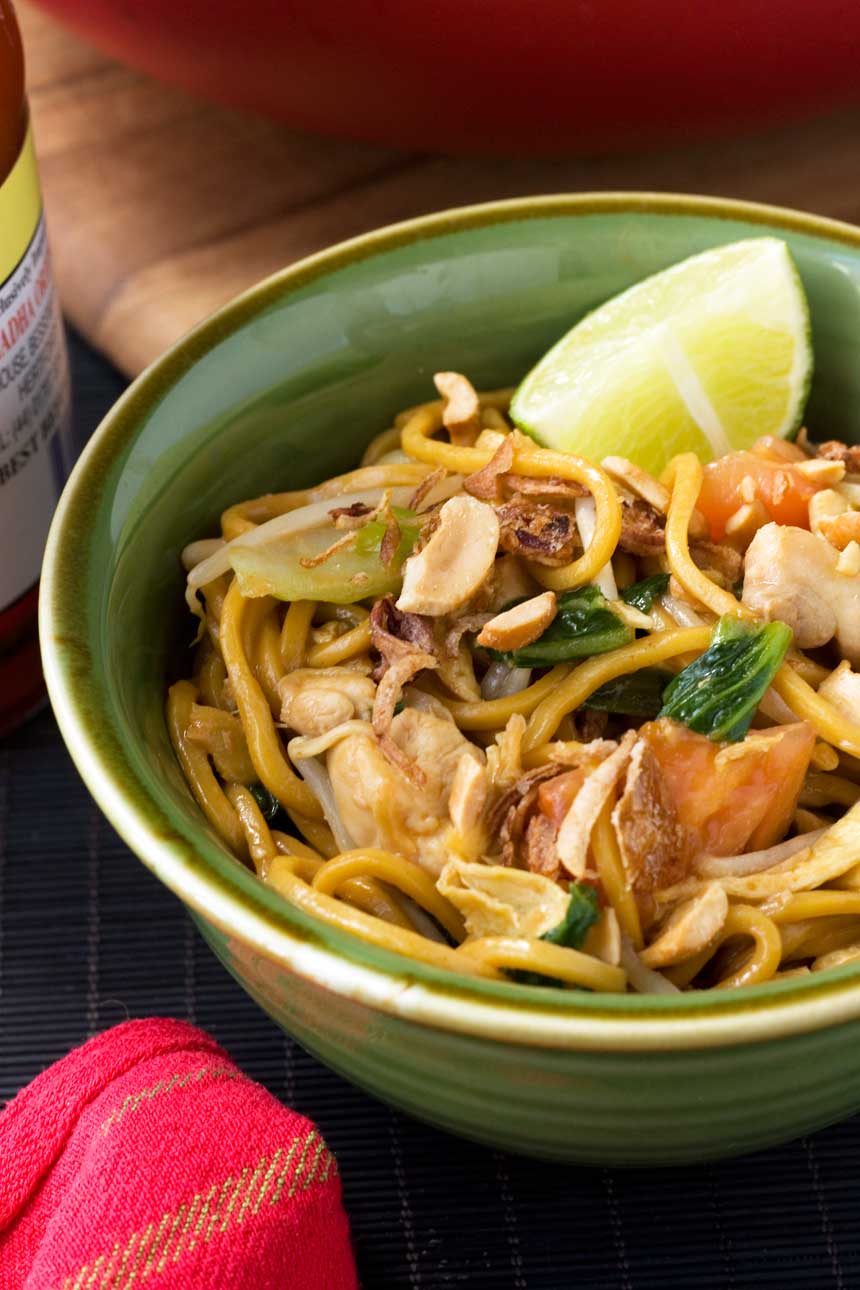 Mee goreng (spicy Indonesian noodles)
Don't you just love Asian street food noodles? These Indonesian spicy noodles (or mee goreng) are a great copy, and really easy to make for yourself at home!
Ingredients (UK/Australia? Click below for grams/ml)
for the sauce
1

tablespoon

peanut butter

1

tablespoon

thick sweet soy sauce

kecap manis

1

tablespoon

light soy sauce

3

teaspoons

chili sauce

I used sriracha, but any is fine

1

tablespoon

tomato ketchup

2

tablespoons

oyster sauce

3

tablespoons

water
for the noodles
sesame oil

2

eggs

2

garlic cloves

chopped finely or crushed

a thumb-width-sized piece of fresh ginger

peeled and chopped finely

7

ounces

chicken breast or thighs

chopped into smallish chunks

9

ounces

baby pak choi

chopped and washed

14

ounces

fresh egg noodles

2

large handfuls beansprouts

2

tomatoes

roughly diced
toppings
lime segments

crispy fried shallots* & crushed peanuts or cashews
Instructions
In a medium bowl or jug, blend the kecap manis (thick sweet soy sauce) and light soy sauce into the peanut butter, then whisk in all the other sauce ingredients. Set aside.

Heat up a large drizzle of sesame oil in a wok on a medium heat, then whisk one of the eggs and pour it into the wok. Roll the pan to spread the egg out a bit, like you would a pancake, and cook for a minute or so. Flip over for a few seconds, then transfer to a plate, roll up and cut into thin strips. Repeat with the second egg. Set the egg bits aside.

Add another drizzle of oil to the heated wok/pan, then add the garlic and ginger. Cook for a minute, then add the chicken. Stir fry for a couple more minutes or until just cooked through.

Add the pak choi to the pan, stir fry for another couple of minutes until wilted and then add the noodles. Pour in the sauce at this point and combine all the ingredients well.

At the last minute, add the beansprouts, tomatoes and eggs and combine well once again. Add a little extra drizzle of water if you think the dish needs it.

Serve the noodles immediately, topping with the lime, crispy shallots and crushed nuts. Enjoy!
Notes
You can buy crispy fried shallots easily from a good, well-stocked Asian supermarket. It's worth making the trip for these, though … they're yummy!
Nutrition
Calories:
1064
kcal
Carbohydrates:
158
g
Protein:
62
g
Fat:
20
g
Saturated Fat:
5
g
Cholesterol:
393
mg
Sodium:
2012
mg
Potassium:
1666
mg
Fiber:
10
g
Sugar:
12
g
Vitamin A:
7205
IU
Vitamin C:
77.6
mg
Calcium:
252
mg
Iron:
6.8
mg

You can also find more from Scrummy Lane on Facebook, Pinterest, Twitter and Instagram and follow me on Bloglovin! Thanks so much for reading!
*This post may contain affiliate links which means that if you click on a link and make a purchase I get a small percentage of the amount you spend. At no extra cost to you, of course! Thank you!*