Don't have space in the oven for your holiday dessert, or too hot to turn it on? Or maybe you don't have much time, you're baking with your kids, or you just want to keep things economical and use your oven less?
Whatever the reason you don't want to bake, I've got you covered with these 21 super easy and fast 5-minute no bake desserts. From a classy no bake chocolate cake to healthy ice cream and microwave cheesecake, all of these desserts are crazy easy to make with just a few simple ingredients.
There are classy holiday dessert ideas here, and also amazing gift ideas you can package for family and friends. Or perhaps it's just an 'emergency' sweet treat you need. You'll find something here for every occasion!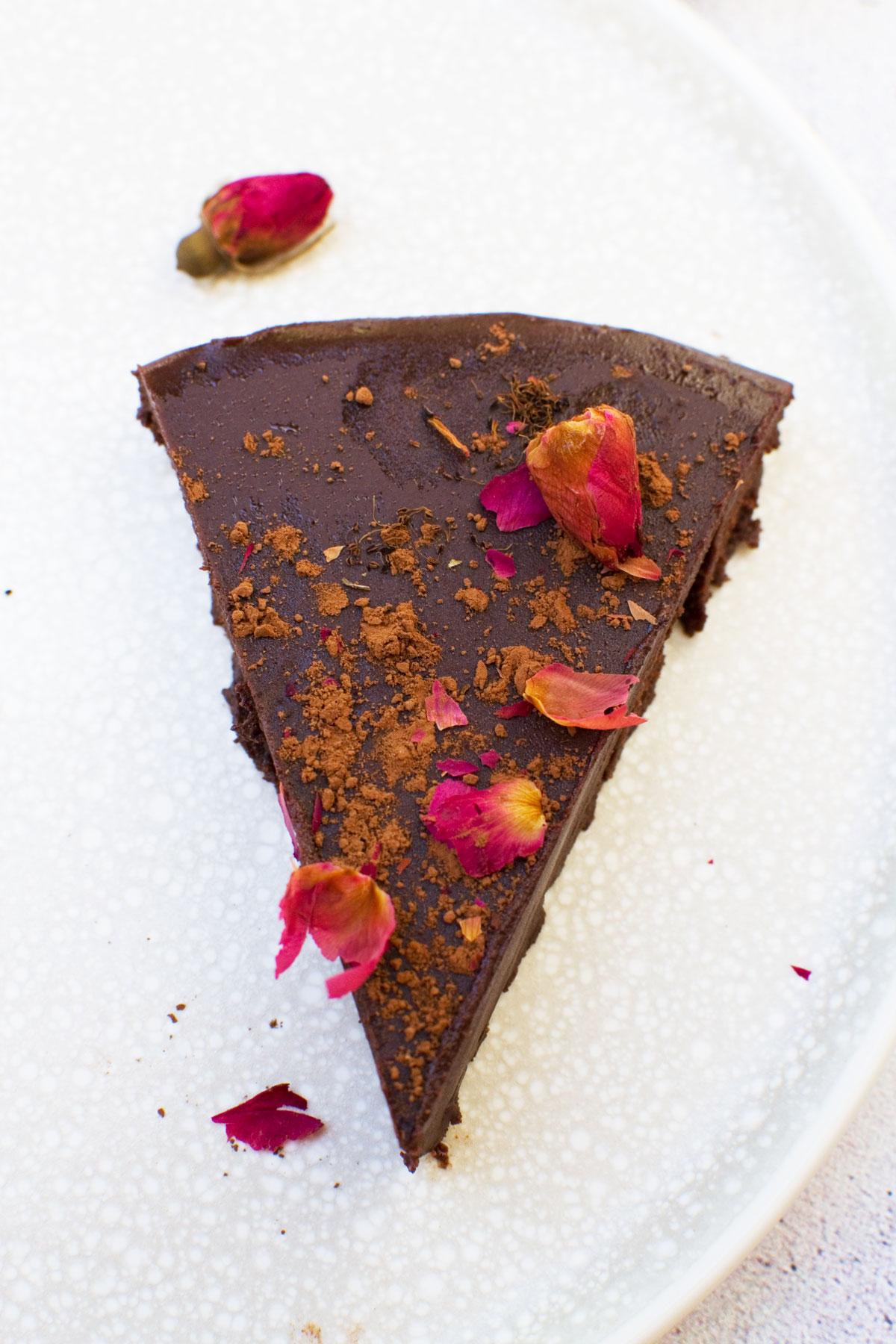 1. Chocolate truffle cake
My top recommendation is this show stopping no bake chocolate truffle cake. I'm 'cheating' a little by including this in my list, since it 'might' take you more like 10 minutes to make the first time.
After that, you'll be making this with your eyes closed!
This would be perfect for a special occasion when you want to impress, such as Christmas, Thanksgiving, Easter (when it's all about the chocolate!) or 4th July. No one will believe how quick and easy it was to make!
Rose water is an optional 4th ingredient, but don't skip the pretty dried roses on the top!
2. Peanut butter mug cake
Need an 'emergency' treat, and prefer it to be on the healthier side? All you need to make this single-serve peanut butter mug cake is around 2 minutes, a few simple pantry ingredients, and your microwave.
Got vegan or gluten free guests coming over for dinner? There are no rules against making a few of these for dessert. If you do this, I suggest also popping a scoop of this 5-minute chocolate banana nice cream on top!
3. Chocolate pots
This is one of my favorite make ahead 5 minute dessert recipes. You have to plan ahead so they have plenty of time to set properly, but you'll only need a few minutes of actual prep time.
The best part? It's a 3-ingredient dessert! You only need chocolate, boiling water, and heavy cream to make them. Add vanilla or another flavor if you like, or just keep the flavor simple.
These rich and smooth desserts are so easy, but they impress every time!
4. White chocolate pots
These white chocolate pots de crème are decadent and rich. Having this recipe up your sleeve is absolute GOLD when you have guests coming over – they'll never guess how little time you spent making this luxurious dessert.
5. Thick Italian hot chocolate
This delicious European style thick hot chocolate makes a delicious dessert with a difference! Serve this instead of a baked dessert and I don't think you'll hear any complaints.
Dunk donuts, churros or shortbread into it – or just eat with a spoon! It could also make a fine chocolate sauce for cake or ice cream. The possibilities are endless with this quick and easy dessert!
6. Chocolate and Banana Ice Cream
This is the perfect fast dessert recipe for hot summer days! Or to serve on top of a peanut butter mug cake or banana bread waffles. Or why not just serve in ice cream cones? The kids (and grown ups!) will love you for it.
You can easily make other healthy ice cream flavours by adding different fruits and mix-ins, such as berries, biscuits/cookies and nuts.
Bonus: this is one of the healthiest options on this list!
7. Chocolate Mousse
This easy vegan chocolate mousse from Pastry Wishes takes exactly 3 minutes to whip up. Another great make ahead and 'classy' option for a dinner party or special occasion, especially if you have vegan or dairy free guests.
8. Greek Yogurt Panna Cotta
Just like the delicious chocolate pots, this easy and elegant make-ahead dessert contains only 3 ingredients. It's perfect for serving up for guests over Christmas, Thanksgiving or any special occasion.
No one will guess how little time you've spent preparing this!
9. Lemon Posset
This is such a simple, classic dessert but it looks quite impressive! You can make this and have it ready in the fridge in less time than you could run to the store to buy something ready made.
Just to mention, Lemon Posset takes minutes to prepare but you'll need to factor in a bit of extra time for it to set (and if you want to make the optional blueberry sauce and shortbread to go with it – highly recommended!).
Of course you can keep things even simpler and serve with store-bought shortbread and fresh fruit – why not?
10. Strawberry and Angel Cake Skewers
Take some juicy strawberries and pretty cubes of pink and white angel cake, thread onto skewers and serve with warm chocolate sauce.
Although these can be thrown together in minutes, the result is as mouth-wateringly tasty as something you'd spend hours on. Definitely don't forget the chocolate dipping sauce!
11. Chocolate Pretzels
The easiest food gift! These work really well as a party snack or lunch box treat, too. You just need pretzels and a bar of your favourite chocolate. Melt the chocolate and dip.
Keep them plain or decorate to your heart's content!
12. Chocolate Fruit and Nut Clusters (Chocolate Rocks!)
These simple almond and blueberry chocolate rocks are the perfect no-bake chocolate treat. They're ridiculously easy to make and are ideal to give as an edible gift.
How about adding flaked coconut, mini M&Ms or chopped chocolate, seeds like sunflower or pumpkin seeds, banana chips, chopped caramel sweets/candies? The possibilities are endless!
13. Chocolate-Dipped Oreos
This has to be one of the easiest baking ideas for kids. They're also perfect for chocolate gifts for friends or family. Everyone will love them – from the youngest to the oldest.
You can make these chocolate dipped Oreos in minutes… and make them look SO good! Why not add green and red M&Ms for a Christmassy vibe or mini chocolate eggs for Easter? With a bit of imagination, they work for ANY occasion!
14. Chocolate Bark
Chocolate bark makes a perfect last minute gift. Just package it in a simple see-through gift bag, and tie at the top with a ribbon.
Topping ideas can include dried fruits, sprinkles, cookie pieces, your favorite candy, or even edible flowers for a classy look.
15. Peanut Butter Fudge
Another perfect recipe from Pastry Wishes that makes a perfect easy food gift (only 4 simple ingredients!). Could also be delicious served as a simple dessert with coffee.
16. Banana Bread Waffles
These healthy waffles are SO good for breakfast/brunch but also work well as a quick dessert that everyone will love.
Top with fruit, yogurt, nuts, maple syrup or honey for breakfast or serve with ice cream and a drizzle of chocolate sauce for a yummy dessert without the guilt.
17. Chocolate Dipped Fruit
We all know that sometimes it's the simple things in life that are the best.
Serve your guests with a selection of fresh fruit half dipped in chocolate. Fresh strawberries, raspberries, cherries, kiwi or mandarin segments work particularly well.
Try this once and don't be surprised if this easy and healthier dessert idea soon becomes a family favorite.
18. Peanut Butter Stuffed Dates
For an emergency treat when you're in need of something sweet, how about peanut butter stuffed dates?
Dates may not sound like a very exciting dessert, but trust me, they taste just like a delicious sweet caramel.
Any dates will work, but large Medjool dates are a great choice. Slice them open at the top and pull out the stone. Then simply stuff with peanut butter and a small piece of dark chocolate or a few chocolate chips.
19. Banana Mug Cake for Two
When you need a little treat (and you need it now) there's nothing that hits the spot better than a mug cake. This one has a white chocolate surprise inside. Especially delicious topped with a scoop of banana and chocolate nice cream, or just regular ice cream you have in the freezer.
This one also happens to be gluten free.
20. 5-Minute Microwave Cheesecake
Did you know that you can make a creamy cheesecake in the microwave in just 5 minutes? With this easy recipe from The Cooking Foodie you can make mini versions of this crowd-pleasing dessert with just a few ingredients, and of course without turning on your oven!
21. Salted Caramel Smoothie
This delicious salted caramel smoothie from Pastry Wishes takes only 5 minutes to whip up and needs just 3 ingredients. You can use Voula's homemade sauce or grab store bought if you're short on time.
How about serving these up at a BBQ or summer party?
Which one is for you?
So which of these easy 5-minute no bake desserts will you choose? There are plenty of options for chocolate lovers, of course, but so many other ideas for every taste and occasion.
Whether you need a last-minute food gift, an easy dessert recipe to take along to a party, or you just have a sweet craving I hope I've got you covered with one of these delicious sweet treats!
Looking for easy and healthy sweet snacks, too? Check out this list of 50+ healthy sweet snack ideas to satisfy your sweet tooth!
More no bake desserts
The desserts below take a little longer than 5 minutes to make, but they are still super easy and made with just a few ingredients. And no turning on the oven for these, either!
IF YOU MAKE THIS RECIPE, LET ME KNOW HOW YOU GET ON BY LEAVING A COMMENT AND RATING BELOW… AND DON'T FORGET TO SIGN UP TO RECEIVE ALL MY NEW RECIPES BY EMAIL!