Caramel slice, Millionaire's shortbread, caramel shortcake… whatever you call it, it's a crowd pleaser with its crunchy biscuit base, buttery caramel filling and thick chocolate topping. You only need 20 minutes to make this no bake version with just 5 ingredients. Making the caramel layer is foolproof with no sticking or burning. Make some to pass around at your next picnic, party or BBQ!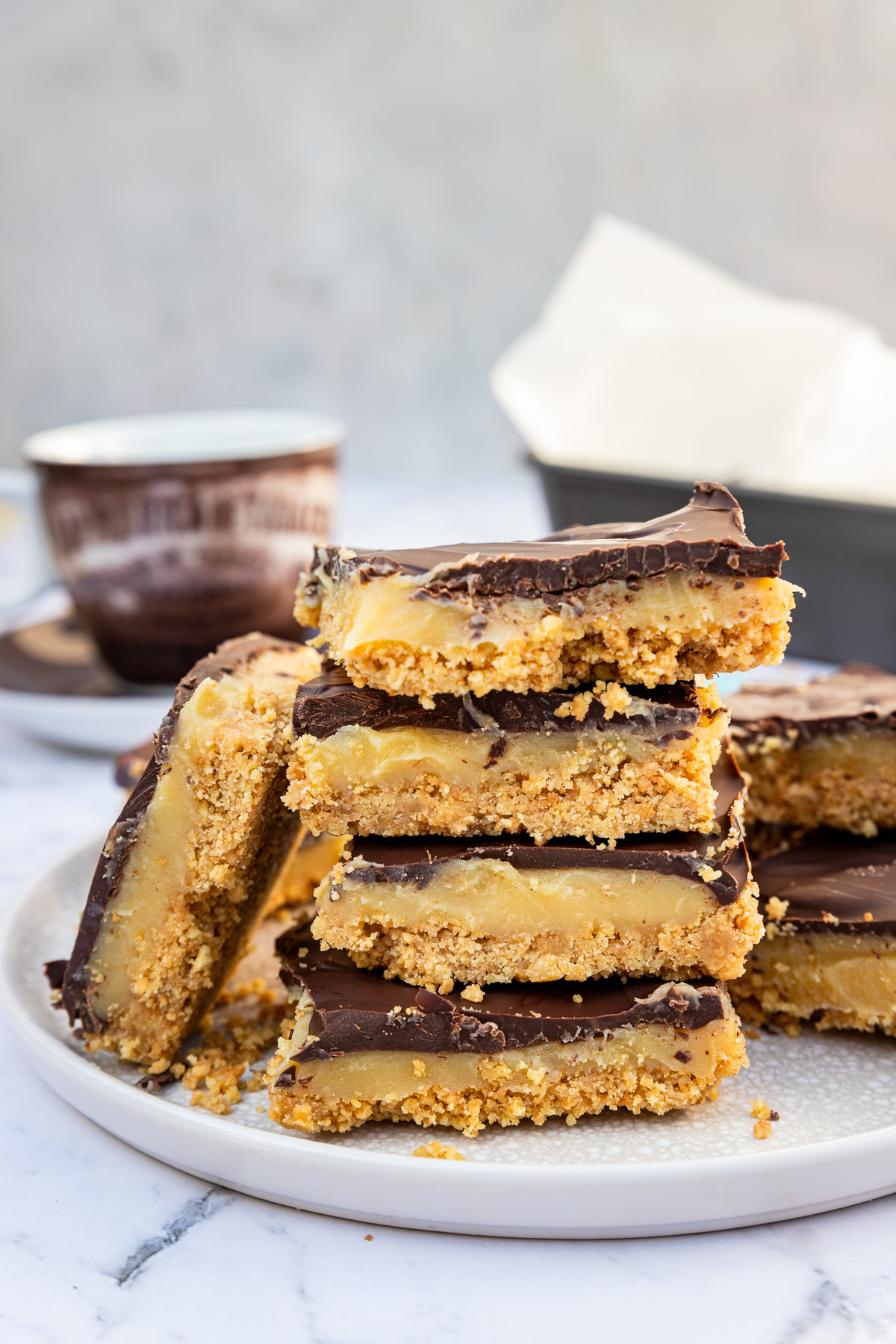 The best (easy) caramel slice recipe
Growing up, I sampled LOTS of versions of this delicious, decadent slice. So I know what a good one tastes like ;-).
The 'problem' is, with its 3 delicious sweet layers, it can be labour-intensive to make. That issue is solved with this very easy recipe for caramel slice.
More reasons you'll love it:
✓ It's the easiest way to make caramel slice! Throw it together at the last minute with a handful of ingredients you probably already have in your pantry. It's a great one for the kids to help with, too!
✓ It's a no bake slice! Instead of a homemade shortbread base that you have to bake, you use a crushed biscuit base instead. You don't have to bake the caramel either.
✓ The quick condensed milk caramel is foolproof. Just stir 3 simple ingredients together for 10 minutes and it's done. No stress, no fuss, and definitely no thermometer. Most importantly, no caramel that's too runny or burnt!
✓ There's just the right amount of the 3 delicious layers – crunchy base, gooey caramel and chocolate on top. You know when you take that first bite and wish there was more or less of something? You won't have that problem with this!
About the ingredients
Look how few ingredients you need!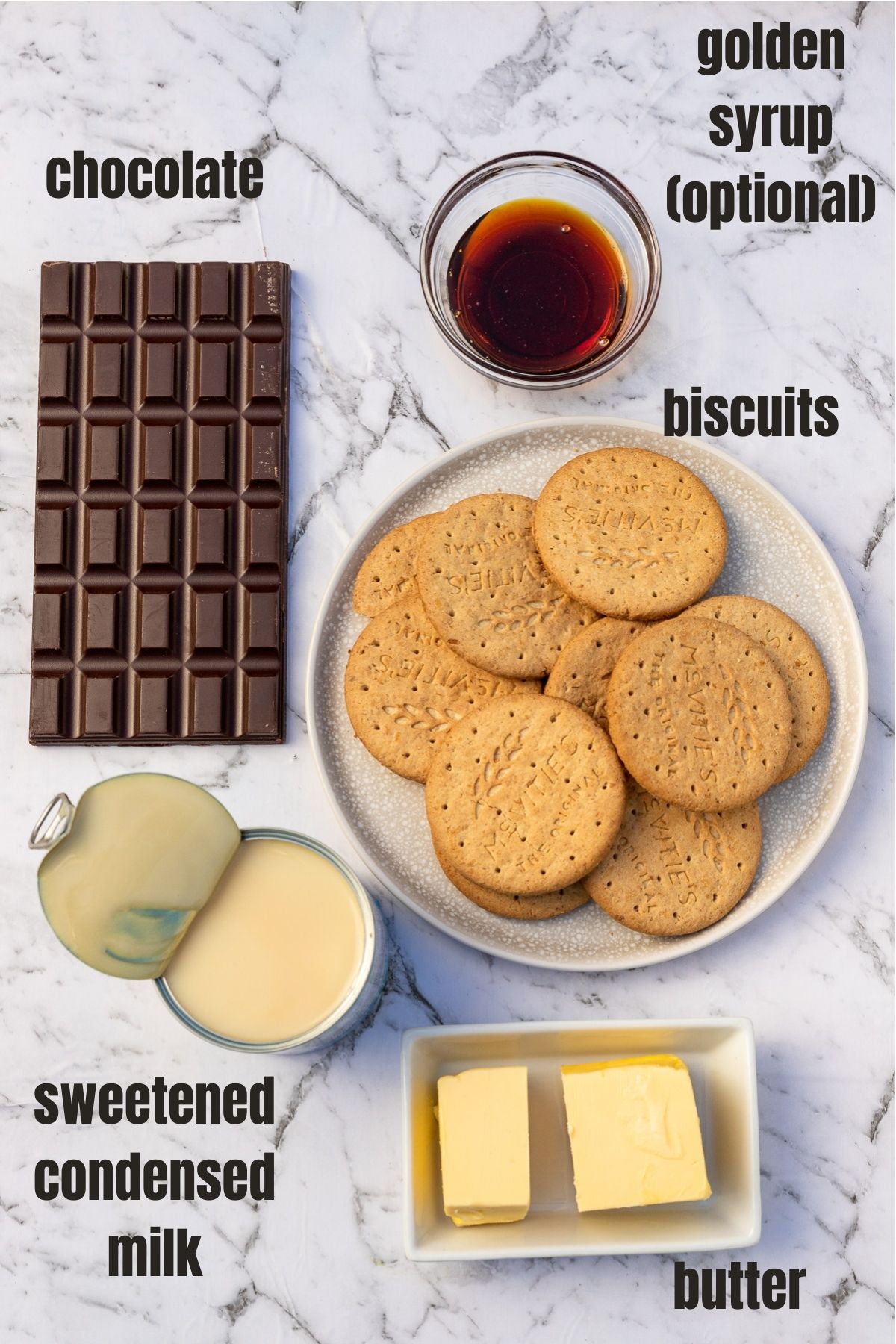 For the biscuit base
Biscuits: The great thing is that you can use almost any biscuits you like to make the base. Since I'm in Australia, I tend to use plain sweet biscuits like Marie, Arrowroot, Scotch Fingers or Digestives. You could even try Anzac biscuits! In the UK, I'd try Rich Tea, Shortcake, Nice, Digestives or even Hobnobs. Use gluten free biscuits for a gluten free caramel slice, or how about ginger biscuits or Lotus Biscoff for something completely different?
Butter: I use unsalted, then add a small amount of salt to the caramel layer. But feel free to use salted butter instead if you'd prefer it to taste like a salted caramel slice. Mmm!
For the caramel
Sweetened condensed milk: Grab a tin of Nestle, or just a supermarket's home brand. Either is fine. Just don't grab evaporated milk by mistake. It's not the same thing and won't work in this recipe.
Butter: I prefer unsalted again, but salted works too.
Golden syrup: This is actually an optional ingredient, since it can be difficult to find in some places. Just a couple of tablespoons does give the caramel an extra depth of flavour (that's hard to describe!), but you can easily replace it with another kind of syrup (corn, maple, honey, date). Or just skip it altogether!
+ a half teaspoon of salt!
Topping
Chocolate: I like to use a good quality dark chocolate for my caramel slice topping. You know, to balance out the intense sweetness just a tad. But of course you can use any chocolate – milk, white, caramel (Caramilk!), Mint, or any other kind you can think of.
Oil: This might surprise you, but (when I remember!) I mix around a tablespoon of oil into the chocolate after it's melted. Why? It'll stop it from setting quite as hard in the fridge. Then when you cut into it it won't crack. Vegetable or light olive oil is fine. Melted coconut oil works well too and pops a hint of coconut-y flavour into the chocolate.
How to make a no bake caramel slice
The step-by-step guide below should help you make the recipe perfectly first time. Scroll down to the end for the full recipe including ingredient amounts.
Step 1: To make the biscuit base for this cheat's caramel slice, crush biscuits until they look like fine breadcrumbs. The easiest way is in a food processor (it takes literally seconds!). Or you can stick to the old fashioned way – throw the biscuits into a food bag and whack them with a rolling pin!
Step 2: Drizzle in melted butter and mix together.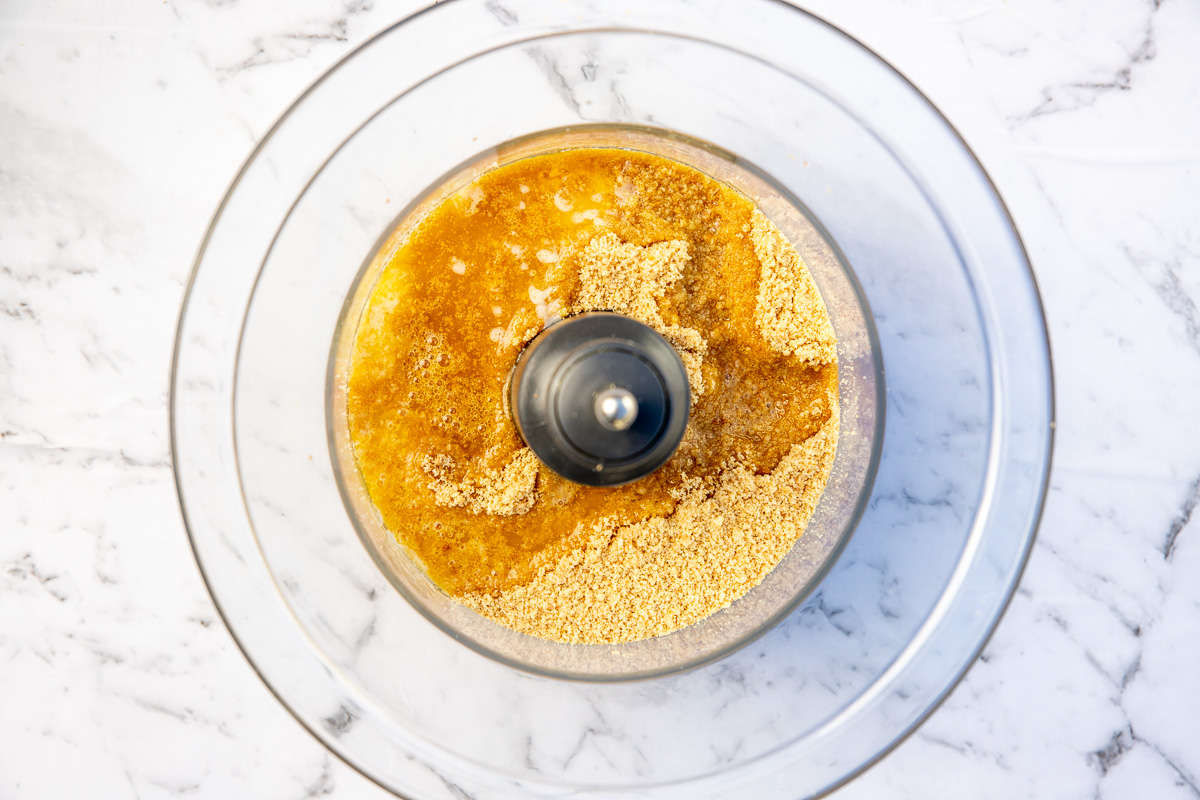 Step 3: Press the biscuit crumb base into a square baking tin. Make it nice and even with the back of a metal spoon. I usually line the tin with baking paper first.
Then put the tin in the freezer (or fridge if you don't have space) while you make the caramel.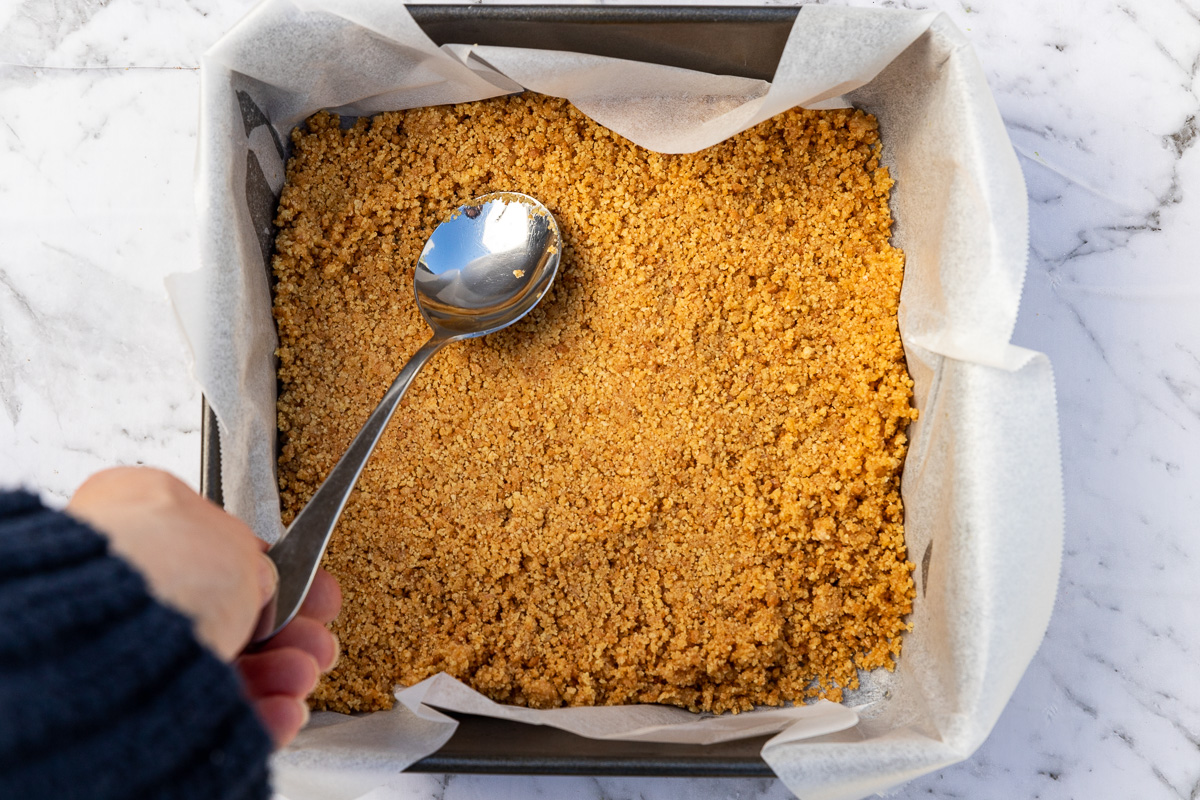 Step 4: To make the caramel layer, pour the condensed milk into a medium saucepan. Then add the butter, salt and golden syrup if using.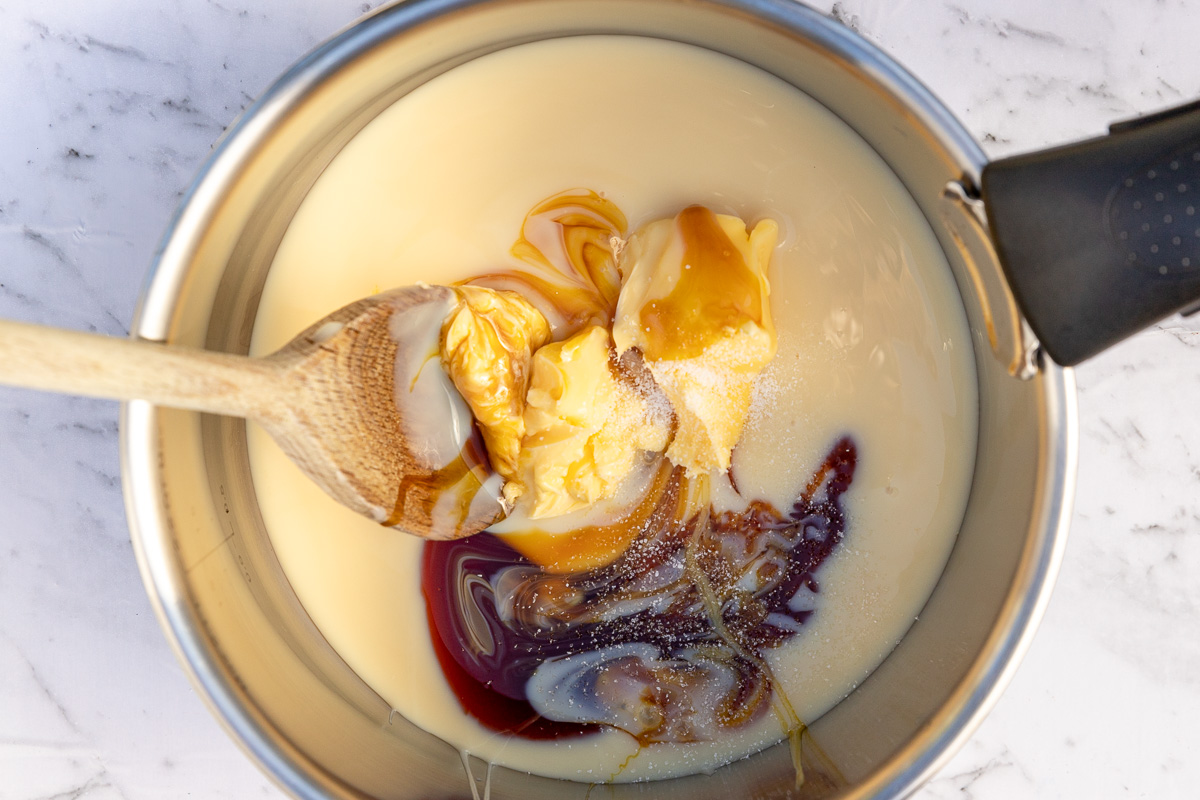 Step 5: Heat on a medium heat until everything has melted together. Then continue heating and stirring continuously for 10 minutes. The caramel will be slightly thickened at that point.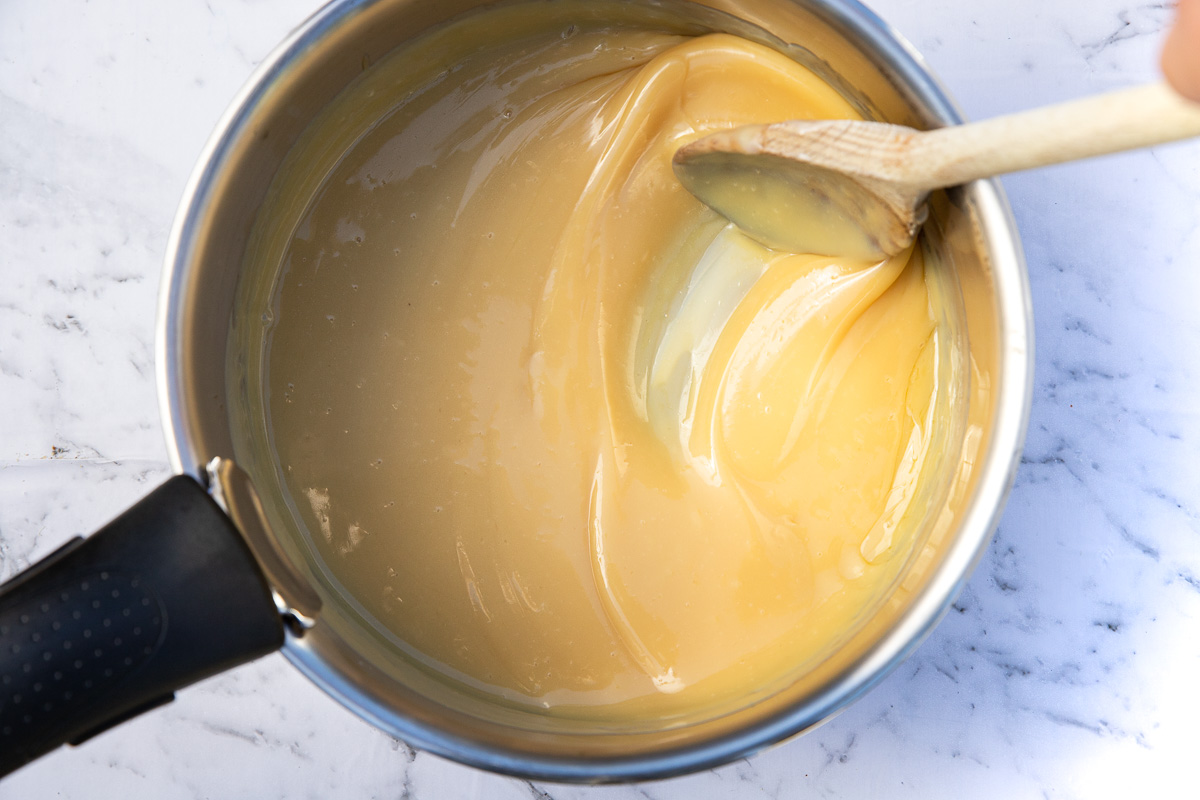 Step 6: Pour the caramel onto the biscuit base and smooth it out. Pop into the freezer or fridge just while you melt the chocolate for the top.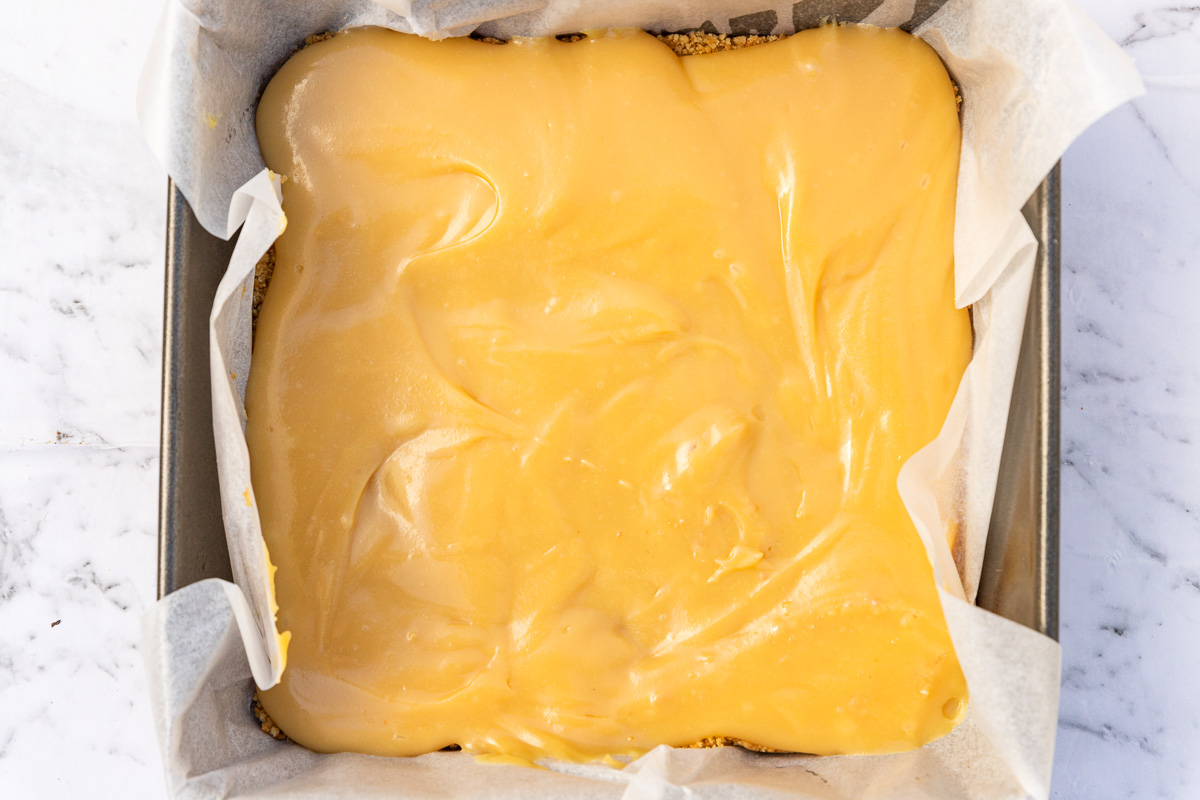 Step 7: Melt the chocolate in the microwave. I usually do this in 30-second bursts until it's almost completely melted (1.5 – 2 minutes). Then I stir well to finish melting. At this point you can add the drizzle of oil.
Step 8: Spread the chocolate evenly over the top of the caramel shortbread. Then cover and pop into the fridge until set.
Then cut into squares and enjoy! I usually go for 9 large squares or 16 smaller.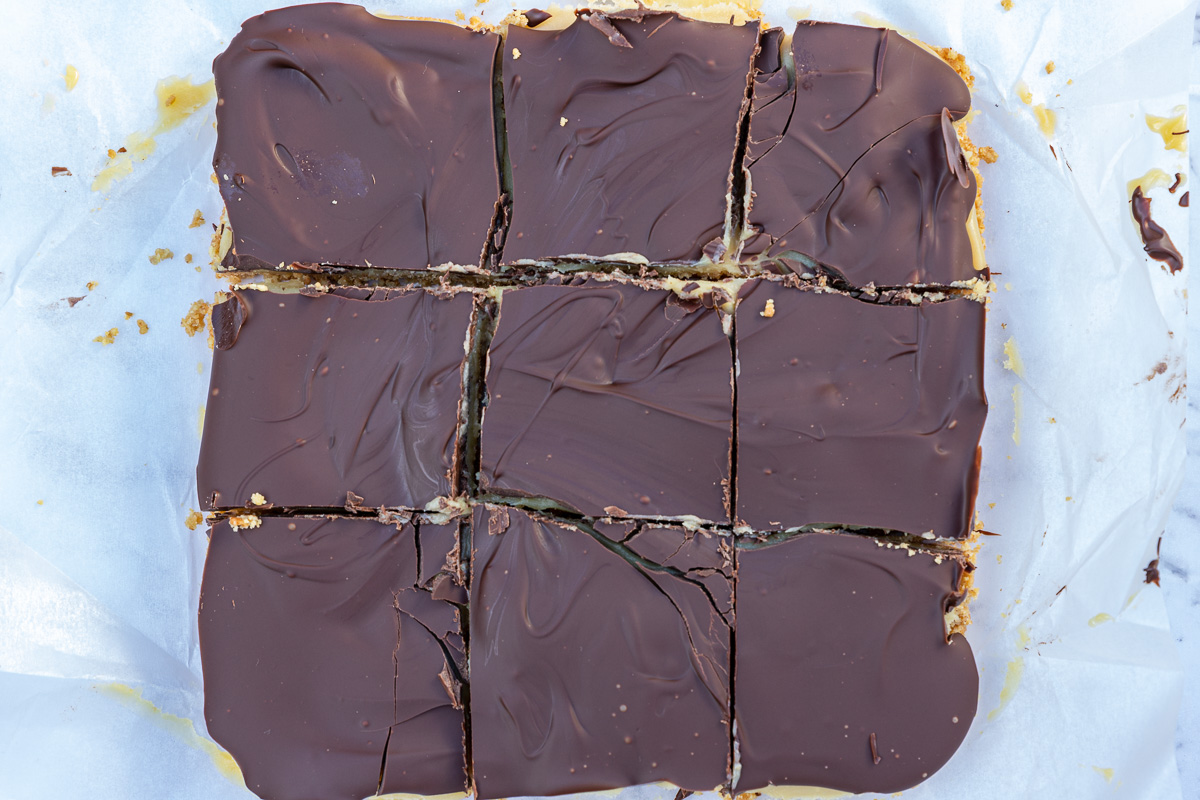 Helen's top tips
Set a timer for 10 minutes when you're making the caramel. Keep it on a medium heat and stir constantly so it never gets a chance to stick or burn.
It's pretty easy to know when the caramel is ready! It will thicken just a little and when you drag the wooden spoon along the bottom of the pan it will take a moment to run back.
As well as adding oil to it, there are a couple more tricks to stop the chocolate cracking. Let the slice 'rest' for 5 to 10 minutes after taking out of the fridge. Then warm a sharp knife under running water before cutting it into neat slices. Consider it your caramel slice 'insurance policy'!
Make your chocolate caramel squares your own! As well as experimenting with different types of biscuits and chocolate, you can add chopped nuts or coconut to the caramel layer or on top. My wild card suggestion? Add a couple of tablespoons of peanut butter to the caramel!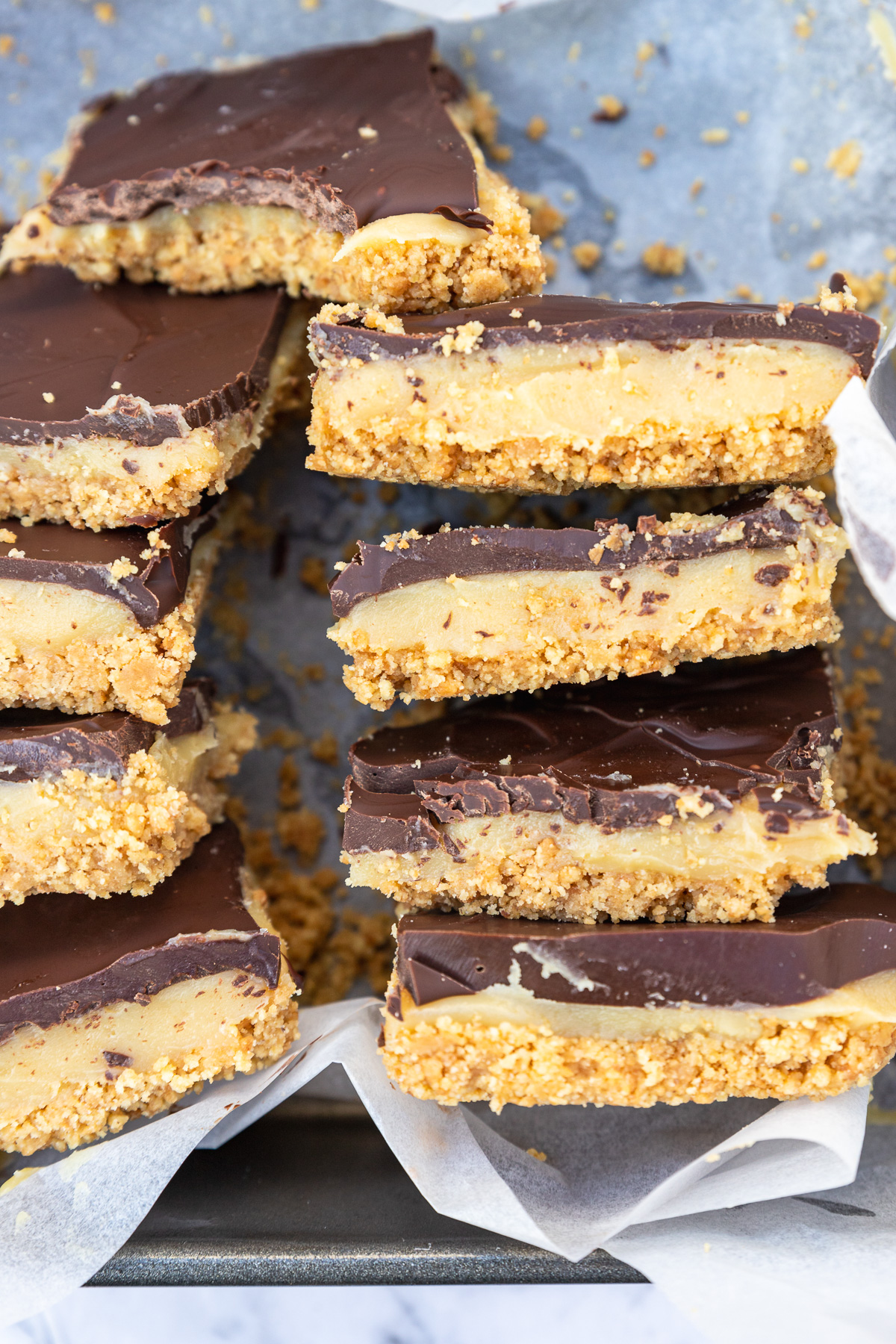 More things to know (recipe FAQ)
Why didn't my caramel slice set?
Make sure you stir the caramel until it thickens and darkens slightly in colour – around 10 minutes. Use full fat sweetened condensed milk (NOT light or skim) and don't grab evaporated milk by mistake (NOT the same). Lastly, let your slice set in the fridge for an hour before cutting.
How long does caramel slice last?
At least a week in an airtight container in the fridge (if it doesn't get gobbled up before!). I like the texture better straight from the fridge. In cooler temperatures it will also keep well for around 5 days in an airtight container on the counter or in the pantry.
Can you freeze caramel slice?
The caramel may become a little softer once you defrost it, but yes caramel shortbread freezes well! Freeze it wrapped well or in an airtight container for up to 3 months.
Can I use Nestle Top n Fill caramel (dulce de leche) to make caramel slice?
No, don't do this. The caramel won't set enough. It's so easy to make your own caramel with condensed milk for this no-bake caramel slice recipe, anyway.
More easy no bake slice recipes
Hedgehog slice (yep, named after a prickly animal!) is another delicious and easy slice with condensed milk. Everyone will love this one too!
Here's another yummy caramel chocolate slice! Make these classic 7 layer bars (magic bars!) with sweetened condensed milk and whatever odds and ends you have in your pantry.
IF YOU MAKE THIS RECIPE, LET ME KNOW HOW YOU GET ON BY LEAVING A COMMENT AND RATING BELOW… AND DON'T FORGET TO SIGN UP TO RECEIVE ALL MY NEW RECIPES BY EMAIL!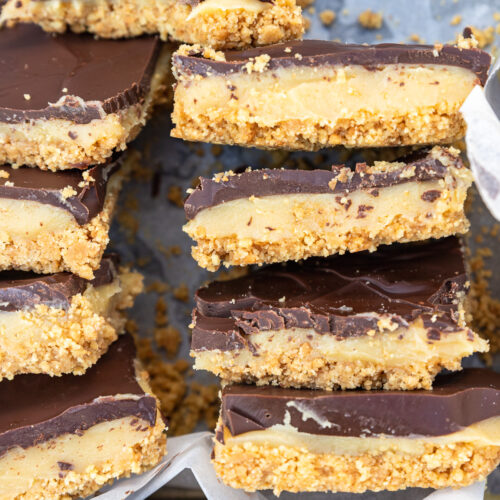 Super Easy Caramel Slice (No Bake)
This is a super easy no-bake recipe for the caramel slice everyone knows and loves. All you need is biscuits, butter, a can of sweetened condensed milk, chocolate, and golden syrup if you have it (yep, just 5 ingredients!). This is a foolproof recipe (with no sticking, burning or chocolate cracking) that you can throw together in around 20 minutes, and you don't need to turn on your oven. It's a perfect crowd pleasing chocolate treat for parties, picnics, BBQs or any other occasion.
Ingredients (UK/Australia? Click below for grams/ml)
For the biscuit base layer
150

grams

biscuits

Any plain sweet biscuits work (Ideas in Australia: Arrowroot, Marie, Scotch Fingers, Digestives; ideas in UK: Nice, Malted Milk, Rich Tea, Digestives; ideas in USA: Graham Crackers)

80

grams

unsalted butter
For the caramel layer
395

grams

sweetened condensed milk

A whole tin of full fat, NOT light or reduced fat

50

grams

unsalted butter

2

tablespoons

golden syrup

Substitute with corn syrup, maple syrup, honey, date syrup, rice bran syrup, or just skip this altogether.

½

teaspoon

salt
For the chocolate layer
200

grams

dark chocolate

good quality (you can substitute with milk chocolate, caramel chocolate, white chocolate or a mixture if you like)

1

tablespoon

oil

(vegetable, light olive or melted coconut oil) This is optional. It just stops the chocolate from cracking when you cut the slice into squares.
Instructions
Crush the biscuits until they look like fine breadcrumbs. You can do this in a food processor (it will take 10 to 20 seconds) or put the biscuits in a Ziploc style bag, seal it and hit it with a rolling pin on a hard surface.

Melt the butter in the microwave in a medium-sized microwave-safe bowl (try 30 seconds to start with, then another 30 seconds if not fully melted).

Add the biscuit crumbs to the melted butter and mix well with a spatula.

Empty the biscuits and butter mixture into the baking tin and smooth down and right into the corners with the back of a metal spoon. Put the pan in the freezer or fridge while you make the caramel.

To make the caramel layer, pour the whole tin of sweetened condensed milk into a medium saucepan (non-stick is best). Add the butter, golden syrup (if using) and salt.

395 grams sweetened condensed milk,

50 grams unsalted butter,

2 tablespoons golden syrup,

½ teaspoon salt

Heat on a medium heat, stirring until all the ingredients have melted together. Then continue heating and stirring continuously for 10 minutes until the caramel has darkened and thickened slightly (set a timer).

Take the caramel off the heat. Then pour it over the biscuit base. Smooth it out into an even layer. Pop it back into the freezer/fridge while you prepare the chocolate layer.

Break the chocolate up into a medium-sized microwave-safe bowl. Microwave for 1.5 to 2 minutes in 30-second bursts or until almost completely melted. Stir well until fully melted. Then add the tablespoon of oil and stir well again.

200 grams dark chocolate,

1 tablespoon oil

Pour the melted chocolate and oil mixture over the caramel layer. Smooth out, then cover and let set in the fridge for at least an hour (longer is better).

To serve, let your caramel slice warm up slightly for 5 to 10 minutes at room temperature. Then run a sharp knife under the hot water tap. Cut it into 16 small squares, or 9 larger squares if you prefer. Store in an airtight container in the fridge for up to a week.
Notes
What biscuits to use: Use any plain sweet biscuits such as Arrowroot or Rich tea for the base. You can even use Anzac biscuits or any kind of oat biscuits, ginger biscuits, Oreos, or even Biscoff Lotus biscuits for something a little different. Digestives/Graham crackers work well, too.
What chocolate to use: I like good quality dark chocolate to balance out the sweetness a little. But of course you can use any favourite chocolate including milk, caramel, white, milk with a little white swirled through it, mint, or anything else you can think of. Yum!
How to stop the chocolate cracking when you cut the slice into squares: Let it sit out of the fridge for 5 to 10 minutes. Then run a sharp knife under hot water before slicing. Also the little bit of oil you added to the chocolate will make the chocolate softer so that it's easier to slice without it cracking.
How to store: Store in the fridge for up to a week. You can keep it in an airtight container at room temperature in cooler temperatures, but the consistency of the caramel might be a bit softer.
Freezing instructions: Yes you CAN freeze caramel slice! Just wrap well in several layers or seal in an airtight container and freeze for up to 3 months. You might find that the caramel becomes a little softer after defrosting but it will still taste really good.
Nutrition
Calories:
277
kcal
Carbohydrates:
27
g
Protein:
3
g
Fat:
17
g
Saturated Fat:
9
g
Polyunsaturated Fat:
2
g
Monounsaturated Fat:
5
g
Trans Fat:
1
g
Cholesterol:
26
mg
Sodium:
141
mg
Potassium:
191
mg
Fiber:
1
g
Sugar:
21
g
Vitamin A:
282
IU
Vitamin C:
1
mg
Calcium:
82
mg
Iron:
2
mg