Last Updated on
If you want something fancy to take to a party that hardly takes any time at all, how about chocolate-dipped Oreos? I promise you anyone can make them in minutes. And make them look good!
OK, so it's confession time (again – I'm sure I have one of those at least every few posts).
I was going to call this post Easter Dipped Oreos, and if you're reading this before Easter then great – go ahead and pretend these yummy little cookies are uniquely for this special holiday time.
But in true 'me' form, I've run out of time this week. Truth is, I've got a pretty good excuse. I've come on a very impromptu trip to Australia, 10,000 km away from home. Fully intending to publish this post earlier in the week, instead I've been lingering over late breakfasts in the sun, catching up with relatives and friends, shopping for souvenirs, and generally being anything but productive.
As you do when you're given an unexpected chance to briefly escape winter!
But really, I only wanted to post these in time for Easter because I stuck some cute little golden chocolate eggs
on the top for decoration. You could stick anything you like on the top and say that they're for Easter, Christmas, St. Patrick's Day, a baby shower, a children's (or adult's – why not?) birthday party, or for anything you like.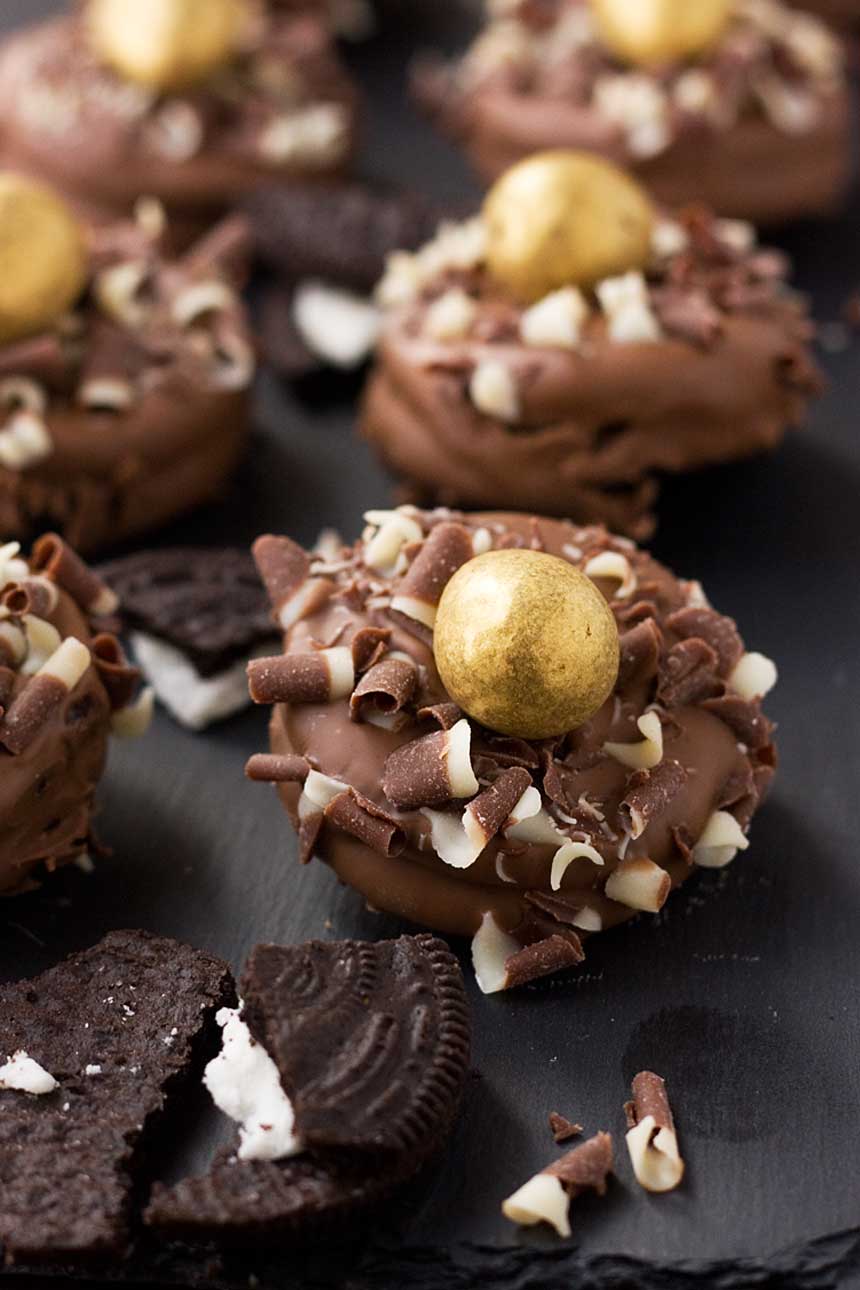 So what to decorate these with once you've dunked them in melted chocolate? I used little milk and white chocolate curls
and those golden eggs
, which I just picked up from the supermarket when I was looking for some decorating inspiration. Sprinkles of any description would work well too, of course, or you could pipe colourful chocolate patterns onto them if you're more artistically inclined than I am. Just go on a trip to the supermarket to see what they have, and let your imagination run wild!
For me the best thing about these chocolate-dipped Oreos is that anyone can make them, and make them look good. Children can help you to decorate them, but they won't look like children have decorated them, if you know what I mean (sorry kids, I know some of you are mighty talented and could make these look as good or better than any adult could!).
So just dip Oreos into melted chocolate, and decorate to your heart's content! Throw those sprinkles on there, top with whatever chocolaty (or otherwise) treat you can think of, and you've got a rather glamorous-looking and incredibly speedy plate of goodies to impress your friends and family with.
And here's a little video I made for you to show you exactly how it's done, just in case you were in any doubt! 😉
HAPPY EASTER! (aka the-one-where-you-don't-have-to feel guilty-about-eating-chocolate).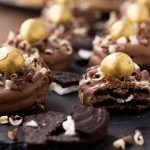 Print
Chocolate-dipped Oreos
Chocolate-dipped Oreos - I made these for Easter but they're so easy to customize for any occasion!
Ingredients (UK/Australia? Click button below for grams & ml)
7

ounces

chocolate

milk, dark, white, or a mixture

about 20 Oreos

in the UK there are about 12 or 13 in each package

decorations of your choice e.g. sprinkles

chocolate curls, mini eggs, Maltesers, crushed honeycomb
Instructions
Place a wire rack on a tray lined with baking paper (see video above!).

Break the chocolate up into a microwave-safe jug, and melt in the microwave in 30-second bursts.*

Dip the Oreos into the chocolate one by one, touching lightly on the side of the jug afterwards to allow any excess chocolate to drip off. Place them onto the wire rack, then immediately add your decorations.

Allow the chocolate to set, then store in an air-tight container.
Notes
*I usually put in the microwave for 3 x 30-second bursts. This melts most of the chocolate, and then you stir it vigorously until the rest melts (this is also a quick way to temper the chocolate).
If you don't have a microwave, just melt the chocolate on the stovetop in a smallish bowl over simmering hot water in a saucepan (make sure the bowl doesn't touch the water).
The chocolate on the underside of the cookies will probably stick to the wire rack a little as it dries. Don't worry about this - just lift them loose with a fork when the chocolate is nearly (but not quite) set. If you forget (like I did), it's no big deal - they'll still come loose pretty easily with a fork.
Nutrition
Calories:
50
kcal
|
Carbohydrates:
5
g
|
Fat:
3
g
|
Saturated Fat:
1
g
|
Sodium:
1
mg
|
Potassium:
28
mg
|
Sugar:
5
g
|
Calcium:
2
mg
|
Iron:
0.3
mg
Follow me on Pinterest!
Follow @scrummylane to pin more quick and easy recipes for later

Made one of my recipes? Take a pic and tag @scrummylane on Instagram so I can see it!
You can also find more from Scrummy Lane on Facebook, Pinterest, Twitter and Instagram and follow me on Bloglovin! Thanks so much for reading!
*This post may contain affiliate links* 🙂