Next time you're craving waffles, just throw bananas, oats and eggs into your blender, pour into your waffle maker (or frying pan!), and you'll have delicious and HEALTHY fluffy banana bread waffles on the table in just 10 minutes. Yes, really.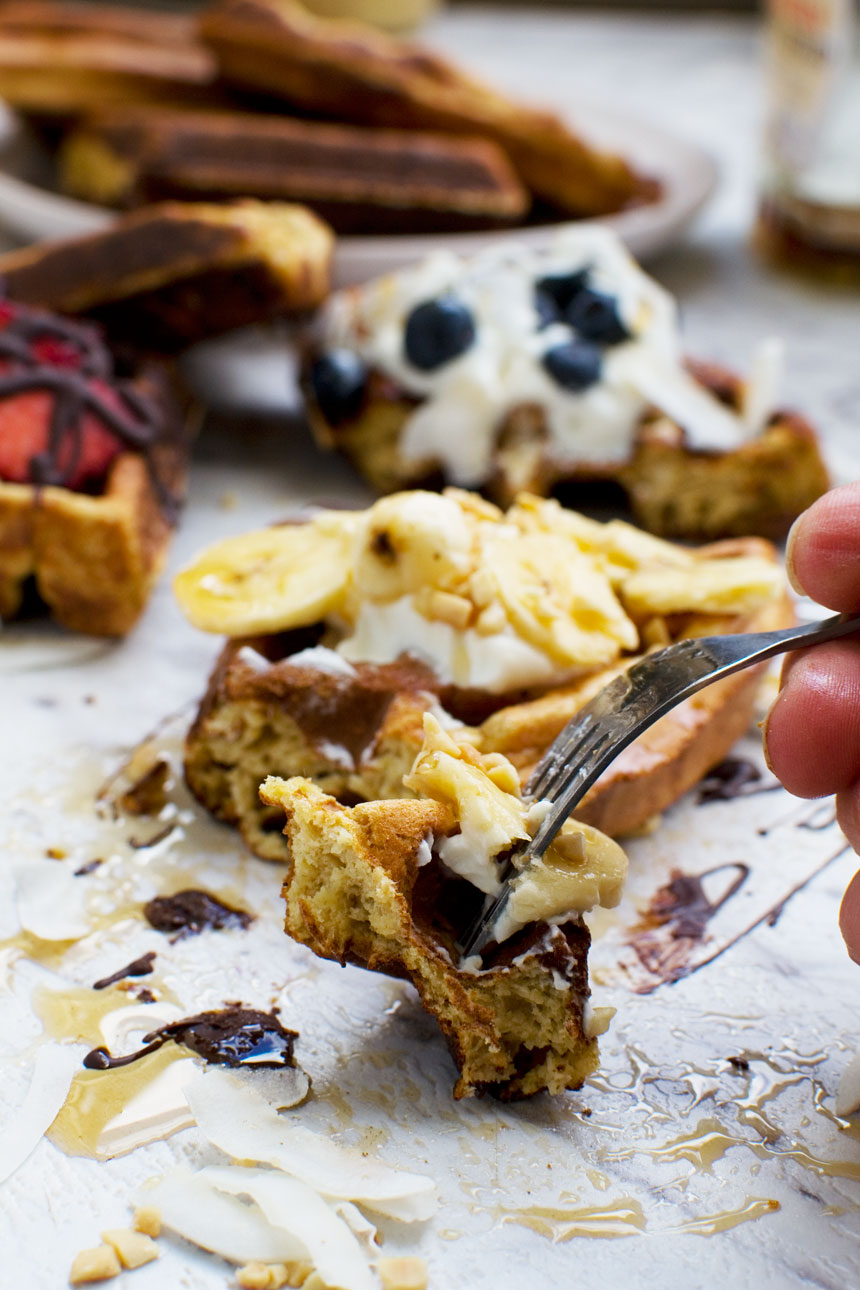 If you don't own a waffle maker, you should buy one just so that you can make THESE waffles.
I know this is a bold statement, but I mean it. Just like I have a bread maker just to make pizza dough. But unlike a bread maker, a waffle maker only takes up a tiny space in your kitchen cupboard!
I would even go as far as to say this is a life-changing waffle recipe. Said with my tongue slightly in my cheek, but I do (kind of) mean it!
So, explain yourself, Helen…
Why is this a life-changing recipe?
You need just THREE HEALTHY INGREDIENTS – bananas, oats, and eggs – to make these waffles. No more measuring out flour and milk!
The batter takes just a few minutes to blend in a high speed blender or food processor. Pour it into a waffle maker and you have delicious waffles in just 4 to 5 minutes.
So… they're healthy waffles, naturally sweetened with bananas. They're also refined sugar free and gluten free (if you use gluten free oats).
But… they don't really taste healthy. To me they taste like cake. In fact they remind me of banana bread. Cake for breakfast, anyone?
They freeze really well. Simply pop into the toaster on a low setting to reheat.
Pro-tip: Don't have a waffle maker? Don't want to buy one? Make pancakes instead! Just drop spoonfuls of the batter into a hot oiled pan for delicious banana bread style fluffy pancakes!
Ingredients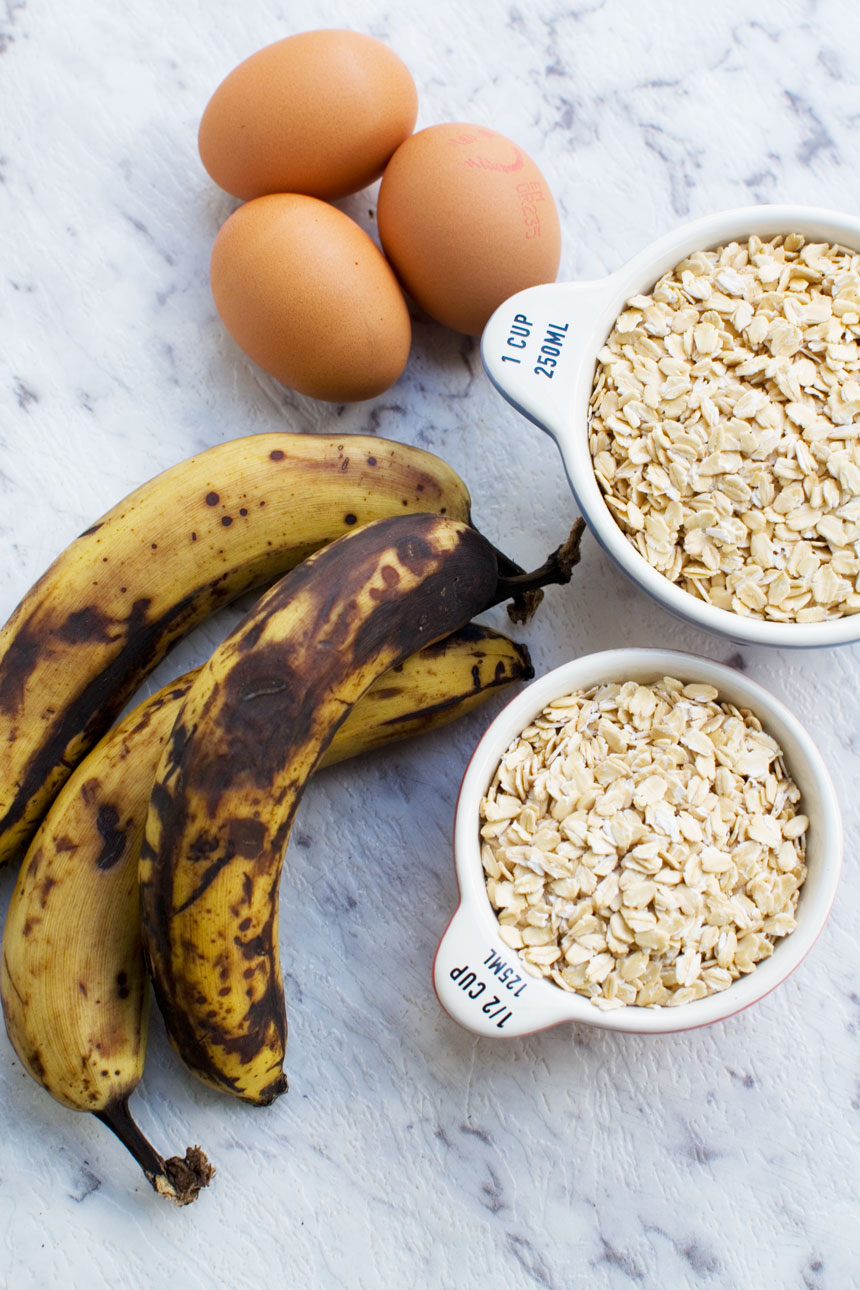 To make enough of these breakfast waffles for 2 generous portions, you will need:
1.5 cups of sliced bananas (2 to 3 bananas, depending on the size)
1.5 cups of oats
3 eggs
1 good teaspoon of baking powder
An easy way to remember this recipe is: 1 egg for every 1/2 cup of sliced bananas and 1/2 cup of oats. This way you can easily adapt the recipe for the number of people."
If you like you can skip the baking powder, which is how I get away with calling these 3 ingredient waffles! You will end up with waffles that are slightly fluffier if you add baking powder, although the taste is the same.
How to make them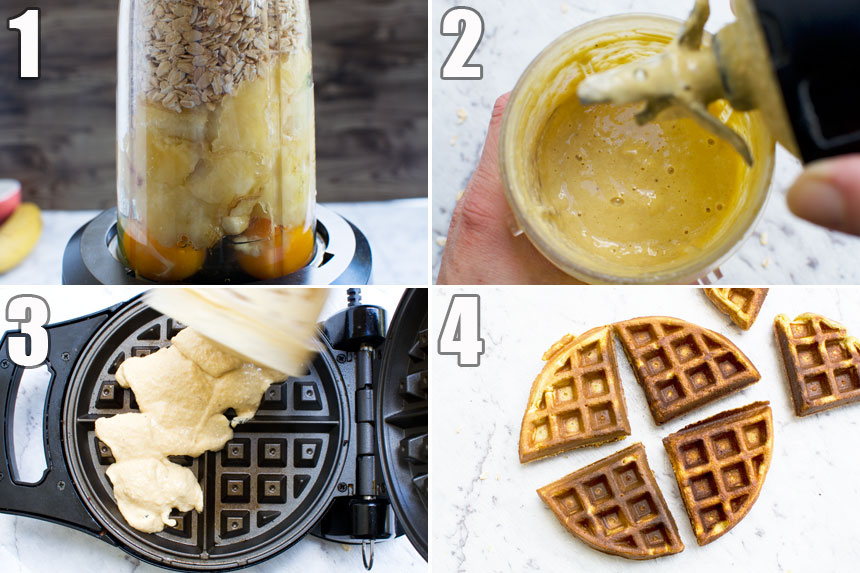 Change your waffle making life for ever with these 3 easy steps:
Step 1 (photo 1): Throw all of the ingredients into a high speed blender or food processor. It's better to add the oats last so they grind up first (but as you can see from the photo above, I forget this sometimes!)
Step 2 (Photo 2) Blend for just long enough until the oats are ground into a flour and the ingredients are blended into a batter (about 20 to 30 seconds).
Step 3 (Photos 3-4) Pour into the waffle maker and cook for 4 to 6 minutes. Check after 4 minutes. If the waffles come away from the waffle grills easily and…. well, they look like you expect waffles to look, they're done!
This recipe serves 2 (generously – you get a whole waffle with 4 little triangles each, if you have my type of waffle maker). Of course you can easily scale up or down for more people or if you're just making waffles for yourself.
If you're scaling up, you'll find the ingredients won't fit in your high speed blender. Either blend twice, or use a food processor instead.
What can I put on my waffles?
Very important question! I usually keep my waffle toppings pretty simple. Here are some of my favourite kinds of toppings:
More topping ideas:
A scoop of nice cream and a drizzle of melted dark chocolate
Almond butter, apples and honey
yogurt, granola and any kind of fruit you like
In fact my go-tos are really just different combinations of fruit, yogurt, nuts, and a sweetener like maple syrup or honey. So why not set up a kind of 'waffle buffet' on your breakfast table? Set out little bowls of goodies and let everyone choose their own toppings.
These are just ideas. Everyone has their own idea of what the best toppings for waffles are, so use your imagination and have fun!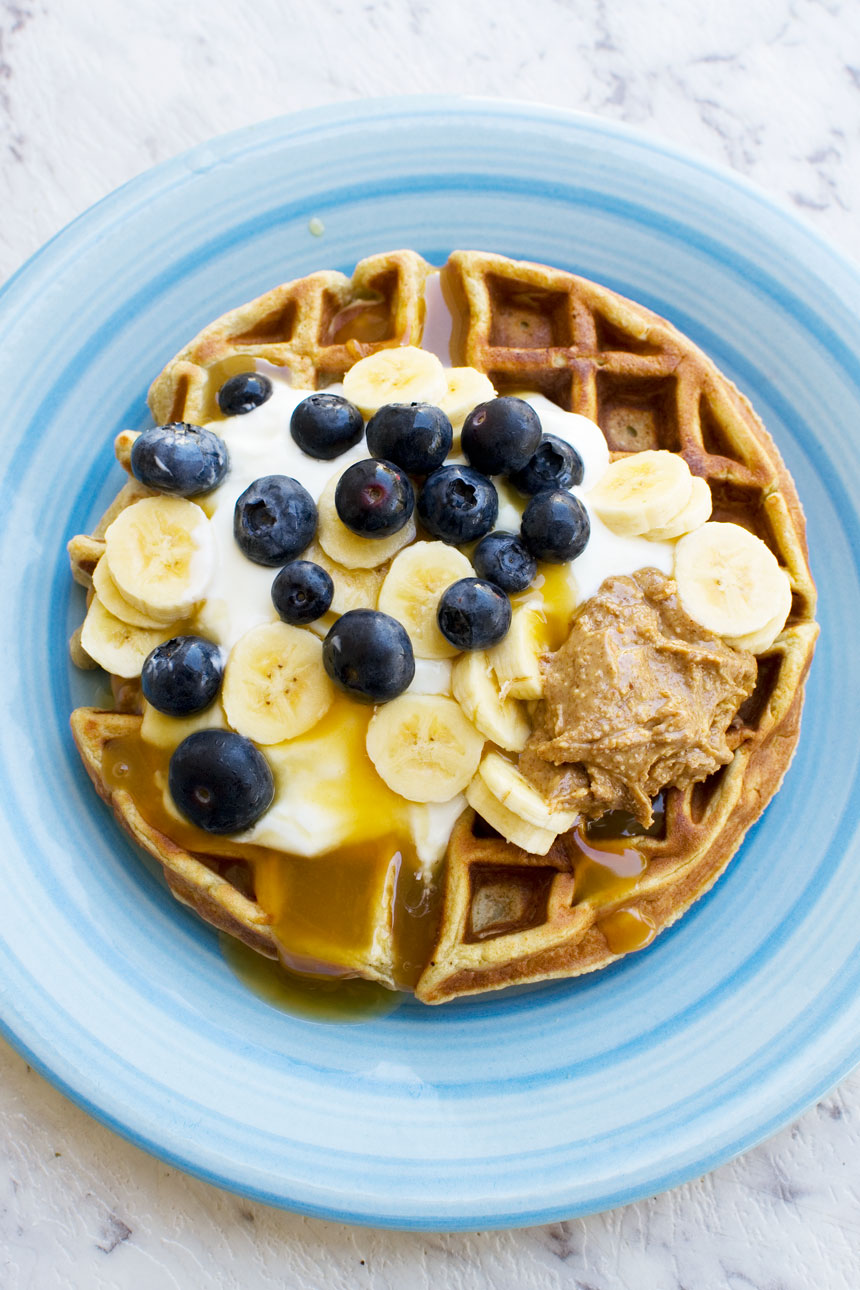 Can I make them ahead of time?
If you'd like to make these banana waffles for a crowd (either a mini crowd or a big one!), you can make them up to a couple of days ahead. Simply let them cool, then wrap them and store in the fridge.
When you want to reheat them, just toast them on a low setting. You can always toast them again if they aren't warmed through enough.
If you'd prefer to reheat them in the oven, heat for 5 to 10 minutes at 180C/350F.
And can I freeze them?
Yep! Wrap tightly (I like to wrap 2 or 3 of the little triangles together in mini portions) then freeze. You can toast from frozen to reheat. As mentioned above, I'd suggest toasting them on the lowest setting, then toasting them again until they are probably heated through. This way you won't burn them.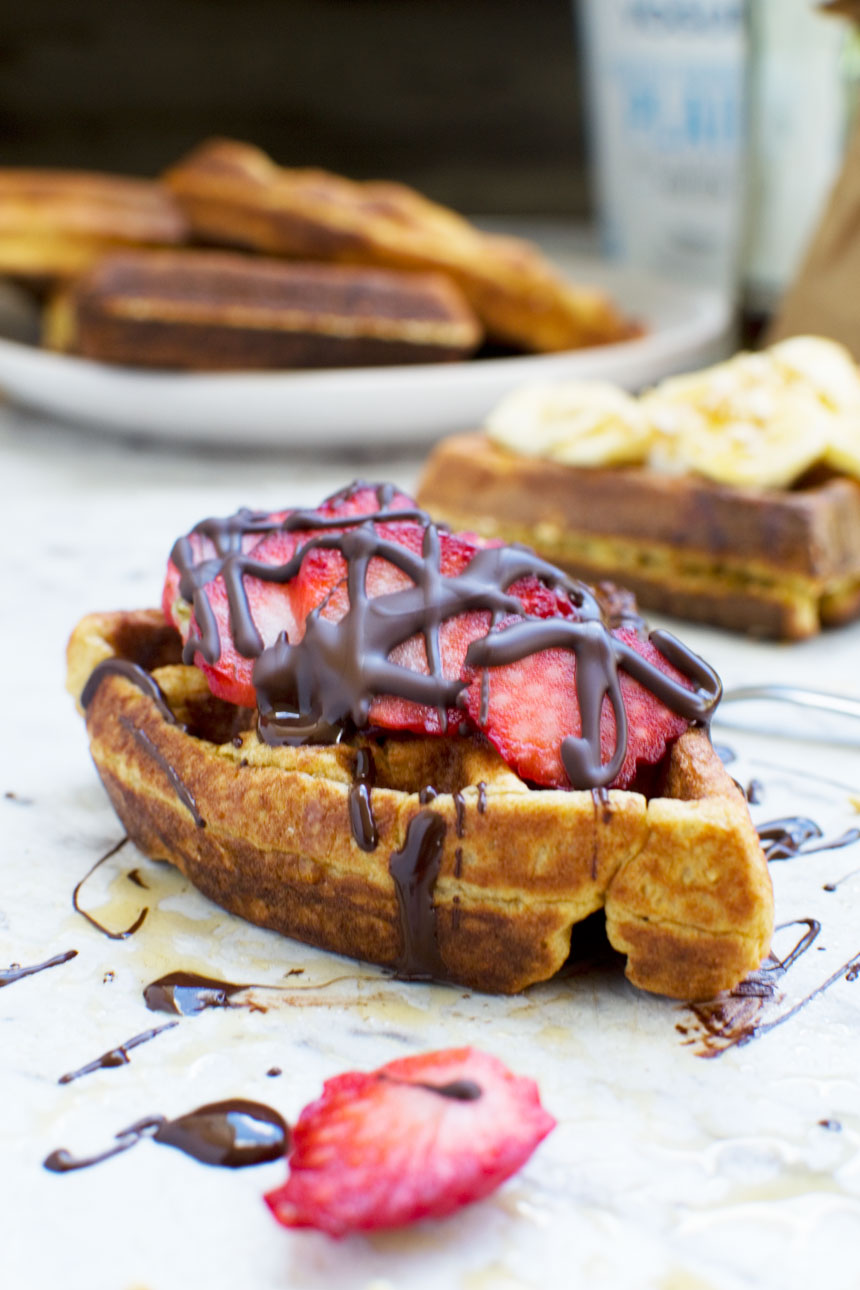 Equipment you'll need to make them (affiliate links)
A waffle maker, of course! Although you can honestly use any brand, I really like this Breville No-mess Waffle Maker. I can definitely get on board with the 'no mess' aspect! If you'd prefer something a little kinder on the budget, this Oster Belgian Waffle Maker is also a good choice.
A high speed blender. I use a Nutri Ninja

and have been happy with it – so great for morning smoothies!

Or a food processor. I love this Breville Sous Chef Peel and Dice (great for making these waffles, but also pretty amazing what else it can do).
Healthy smoothie deliveries!
If you like this recipe, maybe you're a smoothie fan as well?
You can get ready-to-blend organic smoothie packs delivered to your door from Smoothie Box , with $22 off your first order! (This is an affiliate link)
More ripe banana recipes
More 'life-changing' recipes from Scrummy Lane 😉
IF YOU MAKE THIS RECIPE, LET ME KNOW HOW YOU GET ON BY LEAVING A COMMENT AND RATING BELOW… AND DON'T FORGET TO SIGN UP TO RECEIVE ALL MY NEW RECIPES BY EMAIL!
FOLLOW ME ON FACEBOOK, INSTAGRAM, PINTEREST AND YOUTUBE.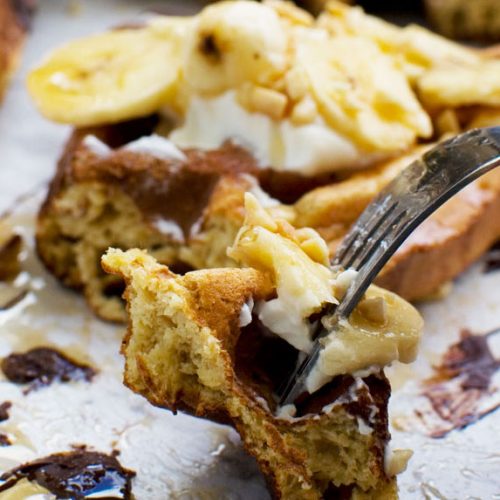 Life-changing banana bread breakfast waffles
So you think a waffle recipe couldn't possibly change your life? Think again! No messing around measuring flour and milk next time a waffle craving strikes. You need just bananas, oats, and eggs to make these delicious breakfast waffles. Banana bread for breakfast, anyone?
Ingredients (UK/Australia? Click below for grams/ml)
3

large

eggs

1½

cups

sliced bananas

2 to 3 bananas (depending on size)

1½

cups

rolled oats

1

teaspoon

baking powder

heaped
Instructions
Heat up your waffle maker.

Meanwhile, put all the waffle ingredients in a high speed blender or food processor (if using high speed blender put the oats in last).

Blend/Pulse until all the oats have blended in and you have a smooth pourable batter.

Spray the waffle plates lightly with oil, then pour half of the mixture evenly onto them.

Close the waffle maker and cook for 4 to 6 minutes until the waffles come away from the plates without sticking (I usually cook for 5 minutes). Keep warm in the oven on a low heat while you make the second waffle.

Serve immediately with toppings of your choice.
Notes
High speed blender or food processor?
I always use my high speed blender to make these yummy banana oatmeal waffles, because it makes clean-up much easier. If you choose to make your waffles this way too, you'll find the cup is quite full. I get around this by pushing the bananas down into the cup a little 😉
Bananas
Although ripe bananas tend to give these waffles a more banana-y flavour, I've also used less ripe bananas for this recipe. I got just as delicious results!
This recipe is a great way to use up your 'too ripe' bananas, however.
Oats
No need to grind up your oats into a flour first. Of course you can if you prefer (the oats do blend in slightly more quickly and easily this way). But I usually just throw all my ingredients into the blender together.
Baking powder
At a push, you can leave this out. Your waffles might not be quite as fluffy, but they will still taste really good.
Leftovers (we usually don't have any, but just in case)
You can wrap leftovers and pop them into the fridge or freezer. Simply reheat in the toaster ON A LOW SETTING. If the waffles aren't quite reheated enough, just pop them down again on the lowest setting (so they don't burn!).
Nutrition
Calories:
452
kcal
Carbohydrates:
67
g
Protein:
20
g
Fat:
12
g
Saturated Fat:
3
g
Cholesterol:
316
mg
Sodium:
126
mg
Potassium:
740
mg
Fiber:
9
g
Sugar:
15
g
Vitamin A:
531
IU
Vitamin C:
10
mg
Calcium:
85
mg
Iron:
4
mg