How do you 'bake' a cake without an oven? When you need an impressive dessert in a hurry, you'll be amazed how delicious this chocolate truffle cake is, not to mention beautiful! This no bake cake recipe is no fuss and ready in just 10 minutes.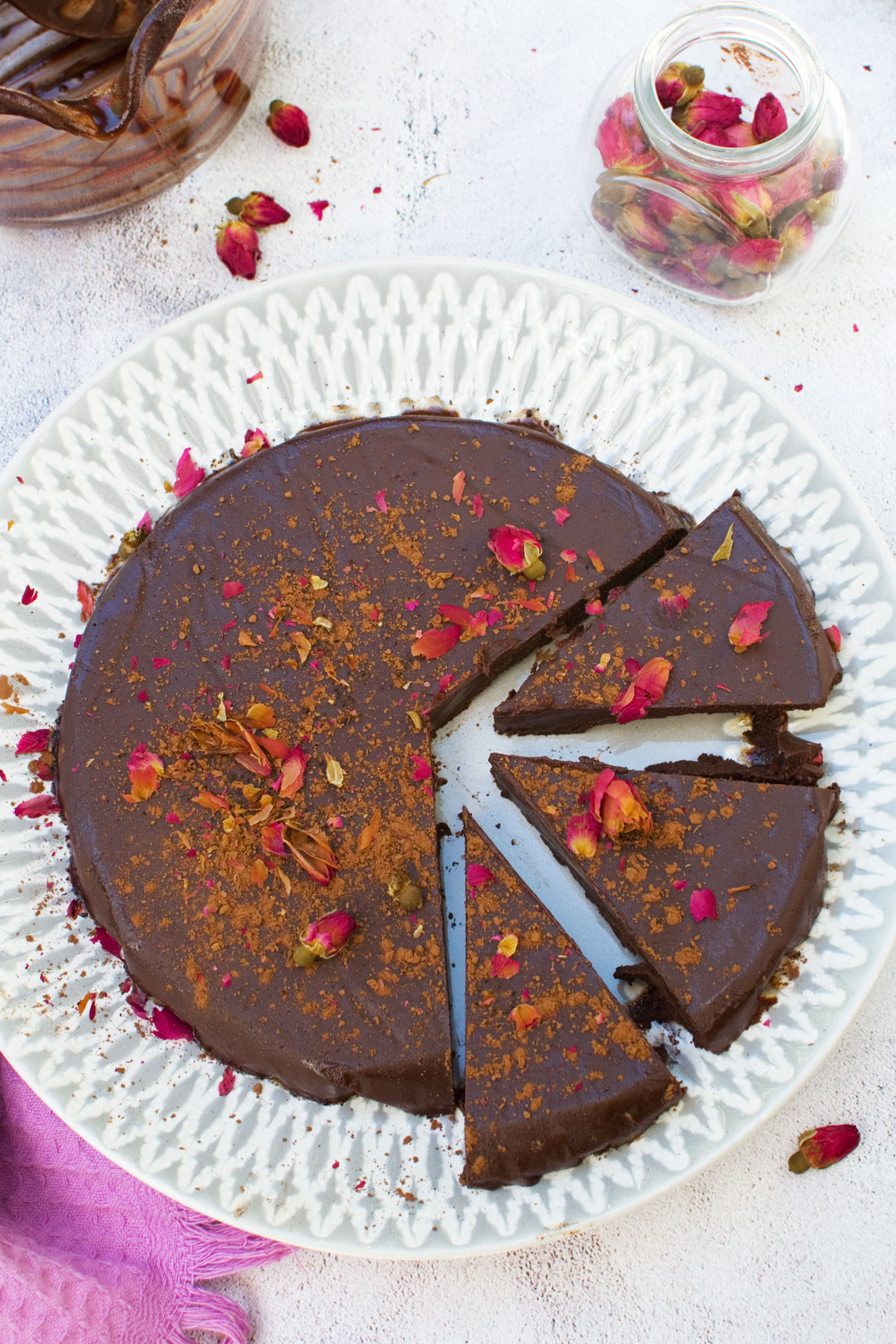 Quick, easy, no-bake, beautiful…
When it comes to easy chocolate desserts, I'm not shy about saying I'm a bit of an expert!
This 6-ingredient gooey Swedish chocolate cake is a legend that I make time and time again.
But how about a chocolate cake that you can make without even turning on the oven?
All you have to do is melt good quality chocolate, stir some heavy/double cream in and a little bit of butter. Add salt and a small amount of rosewater (just if you like). Pour into a smallish round cake pan and refrigerate.
If you like, scatter with something pretty. You won't believe what a beautiful 'no oven' cake you've made in just ten minutes (minus the setting time of course, but you can put your feet up while that's happening).
What's a chocolate truffle cake?
Usually a chocolate truffle cake is a cake that's covered or sandwiched with a truffle-y frosting or icing.
If you're looking for something more like this, you might like to try this 30-minute healthy chocolate cake that's got… hidden veggies! But I promise you won't believe it's a healthy cake.
This no bake version is a little different in that it's made of JUST chocolate truffle. Sounds too good to be true, right? This means it also happens to be a gluten free, egg free and nut free dessert.
All about the ingredients
It's a short list of ingredients! All you need is: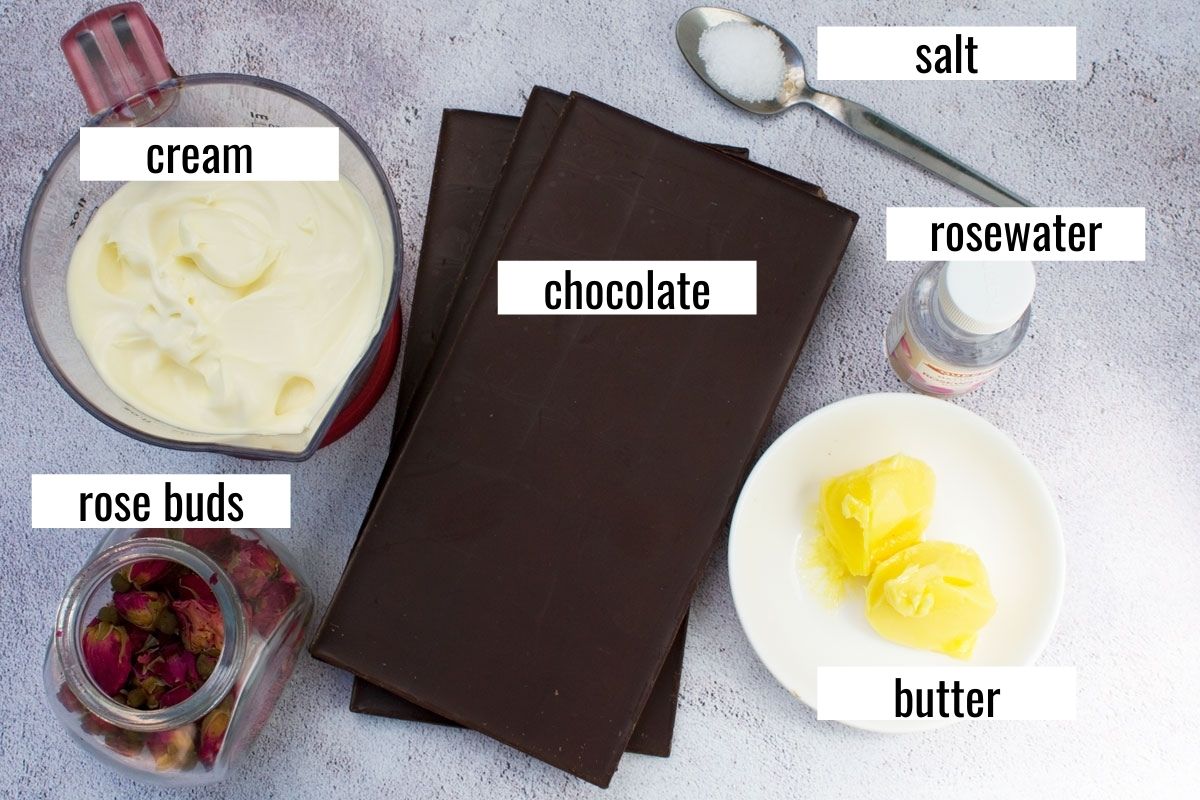 dark chocolate: I like to use 70% cocoa dark chocolate. I find this has just the right balance of quality chocolate taste to sweetness. You can actually use any kind of chocolate you like. Except white chocolate which would need a different ratio of chocolate to cream.
cream: I always use what's called 'dollop cream' here in Australia. But double cream (UK) or heavy cream works really well too.
butter: You could actually get away with not including any butter. BUT I find that adding just a tiny 2 tablespoons makes the truffle cake taste more luxurious – a bit like those melt-in-your-mouth Lindor truffles you can buy!
salt: Again, in theory you could skip this, but I think just a half teaspoon of salt makes all the difference. It somehow adds an extra layer of luxury to this otherwise quite humble chocolate dessert.
rosewater and rose petals: I like to add just a teaspoon of rosewater for a subtle, not overpowering, rose taste. I also love to sprinkle over some edible rose buds. These can be hard to find, but if you do manage to get some, you only need a small handful to make your incredibly easy chocolate tarte into a very beautiful one too.
So where can I buy rosewater and rose petals?
I found rosewater in the baking section in my local supermarket here in Australia, so do check your supermarket first. You're only going to use about a teaspoon.
I've seen the edible rose buds at farmer's markets and also at those shops where you buy everything loose from big bins!
Otherwise try Amazon for both the rosewater and the rose buds. You only need just a little of both of these.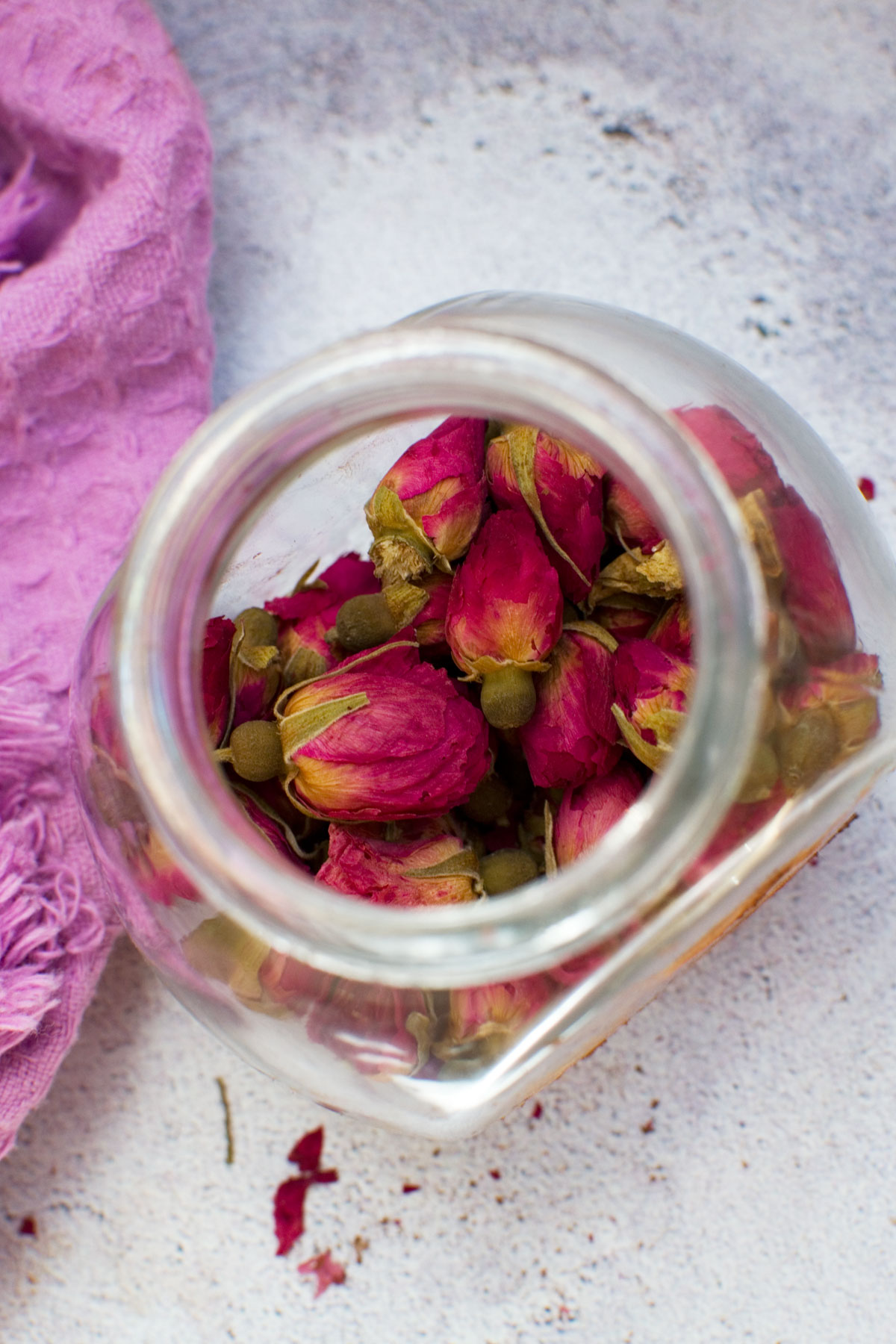 How to make a delicious truffle cake without the oven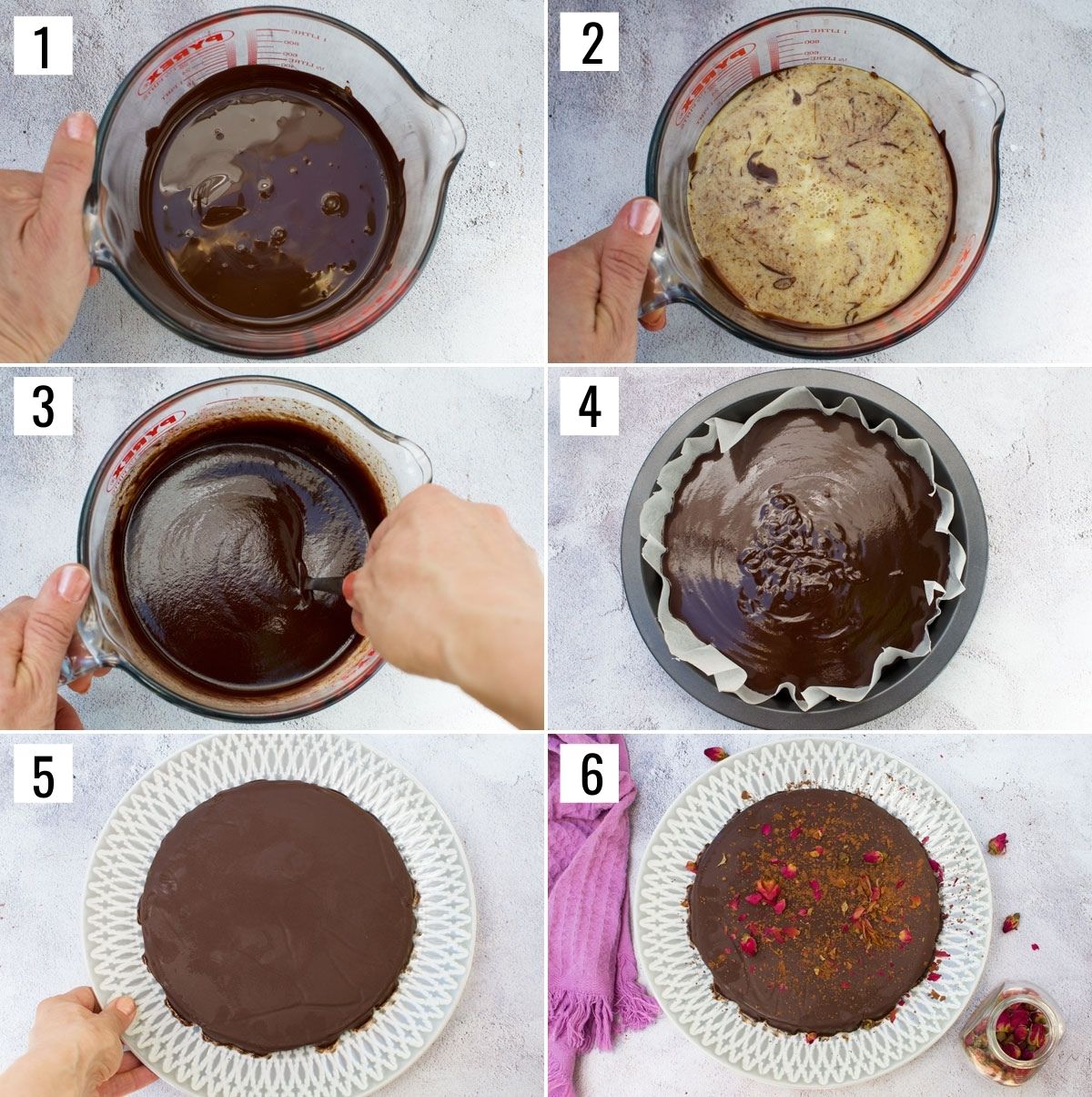 For me, the big attraction of this very luxurious chocolate torte is how fast it is to pull together – just 10 minutes!
This is all you have to do:
Step 1: Melt chocolate (microwave is fine).
Step 2: Pour over warm cream. Stir. Add rose water and salt.
Step 3: Pour into lined cake pan. Cover and let set in the fridge.
Step 4: Add decorations/toppings and serve!
Depending on what toppings you choose, add them either before you let the cake set, or after. I usually add rose petals, nuts or grated zest just before serving. But I add other toppings like chopped candy/chocolate bars before I put the cake in the fridge.
How to decorate and serve your cake
This truffle cake is exceptionally quick, easy, and beautiful if you choose to decorate it with dried rose buds!
I know this sounds fancy, but all you need is a scattering of cocoa powder and a few tiny dried edible rose buds. Just rub one or two rose buds between your fingers and let the tiny bits of petal scatter all over the cake. I usually drop 2 or 3 whole buds onto the top of the cake, too.
If you can't find any rose buds easily, see below for alternative ways to decorate your cake.
It's pretty rich, so you only need a slither. I like to eat it by itself, perhaps with a coffee on the side.
But I hear it tastes pretty good with a little cream on top. And perhaps a few fresh berries.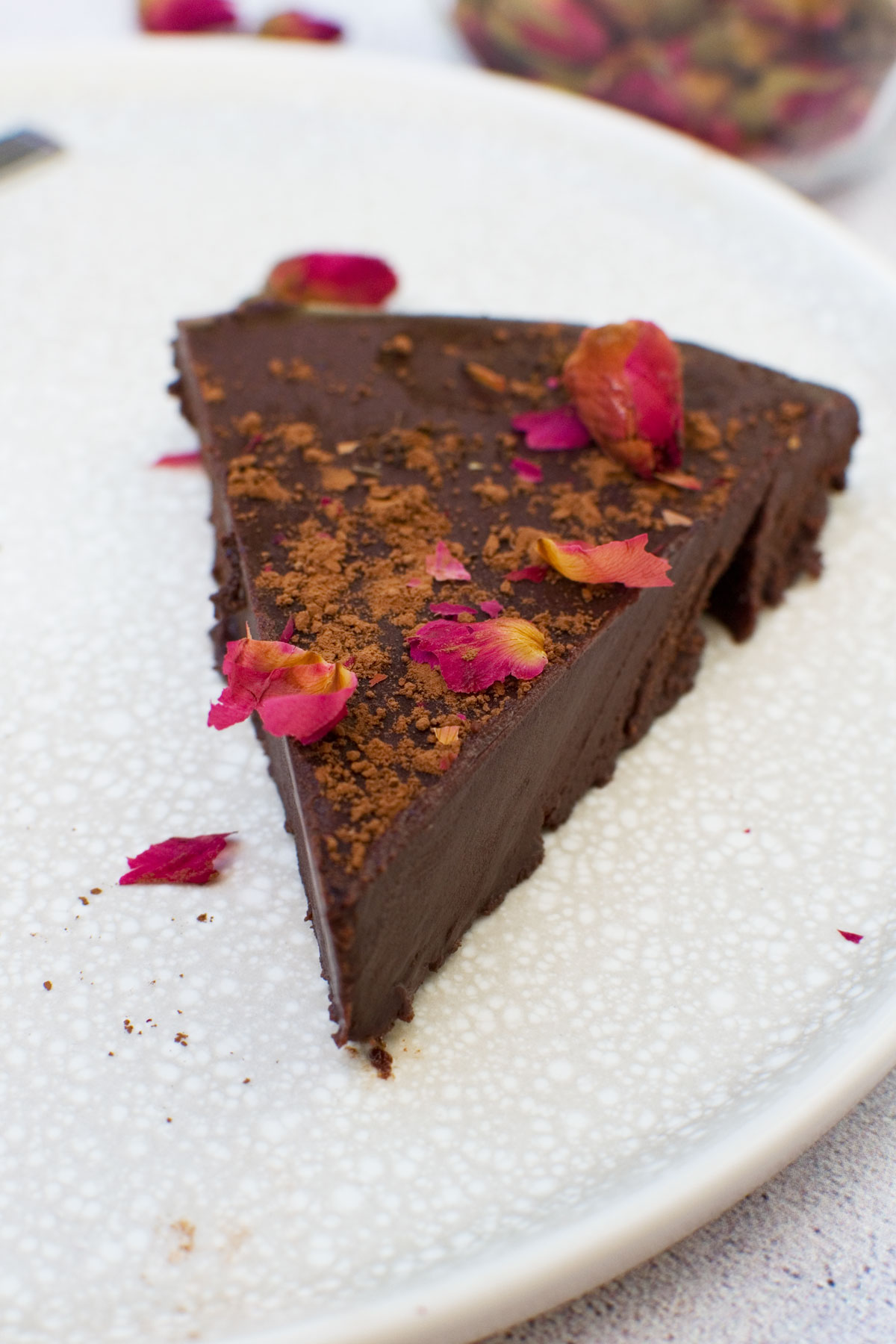 Alternative flavors and toppings
If you're not digging the chocolate rose vibe, there are so many other ways to make your cake look and taste like a million dollars!
For instance, try:
chocolate orange: Grate in the zest of an orange and sprinkle the zest of another orange on the top.
espresso: Stir a tablespoon of instant espresso powder into the warm milk before you pour it over the melted chocolate.
chopped nuts: Add around a quarter cup of chopped nuts such as pistachios, hazelnuts, almonds or macadamias.
liqueur: Add around 3 tablespoons of your favourite liqueur to the cream after you've heated it and just before you pour it into the chocolate. Ideas: grand marnier, rum, whisky, brandy, gin.
Rice Krispies, Cornflakes or Cheerios: Stir half a cup through the truffle mixture before pouring it into the cake pan for a very crunchy alternative!
toppings: You can sprinkle an unlimited number of things over the top. How about chopped nuts, grated chocolate, chopped up chocolate/candy bars, peanut butter cups, sprinkles (gold and silver or other), pretzels, chopped caramels, dried raspberries, or even mini M&Ms or crumbled Maltesers (why not?).
How long does it keep?
Short answer: ages.
The longest I've kept the truffle cake covered in the fridge for is almost two weeks. It still tasted perfect, and may even have been OK for a few days longer.
Sorry I can't be of any more help than that. Two weeks was rare. It usually gets eaten pretty quickly around here!
More no bake desserts
You can never have too many easy desserts up your sleeve, and even better if you don't even have to turn on the oven. Here are a few of my favourites:
Another ridiculously easy chocolate dessert recipe is these no bake 5-minute chocolate pots. Make them ahead and pop them in the fridge for later!
Looking for SUPER quick and easy? Check out this list of 21 awesome no bake 5-minute desserts. Or browse all my easy desserts.
IF YOU MAKE THIS RECIPE, LET ME KNOW HOW YOU GET ON BY LEAVING A COMMENT AND RATING BELOW… AND DON'T FORGET TO SIGN UP TO RECEIVE ALL MY NEW RECIPES BY EMAIL!
FOLLOW ME ON FACEBOOK, INSTAGRAM, PINTEREST AND YOUTUBE.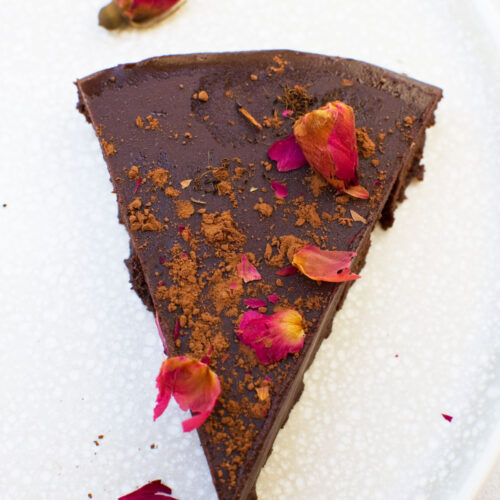 10-minute no bake chocolate truffle cake
When you need a dessert that's quick and easy, but delicious and decadent, THIS 10-minute chocolate truffle cake is the way to go. Pour hot cream and butter over chocolate, add rose water and pour into a cake pan. Throw into the fridge for later!
Equipment (affiliate links)
Ingredients (UK/Australia? Click below for grams/ml)
10

ounces

dark chocolate

(I like 70% cocoa for the perfect balance of sweetness)

1

cup

heavy cream

(UK double cream, Australia dollop cream)

2

tablespoons

butter

½

teaspoon

salt

1

teaspoon

rosewater

a pinch of cocoa powder and dried rose buds

for decoration (you only need a very small handful, or a few rose buds)

double/whipped/dollop cream to serve

(optional)
Instructions
Line a 7 or 7½ inch cake pan with baking paper and set aside.

Break chocolate up into a medium glass jug or bowl. Microwave in 30-second bursts until almost completely melted (I find 3 x 30-second bursts is about right).

Meanwhile, warm the cream in a small saucepan until quite warm. Add the butter and stir until melted.

Pour the warm cream and butter mixture over the melted chocolate. Add the rosewater and salt and stir until smooth.

Pour mixture into the prepared cake pan. Cover with plastic wrap and let set in the fridge for at least an hour and a half, or overnight.

Remove the truffle cake from the fridge 10 minutes before you want to serve it. Decorate with a few rose petals. Serve small pieces either alone or with a spoonful of thick cream.
Notes
What kind of chocolate to use: I usually use a good quality 70% cocoa dark chocolate for this recipe. It will work with any dark chocolate, however. Cake pan size: I have a 7.5 inch round cake pan that I use for this recipe, but it will work well in a 7 inch pan too. Any bigger and your cake will be a bit too thin! The other option is to use a loaf cake pan. You can cut the truffle cake into slices instead of traditional cake-shaped wedges! How to melt the chocolate: I find microwaving is the easiest way to melt chocolate. For this recipe I usually melt it in a Pyrex jug in 30-second bursts (3 x 30 seconds usually works for me), then add the cream and butter mixture to that. Then you can just pour the mixture straight from the jug into the lined cake pan. If you don't have a microwave however you can melt the chocolate in a bowl over a bowl of simmering water. Just don't let the bowl touch the water! How long it keeps: As long as you cover well with plastic wrap, this chocolate cake keeps well in the fridge for 1 to 2 weeks. I've had one in the fridge for nearly 2 weeks and it was absolutely fine.
Nutrition
Calories:
226
kcal
Carbohydrates:
11
g
Protein:
2
g
Fat:
19
g
Saturated Fat:
12
g
Cholesterol:
33
mg
Sodium:
126
mg
Potassium:
184
mg
Fiber:
3
g
Sugar:
6
g
Vitamin A:
359
IU
Vitamin C:
1
mg
Calcium:
30
mg
Iron:
3
mg