I was amazed the first time I tried this 7 layer bars recipe. You can prepare the bars in minutes using whatever odds and ends of chocolate and nuts you happen to have, and you don't even need a bowl. Magic!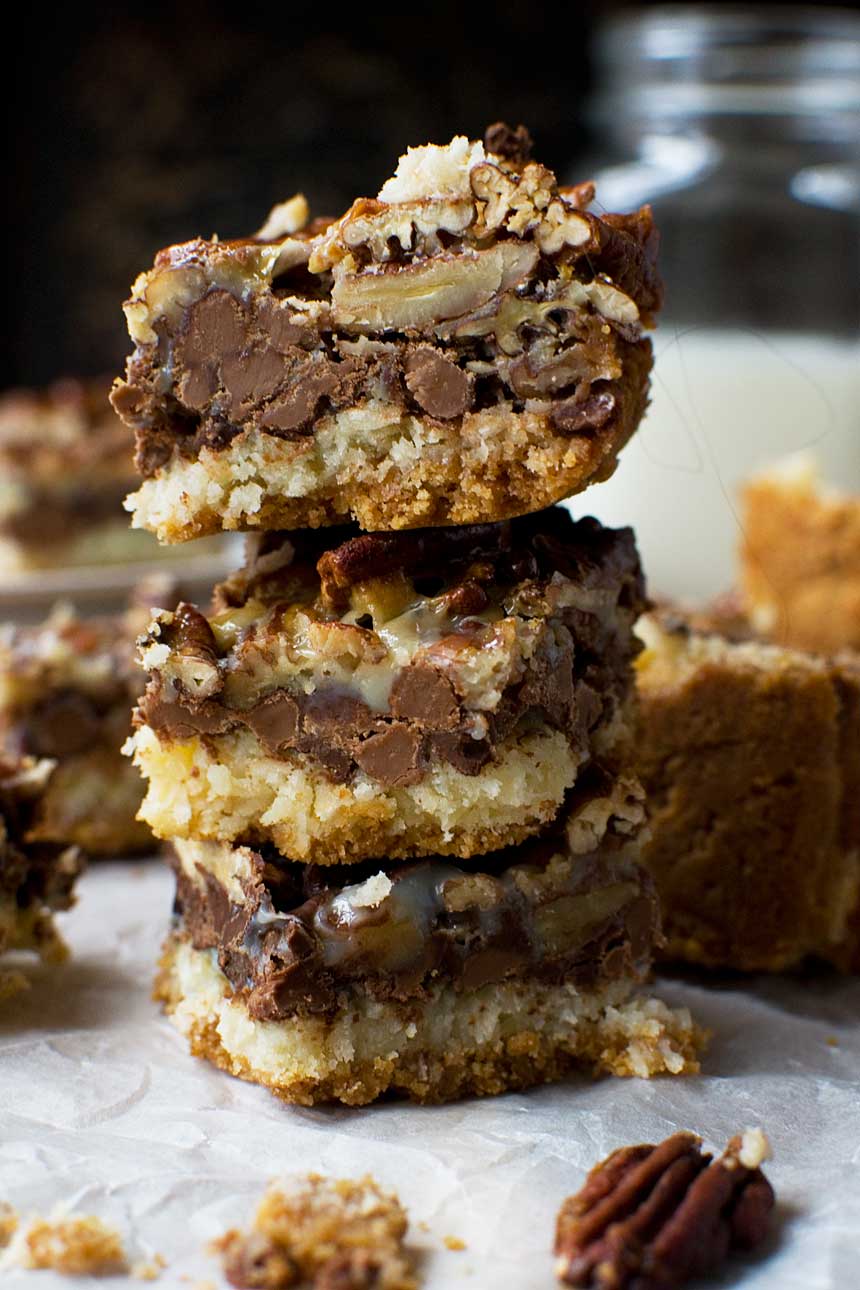 The easiest treats to make
When my son was first born, I had to learn how to do everything one-handed as he would very seldom let me put him down!
I'm sure many of you mothers can relate.
I must admit I don't make these 'magic' 7 layer bars one handed, but I truly believe you could do that if you wanted to.
They're that quick and easy.
And just in case you're looking for more super easy desserts (most of them one-bowl!), you might like to check out these Biscoff blondies (butterscotch lovers, I'm talking to you!), this easy Italian apple cake and the ultimate for chocolate lovers, this 6-ingredient gooey Swedish chocolate cake or this super easy no-bake Millionaire's shortbread.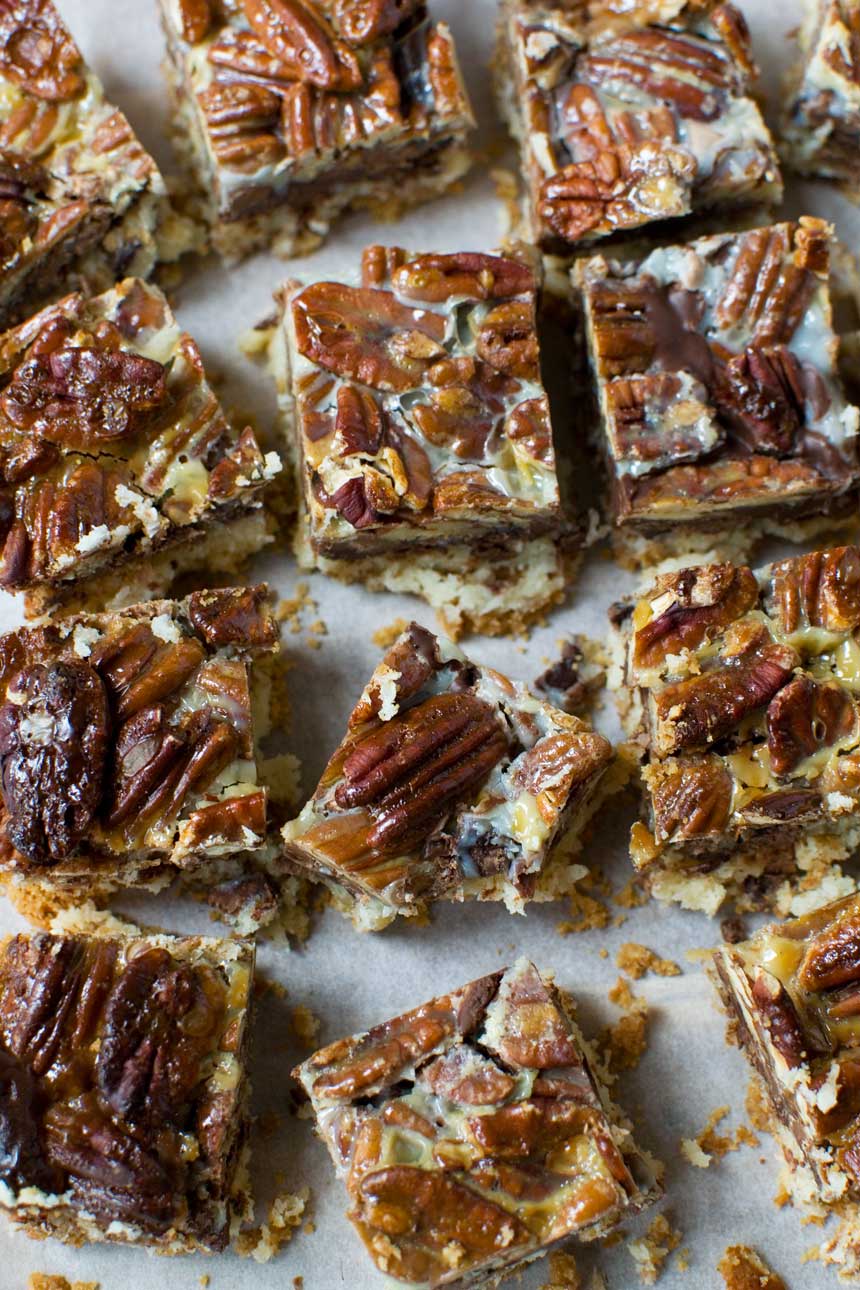 About the ingredients
You only need 6 main ingredients to make these, and you can easily adapt what you put in them according to what you have (ideas below!).
Butter: I like to use salted for added flavour, but any good quality butter is fine.
Graham cracker or Digestive biscuit crumbs: Either of these are fine, depending on what you can find easily where you live.
Coconut: Use either shredded or plain old dessicated coconut.
Chocolate chips: Any kind! Use milk, plain, white, or even caramel flavoured!
Pecan nuts: Substitute with another kind of nut, or make a nut free version by replacing with a cereal (Rice Krispies, Cheerios etc.).
Sweetened condensed milk: A whole can.
How to make them
You may recognise these from your childhood as seven layer bars or magic bars. Some people even call them hello dolly bars!
They're simple enough for you to make with your children, but the end result is impressive enough to serve to guests.
This is how you make them:
Pour melted butter into a square cake pan and press in Graham cracker (US!) or Digestive biscuit (UK and Oz!) crumbs.
Sprinkle with cups of coconut, chocolate chips, and nuts. Or variations (see below for ideas!).
Pour a whole can of sweetened condensed milk over the top.
Bake!
No bowl necessary. No real accuracy necessary. Certainly no skill necessary. Two hands not really necessary.
Half an hour later you have something deliciously sweet that's pretty hard to describe.
But what's absolutely certain is that they're delicious and addictive.
What do 7 layer bars taste like?
Thought you'd never ask.
They've got:
A sweet and chewy coconut layer on top of the cookie layer. This layer reminds me of what we used to called coconut macaroons when I was a child.
On top of that there's chocolate. Because – duh.
And finally… sticky, slightly crunchy pecans that makes me think of caramelised nuts, or even pecan pie.
Creamy, sweet and chewy condensed milk. This final layer soaks through all of the layers for a perfect gooey, caramel-y texture.
Pro tip: If you bake the bars for slightly longer, say 35 minutes instead of 30, you'll find the condensed milk has started to turn into a chewy toffee. It's delicious, and very addictive.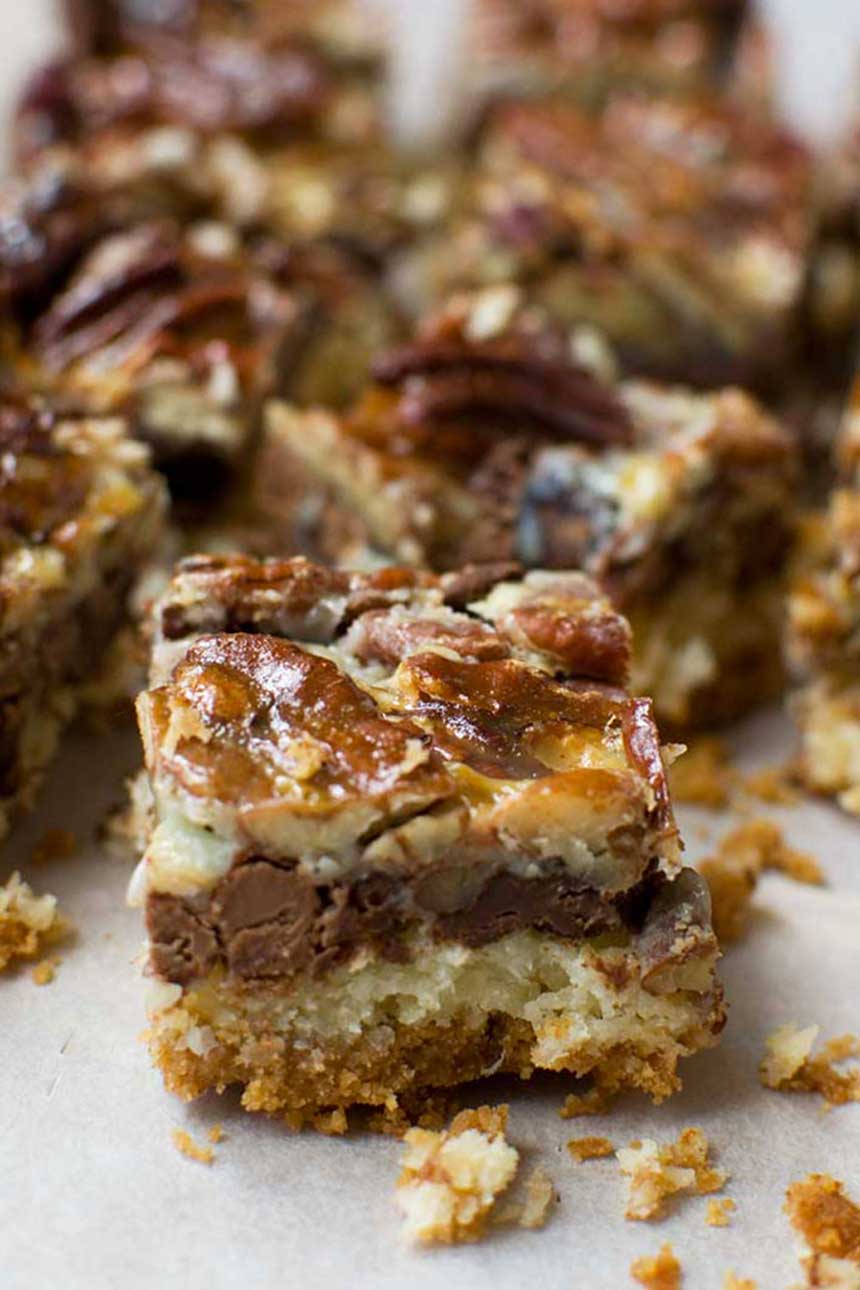 How to vary the recipe
As well as skipping the coconut, you can make these in many different ways.
Here are some ideas:
Use white or dark chocolate instead of milk chocolate. Or how about butterscotch chips (or Caramac chocolate if you're in the UK)?
Use different cookies for the base. How about ginger biscuits/cookies or Oreos?
Use different nuts. Macadamia nuts (great paired with white chocolate), hazelnuts, almonds, humble peanuts, or mixed nuts.
Add a sprinkle of dried fruit: cranberries, raisins, dried apple, chopped up apricots, dried banana. Anything really!
For a nut free version, replace the nuts with a cereal like Cheerios. Or marshmallows! Or M&Ms! Or Maltesters (for UK readers)!
The world is your oyster. Or should I say the world is your 7 layer bar?
More things to know (FAQs)
Can you make 7 layer bars without coconut?
Haven't got any coconut? Or not a fan? No worries – just skip it. Add crumbled pretzels instead, or just skip this layer altogether. Only got a few nuts left? Sprinkle over some Cheerios, or just throw in what you have.

The beauty of this recipe is that the exact proportions don't really matter. You will still end up with a deliciously ooey gooey treat.
How long do 7 layer bars keep for?
About 3 to 4 days in an airtight container. Or you can pop them into the fridge if you'd like to keep them for a few more days.
Alternatively, you can freeze them. Cut into small squares, then freeze on a baking tray for a while. Then transfer to freezer bags or containers. They'll stay good for at least 3 months and probably a lot longer.
However busy you are, you can make these magic cookie bars. Really, you can. Watch the video to 'see' how.
Equipment
I use this 9 inch square cake pan for this no bowl chocolate pecan bars recipe.
More easy snack cake recipes
I feature this magic bars recipe in this amazing list of 11 really easy dessert recipes (6 ingredients or less). They're all very popular recipes that I've made time and time again!
IF YOU MAKE THIS RECIPE, LET ME KNOW HOW YOU GET ON BY LEAVING A COMMENT AND RATING BELOW… AND DON'T FORGET TO SIGN UP TO RECEIVE ALL MY NEW RECIPES BY EMAIL!
FOLLOW ME ON FACEBOOK, INSTAGRAM, PINTEREST AND YOUTUBE.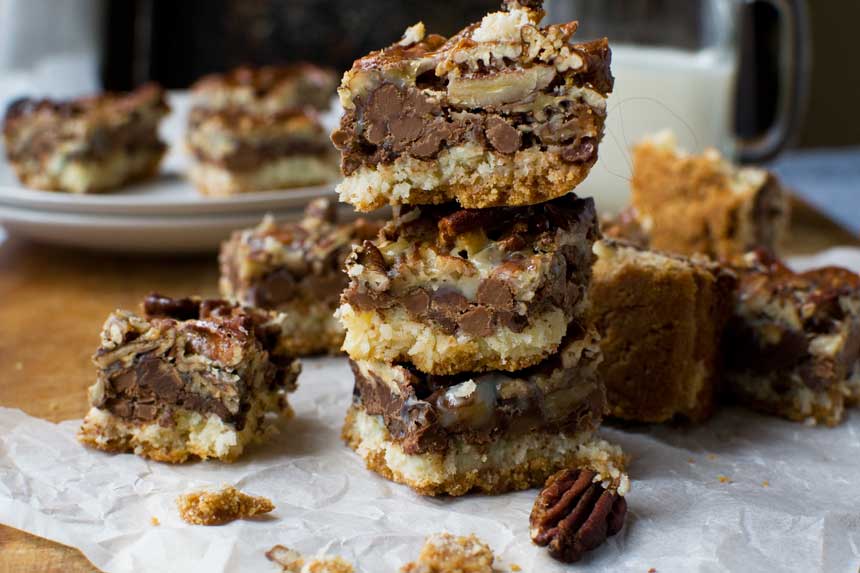 7 Layer Bars With Pecans (Magic Bars!)
Really quick and easy chocolate pecan bars recipe with a Graham Cracker/Digestive biscuit crust followed by layers of chewy coconut, chocolate and nuts. They taste like you've spent hours making them, but you can pretty much make them one-handed. No bowl required!
Equipment (affiliate links)
Ingredients (UK/Australia? Click below for grams/ml)
3.5

ounces

butter

melted

1

cup

Graham cracker crumbs

(UK – use Digestive biscuits – about 10 digestives – not sure how many Graham Crackers!)

1

cup

shredded coconut

1.5

cups

chocolate chips

1.5

cups

pecan nuts

14

ounces

sweetened condensed milk

(1 can)
Instructions
Line a 9 inch square or equivalent baking pan with non-stick baking paper and preheat the oven to 350 F / 175C.

Pour the butter into the bottom of the pan, then sprinkle over the crumbs. Mix around a bit with a metal spoon, then press evenly into the pan.

Sprinkle over the coconut in an even(ish) layer, then sprinkle over the chocolate chips, followed by the nuts. Finally, pour over the condensed milk.

Bake for 30 to 35 minutes, until the top is starting to go golden brown.

Cool in the pan, then lift out and cut into small(ish) squares. Store in an airtight container.
Notes
Varying the ingredients
I like to make these with pecan nuts, but you could use any kind of unsalted nuts you like, or a mixture of many!
In fact, these sorts of 'magic' bars are very versatile. The amounts don't really need to be exact. Maybe you've got lots of chocolate chips but not so many nuts. No problem – why not add a few pretzels or mixed dried fruit instead?
Check out the section above in my post to get ideas for even more variations.
How long they keep
3 to 4 days in an airtight container at room temperature. Or longer in the fridge.
Can you freeze them?
Absolutely! Cut into small squares, then freeze on a baking tray. Then transfer to freezer safe containers or bags for at least 3 months.
When you're in the mood for a small treat, or you need something to take along to a party, just grab them out of the freezer. They won't take very long to defrost!
Nutrition
Calories:
258
kcal
Carbohydrates:
26
g
Protein:
3
g
Fat:
16
g
Saturated Fat:
7
g
Cholesterol:
19
mg
Sodium:
109
mg
Potassium:
126
mg
Fiber:
1
g
Sugar:
22
g
Vitamin A:
210
IU
Vitamin C:
0.7
mg
Calcium:
82
mg
Iron:
0.6
mg