Last Updated on
I was amazed the first time I had a go at this chocolate pecan bars recipe. You can prepare them in minutes using whatever odds and ends of chocolate and nuts you happen to have, and you don't even need a bowl. Magic!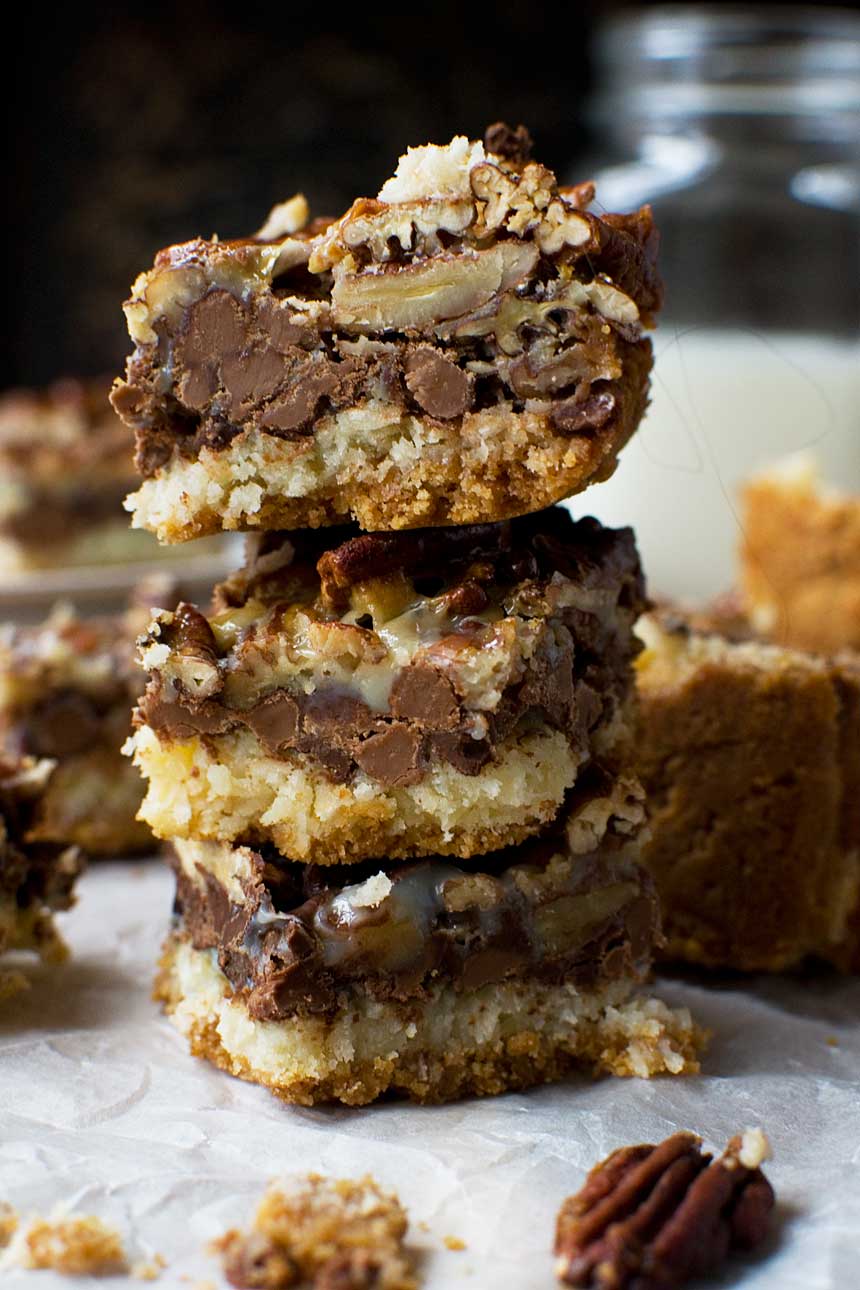 I tend to be a bit late to the party when it comes to Internet food sensations. I now know that these 'magic bars' (sometimes called no bowl bars or even 7 layer bars, even though I don't see how they are actually 7 layers) have been 'a thing' both on and off line for years.
I only heard about them recently, however, when I spotted something similar to this chocolate pecan bars recipe both on Pioneer Woman's cooking show and in a local food magazine.
I think I've mentioned (probably more than once) that I've had to learn how to do everything one-handed since my son was born, as he will very seldom let me put him down!
I think it must be a common problem for parents of infants. In fact I recently saw a billboard ad for a supermarket's series of customer recipes. 'Helen's one-handed stir fry' was splashed across the top of a picture of a smiling mother with a baby in one arm and a stir fry pan in the other.
Yes, that's about right, I thought to myself. I must hunt down that Helen's stir fry recipe and make it this Helen's recipe. Sounds just perfect!
Now I must admit I didn't have to resort to making these bars one-handed (Grandma to the rescue), but I truly believe you could do that if you wanted to.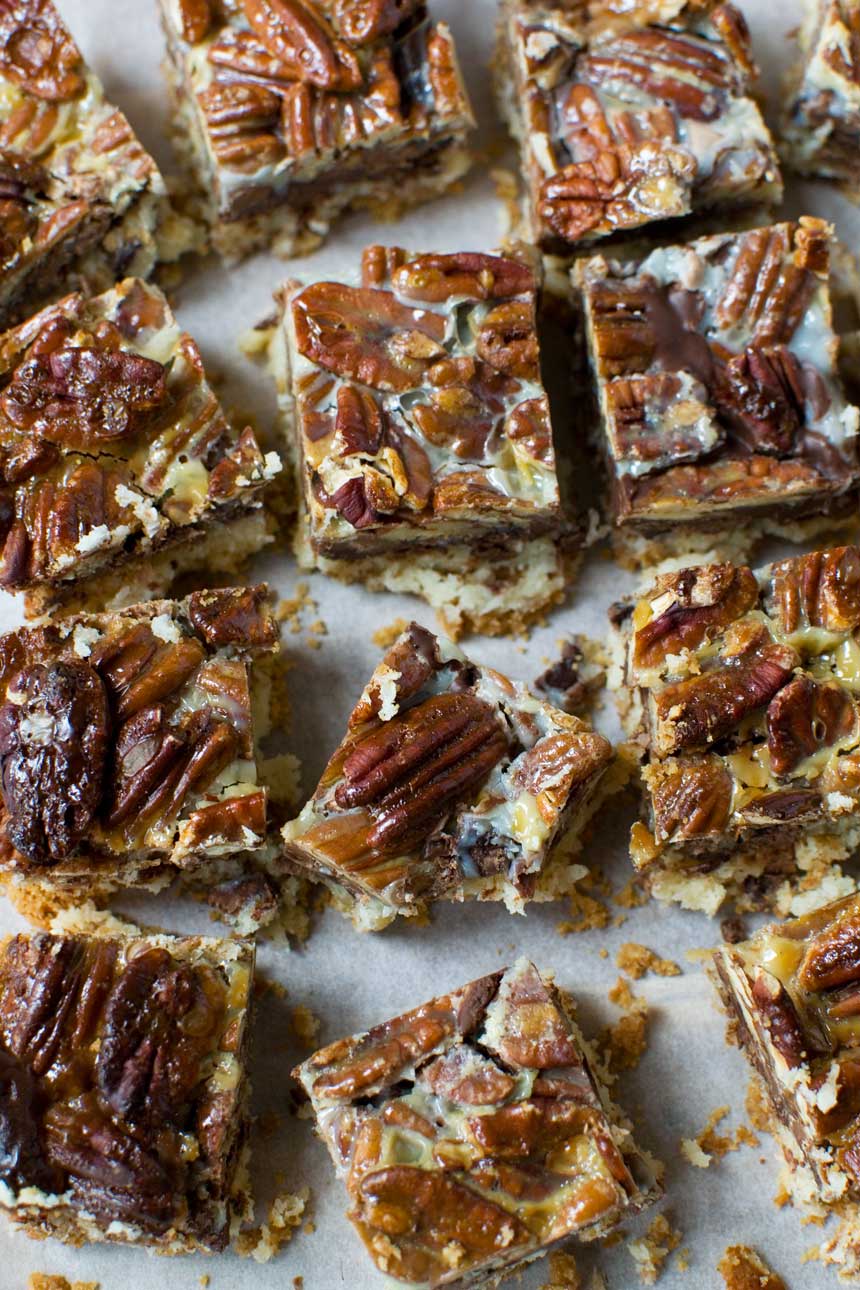 They're that quick and easy.
So… how do I make these 7 layer / 'magic' chocolate pecan bars?
Pour melted butter into a square cake pan and press in Graham cracker (US!) or Digestive biscuit (UK and Oz!) crumbs.
Sprinkle with cups of coconut, chocolate chips, and nuts.
Pour a whole can of sweetened condensed milk over the top.
Bake!
No bowl necessary.
No real accuracy necessary.
Certainly no skill necessary.
Heck, two hands not really necessary.
Half an hour later you have something deliciously sweet that's pretty hard to describe. In fact I wasn't sure what to make of these when I first tried them. But now I take a bite every time I go into the kitchen. Oops.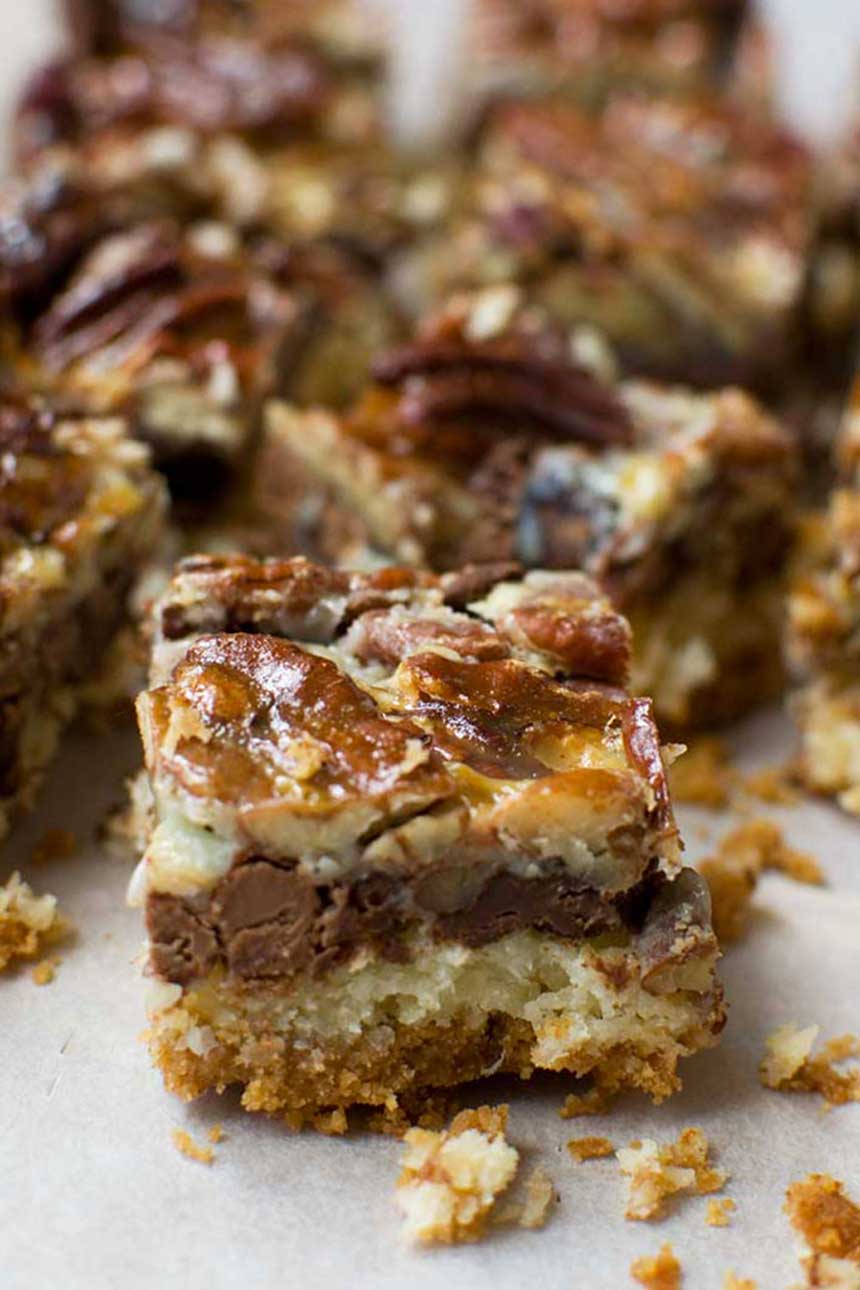 What do 7 layer bars / magic chocolate pecan bars taste like?
Thought you'd never ask. They've got a cheesecake base topped with a sweet and chewy coconut layer that reminds me of what we used to called coconut macaroons. On top of that there's chocolate and finally sticky, slightly crunchy pecans that makes me think of caramelised nuts, or even pecan pie.
If you bake the bars for slightly longer, say 35 minutes instead of 30, you'll find the condensed milk has started to turn into a chewy toffee. It's delicious, and very addictive.
Maybe you've had something similar to this pecan bars recipe in your repertoire for years already, or maybe it's totally new to you, like it was to me, but do give it a go with pecan nuts.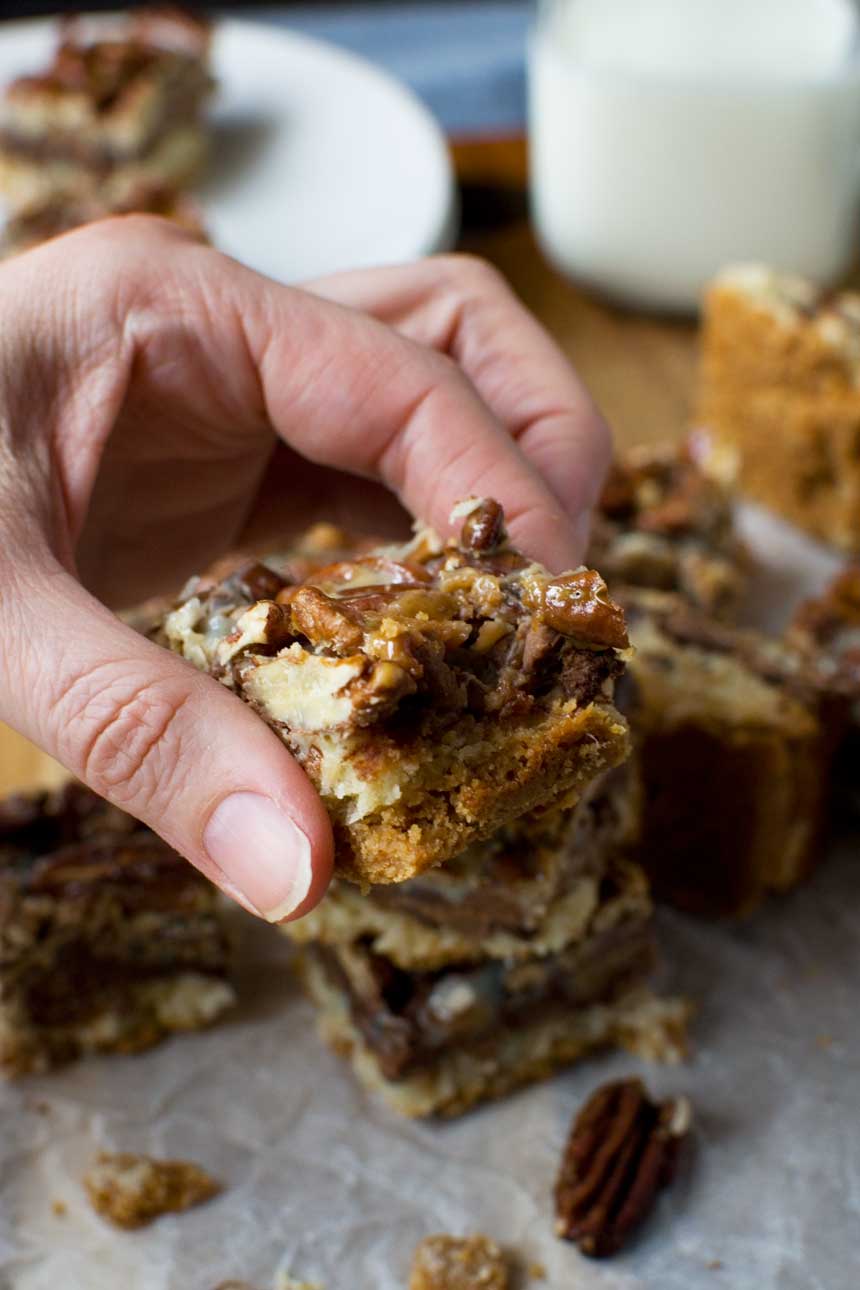 However busy you are, you can make these no bowl chocolate pecan bars!
Really, you can. And here's how:

Cut them into small squares and you won't have to feel guilty having 1 (or 5!) with your mid-morning coffee.
I used this 9 inch square cake pan for this no bowl chocolate pecan bars recipe (affiliate link!):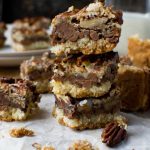 Print
No bowl chocolate pecan bars (magic bars)
Really quick and easy chocolate pecan bars recipe with a Graham Cracker crust followed by layers of chewy coconut, chocolate and nuts. They taste like you've spent hours making them, but you can pretty much make them one-handed. No bowl required!
Ingredients (UK/Australia? Click button below for grams & ml)
3.5

ounces

butter

melted

1

cup

Graham cracker crumbs

(UK - use Digestive biscuits - about 10 digestives - not sure how many Graham Crackers!)

1

cup

shredded coconut

1.5

cups

chocolate chips

1.5

cups

pecan nuts

14

ounces

sweetened condensed milk

(1 can)
Instructions
Line a 9 inch square or equivalent baking pan with non-stick baking paper and preheat the oven to 350 F / 175C.

Pour the butter into the bottom of the pan, then sprinkle over the crumbs. Mix around a bit with a metal spoon, then press evenly into the pan.

Sprinkle over the coconut in an even(ish) layer, then sprinkle over the chocolate chips, followed by the nuts. Finally, pour over the condensed milk.

Bake for 30 to 35 minutes, until the top is starting to go golden brown.

Cool in the pan, then lift out and cut into small(ish) squares. Store in an airtight container.
Notes
I like to make these with pecan nuts, but you could use any kind of unsalted nuts you like, or a mixture of many!
These sorts of 'magic' bars are very versatile. The amounts don't really need to be exact. Maybe you've got lots of chocolate chips but not so many nuts. No problem – why not add a few pretzels or mixed dried fruit instead?
Nutrition
Calories:
258
kcal
|
Carbohydrates:
26
g
|
Protein:
3
g
|
Fat:
16
g
|
Saturated Fat:
7
g
|
Cholesterol:
19
mg
|
Sodium:
109
mg
|
Potassium:
126
mg
|
Fiber:
1
g
|
Sugar:
22
g
|
Vitamin A:
210
IU
|
Vitamin C:
0.7
mg
|
Calcium:
82
mg
|
Iron:
0.6
mg
Follow me on Pinterest!
Follow @scrummylane to pin more quick and easy recipes for later