Last Updated on
How about a baked cheesecake made with creamy white chocolate and mascarpone to impress your guests with next time you entertain? It's got a ginger cookie base that compliments the cheesecake perfectly, and it looks incredible drizzled with raspberry coulis. The best thing is, it's really easy to make!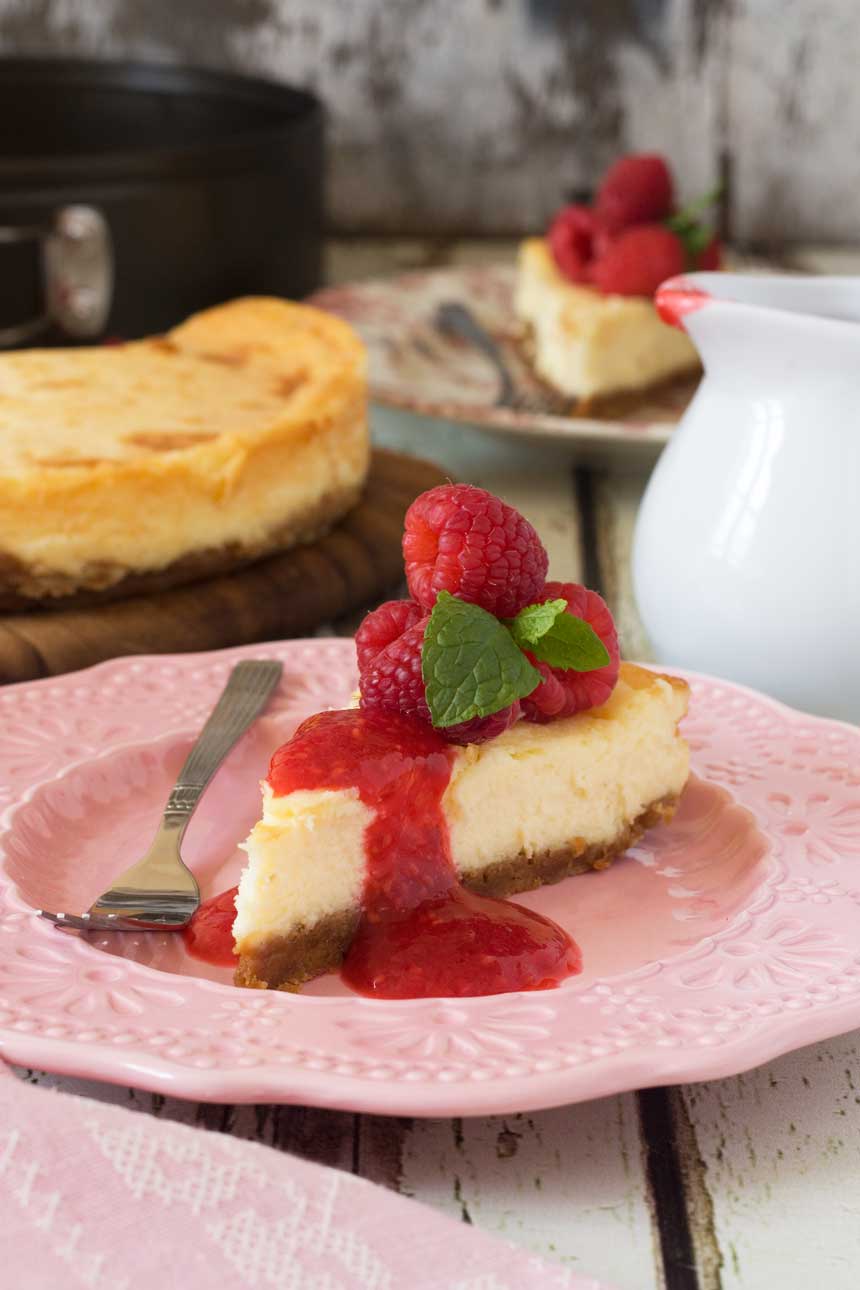 To the surprise of many who know me, I'm not a huge fan of entertaining. Don't get me wrong. I do enjoy having friends and family over for the socialising part, but I really don't care for spending all day stressing at the shops, and then in the kitchen, before they arrive.
And what I most definitely don't want to be doing is flapping around in the kitchen after my guests have arrived. So what's a girl who doesn't want to buy ready-made or spend all day slaving over homemade to do?
Well, I think I might have come up with a winning formula, which is simply to choose dishes that can as much as possible be prepared in advance.
So this past weekend our next door neighbour came over for a 3-course dinner that I'd prepared more or less entirely ahead – once we'd got over our little false start, that is (we didn't hear him knock, he thought he'd got the wrong day, he left us a note, we didn't see the note, we waited an hour, began to think he must have forgotten, then knocked on his door… and over he came! Phew! All very 'too polite' British, I tell you.)
Our first course was these INCREDIBLE (honestly, they're amazing!) crispy halloumi fries, which I pre-sliced and rolled in flour.
Then we had my Greek lemon chicken, which is so simple it's almost ridiculous, but it's delicious and goes so, so, so well with this perfect Greek salad and tzatziki. You can pre-slice the potatoes, whisk up the marinade, pre-make the tzatziki, and assemble the salad ahead of time.
And then what better dessert to choose than a cheesecake? I'm pretty sure almost everyone likes it, don't they? And actually you have to make it ahead – it needs to set in the fridge for at least 4 hours.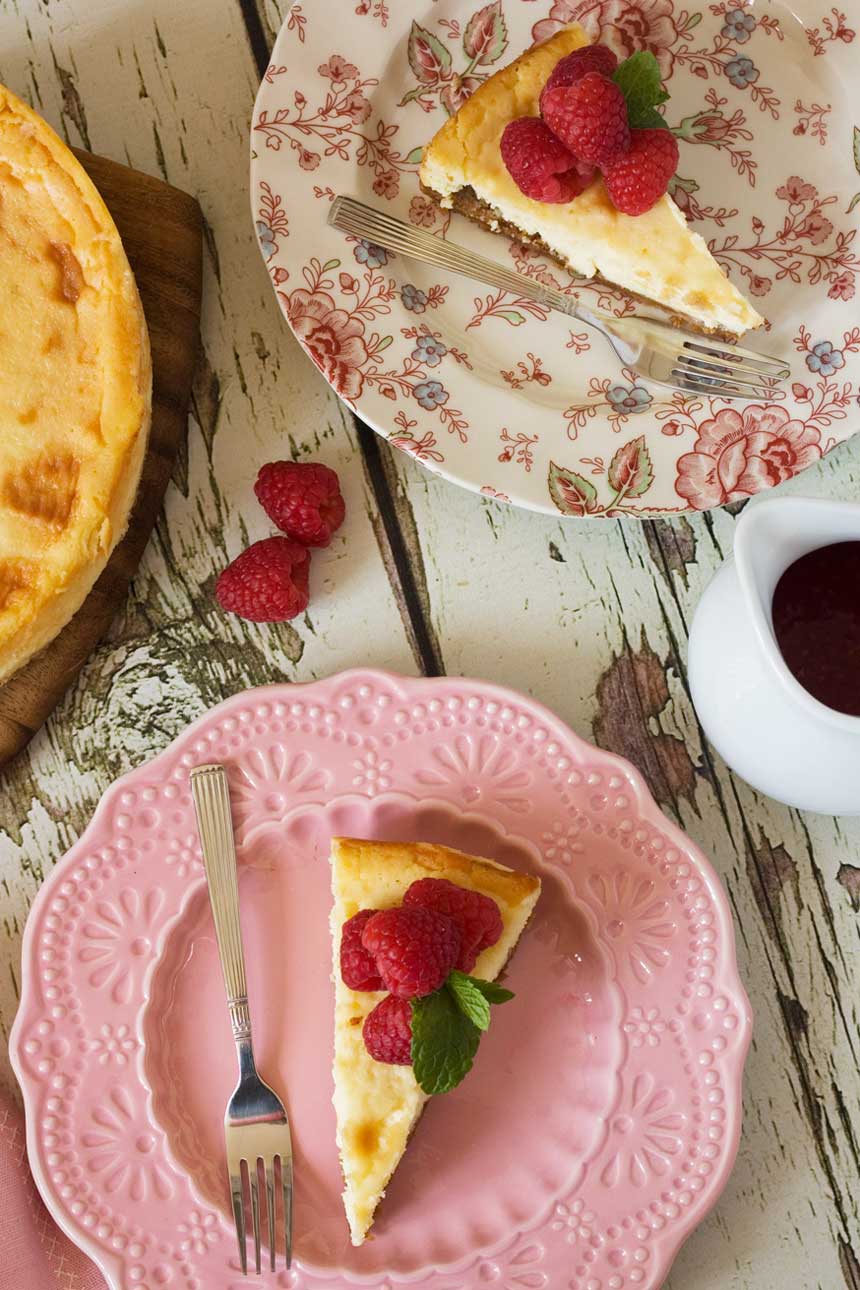 So this white chocolate baked cheesecake is the first baked one I've attempted. I guess I always thought they were tricky to make. But really, the trickiest part is knowing when it's cooked, and letting it cool slowly so it doesn't crack. Let's face it, though, this isn't exactly rocket science either!
And who cares if it does crack a bit, or the middle sinks a bit? Not me (not that I'm speaking from experience of course). To be honest with you – because we always like to say it how it is around here – when I last made this, I broke my spring form pan and a bit of the cheesecake oozed out in the oven.
As a result the top of my finished cheesecake was by no means perfect, but I think it still looked pretty snazzy when I served it up. Don't you?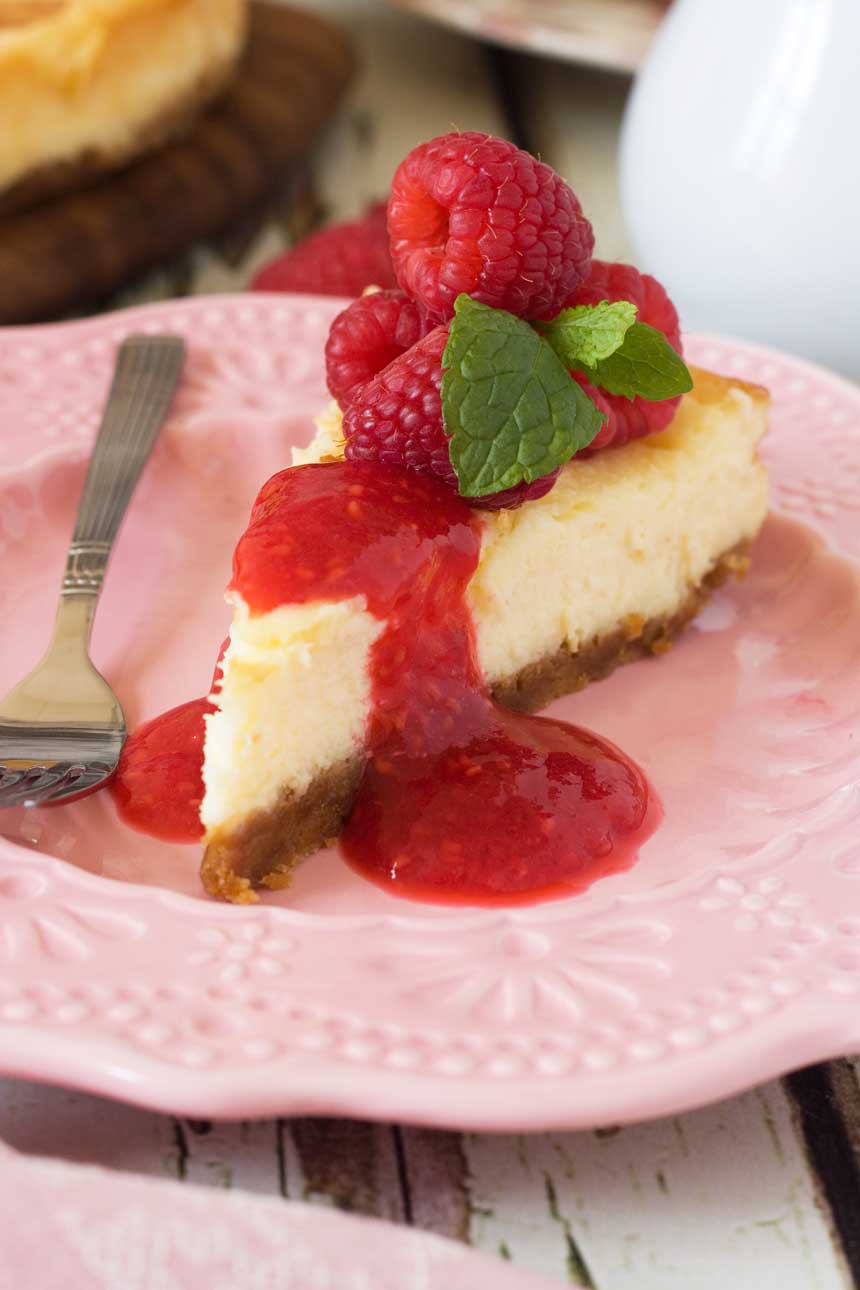 Rustic rules!
I know that some people like to bake cheesecake in a bath of water to help it cook slowly and evenly, but I wanted to keep this as simple as possible, so I didn't bother with that.
What I did do though is switch the oven off as soon as the cheesecake looked set around the edges but still a bit jiggly (like wobbly jelly) in the middle. Then I opened the oven door slightly and let the cheesecake cool slowly – to avoid cracks.
Because that doesn't take any effort at all to do now, does it?
Then while the cheesecake's busy setting in the fridge, you make your raspberry coulis to slosh over the top when you serve it. I know a 'coulis' sounds posh and difficult, but to make it you literally just dump raspberries in a pan, add a bit of icing sugar and lemon juice, then heat for a couple of minutes until the fruit starts to break down. Whizz up in a food processor with a few drizzles of water, and there's your posh coulis!
My inspiration for this recipe came from two sources: a similar Jamie Oliver cheesecake that Mr. Scrummy and I tasted in one of his restaurants on our wedding anniversary a few weeks ago, and a white chocolate baked cheesecake recipe by the lovely Mary Berry, food goddess extraordinaire here in the UK.
I fiddled around with the cheeses in Mary's recipe, because I wanted mine to be a mascarpone cheesecake like Jamie's, and I also made my own base and raspberry topping, but essentially I (and you!) have Mary to thank for this deliciousness.
Thank you, Mary!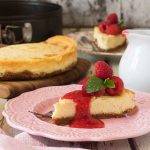 Print
White chocolate baked cheesecake (with raspberry coulis)
A deliciously creamy baked white chocolate cheesecake made with mascarpone cheese. I always thought baked cheesecakes were difficult to make, but this couldn't be easier. Top with raspberries and an easy raspberry coulis, and you'll be in dessert heaven!
Cook Time
1
hour
40
minutes
Total Time
2
hours
20
minutes
Ingredients (UK/Australia? Click button below for grams & ml)
For the base
7

ounces

ginger cookies

5

tablespoons

butter

melted
For the cheesecake
10.5

ounces

white chocolate

2

eggs

7

ounces

mascarpone cheese

7

ounces

cream cheese

1

teaspoon

vanilla essence

2/3

cup

heavy / double cream
For the raspberry topping
10-11

ounces

raspberries

1

tablespoon

confectioners' / icing sugar

a couple of big squeezes of lemon juice
Instructions
For the base
Line the base of a spring form pan (roughly 9 inches in diameter) with baking paper.

Whizz the ginger cookies up in a food processor until they become fine crumbs. Melt the butter in a medium saucepan, then add the ginger cookie crumbs and stir until well combined.

Tip the crumbs into the prepared pan and flatten down and push to the edges with the back of a metal spoon. Refrigerate for at least half an hour.
For the cheesecake
Meanwhile, pre-heat the oven to 150C / 300F.

Melt the chocolate in a bowl in the microwave in 30-second bursts. Whisk the eggs into the mascarpone and cream cheeses with a hand-held whisk, then whisk in the cream and vanilla essence.

Finally, gradually whisk in the white chocolate, then remove the cookie base from the fridge and pour the cheesecake mixture on top. Bake for 40 to 45 minutes, until the cheesecake is set around the edges but still jiggles in the middle like a jelly that hasn't quite set.

Switch the oven off and slightly open the door, but leave the cheesecake in to cool slowly. After about an hour, take the cheesecake out of the oven. When it's cooled completely, cover it and put it in the fridge to set for at least four hours (preferably overnight).
For the raspberry coulis
To make the raspberry coulis, heat half of the raspberries with the confectioners' / icing sugar and the lemon juice until the raspberries start to bubble and break down (just a couple of minutes).

Whizz the mixture in a food processor until smooth. Then whizz in a few drizzles of water until the raspberries are a pouring consistency. Pour into a jug ready for serving.
To serve
Serve slices of the cheesecake straight from the fridge topped with three or four raspberries and raspberry coulis.
Notes
Adapted from this recipe by Mary Berry.
If you don't have a microwave, you can melt the chocolate in a bowl set over a pot of simmering water (just don't allow the bowl to touch the water).
Nutrition
Calories:
536
kcal
|
Carbohydrates:
38
g
|
Protein:
7
g
|
Fat:
39
g
|
Saturated Fat:
23
g
|
Cholesterol:
117
mg
|
Sodium:
269
mg
|
Potassium:
248
mg
|
Fiber:
2
g
|
Sugar:
24
g
|
Vitamin A:
1020
IU
|
Vitamin C:
7.7
mg
|
Calcium:
146
mg
|
Iron:
1.8
mg
Follow me on Pinterest!
Follow @scrummylane to pin more quick and easy recipes for later

Made one of my recipes? Take a pic and tag @scrummylane on Instagram so I can see it!
You can also find more from Scrummy Lane on Facebook, Pinterest, Twitter and Instagram and follow me on Bloglovin! Thanks so much for reading!
*This post may contain affiliate links* 🙂