Creamy, not too sweet, and SO easy to make from scratch, this is the VERY BEST baked white chocolate cheesecake! The 2-ingredient ginger cookie crust compliments the rich and smooth white chocolate filling perfectly, and it looks great topped with fresh raspberries and a super simple raspberry puree.
Make this (ahead!) for your next special occasion, and everyone will be impressed!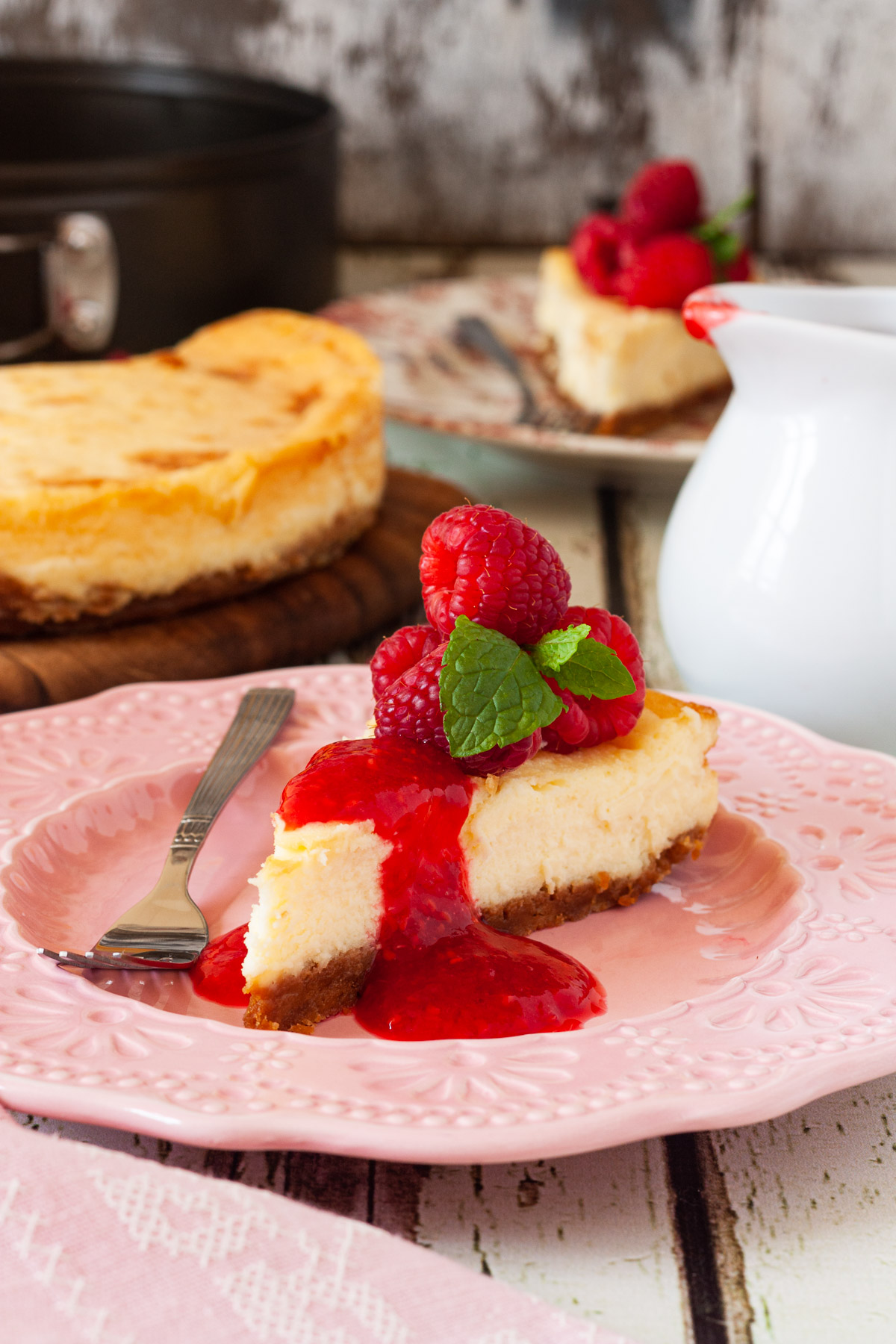 Why you'll love it
For easy, hassle free entertaining, this delicious creamy white chocolate cheesecake recipe is one of my favorite desserts!
Since it needs around 4 hours to set in the fridge, you have to bake it ahead, leaving you more time to concentrate on the main course. Or, even better, enjoying the company of your guests!
With luxurious tasting ginger cookies on the base and both fresh raspberries and puree on top, this is a show stopper of a dessert. But no one will believe it was so quick and easy to make. It's a baked New York style cheesecake, but… no water bath necessary!
This is so perfect for a holiday such as Thanksgiving or Christmas, a romantic Valentine's day dinner… or any special occasions!
About the ingredients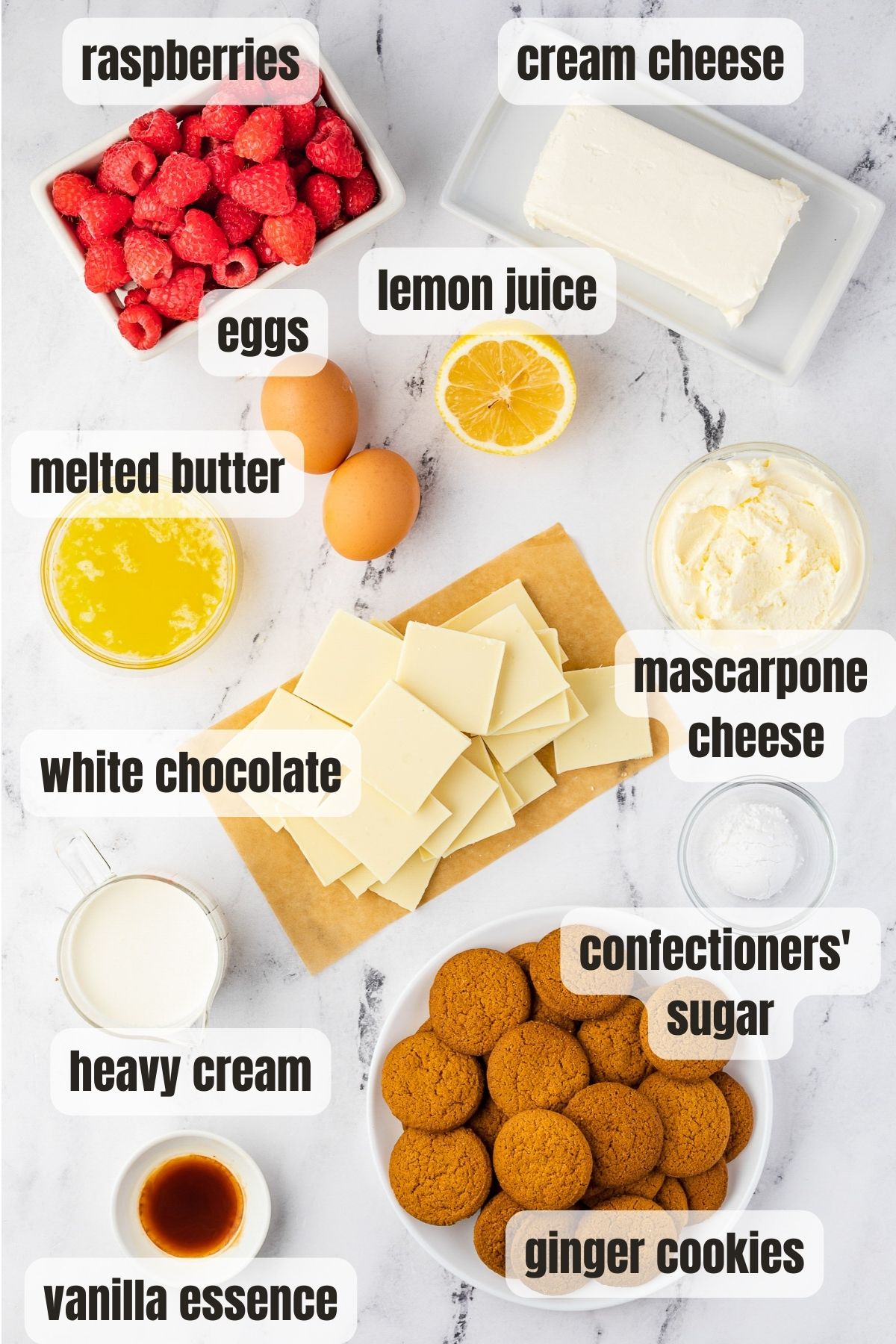 For the delicious ginger cookie (biscuit) crust (2 ingredients).
Ginger cookies/biscuits: You might find these called ginger snaps, ginger nuts or ginger cookies or biscuits. These are all the same thing and make a delicious cheesecake crust! Ginger thins will work too. If you would rather use something else, simple graham crackers/digestive biscuits make a good alternative. Or how about Oreos or Biscoff cookies instead?
Melted butter: Unsalted or salted butter will both work.
For the cheesecake mixture (6 ingredients).
White chocolate: Whether you choose a bar of chocolate, chocolate chips, chocolate chunks or chocolate wafers, use a good quality white chocolate that contains a high cocoa butter percentage (at least 33%). White chocolate can be slightly trickier to melt than other types, so it helps to start with good quality chocolate.
Cream cheese: Use full fat cream cheese such as Philadelphia. Don't be tempted to buy low-fat. It's rich and creamy all the way with this recipe!
Mascarpone cheese: This is a smooth, velvety and slightly tangy Italian cream cheese. It tastes like a cross between cream cheese and heavy cream. It works so well in this recipe for extra creaminess! You should be able to find it in the packaged cheese aisle or at the deli counter in the supermarket. If not, try a European style deli.
Still struggling? Either French style crème fraîche or a mixture of more cream cheese and heavy cream can be good substitutes for mascarpone cheese.
Eggs: You'll need two large eggs.
Heavy cream: Heavy cream, double cream, or thickened cream will all work well with the white chocolate and cheeses for a super creamy white chocolate baked cheesecake result! If you like, you can substitute some or all of the heavy cream for sour cream for a slightly more tangy flavor.
Vanilla extract or essence: Just a teaspoon for a hint of vanilla flavor.
For the raspberry puree (3 ingredients):
Raspberries: If they're in season, use fresh raspberries. If not, frozen raspberries are fine!
Confectioners' sugar (powdered/icing sugar): Just a tablespoon. This sauce is not too sweet, making it the perfect companion to the sweet and creamy cheesecake.
Lemon juice: Again, just a little, to enhance the tangy raspberry flavor.
How to make a baked white chocolate cheesecake
For a long time I assumed baked cheesecakes were tricky to make, but most of the time they're actually very easy. And definitely when the recipe is as simple as this one (no water bath!).
The 'trickiest' part of this baked white chocolate cheesecake recipe is knowing when it's cooked, and letting it cool slowly so it doesn't crack.
But really, who cares if it does crack, or the middle sinks a little? Not me! The delicious raspberry puree will cover a multitude of sins!
The step-by-step guide below should help you make the recipe perfectly first time. Scroll down to the end for the full recipe including ingredient amounts.
The first thing to do is to prepare the simple ginger cookie crust. It really is as easy as melting the butter, then mixing it with finely crushed cookie crumbs in a food processor.
If you don't have a food processor, you can easily do this the old fashioned way. Just pile the cookies into a plastic food bag and hit the bag with a rolling pin. It can be very satisfying if you're having a frustrating day!
Once you've combined the crumbs with the melted butter, smooth them into a prepared loose-bottomed/springform pan lined with a circle of baking paper.
Then you'll want to refrigerate the crust for at least half an hour.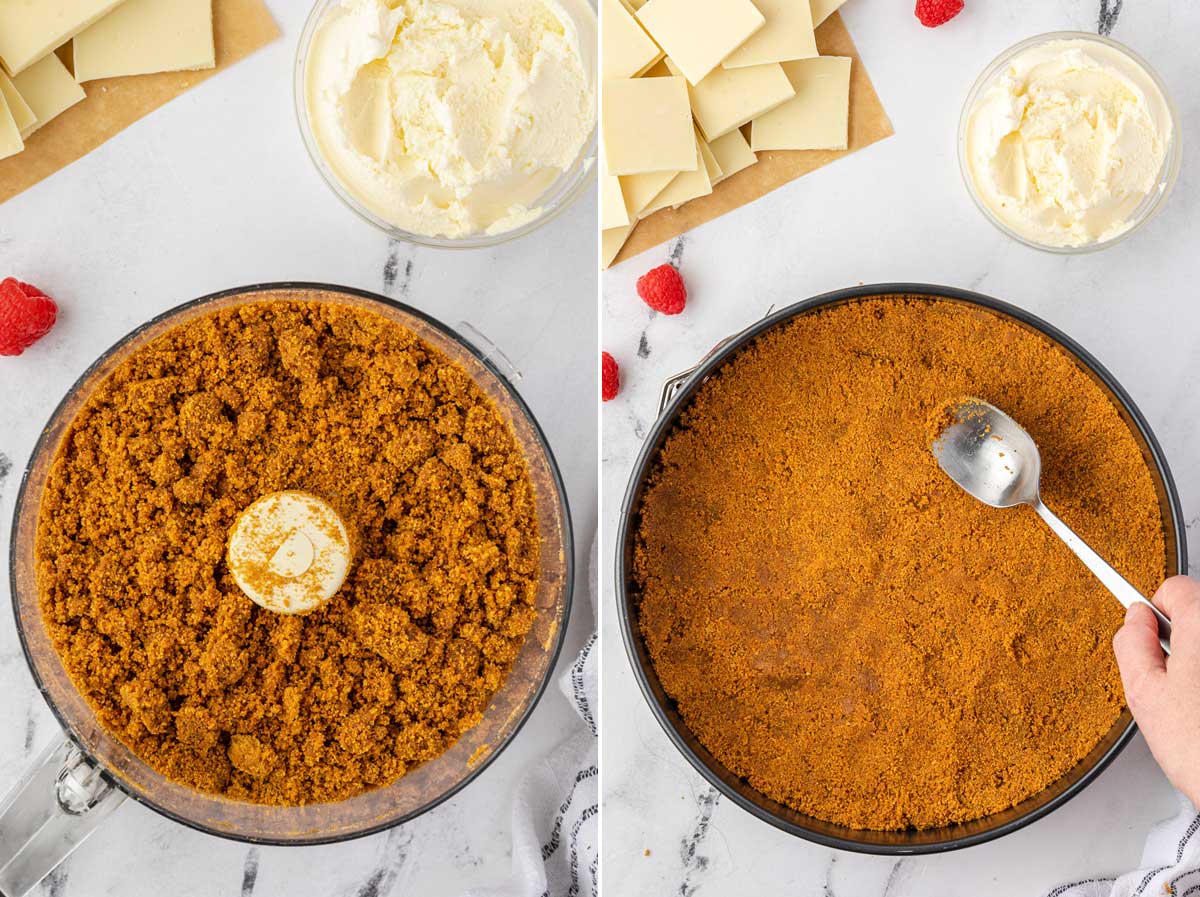 Next, make the cheesecake mixture. At this point, I usually begin preheating the oven, too.
All you have to do is whisk the eggs into the mascarpone cheese and cream cheese. I usually use an electric hand-held whisk for this.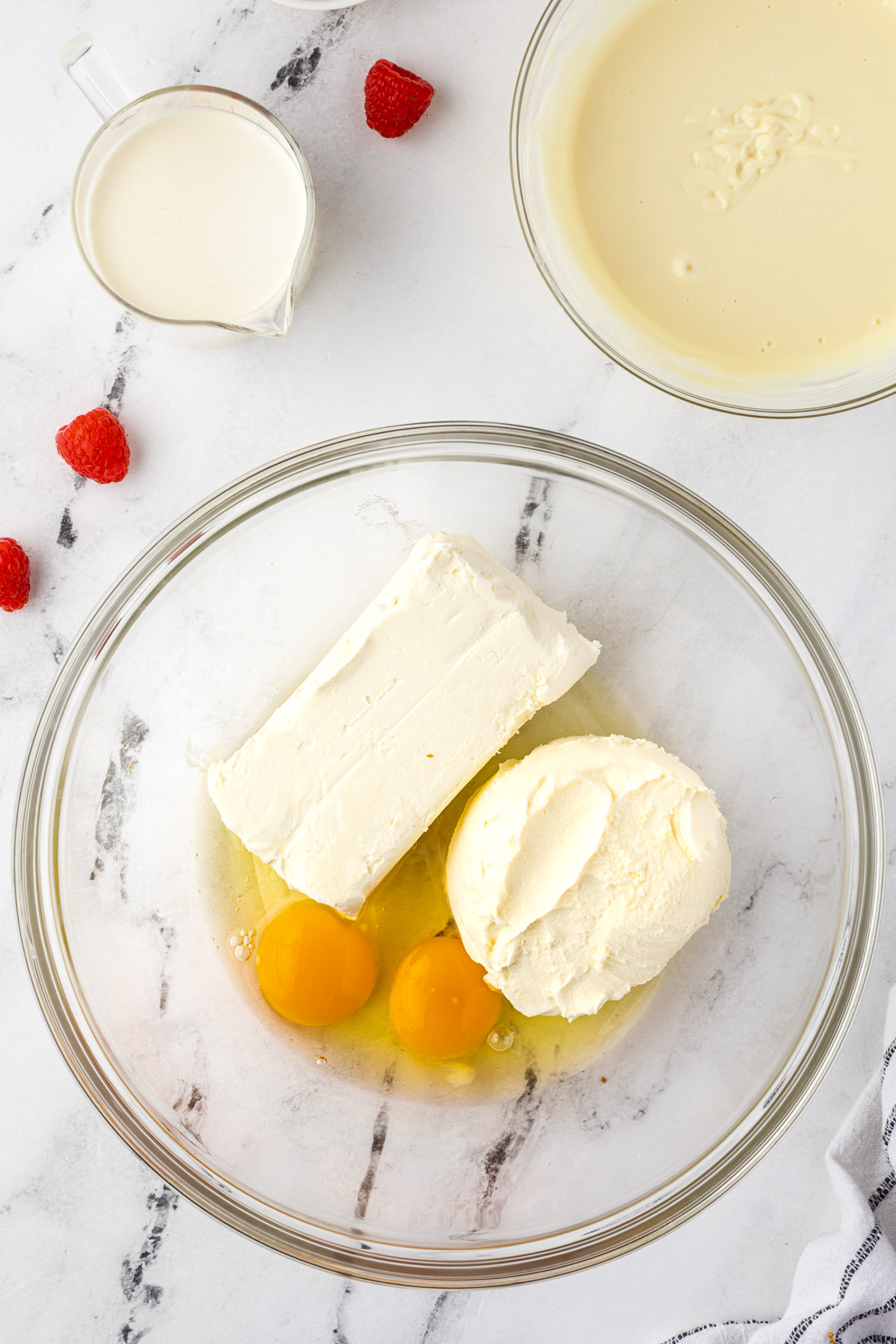 When the mixture is smooth, whisk in the melted white chocolate and vanilla essence as well.
Then pour the mixture over the chilled cookie base and smooth. That's it – ready for the oven!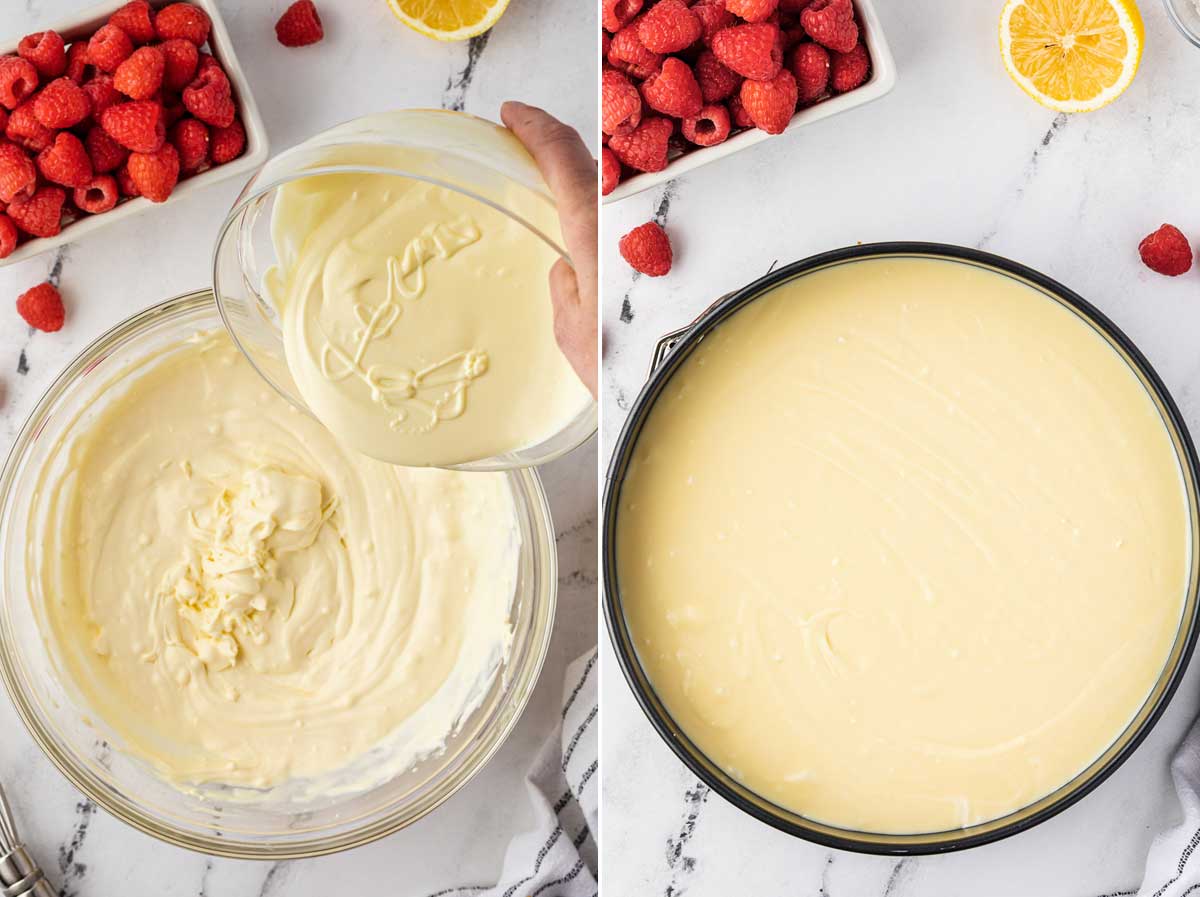 Bake the cheesecake for 40 to 45 minutes, until it's set and lightly golden around the edges but still a little wobbly in the middle. Don't worry, this isn't as tricky as it might sound!
Now here's the clever part… at this point, switch the oven off and slightly open the door. Leave the cheesecake INSIDE the oven for about an hour. Then take it out and let it cool completely before popping it in the fridge to set completely, preferably overnight.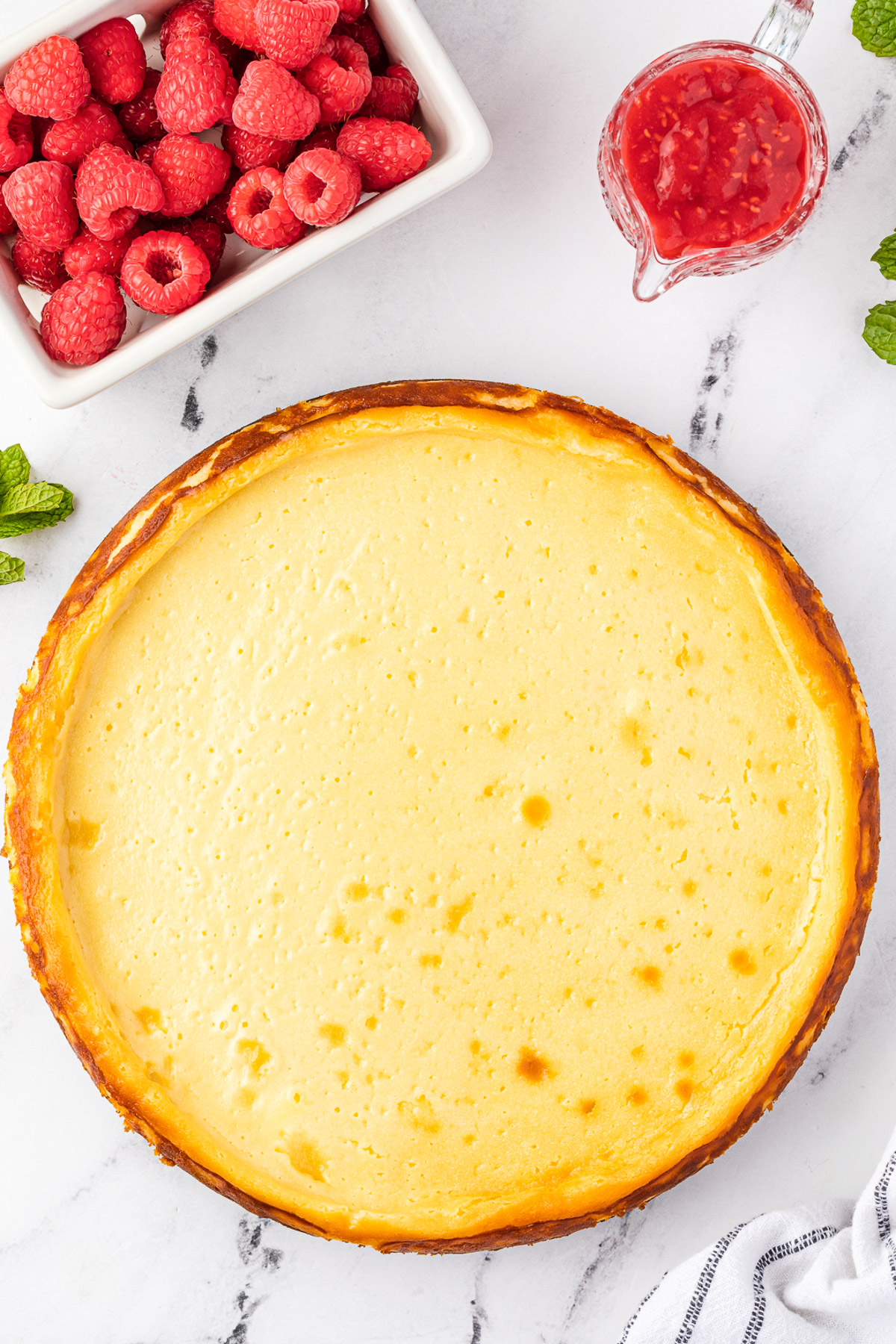 The raspberry puree (otherwise known as a 'raspberry coulis') is super easy to make, as well. All you do is heat raspberries in a pan with the confectioners' sugar and lemon juice for a couple of minutes until the fruit starts to break down.
Then you blend the mixture in a food processor until you have a puree!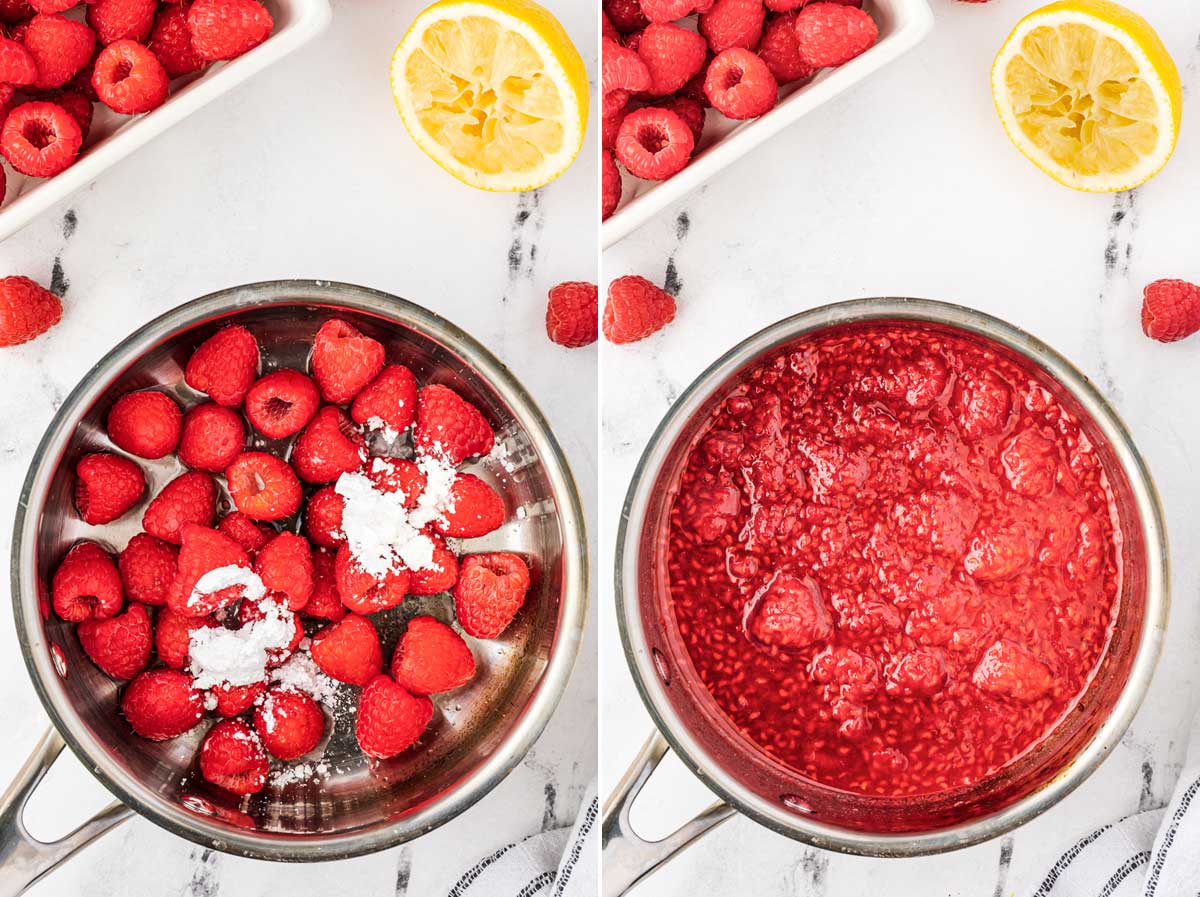 Helen's top tips
Take your filling ingredients out of the fridge a short while before starting to bake. Softer ingredients are easier to whisk together. If you whisk too much, you'll get too much air into the mixture. This can cause your cheesecake to rise too much in the oven and then sink in the middle while cooling!
Combine the cheesecake filling ingredients with an electric hand-held mixer on a LOW speed. Mix just until well combined so that you don't get too much air into it.
For the perfect baked cheesecake, switch the oven off as soon as the cheesecake looks set around the edges but still a bit jiggly (like wobbly jelly) in the middle. Then open the oven door slightly and let the cheesecake cool slowly – to avoid cracks.
Only take the cake out of the springform pan when ready to serve.
You might like to add a little water to the raspberry mixture when blending so that it's 'just right' for pouring. If fresh raspberries are out of season, just use frozen!
How to serve
I always serve this as a white chocolate and raspberry cheesecake, with both fresh raspberries and the raspberry puree on the top.
If you've used frozen raspberries, however, feel free to skip the whole raspberries on top. You could serve with a little whipped cream instead, or with just the raspberry puree.
If I'm feeling particularly fancy, I sometimes decorate the top of each slice with one or two fresh mint leaves!
Top tip: The classic way to serve a baked cheesecake is at room temperature, so feel free to take it out of the fridge half an hour to an hour before slicing and serving. My favorite way to serve this, however, is straight out of the fridge!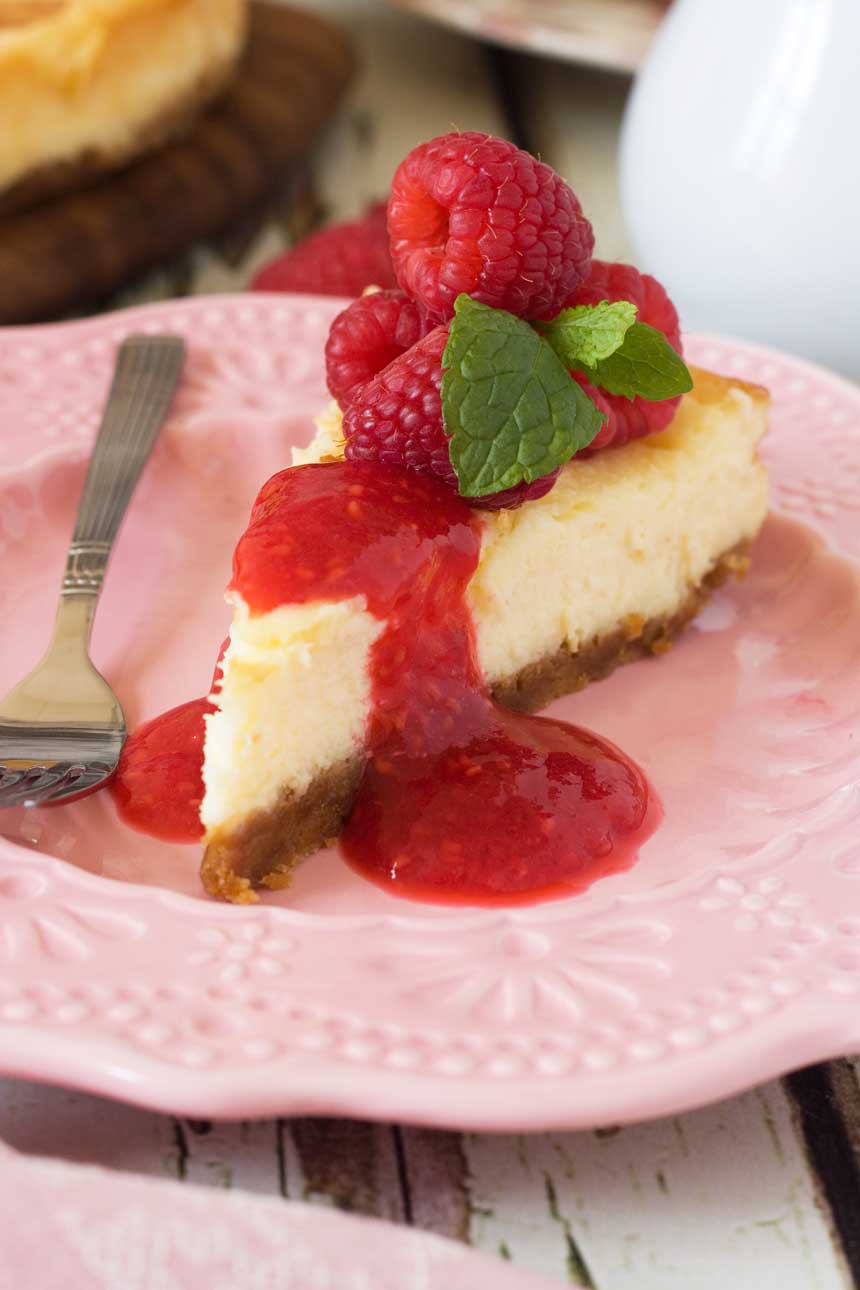 Variations
There are several ways you can make this recipe your own. Here are some ideas:
Switch out the fruit! Add sliced peaches (peach melba!) on top of the raspberry puree, or consider fresh cherries and cherry pie filling, or blueberries and blueberry compote (or any fruit compote) and skip the raspberries altogether.
Another favorite of mine is canned passionfruit puree, or real passionfruit pulp if you're lucky enough to find the actual fruit. We just planted a passionfruit vine so I'm hopeful for the future in this regard!
Use milk or dark chocolate instead of white. It will still be a baked chocolate cheesecake… just not white. It will still go perfectly with raspberries, so give it a try!
Experiment with different cookies for the base. My top suggestions are Oreo cookies or a basic Graham Cracker crust. But almost any kind of packaged cookies (biscuits) will work. how about Biscoff cookies for something completely different? You can even mix a few crushed nuts such as pistachios or walnuts into the crumbs if you're feeling very fancy!
Rather not turn on the oven? You might prefer this no bake white chocolate and ginger cheesecake instead!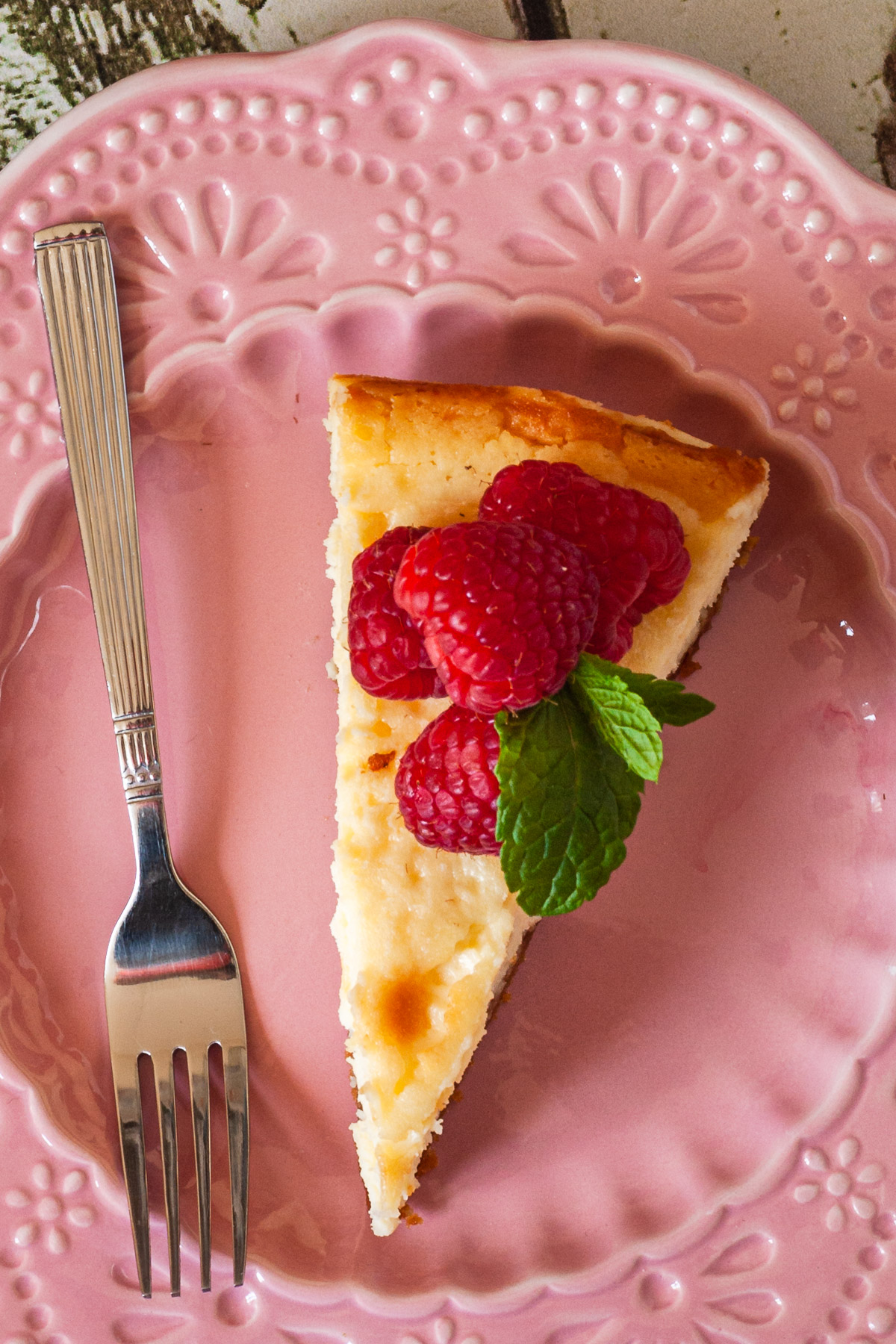 Recipe FAQ
Why isn't my white chocolate melting?
Occasionally, white chocolate doesn't melt nicely. This is either because it's poor quality chocolate, or it overheated and 'seized up'. This can also happen if even a drop of water gets into it. To avoid this, choose a good quality white chocolate with a high cocoa butter percentage (33% and over) and melt in the microwave in 20-30 second bursts or until nearly melted. Stir after every burst.
How long will it keep in the fridge?
A baked cheesecake will keep for up to 3 days if stored in an airtight container in the fridge – making it a perfect dessert to make ahead!
Can you freeze a baked cheesecake?
Yes! All types of cheesecake freeze well, either whole or in slices. After cooling completely, transfer to a plate and wrap well in layers of plastic wrap and aluminum foil. Freeze for up to 1 month to keep the same quality. Defrost in the fridge overnight before serving.
In case you're interested… I wrote a separate article all about the 5-minute raspberry puree. It's more versatile than you might think!
More easy make ahead desserts
Or see all my easy desserts.
IF YOU MAKE THIS RECIPE, LET ME KNOW HOW YOU GET ON BY LEAVING A COMMENT AND RATING BELOW… AND DON'T FORGET TO SIGN UP TO RECEIVE ALL MY NEW RECIPES BY EMAIL!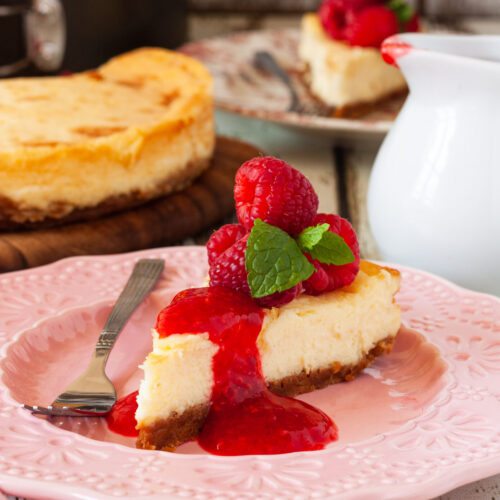 PERFECT Baked White Chocolate Cheesecake (With Raspberry Puree)
A deliciously creamy baked chocolate cheesecake made with white chocolate and mascarpone cheese. I always thought baked cheesecakes were difficult to make, but this couldn't be easier. Not too sweet, and perfect for making ahead. Top with raspberries and an easy raspberry coulis, and you'll be everyone's favorite person!
Ingredients (UK/Australia? Click below for grams/ml)
For the cookie crust
7

ounces

ginger cookies

(around 1⅔ cups of crumbs)

5

tablespoons

butter

melted
For the cheesecake mixture
12

ounces

white chocolate

2

eggs

8

ounces

mascarpone cheese

Take out of the fridge shortly before starting to bake (to soften a little).

8

ounces

cream cheese

Take out of the fridge shortly before starting to bake (to soften a little).

1

teaspoon

vanilla essence

⅔

cup

heavy cream

(double cream)
For the raspberry puree
10

ounces

raspberries

(10-11 ounces, or 300 grams) I prefer fresh, but use frozen raspberries if you like.

1

tablespoon

confectioners' sugar

(powdered/icing sugar)

1

tablespoon

lemon juice

(or 2 big squeezes)
Instructions
For the base
Line the base of a spring form pan (roughly 9 inches in diameter) with baking paper.

Crush the ginger cookies/biscuits in a food processor until they become fine crumbs. Alternatively, put the cookies into a large food bag, seal it and hit the bag with a rolling pin until you have fine crumbs.

Melt the butter in a medium saucepan, then add the ginger cookie crumbs and stir until well combined.

Empty the crumbs into the prepared pan and flatten down and push to the edges with the back of a metal spoon. Refrigerate for at least half an hour.
For the cheesecake
Meanwhile, pre-heat the oven to 300F/150C.

Melt the chocolate in a bowl in the microwave in 20 to 30 second bursts until almost melted. Stir to melt completely. Alternatively, melt in a heat-proof bowl over a pan of boiling water (do not let the bowl touch the water).

Whisk the eggs into the softened mascarpone and cream cheeses with an electric hand-held whisk on a low speed, then whisk in the cream and vanilla essence. Only whisk until just well combined.

Gradually whisk in the white chocolate, again just until well combined.

Remove the cookie base from the fridge and pour the cheesecake mixture on top. Smooth out the top with a spatula or metal spoon.

Bake for 40 to 45 minutes, or until the cheesecake is set around the edges but still jiggles in the middle like a jelly that hasn't quite set.

Switch the oven off and slightly open the door, but leave the cheesecake inside the oven to cool slowly. After about an hour, take the cheesecake out of the oven. When it's cooled completely (while still in the pan), cover it and put it in the fridge to set for at least four hours (preferably overnight).
For the raspberry puree/coulis
To make the raspberry puree, heat half of the raspberries with the confectioners'/icing sugar and the lemon juice until the raspberries start to bubble and break down (just a couple of minutes).

Pulse the mixture in a food processor until smooth. Then add a drizzle of water until the raspberries are the right consistency for pouring. Pour into a jug ready for serving.
To serve
Serve small slices of the cheesecake either at room temperature or straight from the fridge. Top with a few of the reserved raspberries and some of the raspberry puree.
Notes
Melting the white chocolate: Be careful not to overheat or get any moisture in the chocolate as you melt it. If it does 'seize up', you can try adding a tablespoon of hot water and whisking until smooth again.
To melt 'well', simply heat in the microwave for 20-30 seconds at a time only. Stir well between each 'spurt' and only melt until 'almost' melted. Then stir well again until it melts completely by itself.
Mixing the cheesecake mixture: Make sure the cream cheeses are softened a little so that they combine easily with the other ingredients. Only whisk until the ingredients are all well combined. You don't want to whisk too much air into the mixture.
Variations: Top with sliced peaches instead of more fresh raspberries. Replace the raspberry puree with passionfruit pulp (either fresh or canned), blueberries or a fruit compote of your choice. Use milk or dark chocolate instead of white. Use a different type of cookie for the base, such as Oreos, Lotus Biscoff cookies, or Graham Crackers. Choose gluten free cookies for a completely gluten free dessert (since there's no other flour in the cheesecake).
P.S. I wrote a separate article all about the 5-minute raspberry puree in this post. Check it out! This sauce is more versatile than you might think!
Nutrition
Calories:
580
kcal
Carbohydrates:
42
g
Protein:
8
g
Fat:
43
g
Saturated Fat:
26
g
Polyunsaturated Fat:
2
g
Monounsaturated Fat:
9
g
Trans Fat:
0.2
g
Cholesterol:
118
mg
Sodium:
287
mg
Potassium:
270
mg
Fiber:
2
g
Sugar:
27
g
Vitamin A:
1098
IU
Vitamin C:
8
mg
Calcium:
161
mg
Iron:
2
mg