Ever wondered what to do with Biscoff spread, sometimes known as cookie butter? Other than eat it off a spoon? Try these Biscoff blondies and wonder no more! Think gooey butterscotch cookie bars with a sprinkle of spiced biscuit crunch on the top and big chunks of white chocolate inside. All you need is a jar of Biscoff, a few other basic pantry ingredients, and just 30 minutes!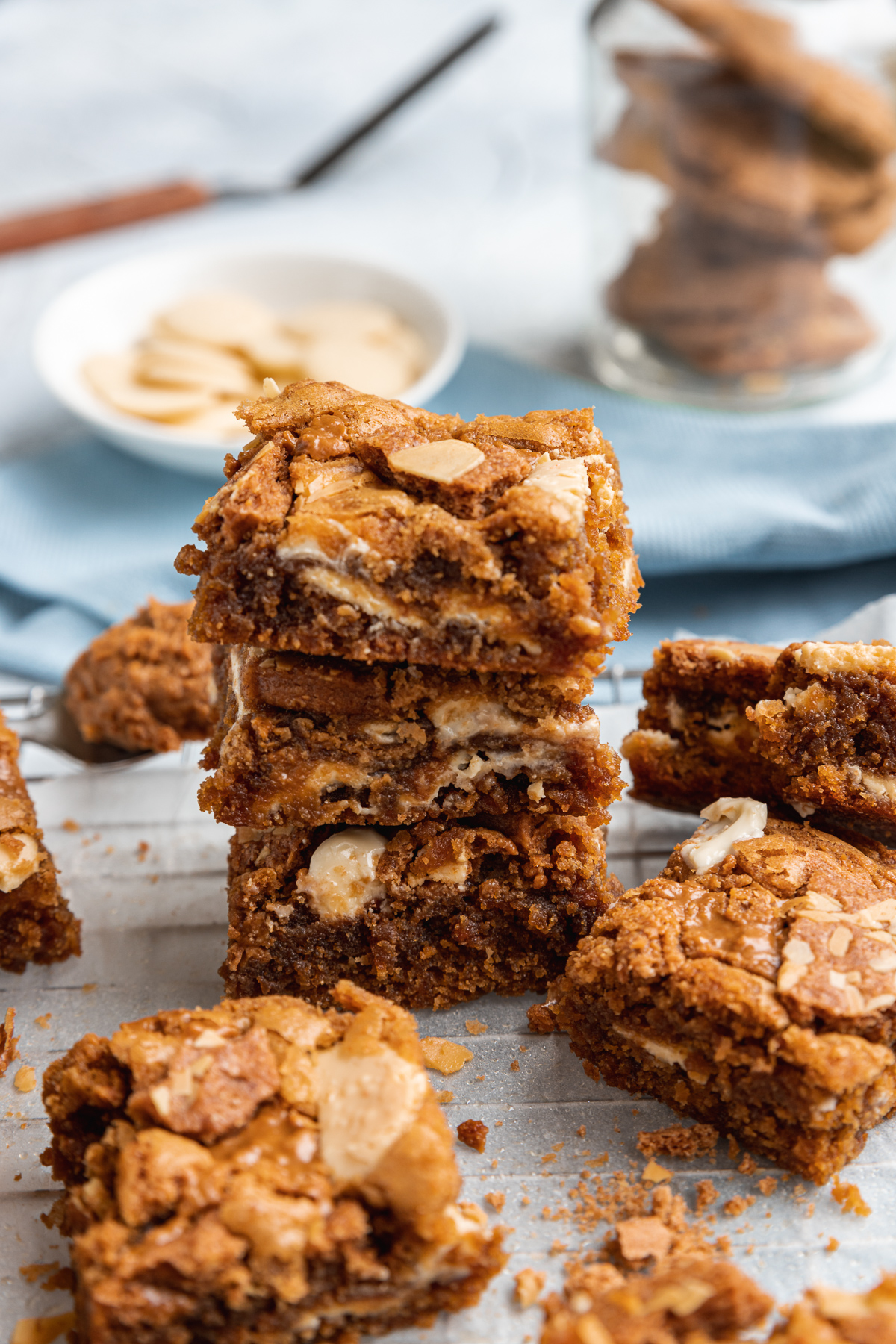 You know the desserts that always get eaten first at events? Biscoff blondies are definitely one of them.
Incidentally (in case you're looking for more chocolate traybakes for picnics, parties, BBQs and more!), these peanut butter cheerio bars, these 7 layer pecan bars, this no-bake caramel shortbread and this very yummy hedgehog slice (aka chocolate biscuit cake) fit very nicely into this category too.
But for today, it's the Biscoff blondies we're getting all excited about!
Why you're going to love them
They're super easy one bowl blondies. Easier than many brownies. So no dirtying of multiple bowls in the kitchen. No creaming of butter and sugar. Don't you love those recipes?
They're great for nut-free households. Biscoff spread is quite similar in consistency to nut butter. These blondies are made in the same way as a peanut butter blondie – but there's not a nut in sight!
They have a delicious butterscotch flavour that everyone likes, right? They're buttery, creamy, crunchy, and the perfect mix of chewy and cakey.
You only need 8 simple ingredients (plus baking powder and salt). And they're ready in just 30 minutes.
Err… what's Biscoff?
You may know it as Lotus or Speculoos or Speculaas spread (the original brand and type of cookie), or just cookie butter. It looks like peanut butter but is made out of European style crunchy caramelised biscuits, originally from Belgium.
If you want to know what it tastes like, the best thing is to buy a jar, eat some straight off a spoon, then make these blondies! But to give you an idea, Biscoff tastes like lightly spiced dark sugar English-style biscuits – but melted.
To the Brits among you… have you ever dunked a ginger biscuit in tea and enjoyed it melting into a delicious goo in your mouth? You know what I mean… 😉
More about the ingredients
After you've bought a jar of Biscoff spread and some white chocolate chips, it's very possible that you already have most of the other ingredients you need to make these.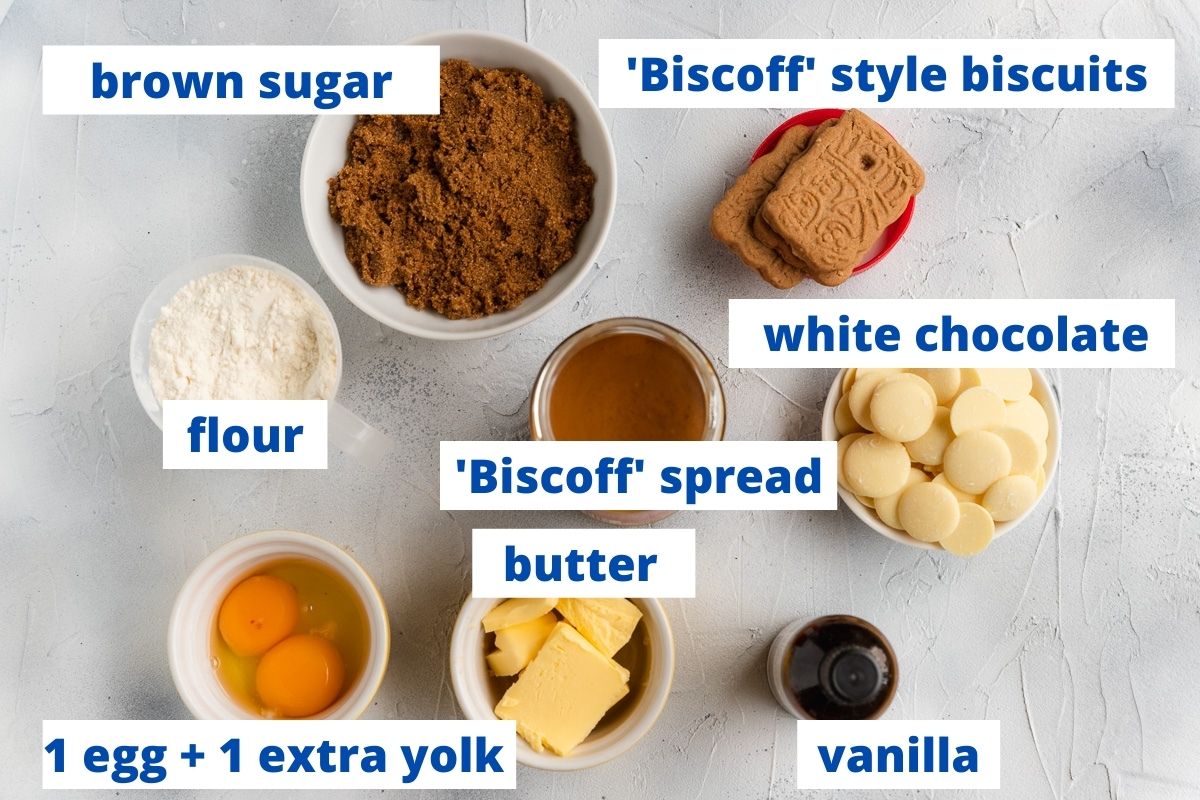 Things you might have to buy:
Biscoff spread: I've noticed that lately supermarkets have their own brands of Biscoff. You can also get 'crunchy' and 'smooth', just like peanut butter! If there's a choice, go for crunchy! You'll need about half a cup plus a little more for drizzling over the top. So there'll be plenty left in the jar to eat off a spoon when no one's looking.
Biscoff biscuits (sometimes called Speculoos/Speculaas): This ingredient is optional, but I like to sprinkle a few of these crunchy biscuits over the top of the blondies before baking. It makes for the perfect crunch!
White chocolate: Any kind of white chocolate chips will work. I like bigger ones, or you can just use a chopped up bar of white chocolate if you like, although that's extra work.
Things you might already have:
Butter: You only need a smallish amount of melted butter (about 1/3 cup or 75 grams). Oil works too, but I prefer the taste of butter in these blondies.
Dark brown sugar: I like to use this type of sugar for the best caramel taste, but light brown sugar works too. This is by no means diet food (!) but I find just half a cup of sugar is enough. This is less than in an average blondie recipe because there's more sweetness from the biscuit spread and white chocolate.
A whole egg, plus an extra yolk: I include an extra egg yolk to make sure the blondies are rich and moist but still have the perfect chewy, cakey structure.
A bit of plain flour and baking powder: You'll need around 3/4 of a cup of flour and 3/4 teaspoon of baking powder for the perfect rise.
Vanilla and salt: Just a little of each, to bring out the caramel-y flavour even more.
How to make them
Step 1: This is my favourite kind of baking. All in one bowl! Just melt the butter in a big bowl in the microwave (or over a pan of steaming water if you prefer).
Step 2: Whisk in the sugar, eggs, vanilla, and Biscoff spread until smooth.
Step 3: Stir in the flour, salt and baking powder. As always with any kind of cake, don't overmix!
Step 4: Fold in the chocolate chips!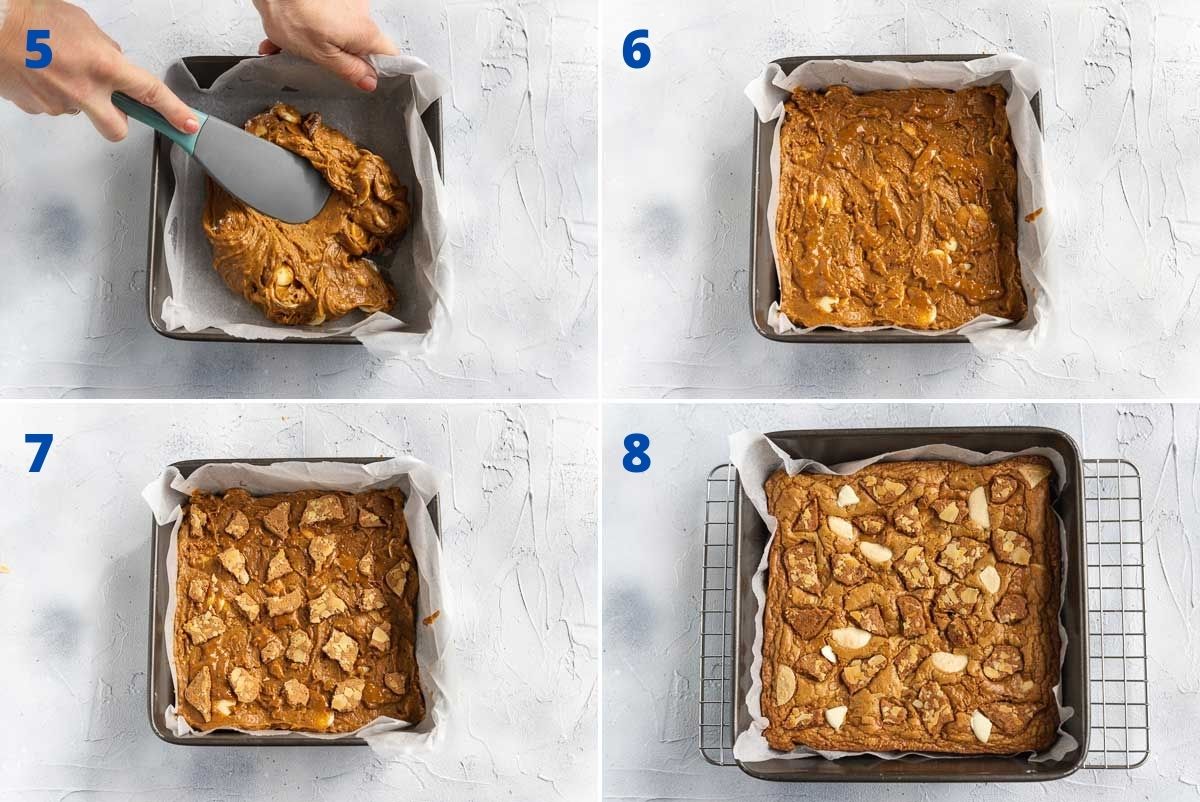 Step 5: Line a square pan (8×8 inch or 20x20cm) with baking paper. You don't have to do this but it makes getting the blondies out of the pan super easy. Then smooth the batter into the pan.
Step 6: Drizzle the top with a little extra warmed cookie butter (just heat it in the microwave for 10 to 15 seconds).
Step 7: Press a few broken up Biscoff/Speculoos biscuits into the top for a bit of crunch. I like to press a few sneaky extra white chocolate chunks on the top too!
Step 8: Bake! They should be ready in around 20 minutes. The edges will start to pull away from the sides just a little, and the top will start to look crinkly.
Pro tip: If you can bear to wait, the blondies are easier to slice if you let them cool completely first. But who's going to complain if you serve them warm with vanilla ice cream and extra Biscoff on top? 😉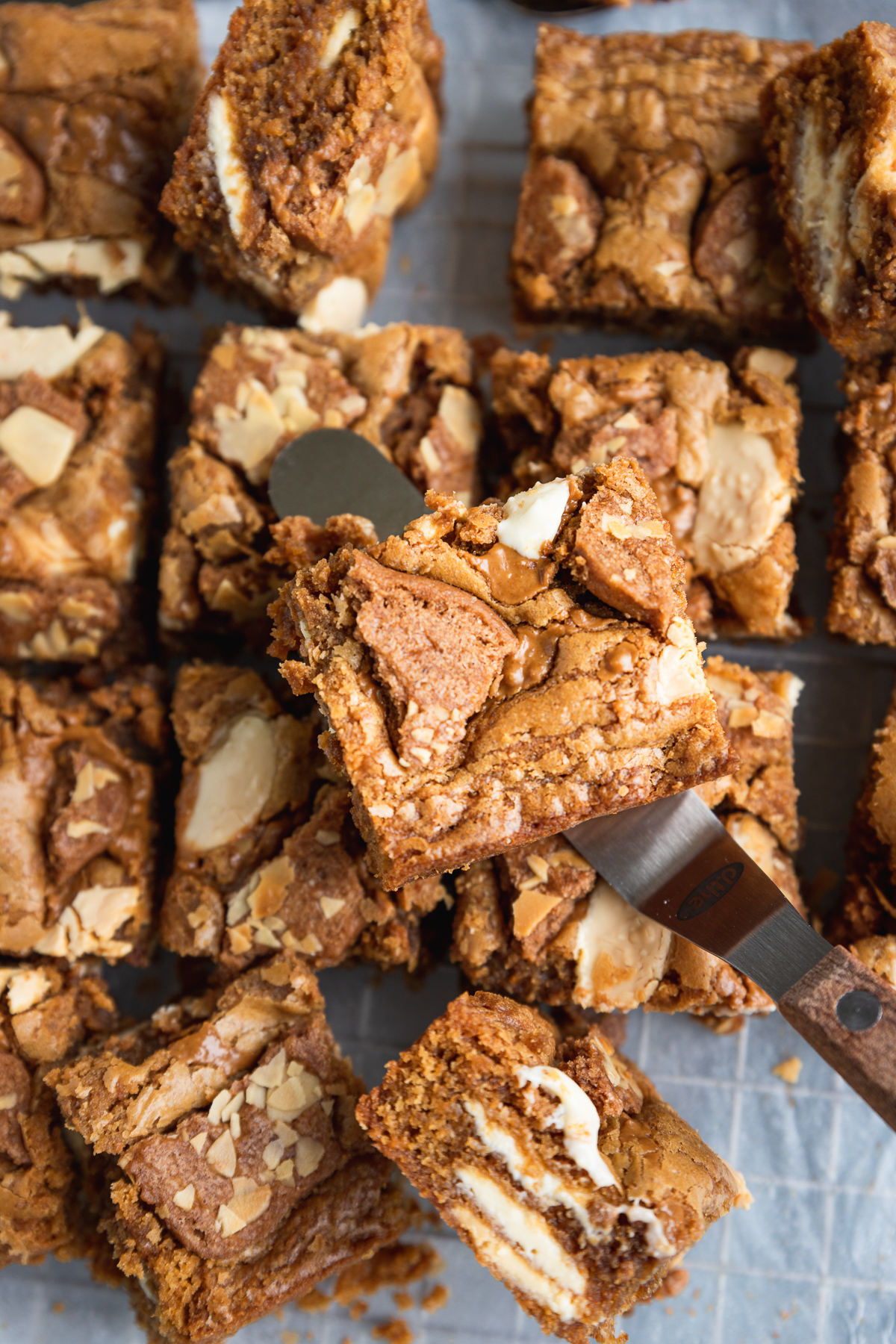 When and how to eat them
Biscoff blondies are great eaten just as any respectable blondie is eaten. Wait until completely cold (if you have the willpower!), then slice into squares and enjoy!
They're great for parties, baby showers, Easter, picnics, BBQs or any other special event. As I said, they get gobbled up fast!
But there are a couple of other fabulous ways to enjoy them. If you like, serve while still warm with a sneaky scoop of vanilla or caramel ice cream and perhaps more warm Biscoff on the top. This would make a great dessert for a dinner party, don't you think?
I came up with this final idea by accident. I wanted to give some of the blondies to a friend but didn't have quite enough for the whole family. So I sliced them into tiny little squares, packed them into a small tub lined with baking paper and called them Biscoff white chocolate blondie bites!
Variations
The blondies are delicious as they are.
But by all means, make them your own! Replace the white chocolate with milk or dark, or throw in caramel chips, M&Ms, or other sweet treats instead.
You can even throw all caution to the wind and replace the Biscoff with peanut butter. You'll then end up with peanut butter blondies rather than Biscoff blondies, but who cares as long as they're delicious?
More things to know (FAQs)
Which isle can I find Biscoff spread in at the supermarket?
I usually find it right next to the peanut butter, Nutella and other breakfast spreads. Failing that, have a look in the bakery isle.
Where can I buy Lotus/Speculoos biscuits?
These biscuits are are sold in the major supermarkets here in Australia. I've also seen them in Aldi – they're called European spiced biscuits.

If you can't find them where you live, no worries! You can either skip them altogether, or just use another kind of dark, crunchy biscuit. Any kind of caramel, ginger or dark and buttery crunchy biscuit will work well. You only need a few!
How do I know when the blondies are cooked?
They're cooked when the top is starting to look slightly crinkly and the batter is pulling away from the edges of the pan.

A skewer inserted into the centre will come out with a few sticky crumbs on it, but the batter shouldn't look raw.
How long do they keep, and can I freeze them?
These blondies will keep well for at least 3 days in an airtight container. If you keep them in the fridge they'll keep for even longer – at least a week – and they'll be a bit firmer and fudgier.

They freeze well, too. Let the blondies cool completely, then wrap really well in plastic wrap and/or aluminium foil or a sealed container. You can either freeze the whole pan or slice them into squares first and freeze.

They'll keep well in the freezer for at least 3 months.
Are these just for people with a really sweet tooth?
You might be surprised, actually! I reduced the sugar in my original recipe to just half a cup. I figured there is already sugar in the Biscoff spread and white chocolate. Instead I added an extra egg yolk and a little more flour for a nice mix of cakey and chewy texture.

Don't get me wrong, these certainly aren't diet food! But they aren't as sweet as you may expect. Each blondie contains around 200 calories, which is less than an average blondie or brownie.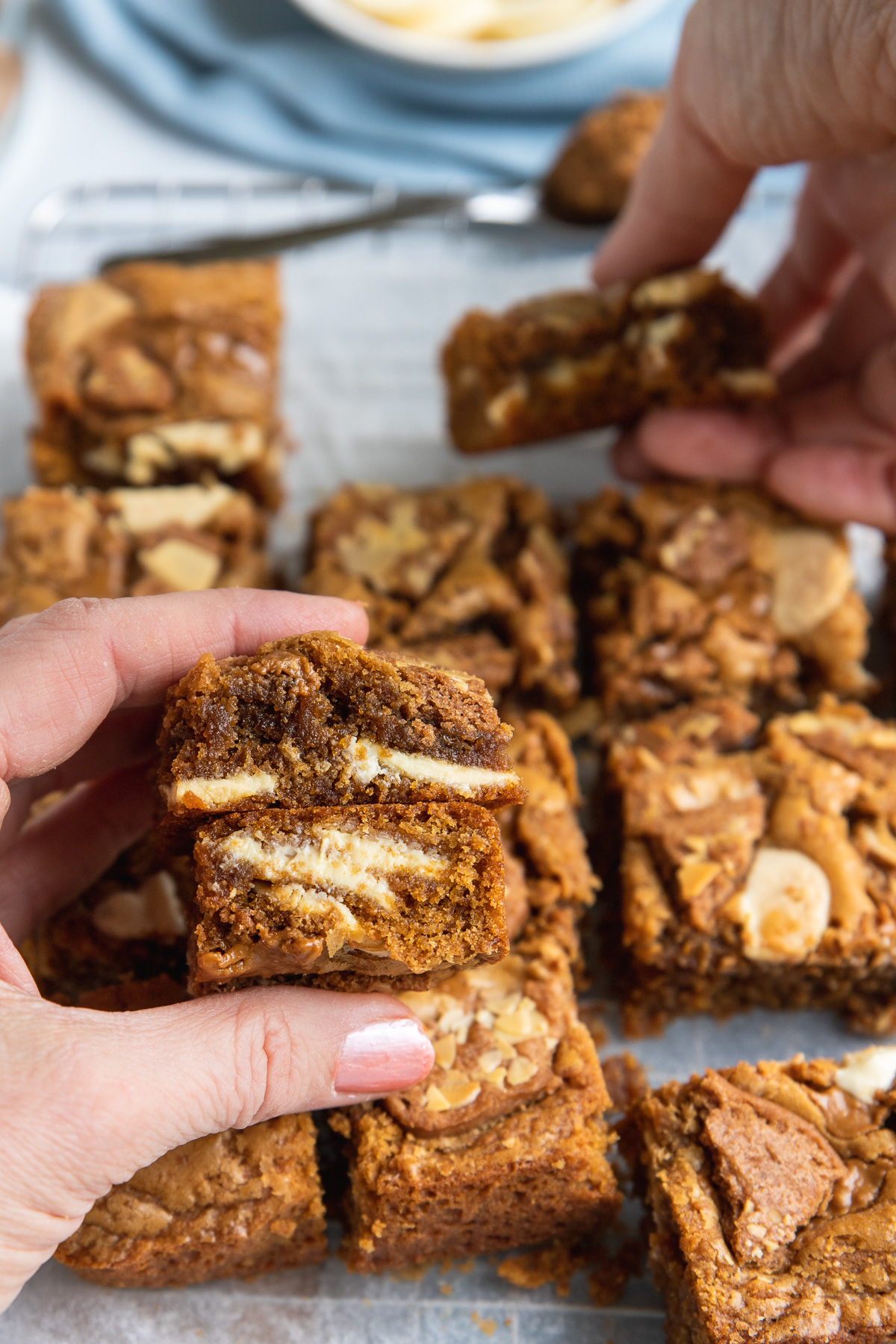 More blondie and brownie recipes
IF YOU MAKE THIS RECIPE, LET ME KNOW HOW YOU GET ON BY LEAVING A COMMENT AND RATING BELOW… AND DON'T FORGET TO SIGN UP TO RECEIVE ALL MY NEW RECIPES BY EMAIL!
FOLLOW ME ON FACEBOOK, INSTAGRAM, PINTEREST AND YOUTUBE.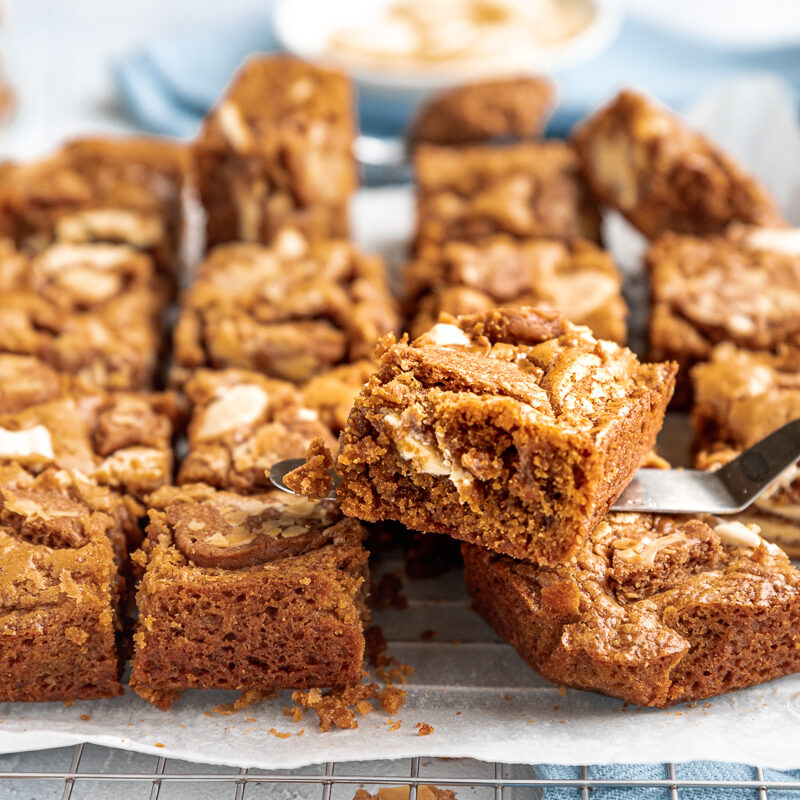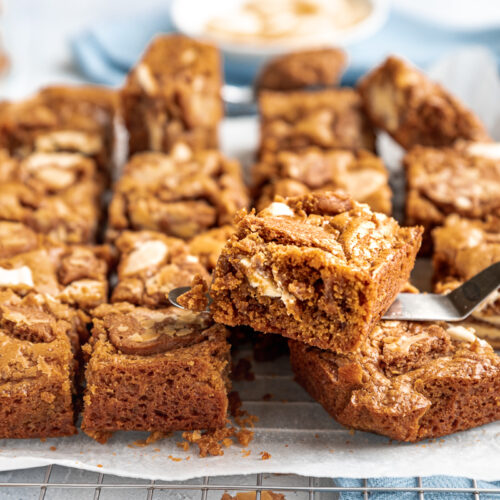 Biscoff Blondies
Caramel-y, biscuit-y, creamy biscoff blondies made with Biscoff cookie butter and white chocolate chips – all in one bowl and in just 30 minutes. They're the perfect mix of chewy and cakey. Just don't blame me if you can't stop licking the Biscoff biscuit spread off the spoon!
Ingredients (UK/Australia? Click below for grams/ml)
⅓

cup

butter

Or 75 grams or 2.5 ounces (You can use exactly the same amount of oil instead if you prefer.)

½

cup

dark brown sugar

Or 120 grams/4¼ ounces

1

large egg

lightly whisked

1

large

egg yolk

lightly whisked together with the whole egg (Separate by cracking the egg into your hand and letting the whites run through your fingers into a bowl.)

1

teaspoon

vanilla

⅔

cup

Biscoff spread

Sometimes known as Lotus spread or cookie butter. You need ½ a cup for the batter and 2 or 3 tablespoons extra for the top.

1

pinch

salt

¾

cup

plain flour

105 grams or 3¾ ounces

¾

teaspoon

baking powder

3½

ounces

chocolate chunks

Chips, chunks or just a bar of chopped chocolate. Plus a few extra to decorate the top.
Optional
3

Speculoos/Lotus biscuits

Broken into pieces. Sometimes called European spiced biscuits (for pressing into the top of the batter before baking) Alternatively use another type of dark crunchy biscuit/cookie e.g. butter or ginger biscuits
Instructions
Line an 8 x 8 inch (20 x 20cm) baking pan with baking paper and pre-heat oven to 180C/350F.

Melt the butter in a large bowl in the microwave (try 30 seconds to begin with). Let it cool for a few minutes.

Whisk in the brown sugar. Then whisk in the eggs and vanilla. Finally, stir in half a cup of the Biscoff spread/cookie butter.

Mix in the salt, flour and baking powder until just combined. Don't over-mix.

Gently fold through the chocolate.

Tip the mixture into the baking pan. Smooth down and into the corners with a spatula.

Warm the rest of the Biscoff spread in a small bowl in the microwave (15 to 20 seconds). Then drizzle it over the top of the batter in the pan. Press the broken Biscoff biscuits into the top as well. Finally, press a few extra white chocolate chunks into the top.

Bake for 20 minutes or until the blondies have started to pull away from the edges and the top is set and looks crinkly on top. A skewer plunged into the centre can come out with sticky bits on it but not raw batter.

Serve warm as a dessert with ice cream and extra warm Biscoff. Alternatively, allow to cool, then slice into 16 squares.
Notes
Where to buy Biscoff spread and Biscoff/Lotus/Speculoos biscuits: Biscoff spread/Cookie butter is widely available in Australia/UK in the peanut butter/jam isle of supermarkets. The original brand is called Biscoff but some sell their own brands now too.
The biscuits for decorating the top are usually either in the biscuit/cookie isle or in the international foods area. As they're a European brand, I find Aldi usually has their own version too (called European spiced biscuits). If you can't find them anywhere, just pick another dark and sugary crunchy biscuit (even ginger snaps/biscuits will work), or just skip the biscuits on the top of the blondies altogether.
If you're in the USA, try Trader Joe's for the cookie butter!
Substitutions: You can substitute the butter for any kind of oil if you prefer, although I think the butter really adds to the butterscotch/caramel flavour of these blondies.
Also feel free to substitute the white chocolate chips for milk chocolate or dark chocolate if that's what you have.
Batter: The batter that you smooth into the pan might seem quite thick. Don't worry, that's how it's supposed to be.
How to serve: These blondies are great warm out of the oven served with ice cream on top (and perhaps an extra drizzle of Biscoff spread?). Alternatively, let them cool completely and enjoy them as you would a brownie. They're delicious either way!
How long they keep/Freezing instructions: They'll keep for at least 3 days in an airtight container at room temperature. Or for around a week in the fridge.
Wrap well and freeze for up to 3 months. You can freeze the whole pan, or slice into individual blondies first and then freeze.
Make blondie bites instead: Sometimes I like to chop the blondies into little cubes/chunks instead of big blondies. Pack them into a nice tub or any container lined with baking paper and you have a really nice gift!
Nutrition info: Please note that the calories shown do not include the 3 optional Lotus/Speculoos biscuits and the bit of extra white chocolate pressed into the top before baking. But there will only be a little on the top of each!
Nutrition
Calories:
185
kcal
Carbohydrates:
20
g
Protein:
2
g
Fat:
11
g
Saturated Fat:
5
g
Polyunsaturated Fat:
1
g
Monounsaturated Fat:
2
g
Trans Fat:
1
g
Cholesterol:
32
mg
Sodium:
43
mg
Potassium:
76
mg
Fiber:
1
g
Sugar:
12
g
Vitamin A:
151
IU
Calcium:
23
mg
Iron:
1
mg