Last Updated on
Believe me, you really do want to try these caramel-y, biscuit-y, creamy blondies. Just don't blame me if you then get addicted to eating Biscoff off a spoon (well OK, you can then …)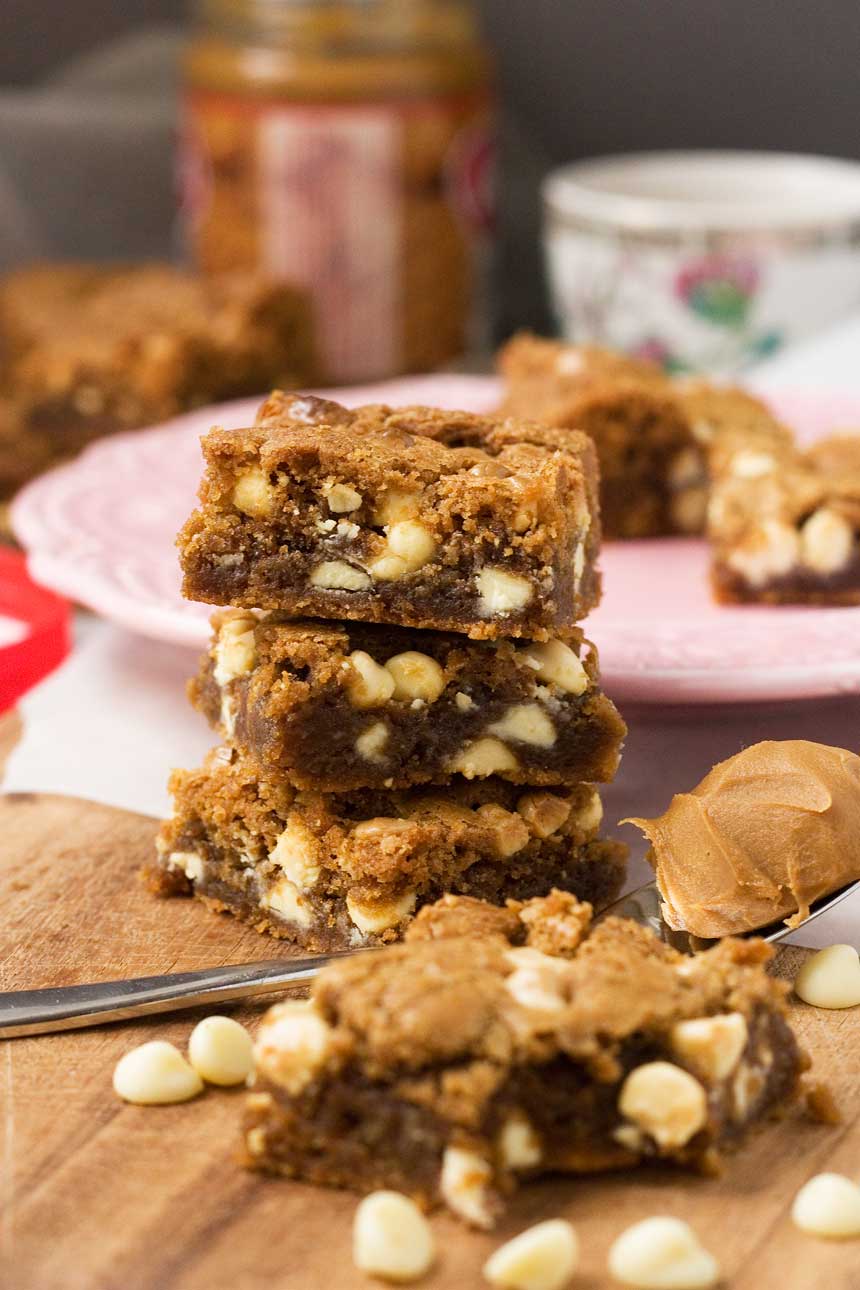 I've always secretly (or maybe not so secretly) loved dipping biscuits (the English 'cookie' kind not the American kind!) into my hot – as hot as possible – cup of tea. It might sound disgusting, but it's one of us Brits' dirty secrets.
But ohh, those dipped biccies do taste good! If you pick a good one that soaks up all the hot tea really well and melts into a gooey mess of flavour in your mouth (ginger biscuits work well, as do Digestives, malted milk and custard creams, just in case you ever get the chance to dip an English biscuit in some tea). Honestly, it tastes good, sometimes better than any luxury dessert. Just don't hold your dipped biccie for too long before stuffing it in your mouth. I have made that mistake many times and ended up with a big splodge of wet biscuit in the bottom of my tea!
I know. Just disgusting. But delicious disgusting. 😉
So now let me ask you something … have you ever tried Biscoff spread? I hadn't until recently, but I knew that I would like it as I LOVE the taste of dark sugar-y, caramel-y Biscoff biscuits. And this is where all this talk about dipping biscuits in your tea comes in because this biscuit spread (it's a bit like peanut butter but, well, made of biscuits) that has become rather popular recently reminded me of the best tasting biscuit after it's been dipped in tea!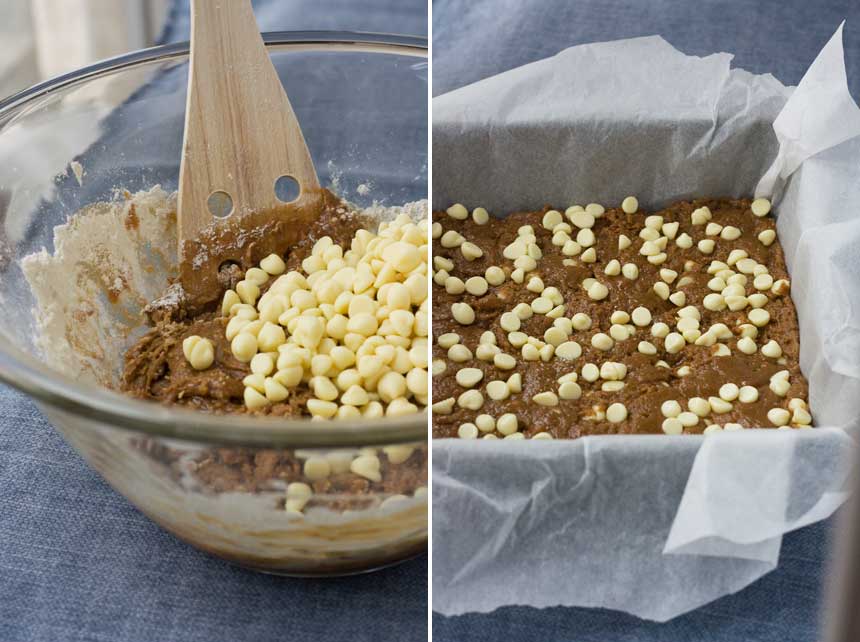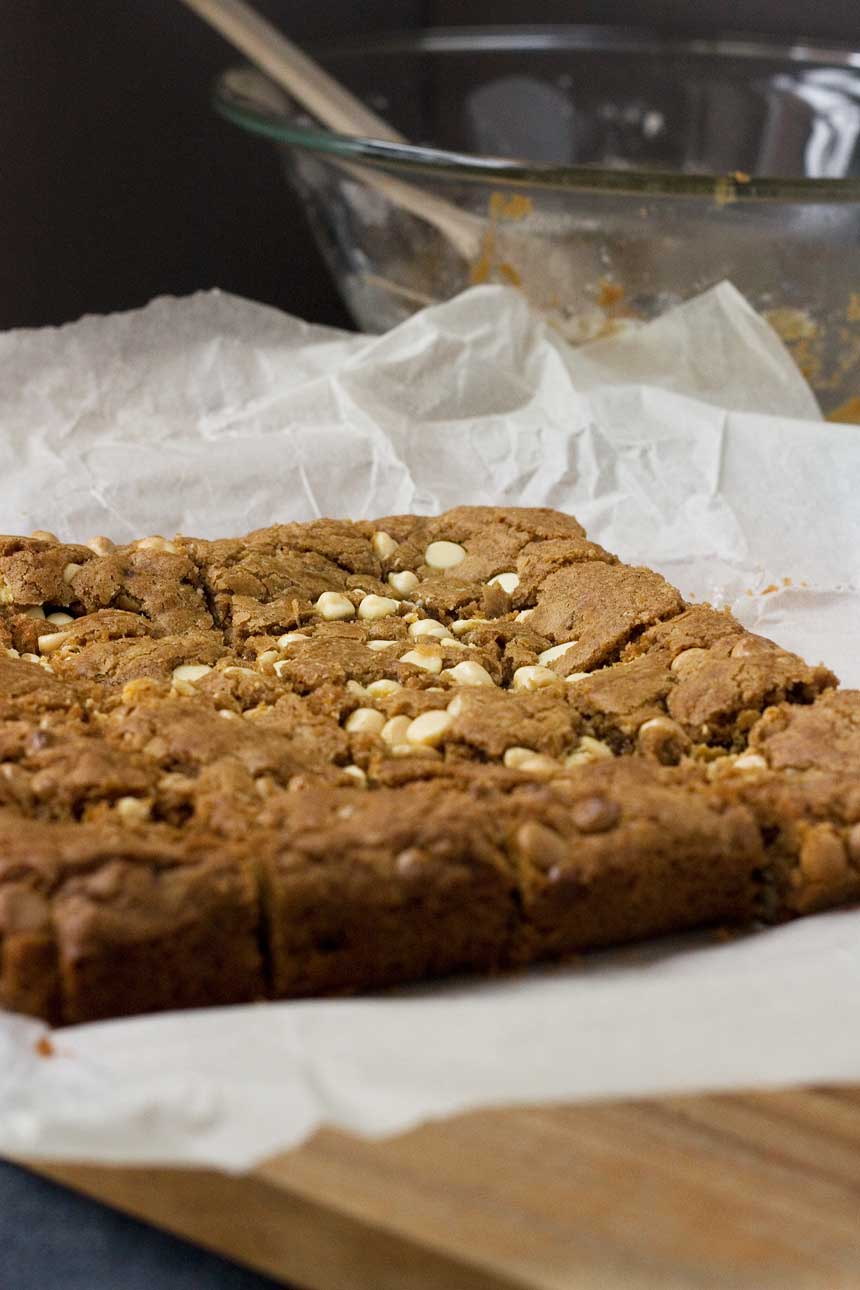 Now this spread is absolutely delicious licked right off a spoon (believe me, I've 'tested' this theory far too many times this week) but it occurred to me that it would taste great in a blondie as well! With some white chocolate chips thrown in for good measure. And of course, it does. The taste of the Biscoff spread is subtle(ish), but there. Just by the taste, if I had to describe the blondies in any other way I'd call them biscuit caramel blondies.
These certainly aren't going to end up in any diet cook books (they are very sweet, I admit!) but I justified this by cutting the blondies up into pretty small squares.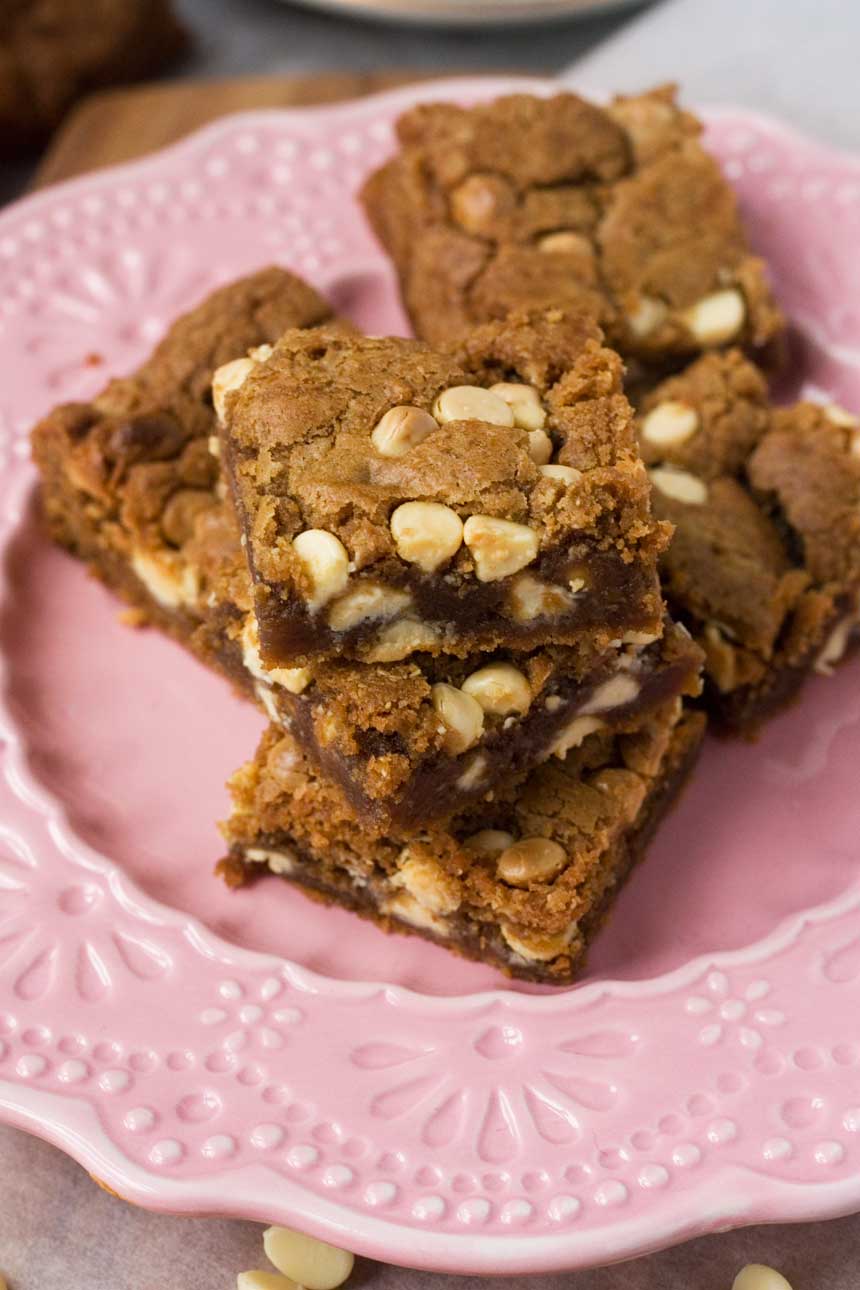 To be honest, I don't think it's the blondies that are the problem. It's being tempted to dip a spoon into the Biscoff jar every time you're in the kitchen! 😉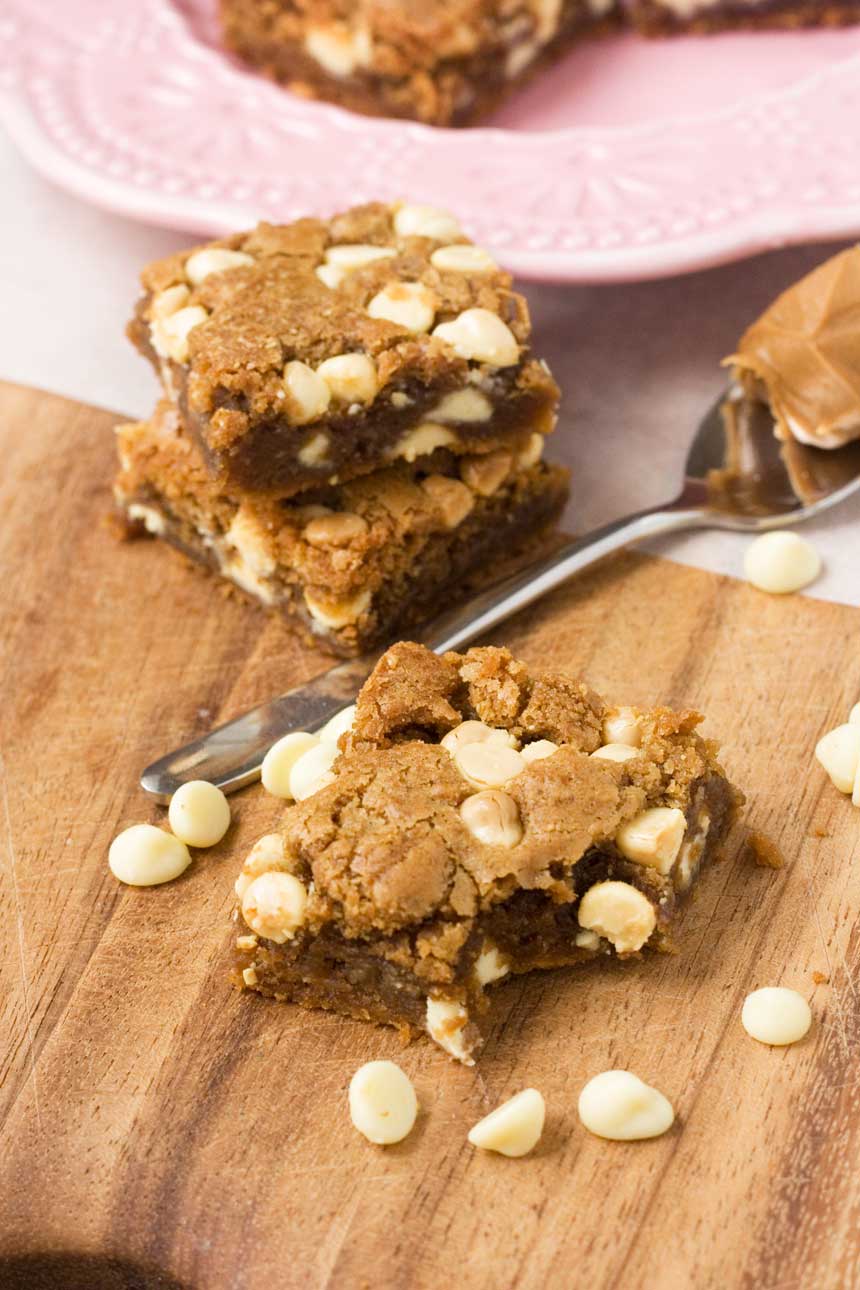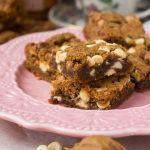 Print
Biscoff & white chocolate blondies
Caramel-y, biscuit-y, creamy blondies made with Biscoff biscuit spread and white chocolate chips. These are a bit decadent, but absolutely delicious! Just don't blame me if you can't stop licking the Biscoff spread off the spoon!
Ingredients (UK/Australia? Click button below for grams & ml)
1/3

cup

oil

I used canola oil but really any is fine

3/4

cup

dark brown sugar

1

egg

1

teaspoon

vanilla

1/2

cup

Biscoff spread

a pinch of salt

1/2

cup

flour

1/2

teaspoon

baking powder

3.5

ounces

chopped white chocolate

increase this amount a bit if you like
Instructions
Line an 8 x 8 inch baking pan with baking paper and pre-heat oven to 180C/350F.

Pour the oil into a medium bowl and whisk the sugar into it. Add the egg and vanilla and whisk again. Finally, stir in the Biscoff spread.

Mix in the salt, flour and baking powder. Don't over-mix.

Gently fold the chocolate through.

Tip the mixture into the baking pan (it'll be quite thick – don't worry!) and bake for 20 minutes or until a skewer plunged into the centre comes out clean.

Allow to cool, then slice into 16 squares.
Nutrition
Calories:
177
kcal
|
Carbohydrates:
20
g
|
Protein:
1
g
|
Fat:
9
g
|
Saturated Fat:
2
g
|
Cholesterol:
11
mg
|
Sodium:
12
mg
|
Potassium:
52
mg
|
Sugar:
16
g
|
Vitamin A:
15
IU
|
Calcium:
28
mg
|
Iron:
0.3
mg
Follow me on Pinterest!
Follow @scrummylane to pin more quick and easy recipes for later

You can also find more from Scrummy Lane on Facebook, Pinterest, Twitter and Instagram and follow me on Bloglovin! Thanks so much for reading!
*This post may contain affiliate links which means that if you click on a link and make a purchase I get a small percentage of the amount you spend. At no extra cost to you, of course! Thank you!*