Last Updated on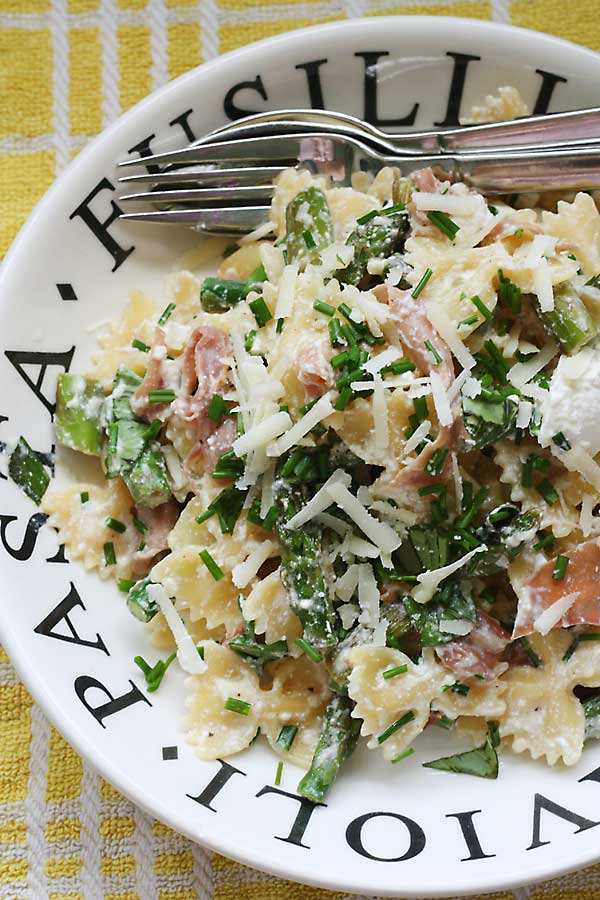 According to this article I just read on the BBC news website, 'There's only one thing more British than talking about the weather. Apologising for doing it.' That made me chuckle. It's true that we British do talk about the weather a lot, but I reckon that's because we have plenty to talk about.
I have often said that Britain is the opposite to Greece (where I lived for many years in case you're new here and didn't know that) in the weather department. No great surprises there, but what I mean is that in Greece you may wake up to a slightly or even very cloudy day, but by 10 or 11 am there is every possibility that the clouds will clear and the day will turn out beautifully after all. You have a little chat to the neighbours as you leave the house, which consists of both of you moaning a bit about the horrendous economic situation before the neighbour exclaims something like this while pointing at the sky: 'Oh, well. Look at this beautiful weather! Greece has the most beautiful weather in the world!' a la My Big Fat Greek Wedding (remember how the dad in this movie is constantly saying how the root of any word is Greek? Still hilarious after so many years.)
In England, on the other hand, you may wake up to a splendidly sunny day and think to yourself excitedly 'Now how can I spend this gorgeous day?' You decide that you'll go for a lovely walk in the countryside followed by a picnic and bound off to get your things ready. But by the time you've packed your sandwiches, you'll suddenly notice that the room has gone dark and it is in fact now raining and windy. Cancel that walk and picnic? Erm, no, actually. You damn well go on the picnic, raining or not.
I sound like a pro at this, don't I? That's because I am. When I was a child, we were that family, along with many others, sitting in a random countryside car park eating our ham salad sandwiches and sipping tea from a big flask with rain streaming down the windows. I think they call it British stoicism or the 'stiff upper lip.' 😉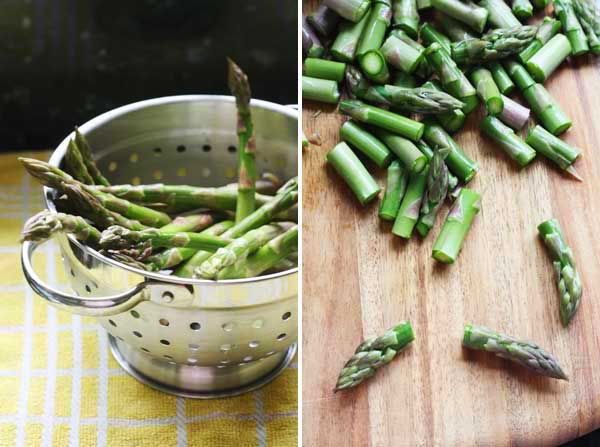 You'd be forgiven for thinking that all this weather talk couldn't possibly have anything to do with this lemony asparagus & prosciutto ricotta farfalle. Ah, but it does! Or at least you fellow food photographers will understand that it does. Because, you see, since I started this blog I've been in one of two places, Athens Greece or Perth Australia. The weather in both places was nearly always bright even if it wasn't sunny, so I usually took my photographs outside in a shady but still fairly bright spot. Easy(ish). Now in England at my parents' house, I have a whole new photo-taking routine to figure out. There are plenty of windows with all sorts of variations of light streaming through, and plenty of passing clouds to provide the shade needed for decent photos, in theory. The only problem is, the weather never stays the same from one moment to the next, which means that a particular spot stays perfect for photos for … ooh, let's say a grand total of about ten seconds. You think I'm exaggerating, right? Wrong.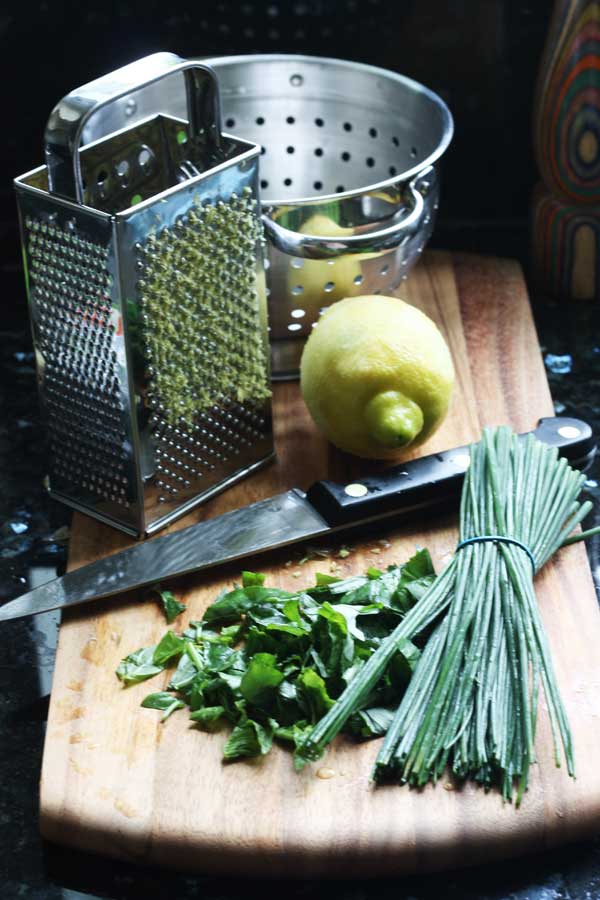 So lunchtime a couple of days ago when I made this pasta found me dashing around the different rooms of my parents' house (and the garden) trying to find the best light for my photos as the weather chopped and changed. Not my most refined moment.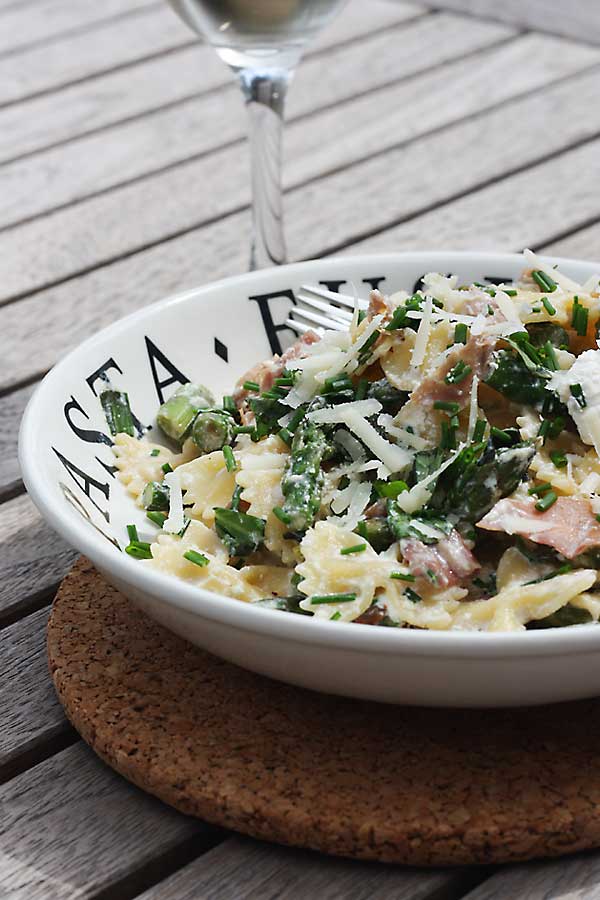 Thankfully, the finished pasta was worth all the running backwards and forwards juggling cameras and chopping boards and pots of pasta and asparagus tips and forks. The idea for it with the lovely bow-tie pasta shapes (aka farfalle) had actually been brewing in my mind for a week or two and it was every bit as delicious as I had been hoping. There was relatively little to it, just some lightly pan-fried asparagus tossed through freshly-cooked pasta with prosciutto, ricotta cheese, lemon, parmesan and fresh basil and chives, but those beautiful flavours and textures really do marry well all together in that one dish. They are mostly delicate flavours, but then there's the slightly salty, tangy addition of the parmesan and the prosciutto, that loveliest of Italian cured meats. As for the ricotta, I mixed most of it through the pasta pretty well, added a little reserved pasta cooking water to loosen it all up and then dotted the rest of the ricotta over the finished dish because I love eating 'splodges' of ricotta like this.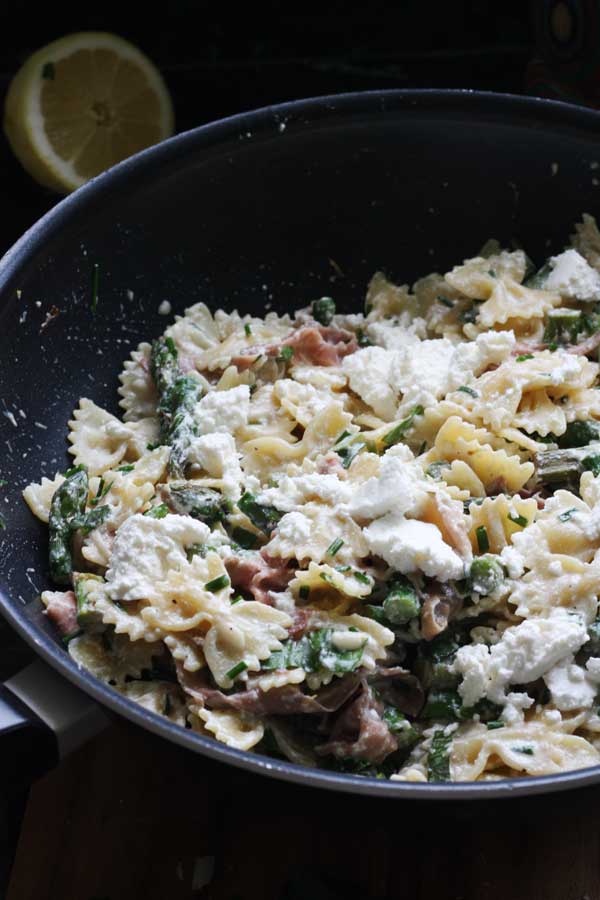 By the time I'd finished making and photographing this dish, the sun was well and truly out and Mr. Scrummy and I were able to enjoy it in my parents' beautiful garden with a small glass of white wine. A perfect spring lunch if ever there was.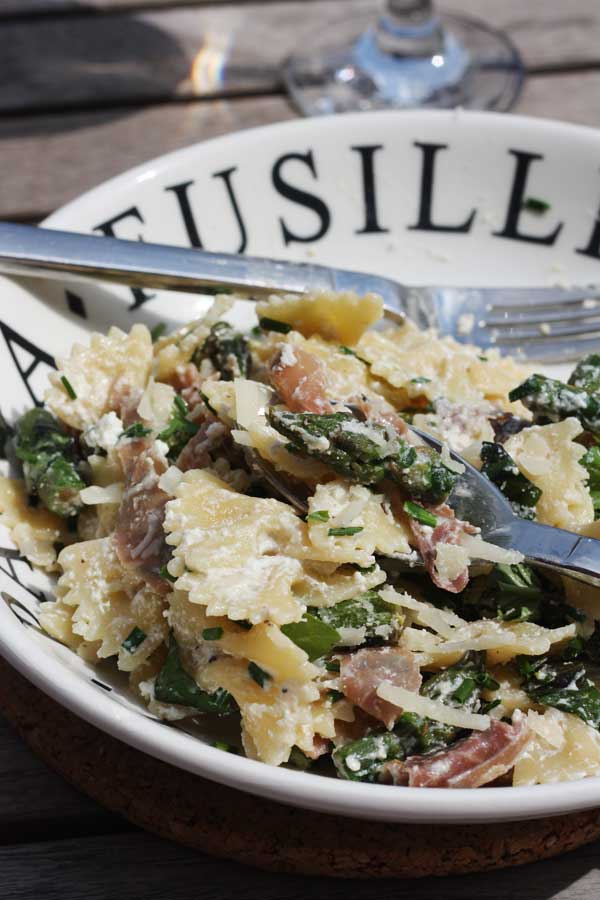 So I definitely had a good old chin-wag about the weather in this post, didn't I? And I am even a bit tempted to apologise for it. That must just prove what a true Brit I still am! The truth is, though (in my opinion at least), no matter where we are from we all enjoy a good natter about the weather. So feel free to tell me in the comments section how people in your country talk about it. Go on, just for a bit of fun.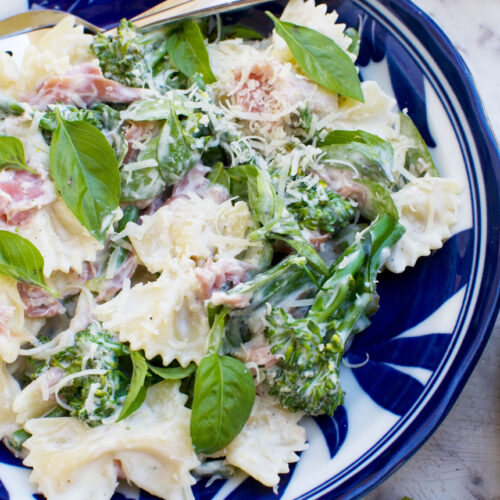 Lemon ricotta pasta with broccoli and prosciutto
A light and fresh tasting simple lemon ricotta pasta with broccoli, prosciutto, and fresh basil. It's a crowd pleaser, it's perfect for spring or summer (or any time of year), and it's on the table in just 20 minutes. It makes a great midweek family meal, but it's equally as good for easy entertaining!
Equipment (affiliate links)
Ingredients
7

ounces

broccoli

washed and chopped into pieces, including the stems (or use any greens: asparagus, snow peas/mange tout, frozen peas...)

1

lemon

(zest of all of it, juice of half of it)

½

cup

parmesan cheese

grated

1½

ounces

prosciutto

torn into pieces (this is cured Italian ham; or use good quality ordinary ham)

4½

ounces

pasta

I like bow tie (farfalle) pasta but any is fine

½

cup

ricotta cheese

1

bunch

fresh basil

freshly ground black pepper
Instructions
Cook your pasta according to the cooking ingredients.

Meanwhile, pan fry broccoli in a wok or large frying pan for 3 or 4 minutes until lightly browned and slightly tender. Turn off the heat.

Drain the pasta and reserve some of the water. Add it to the broccoli in the pan along with most of the ricotta, the lemon zest and juice, and most of the parmesan and basil. Stir well.

Add a little of the cooking water you reserved to loosen up the sauce and grind in some black pepper to taste. Then heat and stir again for about 30 seconds or until the pasta has warmed through again.

Serve immediately. Top with the rest of the parmesan and basil.
Notes
What pasta to use
I like farfalle (bow tie pasta), but no rules here! Use your favourite, or just what you have 😉
What if I don't like broccoli?
No worries. Use another quick-cooking green vegetable such as asparagus (this works particularly well), frozen peas, chopped courgette/zucchini, spinach or snow peas/mange tout.
Can't I just use ham instead of prosciutto?
Yep! 
Don't forget...
When you drain the pasta, pop a jug under the colander to catch some of the cooking water. Adding this to the sauce to loosen it up will make all the difference!
There are more than 2 people in my house!
If you need dinner for 3, 4 or 5 just double the recipe. Any leftovers can be enjoyed the next day (see below). 
Can I reheat the leftovers?
Yes you can, but go easy. Heat gently with a little extra water or milk. The leftovers happen to be quite nice cold, too, so you could transform them into a school or work lunch.
Nutrition
Calories:
581
kcal
Carbohydrates:
62
g
Protein:
30
g
Fat:
24
g
Saturated Fat:
12
g
Cholesterol:
62
mg
Sodium:
631
mg
Potassium:
660
mg
Fiber:
6
g
Sugar:
5
g
Vitamin A:
1298
IU
Vitamin C:
118
mg
Calcium:
504
mg
Iron:
2
mg
I hope you enjoyed this post! You can subscribe to receive posts directly to your inbox by entering your email address in the box below or at the top of the sidebar on the right.
You can also find more from Scrummy Lane on Facebook, Pinterest and Twitter  and follow me on Bloglovin! Thanks so much for reading!