This puff pastry tart with tomatoes, prosciutto and pesto is one of my go-to easy lunch ideas. It's no fuss, but colourful and impressive. It's so quick and easy to make and always a crowd pleaser!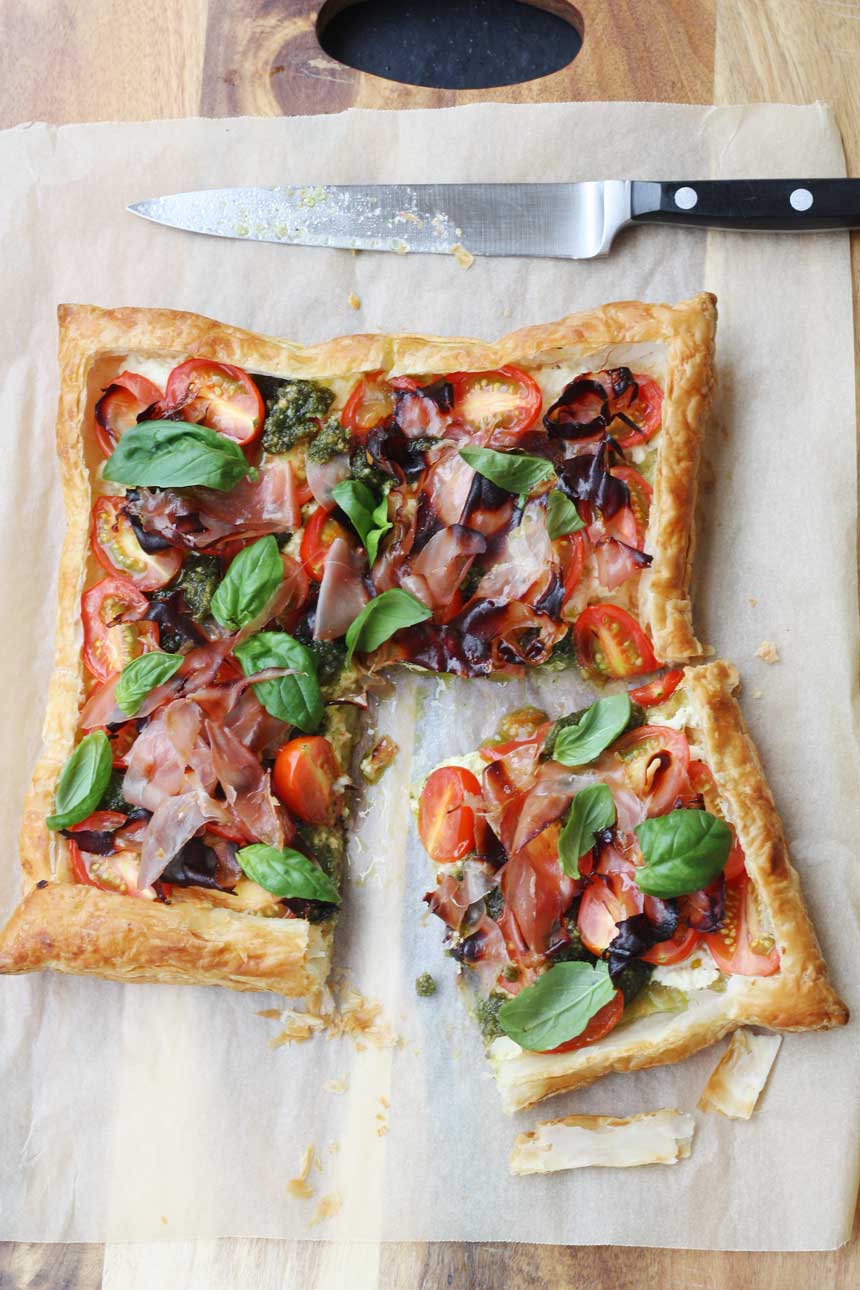 If you've never made a puff pastry tart, you're missing out on one of life's easy peasy entertaining secrets.
I have an enduring love affair with them not only because they're pretty cute looking, but also:
they're super quick and easy to make, but impressive enough looking to serve to guests.
You use a shop bought square or rectangular sheet of puff pastry, so no fiddling around with homemade pastry!
they're generally a crowd pleaser. You could say they're kind of like a puff pastry pizza, and doesn't everyone love pizza?
they're really versatile. Serve small squares of puff pastry tart as an easy appetizer, take them along to a party, or serve them as a simple lunch for yourselves or guests.
you can vary the toppings depending on what you have or what you like. Don't have ricotta? Just spread with cream cheese or pesto. Vegetarian? Just leave off the prosciutto!
About the ingredients
olive oil, salt & pepper (if you like)
So that's just 7 ingredients, if you don't count the olive oil and salt and pepper 😉
I told you this yummy tomato tart was easy. The secret to its success is just a few very fresh, very basic, but very tasty ingredients.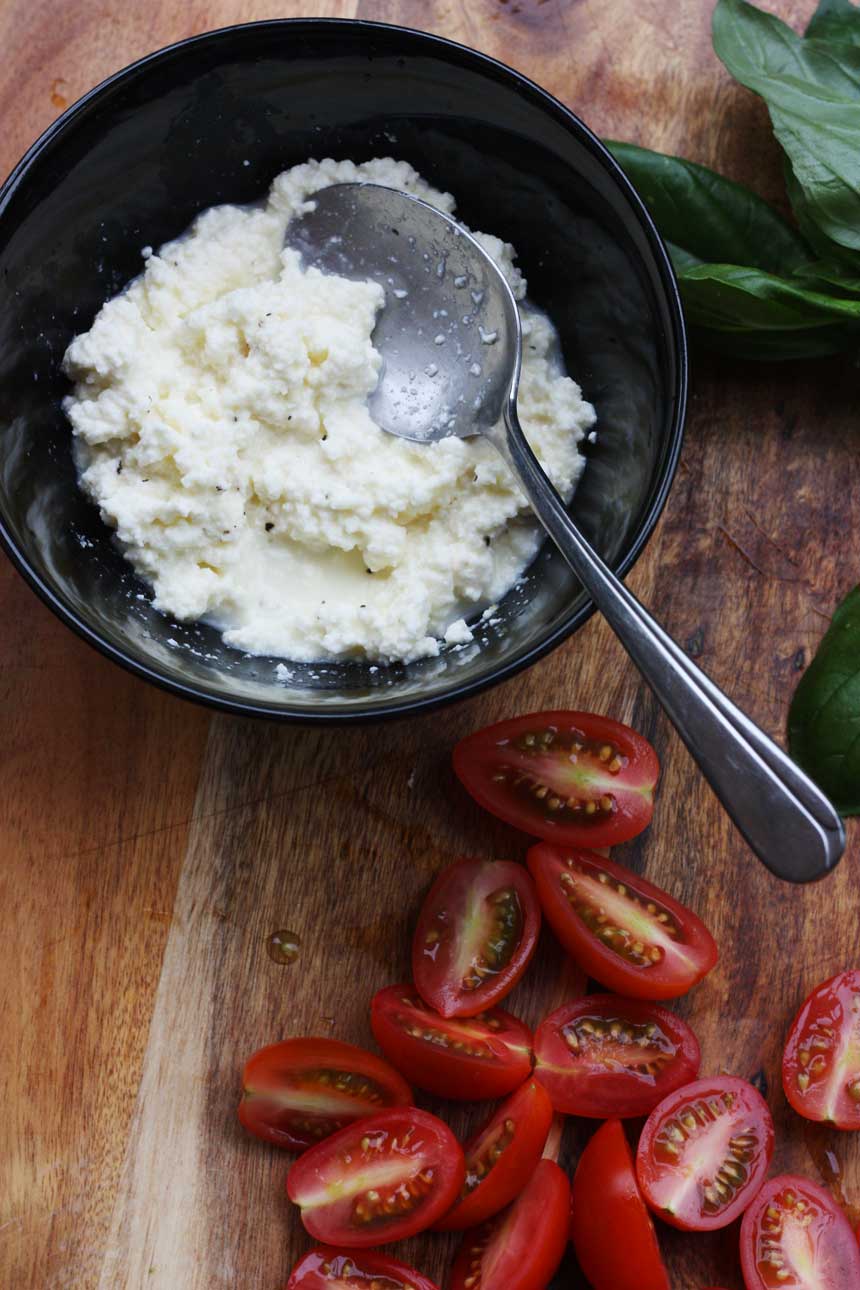 How to make a puff pastry tart
1. How to make the tart shell
I find it's best to pre-bake your tart shell slightly before piling on the toppings to stop it going soggy. No one likes a soggy bottom!
Lay a sheet of ready made puff pastry (I usually buy frozen and let it defrost before using) on a baking tray lined with baking paper.
Score around the edges with a knife (about 1.5 cm in) and bake for about 5 minutes.
When you bring your tart shell out of the oven, the pastry will have already started to puff up both around the edges and in the middle. That's OK. Simply push down the part inside the area you scored with the back of a spoon!
Like this …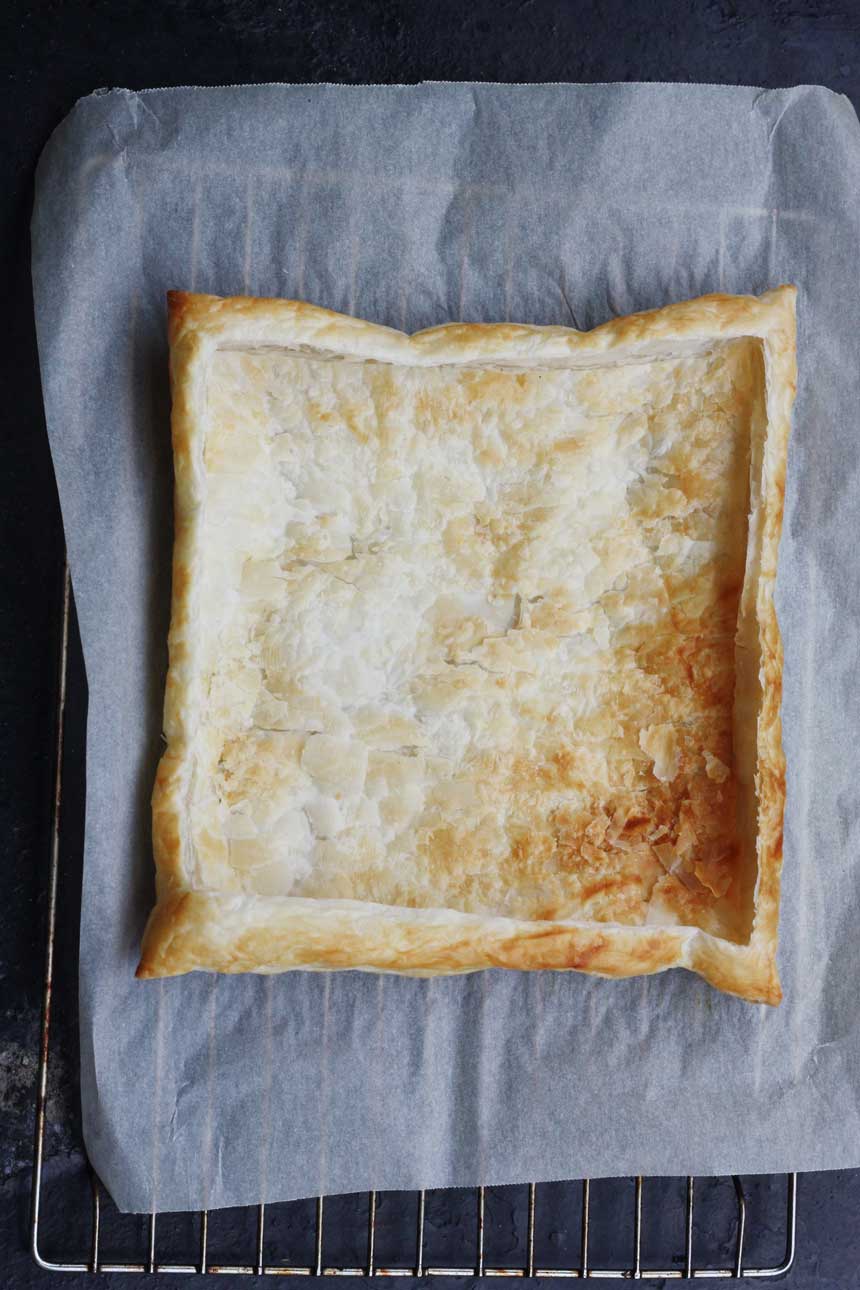 2. Adding your toppings
Now you're ready to add your chosen toppings, just as you would to a pizza. Except you're making a kind of puff pastry pizza!
Whenever I add the toppings to a savory tart like this one, the first thing I do is spread the bottom with ricotta cheese and a little lemon zest.
Then I dot over some pesto, either homemade or store bought, and scatter over some halved cherry tomatoes.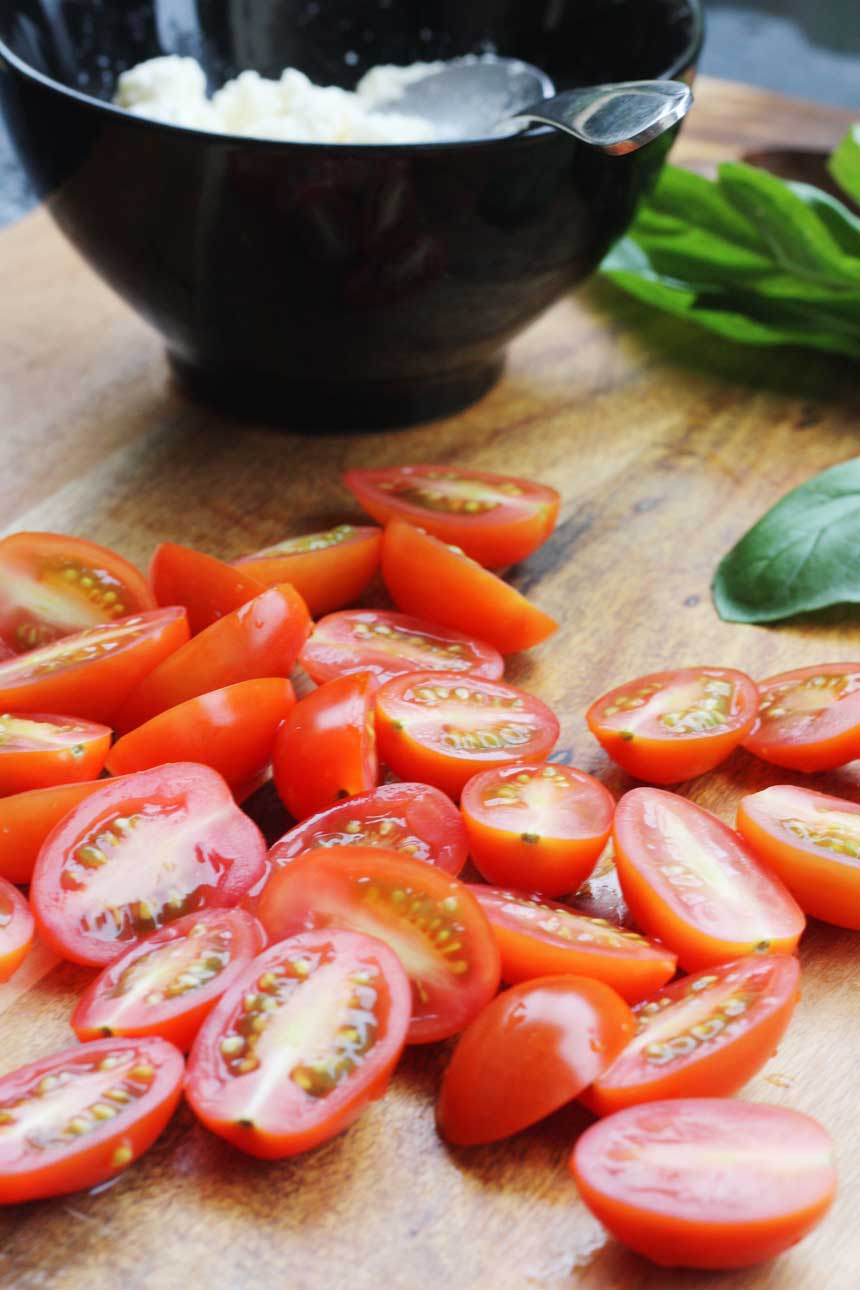 I bake for another 10 minutes, then add slices of Italian prosciutto (or similar – ham works too!). Drizzle over a bit of olive oil and bake for a final 5 minutes.
The final touch is to scatter over a little fresh basil and drizzle over some extra virgin olive oil. Gorgeous!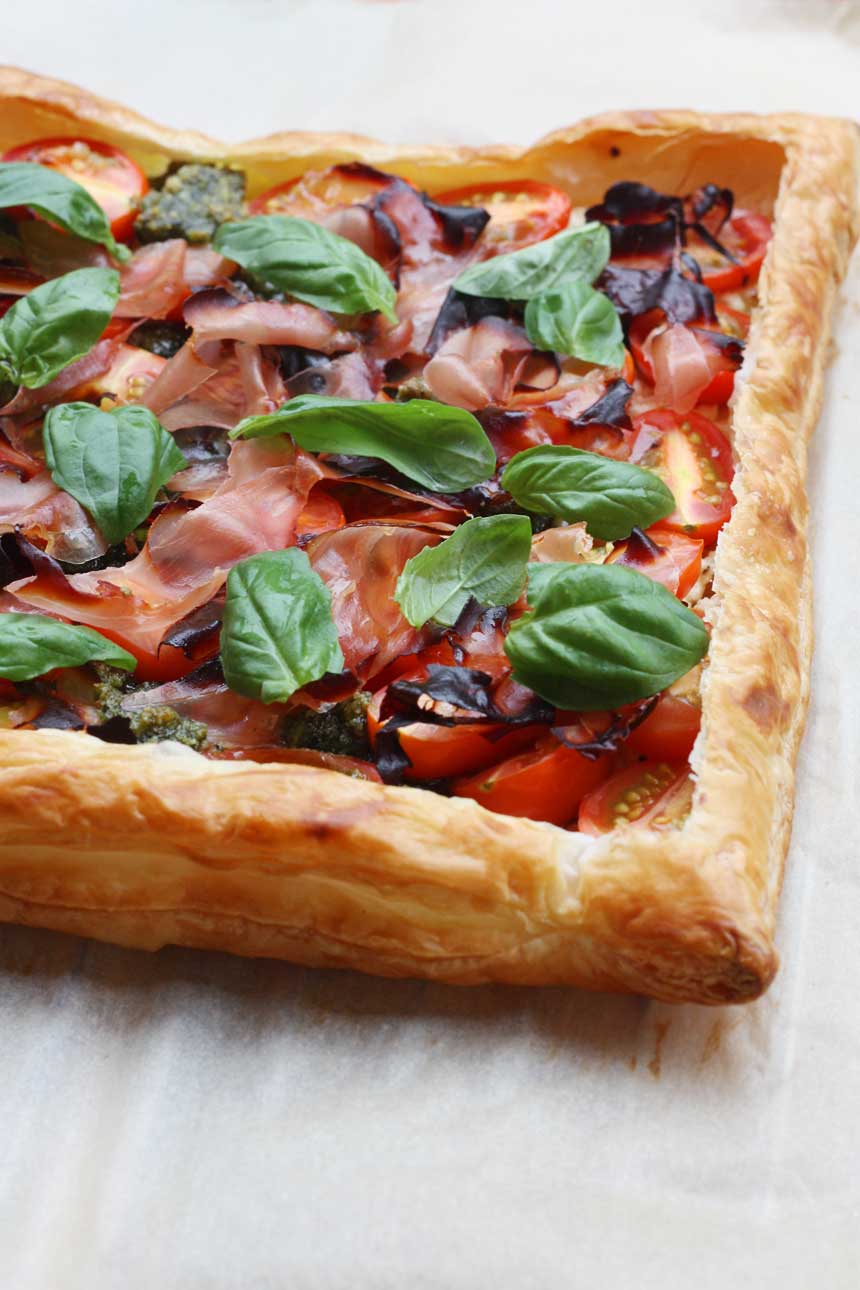 Pro tip: Make your puff pastry tart look super fancy by varying the colours included in the toppings, and sprinkling some fresh herbs over the top.
More topping ideas!
As I've mentioned, one of the great things about these tarts is that you can customise to your heart's content.
Some ideas that come to mind:
Replace the ricotta mixture and pesto with pasta sauce and mozzarella to make more of a puff pastry pizza! Just go easy on the tomato sauce. You don't want a soggy bottom!
Skip the prosciutto and add another cooked meat instead. I'm thinking salami, chorizo, ordinary ham or cooked shredded chicken (rotisserie chicken would be great).
Replace the fresh tomatoes with sundried tomatoes. Add them near the end of the cooking time though because they burn pretty easily.
Add leftover roasted vegetables of any description. Crumble over a bit of feta cheese. Mmmm. I'd skip the meat on this one, too. Not necessary!
Pan fry a few chopped zucchini (courgette) pieces and mushrooms, then sprinkle those over as well.
Really, the possibilities are endless!
What to serve with a puff pastry tart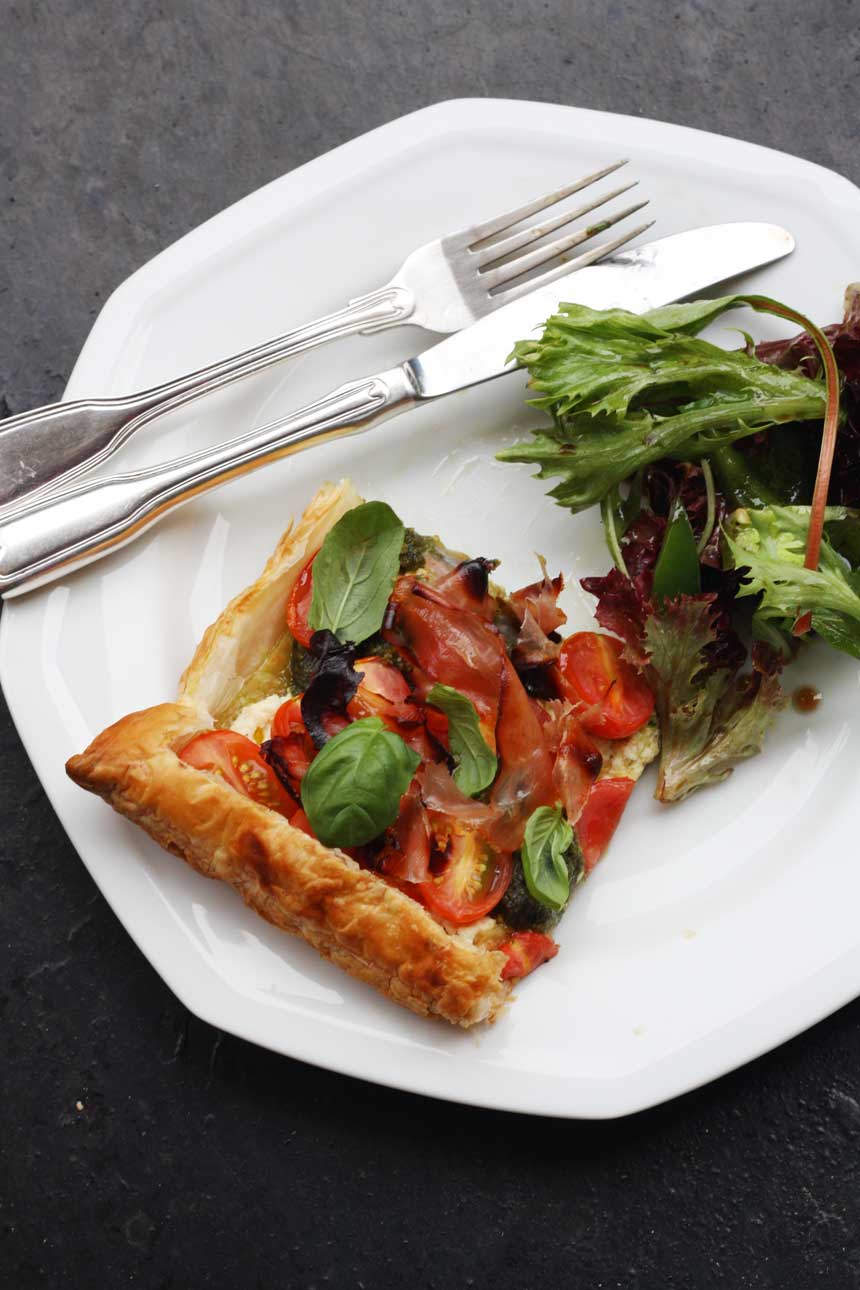 As I tend to serve puff pastry tarts like this one as a light lunch, I usually keep it easy and serve with a very simple green salad.
Drizzle over a little olive oil and balsamic vinegar, or your favourite salad dressing, and lunch is served!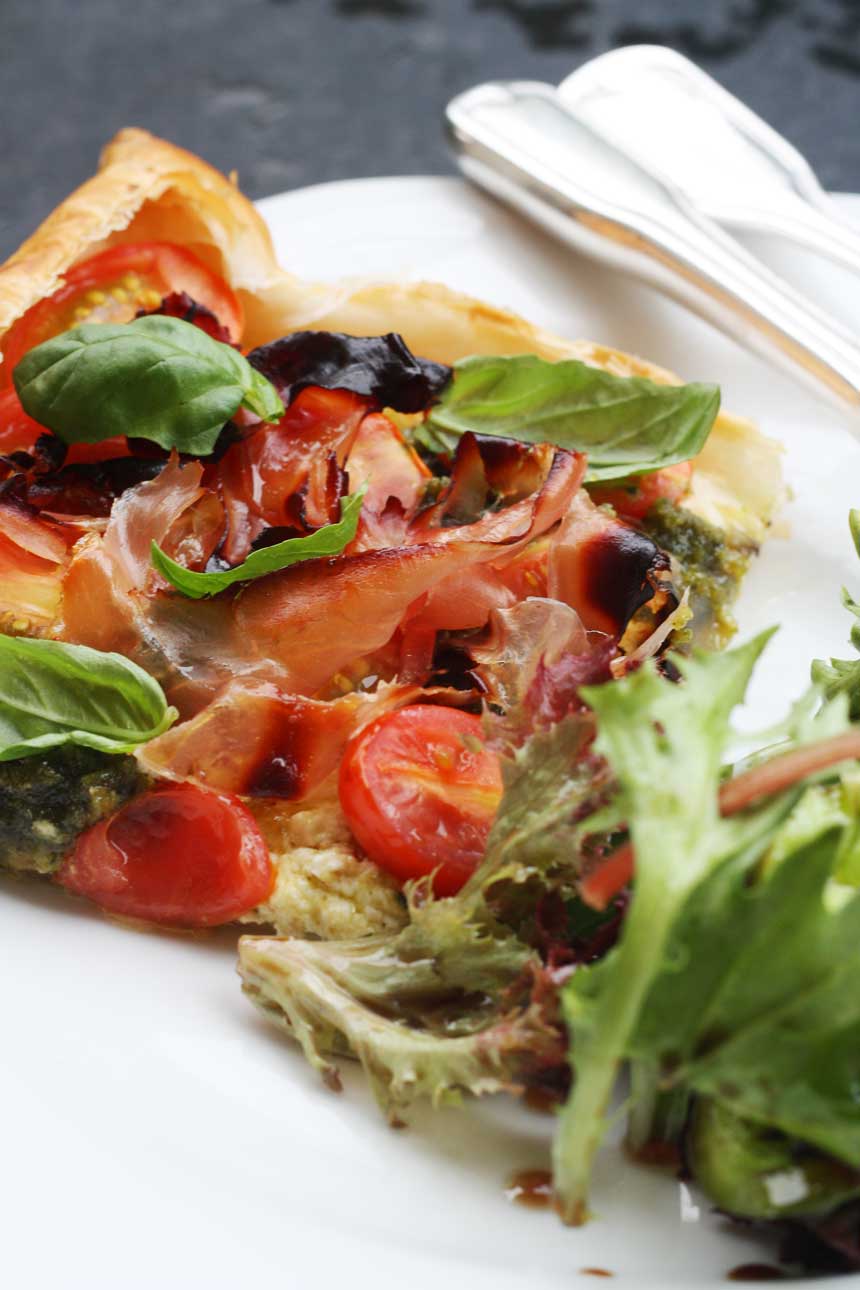 Can you make this ahead of time?
I'm all for making recipes as easy as possible, and making things ahead when I can, but…
…in the case of a puff pastry tart, I'd say they're so quick and easy to make that it's best to make them just before eating.
The best thing you can do is prepare your toppings ahead so that all you have to do when you're ready to eat is blind bake the pastry, add your toppings and bake!
Can you reheat it?
Yes! I doubt you'll have any leftovers, but just in case…
Keep leftovers covered in the fridge, then reheat for 8 to 10 minutes at 180C/350F.
Got leftover ricotta? Use it to make this delicious 20-minute lemon ricotta pasta with broccoli and prosciutto!
More puff pastry recipes
More pesto recipes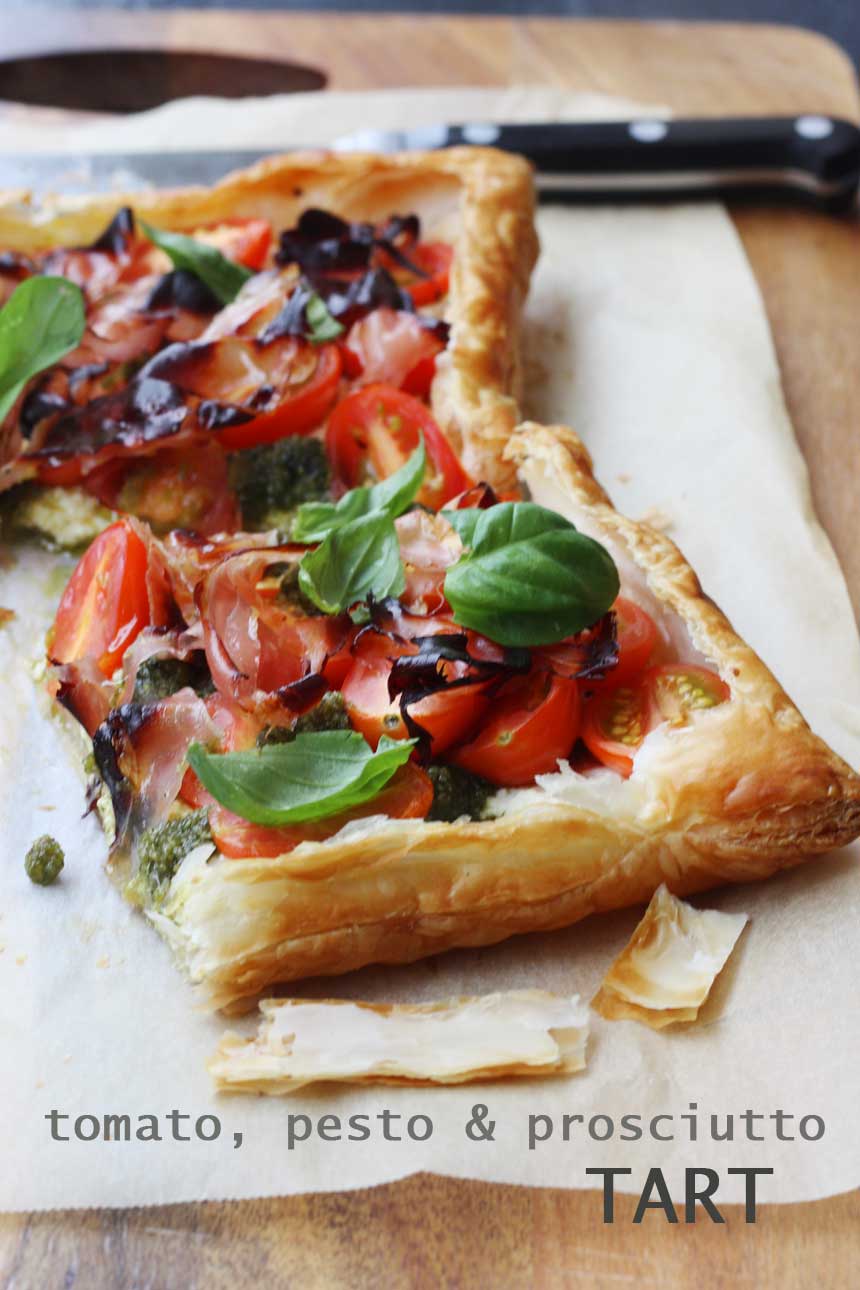 IF YOU MAKE THIS RECIPE, LET ME KNOW HOW YOU GET ON BY LEAVING A COMMENT AND RATING BELOW… AND DON'T FORGET TO SIGN UP TO RECEIVE ALL MY NEW RECIPES BY EMAIL!
FOLLOW ME ON FACEBOOK, INSTAGRAM, PINTEREST AND YOUTUBE.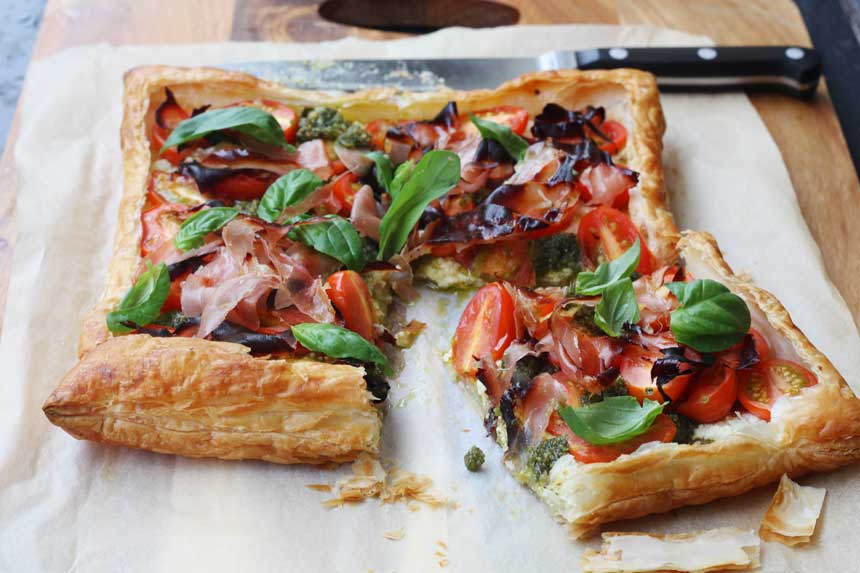 Quick Puff Pastry Tart With Tomatoes, Prosciutto And Pesto
This is a simple puff pastry tart that's topped with ricotta, baby tomatoes, pesto & prosciutto. It's like a puff pastry pizza! Easy enough for a simple throw-together lunch, but impressive enough to serve to guests!
Equipment (affiliate links)
Ingredients (UK/Australia? Click below for grams/ml)
Instructions
Pre-heat the oven to 390F/200C.

Place the pastry on a large baking tray lined with baking paper. Score all around the edge with a knife, leaving a border of about 1.5 cm (make sure you don't cut all the way through the pastry).

Combine the ricotta cheese with the lemon zest and a little freshly ground salt & pepper in a small bowl. Put aside.

Bake the pastry for 5 minutes, then remove from the oven and push the centre of the tart down with the back of a spoon (leave the rim of the tart puffed up).

Now add your toppings. First spread the ricotta mixture over the tart, then add small spoonfuls of pesto and the tomatoes (cut side up is nice).

Bake for another 10 minutes, then add the prosciutto. Drizzle over a little olive oil and cook for another 5 minutes until the tart is golden and puffy.

Finally, sprinkle the finished tart with fresh basil leaves.
Notes
Pastry
This recipe assumes that you are using a rectangular sheet of ready made puff pastry (about 300 grams in weight).
Sometimes I use a square sheet of puff pastry (about 9.5 x 9.5 inches) instead. In this case I reduce the amount of ingredients a bit, or I make two tarts (I always make 2 for a lunch for 4!).
Toppings
To be honest the ingredient amounts stated in this recipe are merely a guide. It's not the end of the world if you use more or less of something, or you miss out an ingredient altogether.
You can:
use cream cheese instead of ricotta cheese.
use ordinary ham instead of prosciutto
use sundried tomatoes instead of fresh tomatoes (but don't add them until the last 5 minutes or they'll burn)
Nutrition
Calories:
589
kcal
Carbohydrates:
35
g
Protein:
13
g
Fat:
45
g
Saturated Fat:
13
g
Cholesterol:
36
mg
Sodium:
439
mg
Potassium:
268
mg
Fiber:
2
g
Sugar:
3
g
Vitamin A:
652
IU
Vitamin C:
26
mg
Calcium:
122
mg
Iron:
2
mg