Last Updated on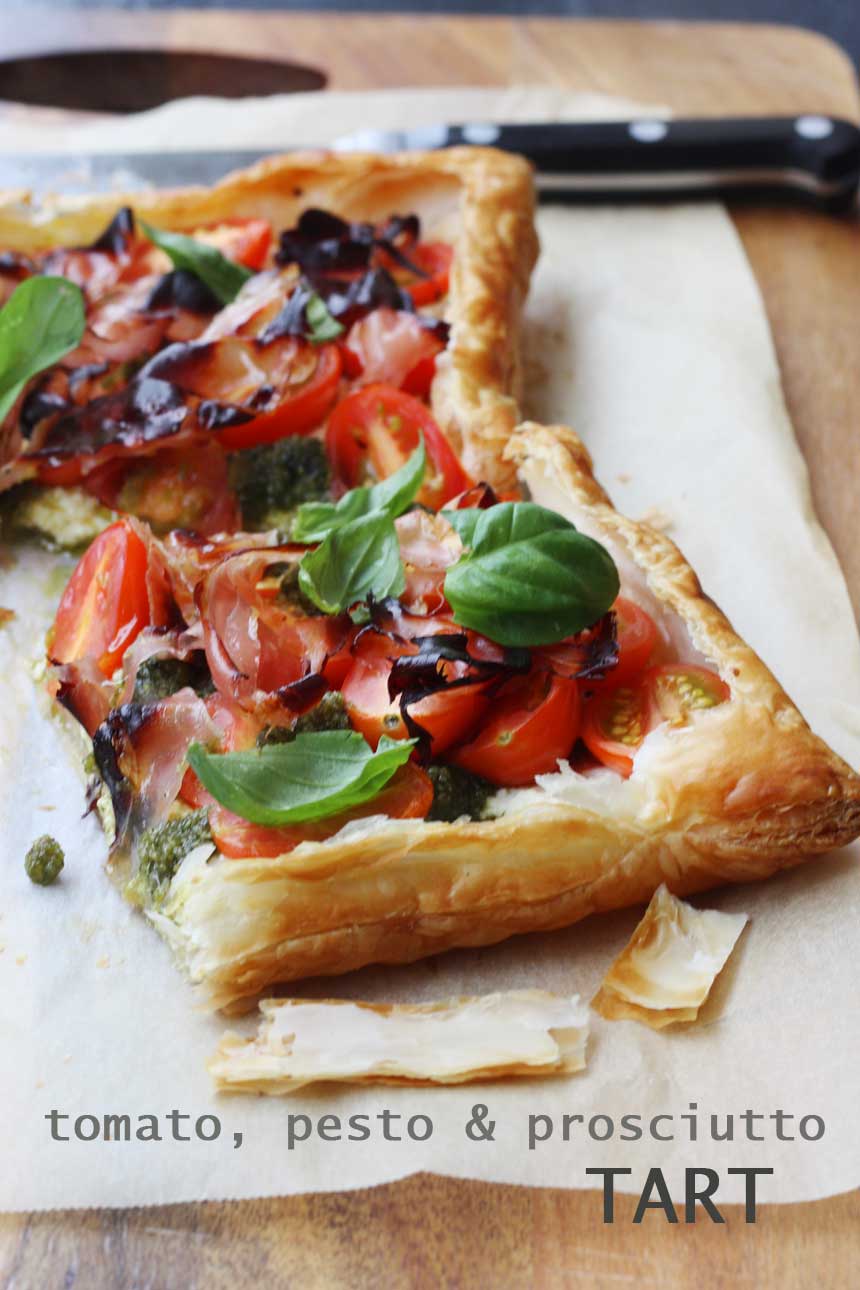 I never used to believe in afternoon siestas. As far as I was concerned, they were for babies, elderly people, cats or wimps. Even on the odd occasion I tried to have one because I was feeling super sleepy, I would lie down and close my eyes for five minutes maximum before I started to fidget and think about all the things I had to do. Precisely one minute later I would jump up and get on with things, totally unrefreshed. But at least I wasn't a lightweight who couldn't get through a normal day without crashing half way through, I suppose I reasoned to myself.
And then I went to live in Greece. Where EVERYONE and their father, grandma, dog and cat have a nap in the afternoon on a roasting hot summer Sunday afternoon. Or any other time, it seems. To the point where it's borderline a bit rude to make too much noise in the late afternoon. After all, how else are you supposed to go out to eat at 10pm, party until close to dawn and still manage to be at work for 8am? Not that I know anything about that sort of behaviour myself of course. Oh, OK then, I might have joined in once or twice. Well, you know, when in Rome … (and, incidentally, the ancient Romans used to have a 2 to 3 hour nap in the afternoon – perhaps it's no coincidence that their empire lasted for over a thousand years!)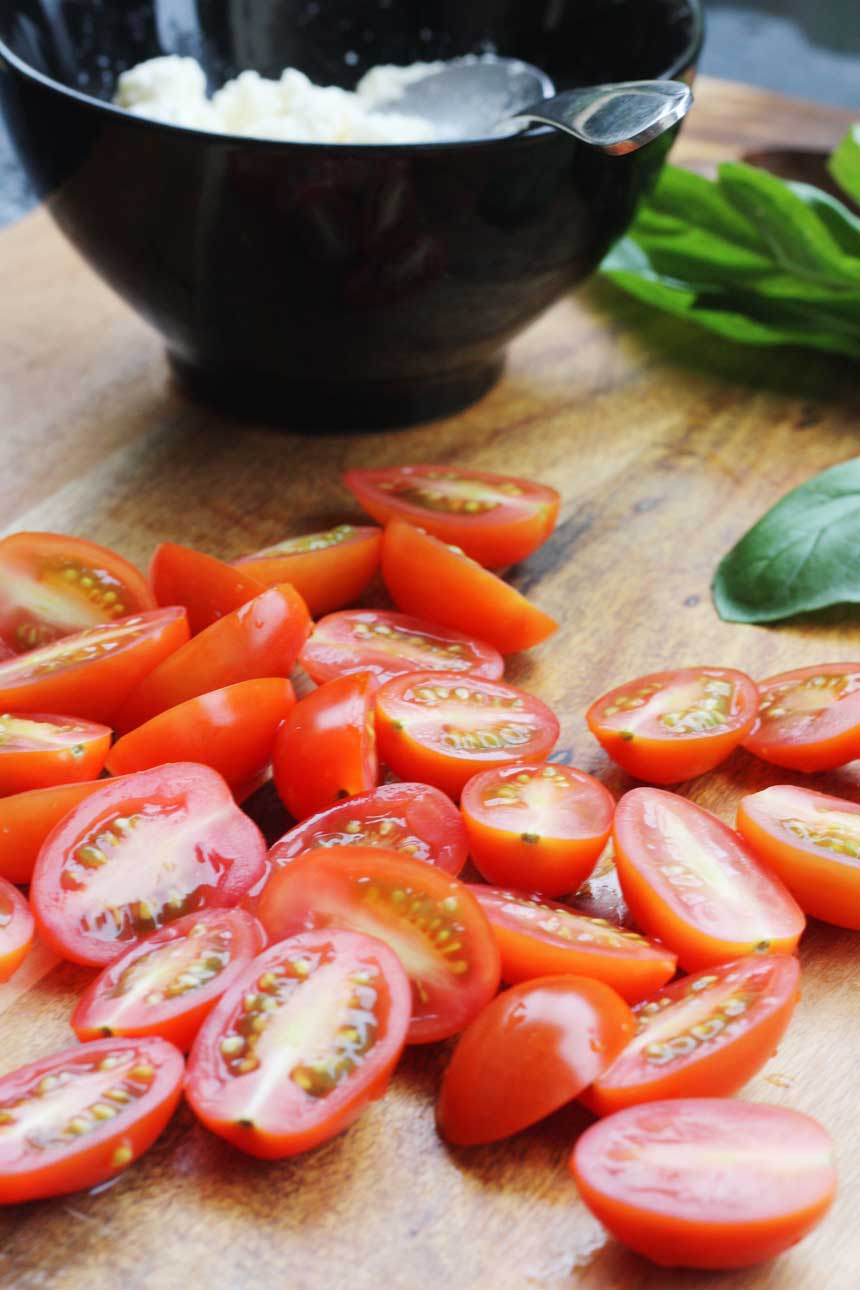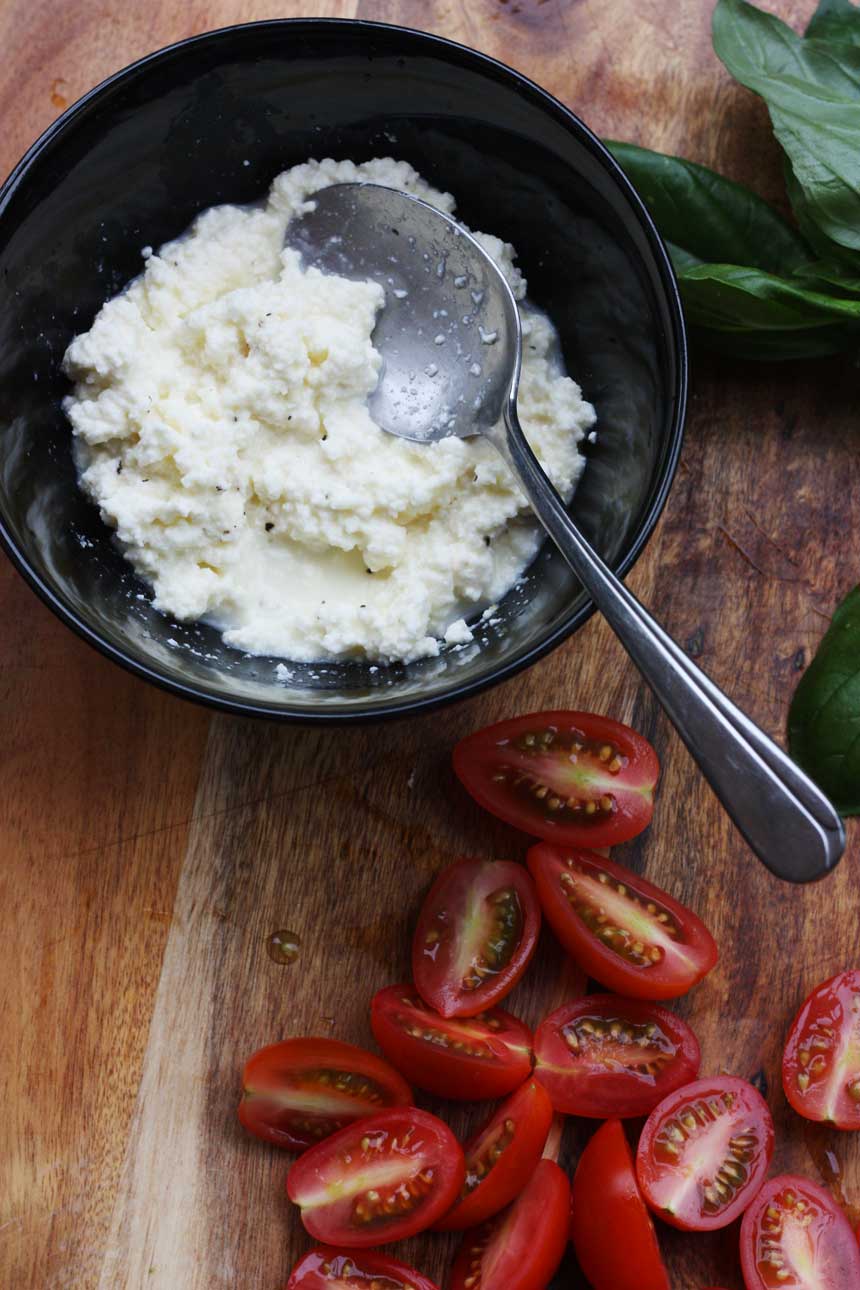 Seriously, though, I never fully understood why it's necessary to go out quite so late, but one thing is for sure … these days I don't think twice about having a little nap if I feel like I need it. And after just doing a teensy bit of research on 'naps' I think I might possibly be onto something. Apparently a nap of about 20 to 30 minutes long is best to improve mental alertness, mood, memory and creativity afterwards without having that awful groggy feeling but even a 2-minute nap can be beneficial! Naps also improve your stamina and the quality of your night-time sleep. You're in very good company if you're a 'napper', too – apparently Churchill, JFK, Napoleon, Einstein, Thomas Edison & Bill Clinton all loved their afternoon snoozes. Obviously all these people were/are super clever and successful soooo … you + napping = super clever and successful, too???
The most fascinating little tidbit I found has to be that there are apparently 4 different kinds of naps. There's the nano-nap, like when you fall asleep for a few seconds or so on public transport, the micro nap that lasts for 2 to 5 minutes (like when you fall asleep at your desk at work, for example, but shhhhh, don't tell anyone about that one …), the original 20 minute or so power nap and the lazy nap of 50 to 90 minutes, which really borders on being a proper sleep rather than a nap. I'll take any of those kinds of naps I can get, thank you very much!
OK, well this is all very interesting, you're probably thinking, but I just want to know how to make this delicious-looking baby tomato, pesto & prosciutto tart, so get on with telling me how. Well, OK, I can't blame you for that.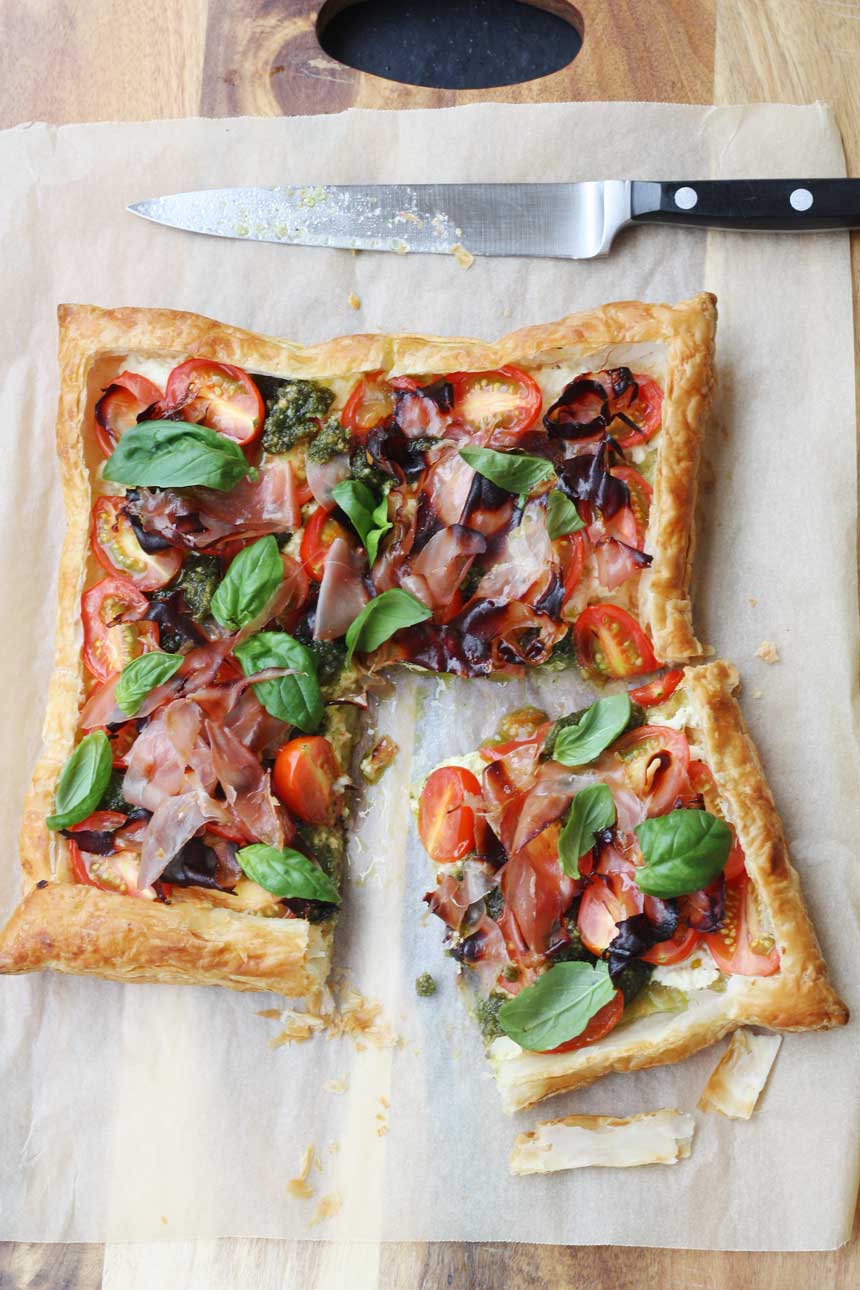 It's just that it was after one such 'sensible' power nap this past weekend crammed into the midst of almost back-to-back activities such as a 10k walk/run around the river, shopping for gifts, afternoon drinks with a friend, an 18th birthday party (boy, did I feel old), veggie shopping at the market and yet more drinks with friends that this simple little puff pastry tart was born.
This is one of those meals that I've always thought looked tasty and wanted to have a go at but just never have … until now. In my humble opinion, it's simple enough to pull together in a matter of minutes but impressive enough to serve to guests. The best thing is that you just use a readymade square or oblong sheet of puff pastry, which is readily available in every supermarket, and pretty much just use it as it is (perfect for a pastry-making phobic like me!) All you have to do is lay it out on a baking tray lined with baking paper, score around the edge (about 11/2 cm in) and pop it in the oven for about 5 minutes. When you bring it out, it's started to puff up, so you simply push down the part inside the area you scored. As so …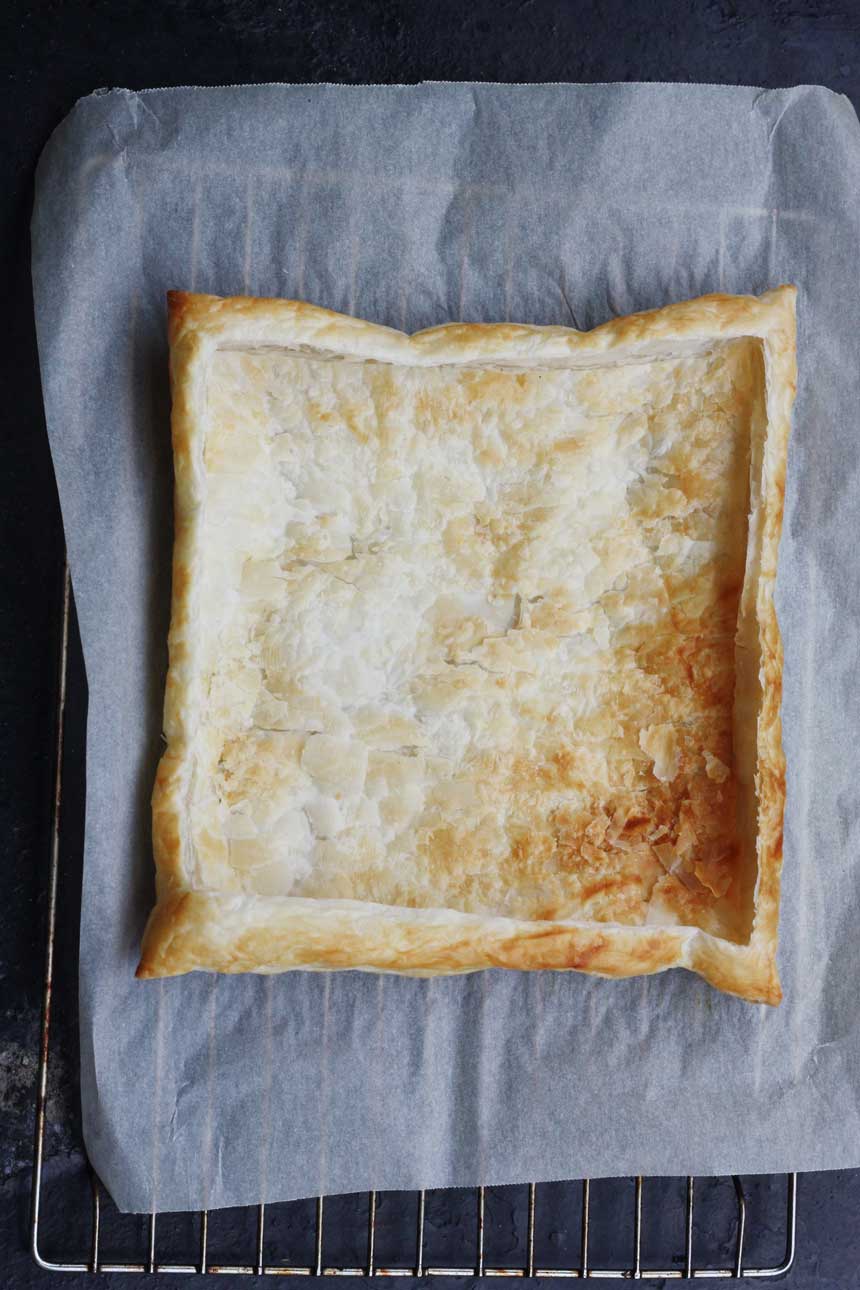 Then you're ready to add your chosen toppings, just as you would to a pizza. For this first attempt of mine at such a tart, I decided to spread the bottom with ricotta cheese and a little lemon zest, followed by homemade pesto, small plum tomatoes and slices of prosciutto. Couldn't be easier! I put it back in the oven for roughly 15 minutes, sprinkled over fresh basil and hey presto, I had myself a truly delicious lunch – perfect with a fresh green salad on the side.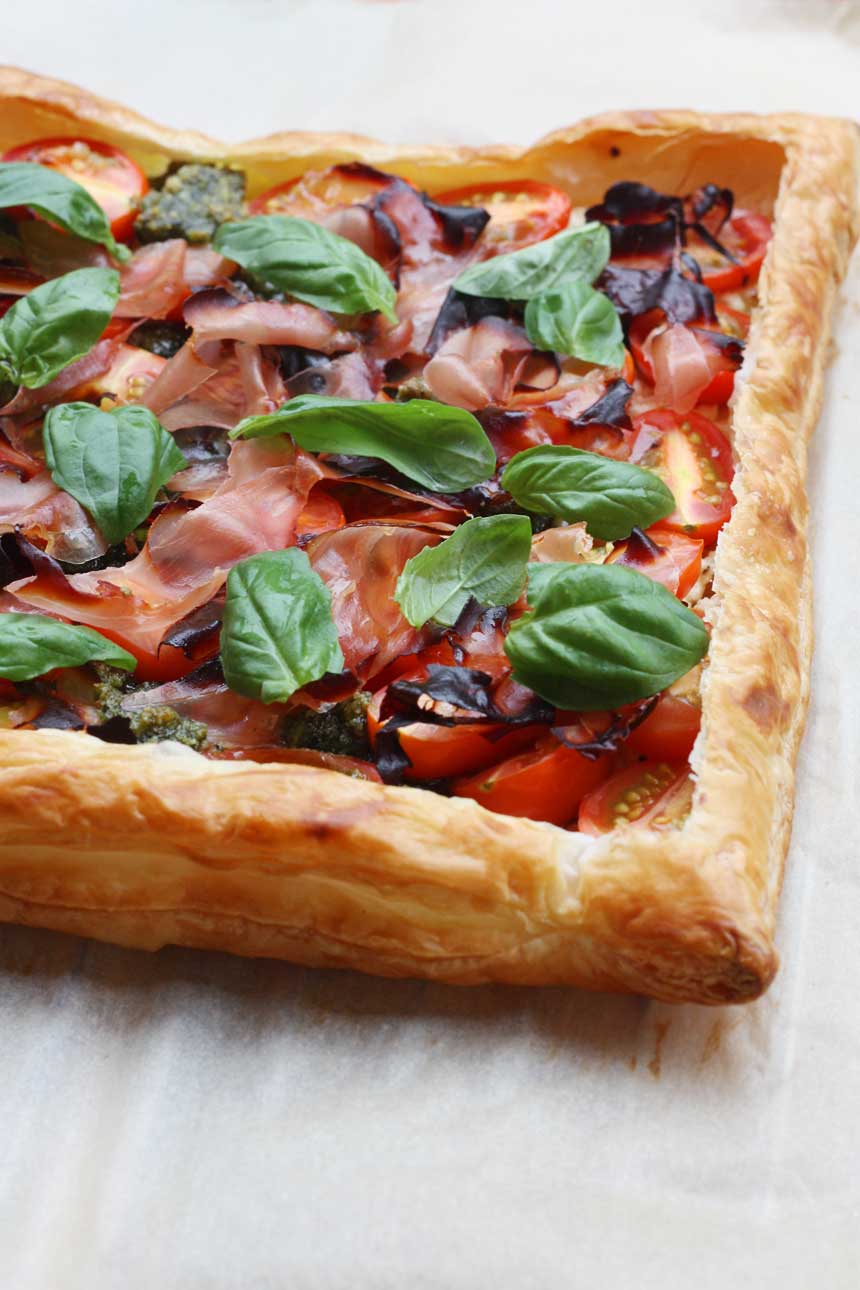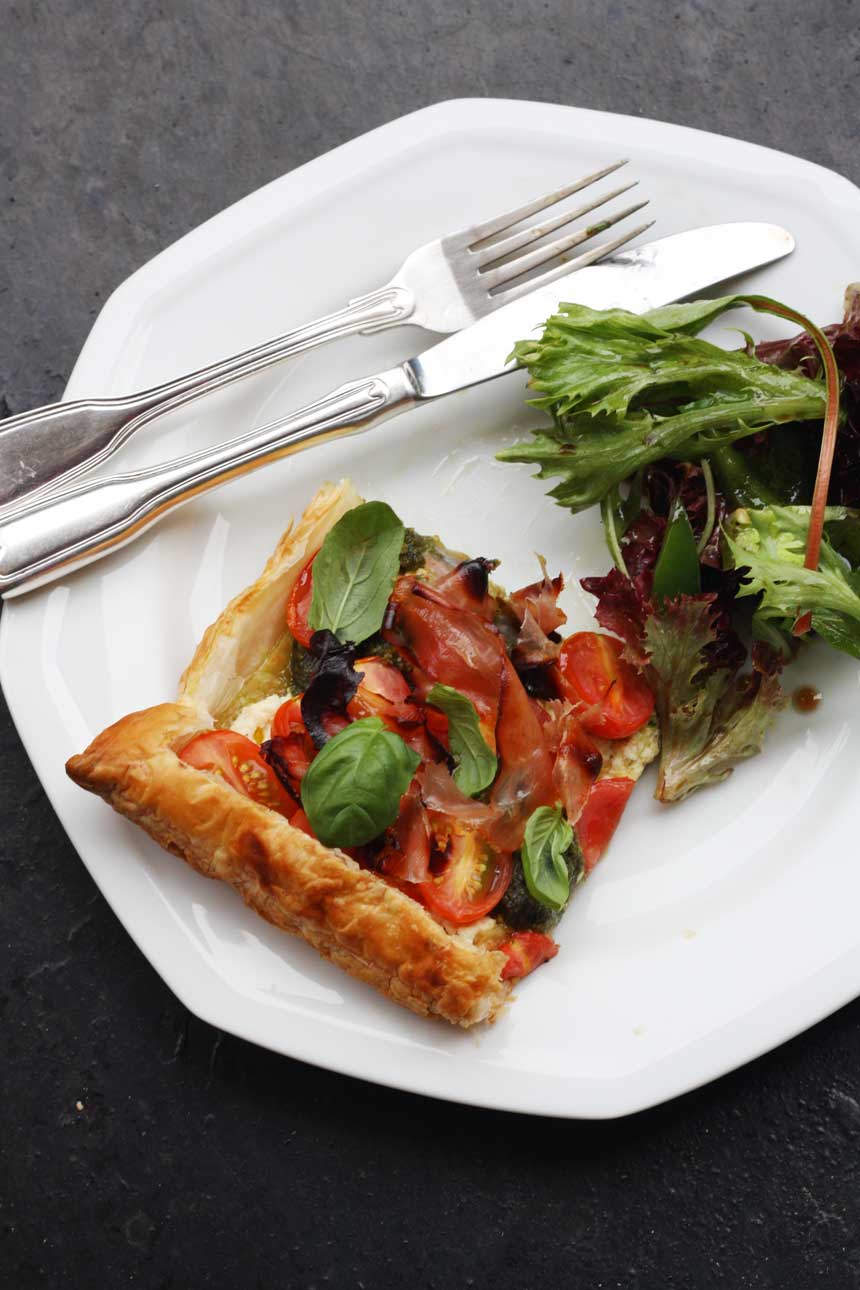 So hopefully I've given you two little gifts in this post – an easy, tasty lunch idea and an excuse to get really lazy this coming weekend. Happy snoozing!
[Don't forget you can still enter the draw to win a $250 Amazon gift card. The giveaway runs until Monday 29th September! Good luck!]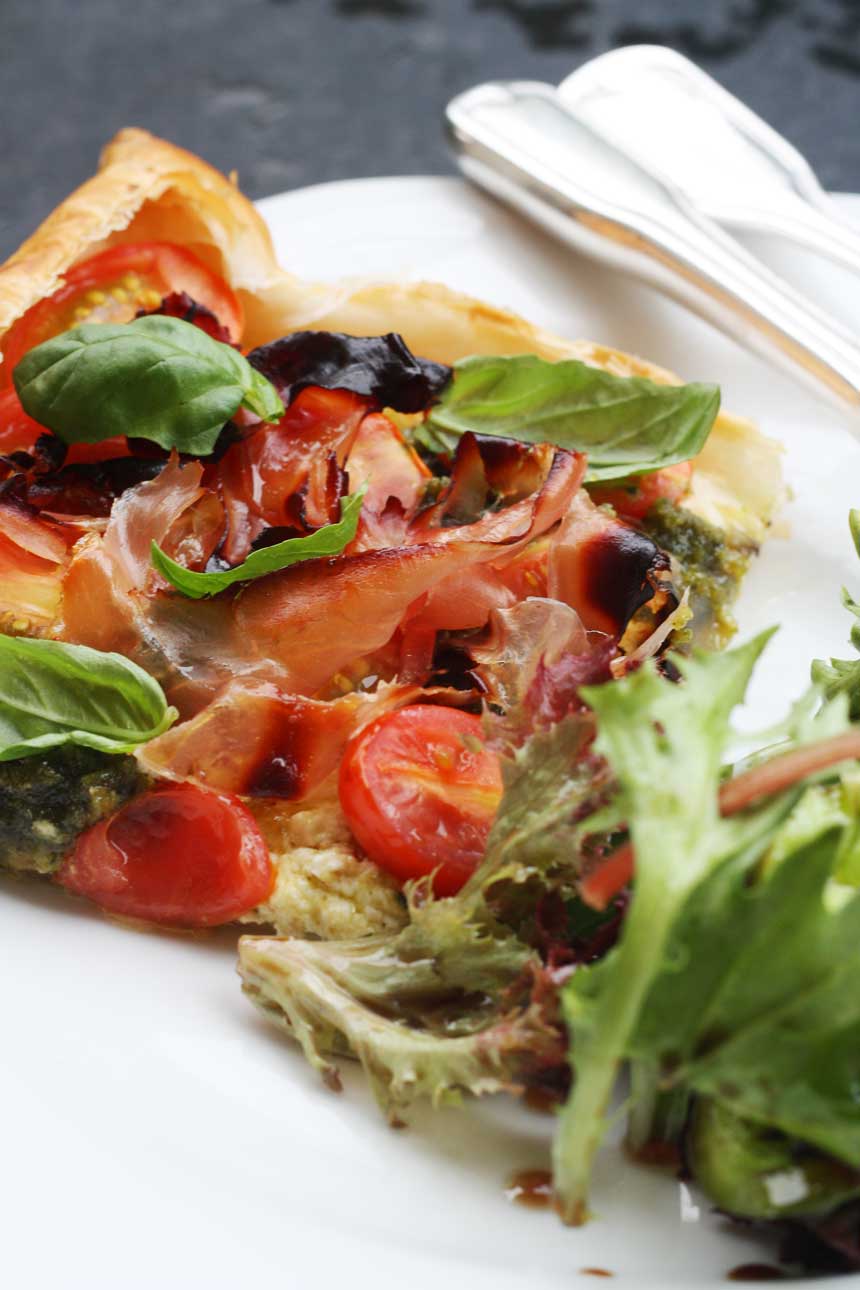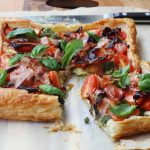 Print
Baby tomato, pesto & prosciutto tart
A simple puff pastry tart topped with ricotta, baby tomatoes, pesto & prosciutto. Easy enough for a simple throw-together lunch, but impressive enough to serve to guests.
Ingredients
1

sheet of store bought puff pastry

de-frosted if bought frozen

2/3

cup

ricotta cheese

zest of 1 lemon

salt & pepper

pesto

homemade or good quality jarred

7

ounces

grape or cherry tomatoes

halved

3

ounces

prosciutto

torn into pieces

fresh basil

a little olive oil for drizzling
Instructions
Pre-heat the oven to 390F/200C. Then place the pastry on a large baking tray lined with non-stick baking paper. Score all around the edge with a knife, leaving a border of about 1½ cm (make sure you don't cut all the way through the pastry).

Combine the ricotta cheese with the lemon zest and a little freshly ground salt & pepper in a small bowl. Put aside.

Bake the pastry for 5 minutes, then remove from the oven and push the centre of the tart down with the back of a spoon (leave the rim of the tart puffed up).

Now add your toppings. First spread the ricotta mixture over the tart, then add small spoonfuls of pesto and the tomatoes (cut side up is nice). Bake for another 10 minutes, then add the prosciutto, drizzle over a little olive oil and cook for another 5 minutes until the tart is golden and puffy.

Finally, sprinkle the finished tart with fresh basil leaves. Serve with a fresh crisp salad and enjoy!
Nutrition
Calories:
1012
kcal
|
Carbohydrates:
62
g
|
Protein:
24
g
|
Fat:
74
g
|
Saturated Fat:
24
g
|
Cholesterol:
69
mg
|
Sodium:
666
mg
|
Potassium:
461
mg
|
Fiber:
2
g
|
Sugar:
3
g
|
Vitamin A:
850
IU
|
Vitamin C:
22.6
mg
|
Calcium:
193
mg
|
Iron:
4.3
mg
This post may contain affiliate links to products I use to make this recipe!
I hope you enjoyed this post! You can subscribe to receive posts directly to your inbox by entering your email address in the box below or at the top of the sidebar on the right.
You can also find more from Scrummy Lane on Facebook, Pinterest, Twitter and Instagram and follow me on Bloglovin! Thanks so much for reading!
*This post may contain affiliate links which means that if you click on a link and make a purchase I get a small percentage of the amount you spend. At no extra cost to you, of course! Thank you!*