Pesto – a student staple! But it doesn't have to be a cheap and oily jarred version. Try this homemade pesto with kale and walnuts … stir through linguine and top with smoky roasted tomatoes and salty prosciutto for a quick and wholesome mid-week meal.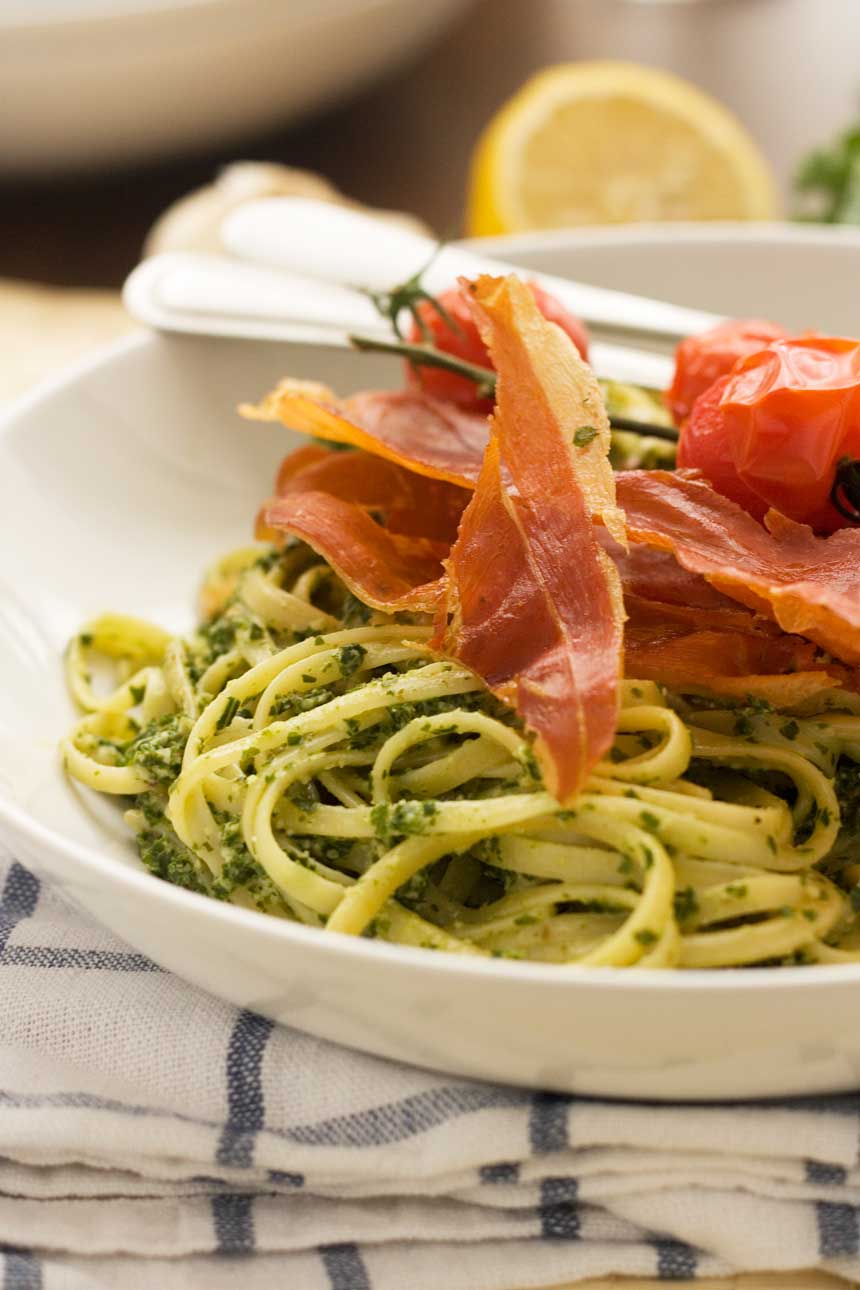 I'm sure that any of you who have lived away from home as students made yourself some 'interesting' dishes when you first started cooking for yourselves.
I certainly did! Let's just say they mostly consisted of bland concoctions involving things like cheap packets of pasta and tins of tomatoes and tuna … and not much else! (And don't worry, I won't tell you the story of the maggots my housemates and I found in the bottom of the bin when we returned from our Christmas holidays. Or at least I won't dwell on it too much. Let's just say they got boiling water poured all over them, but they stank out the house, so they then got thrown into the garden where they were promptly snowed on … leaving us a lovely reminder of our grubbiness when the snow melted!)
I know, I know, maggot stories are not very befitting of a food blog. I'm not making myself any new friends here.
So getting back to my point, then (yes, Helen, you'd better …), another of my go-to student recipes was pasta with pesto. Yup, the pre-made jarred variety – runny and made with cheap oil.
Basically, nothing like a good homemade pesto like the one in my recipe today. And not only is my pesto nice and chunky and homemade, but I've added the veggie-of-the-moment, kale, to make it super healthy and tasty. Throw in some basil, a handful of walnuts (cheaper than pinenuts), a big garlic clove, a good squeeze of lemon and a generous drizzle of olive oil, whizz it all up in a food processor and you've got a gorgeous pesto in seconds.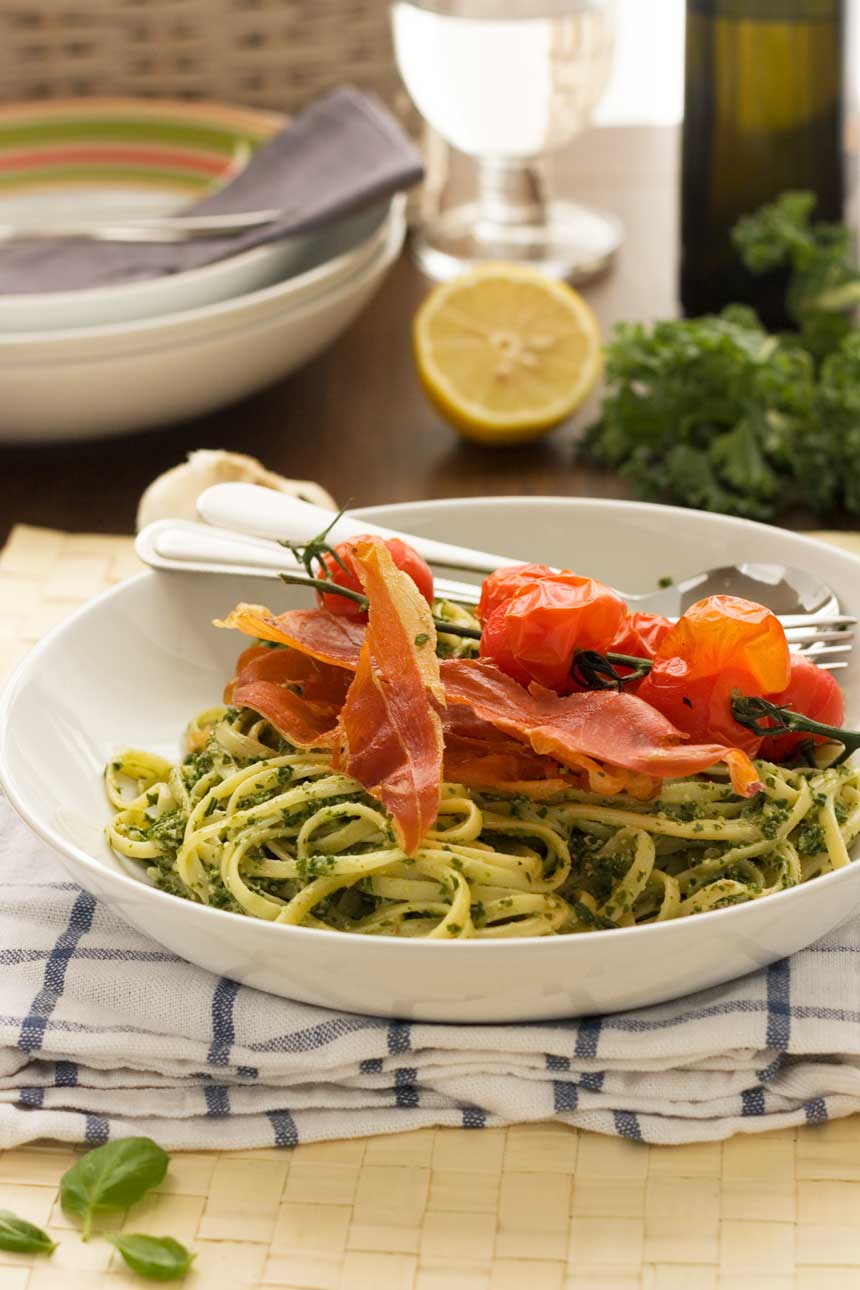 Nothing particularly unusual here. Maybe you've made pesto and pasta loads of times before. But have you ever added roasted tomatoes and crispy prosciutto? No, I didn't think so. Well, trust me, these two humble additions take this classy linguine meal to a whole other level. The juicy, smoky tomatoes really tickle the tastebuds and go perfectly with the pesto, as do the crispy mouthfuls of salty prosciutto.
I think the key to making this quick pesto linguine great is to make sure the pesto is runny enough. When you whizz it up in the food processor, add enough water to make it the consistency of a thick-ish dip. Then when you stir the pesto through the hot cooked pasta, add a bit of the pasta cooking water to loosen up the dish if you think it needs it.
I reckon this would work just as well with salmon or chicken instead of the prosciutto… or it could easily become a vegetarian meal if you skipped the meat and threw on more tomatoes.
Bellissimo! 🙂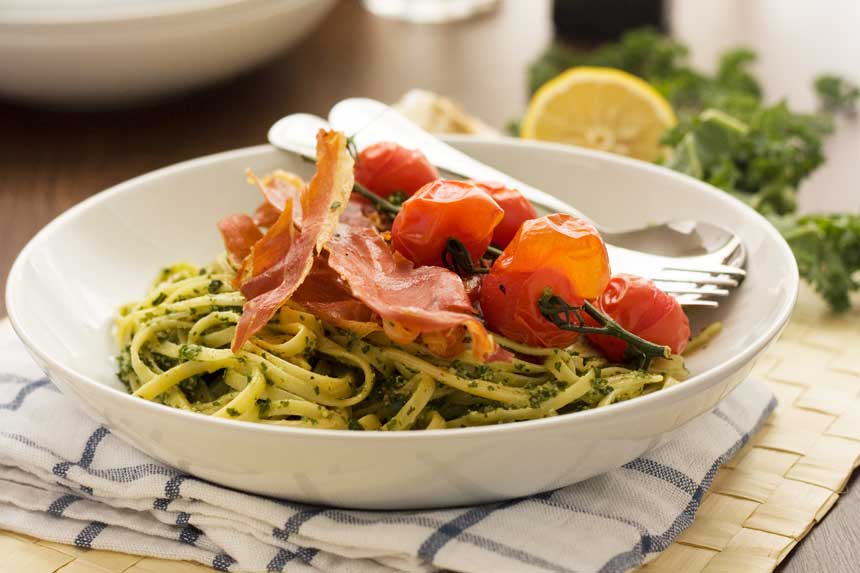 Kale pesto linguine with roasted tomatoes & crispy prosciutto
I've always loved a good homemade pesto, and with this one you have the added satisfaction of knowing that it's made with super healthy kale and walnuts. Stir through linguine, then top with delicious roasted tomatoes and crispy prosciutto for a perfect balance of flavours.
Ingredients (UK/Australia? Click below for grams/ml)
for the pesto
3.5

ounces

kale

washed and with the tough stalks discarded

smallish bunch of basil

at least 25 or so leaves

1/4

cup

walnuts

just a good handful

1

large clove garlic

minced

1.75

ounces

parmesan cheese

grated

a couple of good squeezes of lemon juice

add more to taste

2

tablespoons

good quality olive oil

salt and pepper to taste
rest of ingredients
5

ounces

cherry tomatoes

weight including the vine – or about 100 grams/3.5 ounces off the vine

6

slices

prosciutto

7

ounces

dried linguine pasta
Instructions
Preheat the oven to 180C/355F.

Put a large pot of water on to boil, then blanch the kale for about a minute. Remove it with a slotted spoon (so that you can re-use the water for the pasta), transfer to a colander, rinse under a cold tap and then squeeze out most of the water.

In a food processor, blitz the kale with the basil leaves, walnuts, garlic, parmesan, lemon juice, olive oil and salt and pepper until you have a chunky paste.

Slowly add a little water (at least 2 tablespoons) and pulse until your pesto is the right consistency (about the same consistency as a dip).

Spray a baking tray lightly with oil, then arrange the tomatoes on the vine on it with the slices of prosciutto (it doesn't matter if the meat is overlapping slightly). Bake for about 10 minutes, turning the meat half way through the cooking time.

Meanwhile, cook the pasta according to the packet instructions in the water that you blanched the kale in. Drain, reserving some of the cooking water, then stir the pesto through the pasta. Loosen up the dish with a little of the cooking water.

Serve the pasta out into bowls, topping with the tomatoes and prosciutto. Enjoy!
Nutrition
Calories:
824
kcal
Carbohydrates:
84
g
Protein:
29
g
Fat:
41
g
Saturated Fat:
10
g
Cholesterol:
32
mg
Sodium:
589
mg
Potassium:
754
mg
Fiber:
4
g
Sugar:
5
g
Vitamin A:
5495
IU
Vitamin C:
76.1
mg
Calcium:
411
mg
Iron:
3.2
mg

You can also find more from Scrummy Lane on Facebook, Pinterest, Twitter and Instagram and follow me on Bloglovin! Thanks so much for reading!
*This post may contain affiliate links which means that if you click on a link and make a purchase I get a small percentage of the amount you spend. At no extra cost to you, of course! Thank you!*