Sometimes you can't beat a homemade quiche with a baked potato and a nice fresh salad, but it always takes me longer to make a quiche than I think it will! Which is why I was very excited to 'discover' this amazing (magic?) crustless quiche. The Aussies call it 'impossible quiche'! Read on to find out why, and how to make it…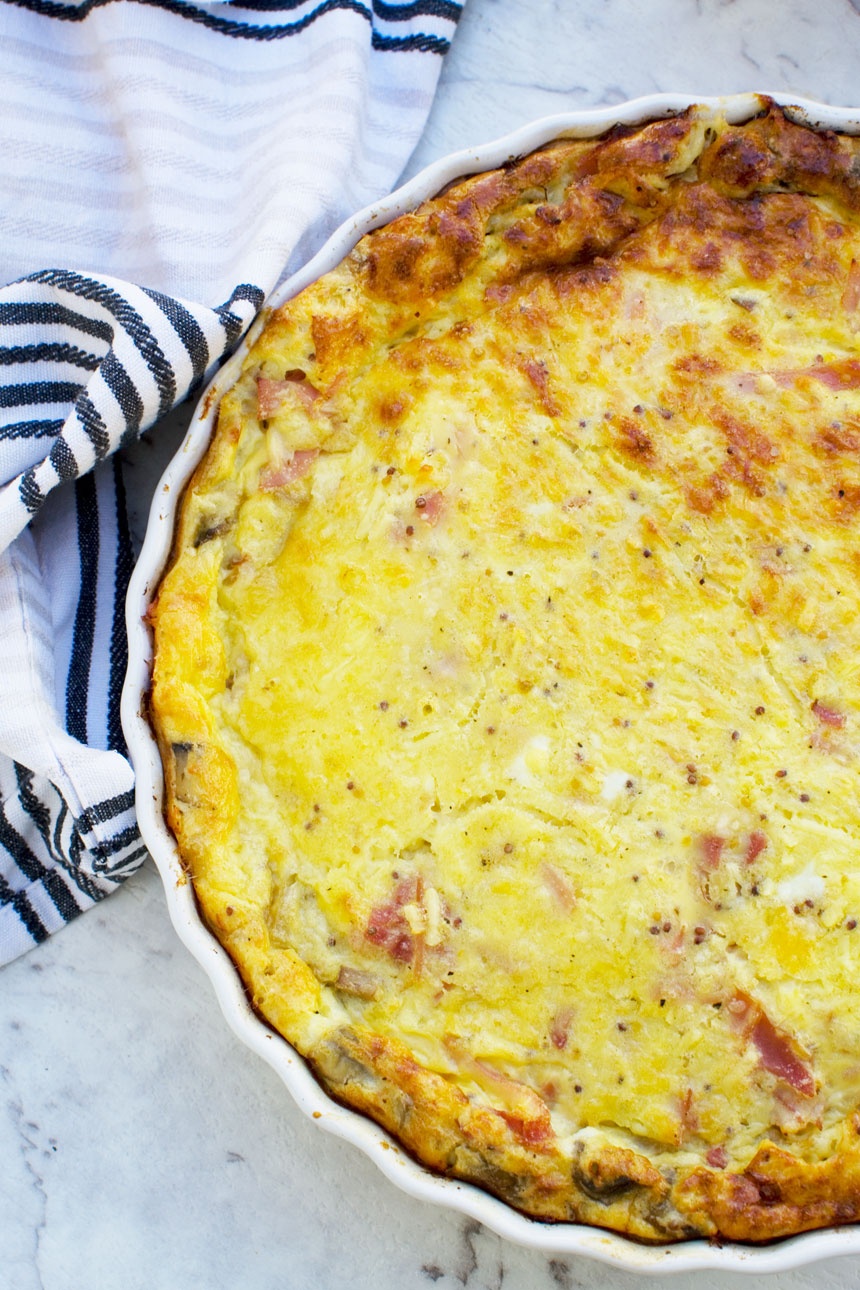 All quiches are easy to make… right?
A big thumbs down for traditional homemade quiche!
Whenever I make quiche, which we all enjoy in our family (including our super picky toddler!), I find it surprisingly time consuming to make.
I also find the end result varies.
I'm sure it's just me, but I often end up with holes in my pastry (aka half the filling dripping out onto the oven – oops. See this post. Delicious quiche, terrible photos desperately in need of an update!).
Or I undercook or overcook the filling.
Even if everything goes swimmingly and my quiche is perfect, it takes ti-iiiiii-me. Especially if I make my own pastry.
So now… I either make THESE mini quiche lorraine, because you don't have to precook the pastry or fillings, or I make THIS crustless quiche.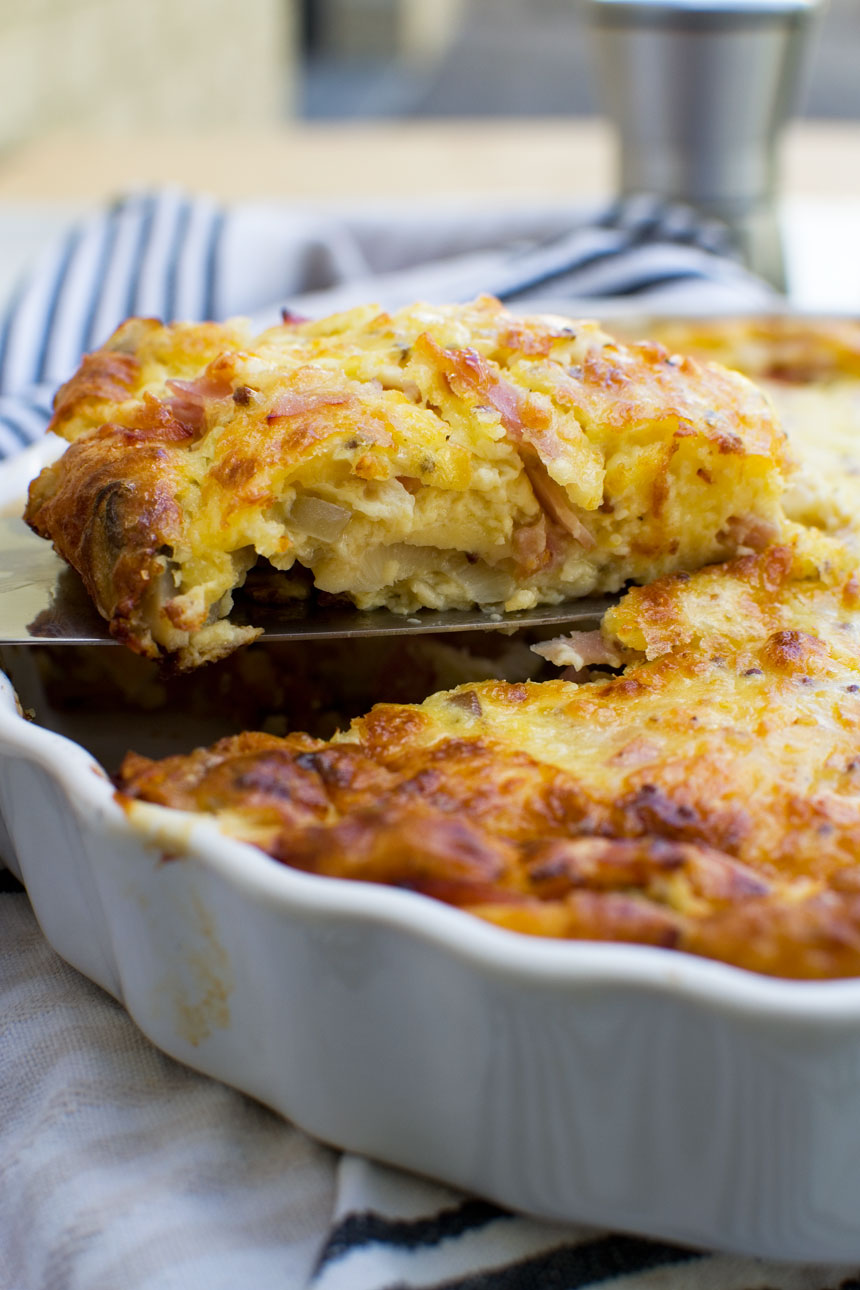 Impossible Quiche!
Have you ever heard of impossible quiche? I've only ever seen recipes for it in Australia, but it's pretty well known there, and for good reason. It's a delicious quiche – and a little bit different!
Most crustless quiche recipes I find a bit too interchangeable with a frittata. The thing that makes this recipe different is that you add flour to the egg mixture.
The idea is that the flour sinks to the bottom of the quiche during cooking and makes a very light 'crust'.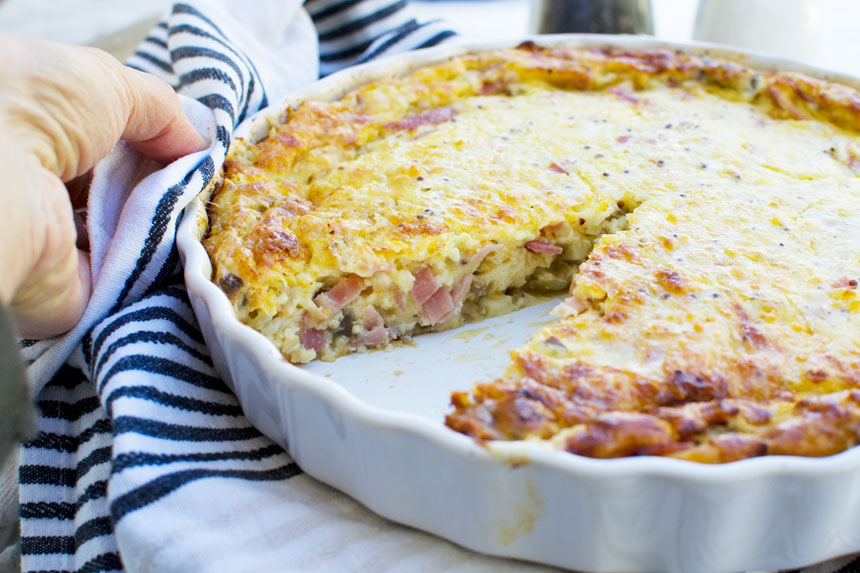 Quiche or souffle?
I say crust, but really I'd describe it as a sort of pancake-y layer that's slightly heavier than the rest of the quiche. Sometimes it's a bit more defined than other times.
I think it might depend of the type of fillings that you add to the quiche, and whether or not they are cooked.
Either way the quiche is delicious. If the flour doesn't sink so much, I find that the eggy mixture has a slightly different texture to a regular quiche – almost like a souffle! The top of the quiche is also a bit crunchier than usual. As some of the flour stays on the top, it forms a kind of light batter topping.
This quiche reheats really well, and when you reheat it the top gets even more deliciously crunchy. Try it and see!
Erm… but what's Impossible Quiche?
If I'm totally honest I don't know why this is called impossible quiche. At first I thought it was because of the thin 'crust' that forms at the bottom, as if by magic!
But this feature of the quiche is subtle, and like I said before seems to depend on what fillings you've added.
So maybe it's because the quiche is 'impossibly' quick to make?
Lightly cook the onions and mushrooms (or whatever fillings you want to add), then pour everything into your quiche pan and cook it for just 30 minutes.
Of course it doesn't really matter why it's called what it's called. The important thing is that it's a really delicious quiche. Recently it's become my go-to, and I wonder if it will become yours too if you give it a go!
Why is this the best crustless quiche?
To summarize, I think this is the very best crustless quiche because…
It's REALLY quick and easy to make, but it ISN'T just another frittata!
It seems really cheesy, even though there isn't that much cheese in it – almost like a souffle.
This particular quiche is made with ham (so no pre-cooking!), mushrooms, and the most amazing caramelized onions.
If you're lucky there's a kind of magic thin crust on the bottom of your quiche.
Sometimes, when I'm feeling especially lazy or short on time, I don't pre-cook any of the veggies. I just add finely chopped onions, peppers and chopped cherry tomatoes (as well as ham and cheese, of course!). Surprisingly I seem to end up with the best 'magic crust' on the bottom of the quiche when I do this.
You use milk to make this quiche, not cream. So it's a little lighter than a regular quiche – but no less delicious!
This crustless quiche reheats really well. If anything it's more delicious when reheated!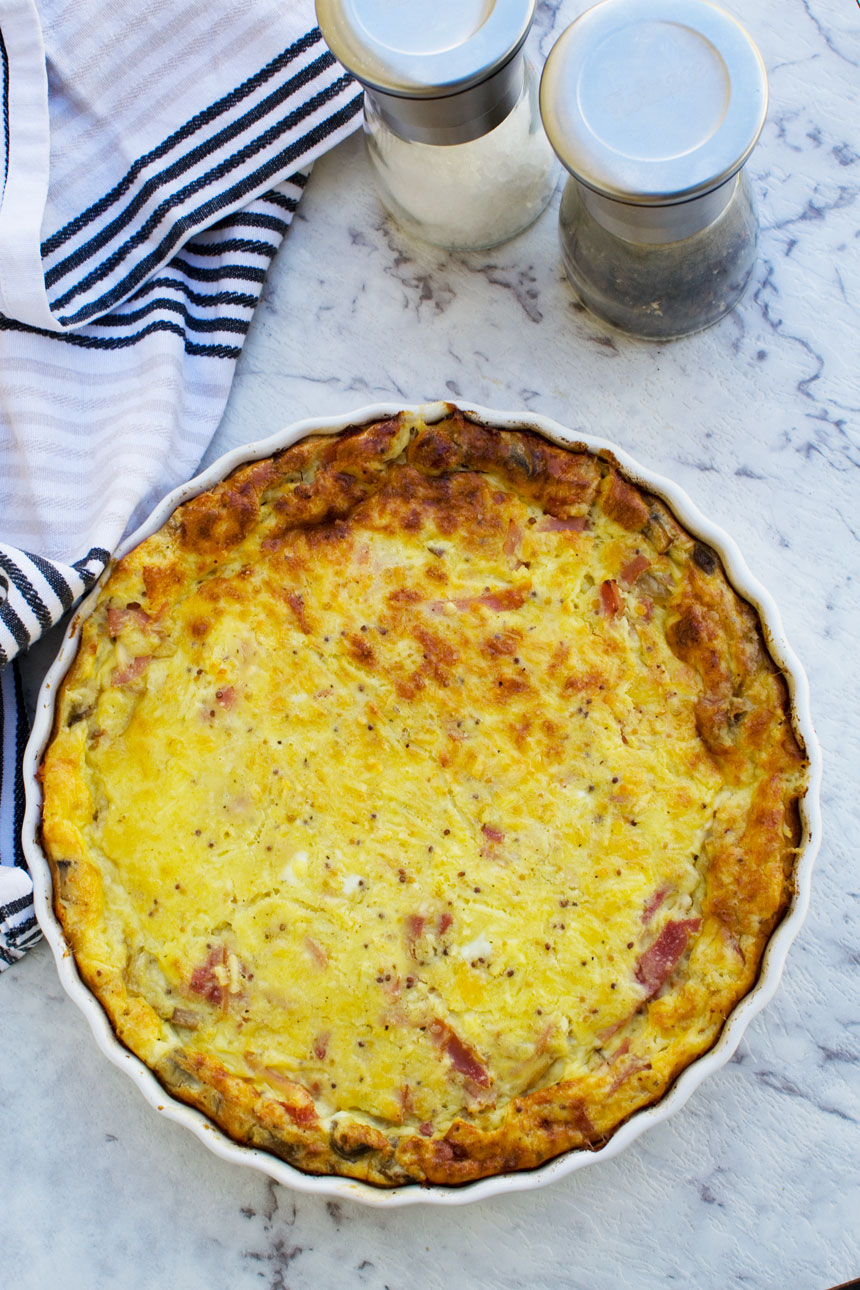 So next time you're craving a quiche, I challenge you to ditch your regular recipe (or store-bought go-to!) and give this crustless quiche a chance.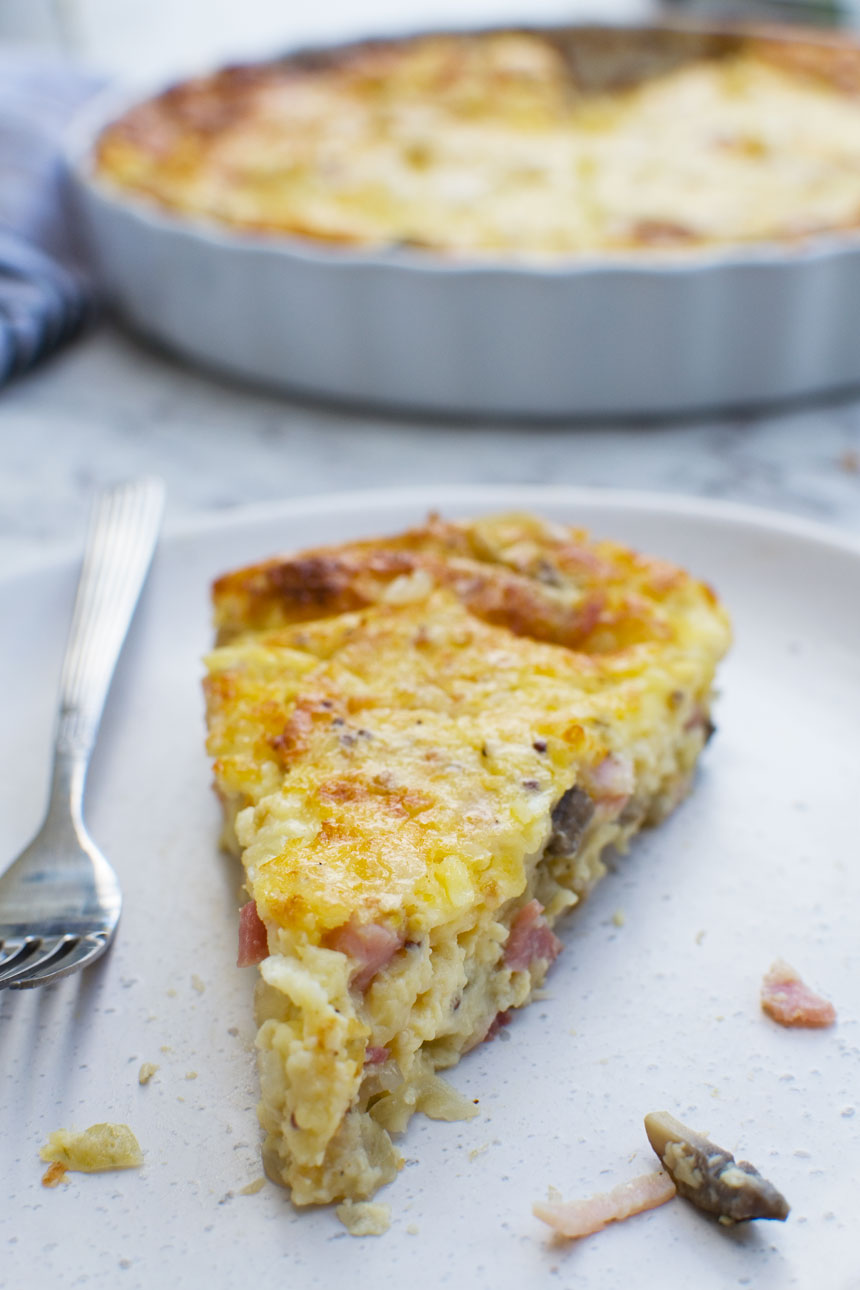 What to serve with a crustless quiche
Our favourite way to eat quiche is with a baked potato and salad. Don't forget the coleslaw – trust me, it's the icing on the cake 😉
Another easy quiche recipe for you!
If you're loving the easy quiche vibe in the post, but would rather keep the crust…
try these easy mini quiche lorraine! They do have pastry, but you don't need to pre-cook it. In fact you don't pre-cook anything. The quiches are super super quick and easy, contain only 6 ingredients, and are perfect for freezing and/or taking along to parties!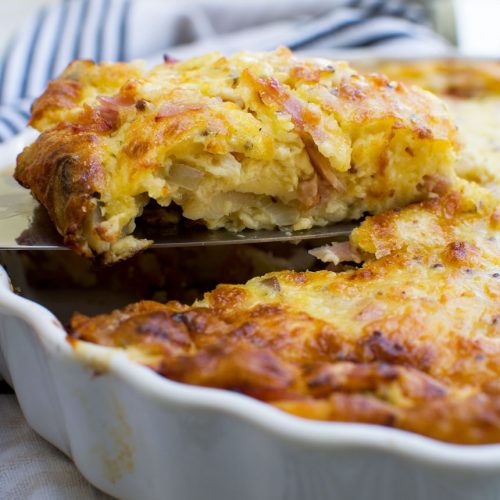 The very best crustless quiche (Impossible Quiche!)
This is the VERY BEST crustless quiche! It's known as Impossible Quiche in Australia! Added flour sinks to the bottom during cooking, creating a thin pancake-y crust. You can either add caramelized onions and mushrooms, ham and cheese, like I've stated in the recipe below, or you can keep things super simple and add raw finely chopped veggies like onions, peppers and tomatoes.
Equipment (affiliate links)
Ingredients (UK/Australia? Click below for grams/ml)
1

onion

sliced thinly

1

tablespoon

butter

for cooking

5

ounces

mushrooms

(around 4 medium mushrooms)

3½

ounces

ham

chopped

1

cup

grated cheese

(strong cheddar cheeses or similar work well)

½

cup

self-raising flour

1½

cups

milk

4

eggs

lightly whisked

2

teaspoons

mustard

(I usually use wholegrain, but any mustard works)

salt & pepper

to taste
Instructions
Preheat the oven to 390F / 200C.

Melt the butter in a large frying pan or saucepan, then cook the onions slowly for about 10 minutes or until soft and beginning to caramelize.

1 tablespoon butter,

1 onion

Add the mushrooms to the onions in the pan and cook for a further couple of minutes.

Grease a standard quiche dish (or other round pan) with a little butter, then spread the onions and mushrooms evenly over the bottom. Scatter over the chopped ham and cheese.

3½ ounces ham,

1 cup grated cheese

Slowly add the milk to the flour in a large jug. Whisk continuously so that there are no lumps, then whisk in the eggs, mustard, and salt and pepper.

½ cup self-raising flour,

1½ cups milk,

4 eggs,

2 teaspoons mustard,

salt & pepper

Pour the egg mixture over the fillings in the dish/pan, then bake for 30 (to 40) minutes or until the mixture is just cooked in the centre. Slice and serve!
Notes
A note on the fillings
The amount/type of fillings in this recipe are just a guideline. You could easily make a more traditional quiche lorraine with just bacon, onions and cheese if you prefer.
To make this quiche even quicker and easier, don't pre-cook a single thing! I've made it with just finely chopped raw onion and peppers, halved cherry tomatoes, and lots of cheese! Interestingly, this made for the best 'magic crust' on the bottom.
Or add things like:
leftover cooked roasted vegetables (I often add these)
asparagus (no need to pre-cook)
chopped spinach (blanched and squeezed) & cubes of feta cheese
A note on serving the quiche
I sometimes find that despite greasing the pan my quiche still sticks to it a bit. That's OK! Some of the thin 'crust' at the bottom might get left behind in the pan, but it really doesn't make any difference to the appearance of the individual pieces, and certainly not to the taste.
A note on freezing and/or reheating the quiche
This quiche freezes really well. I usually freeze any leftovers in glass containers or aluminium foil, then I defrost and reheat in the oven at 300F/150C for about 20 minutes.
Sometimes I feel like the reheated quiche is even more delicious than it was when fresh!
How to serve a crustless quiche
For a light lunch, serve it with a simple fresh green salad, or how about a colourful, healthy Greek salad?
I also love this with baked potatoes and coleslaw or another type of easy potatoes. Try these incredible Greek potatoes!
For more ideas about what to serve with this, check out my list of 40+ easy side dish ideas for quiche.
Nutrition
Calories:
197
kcal
Carbohydrates:
10
g
Protein:
12
g
Fat:
12
g
Saturated Fat:
6
g
Cholesterol:
113
mg
Sodium:
314
mg
Potassium:
224
mg
Fiber:
1
g
Sugar:
3
g
Vitamin A:
380
IU
Vitamin C:
1.4
mg
Calcium:
169
mg
Iron:
0.8
mg