You have to try these gorgeously healthy and colourful veggie muffin frittatas. Grab one out of the freezer for a quick, easy and delicious breakfast, lunch or snack on the go.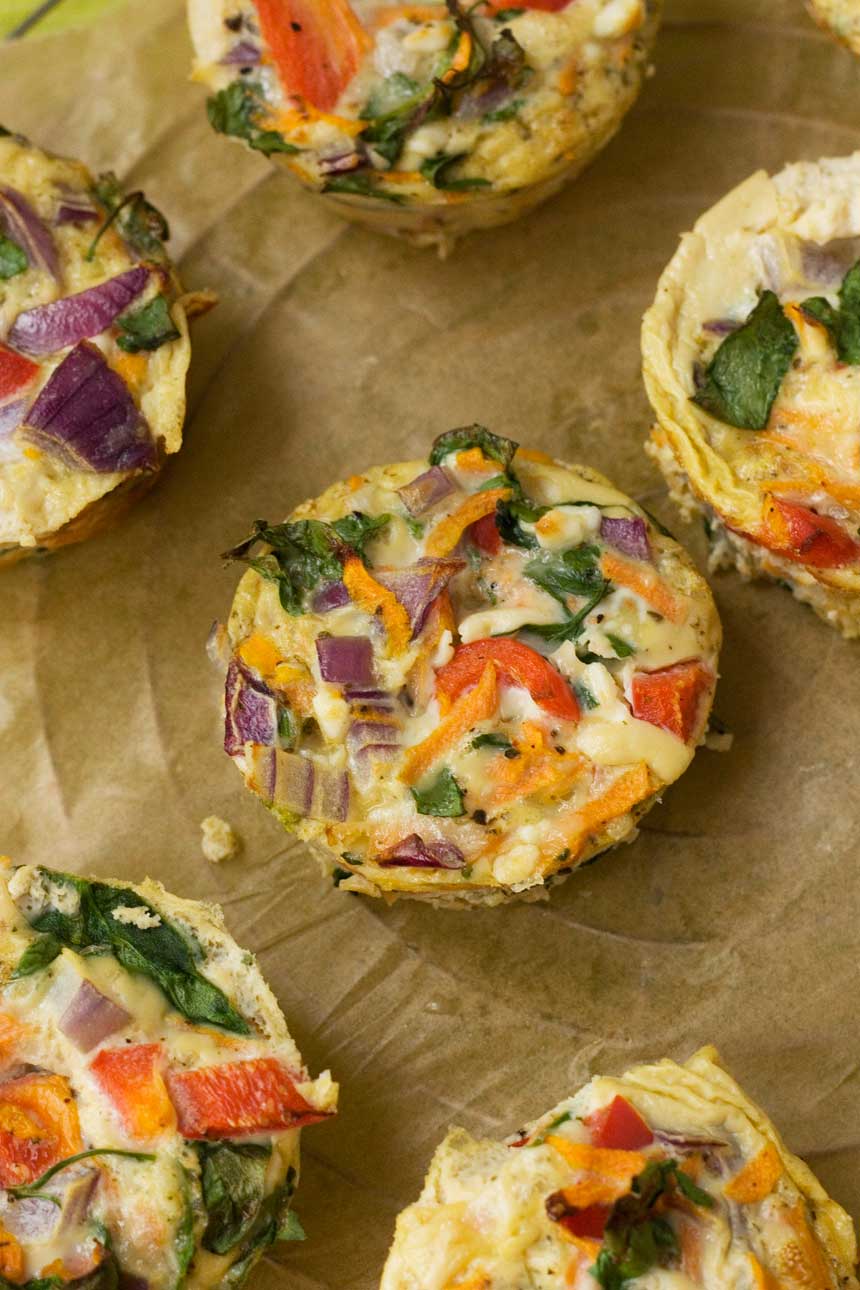 Healthy, tasty, and PRETTY
I was going to call these rainbow veggie muffin frittatas, because who can resist rainbow anything?
If you need a little more colour in your life right now, this is a great little pick me up recipe for you and your family.
Here's why:
They help you use up all the little odds and ends of veggies you have hanging around in your fridge.
They take hardly any time to make, once you've chopped up said veggies.
You can freeze them in baking paper, then grab and go for an easy pack-up meal.
They make for a pretty good value meal.
They make for a pretty healthy meal – those veggies are seriously packed in there.
They can be breakfast or lunch or a snack. Dinner too if you like.
They're pretty cute … don't you think? 🙂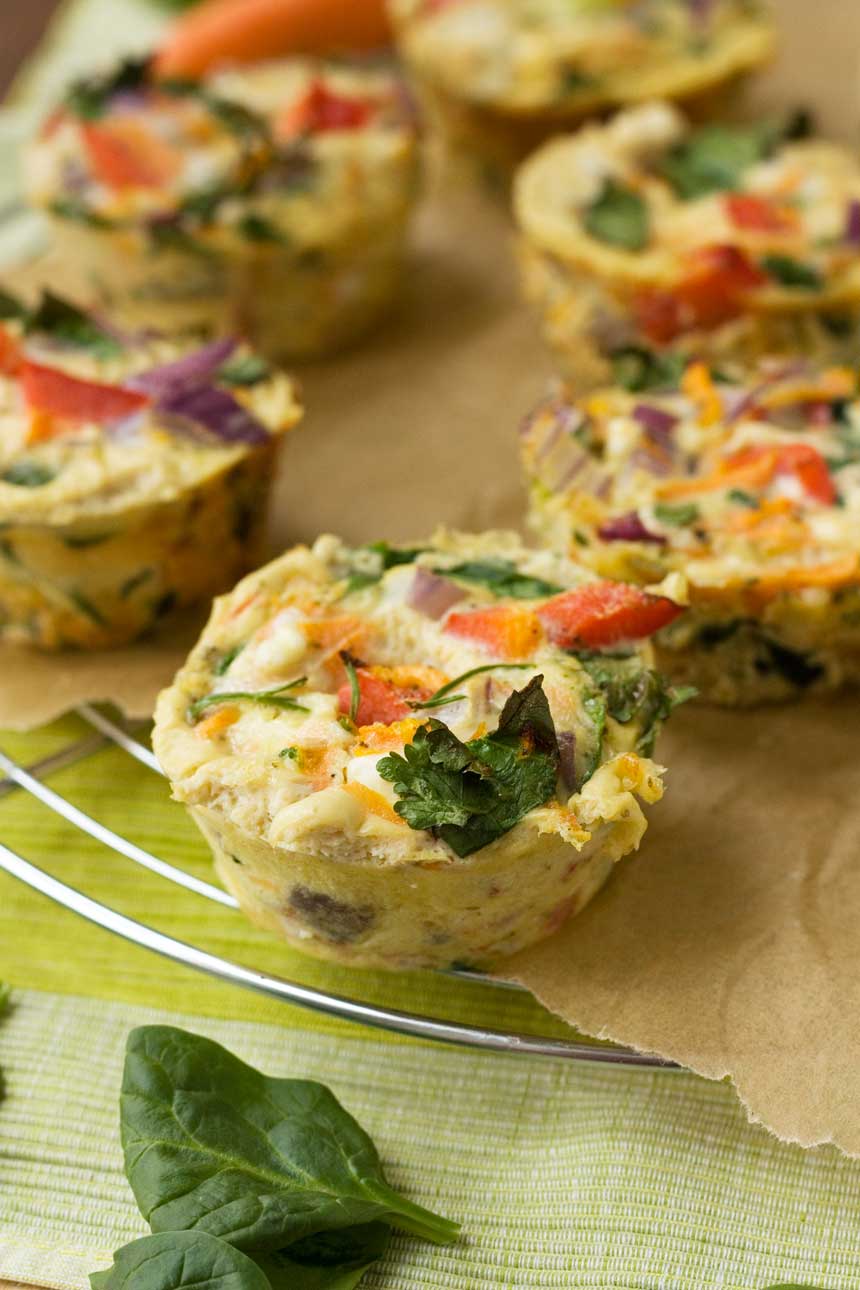 Use whatever you have
The 'rules' around making these little mini omelettes are very loose. Basically, use whatever quick cooking vegetables and cheese you have in your fridge.
Any quick cooking vegetables work well:
tomatoes (scatter or lay them over the top so they don't make your frittata too watery)
Alternatively you can use leftover roasted vegetables.
Don't forget the cheese!
I tossed feta through my frittata mixture but any cheese will work – especially strong tasting cheeses like parmesan, strong cheddar and goat's cheese.
If you like, you can even add bits of cooked bacon or sausage if you want to add a big hit of flavour.
How long do you cook these for?
Just 10 to 12 minutes!
For perfect muffin frittatas you want the egg mixture to be set but still slightly wobbly in the middle.
How to assemble
I find it best to half fill each muffin hole with a variety of the veggies and cheese first, then to drizzle in more of the egg until each hole is about 4/5 full.
You want about 50% veggies and 50% egg in each muffin hole.
Note: If you're using grated zucchini, squeeze out as much of the water as possible before adding to the frittata. Wilt spinach with boiling water, then squeeze as much as you can before chopping. Lay sliced tomatoes on the top of the frittatas.
Can you freeze them?
You sure can.
These are perfect for grabbing out of the freezer and taking to work. At lunchtime pop them in the microwave for a few seconds and eat them with toasted bread or just by themselves.
They may be slightly more watery than when fresh, but they are still very very tasty… not to mention low calorie and nutritious.
If you like this recipe, I think you'll also enjoy this 'Everything' sheet pan frittata. Great for using up odds and ends from the fridge!
Healthy snack box subscriptions
So… you love this idea and will try it soon, but… you'd also like to have some awesome pre-packaged snacks on hand. I get it. Sometimes I just want to grab something yummy and healthy that someone ELSE has prepared.
The solution? Get healthy (and exciting!) ready-to-eat snacks delivered to you with Urthbox! They have Classic, Gluten free, Vegan or Diet box options, and a bonus free snack box offer, too.
Or browse more snack subscription boxes at Cratejoy to choose your own.
In love with smoothies? You can get read-to-blend organic smoothie packs delivered to your door from Smoothie Box , with $22 off your first order! (These are affiliate links!)
More easy egg recipes
If you prefer a quiche with a proper crust but you still want it to be quick and easy, try this red pepper and feta quiche instead.
This is the best recipe for easy zucchini slice! It's perfect finger food for kids (or anyone!), and kind of a cross between a crustless quiche, a frittata and a fluffy pancake.
If you're a traditionalist at heart, but you don't want to spend ages making a classic quiche lorraine, try these 6 ingredient mini quiches instead. They're SO easy to make, and are great for parties or small tummies. Freeze perfectly, too!
IF YOU MAKE THIS RECIPE, LET ME KNOW HOW YOU GET ON BY LEAVING A COMMENT AND RATING BELOW… AND DON'T FORGET TO SIGN UP TO RECEIVE ALL MY NEW RECIPES BY EMAIL!
FOLLOW ME ON FACEBOOK, INSTAGRAM, PINTEREST AND YOUTUBE.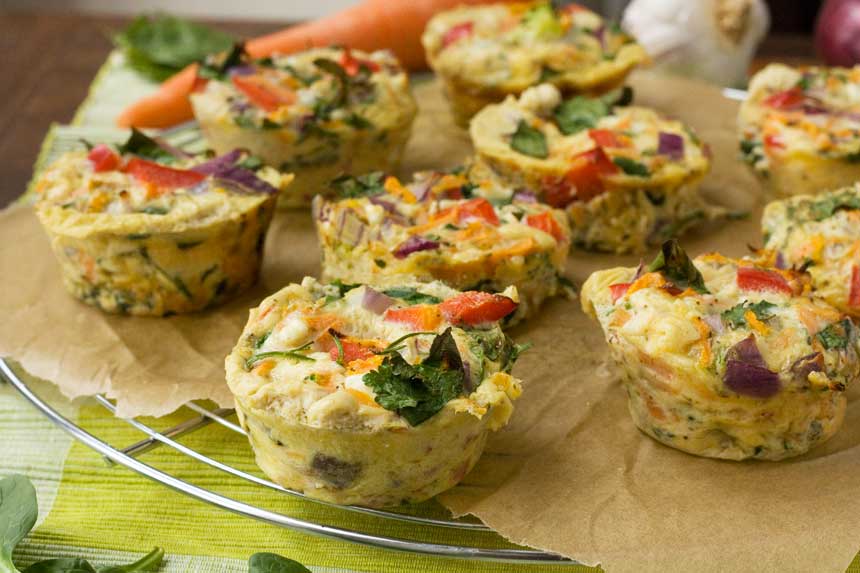 Veggie muffin frittatas
Cute little vegetable and cheese frittatas cooked in a muffin tin are perfect for packing up for a healthy breakfast or lunch on the go.
Ingredients (UK/Australia? Click below for grams/ml)
8

eggs

0.5

cups

milk

1

carrot

grated

2

ounces

spinach

finely chopped (roughly a handful – doesn't need to be exact)

1

red bell pepper

(pepper – UK – capsicum – Australia) finely chopped

1

clove

garlic

crushed

1

onion

medium, finely chopped

1

teaspoon

oregano

dried (or basil or mixed Mediterranean herbs)

1

handful

parsley

fresh (or other fresh herbs e.g. basil)

3

ounces

cheese

grated e.g. cheddar (about 2 handfuls)

3.5

ounces

feta cheese

crumbled

ground pepper
Instructions
Pre-heat the oven to 190C/375F. Lightly spray or brush a 12-hole muffin tin with oil.

Whisk together the eggs and milk in a large bowl, then stir through all the veggies, herbs and cheese.

Grind in a decent amount of pepper and stir again, then spoon the mixture into the muffin holes (not quite right to the top or the egg will spill over!).

Bake for 10 to 12 minutes, or until the egg mixture in the 'muffins' is set but still slightly wobbly in the middle.
Notes
Adapted from a recipe by Jasmine and Melissa Hemsley
The veggies in this recipe are just a guideline. You can use whatever veg you happen to have in your fridge – grated courgette works particularly well (just squeeze out as much of the water as you can once grated).
If you decide to use tomatoes, I'd suggest just laying one slice on top of each 'muffin'. Just don't stir them through the mixture as they're a bit too watery.
I found it best to half fill each muffin hole with a variety of the veggies and cheese first, then to drizzle in more of the egg until each hole is about 4/5 full. You want about 50% veggies and 50% egg in each muffin hole.
A note about freezing – you might find that the frittatas retain a bit of water when you defrost them and reheat. I didn't mind this too much – they are definitely best eaten fresh, but I still enjoy them after they've been frozen!
Nutrition
Calories:
109
kcal
Carbohydrates:
3
g
Protein:
7
g
Fat:
7
g
Saturated Fat:
3
g
Cholesterol:
124
mg
Sodium:
190
mg
Potassium:
142
mg
Sugar:
2
g
Vitamin A:
1910
IU
Vitamin C:
15.5
mg
Calcium:
131
mg
Iron:
0.9
mg