Last Updated on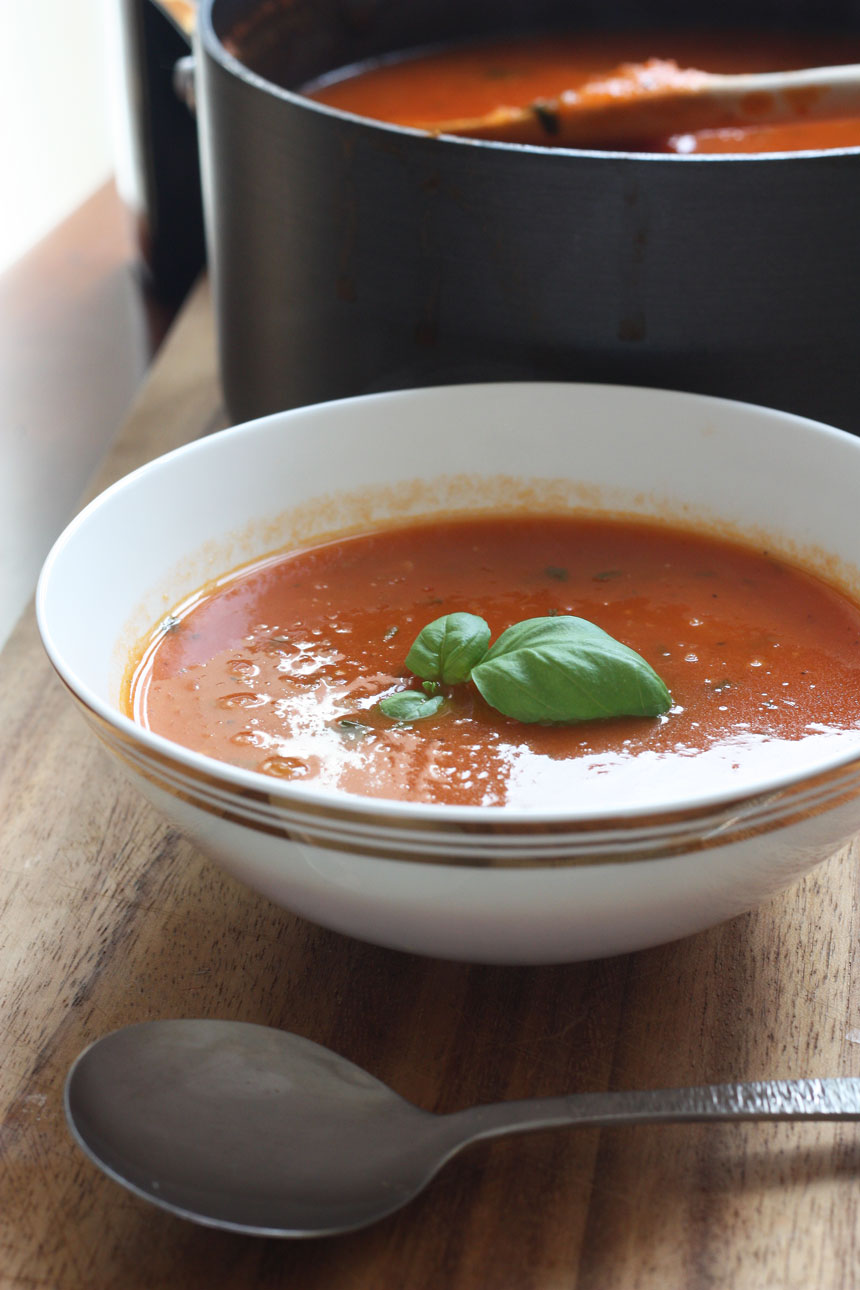 When I first went to live in Greece over a decade ago, I got a job as a teacher of English as a foreign language. Just after arriving in the country after driving all the way from London in my trusty little grey Ford Fiesta, I went to see my new boss and was given a pile of books that I'd need to prepare and teach my lessons.
Then, on my first day of teaching I carried the books out to the car with butterflies in my stomach and laid them carefully on top of my car as I got in. Maybe you can guess what's coming next. With my mind totally on the prospect of the day's lessons ahead, in the few seconds between putting the books on the car roof and opening the car door, I totally forgot to retrieve the books. And so I started the engine and drove off. Yes, I honestly did this.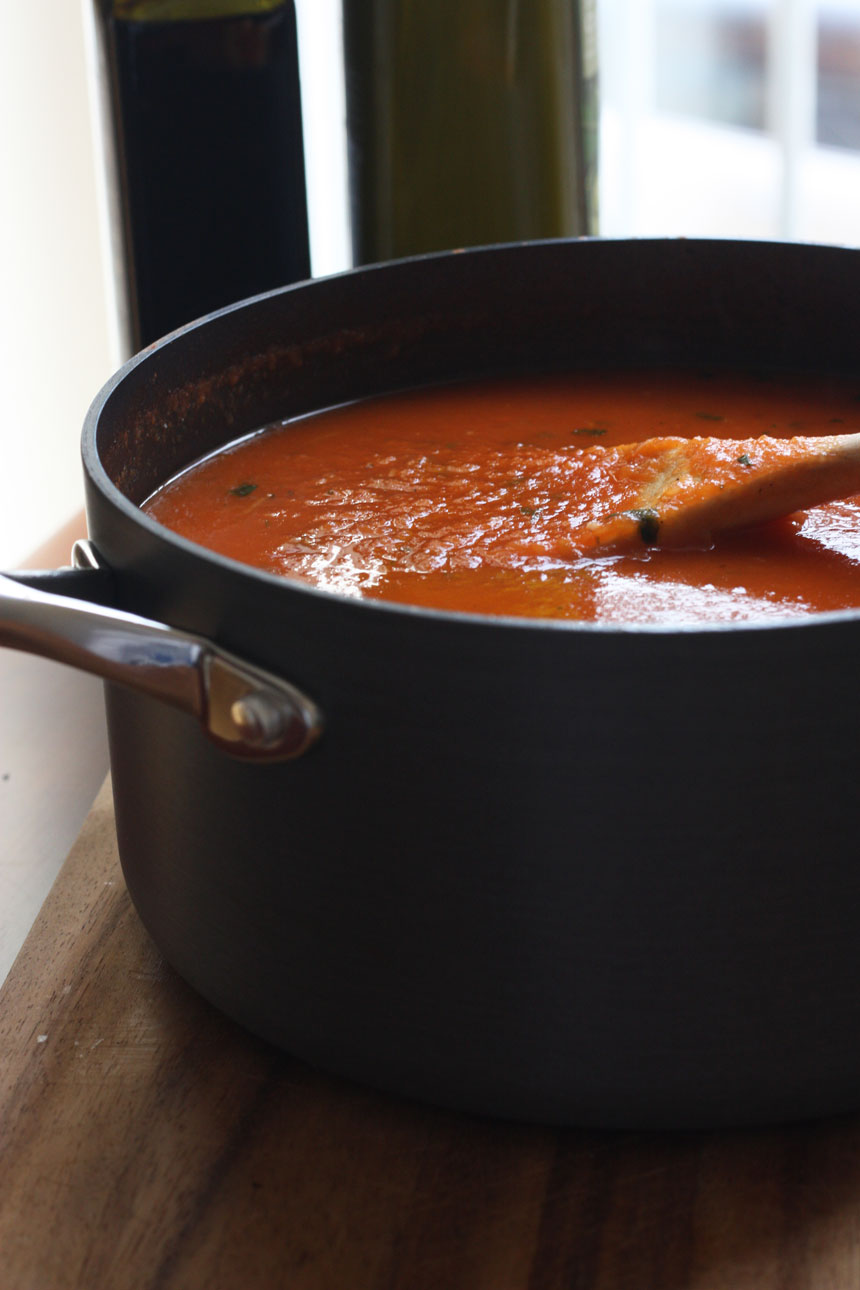 Within about half a minute, I saw something whip off the top of the car out of the corner of my eye. Even at this point it took a moment for me to realise what had happened. Totally shocked at myself and with an immediate sick feeling in my stomach, I stopped the car as soon as I could and was somewhat relieved to see that a few of the books were still miraculously clinging to the top of the car. I turned the car around, retraced my route and tried to spot the rest of the books, but as I remember only found one or two. The rest were never to be seen again.
I was dreading telling my boss what had happened, but luckily she saw the funny side above anything else. She also told me a story to help me to feel better. Apparently someone she knew had once done the same thing with a lasagna she had made to take to an event! Hilarious (but I'm sure not at the time).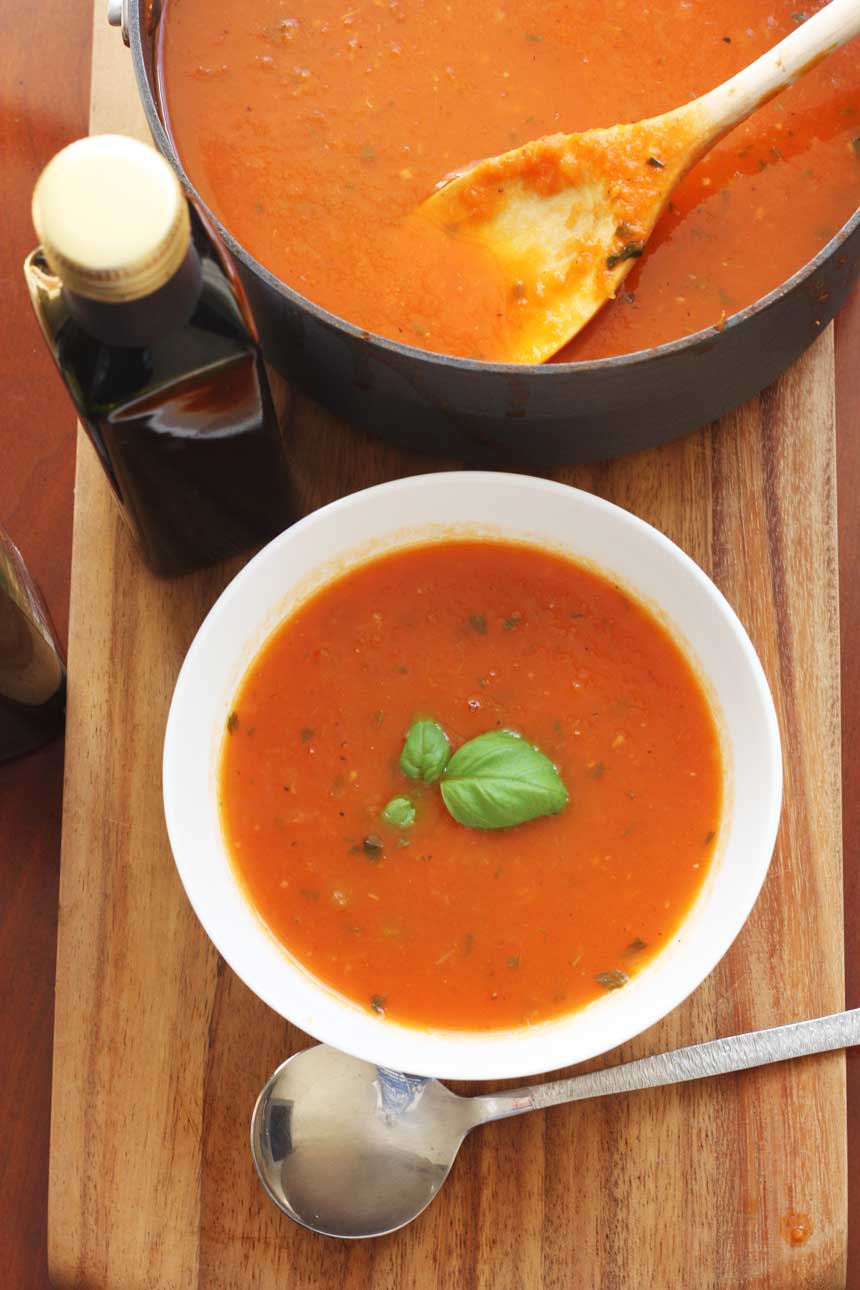 Now I hope you'll believe me when I say this incident was a one-off kind of thing (hopefully never to be repeated) but I have to admit I do still have the odd forgetful and clumsy moments. Especially clumsy moments. Since we've been married, Mr. Scrummy has winced as I've inexplicably jumped while taking coffee out of the microwave and thrown it up a freshly-painted wall, spilt beer all over my dad's plate of fish and chips and tipped a whole hot cup of tea down the side of our bed. Needless to say, he won't let me anywhere near his computer with glasses or cups of anything.
So with this knowledge of my propensity to splash things up walls and the like, I'm very surprised that my husband let me loose with a hand held blender
that had been lurking in a cupboard for years back in his mum's home in Australia. But give it to me he did, and today's post is thanks to having this to hand this past Sunday when I decided to whip up a quick batch of tomato soup!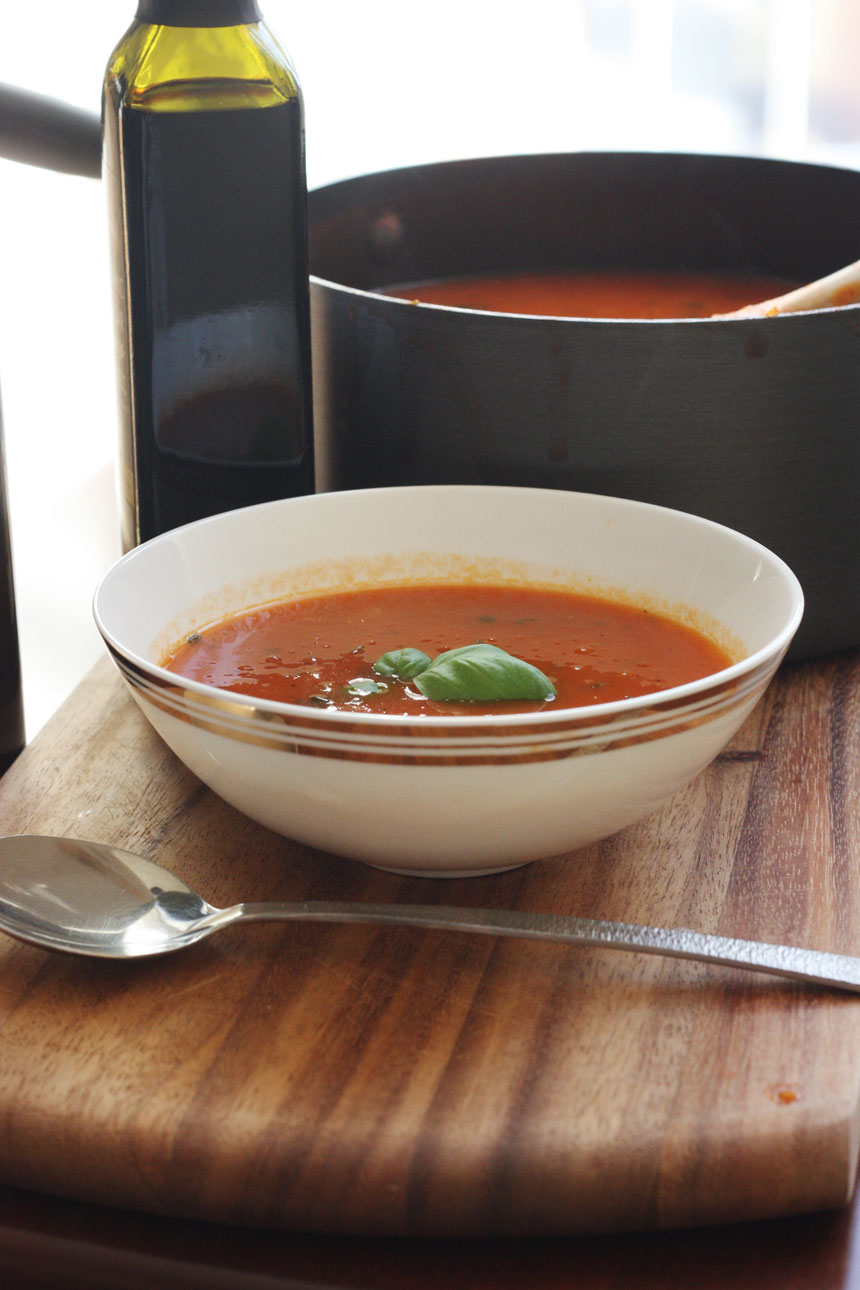 I have to admit I did indeed splash a little (Oh OK then, quite a lot) up the walls, appliances and up myself while trying to get the hang of the blender, but I reckon it was more than worth it to get such a fresh-tasting batch of tomato soup as this turned out to be. Tomato soup is one of those soups that I've always resisted making a little for fear of it turning out like liquidised tinned tomatoes, but I needn't have worried because this was truly delicious – in a very simple kind of way. As well as tomatoes, I added stock, a carrot, celery, a little garlic, an onion and plenty of fresh basil and freshly ground salt and pepper. After blending, I added a drizzle or two of balsamic vinegar and a spoonful of sugar to give the taste a little extra 'oomph'.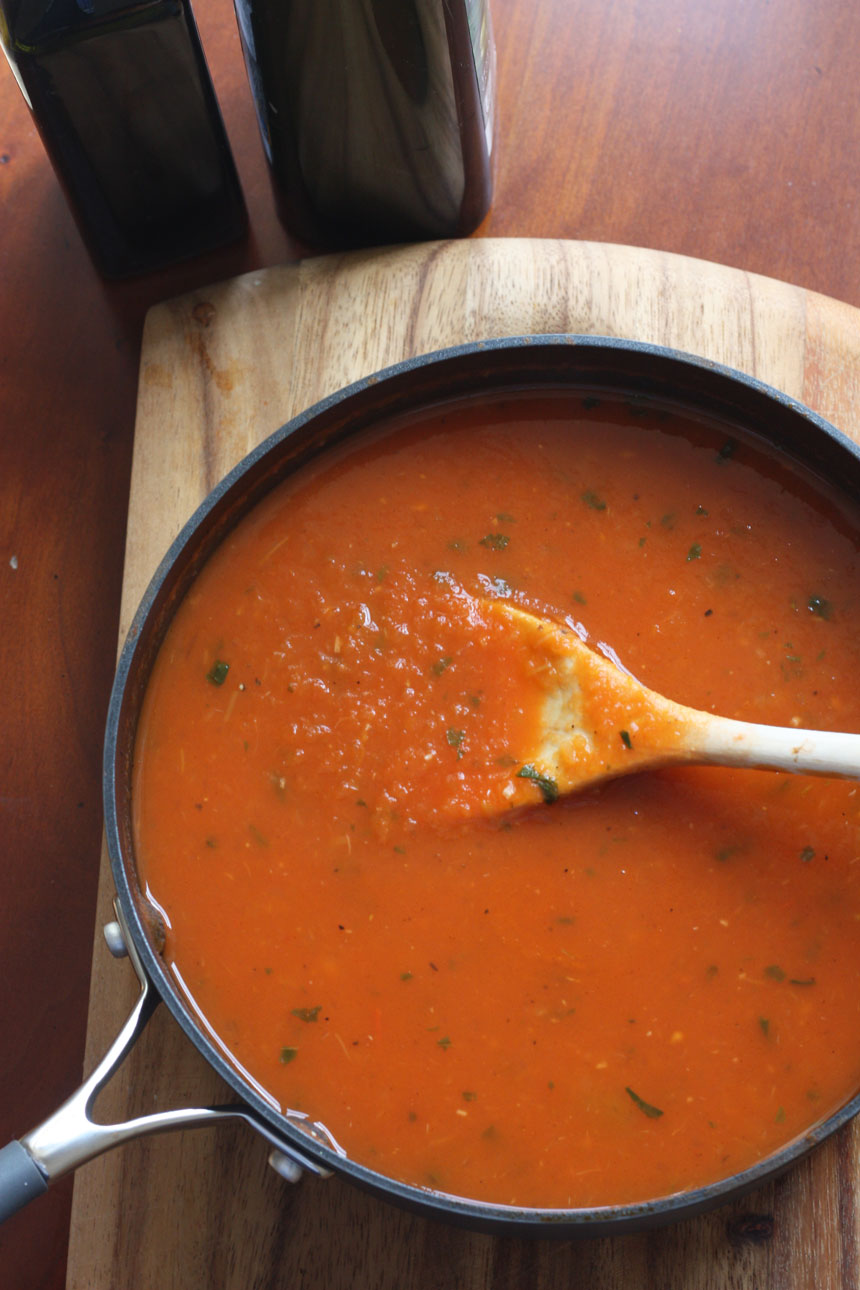 This is a great simple, classic soup to have in your soup-making repertoire. The best thing is that you can have it ready for a quick and healthy lunch in next to no time, depending on how quickly you chop.
I served this to my mum on Monday with plenty of parmesan-encrusted toasts and a spoonful of creamy Greek yoghurt stirred in, and the proof was in the pudding, if you like, because my mum raved and raved about the soup. And of course there is no greater endorsement than that. I even sent her home with a couple of sticks of celery so that she could make her own.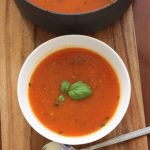 Print
An easy, classic tomato soup
Everyone should have an easy-to-whip up classic tomato soup in their recipe repetoire. This is so simple to make and yet fresh and tangy-tasting - it's perfect with a little Greek yoghurt or cream stirred through it and some parmesan toasts.
Ingredients (UK/Australia? Click button below for grams & ml)
1

onion

chopped finely

1

carrot

peeled and chopped into small pieces (optional)

2

sticks of celery

chopped finely

2

garlic cloves

sliced or crushed

28

ounces

of tomatoes in their juice

(two cans) whole or chopped

4

cups

chicken or vegetable stock

best quality

freshly ground salt and black pepper

to taste

2

tablespoons

fresh basil

a drizzle or two of balsamic vinegar and 1 teaspoon or so of sugar

optional
to serve (optional)
bread or rolls sprinkled with parmesan cheese and broiled

UK = grilled!

a little Greek yoghurt or cream to stir in at the table
Instructions
Heat up a good lug of olive oil in a large deep pan on a medium heat, then add the onion, carrot (if using) and celery. Put the lid on the pan and leave it all to cook for about ten minutes, stirring occasionally. Then add the garlic and cook for another minute or two.

Add the tomatoes and stock and simmer for another ten minutes.

Blend the soup until smooth with a food processor or hand held blender (or you can leave it a little chunky if you prefer), then add salt and pepper to taste and the basil and blend for a few seconds longer.

Tip the soup back in the pan and add the vinegar and sugar if including. Heat back up a little if necessary and serve, with bread and yoghurt/cream if you like.
Nutrition
Calories:
172
kcal
|
Carbohydrates:
28
g
|
Protein:
10
g
|
Fat:
3
g
|
Cholesterol:
7
mg
|
Sodium:
633
mg
|
Potassium:
974
mg
|
Fiber:
4
g
|
Sugar:
14
g
|
Vitamin A:
3115
IU
|
Vitamin C:
22.8
mg
|
Calcium:
97
mg
|
Iron:
3.2
mg
Follow me on Pinterest!
Follow @scrummylane to pin more quick and easy recipes for later
I hope you enjoyed this post! You can subscribe to receive posts directly to your inbox by entering your email address in the box below or at the top of the sidebar on the right.
You can also find more from Scrummy Lane on Facebook, Pinterest, Twitter and Instagram and follow me on Bloglovin! Thanks so much for reading!
*This post may contain affiliate links which means that if you click on a link and make a purchase I get a small percentage of the amount you spend. At no extra cost to you, of course! Thank you!*