Gnocchi … those cute little potato dumplings that make a great pasta alternative. But have you ever tried adding them to a soup? Add chicken, veg and fairly low-calorie evaporated milk as well, and this Olive Garden copycat crockpot chicken gnocchi soup is one of the tastiest soups I've ever had!
Mr. Scrummy and I have been resembling toothless old crones lately. I exaggerate, but we have been 'between dentists' appointments' a lot. I'll spare you the (ouch-y, both physically and financially) details, but what this means is that hard foods and big mouthfuls have been off the menu for a few weeks at our house.
I forgot all about this on Friday lunchtime, stuffed a huge chicken and avocado wrap in my mouth – and promptly crunched on my temporary crown. It had stayed put for all of one whole day. You would not want to have seen me frantically racing down the road to catch the bus to get to my dentist's before he went home for the weekend that afternoon.
I made it. Phew. Got the crown replaced. But to save a repeat performance, I am now chewing tiny soft-as-possible mouthfuls until my next appointment. Which only means one thing: SOUP. (Update: it's out again. All the more reason for SOUP.)
When we ate this hearty chicken gnocchi soup, it was thick enough to be almost like a casserole – rich and creamy (but NOT too calorific!), warming, and flavoursome. BUT that' s only because I was serving it for Sunday lunch and wanted it to be a proper meal. The beauty of this soup is that you can serve it like this, or keep it a lot thinner and serve it more like a regular soup.
A great comfort food dish… but lighter!
The other great thing about this chicken gnocchi soup is that although this is a lovely comfort-food style creamy soup, it's pretty light. You see, I used evaporated milk in it and not cream. The last time I had evaporated milk was over tinned fruit back in the eighties, but trust me, its rich texture means it's perfect for this. And for mac and cheese, ice cream, cheese sauce, milkshakes and all sorts of other things … 🙂
Plenty of veggies… and soooo creamy!
So … what else is so great about Olive Garden copycat recipe? Well, it's got plenty of veggies in the form of carrots, celery, onion and spinach in it (tick), and lots of chicken protein and yummy gnocchi carbs, making it a complete meal (tick). AND it pretty much makes itself because you dump it in the crockpot and run away (tick). Oh, and did I mention it's lovely and creamy?
For those of you who have ever been to Olive Garden in the US, yes, they do sell a popular soup quite a lot like this creamy chicken soup. I can't promise it'll taste exactly like it, but it's a pretty good copy!
So wish me luck with the dentist's. But at least until then I'll have something delicious to eat!
TIP OF THE WEEK
How to serve this delicious soup:
Consider serving this soup with some toasted fresh crusty bread drizzled with olive oil and sprinkled with a bit of salt. I used my favourite packaged focaccia bread (Aldi do a good one here in the UK!). Actually, I serve this with almost any 'saucy' meal that's low-ish on the carbs. Naughty me. 😉
Let me know if you try making this soup in an Instant pot (affiliate link)!

Or you wouldn't go far wrong using a traditional Crock-Pot like this for this recipe (affiliate link)!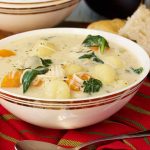 Crockpot chicken gnocchi soup (Olive Garden copycat)
A hearty, creamy and nutritious soup stuffed with chicken, gnocchi and vegetables... just like the one you love at Olive Garden! Delicious!
Total Time
6
hours
20
minutes
Servings
8
people on average (depending on the thickness of your soup)
Ingredients
1.5

pounds

chicken breasts

skinless boneless

1

onion

large, chopped

2

carrots

peeled and sliced

4

sticks

celery

chopped

4.5

cups

chicken broth

(UK=chicken stock)

1

tablespoon

mixed Italian herbs

e.g. basil, thyme, oregano

1

can

evaporated milk

(mine was 400 grams/14 ounces)

2

tablespoons

cornstarch

dissolved in a little water

16

ounces

gnocchi

3

cloves

garlic

peeled and crushed or chopped

7

ounces

spinach

fresh

salt and pepper

to taste
Instructions
Place the chicken, onion, carrots, celery, stock and herbs in the

crockpot

and cook on low for six hours minimum (or high for four).

Shred the chicken in the pot, then stir in the evaporated milk, cornstarch mixed with water and gnocchi. Replace the lid of the pot.

Now heat up a little oil in a frying pan and cook the garlic for a couple of minutes. Add the spinach to the pan and cook until wilted (a couple of minutes). Add the spinach and garlic to the crockpot along with plenty of salt and pepper to taste.

Adjust the thickness of the soup to your liking (if too thin, add a little more cornflour mixed with water, if a little thick, add some water). Then serve in big bowls with toasted bread drizzled with olive oil and sprinkled with salt (if desired).
Recipe Notes
Recipe adapted from Pass the Sushi, with a couple of tips from Pinch of Yum.
If you'd prefer your soup to be more like a hearty chowder or casserole, just add a tablespoon or two more of cornflour.
The soup is lovely heated up the next day, but I find some of the liquid is soaked up by the gnocchi in the fridge, so you might want to add some water when you re-heat it to thin it out again.
Nutrition Facts
Crockpot chicken gnocchi soup (Olive Garden copycat)
Amount Per Serving
Calories 286
Calories from Fat 54
% Daily Value*
Total Fat 6g 9%
Cholesterol 67mg 22%
Sodium 868mg 36%
Potassium 826mg 24%
Total Carbohydrates 31g 10%
Protein 25g 50%
* Percent Daily Values are based on a 2000 calorie diet.