Did you know you can bake feta? Throw a whole block into the oven with Mediterranean vegetables and flavours and 30 minutes later you'll have a virtually effortless but incredibly delicious dish. You could say it's like a warm Greek salad, and it makes a delicious shared appetizer, lunch, or side!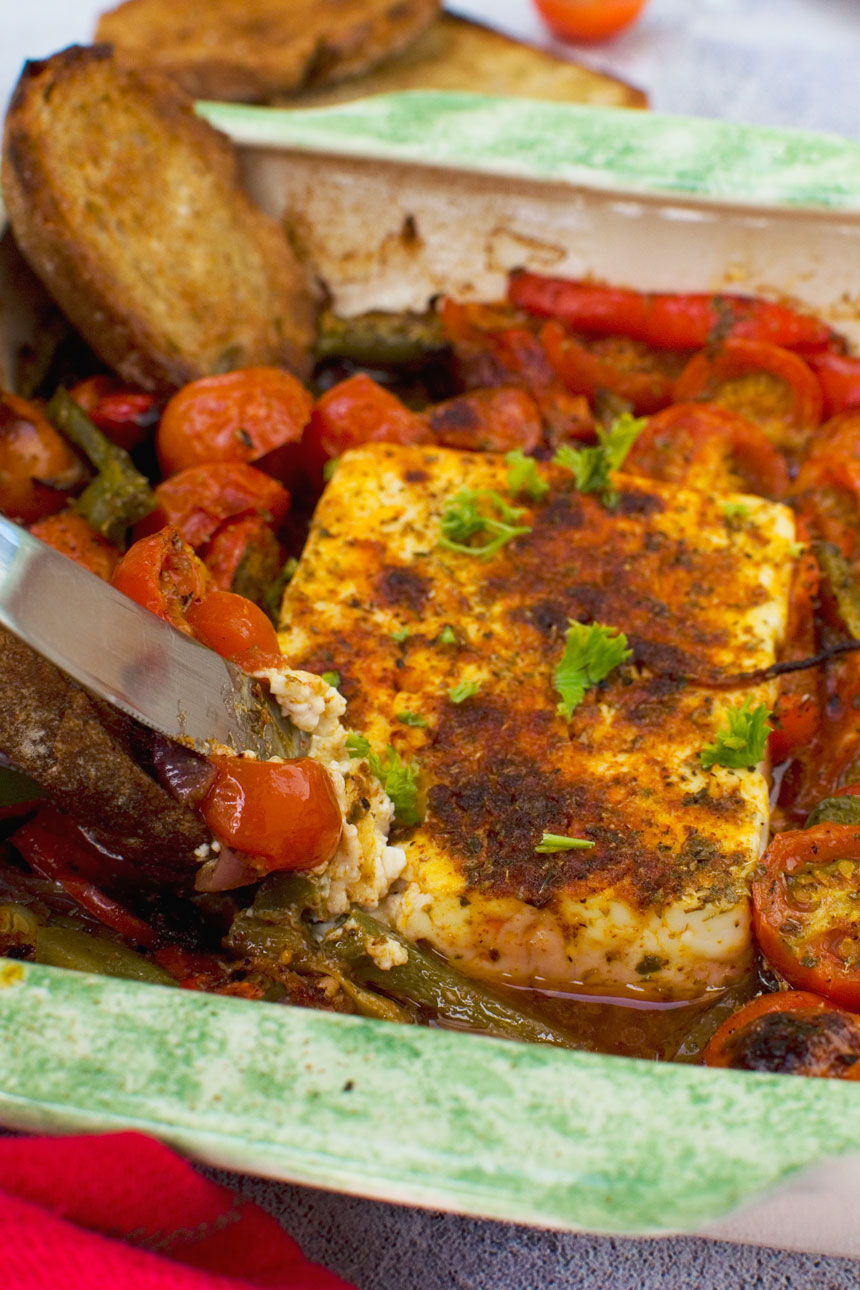 Every once in a while, I make a new recipe that I know I'll make again and again (and again). It gets the seal of approval from my 'chief testers' aka Mr. Scrummy and our son. It's also easy enough and yet impressive enough to serve to guests.
This Greek chicken and potatoes falls into that category. As do these mind blowing crispy halloumi fries. Oh, and this 6-ingredient Swedish chocolate cake. They just… work.
You know what I'm going to say now. This dish is a firm family favourite, too. It's an idea I fall back on often for very good reasons.
OK… but what is baked feta?
If you've ever been to Greece, you may have eaten various versions of cooked feta cheese.
The dish that my recipe is based on is called 'bouyiourdi' in Greece. I've eaten it there and it's delicious but usually it's very heavy on the feta and not so heavy on the veggies.
This is most definitely inspired by my time living in Greece. But to make it into a more filling and versatile dish I wanted to massively increase the amount of tomatoes, peppers, onions and olives.
Why this quickly became a family favourite
It's versatile. It can be a fancy shared appetizer for a nibbles and drinks sort of occasion. Or an easy lunch.. Or even an easy side dish.
It's quick and easy. We're talking VERY easy. Throw everything in a dish and bake for 30 minutes sort of easy.
It's incredibly delicious. In my opinion of course. But if you like Greek salads then you'll like this too. You could say it's a warm Greek salad!
You can prepare it ahead. Always a bonus when preparing food for guests.
What ingredients you need
This is one of those recipes that hardly needs a recipe, if you know what I mean. After you've made it a couple of times you'll probably feel comfortable not worrying about exact amounts.
feta cheese: As this is the star of the show in this recipe, I like to buy good quality feta cheese. Preferably Greek. You'll need a thick slice. Or two thick slices for a slightly bigger crowd. Don't buy 'Danish feta', which is delicious too but a bit too soft and creamy for this recipe.
cherry tomatoes: Just slice in half and throw them in!
peppers: 1 medium sized pepper is about right. I like to use half a green pepper and half a red to make the dish more colourful.
onion: Just a 1/4 to 1/2 a medium sliced onion is enough.
Kalamata olives: Around 15 as a general guide. Just slice and throw them in. Or throw them in whole – it's up to you!
olive oil and dried oregano: Toss everything apart from the feta in a generous amount of olive oil and oregano. It'll combine with the veggies to make the most delicious juices to mop up with toast.
paprika: For sprinkling over the whole dish before baking.
How to make it
Apart from how crazy delicious it is, the best thing about this baked feta recipe is how easy it is to make.
You could virtually make it blind-folded.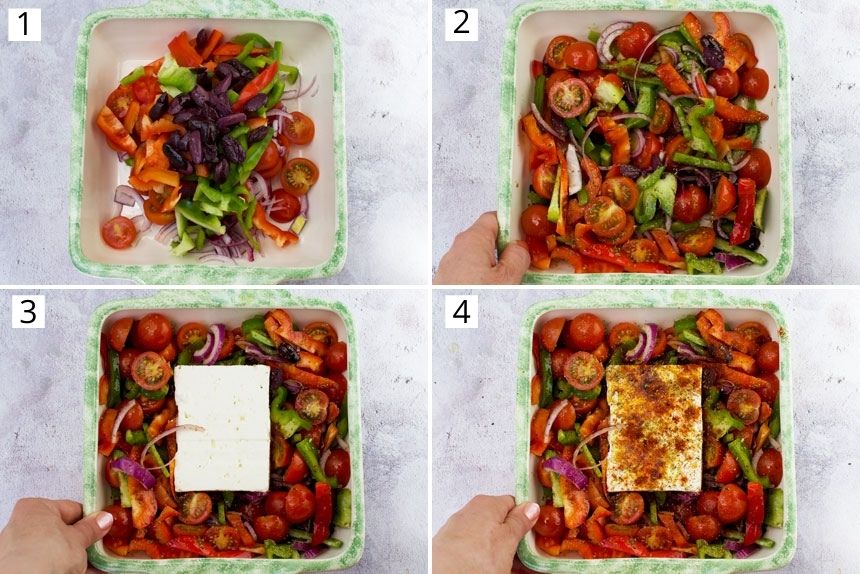 See how easy it is? Slice the cherry tomatoes in half – if you like – then roughly chop the peppers and onion.
Toss plenty of olive oil and dried oregano through. Then nestle a whole block of quality feta cheese in the middle.
Scatter with paprika and a bit more olive oil, then bake for about 30 minutes or until bubbling and starting to brown.
How to serve baked feta
Yep, looks and sounds delicious, I hear you Mediterranean food lovers thinking. But is it an appetizer, a baked feta dip, party dish, lunch, side dish or dinner?
Would you believe me if I said it could be any one of the above?
My favourite way to serve Greek baked feta is as a shared appetizer or as part of a buffet style meal. I prefer to give everyone their own plate and throw a big spoon in the dish so everyone can serve themselves.
It's important to serve it immediately. Preferably with a big plate of these 2-minute olive oil toasts.
When it's just out of the oven the squidgy warm feta is perfect for smooshing onto the toast with some of the roasted Mediterranean vegetables. Don't forget to mop up the amazing juices!
You can also serve this oven baked feta dish like this:
as a lunch for 2, or for 4 if you double it and serve in a bigger dish.
for dinner with a simple meat, fish or veggie protein.
as a kind of feta dip at a party.
with wine (or ouzo!) and nibbles outside on a warm summer evening.
stirred through pasta! Have you seen the viral Tiktok trend? I hadn't until after I first posted this recipe, but I think it's a fabulous idea. Scroll down a little for more details.
It's a pretty simple idea, right? But it tastes as good as if you'd slaved over a hot stove for hours!
As the examples above show, you can serve it for several occasions. But here's my top recommendation:
Step 1: Wherever in the world you are, wait for a setting sun on a nice day.
Step 2: Grab a friend or loved one.
Step 3: Sit outside on a veranda or in a garden and enjoy this delicious baked feta with a glass of chilled wine (or ouzo!).
TikTok baked feta pasta
There's one more thing you can do with this dish…
Shortly after posting this recipe, a viral Tiktok baked feta pasta started doing the rounds!
I'm not usually one to jump on the bandwagon, but in this case I'll make an exception. It's a fabulous idea!
All you have to do is cook some pasta (I like penne or similar, but any pasta works). When it's ready, mash up the baked feta right in the dish. Then stir it through the hot pasta, serve and enjoy!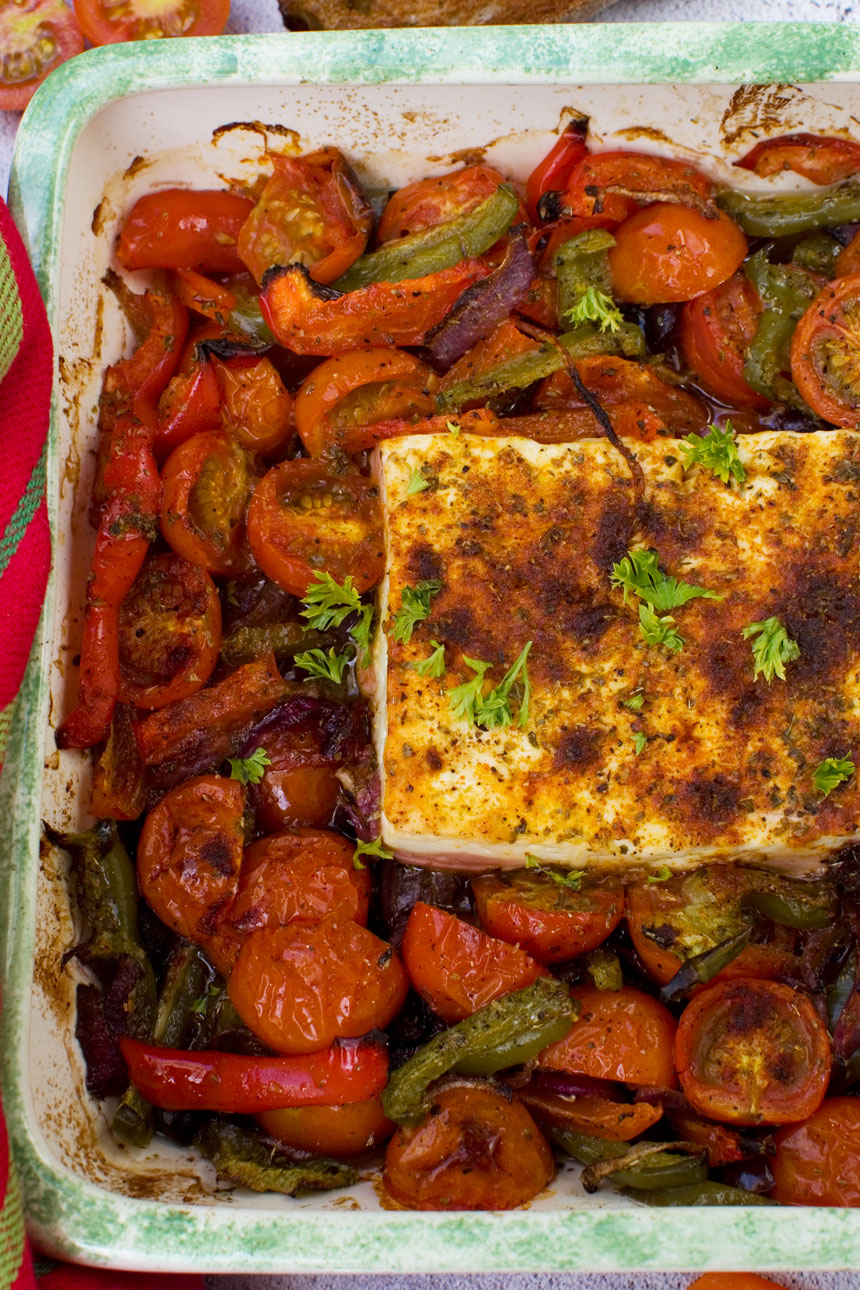 If you like this recipe, you might also like these baked feta filo pies with honey!
More Mediterranean inspired family favourites to try
IF YOU MAKE THIS RECIPE, LET ME KNOW HOW YOU GET ON BY LEAVING A COMMENT AND RATING BELOW… AND DON'T FORGET TO SIGN UP TO RECEIVE ALL MY NEW RECIPES BY EMAIL!
FOLLOW ME ON FACEBOOK, INSTAGRAM, PINTEREST AND YOUTUBE.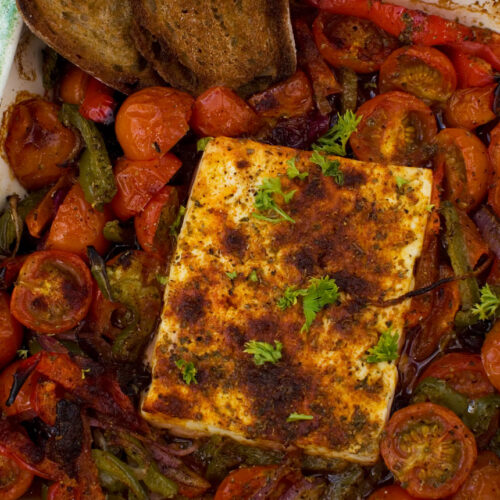 Our favorite baked feta with tomatoes, peppers and olives
A wonderfully simple Greek appetizer of baked feta cheese with tomatoes, peppers, olives, oregano and paprika. This tastes a bit like a warm Greek salad and is wonderful smooshed onto bread with or without a glass of ouzo or wine!
Equipment (affiliate links)
Ingredients (UK/Australia? Click below for grams/ml)
3.5

ounces

feta cheese

(Try to buy an entire thick slice – I prefer Greek)

9

ounces

cherry tomatoes

cut in half

½

red pepper

sliced into smallish strips

½

green pepper

sliced into smallish strips (or just use 1 green or red pepper)

¼

medium onion

(¼ to ½) sliced thinly

15

Kalamata olives

stoned and chopped in half (or leave whole but buy stoned olives)

½

tablespoon

dried oregano

¼

cup

extra virgin olive oil

plus a little extra

1

teaspoon

paprika

black pepper to taste
Instructions
Pre-heat the oven to 190C/375F. Put the tomato halves, pepper pieces, onion and olives into a small to medium baking dish (around 8 inch x 8 inch or similar).

Sprinkle over the oregano and pour over the olive oil. Mix well.

Clear a gap in the middle of the vegetables. Nestle the block of feta in it.

Sprinkle the whole dish with the paprika and some black pepper (to taste). Drizzle the top of the cheese with a little more olive oil.

Bake for 30 minutes until the vegetables are starting to bubble and brown and the feta is soft.

Serve immediately with fresh toasted bread (everyone serves themselves onto individual plates).
Notes
Ingredient amounts: The amounts in this recipe are just a rough guide. After you've made it a couple of times, you'll probably be able to make it without the recipe! You can also double the ingredients to serve to a bigger crowd. Just use a larger baking dish and bake 2 blocks of feta and double everything else.
How to serve: This dish is best served immediately while the feta is warm and squidgy, although it's still delicious once cooled down a bit. Serve as a light bite for 2, an appetizer for 4, or a side dish for a family dinner. Or double the ingredients and serve at a BBQ or party as a side dish/buffet offering.
Nutrition
Calories:
231
kcal
Carbohydrates:
7
g
Protein:
5
g
Fat:
21
g
Saturated Fat:
6
g
Cholesterol:
22
mg
Sodium:
519
mg
Potassium:
233
mg
Fiber:
2
g
Sugar:
4
g
Vitamin A:
1243
IU
Vitamin C:
46
mg
Calcium:
147
mg
Iron:
1
mg