Who's tried a croque monsieur? (roughly translated as a toasted cheese and ham sandwich just in case anyone is wondering!) Piled into a baking dish and drenched in an egg and milk mixture – just like french toast – and baked, they can be transformed into a rather tasty and attractive weekend brunch option …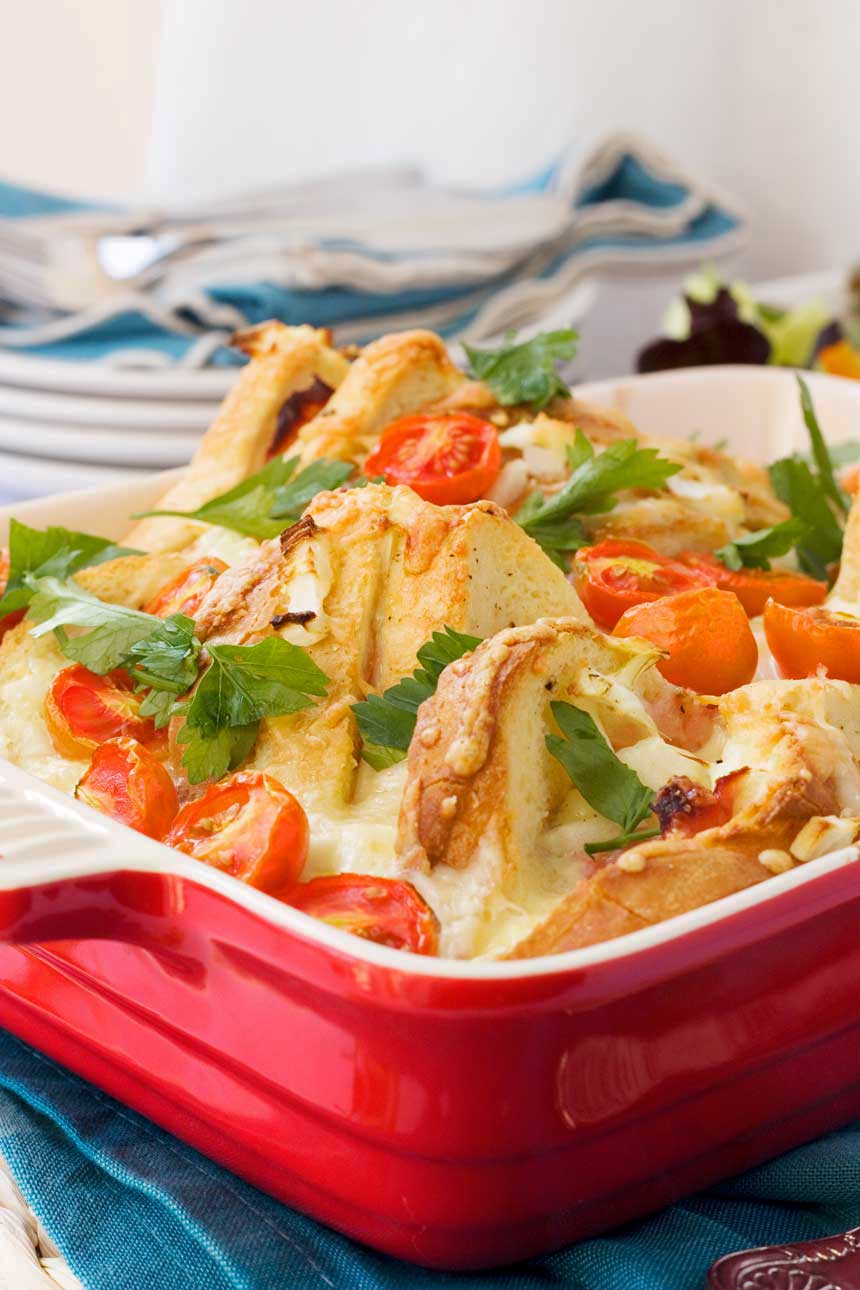 As is the case on many Sundays, yesterday went like this. Planned to make lovely brunch for Mr. Scrummy and I at, oooh, about 10 or 11am. Got way-laid with putting a wash on/minor catastrophes/phone calls/lazy zone-out moments on the sofa/unexpected urgent errands etc. Suddenly realised it was 3pm. Brunch for two became late lunch for two + parents we'd picked up along the way.
Well, not to worry because this is one weekend brunch-y dish that can easily be breakfast, lunch, dinner or anything in between. It can also be made ahead and then thrown in the oven whenever you're ready, which is what I'd have done yesterday if I'd organised myself a bit better.
So what on earth is a croque monsieur brunch bake? Well, you guessed it, I totally made up the name. But if you've ever tried a British bread and butter pudding, it's a lot like that – but savoury. If you're in the US or elsewhere, maybe the best description would be a sort of French toast casserole or ham and cheese strata?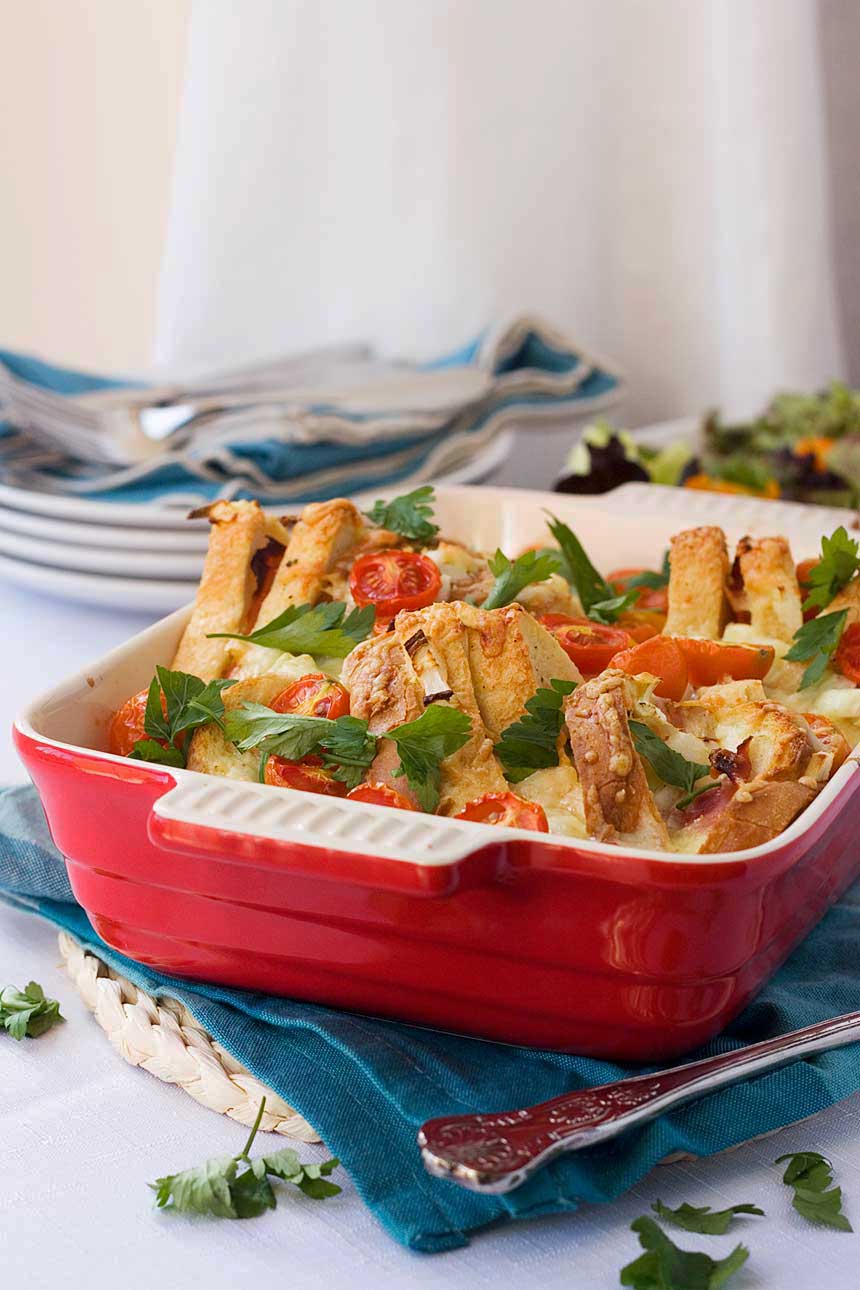 Whatever you prefer to call it, it's a delicious, comforting little idea that you can pull together in hardly any time at all. Really it's just like making a pile of ham and cheese sandwiches, soaking them in a mixture of egg and milk, then arranging them prettily in a dish with tomatoes and cheese on top … and baking! How easy is that?
The other big bonus is that you can customise this to your heart's content. This time I stuck to ham and gruyère cheese (hence calling this a croque monsieur brunch bake!) with a few additions – cherry tomatoes and a bit of onion and mustard – but you could easily make this more 'breakfast-y' by adding cooked sausage or bacon, or more 'lunch-y' by adding more veggies like pan-fried peppers. And of course you don't have to use gruyère. I was just being posh by using it in mine. You can use any old tasty cheese.
I'll leave you with one more little tip. Cook your bake until it's nice and browned and crispy on top. First time, I under baked and there were a few gloopy bits inside. Not so great. You want to bake until the egg and milk mixture soaked into the bread has solidified to a bread pudding-like consistency. Yum.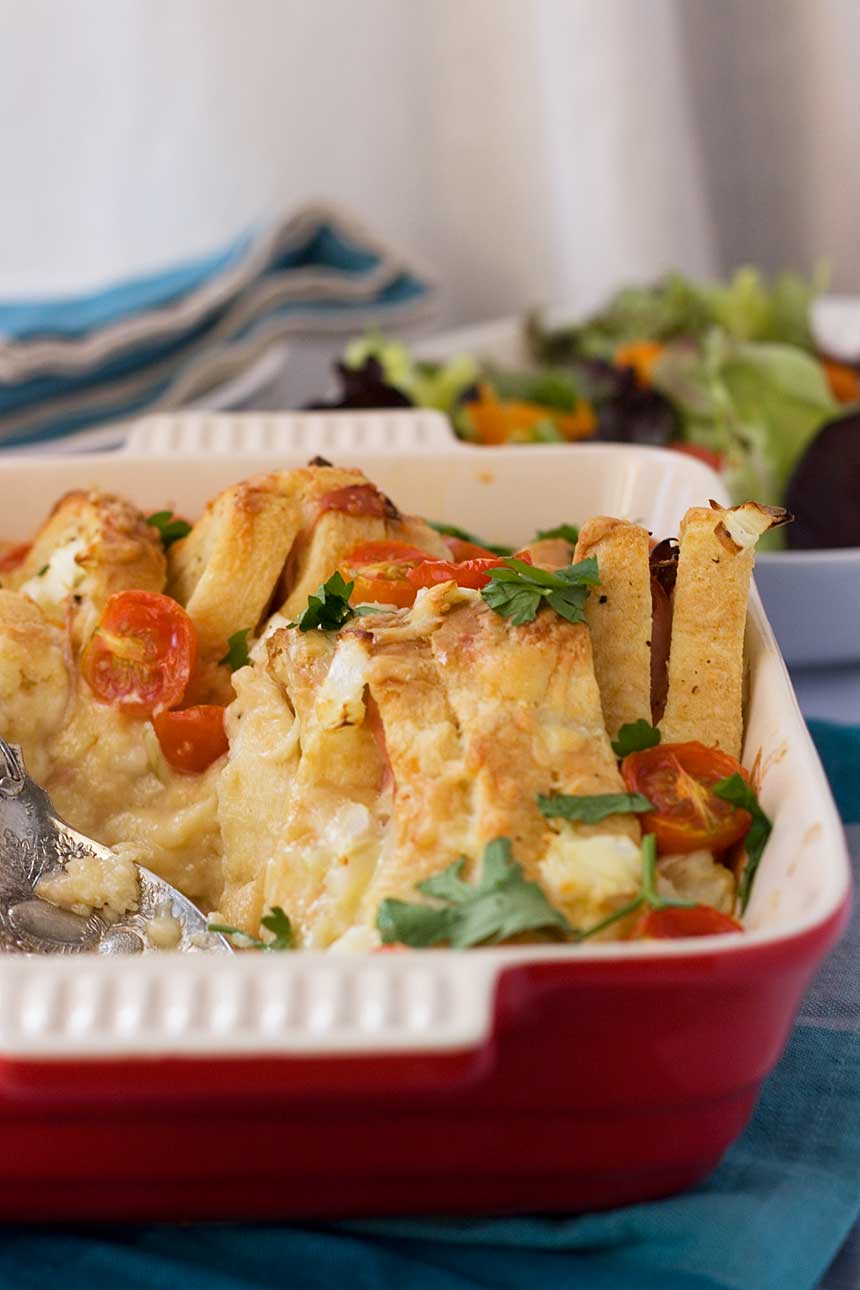 This was really my first foray into the exciting world of breakfast bakes or casseroles. 😉
Have you ever made anything like this before? If so, what? If not, do you think you might give this a go? I hope so … and let me know how it goes!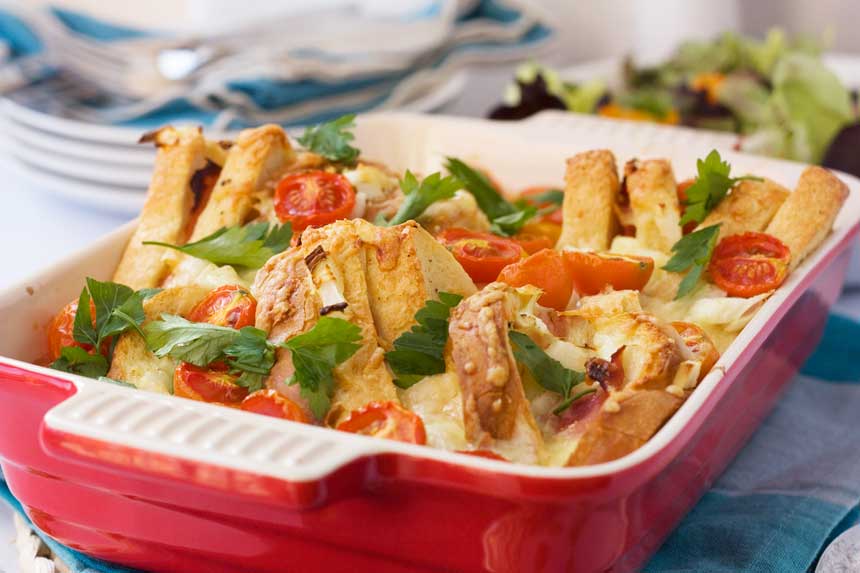 Croque monsieur brunch bake
Whenever I visit France, I make sure I have a croque monsieur - a yummy toasted cheese and ham sandwich! Recreate those flavours in a delicious brunch bake - it's like a sort of french toast bake and perfect for any time of day.
Ingredients (UK/Australia? Click below for grams/ml)
8

slices

white bread

cooked ham

enough to make 4 sandwiches

slices

of gruyère cheese

or any tasty cheese of your choice – enough for 4 sandwiches

6

eggs

1 1/2

cups

milk

1

teaspoon

heaped of mustard

I used Dijon

1/2

of a small onion

chopped finely

2

garlic cloves

crushed

salt and pepper

5

ounces

cherry tomatoes

halved

grated cheese e.g. mozzarella for sprinkling

a handful of fresh chopped parsley
Instructions
Preheat the oven to 175C/350F.

Make 4 ham and cheese sandwiches with the bread, ham and cheese. Cut each in half diagonally so that you have 8 sandwich halves.

Whisk the eggs together with the milk, mustard and a good grinding of salt and pepper in a jug. Add the chopped onion and garlic.

Dip each sandwich half in the egg and milk mixture, then arrange in a medium-sized square-ish baking dish in two rows, with the two rows overlapping a little (the sandwiches should be standing up with the pointy part facing upwards).

Pour the rest of the egg mixture over the sandwiches, then top with grated cheese and the tomatoes. Leave to stand for at least 10 minutes so that the egg mixture can soak into the bread.

Bake for about 40 to 50 minutes or until the top of the bake is golden and crisp. Sprinkle with the parsley and serve (with a fresh salad if you like!).
Notes
You'll notice that the amounts in the ingredients list are not exact. That's because exact amounts don't really matter – apart from the amount of eggs and milk. This is a very customisable recipe!
It can also be made up a few hours ahead (or even the night before). Just assemble, then cover with foil and keep in the fridge until you're ready to bake.
Some ideas for customising:
1 Add cooked sausage and/or bacon along with the tomatoes for a more hearty bake.
2 Use spring onions/scallions instead of the ordinary chopped onion for a subtler flavour.
3 Spread pesto on the bread along with the ham and cheese.
4 Use prosciutto instead of ordinary ham.
Nutrition
Calories:
295
kcal
Carbohydrates:
32
g
Protein:
16
g
Fat:
10
g
Saturated Fat:
4
g
Cholesterol:
254
mg
Sodium:
396
mg
Potassium:
362
mg
Fiber:
1
g
Sugar:
8
g
Vitamin A:
675
IU
Vitamin C:
9.6
mg
Calcium:
277
mg
Iron:
3.2
mg

You can also find more from Scrummy Lane on Facebook, Pinterest, Twitter and Instagram and follow me on Bloglovin! Thanks so much for reading!
*This post may contain affiliate links which means that if you click on a link and make a purchase I get a small percentage of the amount you spend. At no extra cost to you, of course! Thank you!*