Last Updated on
This spring tart celebrates the first of this season's local asparagus. It's easy to make and easy to customise. Keep it simple with just parmesan and basil, add some bacon or a poached egg – or bacon and a poached egg. Delicious!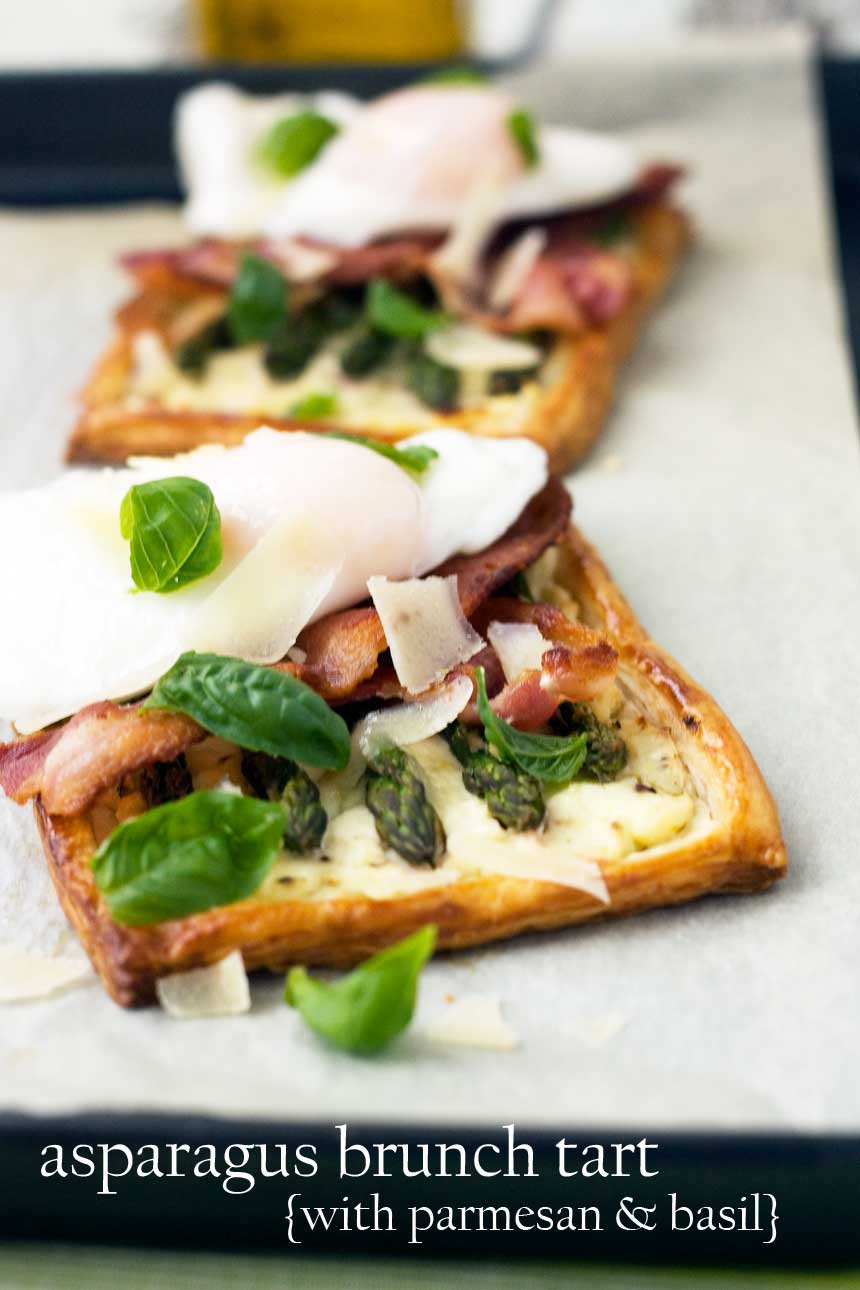 On Monday, I went back to the 1940s! Well, not literally, obviously, but at times it felt like I was really back then. We were at an outdoor museum, you see, which had a special holiday World War II themed day.  I think there must have been a convention of 40s-era lovers there or something because there were large groups of people all dressed in clothes from the time – complete with 40s hairstyles and WWII vehicles. I must say I do like the fashion of that time!
It was my first day off for quite a while, possibly since Christmas, and appreciated all the more because it was beautifully warm and without a cloud in the sky. I'd been willing some spring sunshine to appear so that I could legitimately begin making things with asparagus, but this past weekend I finally gave up and began despite the persisting greyness! And then, it was as if my spring asparagus tart-making had worked like a lucky charm and brought out the sun! As if by magic!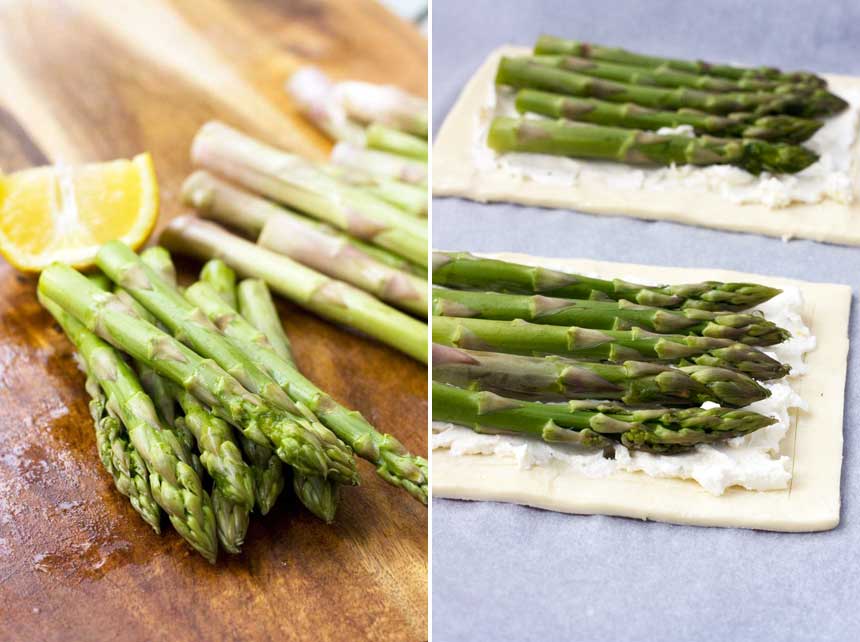 There are so many great things about these kinds of simple puff pastry tarts (just like this baby tomato, prosciutto & pesto one). The best thing is that they are sooo easy to make. You can literally assemble them in minutes, then they cook in less than 20 minutes. But they look really impressive when they're done. It's great for a brunch just for you and your family or other half, but I think they're perfectly impressive enough to serve to guests as well. Another cool thing is that you can make one of these impressive tarts out of whatever is in season … which just so happens to be asparagus at the moment. My favourite!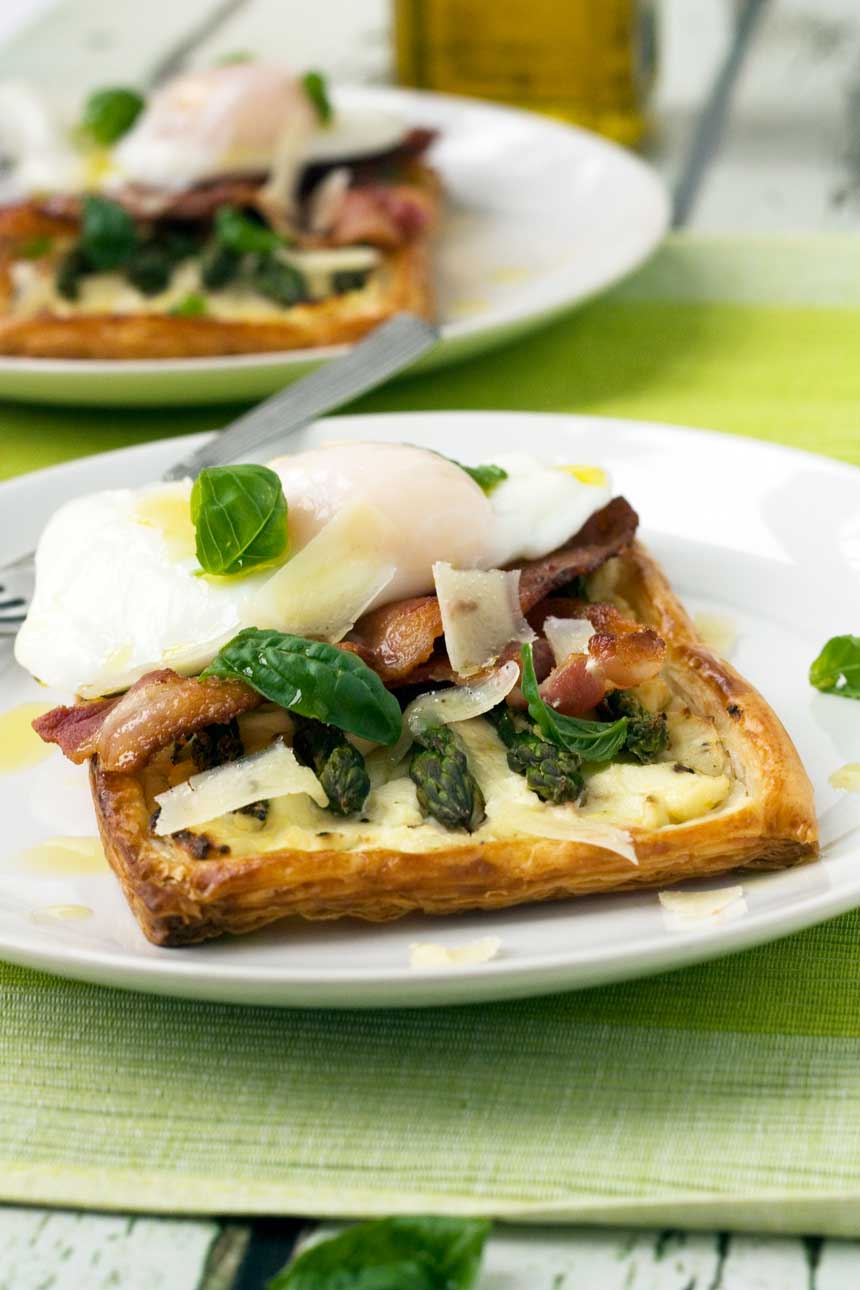 I would suggest squeezing as much asparagus as you can on top of the layer of lemony cheese on each tart as it shrinks a bit in the oven. I didn't quite put enough on so I'm going to put that right next time! I also think there are three versions of these that you could make and enjoy equally as much as each other. Top each tart with a slice or two of crispy bacon and leave it at that, skip the bacon and just stick with a nice runny egg, or go the whole 'hog' (tee hee) and add bacon and eggs. It's called an asparagus brunch tart, so the other additions are optional. Although the parmesan shavings and fresh basil are not optional, IMHO!
And so if the weather is still a bit dicky where you are (or beginning to get that way, if you happen to be in the southern hemisphere!) maybe all you need to do is make this asparagus brunch tart with parmesan & basil. If your charm doesn't work as well as mine did, well, I'm sorry about that – you obviously haven't got the magic touch – but what I can promise you is one very tasty brunch! 😉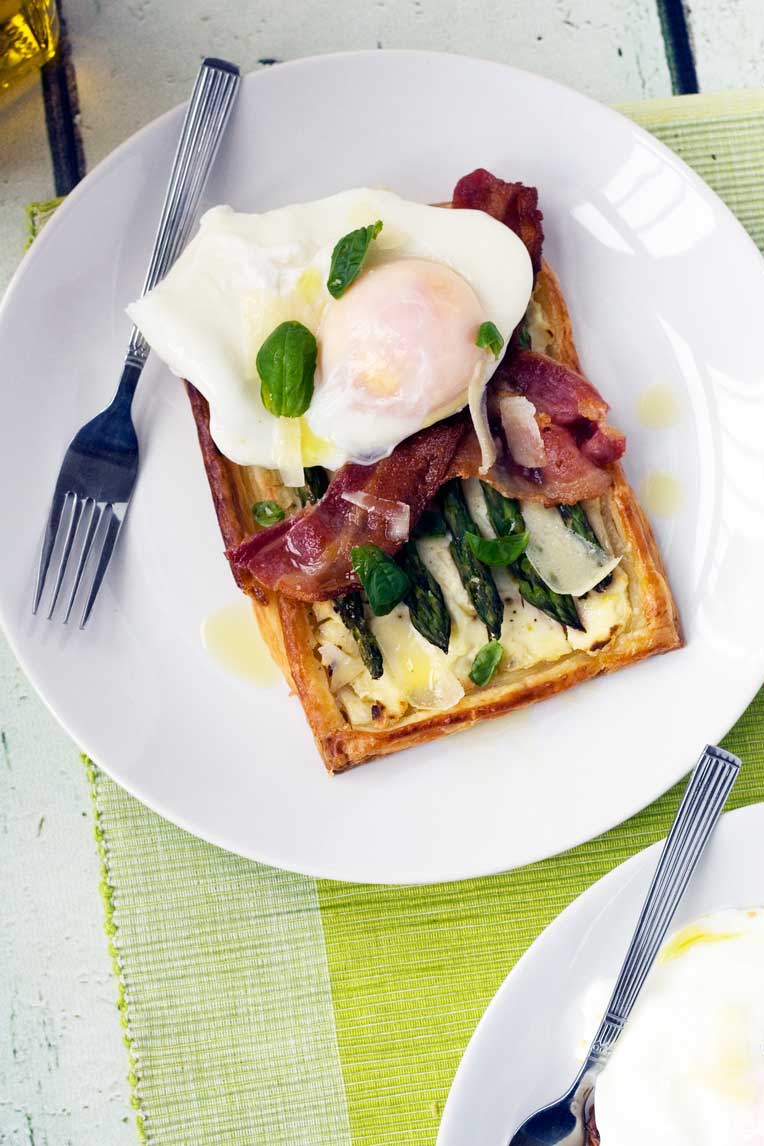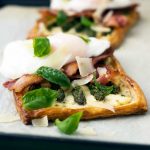 Print
Asparagus brunch tart with parmesan & basil
A simple puff pastry tart that celebrates the season's first local asparagus. It's easy to customise (add an egg, bacon or both!) great for throwing together at the last minute but also impressive enough to serve to guests. Perfect with the parmesan and basil scattered over at the end!
Ingredients
ready-rolled puff pastry

de-frosted if frozen

2

ounces

cream cheese

a few gratings of lemon zest

salt and pepper

asparagus

about 5 to 8 spears per tart

a little milk for glazing

2

eggs

optional

2

large slices of bacon

optional

parmesan shavings

shaved with a vegetable peeler

fresh basil

a drizzle of extra virgin olive oil
Instructions
Line a baking tray with baking paper. Unroll the puff pastry and lay out on a board or work surface. Cut out rectangles about 10x14cm/4x5.5in and place them on the baking tray.

Preheat the oven to 220C/425F. Then mix the lemon zest and a bit of salt and pepper into the cream cheese. Trim the asparagus so that it's about 10cm/4in long.

Score a 1cm/½in border all around each pastry rectangle, then prick the inside all over with a fork (this is to stop it puffing up in the oven). Brush the border lightly with a little milk.

Spread half of the cheese all over each tart (inside the border), then lay half the asparagus over the tarts lengthways and all facing the same way. Bake for 18-20 minutes or until the pastry is puffed and golden.

About 5 minutes before the tarts will be ready, poach the eggs in a pan of boiling water for 3-4 minutes until cooked but still runny (if using). Also pan fry the bacon (if using). Arrange the bacon over the top of the tart (I split a large rasher in half and placed it in a criss-cross pattern), then carefully place the egg over the top of that.

Just before serving, scatter some parmesan shavings and fresh basil over each tart and drizzle over a tiny bit of olive oil.
Nutrition
Calories:
251
kcal
|
Carbohydrates:
1
g
|
Protein:
9
g
|
Fat:
22
g
|
Saturated Fat:
9
g
|
Cholesterol:
209
mg
|
Sodium:
299
mg
|
Potassium:
143
mg
|
Sugar:
1
g
|
Vitamin A:
620
IU
|
Calcium:
52
mg
|
Iron:
0.9
mg
This post may contain affiliate links to products I use to make this recipe!

You can also find more from Scrummy Lane on Facebook, Pinterest, Twitter and Instagram and follow me on Bloglovin! Thanks so much for reading!
*This post may contain affiliate links which means that if you click on a link and make a purchase I get a small percentage of the amount you spend. At no extra cost to you, of course! Thank you!*