They're full of rich, lemony flavour, they're soft and creamy on the inside and lightly crispy and caramelized on the outside. They're made all in one pan, and go with almost everything. Everyone loves them. I rarely claim a recipe is 'the best', but I really can't imagine better Greek potatoes than these!
The very best Greek potatoes
Potatoes done the Greek way are a mainstay of the average Greek kitchen. If you've never tried this incredibly delicious and versatile side dish, you truly are missing out. I've made them more times than I can count, and they never disappoint. Literally everyone adores them.
So what's so great about them? I could literally rave about Greek lemon potatoes ALL day, but I'll let you do that yourself after you've tried them.
Here's my summary:
A perfect combination of super crispy on the outside and creamy and tender on the inside. It's the slow roasting in liquid at a fairly high temperature that does it. Some of the best Greek dishes are cooked slowly, and these potatoes are no exception!
So EASY! These incredible potatoes take over an hour to cook, but they are super simple. Cut potatoes into wedges, then throw into a baking dish (no need to parboil). Pour over a very simple marinade made from just broth/stock, olive oil, lemon juice, dried oregano, and plenty of salt and pepper. Bake for around 40 minutes, stir well, then bake again.
Bursting with flavor. Despite containing just a few ingredients, the balance of flavors is just right. Wait until you smell them as they're cooking – amazing!
Go with almost everything. My favorite way to serve Greek roast potatoes is with classic Greek dishes such as moussaka and Greek salad. But there's hardly anything they DON'T go well with, from grilled meats and fish, and much more (see below for ideas!).
Fun fact: Greek potatoes are called 'patates lemonates' (Πατάτες Λεμονάτες) in Greece, which just means lemony potatoes. Sometimes they are simply called 'patates fournou' which means oven potatoes!
5* Reviews
This Greek potatoes recipe is pretty legendary. Here's what people have been saying.
"No joke… these were the greatest potatoes I've ever had. Like ever. Made them a few days ago and I just put another batch in the oven for tonight. I'm so looking forward to these again. In fact, I normally take a recipe and add improvements to it after trying a first time. Do not change this recipe! Thank you!" (Stacey)
"So. I just made these and they're life changing. Did I make a main dish? No, these are good enough to be the star of the show." (Annie)
"I made these yesterday for the first time and we enjoyed them that much that I've already prepared them again for today. Five Stars is not enough for how much we enjoyed them!" (Paul)
Scroll down to the very end to browse more raving reviews!
Ingredients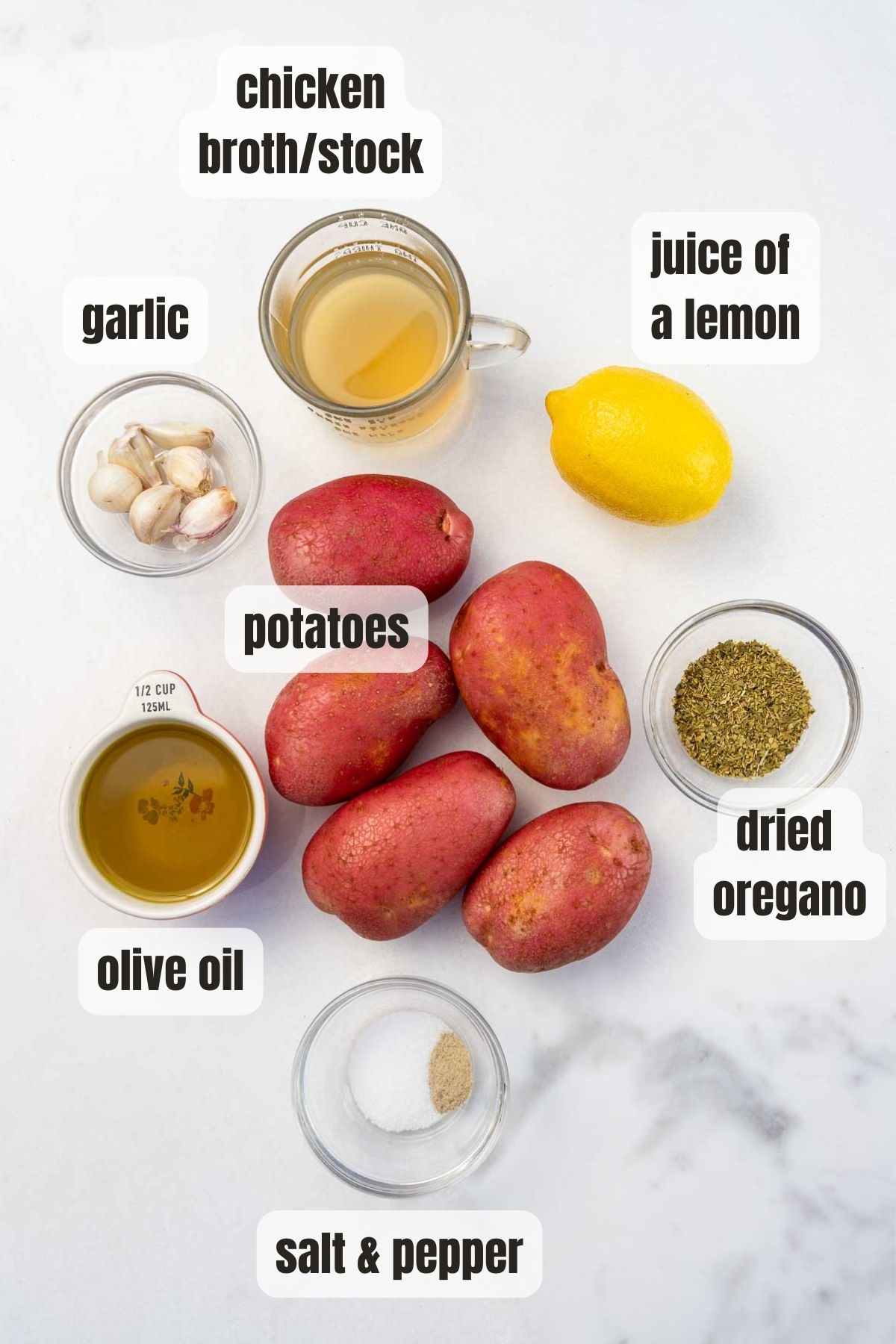 You won't believe how little you'll need to make the perfect crispy Greek potatoes – just 6 main pantry ingredients. Here's what you need to know.
Potatoes: You would think that since potatoes are the main ingredient in this dish, it would matter which type you use. Not so. I've quite possibly made these with EVERY kind of potato, and they've always turned out delicious.
Having said that, for truly perfect roasted Greek potatoes, try a waxy variety with thin, smooth skin such as red-skinned, Yukon Gold, new potatoes or fingerling potatoes. Waxy potatoes are low in starch and have a firm, creamy texture. They hold up well during cooking, and stay beautifully moist and tender on the inside.
Crushed garlic: We don't hold back on the garlic in this recipe! Combined with the other flavors in the marinade, it's perfect. And yes, you can substitute with garlic powder if you don't have any fresh. Try around a teaspoon.
Olive oil: If you're still wondering what makes these Greek lemon potatoes SO delicious, one 'secret' is a common one used by the Greeks – olive oil, and lots of it.
So don't be shocked by how much oil is in this recipe. Remember you won't be eating the whole pan by yourself. But I won't judge you if you do. And anyway… healthy fat!
I tend to use a good quality extra virgin olive oil, but you can use a lighter olive oil instead if you like.
Chicken broth/stock: This is the next little 'secret ingredient' in this delicious recipe. Because the potatoes bake in some liquid, they are beautifully soft, moist and creamy inside. But because you don't completely cover the potatoes with liquid, they still end up quite crispy, too.
If you'd like to make the recipe vegan, you can easily switch out the chicken stock for a vegan alternative, or use vegetable stock instead.
fresh lemon juice: You'll also add the juice of a lemon to the tasty marinade. Combined with the other ingredients, the potatoes have the perfect amount of citrusy tang.
Dried oregano: You'll stir a whole tablespoon of this classic Mediterranean herb into the marinade. Oregano has a bold, herbaceous flavor that's essential to this dish.
Salt and pepper: A generous amount of both. They're the 'glue' holding all the other flavors together. Just trust me on this!
Chopped fresh parsley: For sprinkling over at the end for a little color and freshness, if you like.
How to make perfect Greek potatoes
The step-by-step guide below should help you make the recipe perfectly first time. Scroll down to the end for the full recipe including ingredient amounts.
The first step is to preheat the oven to 390F/200C. While the oven is heating up, peel and slice the potatoes roughly into wedges. I usually grab around 5 medium sized potatoes. Then I slice chunks off the potatoes before slicing them all into medium sized wedges that are roughly 2cm thick.
I throw the wedges into a large baking dish (or roasting pan), then begin preparing the simple marinade.
Start by juicing the lemon.

Combine all of the marinade ingredients in a medium jug – crushed garlic, lemon juice, broth/stock, olive oil, oregano and salt and pepper.

Stir well, then pour the marinade all over the potato wedges in the baking dish. The liquid won't fully cover the potatoes – that's fine!

Then roast the potatoes (uncovered) for around 40 minutes. Remove from the oven to toss them around. Then return to the oven for another 20 to 30 minutes or until dark golden brown and crispy in parts but tender and creamy inside (taste one to check!).
Note that there will still be some liquid in the pan. That's fine – it's how they should be.

If you like, sprinkle a little fresh chopped parsley over the top before serving.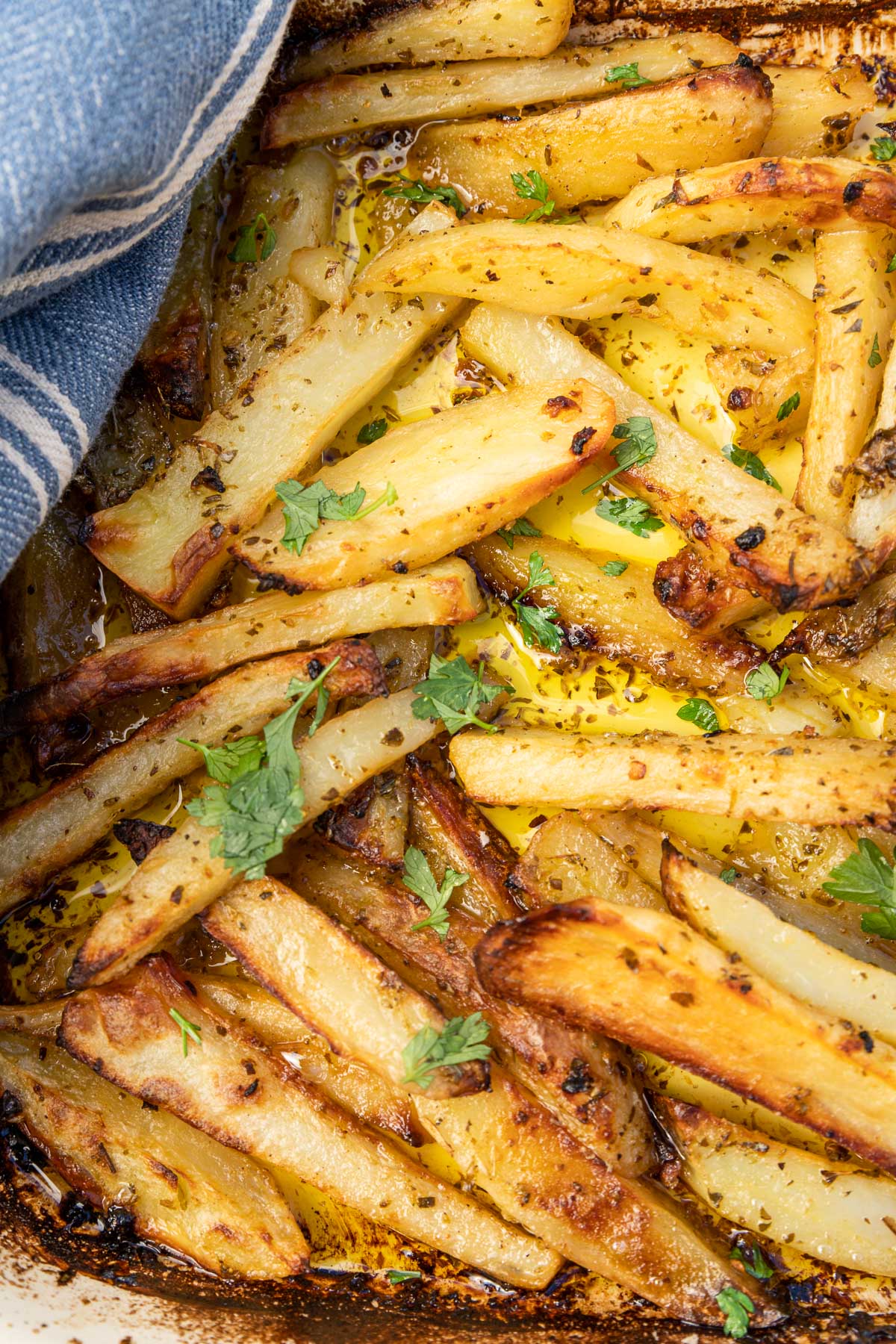 Helen's top tips
Cut all the wedges a similar size for even cooking. There are no firm rules, but I usually aim for around 2-3 cm thick.
Use the largest baking dish that you have. It's OK if some of the potato wedges are on top of each other, but don't overcrowd the pan. A single (or almost) layer is best.
If the potatoes start to brown too much, cover the pan with some aluminium foil for the last part of the cooking time. They should be very browned and crisp, but of course not burnt.
The ideal cooking time can vary in different ovens. Start by baking for 40 minutes, then toss around in the pan. After this the potatoes can take from another 20 to 40 minutes to get nicely browned and crisp on the outside and tender and juicy in the middle. Just keep a close eye on them during the second stage of cooking.
Following on from the above… if using a fan oven, turn the temperature down to 355F (180C) after flipping, for the second half of cooking.
How to serve
Besides these Greek potatoes being the tastiest potatoes you'll ever eat, they are quite possibly the perfect side dish. They go with so much!
It's a tough call, but possibly my favorite way to serve them is alongside Greek meatballs (such as these air fryer chicken meatballs), Greek salad (horiatiki) and tsatziki sauce – or just Greek yogurt if I'm feeling lazy!
But the possibilities are endless. Supermarket rotisserie chicken (or 1-hour air fried rotisserie chicken!) goes really well. As does ANY grilled or baked meat or fish (try lamb or pork chops or these easy baked chicken thighs!), or any of the delicious Greek main meals listed below.
The best thing is that these potatoes can be casual or fancy! They're easy to prepare on a busy weeknight, but they also make a fantastic side dish to serve to guests. Go on, get them on your Thanksgiving, Easter or Christmas table!
Here are some more main Greek dishes that I always consider serving lemon roasted Greek potatoes with. And usually with a Greek village salad and tsatziki on the side!
If you're more in the mood for fish, you won't regret trying this delicious Greek oven baked fish. And it's perfect with Greek potatoes.
Or see all my easy Greek recipes.
But Greek potatoes also go perfectly with non-Greek dishes. Try serving them to guests with this one pan baked chicken with chorizo and tomatoes, or enjoy them midweek with an 'impossible' crustless quiche, or with a salad such as this 10-minute easy tuna salad.
Top serving tip: Rule number one – don't forget to scrape the pan to get the super dark and crispy caramelized bits. Trust me, you can NOT leave those behind!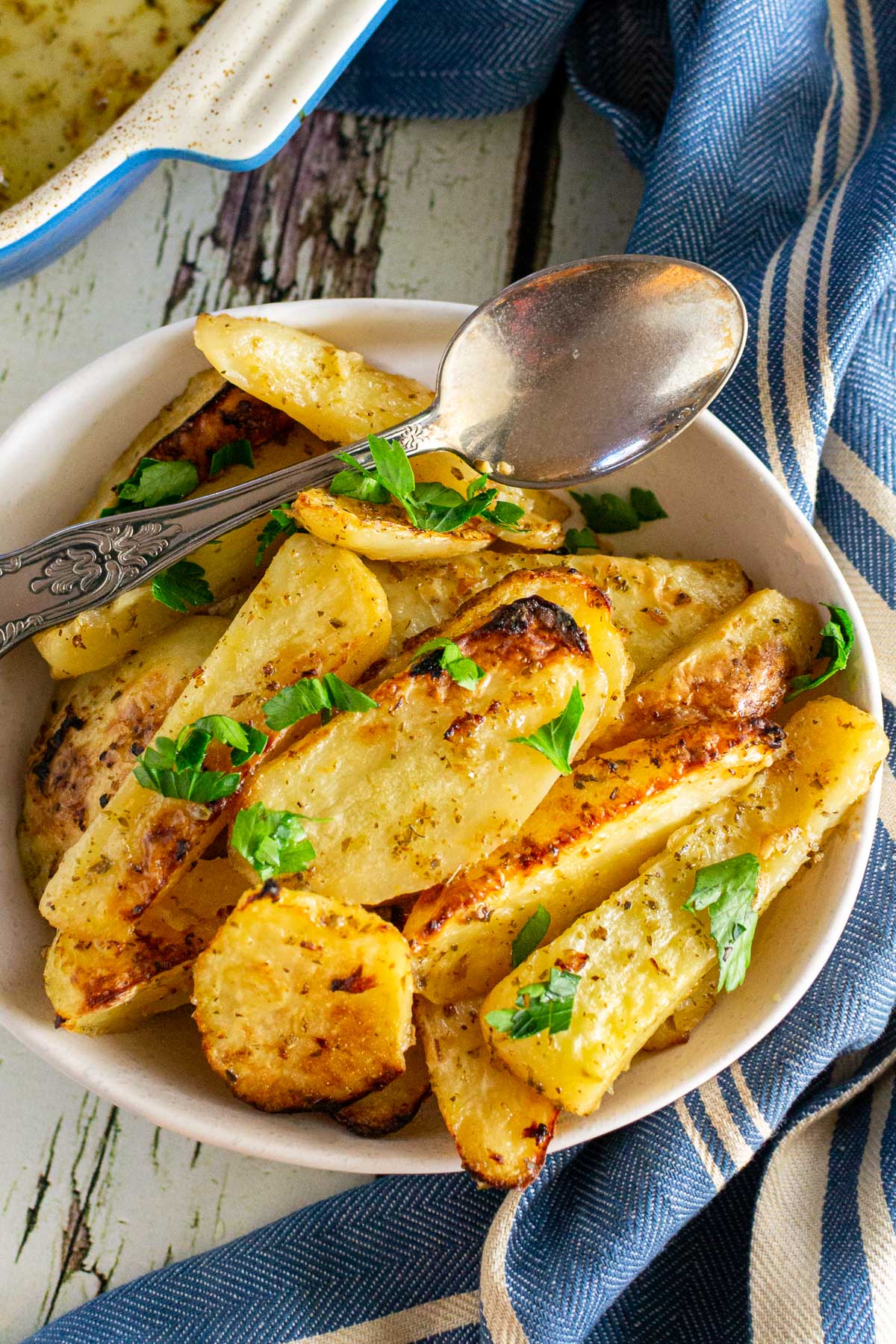 Variations
The truth is, I don't often vary this recipe at all. They're perfect just as they are.
However… you might like to try them with a little sprinkle of feta cheese on top. You could vary the seasonings e.g. add paprika, cumin, thyme or rosemary as well as oregano.
You could even make the dish a complete meal by adding chicken pieces, pork chops or hamburgers. Simply check the cooking time and nestle them in with the potatoes at the appropriate time (you may need to use two baking dishes, or halve the amount of potatoes).
Recipe FAQ
Can I leave the skins on when making Greek potatoes?
Yes, you absolutely can! Simply wash the skins well, then proceed with the recipe as written.
Can you prepare Greek potatoes ahead?
Yes, you can prepare them up to a day ahead. Pour the marinade over the potatoes in the baking dish, then cover with plastic wrap and store in the fridge until ready to roast.
Can you reheat them?
Yes, they are great reheated. If you want to reheat a whole pan of Greek potatoes, simply cover with aluminium foil and warm through at 350°F (175°C) for 15 to 20 minutes or until hot again. You can remove the foil for the last 5 minutes to get them nice and crisp again. Alternatively, if you just have a few leftovers you can reheat them covered in the microwave for 1-2 minutes or until hot. They are delicious either way!
Can I reduce the amount of oil in the marinade?
Don't be afraid by the amount of oil in the marinade – you won't be eating it all! You can however reduce the amount by up to half if you'd like to make the dish lighter and more economical. The potatoes will still taste absolutely amazing!
Love these potatoes? Also love one pan chicken dinners? Try this amazing roasted Greek chicken and potatoes with a similar marinade!
IF YOU MAKE THIS RECIPE, LET ME KNOW HOW YOU GET ON BY LEAVING A COMMENT AND RATING BELOW… AND DON'T FORGET TO SIGN UP TO RECEIVE ALL MY NEW RECIPES BY EMAIL!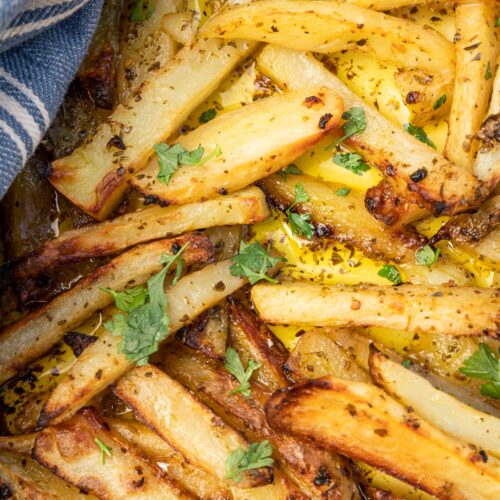 The Best Greek Potatoes
These Greek potatoes truly deserve to have the words 'the best' in their title. They're tasty, creamy, and crispy all at the same time, and go with anything. You might find yourself eating the whole pan to yourself. Don't say I didn't warn you!
Equipment (affiliate links)
Ingredients (UK/Australia? Click below for grams/ml)
2

pounds

potatoes

peeled (usually 4-5 medium potatoes)

6

garlic cloves

crushed

1

lemon

juice of (medium sized)

½

cup

chicken broth

/stock (substitute with vegetable broth to keep the dish vegetarian/vegan)

½

cup

olive oil

1

tablespoon

oregano

dried

1

teaspoon

salt

½

teaspoon

pepper

parsley

for sprinkling at the end (completely optional)
Instructions
Grease a large baking pan (at least 9 x 13 inch) with olive oil and preheat the oven to 400F (200C).

Cut the peeled potatoes into wedges roughly 2-3 cm thick. Put them into the baking pan in an even layer. A few can be overlapping but don't overcrowd the pan.

Combine the garlic, lemon juice, broth/stock, olive oil, oregano and salt and pepper. Stir well, then pour evenly over the potatoes.

6 garlic cloves,

1 lemon,

½ cup chicken broth,

½ cup olive oil,

1 tablespoon oregano,

1 teaspoon salt,

½ teaspoon pepper

Bake uncovered for around 40 minutes.

Then stir well, turning all the potatoes and spooning over the liquid. If using a fan oven, turn down to 355F (180C). Bake again for another 20 to 30 minutes or until the potatoes are well browned, crisp in parts and tender inside. Keep an eye on them during the second half of cooking as you want them to be crispy but of course not burned.

Scatter with fresh parsley (if using) before serving. Don't forget to serve with some of the delicious juices, as well as the super crispy bits on the bottom of the pan!
Notes
Type of potatoes to use: Waxy potatoes such as Yukon Golds, red potatoes, or fingerling are best since they hold together well while cooking and taste beautifully creamy inside.
However… I have made Greek lemon potatoes with literally EVERY type of potato! They always taste delicious!
How to serve: These potatoes go with almost anything as a delicious side. Serve with Greek chicken meatballs (or regular meatballs), easy baked chicken thighs (or any kind of meat), fish (try this amazing Greek baked fish), or a vegetarian option like baked eggplant.
A big bowl of Greek tsatziki sauce and a Greek village salad also go incredibly well on the side!
Preparing ahead: I sometimes cut the potatoes into wedges, pour the marinade over, then cover and keep in the fridge until I'm ready to cook them. You can do this up to a day ahead.
A note about the cooking time: Since I've been making these for years, I've realised that the perfect cooking time varies a little depending on the oven. They generally take 60 to 80 minutes to cook perfectly – possibly a little longer in an oven that isn't a fan oven. Just keep a close eye on them after the 1 hour mark. The potatoes should be very crispy and browned but of course not burned. There should still be some liquid left in the pan.
If your Greek potatoes look like they're browning too much but aren't yet tender enough inside, simply tuck some aluminium foil over the top for the last part of cooking. You can also turn the oven down a little.
This recipe is definitely worth persevering with in your particular oven to get them absolutely perfect every time!
How to reheat: The potatoes taste just as wonderful reheated the next day! You can either reheat a whole pan (try 350F/175C for 15 to 20 minutes in the oven) or reheat smaller amounts in the microwave for 1 to 2 minutes. They won't be as crisp when reheated in the microwave, but they'll still taste extremely delicious!
Nutrition
Calories:
434
kcal
Carbohydrates:
45
g
Protein:
5
g
Fat:
27
g
Saturated Fat:
4
g
Polyunsaturated Fat:
3
g
Monounsaturated Fat:
20
g
Cholesterol:
1
mg
Sodium:
706
mg
Potassium:
1035
mg
Fiber:
6
g
Sugar:
3
g
Vitamin A:
34
IU
Vitamin C:
60
mg
Calcium:
65
mg
Iron:
3
mg