They're full of rich, lemony flavour, they're soft and creamy on the inside and lightly crispy and caramelized on the outside. I rarely claim a recipe is 'the best', but I really can't imagine better Greek potatoes than these!

The very best Greek potatoes
Potatoes done the Greek way are a mainstay of the average Greek kitchen. If you've never tried them, you truly are missing out.
Some of the best Greek dishes are cooked slowly, and these potatoes are no exception.
They take about an hour and a half to cook, but they are EASY. Simply cut potatoes into thick wedges, tip into a baking dish and pour over stock, olive oil, lemon juice and oregano. Bake for 45 minutes, stir well, then bake for another 45 minutes.
I think the only other recipe I've dared to call 'the best' was another potato recipe – cheesy roasted cauliflower mashed potatoes, if you're interested. They're a perfect Thanksgiving or Christmas side!
Generally I'm a bit afraid to claim that something is 'the best'. But these potatoes… wow. I didn't hesitate.
Crispy Greek potatoes – ingredients
potatoes (of course)
olive oil (lots of it!)
garlic
chicken stock/broth
lemon juice and zest
dried oregano
That's just 6 main pantry ingredients – plus salt and pepper, of course, and a sprinkle of fresh parsley at the end if you like.
The (not so) secret ingredients…
So what makes these Greek potatoes so delicious? One secret is a common one used by the Greeks – olive oil, and lots of it.
So don't be shocked by how much oil is in this recipe. Remember you won't be eating the whole pan by yourself. But I won't judge you if you do. And anyway… HEALTHY FATS!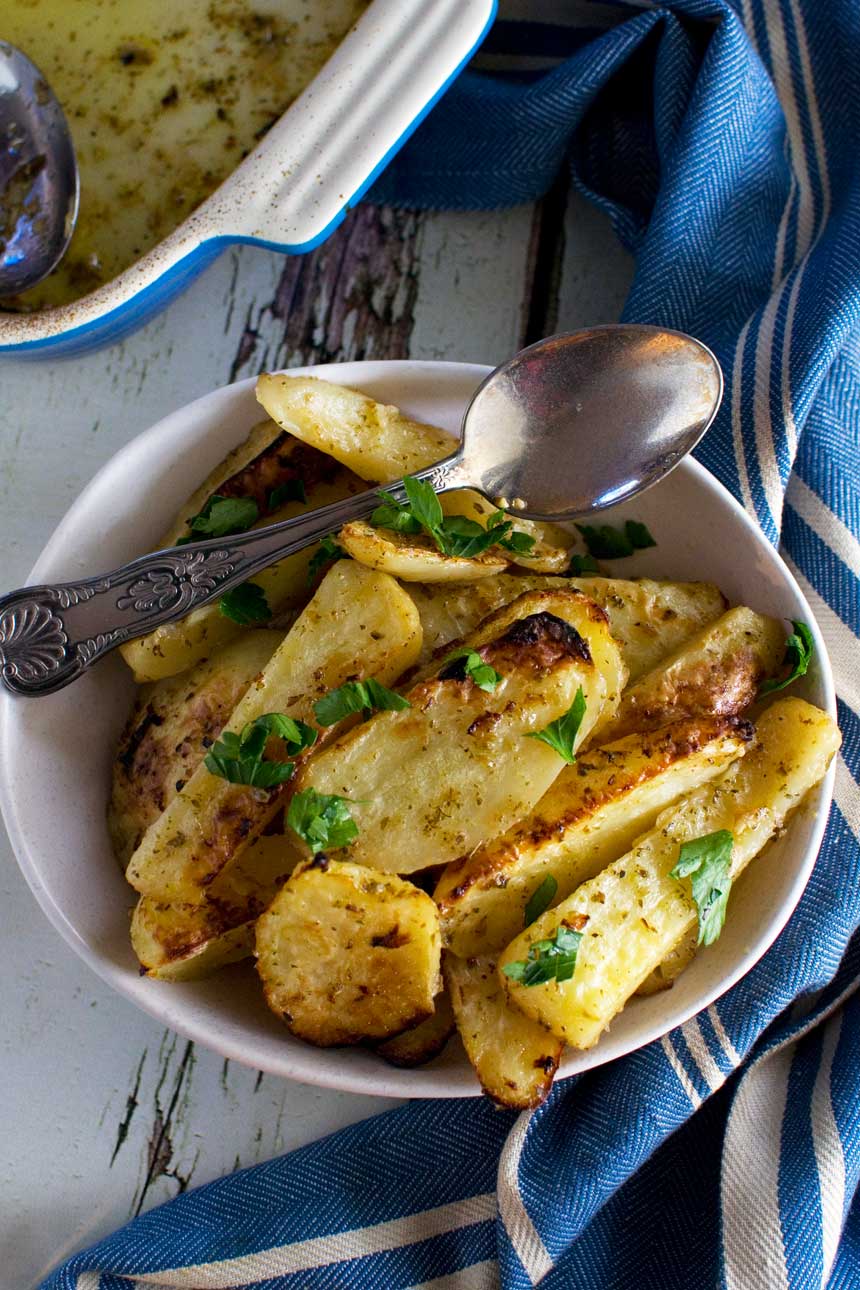 The next little secret is in the stock (broth). Because the potatoes bake in some liquid, they are beautifully soft and creamy inside. But because you don't completely cover the potatoes with liquid, they still end up quite crispy.
There's also garlic and lemon juice, and we don't hold back on these either. Just throw generous amounts of both in. Combined with a bit of salt, all this gives you a gorgeous umami flavour.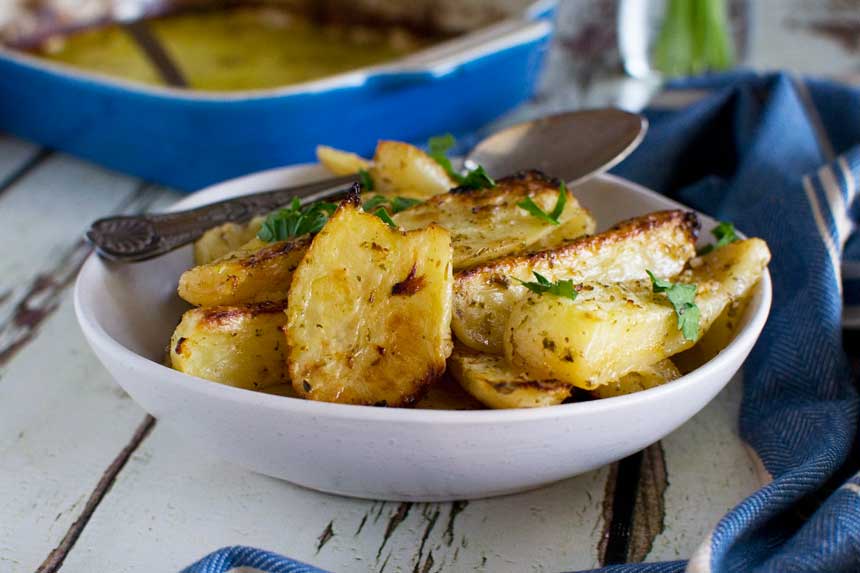 What to serve your Greek potatoes with
Besides these Greek potatoes being the tastiest potatoes you'll ever eat, they go with so many things as a side. I often make them alongside Greek meatballs, Greek salad and Greek yogurt – just because I'm too lazy to make tzatziki!
BUT the possibilities are endless. Supermarket rotisserie chicken goes really well as does any grilled or baked meat, any of the delicious Greek main meals listed below!
I also find these potatoes can be casual or fancy. They're easy to prepare on a busy weeknight, but they also make a fantastic side to serve to guests. Go on, get them on your Thanksgiving or Christmas table!
Oh, and rule number one – don't forget to scrape the pan to get the super dark and crispy caramelized bits. Trust me, it's criminal to leave those behind!
Greek main meals that go especially well with these Greek potatoes!
Or if you're just enjoying the whole Greek food vibe in this post, you might like to check out my Greek recipes archives!
Scroll down to below the recipe to watch the handy how-to video (at top of post on desk top!)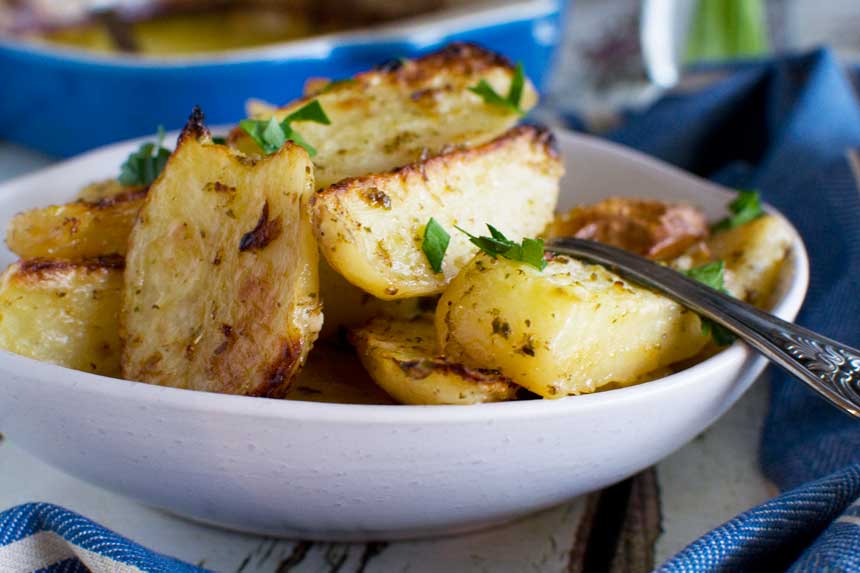 The best Greek potatoes
These Greek potatoes truly deserve to have the words 'the best' in their title. They're tasty, creamy, and crispy all at the same time, and go with anything. You might find yourself eating the whole pan to yourself. Don't say I didn't warn you!
Ingredients (UK/Australia? Click below for grams/ml)
2

pounds

potatoes

peeled and chopped into chunky wedges (I used 5 medium potatoes)

6

garlic cloves

crushed

1/2

cup

chicken broth

(or vegetable broth)

1/2

cup

olive oil

1

lemon

juice of (medium to large)

1

tablespoon

oregano

dried

1

teaspoon

salt

1/2

teaspoon

pepper

parsley

for sprinkling at the end (completely optional)
Instructions
Grease a large baking dish or tray with olive oil and preheat the oven to 400F / 200C.

Pour the potato wedges into the dish/tray in an even layer.

Combine the garlic, stock, olive oil, lemon, oregano and salt and pepper. Stir well, then pour over the potatoes.

Bake uncovered for 45 minutes. Then stir well, turning all the potatoes and spooning over the liquid. Bake again for another 30 to 45 minutes or until the potatoes are well browned. Keep an eye on them during the second half of cooking as you want them to be crispy but of course not burned.

Scatter with parsley (if using) and serve with some of the delicious juices. Don't forget the burnt crispy bits on the bottom of the pan. Mmmm!
Notes
How to serve: These potatoes go with almost anything as a delicious side. Serve with Greek chicken meatballs (or regular meatballs), easy baked chicken thighs (or any kind of meat), fish (try this amazing Greek baked fish), or a vegetarian option like baked eggplant.
A big bowl of Greek tsatziki sauce also goes incredibly well on the side!
chicken/vegetable broth (US) = chicken/vegetable stock (UK)
Preparing ahead: I sometimes cut the potatoes into wedges, pour the marinade over, then cover and keep in the fridge until I'm ready to cook them.
A note about the cooking time: Since I've been making these for years, I've realised that the perfect cooking time varies a little depending on the oven. They generally take 75 to 90 minutes to cook perfectly. Just keep a close eye on them after the 1 hour mark. The potatoes should be very crispy and browned but of course not burned.
Nutrition
Calories:
390
kcal
Carbohydrates:
33
g
Protein:
6
g
Fat:
27
g
Saturated Fat:
3
g
Sodium:
713
mg
Potassium:
1031
mg
Fiber:
7
g
Vitamin A:
20
IU
Vitamin C:
43.6
mg
Calcium:
103
mg
Iron:
8.3
mg
IF YOU MAKE THIS RECIPE, LET ME KNOW HOW YOU GET ON BY LEAVING A COMMENT AND RATING BELOW… AND DON'T FORGET TO SIGN UP TO RECEIVE ALL MY NEW RECIPES BY EMAIL!