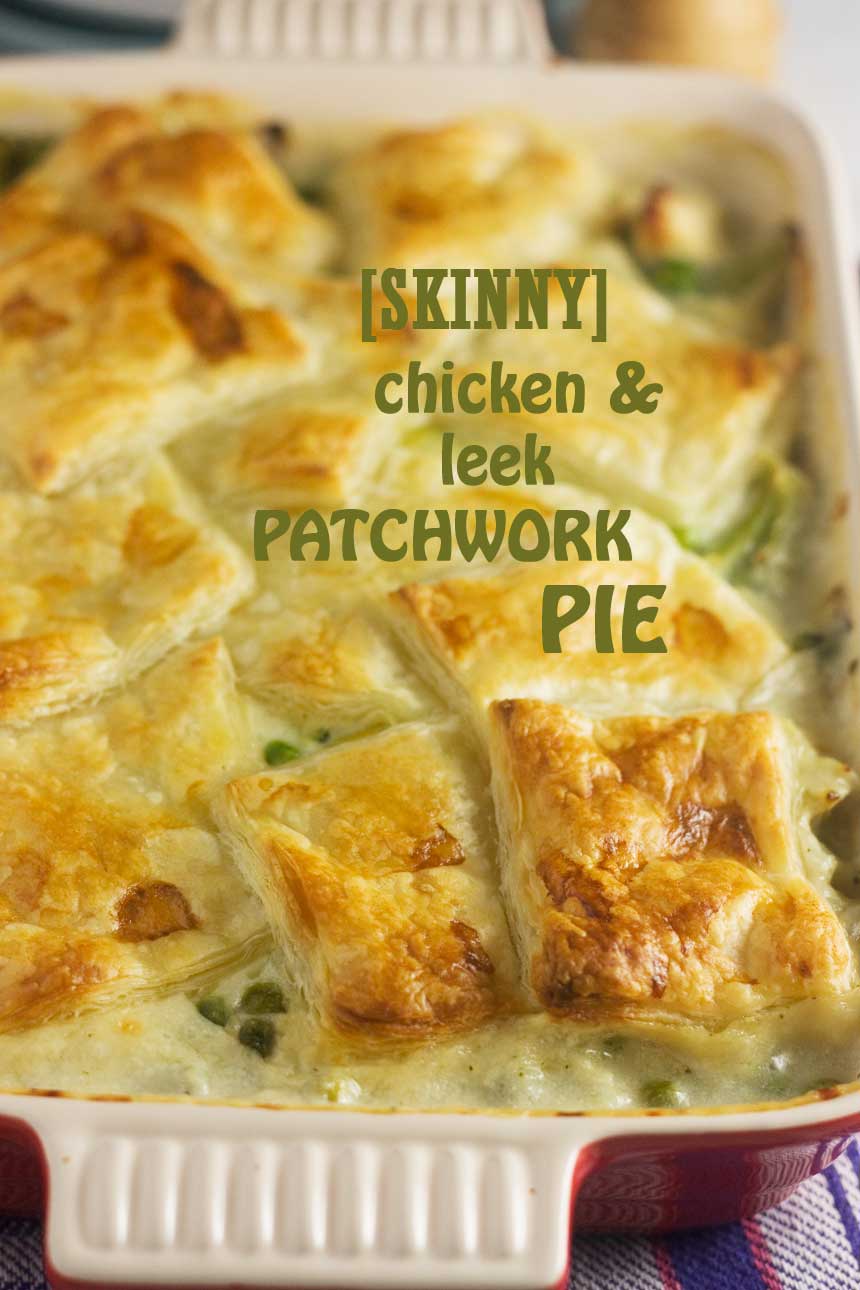 Let's talk about pie for a few moments. I have rarely met anyone who doesn't like it. Not surprising, considering it's classic comfort food for so many around the world. Just off the top of my head I'm thinking empanadas from South America, fabulous fruit-packed pies from the USA, beef and ale pies from cozy English pubs (Mr. Scrummy highly approves of these) and those simple and yet ridiculously delicious warm feta cheese pies I stuffed myself with on my recent trip to Greece. Oh, and let's not forget the traditional Aussie meat pies that I learnt to love while living in Australia recently, with a big blob of tomato ketchup squirted on the top, of course (great recipe for these here on Nagi's fabulous blog Recipe Tin Eats – thank you, Nagi!)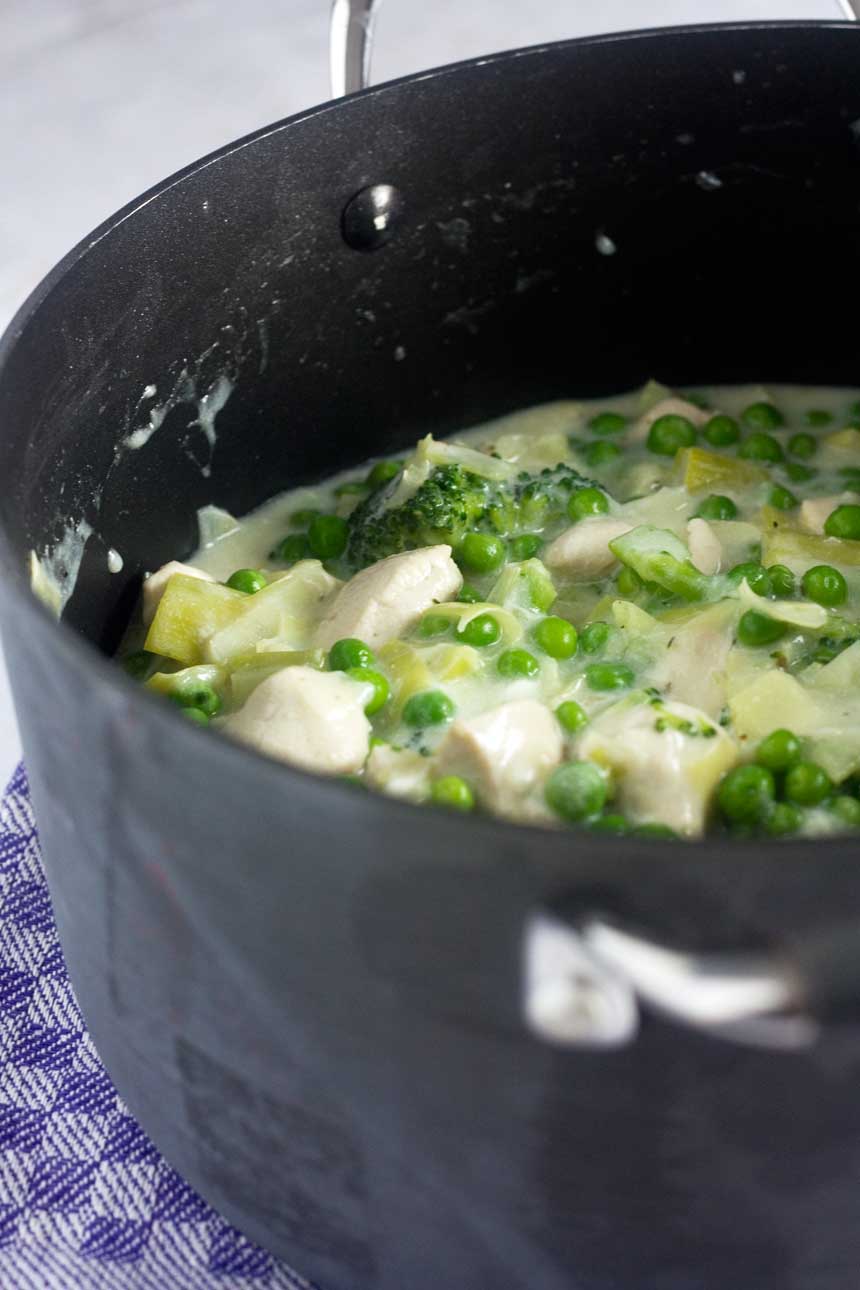 For you fact monsters out there, I couldn't resist taking this a bit further and looking up some crazy pie facts … just for fun. So apparently pies have been around in some form since the ancient Egyptians, Greeks and Romans and since the 12th century in England and the colonists in America, but the crusts of many of these first pies were never eaten – they were just there to hold the filling in place. The strangest fact I found was that the wealthy English used to be served 'surprise pies' that live animals would pop out of! Erm … weird and very freaky.
Anyway, enough of the fast (& strange) facts … as fabulous as pie in most shapes or forms is, we all know it doesn't usually make the healthiest of meals. Which is why I was pretty pleased to be given this recipe (from a supermarket website of all places) which uses low-fat ingredients and small squares of pie crust to put just on the top of the pie instead of having an all-encasing crust on the bottom, up the sides and on the top. And don't worry, not a live chicken popping out of the pie in sight. 😉
The idea is to dot the pastry squares all over the pie dish so that they overlap in places but don't cover the whole of the top of the pie filling. To be honest the dish I used was a little on the small side which is why my pie squares overlapped a little more than they ideally should – but really, it doesn't matter. Totally up to you!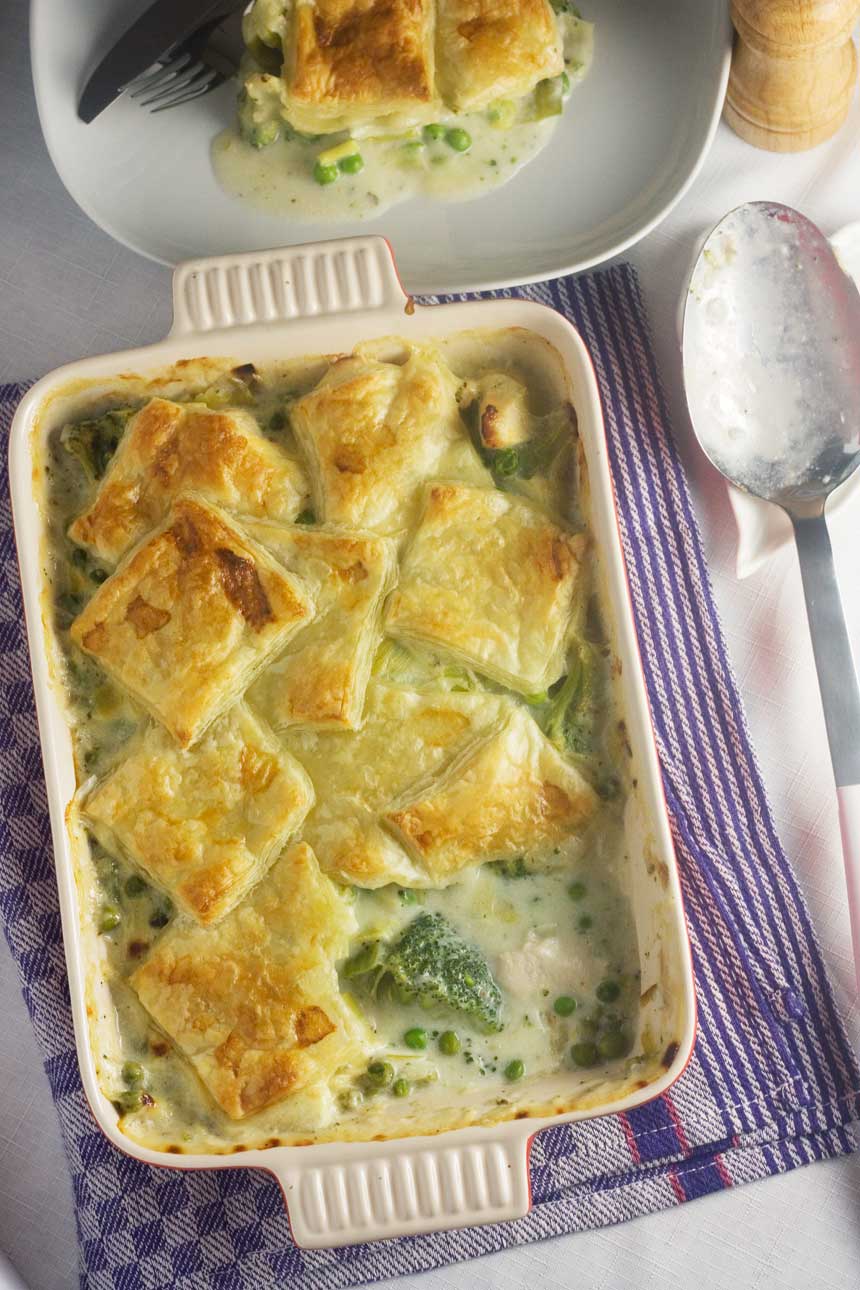 As for the filling, well, it's super easy. You just soften leeks and pre-cook chicken pieces for a few minutes, then add semi-skimmed (or skimmed if you like) milk and stock and let the mixture cook for a while. After this, you add a bit of corn flour to thicken up the filling and then dump in frozen peas and broccoli (= lots of veggie goodness). Finally, you stir through a little low fat cream cheese for a bit of extra flavour and creaminess. Bake for about twenty-five minutes and there you go – a very easy, sort of light and yet super comforting and tasty meal. It's perfect for those mid-week nights when you feel like something tasty but don't want to go to an awful lot of effort. Which is basically every week night around here!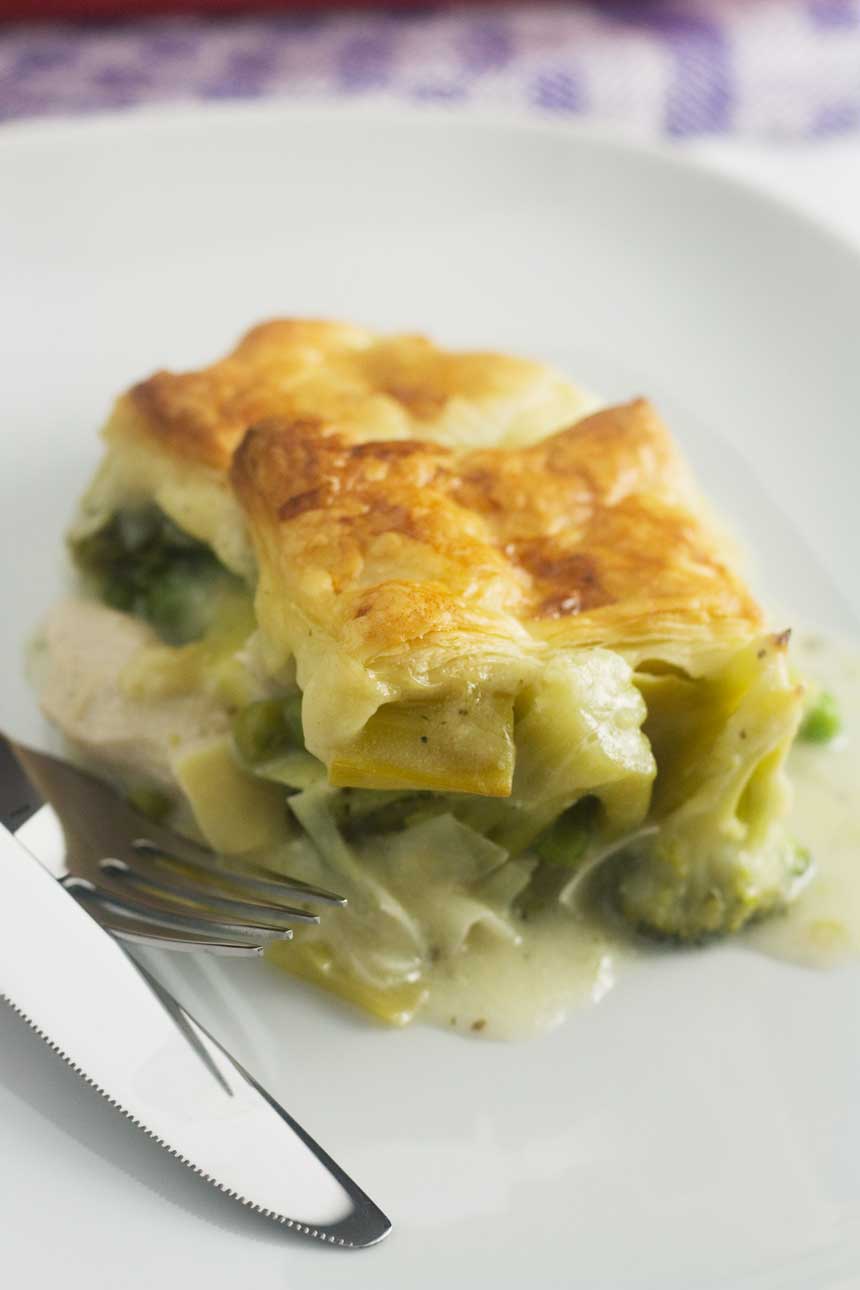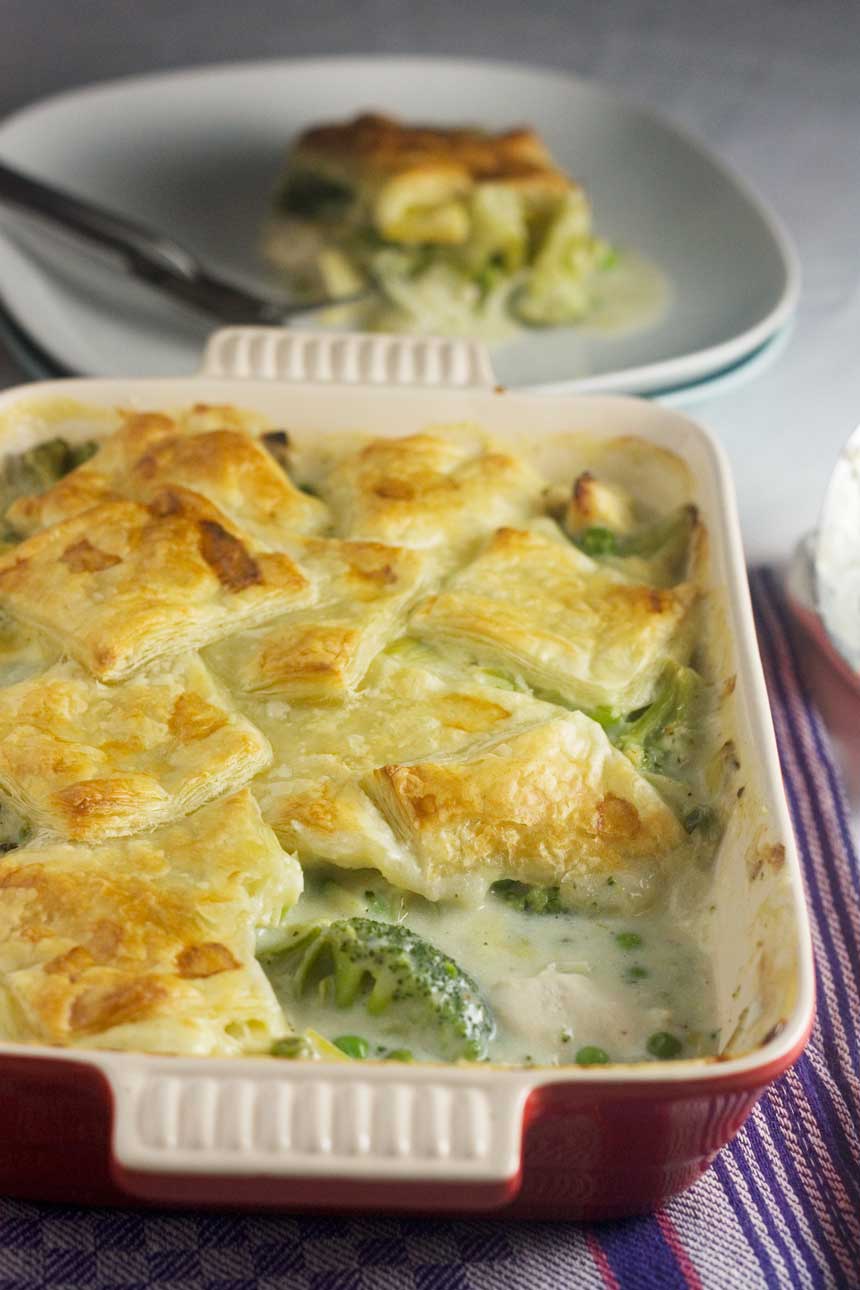 Skinny chicken & leek patchwork pie
We all love pie, but it doesn't always make for the healthiest of meals. But you can enjoy this skinny chicken & leek patchwork pie without any guilt. It's tasty and comforting and yet light and easy to make.
Ingredients (UK/Australia? Click below for grams/ml)
a little olive oil

for cooking

17.6

ounces

leeks

chopped and washed thoroughly (I used 3 leeks)

14

ounces

chicken breast

chopped

1

cup

chicken stock

1

cup

skimmed or semi-skimmed milk

plus a little extra

4

tablespoons

corn flour

10.5

ounces

frozen peas

10.5

ounces

frozen broccoli

cut into smallish pieces

1

tablespoon

low fat soft cheese

(could be the kind with garlic & herbs, if you like)

a good sprinkle of mixed herbs

salt & pepper

5.6

ounces

ready rolled puff pastry

I used 1/2 of a 320 gram/11-ounce pack
Instructions
Preheat the oven to 200C/390F. Heat a splash of olive oil in a large saucepan, then soften the leeks and cook the chicken for about 5 minutes.

Add the stock and milk to the pan and leave to simmer for 10 minutes, until the chicken is cooked through.

Mix the corn flour with a little water, milk or stock and add to the pan slowly. Let the mixture cook and thicken for a couple of minutes. (see note below)

Stir in the peas, broccoli, soft cheese, herbs, and a good sprinkle of salt and pepper, then tip the mixture into a large pie dish or baking dish.

Cut the pastry sheet into 12 equal squares, then scatter them all over the pie filling. They should overlap in places but not cover the whole pie. Brush lightly with milk and bake for 25 to 30 minutes or until the crust is golden.
Notes
Recipe slightly adapted from this recipe by Waitrose.
Try not to overlap the pastry squares too much (like I did!) If you do, the pastry that's on the bottom layer won't cook so well.
You can use 'sauce thickening flour' instead of corn flour if you can find it where you are (use 2 tablespoons only though).
Nutrition
Calories:
587
kcal
Carbohydrates:
63
g
Protein:
35
g
Fat:
21
g
Saturated Fat:
6
g
Cholesterol:
74
mg
Sodium:
393
mg
Potassium:
1178
mg
Fiber:
8
g
Sugar:
14
g
Vitamin A:
3250
IU
Vitamin C:
112.3
mg
Calcium:
210
mg
Iron:
5.8
mg
I hope you enjoyed this post! You can subscribe to receive posts directly to your inbox (for free, of course!) by clicking here or entering your email address into the box at the top of the sidebar on the right.
You can also find more from Scrummy Lane on Facebook, Pinterest, Twitter and Instagram and follow me on Bloglovin! Thanks so much for reading!
*This post may contain affiliate links which means that if you click on a link and make a purchase I get a small percentage of the amount you spend. At no extra cost to you, of course! Thank you!*