Last Updated on
I'm sure most of you have tried the meatballs from 'that' furniture store. Hm, tasty, but this homemade version can definitely compete!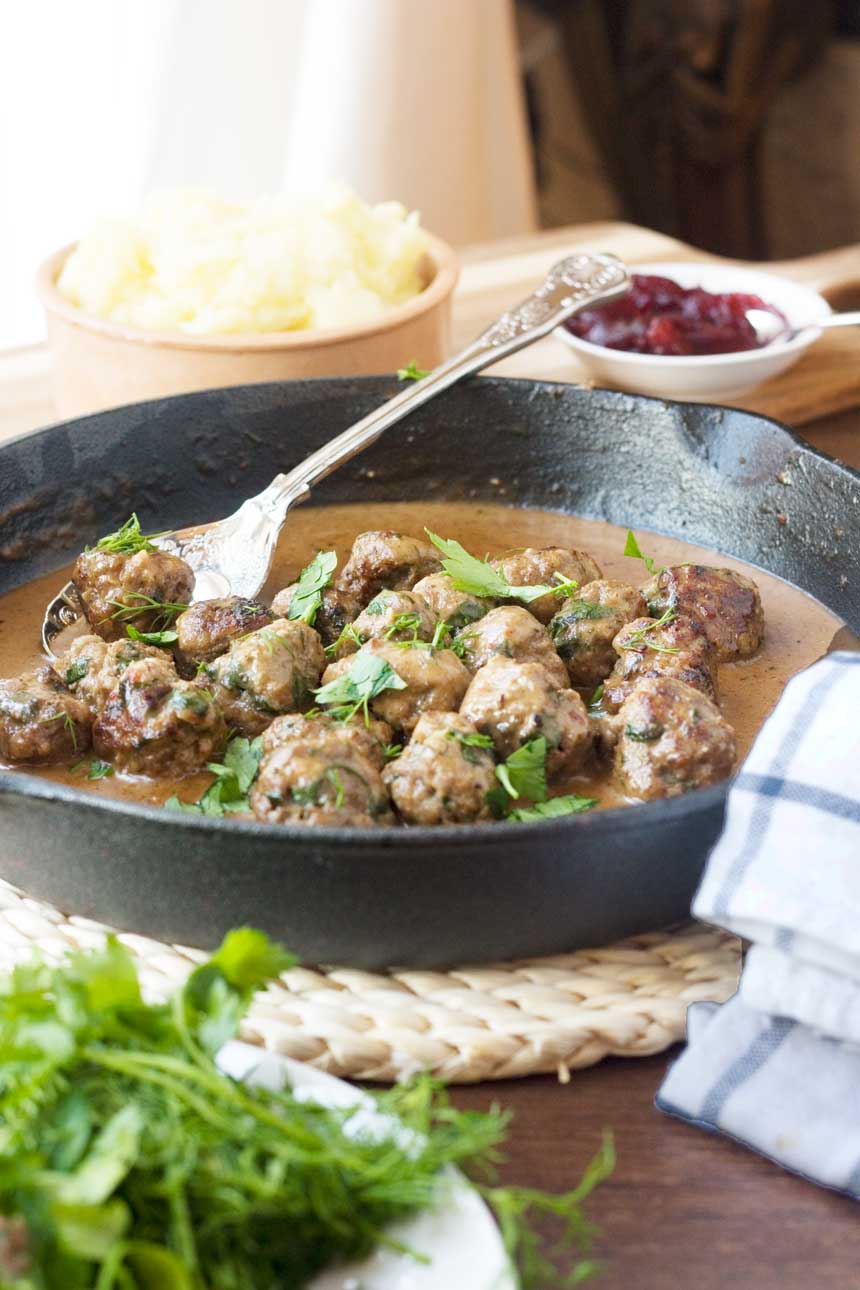 I was going to post this recipe for Swedish meatballs as a 'certain Swedish furniture store' copycat recipe. Instead though I am going to blow my own trumpet and say that I think mine are better than theirs (sorry certain Swedish furniture store!).
Just like anyone else I've been known to enjoy swirling around said store piling my yellow bag high with colourful bits and bobs – and then guzzling down ten cheap and cheerful meatballs with sauce.
But for those times when you don't need any flatpack furniture or £1 bits of plastic, why not make some 'certain-Swedish-furniture-store'-style meatballs for yourself? They taste excellent, they're really quick and easy to make, and you know exactly what's going into them (ahem – we better not go there).
I made these in a huge rush to try to catch the light for my photos (the lure of a rare sunny late September Saturday was just too much and so I spent most of the day sitting in the sun).  I just made it – hopefully you can't tell too much that the light was rapidly fading!
Consequently by the time I'd finished my kitchen looked literally like a bomb had dropped on it, with bits of meat, herbs and sauce splattered all over, but it was worth it. Those meatballs were TASTY.
I think the key to the amazingness of this Autumn-Winter warmer is the combination of beef and pork mince you use for the meatballs, the spoonful of allspice … and actually the dill, which isn't always available in every supermarket over here, but it's well worth hunting down.
As far as the sauce goes, the bit of mustard and Worcestershire sauce I added are by no means essential, but provide a bit of extra tang. On the other hand, the spoonful of berry sauce and large drizzle of cream are definitely not optional!
As usual, I made sure we had plenty of sauce (better a bit too much than not enough is my motto). This recipe makes enough for four, but I actually just rolled enough meatballs for the two of us and froze the rest of the meat for another time. I'll make another fresh batch of sauce when I make this again (I don't think it would save particularly well).
Serve the meatballs either with a big dollop of mashed potato and some peas or green beans or with crusty bread and salad if you'd like to make your meal a bit lighter. I must admit that the mashed potato turns it into a real Winter warmer!
Just don't forget to serve with a big spoonful of red berry sauce. I know that lingonberry sauce is traditional in Sweden, but over here in the UK it's cranberry sauce that's available everywhere, so I just used that. 🙂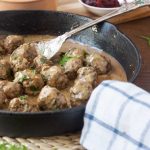 Print
Swedish meatballs
Tasty beef and pork meatballs in a lightly creamy beef gravy. Serve with mashed potatoes and lingonberry or cranberry sauce. It's delicious - millions of Swedes can't be wrong!
Ingredients (UK/Australia? Click button below for grams & ml)
For the meatballs
10.5

ounces

beef mince

7

ounces

pork mince

breadcrumbs

2 slices white bread with crusts cut off, processed into crumbs

1

small onion

grated

1

teaspoon

allspice

1

handful fresh mixed parsley and dill

plus a little extra for garnish

1 1/2

teaspoons

salt

1/2

teaspoon

pepper

1

egg
For the sauce
2 1/2

cups

beef stock

good quality

4

tablespoons

flour

2

tablespoons

lingonberry or cranberry sauce

2

teaspoons

Dijon mustard

optional

a few dashes of Worcestershire sauce

optional

4

tablespoons

cream
To serve
lingonberry or cranberry sauce

mashed potatoes or nice crusty bread and fresh salad leaves
Instructions
Mix all of the ingredients for the meatballs together well with your hands in a large bowl.

With wet hands, shape into walnut-sized meatballs, then put onto a baking tray or plate.

Switch on the oven at about 100C/210F. Then heat up a tablespoon or so of oil in a big skillet/frying pan and pan-fry the meatballs for about ten minutes, turning regularly, until golden brown and cooked through (you may have to do this in two batches – see note below). Then transfer the meatballs into a dish and pop in the oven to keep hot.

To make the sauce, add a knob of butter to the oil left in the pan you cooked the meatballs in. Then add the flour to the pan and stir into the oil/butter, then gradually add the beef stock, stirring all the time. Let it bubble for a minute or two until thickened (*see note below).

Stir in the berry sauce and mustard and Worcestershire sauce (if using), then take off the heat and stir in the cream. Add the meatballs back into the pan and jiggle around in the sauce until well coated.

Serve the meatballs and sauce over mashed potatoes or with crusty bread and salad. Garnish with herbs and serve a bit of lingonberry/cranberry sauce on the side.
Notes
I cooked just half of the meatball mixture and froze the rest for another time. If you do this, remember to halve the amount of sauce! If you decide to cook all of the meatballs though, you'll probably have to fry them in two batches. Just pop the first batch in the oven to keep warm while you cook the second.
If you can't find lingonberry sauce/jam, redcurrant or cranberry sauce/jam are good substitutes.
*This is by no means essential, but I poured my sauce into a mini blender to make it super smooth before pouring it back into the pan and adding the meatballs to it.
Nutrition
Calories:
459
kcal
|
Carbohydrates:
14
g
|
Protein:
27
g
|
Fat:
32
g
|
Saturated Fat:
13
g
|
Cholesterol:
150
mg
|
Sodium:
1300
mg
|
Potassium:
687
mg
|
Sugar:
4
g
|
Vitamin A:
300
IU
|
Vitamin C:
2.7
mg
|
Calcium:
58
mg
|
Iron:
2.9
mg
Follow me on Pinterest!
Follow @scrummylane to pin more quick and easy recipes for later

You can also find more from Scrummy Lane on Facebook, Pinterest, Twitter and Instagram and follow me on Bloglovin! Thanks so much for reading!
*This post may contain affiliate links which means that if you click on a link and make a purchase I get a small percentage of the amount you spend. At no extra cost to you, of course! Thank you!*