Is there anyone who hasn't made a beeline for the meatballs after a hike around Ikea? Why not skip the tiring shopping trip and try this tasty 30-minute homemade copycat Ikea Swedish meatball recipe instead?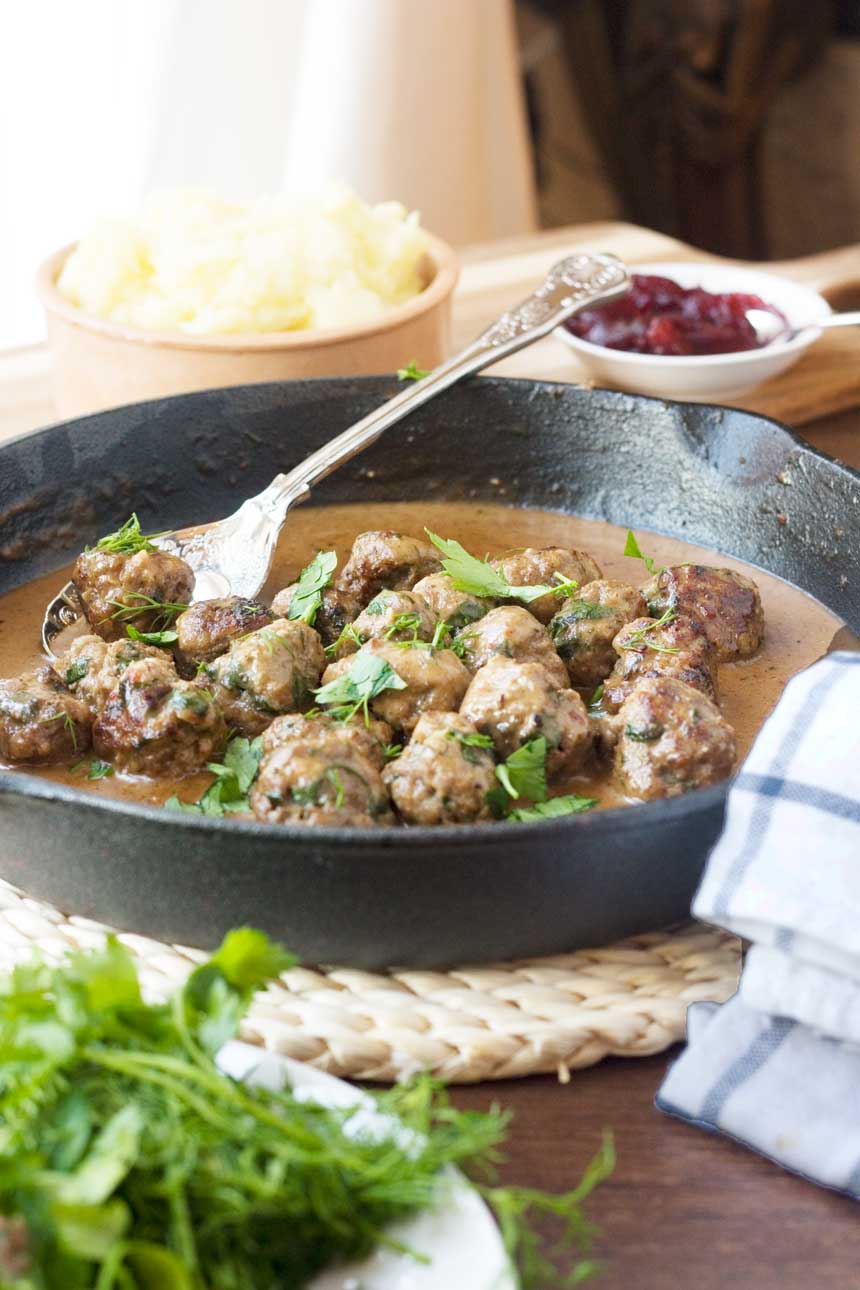 What would you say if I told you I have a recipe for Ikea Swedish meatballs that are better than the ones from Ikea?
Believe it or not, I'm not a big fan of the cheap and cheerful Ikea meatballs with sauce. But I do like these Swedish meatballs.
Why you'll love Ikea Swedish meatballs
You can make them in just 30 minutes. So they make a perfect crowd pleasing and comforting midweek meal.
You know exactly what's going into them. No unidentifiable filler or preservative. I'm not suggesting that's what's in Ikea's meatballs, but you know… homemade has to be better!
The combination of beef and pork mince, the spoonfuls of allspice and the dill give them a complexity of flavour that you'll love.
There are secret ingredients in the gravy that send it from good to amazing.
Speaking of the sauce, follow this recipe and you'll get a generous amount. Better a bit too much than not enough. No gravy stingy-ness here!
How to make them
The hardest part of this recipe is shaping the meatballs. And the word 'hardest' is relative i.e. not very hard at all.
All you do to make them is:
Step 1: Throw all the ingredients together in a bowl and mix well.
Step 2: Shape into meatballs the size of a walnut.
Step 3: Pan fry until cooked through, then remove from the pan and keep warm in the oven.
Step 4: Make the sauce in the same pan.
How to make the gravy
Of course, the magic of this recipe lies mostly in the gravy!
There are just 6 ingredients in it:
flour
good quality beef stock
lingonberry or cranberry sauce
cream
mustard
Worcestershire sauce
The last 2 ingredients (the mustard and Worcestershire sauce) are by no means essential, but provide a bit of extra tang.
On the other hand, the spoonful of berry sauce and large drizzle of cream are definitely not optional!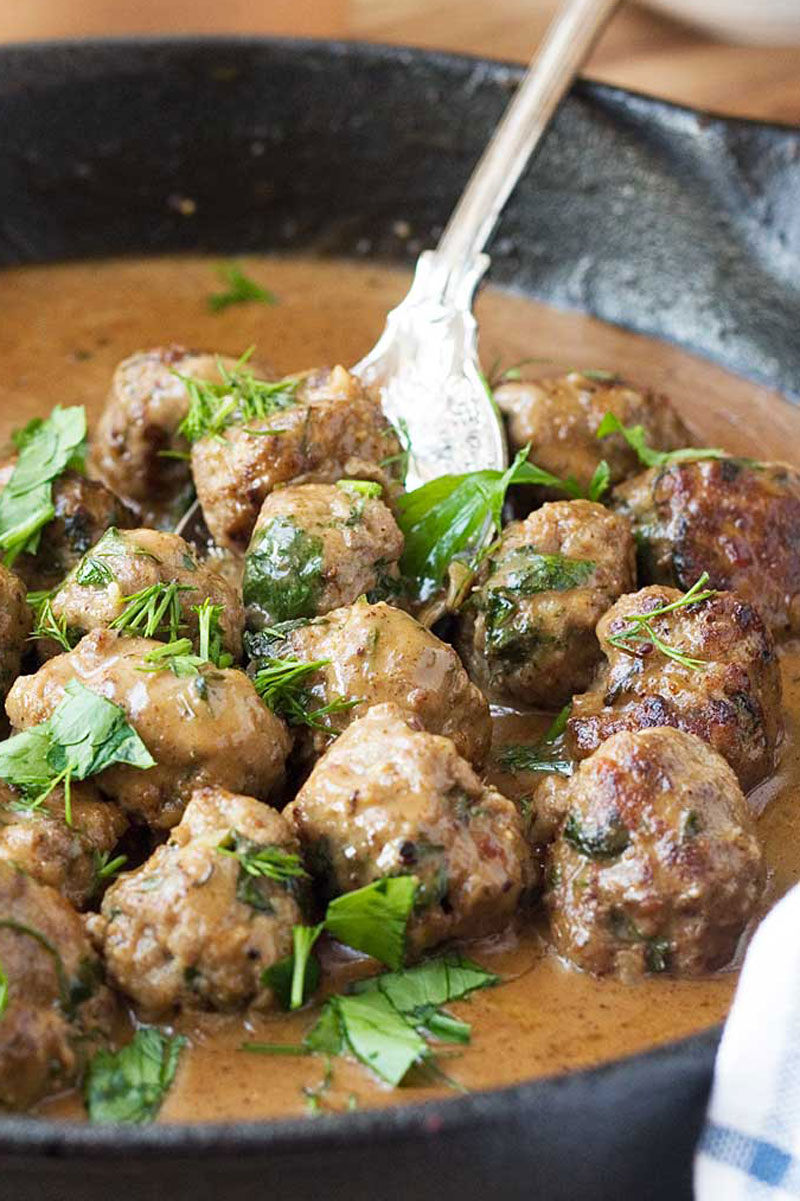 How to serve them
I like to serve Ikea style Swedish meatballs in the Winter with a big scoop of mashed cauliflower and potatoes or simpler truffle mashed potatoes and some peas, quick sautéed frozen green beans, pan-roasted frozen broccoli or pan-roasted butternut squash.
They're also great served over your favourite pasta. Or with some simple oven roasted potatoes such as these classy potatoes parmentier.
Alternatively, serve them with fresh bread such as this easy homemade focaccia bread and a simple salad such as this Greek lettuce salad. This makes the meal a bit lighter so you can serve it any time of year.
At Ikea of course they are always served with a spoonful of red berry sauce (lingonberry sauce) on the side. Either pick a jar up from the Ikea food shop next time you go flat pack furniture shopping, or use cranberry sauce instead.
Can you freeze them?
Yes! You can freeze them uncooked by freezing them first on baking trays then transferring to big freezer bags. When you want to eat them just defrost and cook as you normally would. Make the sauce fresh.
You can even cook them from frozen if you like. Just add a few extra minutes to the cooking time.
Alternatively, sometimes I just freeze the meatball mixture in a container. I defrost the mixture and shape them into meatballs on the day I want to cook them.
I don't recommend freezing the cooked meatballs in the sauce as the cream tends to separate when defrosting.
More 30-minute meals
Love meatballs? Try these air fryer Greek chicken meatballs or this one pan Greek burgers and potatoes as well!
IF YOU MAKE THIS RECIPE, LET ME KNOW HOW YOU GET ON BY LEAVING A COMMENT AND RATING BELOW… AND DON'T FORGET TO SIGN UP TO RECEIVE ALL MY NEW RECIPES BY EMAIL!
FOLLOW ME ON FACEBOOK, INSTAGRAM, PINTEREST AND YOUTUBE.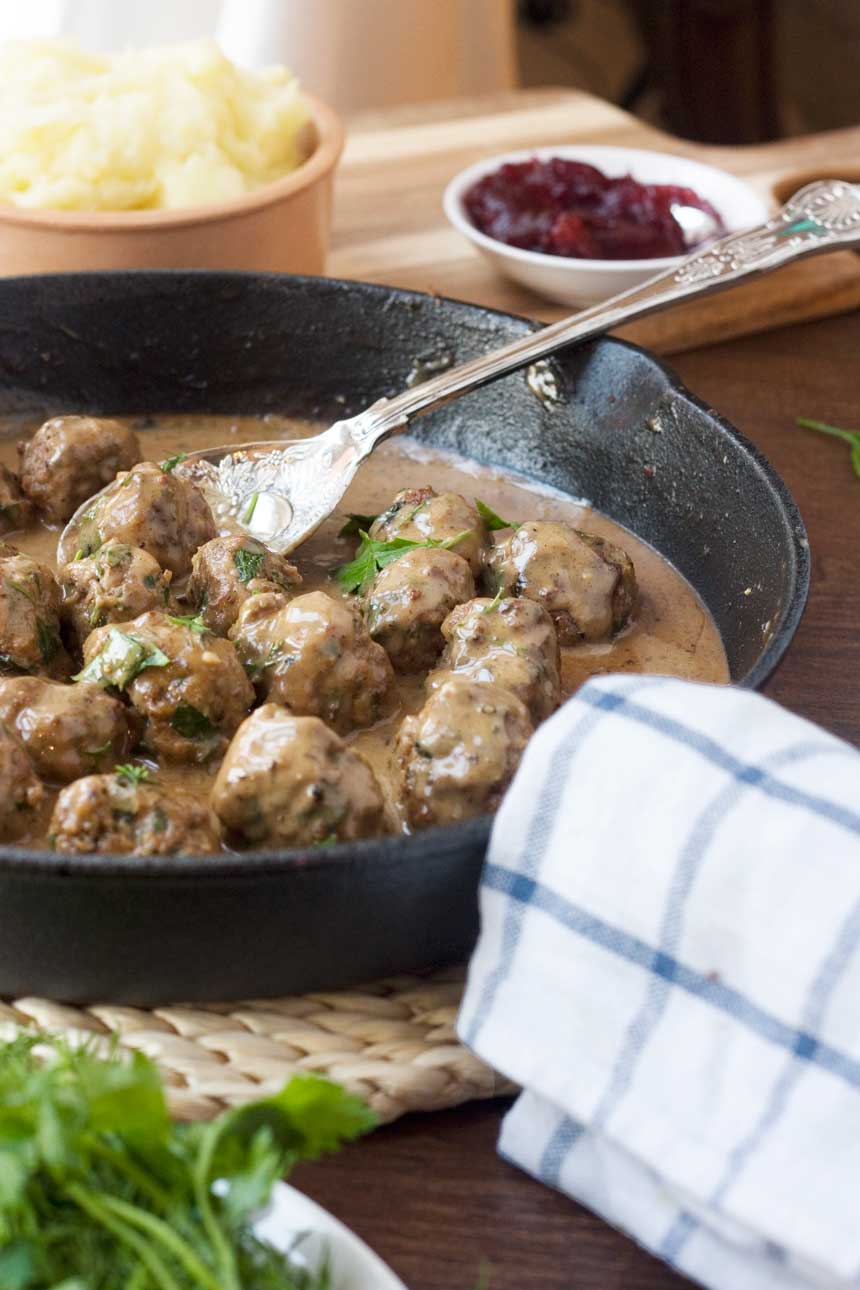 30-minute Copycat Ikea Swedish Meatballs Recipe
Tasty beef and pork meatballs in a lightly creamy beef gravy. Serve with mashed potatoes and lingonberry or cranberry sauce. It's delicious – millions of Swedes can't be wrong!
Ingredients (UK/Australia? Click below for grams/ml)
For the meatballs
10.5

ounces

beef mince

7

ounces

pork mince

breadcrumbs

2 slices white bread with crusts cut off, processed into crumbs

1

small onion

grated

1

teaspoon

allspice

1

handful fresh mixed parsley and dill

plus a little extra for garnish

1 1/2

teaspoons

salt

1/2

teaspoon

pepper

1

egg
For the sauce
2 1/2

cups

beef stock

good quality

4

tablespoons

flour

2

tablespoons

lingonberry or cranberry sauce

2

teaspoons

Dijon mustard

optional

a few dashes of Worcestershire sauce

optional

4

tablespoons

cream
To serve
lingonberry or cranberry sauce

mashed potatoes or nice crusty bread and fresh salad leaves
Instructions
Mix all of the ingredients for the meatballs together well with your hands in a large bowl.

With wet hands, shape into walnut-sized meatballs, then put onto a baking tray or plate.

Switch on the oven at about 100C/210F. Then heat up a tablespoon or so of oil in a big skillet/frying pan and pan-fry the meatballs for about ten minutes, turning regularly, until golden brown and cooked through (you may have to do this in two batches – see note below). Then transfer the meatballs into a dish and pop in the oven to keep hot.

To make the sauce, add a knob of butter to the oil left in the pan you cooked the meatballs in. Then add the flour to the pan and stir into the oil/butter, then gradually add the beef stock, stirring all the time. Let it bubble for a minute or two until thickened (*see note below).

Stir in the berry sauce and mustard and Worcestershire sauce (if using), then take off the heat and stir in the cream. Add the meatballs back into the pan and jiggle around in the sauce until well coated.

Serve the meatballs and sauce over mashed potatoes or with crusty bread and salad. Garnish with herbs and serve a bit of lingonberry/cranberry sauce on the side.
Notes
Cooking the meatballs
I sometimes cook just half of the meatball mixture and freeze the rest for another time.
If you do this, remember to halve the amount of sauce! If you decide to cook all of the meatballs though, you'll probably have to fry them in two batches. Just pop the first batch in the oven to keep warm while you cook the second.
The berry sauce
If you can't find lingonberry sauce/jam, redcurrant or cranberry sauce/jam are good substitutes.
Making the gravy
*This is by no means essential, but I pour my sauce into a mini blender to make it super smooth before pouring it back into the pan and adding the meatballs to it.
Nutrition
Calories:
459
kcal
Carbohydrates:
14
g
Protein:
27
g
Fat:
32
g
Saturated Fat:
13
g
Cholesterol:
150
mg
Sodium:
1300
mg
Potassium:
687
mg
Sugar:
4
g
Vitamin A:
300
IU
Vitamin C:
2.7
mg
Calcium:
58
mg
Iron:
2.9
mg