If you're looking for a quick and easy way to add a pop of color, flavor and elegance to a dessert, this simple raspberry purée recipe is perfect! It's so ridiculously simple to make with just 3 ingredients, it's even easier (not to mention healthier) than store-bought.
So grab your fresh or frozen raspberries and let's transform them into a sweet and tangy topping for your cake, cheesecake, ice cream – or any sweet treat!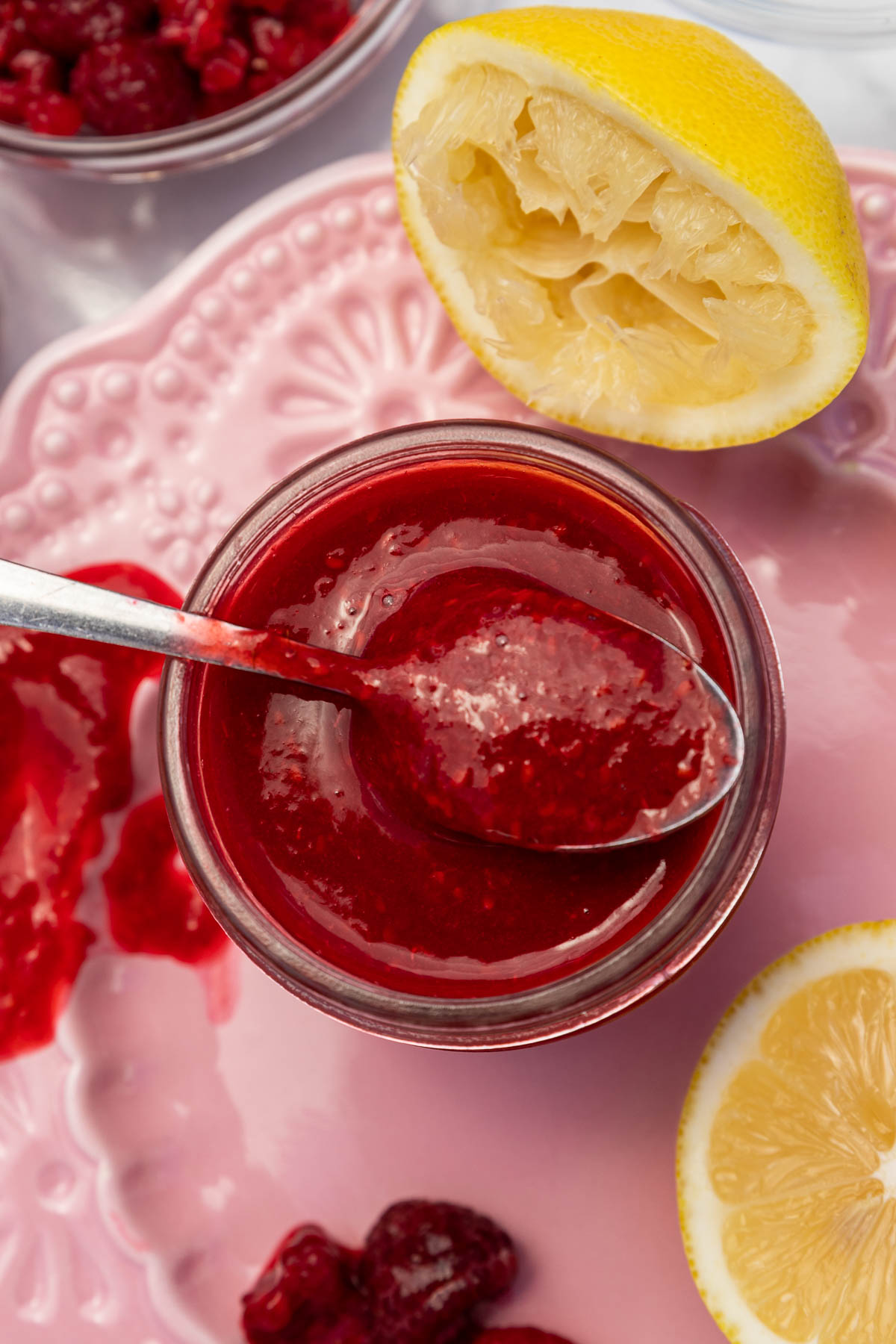 In case you're wondering, raspberry purée is simply raspberries that are blended with a little sugar and lemon juice to make a smooth sauce.
You might also hear it called 'raspberry coulis', 'raspberry reduction', 'raspberry compote' or even just raspberry syrup or raspberry sauce!
Why you'll love it
✔ Perfect for easy entertaining! Need to impress for a birthday, Valentine's day, or some other special occasion? Topping your homemade desserts and baked goods with this simple homemade raspberry sauce will give it the touch of elegance it needs to wow your guests.
✔ Make it in just 5 minutes, in a few simple steps. This is one of those recipes that's unbelievable easy, but can make you appear like a top chef!
✔ So versatile! Just made a gooey chocolate cake, cheesecake, or some other delicious homemade dessert? Or perhaps you just want a simple, healthy topping for a bowl of ice cream or fresh fruit? This 5-minute fruit purée will make a show stopper out of any dessert, but there are a few other surprising uses for it, too (see below!).
✔ Ideal for making ahead or freezing. Need a last minute way to make a dessert look fancy? Just grab a jar of frozen raspberry purée out of the freezer!
✔ Makes a fun homemade gift. Pour into a nice jar with a lid and gift – either with a homemade cake or labelled with ideas about how to store and use.
Fun fact: A purée is also sometimes called a coulis which really is just another slightly fancier French word meaning virtually the same thing. 'Coulis' comes from the French verb 'couler' which means 'to flow'.
About the ingredients
Yes, it's true. You'll need just 3 basic ingredients to make this delicious raspberry sauce!
Raspberries: If they're in season and not too expensive, by all means use fresh raspberries. If not, frozen raspberries are fine! In fact, 99% of the time I would use frozen raspberries for this recipe, since they're both convenient and economical.
Confectioners' sugar (powdered sugar/icing sugar): Just a little. This sauce is not too sweet, making it the perfect companion to a sweet cake or other dessert.
Lemon juice: Don't skip this. A couple of squeezes of lemon juice (around half a lemon) enhances the tangy raspberry flavor of the puree beautifully.
How to make raspberry purée
The step-by-step guide below should help you make the recipe perfectly first time. Scroll down to the end for the full recipe including ingredient amounts.
Prepare to be amazed at how easy it is to make this simple, vibrant fruit coulis!
The first step is to heat the raspberries in a pan with the confectioners' sugar and lemon juice on a medium heat. Just for a couple of minutes until the fruit starts to break down.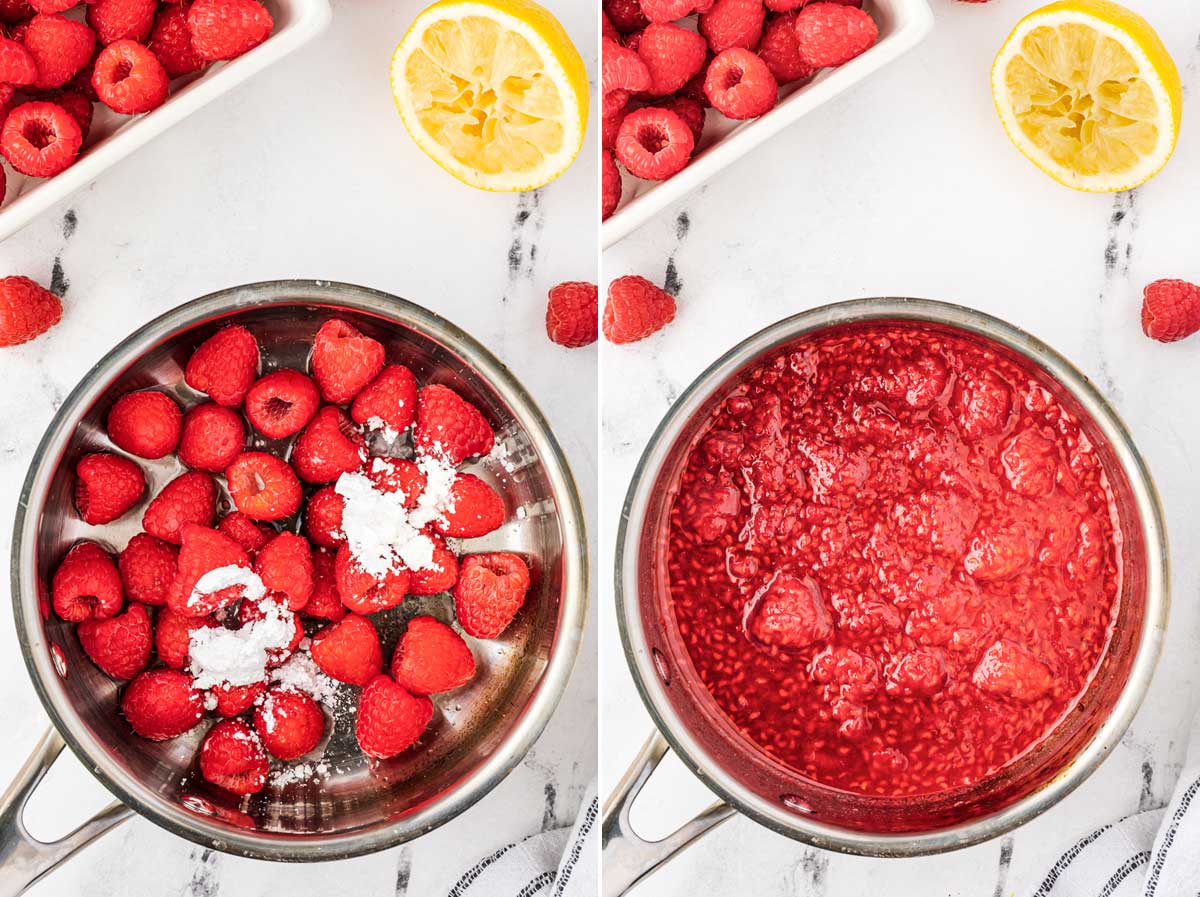 Then, blend this mixture in a food processor or blender until you have a purée.
Add a little water, if you like, to thin out the purée. This way, it will be perfect for pouring over your cake, pie, brownies, or whatever delicious baked treat you're making!
Helen's top tips
Add water to the finished raspberry purée just a small drizzle at a time. Use to spoon to check when it's the right consistency for pouring over a dessert. You want it to be 'Goldilocks just right' – not too thick and not too thin!
Taste before serving. Want to bring out the raspberry flavor a little more? Add a squeeze more lemon juice. Not quite sweet enough for your taste? Add a sprinkle more powdered sugar.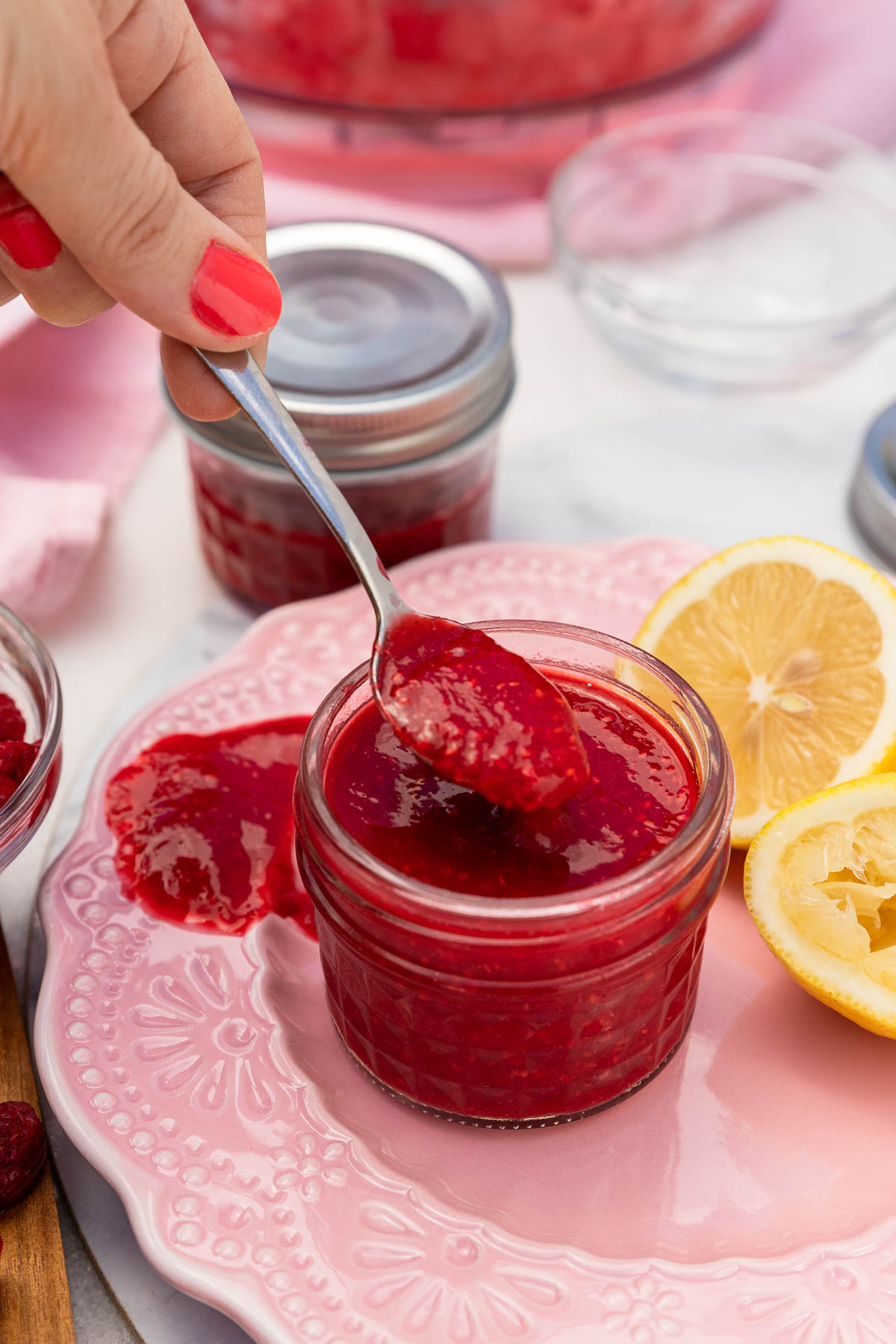 How to serve
There are two ways to serve this easy raspberry sauce. Pour it over your dessert portions before serving, or pour it into a serving jug and let everyone serve themselves.
I often go for the middle ground. I pour a little over everyone's portion and pour the rest in a jug to let them help themselves to more if they wish.
There are so many desserts that a raspberry purée goes well with. Here are some of my favorites from Scrummy Lane:
I never serve this easy baked white chocolate cheesecake without both raspberry purée and fresh raspberries on top. This is a great crowd pleaser, and perfect for Valentine's Day or Date Night! Add some fresh mint leaves if you're feeling particularly fancy.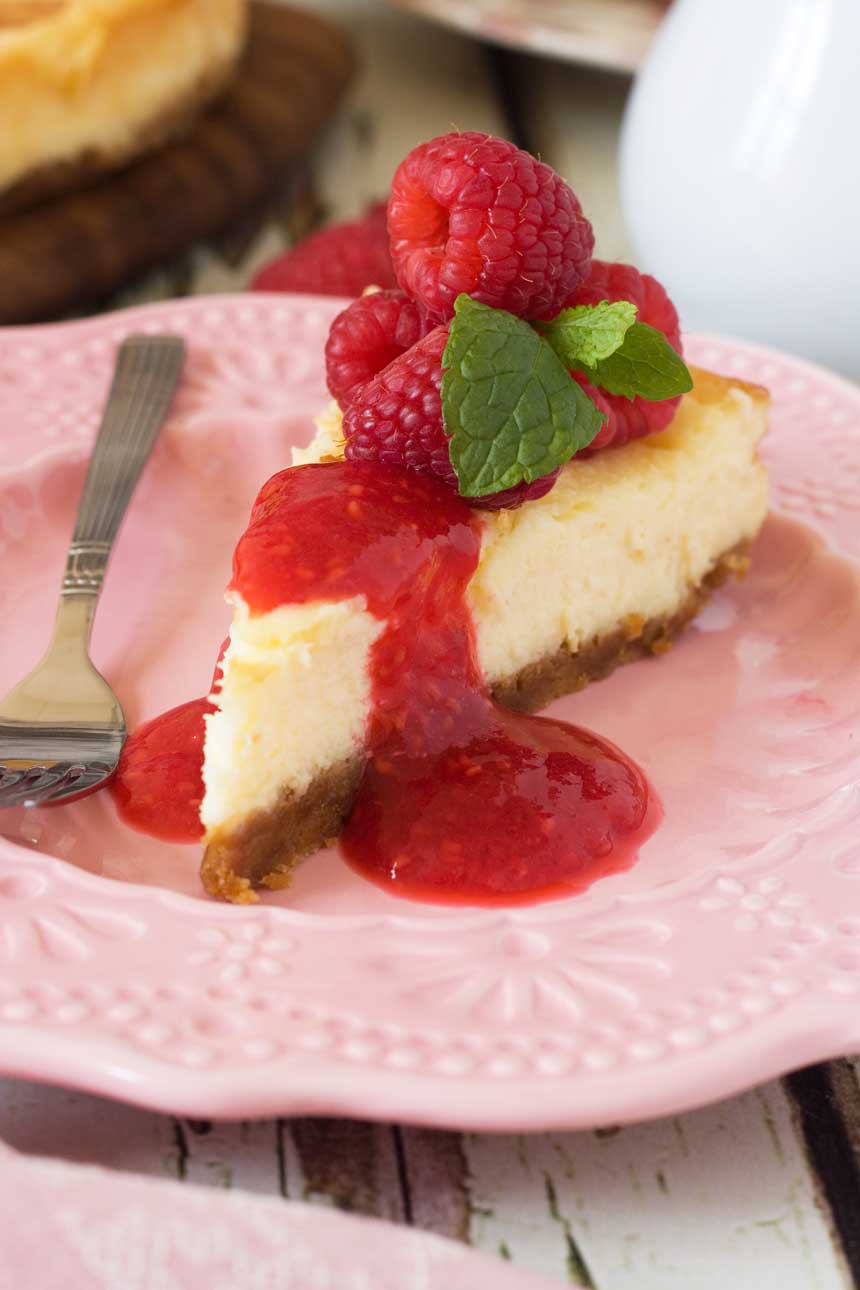 More ways to use raspberry purée
Remember I said there were some other ways to serve this raspberry purée that you may not have thought of? Here goes!
Serve it as a sauce for ice cream, pavlova, English pancakes, french toast or waffles, or as a dipping sauce for churros or donuts.
Stir into yogurt or oatmeal for breakfast (since it's such a healthy sauce!).
Swirl it through muffin, cake or even bread batter for a fruity twist.
Think savory! Try drizzling over meat or fish, or use it as a salad dressing.
Stir it into lemonade, smoothies or other drinks for a burst of real raspberry flavor.
Pour into popsicle moulds and freeze for a treat the kids (and grown-ups!) will love.
Use as a base for other recipes such as jam or fruit sorbet.
Variations
There are several ways you can make this recipe your own. Here are some ideas:
Switch out the fruit! This recipe would work using strawberries, blackberries or any other berry instead of raspberries. You may wish to reduce the sugar further or skip it altogether since some of these fruits are sweeter than raspberries.
Add half a teaspoon to a teaspoon of vanilla essence, almond essence or rosewater essence. All of these flavors pair well with raspberries.
Add a pinch of salt. I wanted to keep my recipe to 3 ingredients, but a pinch of salt will help enhance the flavors in the puree.
Add a few fresh mint leaves on top. Just to make your dessert look even fancier! The refreshing flavor of mint also helps balance the tart and sweet flavor of raspberries.
Recipe FAQ
Do I need to sieve my raspberry purée?
You'll find many recipes for raspberry purée that require you to push it through a fine-mesh sieve it to get rid of the seeds. This makes it completely smooth. You can do this if you like, but this particular recipe is supposed to be super quick and easy – ready in just 5 minutes. So I am happy to skip this step.
How long will it keep in the fridge?
Covered or in an airtight container, it will keep for up to a week in the fridge. It may thicken slightly, but simply take out of the fridge for a while and stir well before using. If it is still too thick, whisk in a drizzle more water.
Can you freeze raspberry purée?
Yes, it's perfect for freezing. Simply store in a freezer proof container or sealed jar for up to 6 months. Leave a little room at the top for expansion as it freezes. I sometimes freeze in small decorative jars to give as last-minute gifts. When ready to use, simply place in the fridge to defrost overnight.
You might like this thick Italian hot chocolate, too. It can be another 5-minute dessert in itself, but also makes a delicious and easy chocolate sauce for dunking churros and donuts or for using as a simple chocolate sauce.
You also may wish to check out this list of 5-minute no bake desserts. Or see all my easy desserts.
IF YOU MAKE THIS RECIPE, LET ME KNOW HOW YOU GET ON BY LEAVING A COMMENT AND RATING BELOW… AND DON'T FORGET TO SIGN UP TO RECEIVE ALL MY NEW RECIPES BY EMAIL!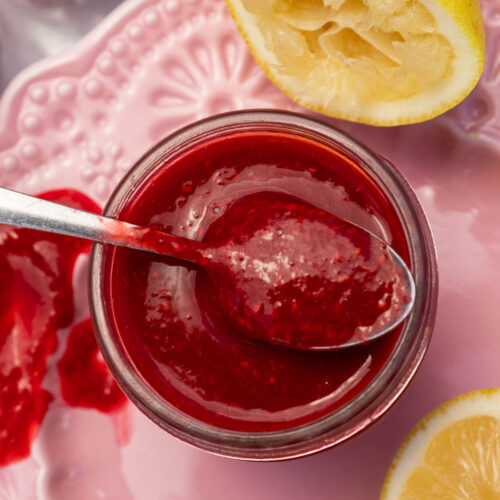 5-Minute Raspberry Purée (For Cakes, Cheesecakes, Ice Cream & More!)
Jazz up any dessert in just 5 minutes with this super easy raspberry purée. Made with just 3 ingredients – fresh or frozen raspberries, powdered sugar and lemon juice – you'll easily impress your guests with this burst of tangy, sweet and fruity flavor. A perfect 'fancy' addition to chocolate or lemon cake, cheesecake, ice cream, waffles, pancakes, drinks and more!
Equipment (affiliate links)
Ingredients (UK/Australia? Click below for grams/ml)
10

ounces

raspberries

(300 grams or around 2¼ cups) I use fresh when in season and affordable, and frozen raspberries at other times or for convenience.

2

tablespoons

confectioners' sugar

(powdered sugar/icing sugar)

2

tablespoons

lemon juice

This is roughly the juice of a small lemon.
Instructions
Heat the raspberries with the confectioners'/icing sugar and the lemon juice until the raspberries start to bubble and break down (just a couple of minutes).

Pulse the mixture in a food processor or blender until smooth.

Add small splashes of water and pulse until the raspberries are the right consistency for pouring.
To serve
Pour into a small to medium sized jug ready for serving. You may also make the purée ahead and keep covered or in an airtight container for up to a week. Or freeze for up to 6 months in a freezer proof container or jar.
Notes
How much puree the recipe makes: About one and a third cups. This is enough for a small crowd. Feel free to freeze any leftovers (keeps well in the freezer for up to 6 months).
How to serve: As a simple but classy topping for almost any dessert! But especially chocolate cakes (try with this gooey Swedish chocolate cake), lemon cakes (great with this lemon mascarpone cake) or cheesecakes (see this white chocolate cheesecake recipe).
Other uses: You can also use raspberry purée as a base to make fruit sorbet or jam, as a topping for waffles, pancakes, french toast, other fruit such as mango slices, or even salads, to add to a smoothie, or to stir into any cold drink. It's also great for breakfast with yogurt and granola, or stirred through oatmeal.
Variations: Add ½ to 1 teaspoon vanilla, almond or rose essence (these flavors all pair very well with raspberries. Add a pinch of salt to further enhance the flavors. Try the recipe with other berries such as blackberries or strawberries, tweaking the amount of sugar to taste.
Nutrition
Calories:
15
kcal
Carbohydrates:
5
g
Protein:
0.3
g
Fat:
0.2
g
Saturated Fat:
0.01
g
Polyunsaturated Fat:
0.1
g
Monounsaturated Fat:
0.02
g
Sodium:
0.3
mg
Potassium:
46
mg
Fiber:
2
g
Sugar:
1
g
Vitamin A:
10
IU
Vitamin C:
9
mg
Calcium:
7
mg
Iron:
0.2
mg