When it comes to no-bake Christmas treats, rocky road is up there with the best. All you need is just 10 minutes and 5 or 6 main ingredients to make a colourful festive version of this Aussie classic. It's the perfect last-minute gift, party food, or addition to your Christmas treat table. I've also included a handy formula for making it your own!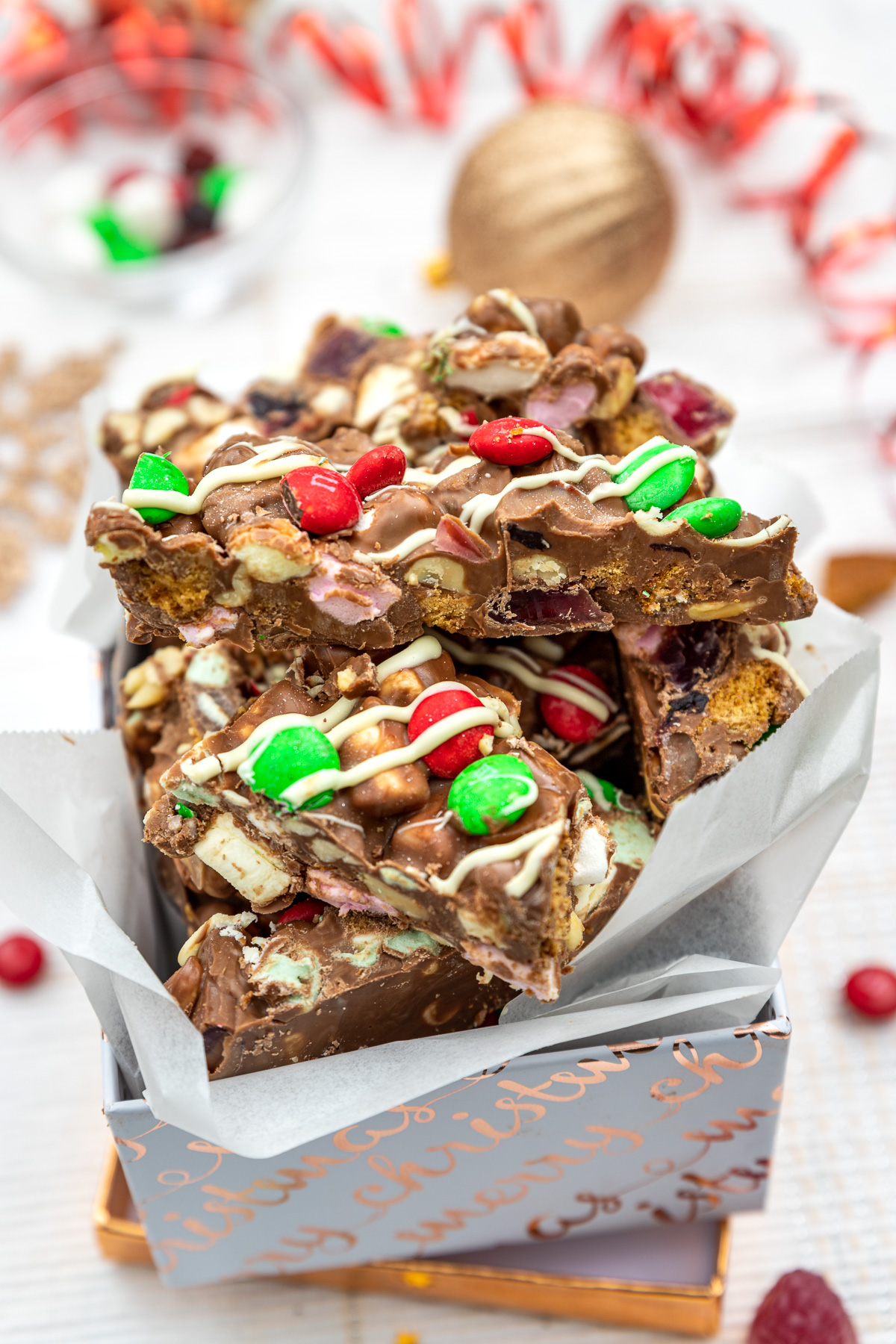 What's rocky road?
Just in case you've been living under a rock and don't know already (pun absolutely intended!), rocky road is a popular no-bake Australian slice. Legends say it dates back to 1853 when immigrants to Australia made it to disguise the fact that confectionary had gone off during the long journey from Europe. Its name could refer to the 'rocky road' full of bumps and pot holes that had to be travelled to reach the gold fields!
To make rocky road, you simply melt chocolate and mix in chewy marshmallows, soft and fruity candies or dried fruit, crunchy nuts and sometimes biscuits/cookies, too.
Fun fact: In the US, rocky road is usually known as an ice cream flavour. There's even a national rocky road day on June 2nd!
Why you'll love this Christmas version
DELICIOUSLY FESTIVE! I've added turkish delight, cranberries and ginger biscuits/cookies.
RIDICULOUSLY EASY TO MAKE. There are different ways to make rocky road. None of them are difficult, but I like to keep it super simple. Just stir mix-ins into chocolate, pour onto baking paper, let set, then break into big shards – chocolate bark style!
ENDLESSLY CUSTOMISABLE. It's a great recipe to play around with and make your own. Add different kinds of nuts, dried fruits and biscuits if you like. Have a rummage around in your kitchen cupboard and see what you can add!
PERFECT FOR A LAST-MINUTE CHRISTMAS GIFT. It's easy to make it look good and everyone loves it.
GREAT PARTY FOOD IDEA. Take it along to a party and watch it disappear into people's mouths at lightning speed.
About the main ingredients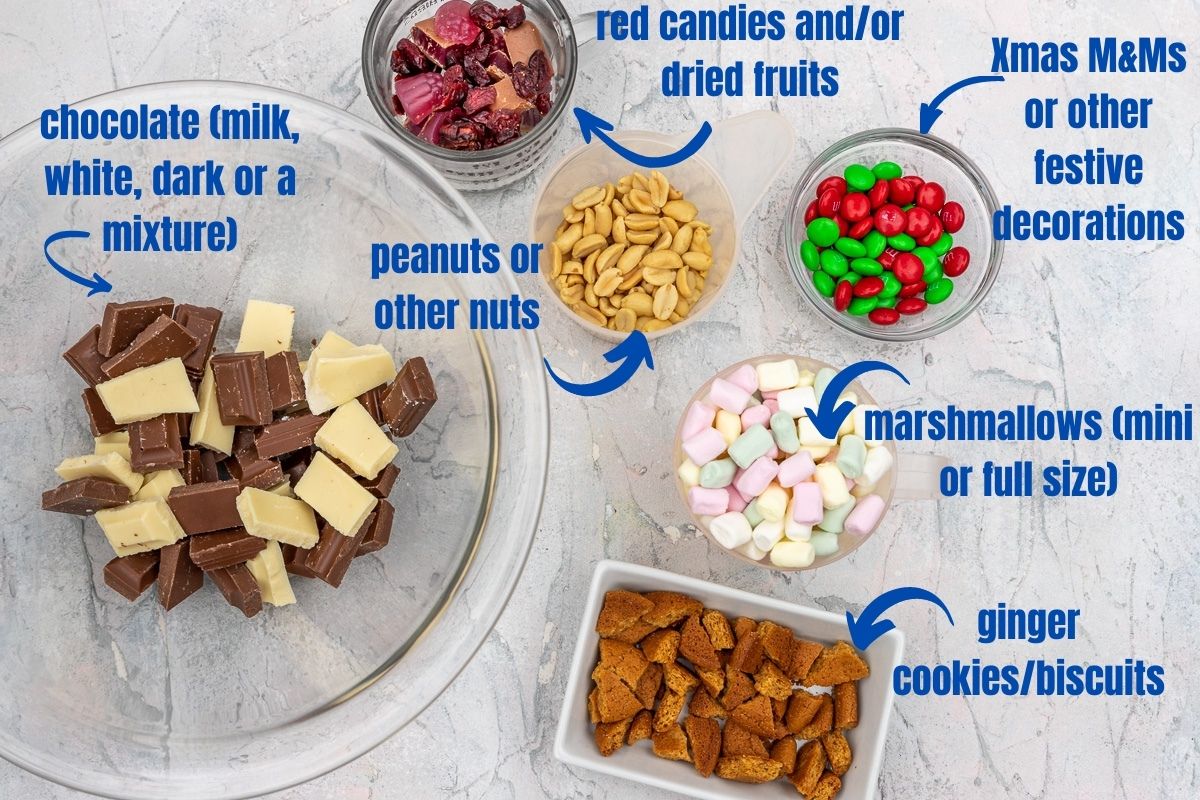 Chocolate: Traditionally, rocky road is made with half milk chocolate and half dark chocolate. The two are melted together and mixed. You can actually make it with any chocolate you like, though. I like milk and white chocolate for Christmas rocky road, but all white looks very festive, too!
Marshmallows: I like to use multi-coloured mini marshmallows for Christmas rocky road. It's also fine to use larger marshmallows. Either chop them into pieces or keep them whole!
Raspberry candies: Traditionally, Australian rocky road contains Allen's Ripe Raspberry candies. For my festive version I do throw in a few of these, but also some chopped turkish delight and dried cranberries. Glace cherries work very well, too.
Nuts: I stick to peanuts as my son is allergic to tree nuts, sadly. But I love the idea of green pistachios for Christmas. Other nuts work well, too.
Biscuits/Cookies: These are optional. Some include them, others don't. I like them for the variety of texture they add. I go for ginger cookies, but throw in your favourite! How about peppermint cookies?
Green and red M&Ms: These are optional. But if you can find them, they look very festive sprinkled over the top. Alternatively, just sprinkle over icing sugar (snow!), edible glitter, mini Christmas shapes or anything else Christmassy that you have to hand.
How to make it
You could say this is a 'no recipe' recipe! The amounts are just a guideline, really. Throw in a bit more or less of this or that and your rocky road will be delicious every time!
Here's how to make it in a few VERY easy steps:
Firstly: Line a baking tray with baking paper. If you prefer, you can use an 8×8 inch square baking pan. Or a loaf tin for long and thin slices.
STEP 1: Break chocolate up into a large bowl.
STEP 2: Melt the chocolate. Microwave for 1.5 to 2 minutes in 30-second bursts until NEARLY melted. Then stir it until completely melted. Here I've used milk and white chocolate, but use any kind of chocolate you like.
STEP 3: Add all the mix-ins.
STEP 4: Fold with a spatula until everything is well mixed and covered with chocolate.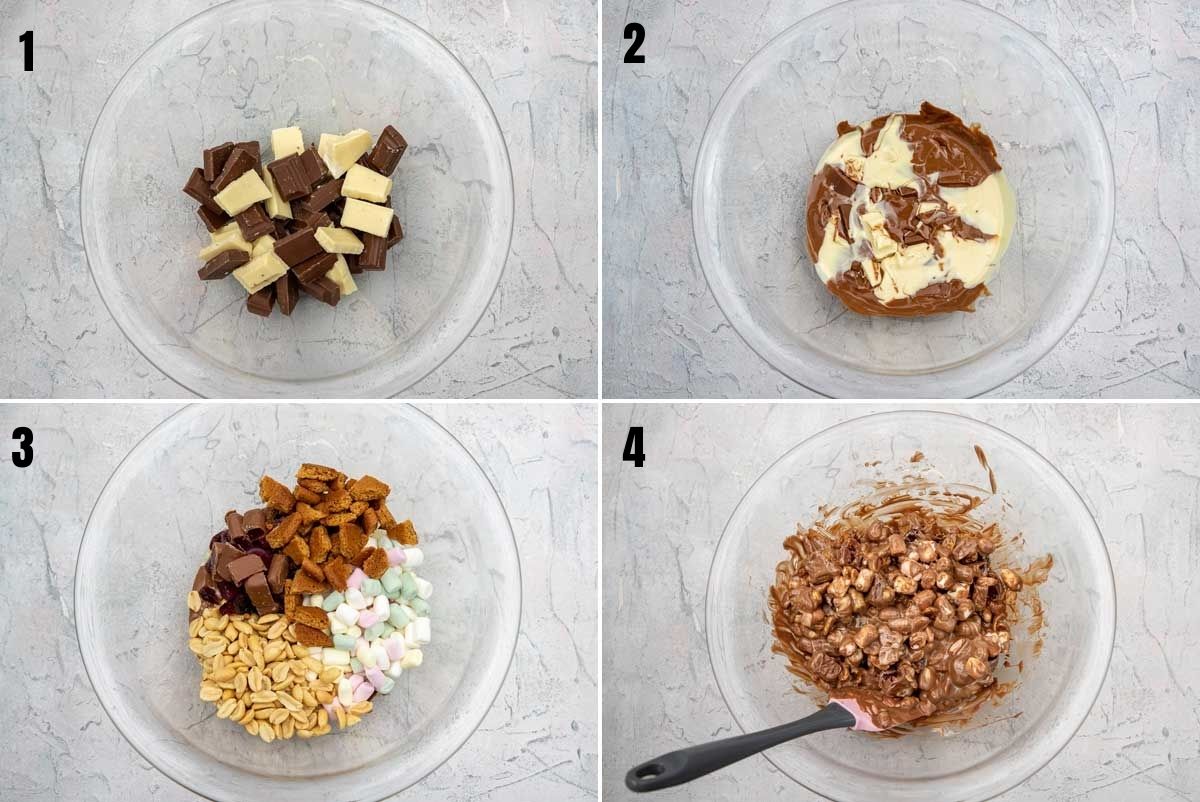 TOP TIP: Only melt the chocolate until it's 'almost' melted. Then let it finish melting by itself. This is an easy way to 'temper' the chocolate so that it doesn't get an ugly white residue appearing on it after the rocky road sets.
STEP 5: Empty the mixture onto the prepared baking tray. Flatten/Spread slightly with a spatula.
STEP 6: Press Christmas M&Ms on the top (if using!).
STEP 7: Optional! Melt a little white chocolate. Pour it into a small food bag. Snip off the very end and drizzle the chocolate all over the top.
STEP 8: Pop into the fridge/freezer for around half an hour. Cut into uneven pieces with a sharp knife.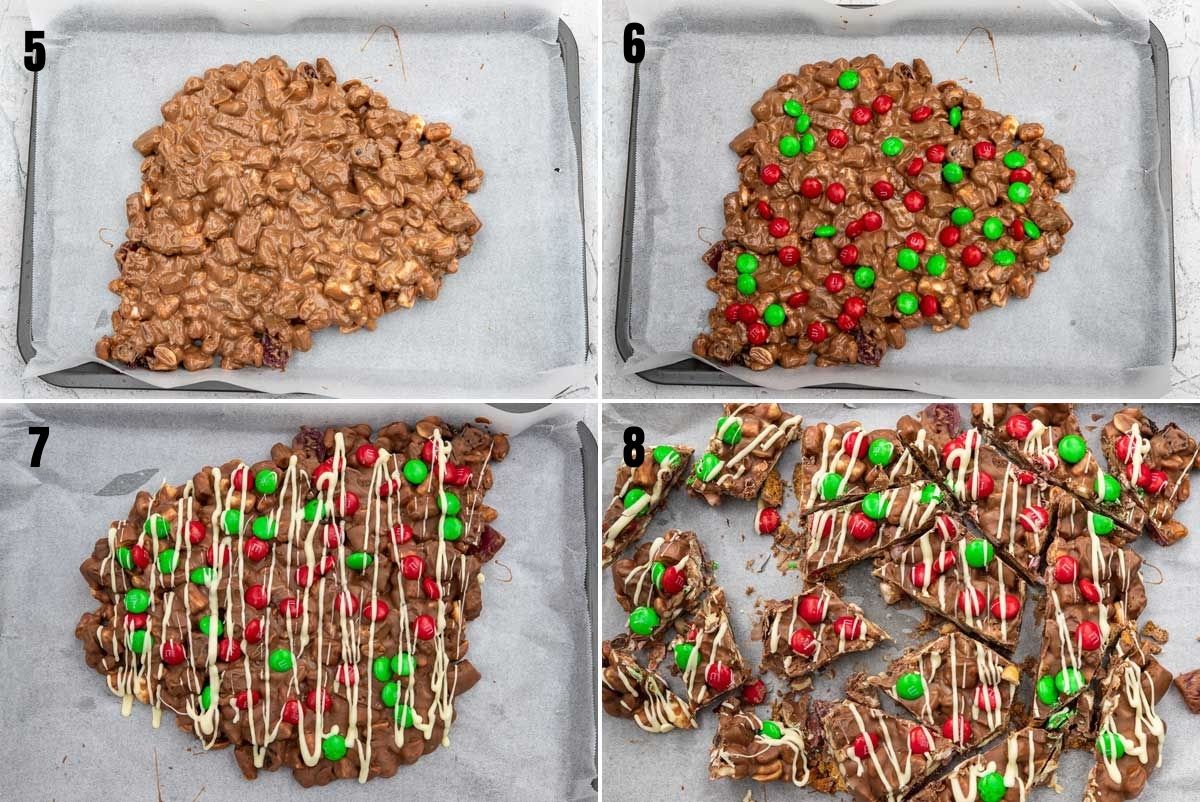 How to make it your own
I love this recipe as it is, but it's perfect for tweaking to make your own! Here are some other ingredients you might like to add:
Coconut
Candied or crystallized ginger (chopped into small pieces – go easy!)
Glace cherries
Different types of chocolate e.g. orange, mint, raspberry, caramel (try Caramilk in Australia)
Honeycomb e.g Maltesers or chopped Crunchie bar
Different chopped dried fruits e.g. apricots
Chopped bits of your favourite candy bars e.g. Snickers
Fudge
Different kinds of nuts
Chopped candy canes (sprinkled on top)
M&Ms (I like the green and red Christmas ones, or try all white)
Different types of biscuits/cookies (Speculoos cookies would be nice)
Rocky road recipe formula
There are so many ways to tweak this recipe to make it completely your own! But how do you know how much of everything to throw in?
Here's a handy formula:
300 GRAMS (10.5 ounces) CHOCOLATE + 1 CUP marshmallows + 1½ CUPS MIX-INS (nuts, candies, biscuits etc.)
This is a general guideline only. The wonderful thing about this recipe is that there are no real rules. I like to go heavy on the marshmallows and nuts, but you may prefer to add more red candies/fruits instead.
How to eat it
Of course, you don't REALLY need me to tell you how to eat this. I tend to pile it into an airtight tin and steal bits out of it every time I go to the fridge 😉
But let's say you're more civilised than I am. You can:
serve bits of it alongside Christmas cake and cookies when you have guests over the holidays. Sprinkle a little icing sugar 'snow' over the top if you like!
make them last minute to take along to a party. You'll be the most popular guest!
pack them into a small festive box lined with baking paper and give as a gift. Alternatively, pile into a transparent food bag and close with a pretty ribbon.
make rocky road cupcakes by sticking small pieces into the top of some frosted cupcakes. Yum!
chop into small pieces and stir through ice cream.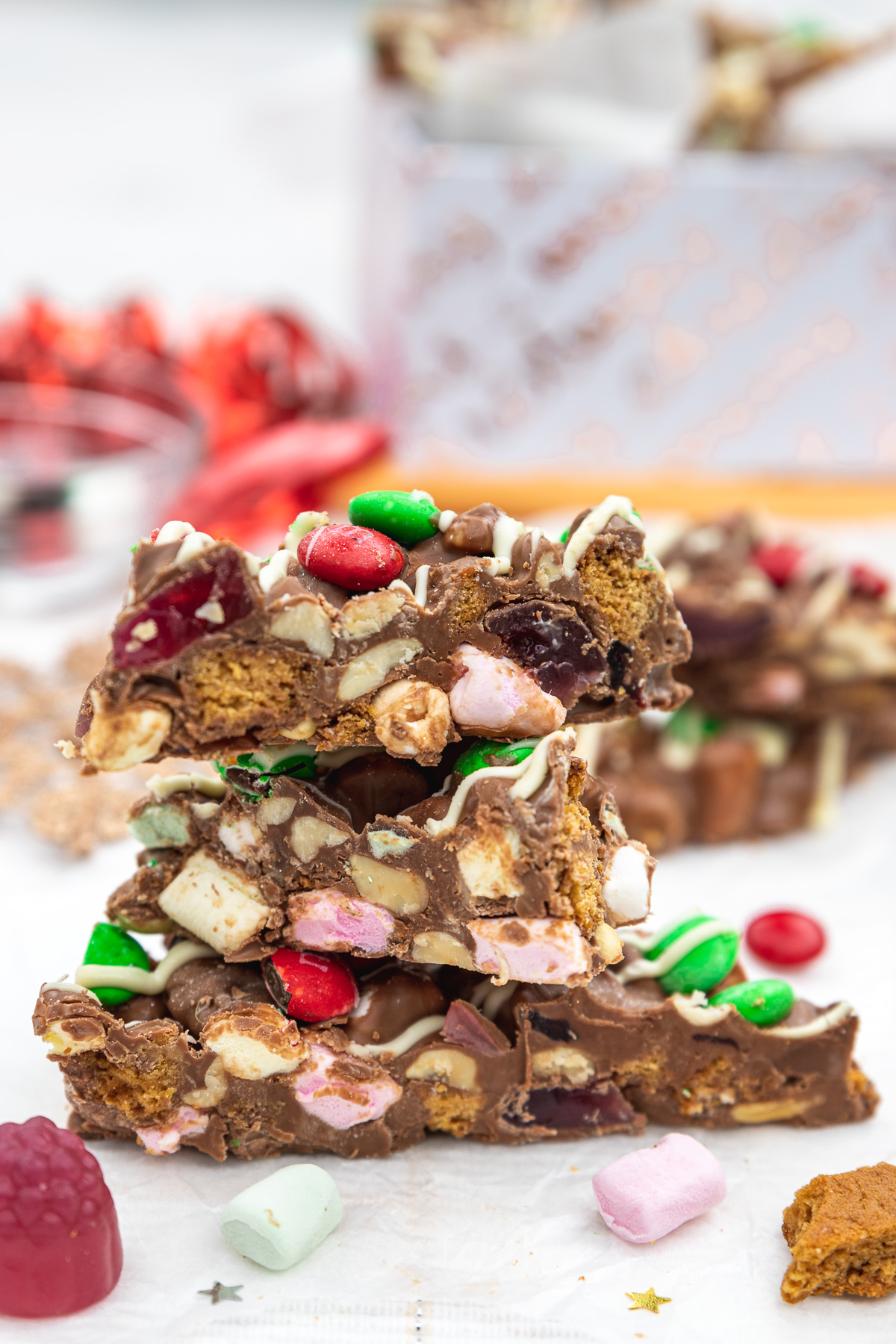 More things to know (recipe FAQ)
I don't like turkish delight. What can I add instead?
Since rocky road traditionally contains raspberry flavoured candies and not turkish delight at all, you're all good! Any kind of small or chopped red coloured candies/gummies work. Alternatively, use dried cranberries – they're Christmassy too!
What's the best way to store rocky road?
If kept in the fridge in an airtight container, rocky road will last for at least 3 weeks. Which makes it an ideal food gift and treat to make in bulk!

In case you don't have room in your fridge, in a cool place at room temperature it will still last well for around a week.
Can you freeze it?
Yes! Rocky road freezes well for around 3 months. Just store between layers of baking paper in a freezer safe container. It's also a good idea to wrap the container in some layers of cling wrap or foil so that there's no chance of any moisture getting in.
Is rocky road gluten free?
Rocky road can easily be made gluten free. Most marshmallows are naturally gluten free, but do check the ingredients just to be sure. You can either skip the ginger biscuits/cookies, or add some gluten free ones instead.
What's the difference between rocky road, tiffin and fridge cake?
If you're from the UK, you may have come across a similar treat called tiffin or fridge cake. Believe it or not, tiffin is actually an Indian word meaning 'light snack', but over time in the UK it's come to mean a no-bake chocolate treat containing crushed biscuits, dried fruit, cocoa, golden syrup and butter. There aren't usually marshmallows in it like in rocky road. Fridge cake is just another name for tiffin!

So rocky road is similar, but different. I also think it's easier to make, but just as delicious.
More quick and easy food gifts
These dried orange slices are genius. SO easy to make, and look fabulous packed in a jar or food bag!
Like rocky road? You'll love hedgehog slice, too! Slice into small pieces and package up as a gift anyone would love.
Chocolate bark takes mere minutes to make, and there are so many delicious ways to customise it.
Or see all my food gift recipes.
Got leftover marshmallows? You're in luck! I wrote this list of 74 recipes to use up marshmallows.
IF YOU MAKE THIS RECIPE, LET ME KNOW HOW YOU GET ON BY LEAVING A COMMENT AND RATING BELOW… AND DON'T FORGET TO SIGN UP TO RECEIVE ALL MY NEW RECIPES BY EMAIL!
FOLLOW ME ON FACEBOOK, INSTAGRAM, PINTEREST AND YOUTUBE.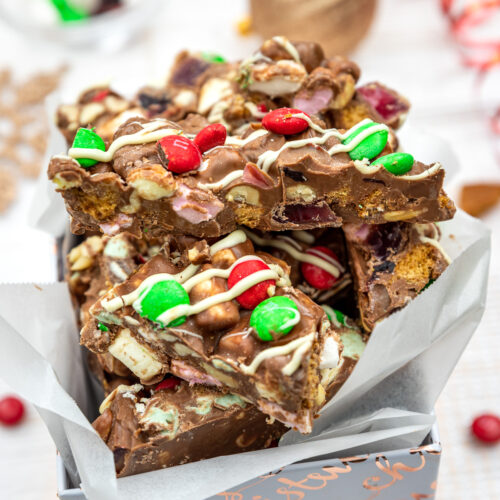 10-minute Christmas Rocky Road
Christmas rocky road is a quick and easy no-bake chocolate treat that literally everyone loves. It's crunchy, chewy, crispy and fruity all at the same time. It typically contains chocolate, marshmallows, raspberry candies or turkish delight, nuts and sometimes biscuits. It makes a perfect last minute gift or party treat. Follow my handy formula and customise to your heart's content!
Ingredients (UK/Australia? Click below for grams/ml)
300

grams

chocolate

(broken into pieces – 2 cups) milk, dark, white or a mixture

1

cup

mini marshmallows

(60 grams) or use larger marshmallows cut into halves or quarters

⅔

cup

peanuts

(130 grams) I like salted, or use any nuts (pistachios are nice for Christmas)

⅓

cup

turkish delight

chopped, or Allen's Ripe Raspberry candies (Australia), dried cranberries, or a mixture

4

gingernut biscuits

(US = gingersnaps) or use any biscuits/cookies
To decorate the top (optional)
¼

cup

M&Ms

green and red

30

grams

white chocolate

(2 to 3 pieces), to drizzle over
Instructions
Line a large baking tray with baking paper. Set aside.

Melt the chocolate in the microwave in 30-second bursts (1.5 to 2.5 minutes) until nearly melted. Stir to melt completely (this is an easy way to 'temper' the chocolate).

Add the marshmallows, nuts, turkish delight/raspberry candies and gingersnap biscuits. Stir well with a spatula until everything is covered in chocolate.

1 cup mini marshmallows,

⅔ cup peanuts,

⅓ cup turkish delight,

4 gingernut biscuits

Empty the chocolate mixture onto the baking tray. Flatten/Spread out slightly with a spatula.

Sprinkle the M&Ms over the top (if using). If you like, melt a few pieces of white chocolate in the microwave, then pour it into a small clear food bag. Snip off the very end and drizzle the melted chocolate over the top.

¼ cup M&Ms,

30 grams white chocolate

Let set in the freezer for 20 to 30 minutes. Slice the rocky road into uneven pieces with a sharp knife.

Store in an airtight container in the fridge for up to 3 weeks.
Notes
Melting the chocolate: The easiest way is to melt in the microwave. Alternatively, you can melt the chocolate in a bowl over a pan of simmering water. Don't let the bowl touch the water. Customising: You can customise to your heart's content by following the formula below! 300 grams/10.5 ounces chocolate + 1 cup marshmallows + 1.5 cups other mix-ins (nuts, dried fruit, candies, coconut etc.) Storing: Rocky road keeps very well in an airtight container in the fridge for at least 3 weeks. Alternatively you can freeze it between layers of baking paper in an airtight container. Add extra protection by wrapping the container in a few layers of plastic wrap/aluminium foil. Serving: Rocky road makes an amazing easy food gift! Just package in a small festive box or see-through food bag tied with a pretty ribbon. Serve as party treats. Use shards as cupcake toppers. Break into small pieces and stir through ice cream, US style!
Nutrition
Calories:
290
kcal
Carbohydrates:
35
g
Protein:
4
g
Fat:
18
g
Saturated Fat:
8
g
Polyunsaturated Fat:
2
g
Monounsaturated Fat:
6
g
Trans Fat:
1
g
Cholesterol:
1
mg
Sodium:
31
mg
Potassium:
180
mg
Fiber:
3
g
Sugar:
27
g
Vitamin A:
13
IU
Vitamin C:
1
mg
Calcium:
32
mg
Iron:
1
mg