Need crowd pleasing treats for Mother's day, a baby shower, an afternoon tea or another event? You can't go wrong with these yummy lemon Bakewell slices. They're quite literally a slice of English tradition, and they're surprisingly easy to make.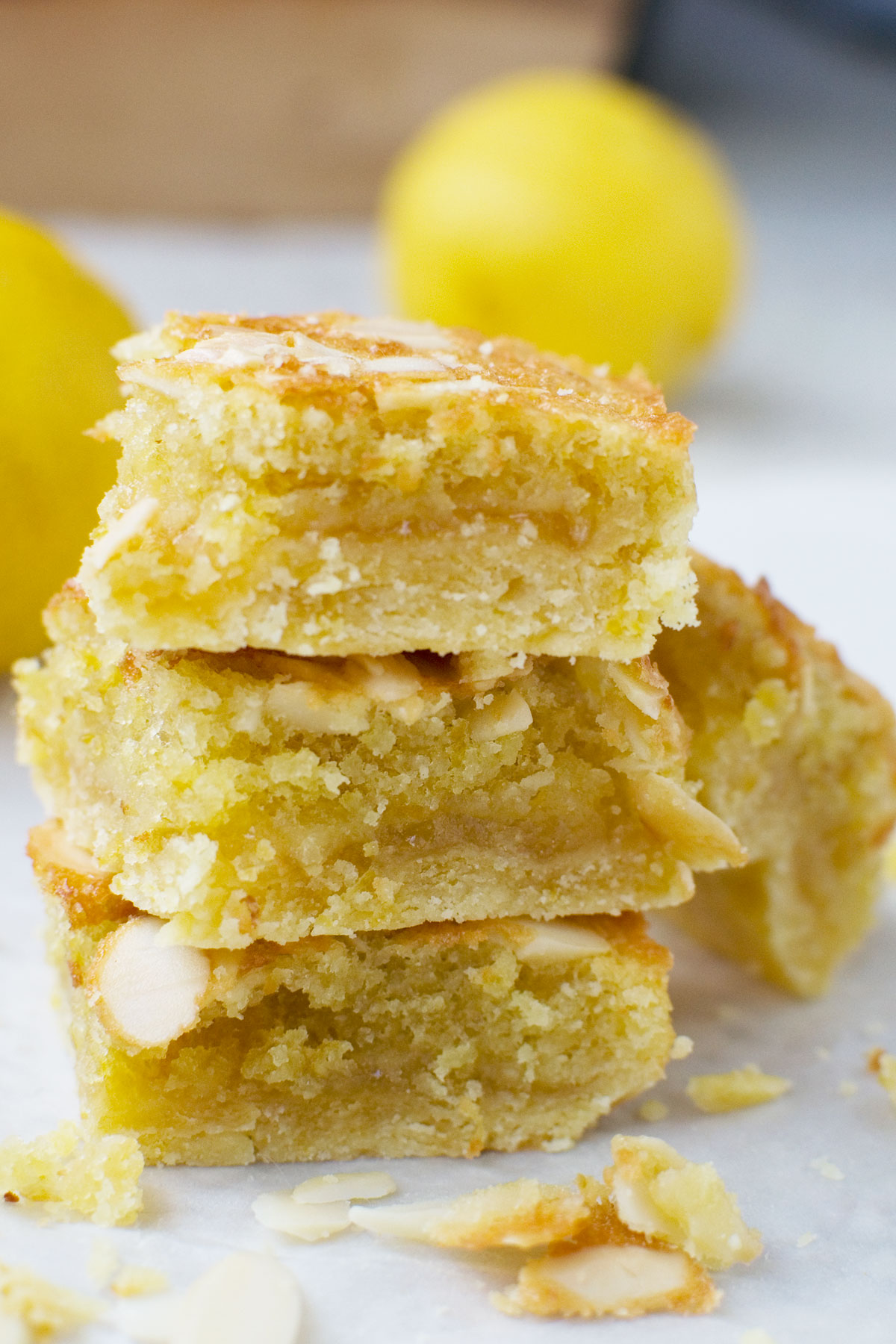 What's a Bakewell slice?
Growing up in central England, you couldn't help but come across some version of a bakewell tart – one of a handful of very traditionally British desserts.
There are various versions of the exact origins of this tart. Two things are sure, though. One, it's closely associated with a pretty Derbyshire town called Bakewell. Two, it's a very yummy traditional cake recipe with these 3 layers:
layer 1: a sweet short crust pastry base
layer 2: a fruity jam or curd layer
layer 3: frangipane cake with flaked almonds on top
This is a bakewell slice recipe with a lemony twist. Lemon curd's used as the 'jammy' layer, and there's lemon zest in both the sweet pastry and cake layers.
You could say this is a triple lemon almond slice!
About the ingredients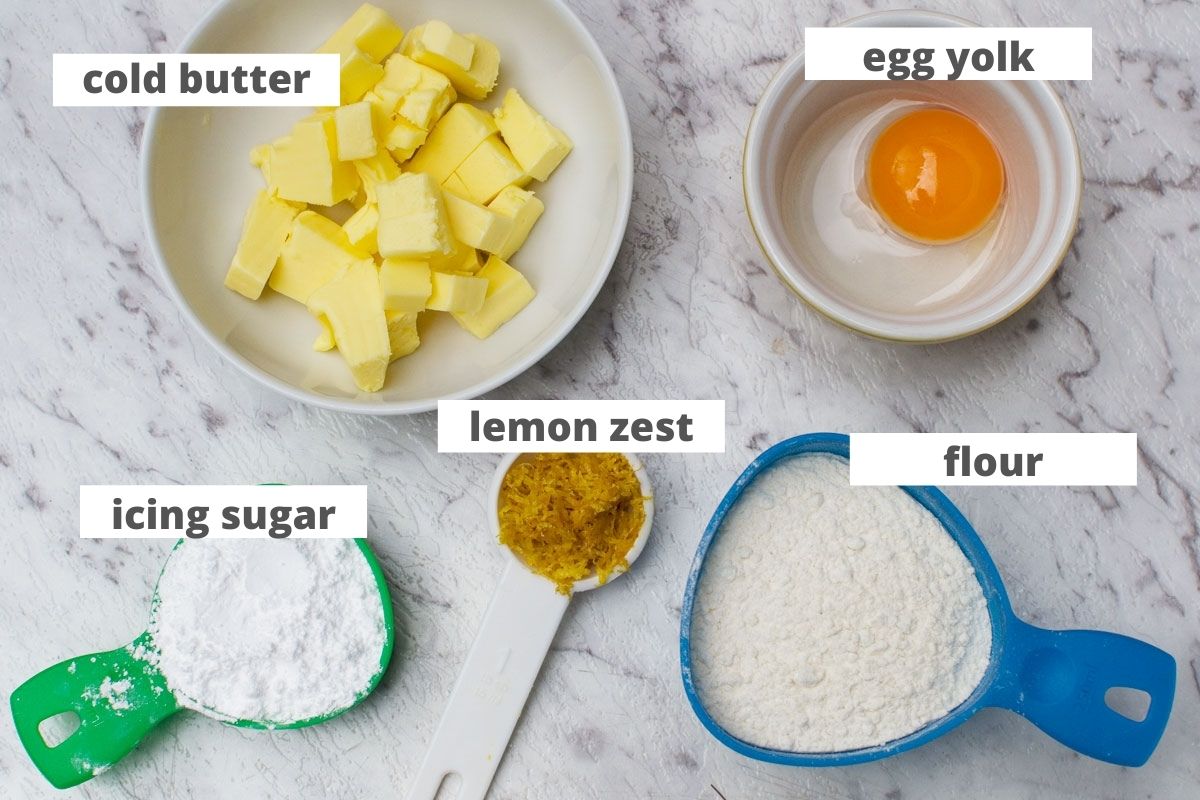 Pastry: You only need 5 simple ingredients. Icing sugar, lemon zest and an egg yolk make it a rich, shortbread-like pastry that's sweet and delicious!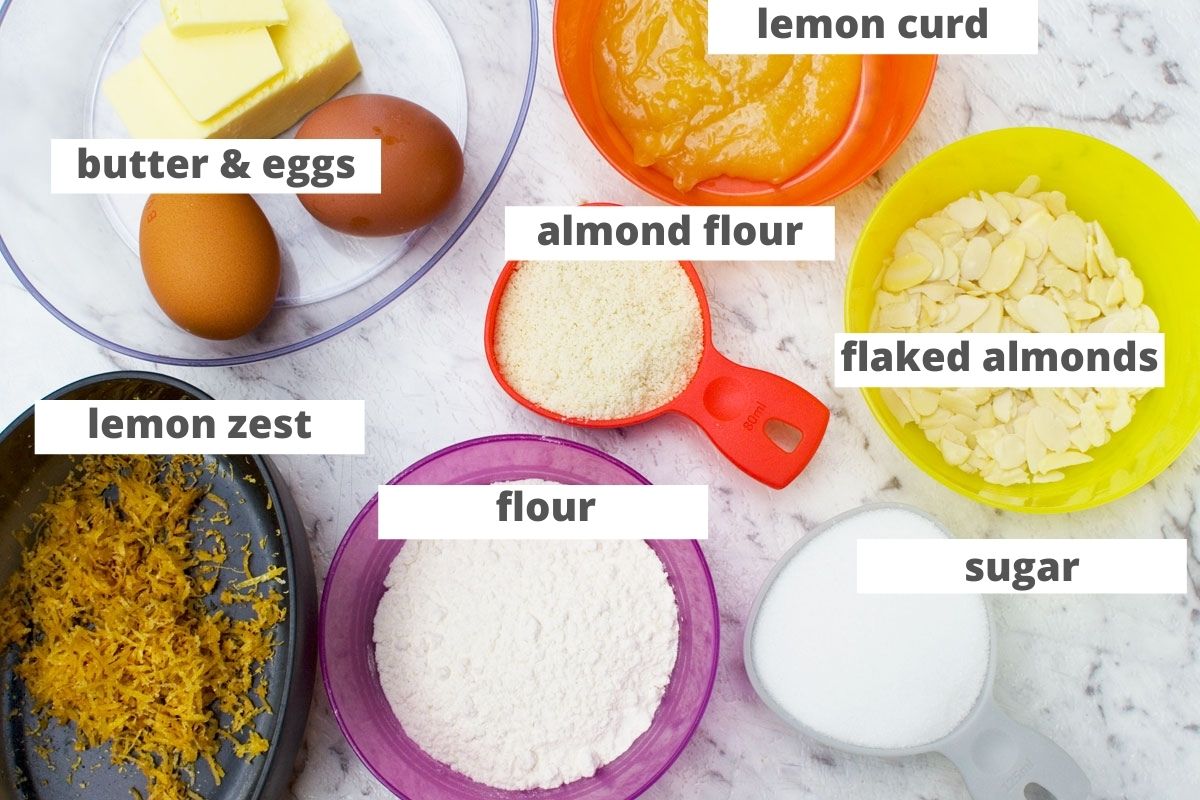 Lemon curd: I use shop bought to keep this traybake as simple as possible. But feel free to make your own if you are that way inclined (or happen to have a lemon tree in your garden!).
Frangipane layer: A light cake layer that contains yet more lemon zest and some almond flour for a very delicious flavour and texture.
Sprinkle flaked almonds on the top of the cake before baking. They get lightly toasted while in the oven, adding a subtle, tasty crunch.
How to make lemon bakewell slices perfectly
The hardest part of this lemon traybake recipe is making the pastry. And even that part isn't really hard.
There are only 5 steps to making the pastry, one step to adding the lemon curd (just spread it on the pastry!) and 2 steps to making the frangipane.
Pastry tips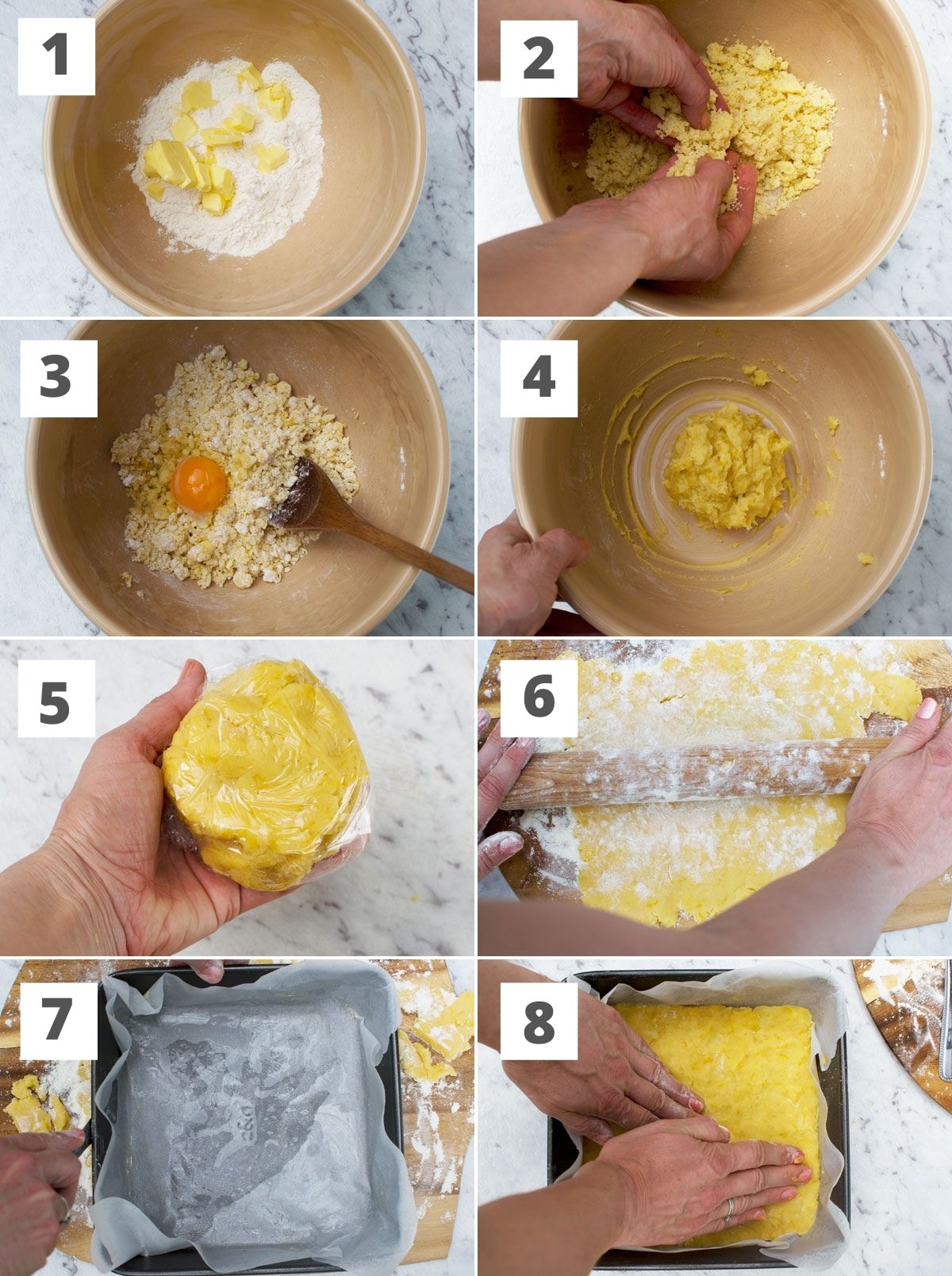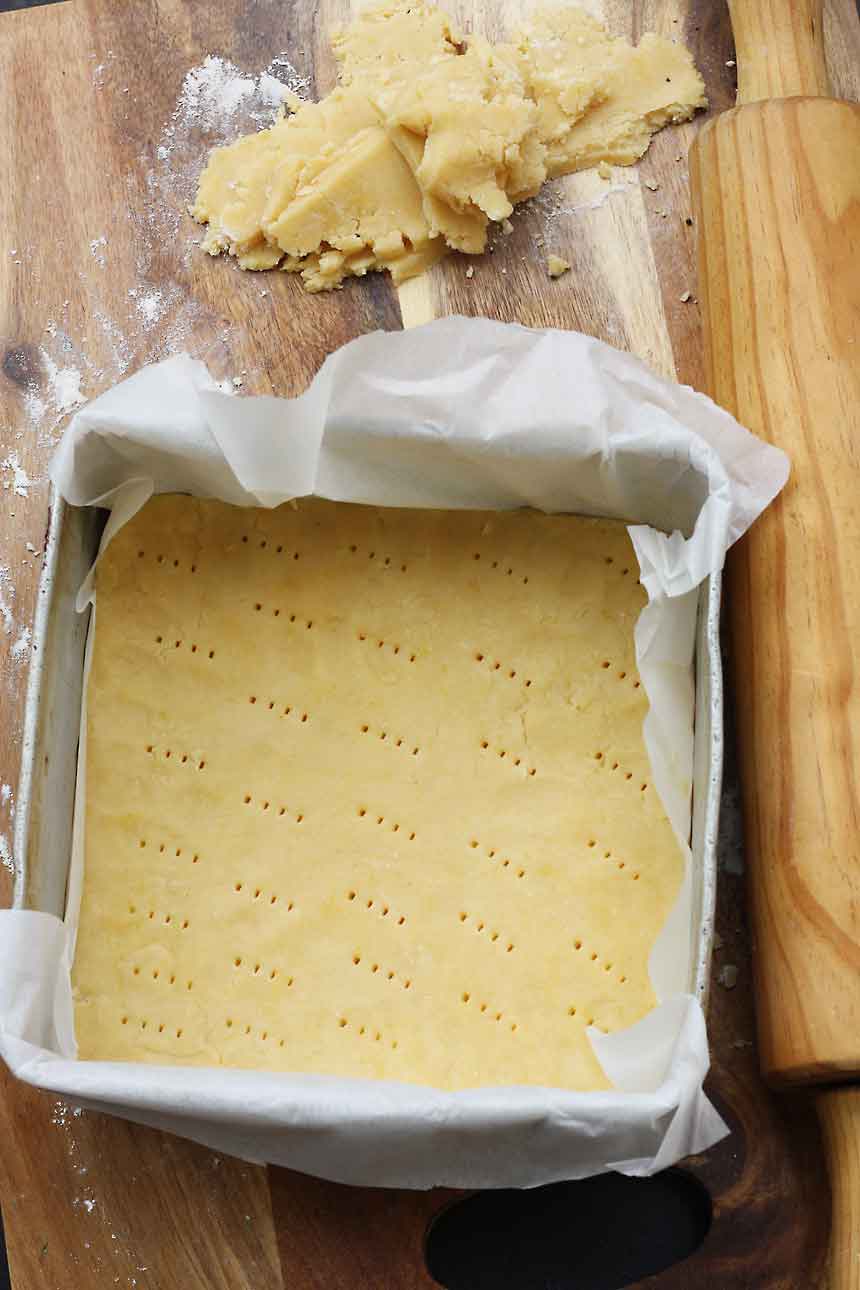 Use cold ingredients. Handle the pastry as little as possible. Just enough to rub the butter into the flour until it resembles fine breadcrumbs.
Stir everything else in, then bring the pastry together with your hands. You might need to add a tiny bit more flour so it isn't ridiculously sticky.
So the pastry is easier to roll out, wrap in plastic wrap / clingflim and chill for around half an hour in the fridge. If it's an especially warm day I sometimes pop it into the freezer instead.
Because the dough is quite soft and a little sticky, I find it sometimes breaks apart when you lift it to put it into the pan. If this happens, just smooth the 'bits' out and press the pastry into the corners with your fingers.
Try not to forget to pre-bake the pastry! I did this one time. The lemon slices were still pretty good, but the pastry layer wasn't crisp enough.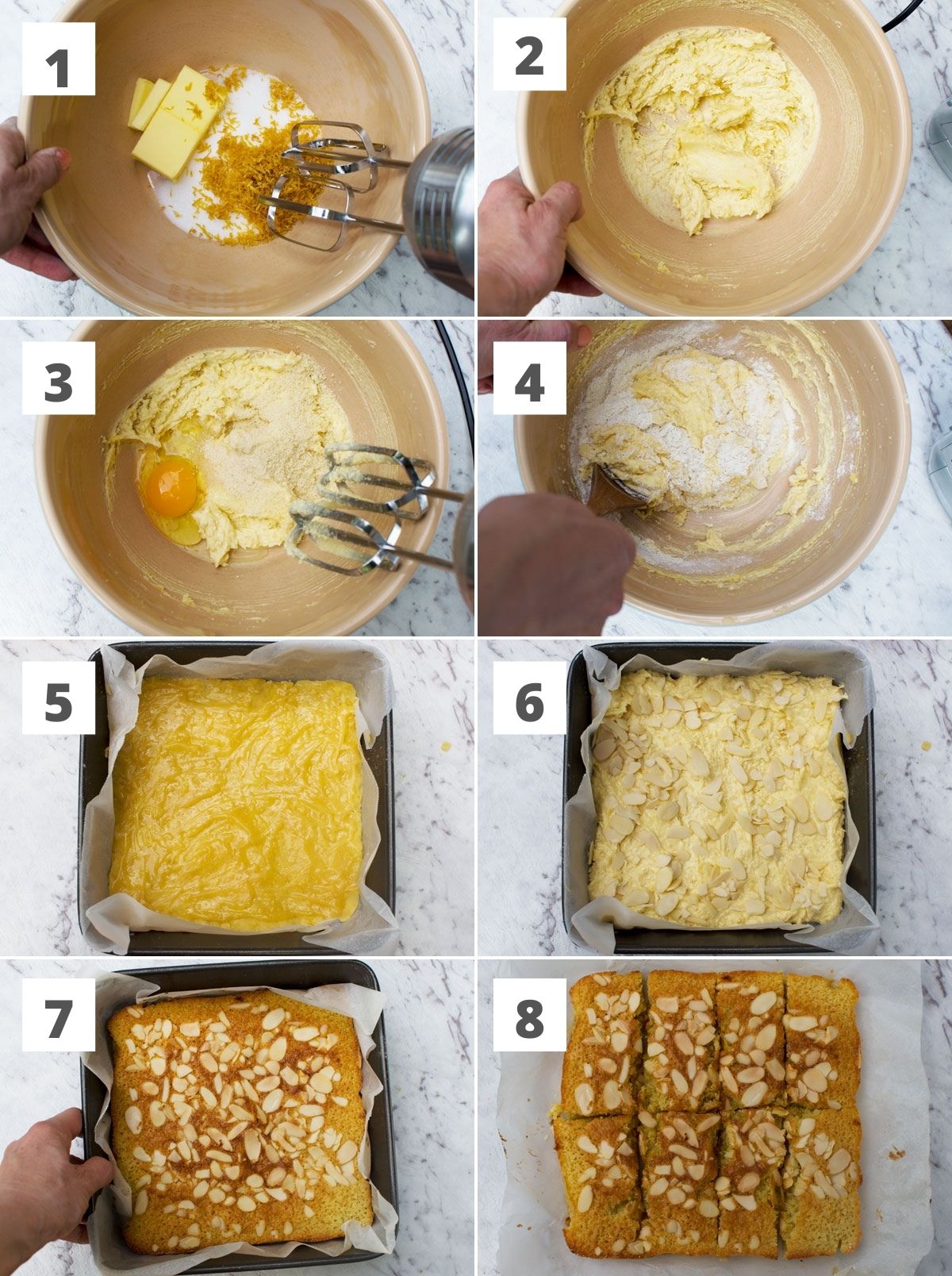 Lemon curd tips
My biggest tip for the lemon curd is… get a good store bought version to keep the cakes simple.
You don't need as much lemon curd as you think you might – only about 3 tablespoons. Don't spread it quite to the edges of the pastry. This will minimize the risk of the slices sticking to the baking paper too much.
Almond frangipane tips
To be honest, this step is pretty fool-proof. Just stir in the eggs, almonds and flour gradually. As always with a cake batter, don't overmix.
Roughly spread the frangipane batter over the top of the lemon curd. It might not seem like enough batter. Don't worry. It is.
The flaked almonds on the top of the cake will go lightly brown in the oven, so no pre-toasting necessary!
Variations to the recipe
The most obvious variation you can make to these lemon slices with almonds is to swap the lemon curd for a different kind of preserve. Raspberry or strawberry jam are obvious choices. The end result will be more like a traditional bakewell slice. If you like you can skip the lemon zest and add a teaspoon of vanilla essence into the frangipane instead.
And here's the 'wild card' option: how about Nutella instead of a preserve?
You can even add some fresh fruit in the frangipane layer. Raspberries or blueberries would work really well.
Did you know cherry bakewell slices are also 'a thing'? Spread the pastry with cherry jam. Then skip the flaked almonds and spread some thick icing (just icing sugar and water or lemon juice) over the top after baking! Glace cherries can be the literal icing on the cake.
I think different kinds of nuts on top are worth trying, too. Pistachios, hazelnuts or even peanuts come to mind.
How about more of an almond slice? Use apricot jam. Skip the lemon zest and instead add a teaspoon of almond extract to the frangipane.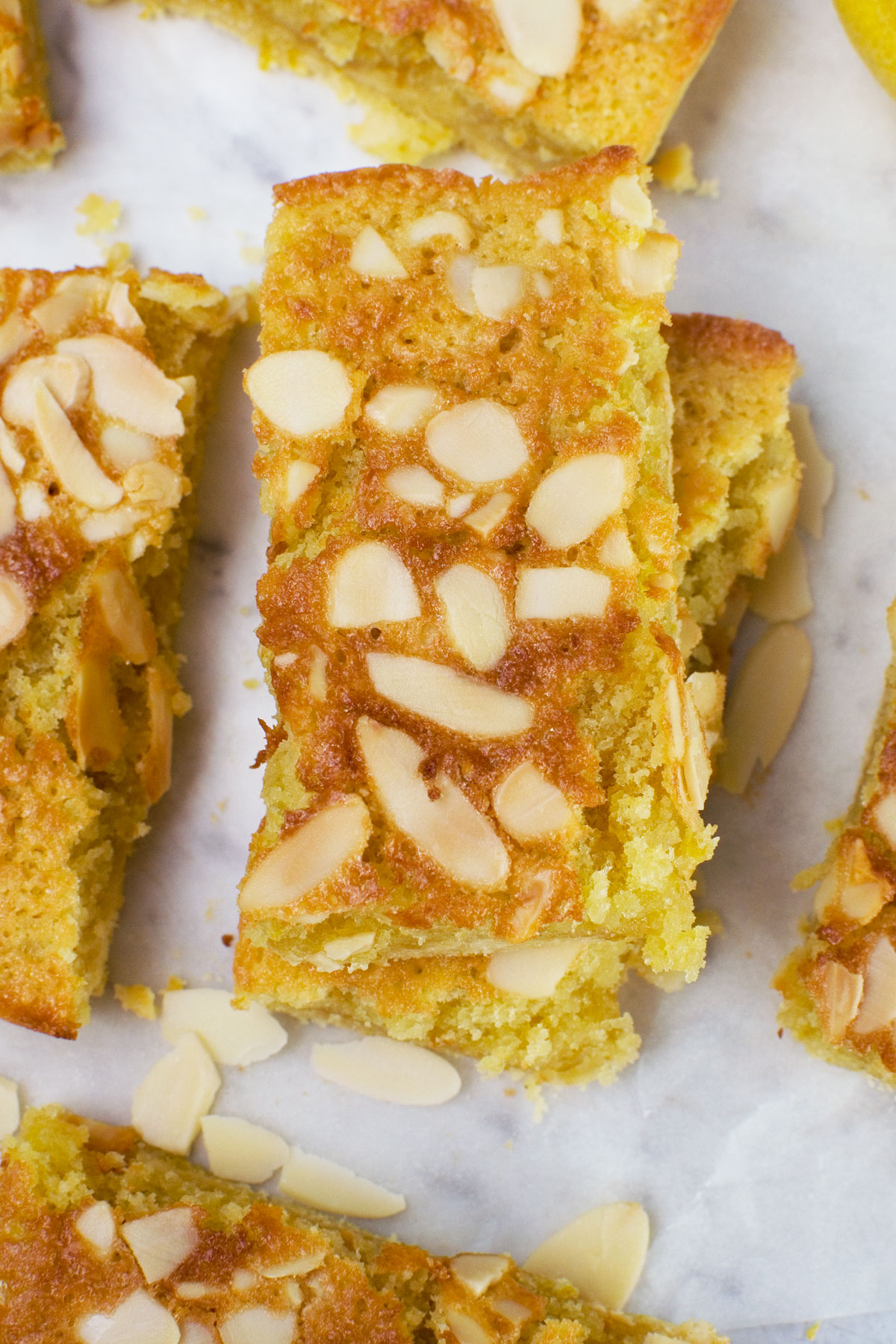 How to serve them
Believe it or not, there are options!
These lemon almond slices are delicious served hot with custard or ice cream. This way they become more of a pudding.
Alternatively you can add a blob of cream or even Greek yoghurt, and another of lemon curd. Yum.
But these are equally good on their own, eaten either at room temperature or chilled.
Can you freeze Bakewell slices?
Yes! They keep well in a sealed container for a few days, and for a bit longer in the fridge.
If you'd like to freeze them, wrap tightly and freeze for up to 3 months.
More cakes for afternoon tea
You can't beat a good vanilla cupcake. But even better if they're healthier cupcakes!
IF YOU MAKE THIS RECIPE, LET ME KNOW HOW YOU GET ON BY LEAVING A COMMENT AND RATING BELOW… AND DON'T FORGET TO SIGN UP TO RECEIVE ALL MY NEW RECIPES BY EMAIL!
FOLLOW ME ON FACEBOOK, INSTAGRAM, PINTEREST AND YOUTUBE.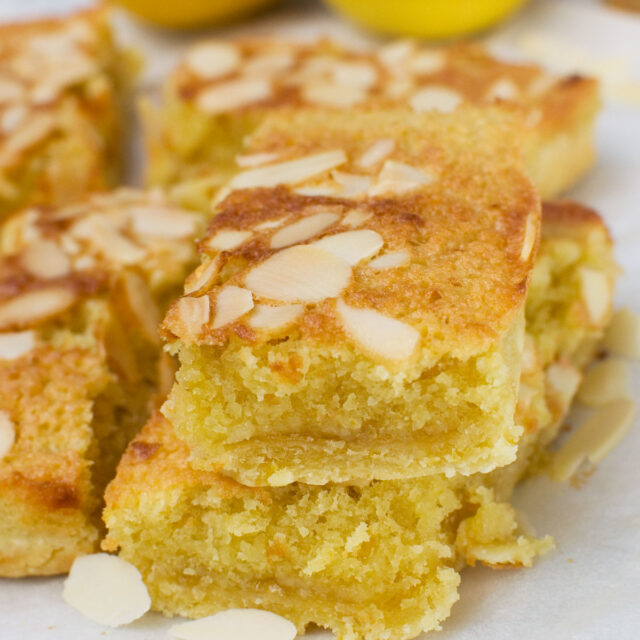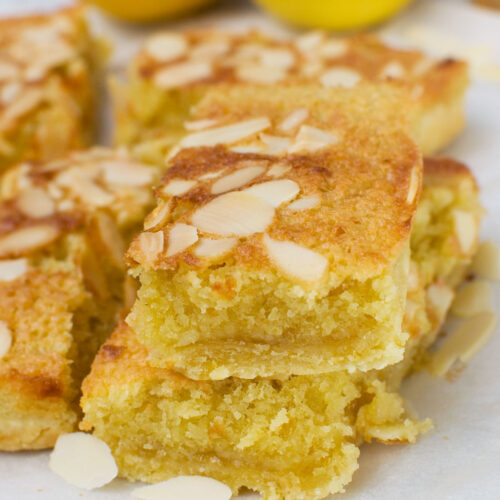 Lemon Bakewell slices
This dessert sounds and possibly looks complicated, but it isn't at all! It's just a simple sweet pastry layer topped with lemon curd and almond frangipane layers. Lemon bakewell slices are a traditional British dessert with a lemon twist…. enjoy!
Ingredients (UK/Australia? Click below for grams/ml)
For the pastry
1¼

cups

plain flour

3

ounces

butter

(6 tablespoons) chopped into small pieces

3

tablespoons

icing sugar

zest of 1 lemon

1

egg yolk

plus 1 tablespoon water
For the other layers
3½

ounces

butter

(7 tablespoons) at room temperature

⅓

cup

caster sugar

zest of 2 lemons

2

large eggs

¾

cup

ground almonds

2

tablespoons

plain flour

3

tablespoons

lemon curd

2

tablespoons

flaked almonds
Instructions
In a large bowl, quickly rub the butter into the flour with your fingertips until it resembles fine breadcrumbs.

Stir in the icing sugar and lemon zest, then add the egg yolk and tablespoon of water. Mix lightly then bring the dough together with your hands. Wrap in plastic wrap and chill for at least half an hour.

Pre-heat the oven to 350F/180C. Line a baking tin (about 20×20 cm or 8×8 inches) with baking paper and grease it well with a little butter.

When the pastry has chilled, roll it out so that it's a little bigger than the baking tin. Then place the baking tin on top of it and cut around it with a sharp knife. Use this square of pastry to line the bottom of your tin, making sure you push it right into the corners. Bake for 10 minutes.

Meanwhile, make your filling. Beat together the butter, sugar and lemon zest with a handheld whisk until light and creamy-looking. Gradually add the eggs and ground almonds, then stir in any remaining ground almonds and the flour.

Roughly spread the lemon curd over the pastry base (don't go right to the edge, to stop the curd layer from sticking to the baking paper while cooking). Then top with the almond filling and smooth down with a spatula or the back of a metal spoon.

Scatter over the flaked almonds, then bake for 15 to 20 minutes, until the top of the dessert is lightly golden.

Cut into 8 slices, then serve warm with ice cream, custard or cream or cold, by itself.
Notes
Pastry: Use cold ingredients and handle as little as possible. The dough might be quite soft and sticky, but it'll be easier to roll out after chilling. If it breaks up while pressing into the cake pan, just patch it up and smooth it over. It'll be fine!
I usually make the pastry by hand, but you can also make it in a food processor. Again, don't overmix. Pulse just until a pastry ball forms.
Frangipane layer: Don't overmix. Just mix until well combined for the lightest, fluffiest result.
Nutrition
Calories:
341
kcal
Carbohydrates:
27
g
Protein:
5
g
Fat:
25
g
Saturated Fat:
13
g
Trans Fat:
1
g
Cholesterol:
115
mg
Sodium:
199
mg
Potassium:
55
mg
Fiber:
1
g
Sugar:
15
g
Vitamin A:
667
IU
Calcium:
33
mg
Iron:
1
mg