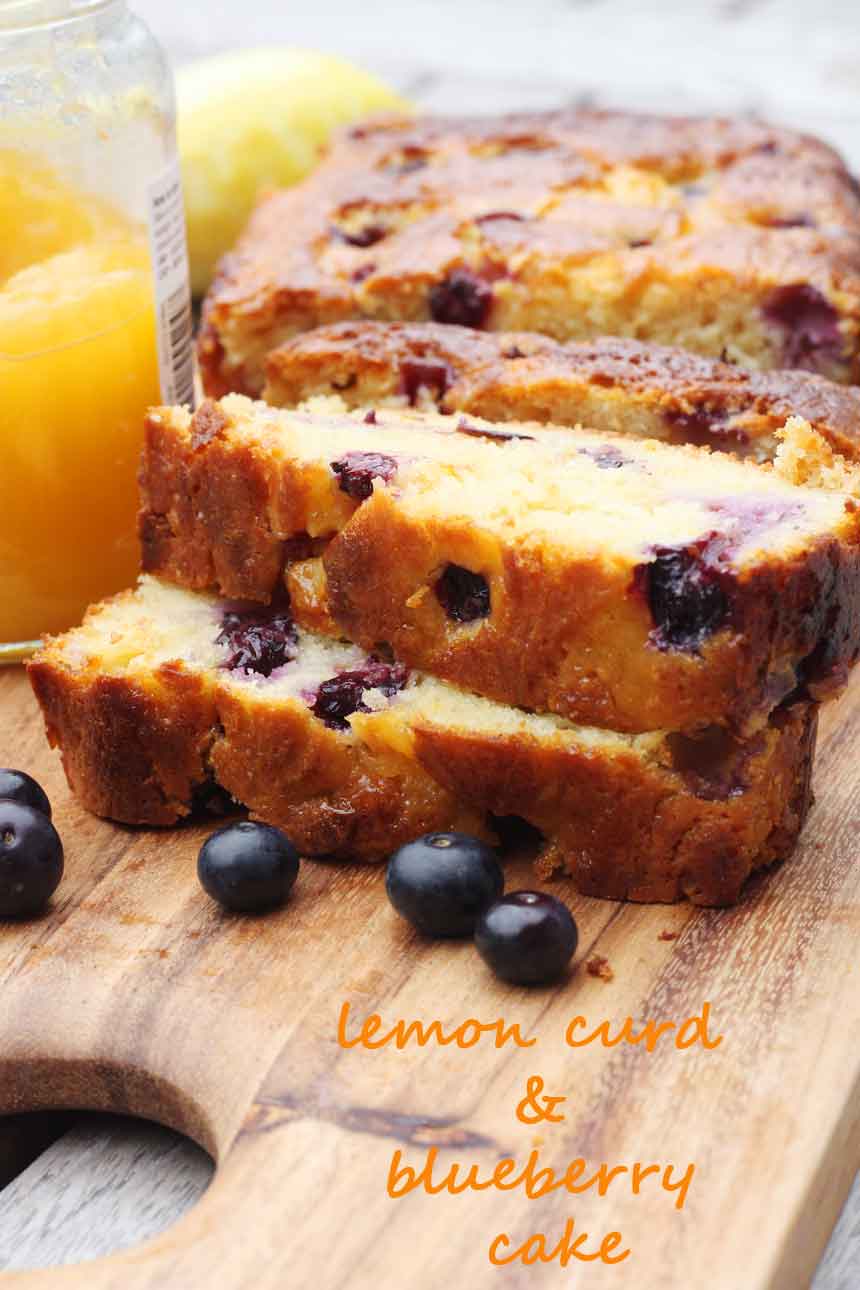 Let's play a little game today, shall we? I'm going to give you some clues and you have to try to guess what I'm describing.
Come on, admit it, you're just a little bit excited now, aren't you?
OK, so here goes …
You can find the most expensive 'incarnation' of this in the world at the Ritz Carlton in Hong Kong. It costs up to an eye-watering $8,888.
Some top London hotels are putting on up to six sittings per day for this very popular tourist 'must-do'. They are always trying to out-do each other, but the current 'best' can apparently be found at Claridge's Hotel in Mayfair.
Lady Violet invited her daughter-in-law Cora to the Dower House for this in Downton Abbey, if any of you are into that.
Now for a couple of easier ones …
A little girl called Alice experienced a very 'mad' one of these.
At a very traditional, old-fashioned version of this, you might find yourself nibbling on dainty cucumber sandwiches with the crusts cut off.
Have you guessed yet? OK, I know, not so difficult. But just in case you are still guessing … it's afternoon tea, of course!
Apparently, we owe this very English tradition of afternoon tea to one of Queen Victoria's ladies in waiting, the Duchess of Bedford, who one day complained of a 'sinking feeling' mid-afternoon. I certainly know how she feels as I get that feeling myself nearly every afternoon, especially on work days. Anyway, this crafty little duchess requested some sandwiches and small cakes with her cup of tea. Queen Victoria herself approved and thus was born 'afternoon tea'.
I've always loved a nice hot cup of 'cha' any time of day, but especially just after waking up. I wouldn't thank you for a cup of coffee before about 10am, but bring me a cup of tea first thing in the morning and you can be my very best friend! Fortunately I now have Mr. Scrummy pretty well trained and he brings me one most days. Anyway, I'm digressing a little here. Despite being a life-long tea lover, the only days I find myself craving some kind of proper 'afternoon tea' as such is on those (usually weekend) days after a long lazy breakfast when I'm not hungry enough for lunch but can't quite make it to dinner time without some kind of snack.
It was on one such day as this a couple of weeks ago when Mr. Scrummy and I had been out somewhere with my parents and come home feeling very ready for a little bite of 'something' that was tasty but that wouldn't ruin our appetite for dinner. So … I decided to make us an afternoon tea. Not one of the Lady Violet, Claridge's, Alice, the Ritz Carlton or Queen Victoria variety with cucumber sarnies and jam and clotted cream scones. No. Instead, I made slow-roasted tomato and ricotta bruschetta (which was pretty much to-die-for, if you don't mind me blowing my own trumpet a little here) followed by this sticky lemon curd & blueberry cake which I found on the very useful BBC Good Food website and adapted a teensy bit.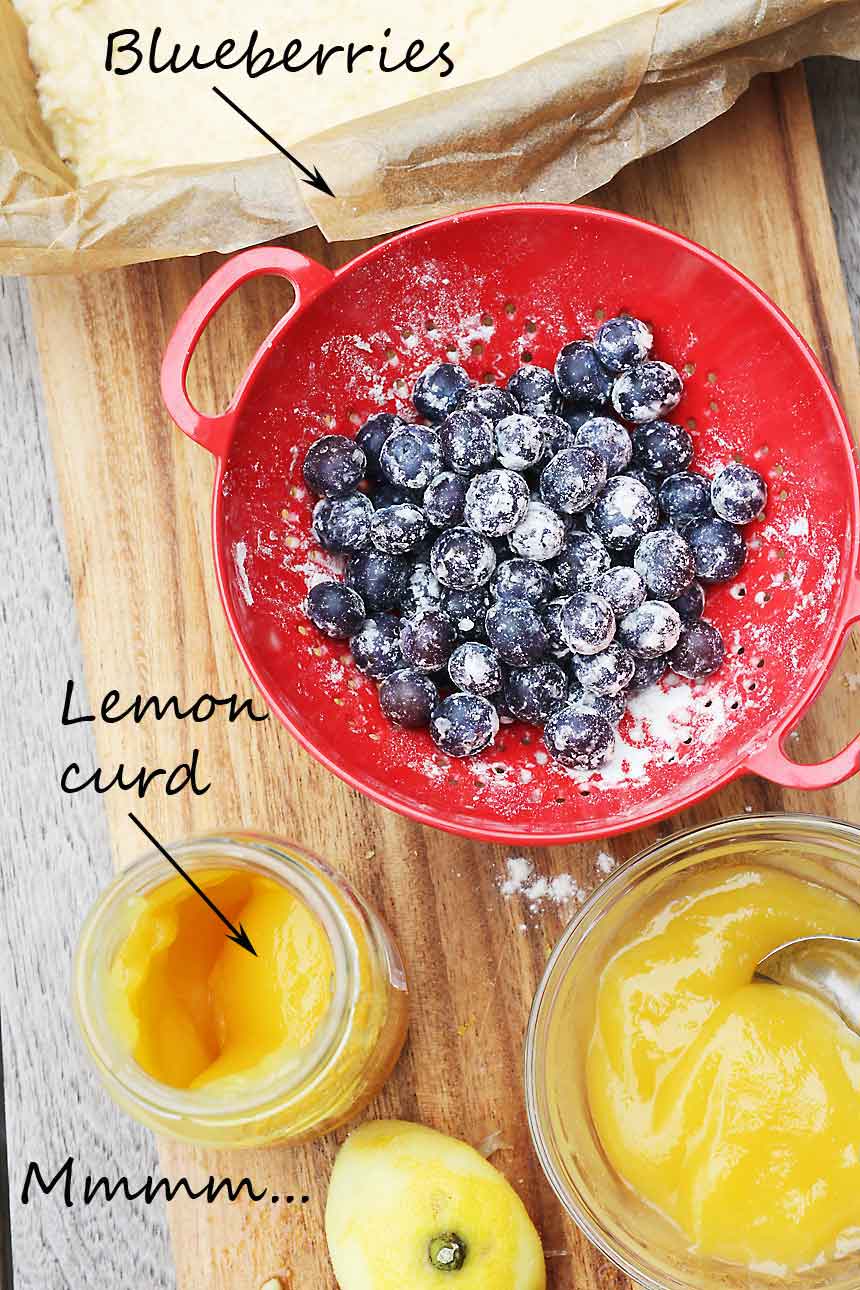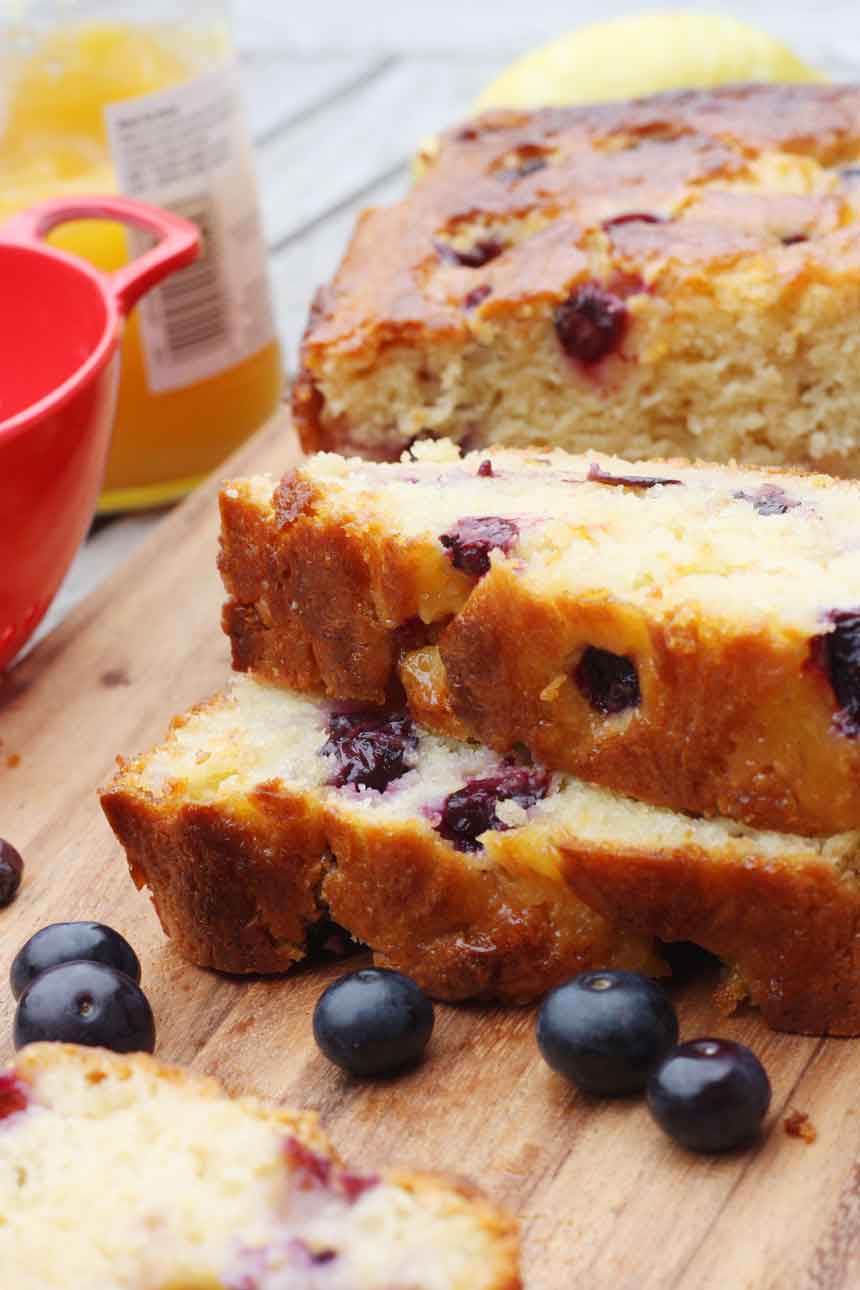 Well, let me tell you, I got plenty of 'oohs' and 'ahs' from my family for this one when I served slices of it still a little warm with a dollop of Greek yoghurt and some extra lemon curd and blueberries over the top.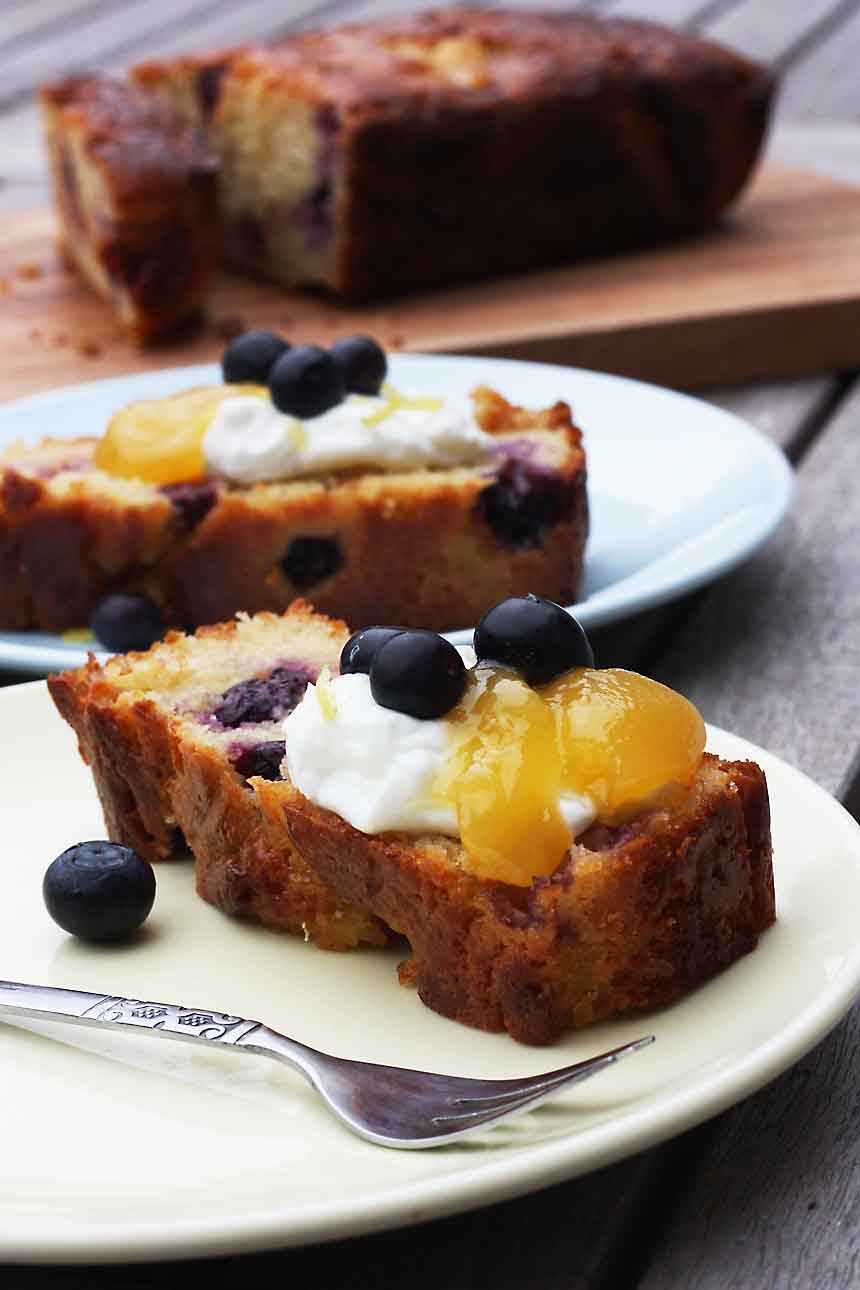 Not only was it delicious, but the cake also ended up being a bit more of a looker than I was expecting. I rolled the blueberries in flour so they wouldn't sink and poked half of them into the top of the cake, where happily they still were when it came out of the oven. I also swirled half of the lemon curd into the top of the cake, as swirling things into cakes seems to have become one of my favourite pastimes lately. This left it looking sticky and almost glistening … mmm, wonderful!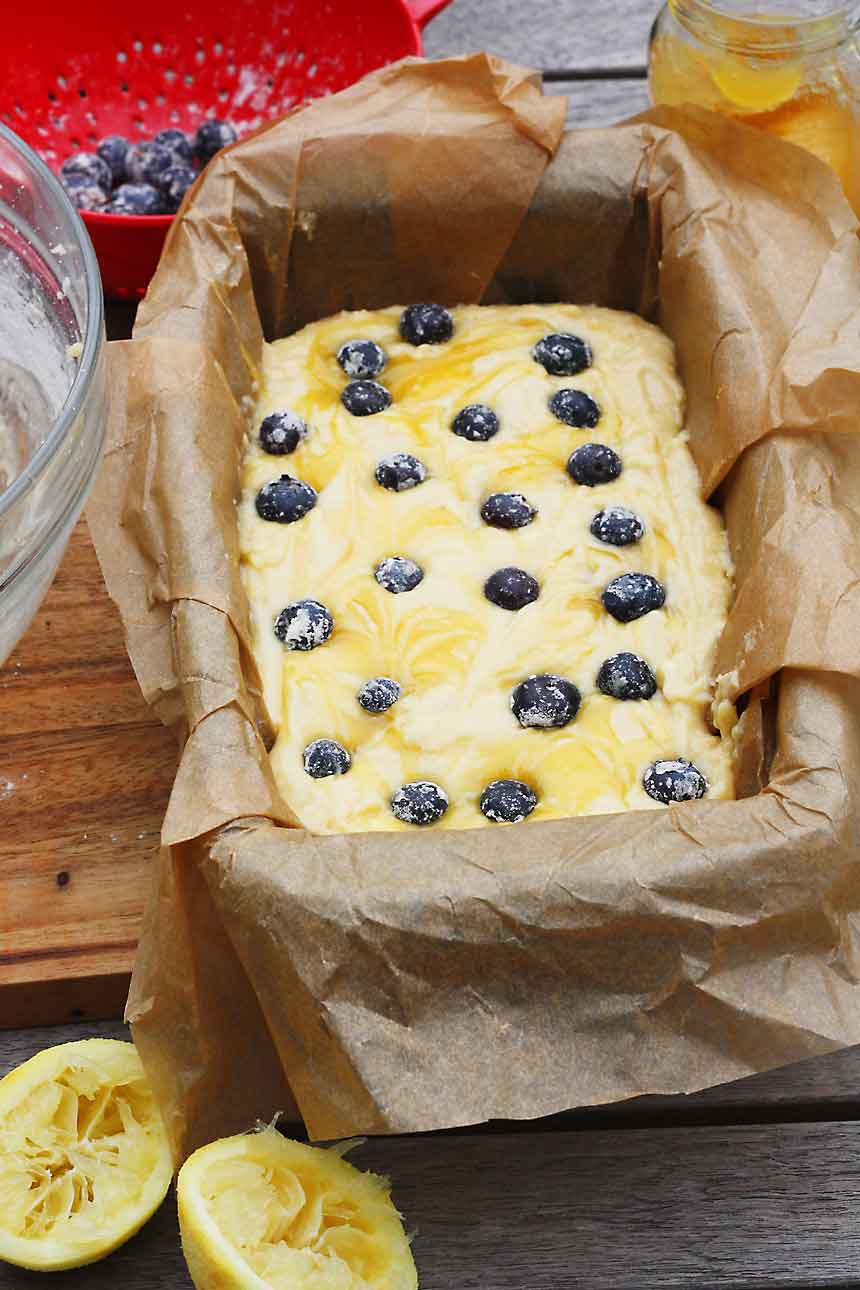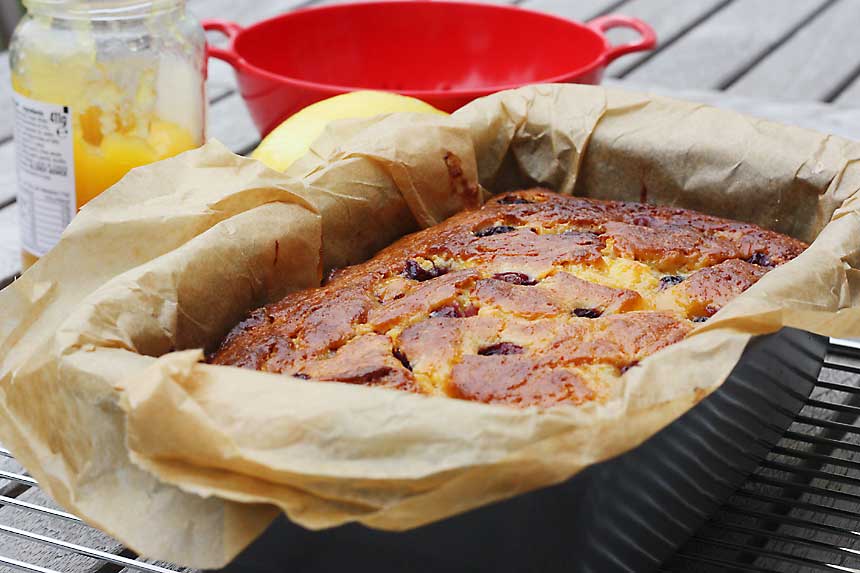 It didn't end up all that sweet, either, because I reduced the sugar in the original recipe by about a third. I guessed that the other half of the lemon curd blobbed through the cake batter would make it sweet enough, which it definitely did.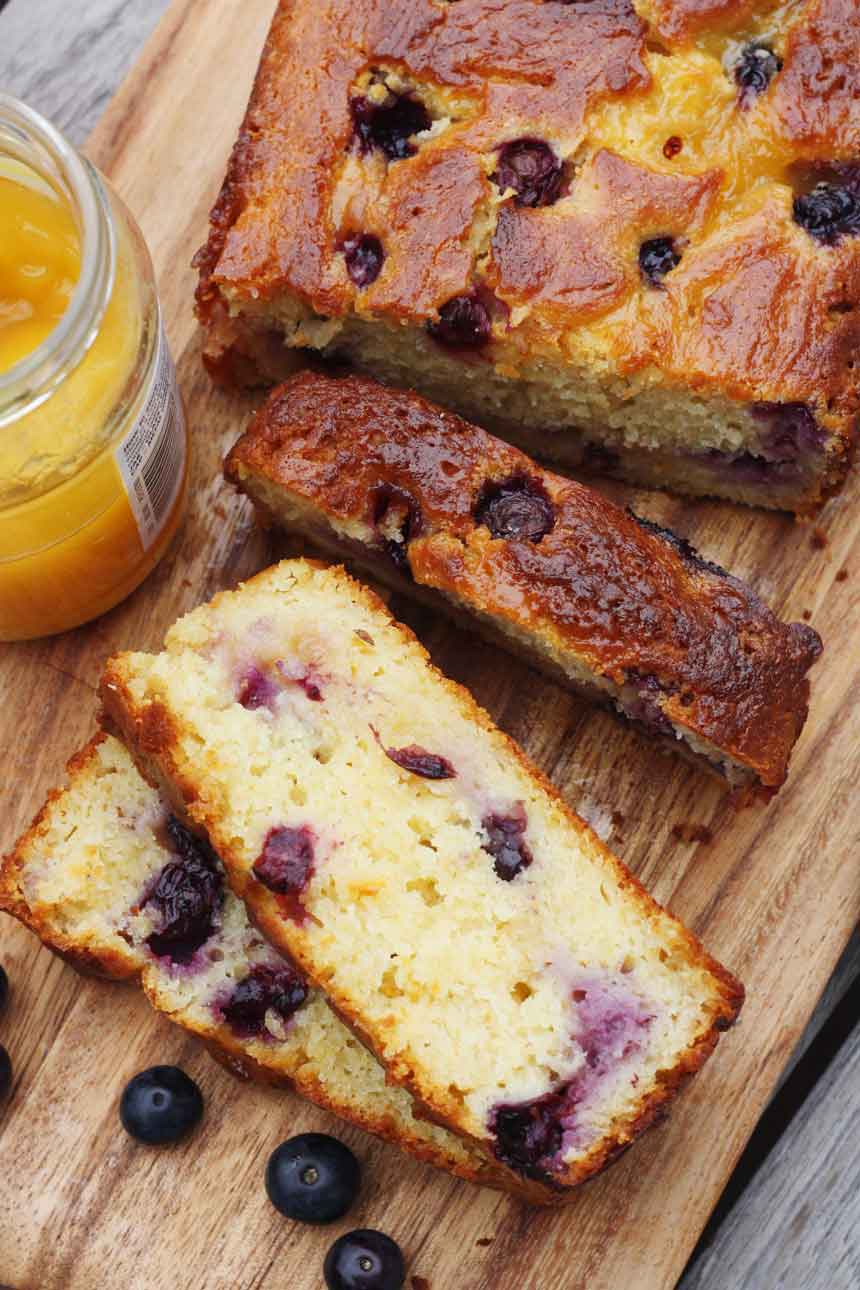 I truly enjoyed our little snack and have a feeling that this is going to become my go-to cake for any future easy-to-put-together afternoon teas … which I definitely intend to have.
Have you ever had a proper English-style afternoon tea before complete with the tiny crustless sandwiches and dainty cakes? Do you ever get a craving for 'afternoon tea' at home and if so, what's your 'poison' (aka cake, sandwich, scone, other snack) of choice? 
Sticky lemon curd & blueberry cake
Serves: Makes 1 loaf cake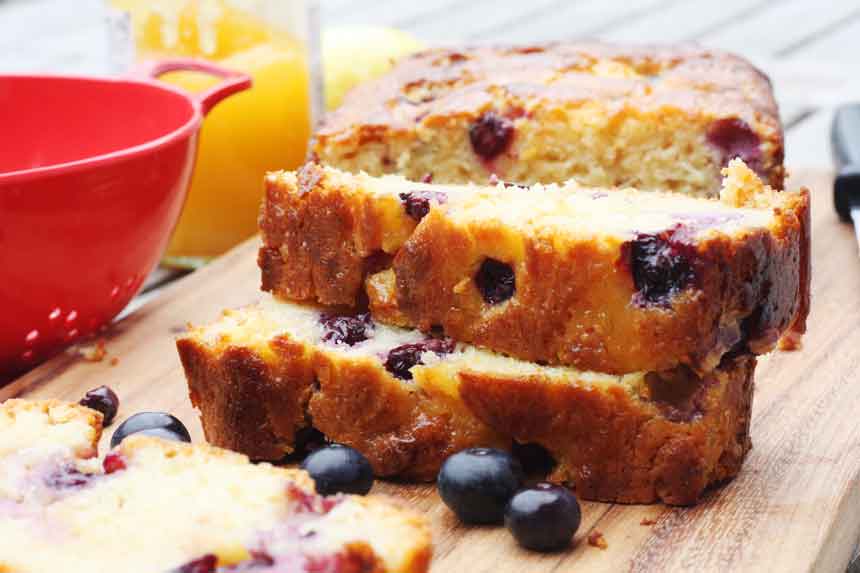 A beautiful sticky and yet not overly sweet loaf cake packed with fresh blueberries and pockets and swirls of lemon curd. Perfect for a lazy afternoon tea.
Ingredients
6 ounces/175 grams butter, softened
about 4.5 ounces/125 grams caster sugar
3 eggs
3.5 ounces/100 grams Greek yoghurt, plus extra to serve
7 ounces/200 grams self-raising flour
zest and juice of 1 lemon
2 to 3 tablespoons lemon curd plus extra to serve
about 4.5 ounces/125 grams blueberries
Instructions
Pre-heat the oven to 320F/160C and line a loaf tin (I used a 9 x 5 inch tin similar to this one) with baking paper.
Cream together the butter and sugar with a handheld mixer or a wooden spoon. Whisk in the eggs one by one, then stir in the yoghurt. Fold through the flour, then stir in the lemon zest and juice.
Roll most of the blueberries lightly in flour (this stops them from sinking).
Pour a layer of cake batter into the prepared baking tin, then dollop and slightly swirl some of the lemon curd over it. Scatter some of the blueberries on top, then pour in the rest of the batter. Finally, dot the rest of the lemon curd on top and swirl it a little again and lightly press in the rest of the floured blueberries.
Bake the cake for about 1 hour and 10 minutes or until it is golden and a skewer pushed into the centre comes out clean.
Cool the cake in the tin for a while, then lift onto a cooling rack. Serve when the cake is still slightly warm with a dollop of Greek yoghurt and reserved blueberries on top.
I hope you enjoyed this post! You can subscribe to receive posts directly to your inbox by entering your email address in the box below or at the top of the sidebar on the right.
You can also find more from Scrummy Lane on Facebook, Pinterest, Twitter and Instagram and follow me on Bloglovin! Thanks so much for reading!
*This post contains affiliate links which means that if you click on a link and make a purchase I get a small percentage of the amount you spend. At no extra cost to you, of course! Thank you!*