This beautifully easy lemon curd cake is a sticky but not overly sweet loaf cake packed with pockets and swirls of lemon curd and fresh blueberries. It's moist, buttery and full of tangy lemon flavor – a delicious treat perfect for a brunch gathering, Mother's Day, or just a lazy afternoon tea.
Why you'll love it
✔ Perfect for a gathering. Whether it's for an afternoon tea, picnic, Mother's day or even a dinner party dessert, you won't go wrong with this!
✔ A fresh and summery taste. The classic lemon blueberry combination just screams summer, right? The tangy lemon curd and fresh tart blueberries complement the sweetness of the cake perfectly.
✔ Impressive and easy to make. The swirls of lemon curd and blueberries make this cake look impressive, but it's made with just 8 simple ingredients and is so easy to pull together.
✔ Keeps well. This cake stays moist and delicious for several days, making it a great option for a make-ahead dessert.
✔ A great way to use up leftover lemon curd! Don't leave it languishing in the pantry…
5* reviews
"This is one of THE most delicious cakes I've ever made or eaten. Thank you!!!!" Deb
"This recipe has become a family favorite. So easy to make and absolutely delicious! Will be trying more of your recipes if they are as good as this!!!" Nicola
About the ingredients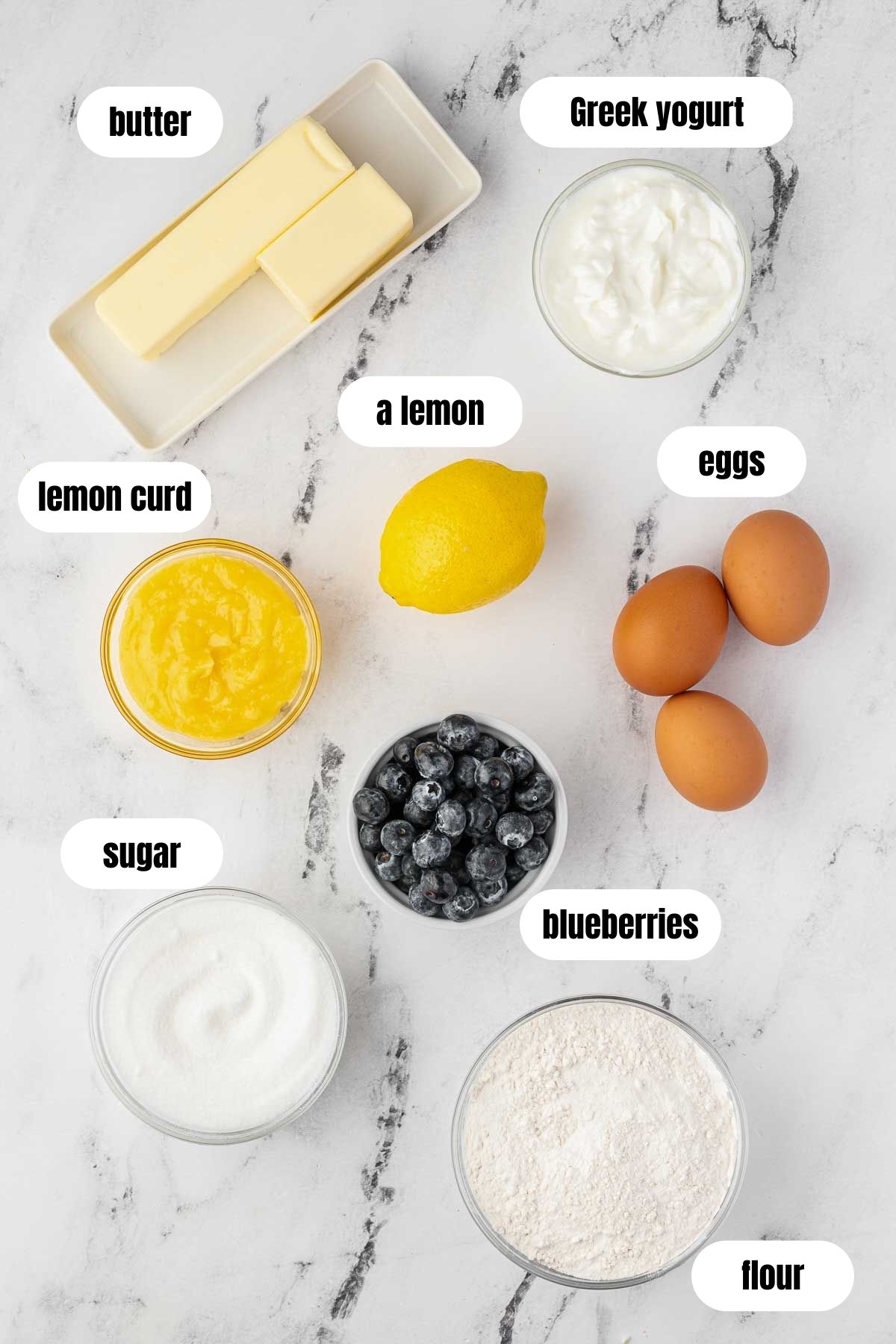 Butter: Real (unsalted) butter will give your cake a delicious buttery taste.
Sugar: I usually use caster sugar/superfine sugar, but regular white sugar is fine as well.
Eggs: You'll need 3 large eggs.
Greek yogurt: I use Greek yogurt a lot in both sweet and savory recipes. I always try to use an authentic brand containing just milk and live cultures. The yogurt adds extra tang, moisture and protein to the cake!
Flour: To make the recipe super easy, I use self-raising flour (Note: NOT self rising flour, which is different). It's fine to use all-purpose flour + 1 and 1/4 teaspoons of baking powder + 3/4 teaspoon salt instead if you don't have self-raising flour on hand.
A lemon: A small to medium sized lemon which gives you around 2 tablespoons of juice. You'll add both the juice and zest to the cake batter for plenty of tangy lemon flavor.
Lemon curd: Honestly… any brand will work well! No need to make your own lemon curd. However, if you'd like to try, it's actually really easy! Check out this 5-ingredient lemon curd recipe from Sally's Baking Recipes.
Blueberries: I do usually use fresh blueberries in this recipe, but there's no reason why you can't use frozen blueberries instead if you like.
Fun fact: Legend has it that lemon curd was invented in the 19th century by some clever English bakers. They wanted to preserve their precious lemons since they could be hard to come by back then. They mixed lemon juice, sugar, eggs, and butter in a top-secret recipe until it magically transformed into the delicious spread with a zingy kick that we know and love today.
How to make a lemon curd cake
The step-by-step guide below should help you make the recipe perfectly first time. Scroll down to the end for the full recipe including ingredient amounts.
All you really need to make this easy lemon curd cake is a big bowl, an electric hand mixer and a loaf pan to bake your cake in. It's so easy to pull together in a few simple steps!
Firstly, cream the butter and sugar together using a hand held whisk (or stand mixer if you prefer) on a medium speed until the mixture is pale and fluffy (usually 2 to 3 minutes).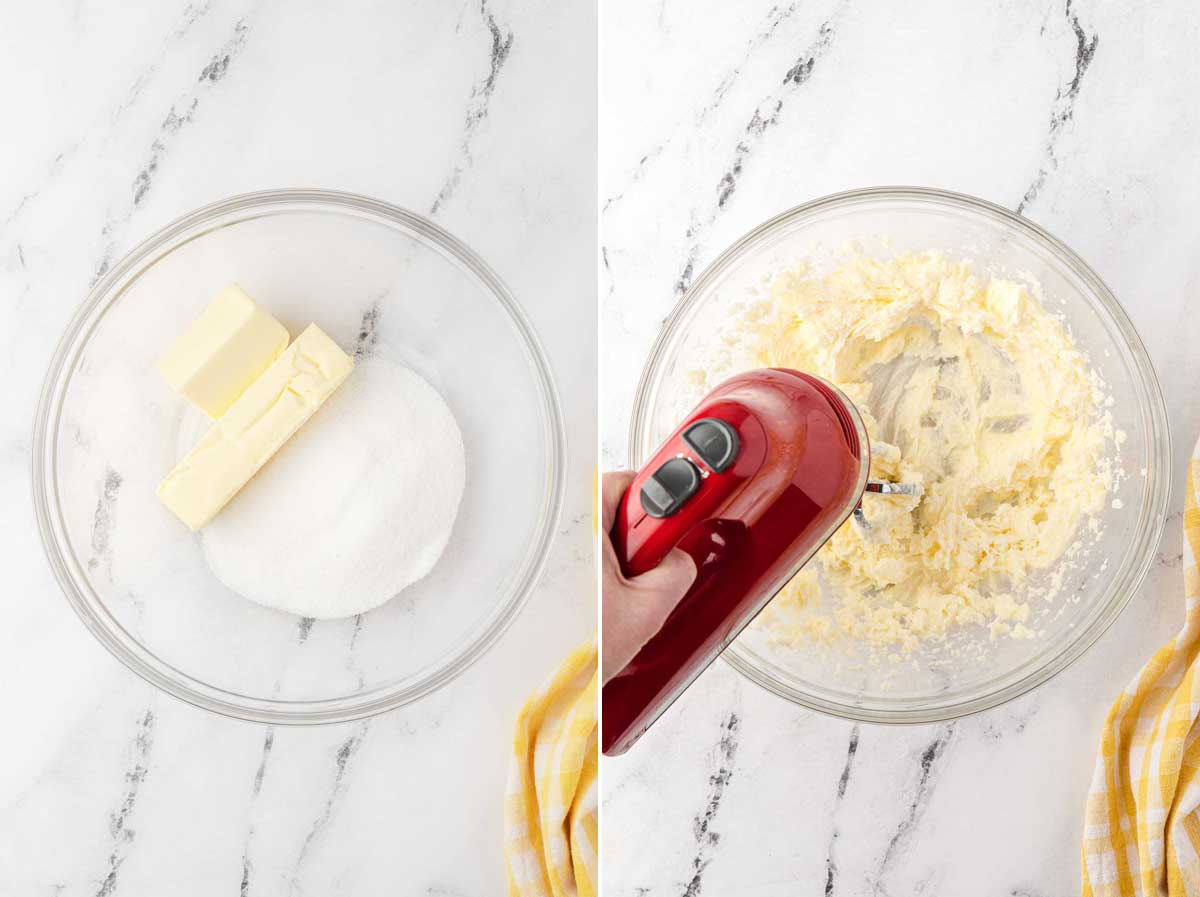 Then slowly whisk in the eggs, one by one until well combined.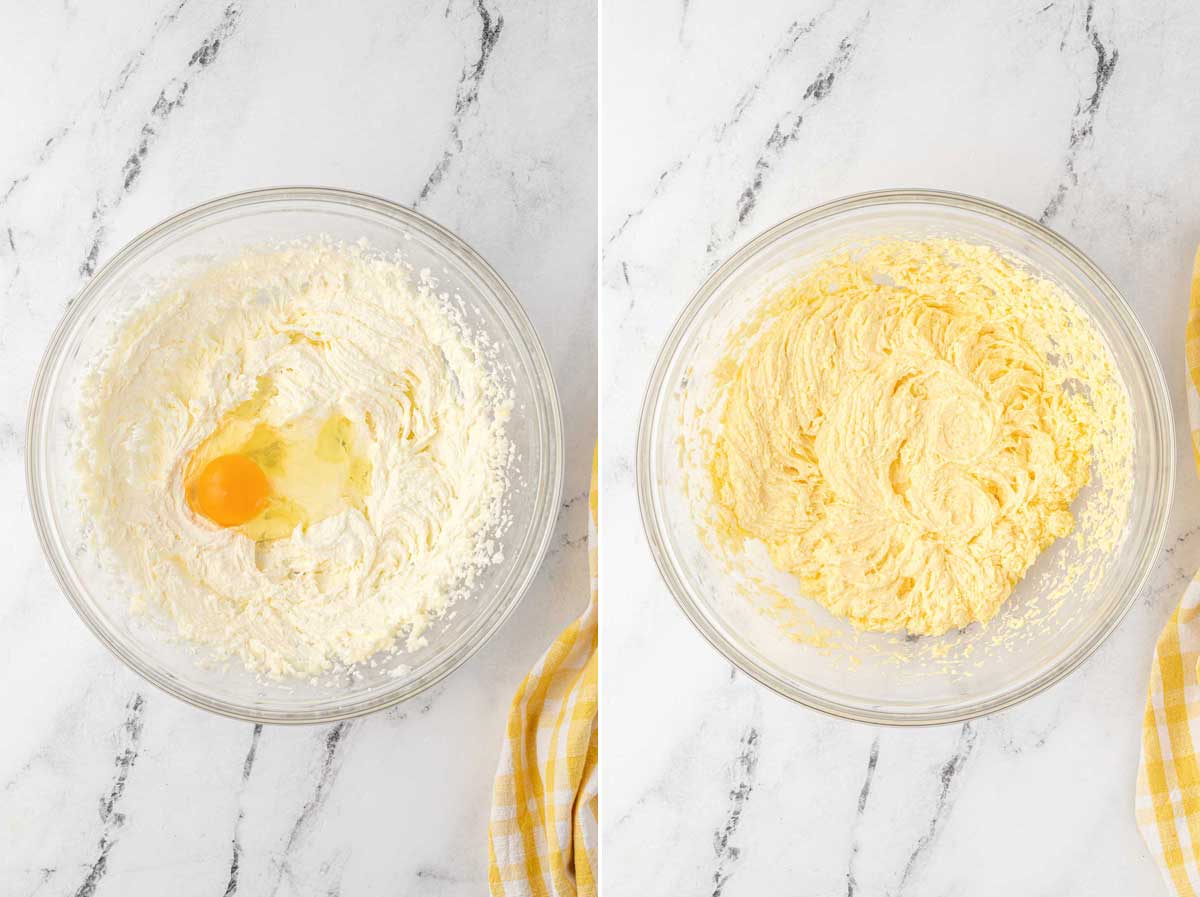 Next, stir in the yogurt. Then fold through the flour.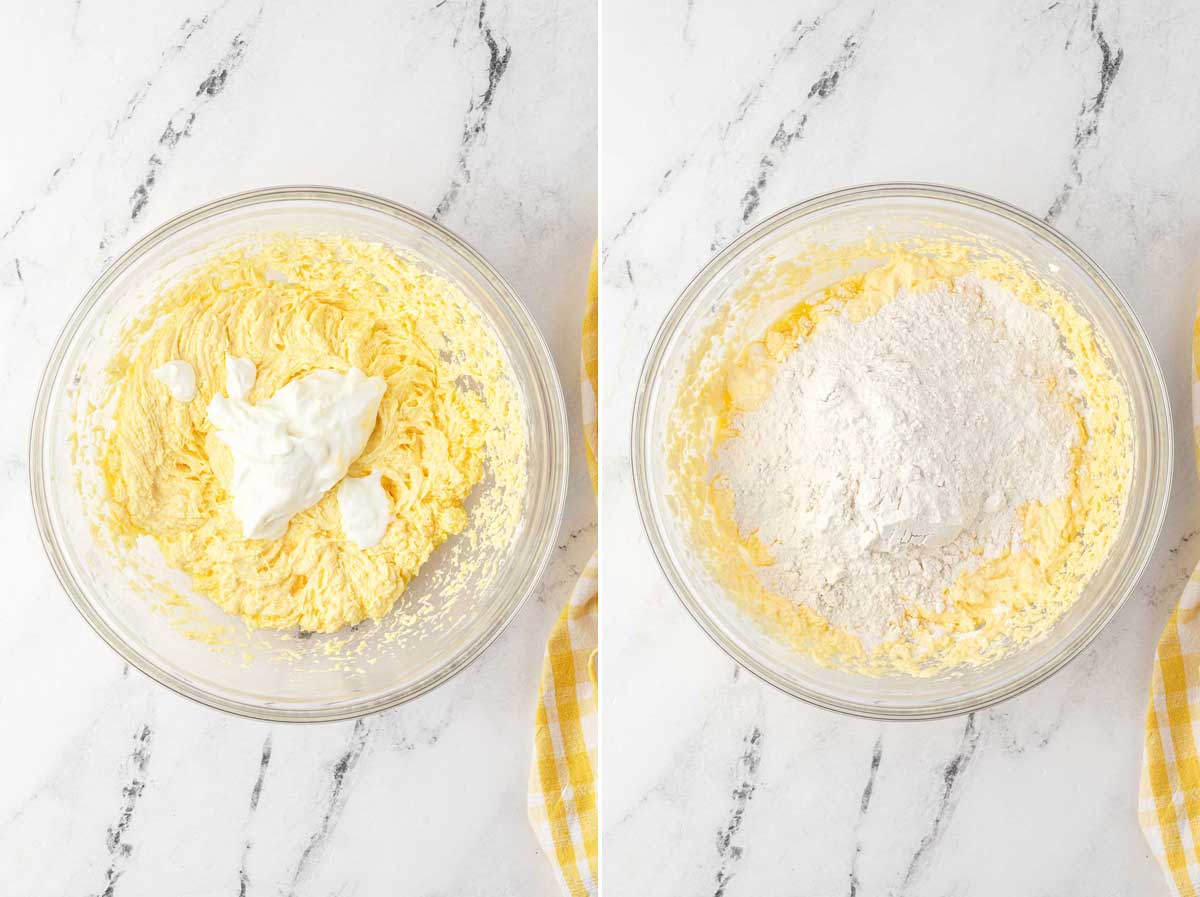 Stir in the lemon zest and juice to complete the cake batter.
Then roll the blueberries in a little flour (not essential but helps the blueberries to not sink right to the bottom while baking).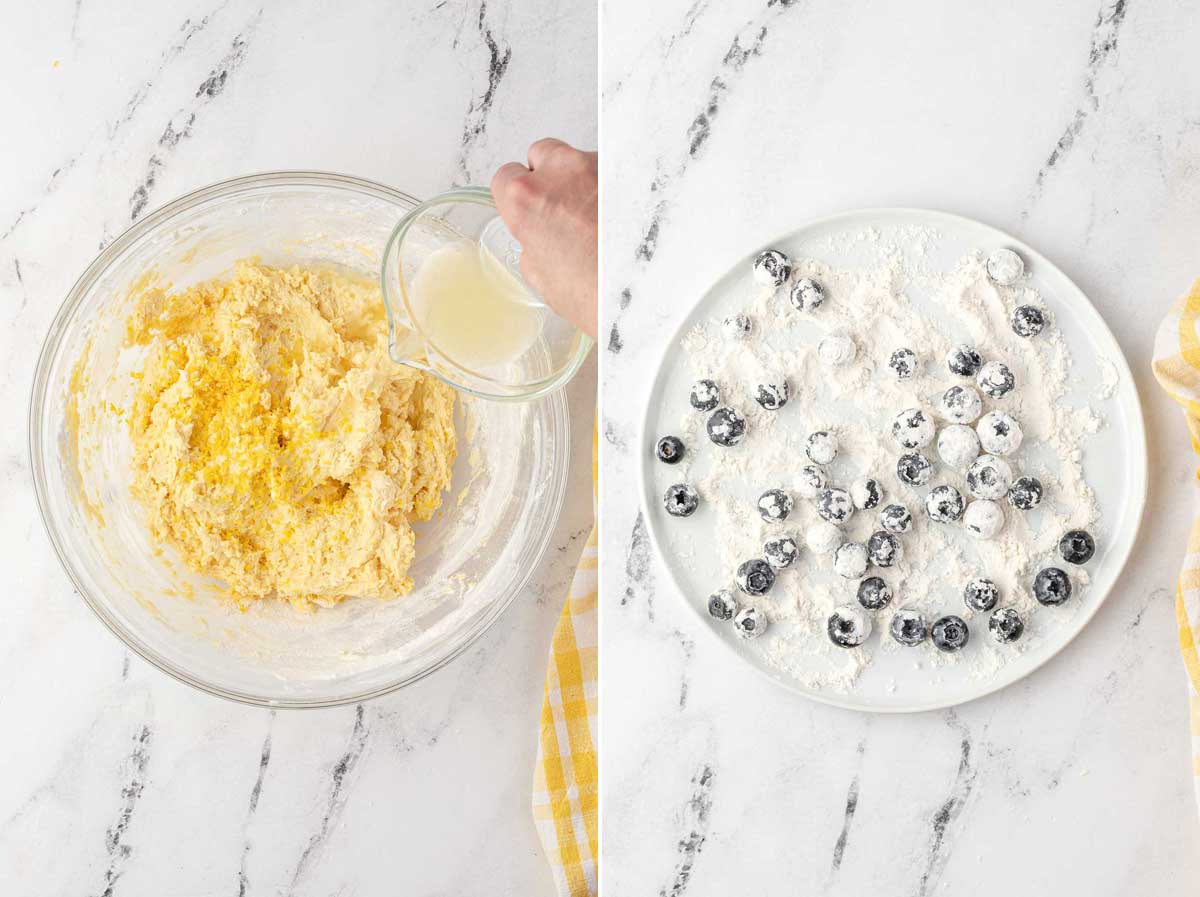 Now the fun begins! Layer up the batter and lemon curd and blueberries in a lined loaf pan.
Don't worry, it's simple. Start with half of the cake batter in the bottom of the loaf pan, then swirl half of the lemon curd on top. Finally, add half of the floured blueberries.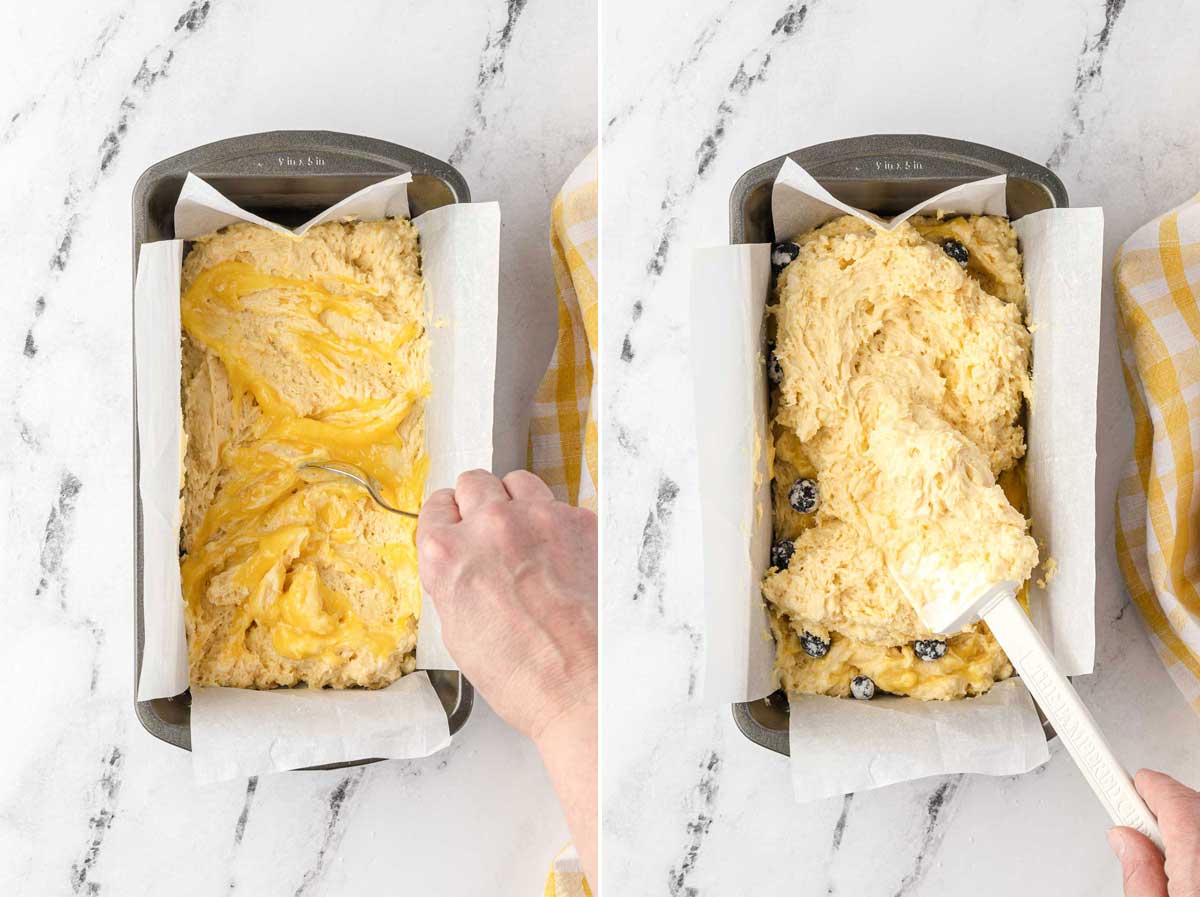 Then repeat with a second layer, pressing the second half of the blueberries on top of the cake. See, so easy!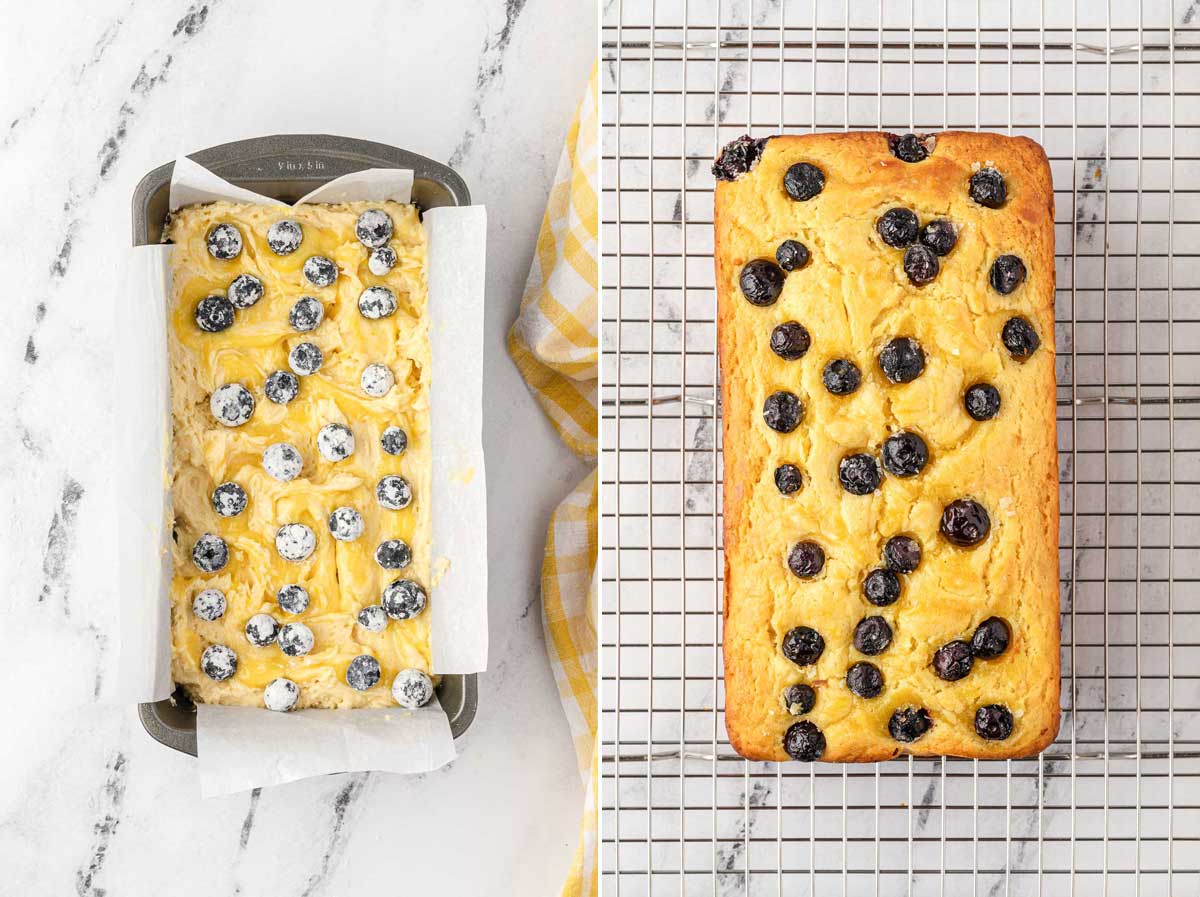 Bake your delicious cake with lemon curd and blueberries for around an hour, or until it has risen well and feels firm when touched. To check if it's fully cooked, insert a skewer into the center of the cake; if it comes out clean, it's ready!
Then transfer the cake to a wire rack and let it cool slightly.
You can see what the cake will look like before and after baking in the photo above…
It's worth the little bit of extra effort to layer the cake. You'll be rewarded with a moist but at the same time springy and light cake with a slightly crispy, sticky top. Yum!
Helen's top tips
Use softened butter so that it's easier to combine with the sugar. Just take it out of the fridge for a while before you start the recipe.
As always when making this kind of butter cake batter, once you've added the flour only stir until the ingredients are 'just combined'. If you overmix the cake can become dense and chewy.
How to serve
The very best way to serve this deliciously sticky lemon cake with lemon curd is while still warm and with extra blueberries and a big spoonful of yogurt, whipped cream, ice cream or crème fraiche on top!
If you like, you can serve a little more lemon curd with each cake slice as well. Am I making your mouth water yet? Served this way it makes a perfect dinner party dessert!
To serve any leftovers, you can even warm individual slices up again for a few seconds in the microwave.
Of course, it's also quite delicious served cold for a snack or catch up with friends with a cup of tea or coffee on the side. One of the great things about this cake is that it keeps well, so you can enjoy it all week (if it lasts that long!).
This really is the best lemon curd cake recipe!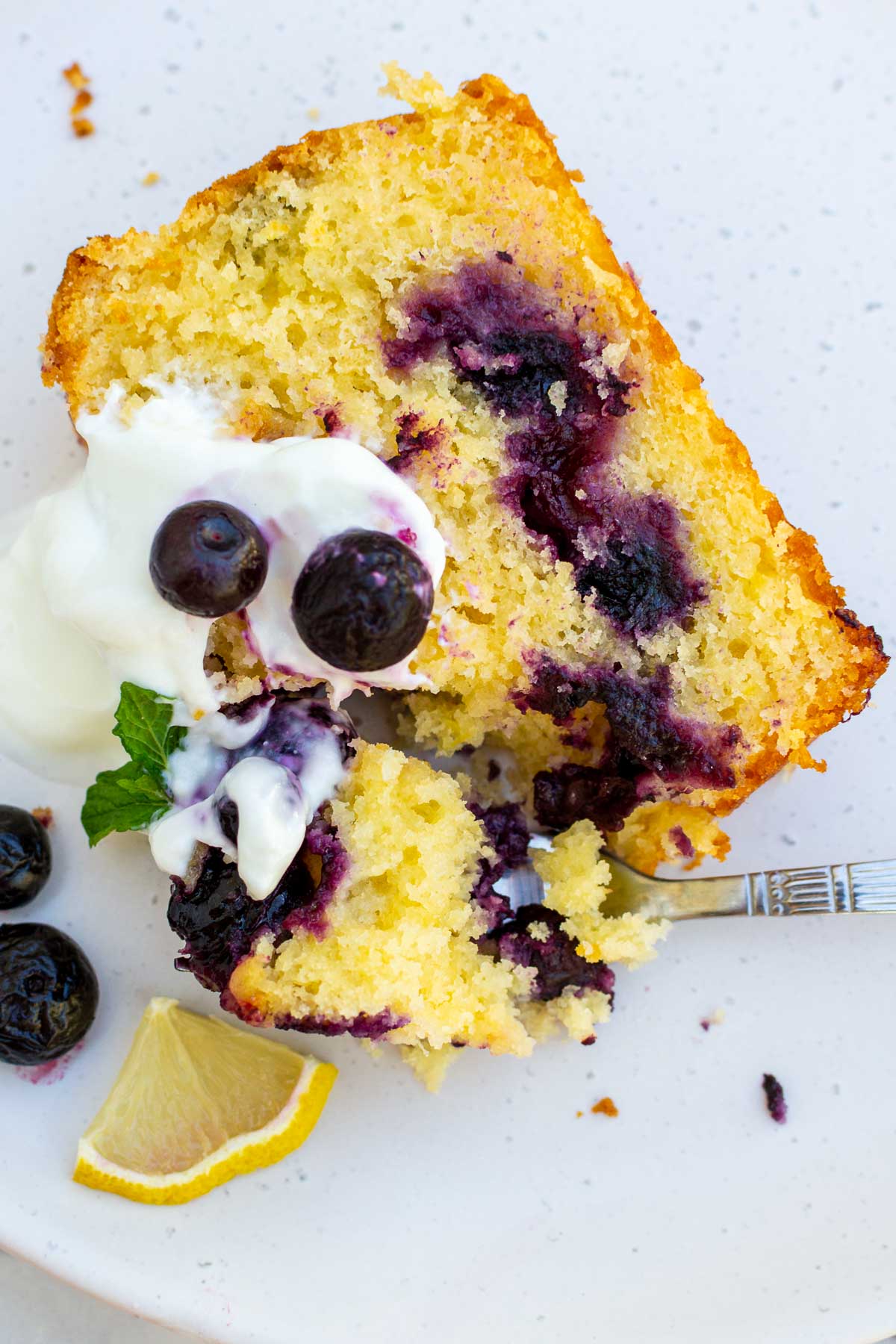 Variations
Not fresh blueberry season? No worries – you can either use frozen blueberries instead, or you can skip the blueberries altogether and just make it a straight lemon cake with lemon curd.
You can also try this cake with different types of fruit which pair well with lemon, such as raspberries or blackberries, or even chopped apple, pineapple or mango.
Lastly, you can try the cake with a fruit jam instead of (or as well as!) lemon curd. Try cherry or raspberry jam!
Recipe FAQs
Do I have to keep a lemon curd cake in the fridge?
You can store it in an airtight container at room temperature for up to 2-3 days. However, after that it's best to keep it in the fridge. It will keep well in the fridge for up to a week.
Can you freeze a lemon curd cake?
Yes! Allow it to cool completely before wrapping well in layers of plastic wrap and aluminium foil, then freeze for up to 3 months. When ready to serve, let it defrost at room temperature for a few hours (or in the fridge overnight) before slicing and serving. You can reheat individual slices in the microwave for around 20 seconds to serve warm if you like.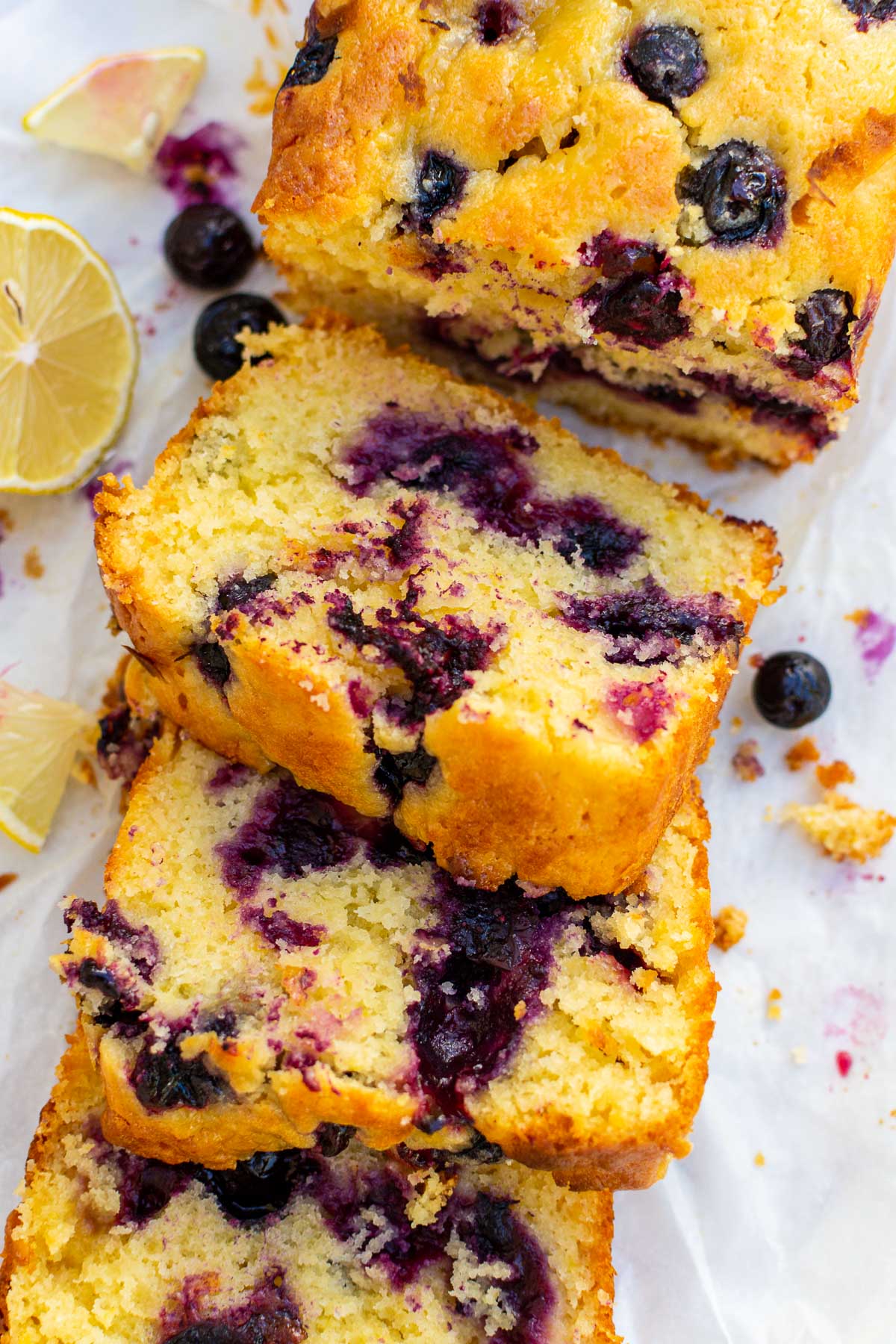 You might also like
Got lemon curd to use up? Check out this list of best lemon curd dessert recipes!
IF YOU MAKE THIS RECIPE, LET ME KNOW HOW YOU GET ON BY LEAVING A COMMENT AND RATING BELOW… AND DON'T FORGET TO SIGN UP TO RECEIVE ALL MY NEW RECIPES BY EMAIL!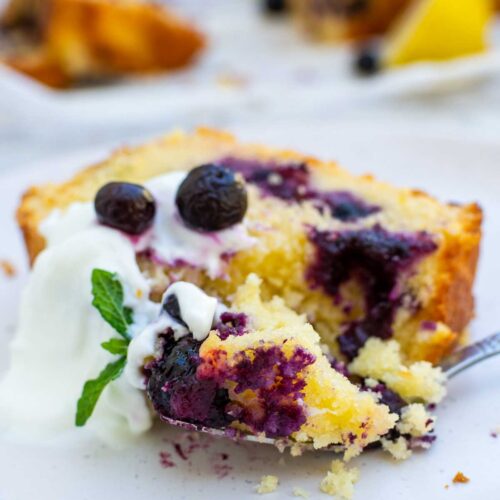 Sticky Lemon Curd Cake (With Blueberries)
This lemon curd cake is a beautiful moist and sticky and yet not overly sweet loaf cake packed with fresh blueberries and pockets and swirls of lemon curd. Perfect for a lazy afternoon tea, a dinner party dessert, or any special occasion!
Equipment (affiliate links)
Ingredients (UK/Australia? Click below for grams/ml)
170

grams

butter

softened to room temperature

130

grams

caster sugar

= superfine sugar, or just use regular white sugar

3

large

eggs

115

grams

Greek yogurt

plus extra to serve

200

grams

self-raising flour

Or use plain/all-purpose flour with 1¼ teaspoons baking powder and ¾ teaspoon salt.

1

lemon

(zest and juice) small to medium (you should have about 2 tablespoons juice)

4

tablespoons

lemon curd

plus extra to serve (if you like)

120

grams

fresh blueberries
Instructions
Pre-heat the oven to 320F/160C and line a loaf pan (roughly 9 x 5 inches or 10 x 4 inches, or equivalent) with baking paper.

Cream together the butter and sugar with a handheld mixer on medium speed for 2-3 minutes until pale and fluffy.

Whisk in the eggs one by one on a low speed until well combined. Then stir in the yogurt.

Fold through the flour until just combined, then stir in the lemon zest and juice. Be careful not to overmix.

Roll most of the blueberries lightly in flour (this stops them from sinking). Save a few for serving with the baked cake.

Spoon and level half of the cake batter into the prepared baking pan. Then spoon and slightly swirl around half of the lemon curd over it. Scatter some of the blueberries on top.

Now spoon in and level the rest of the batter. Dot the rest of the lemon curd on top and swirl it a little again, then lightly press in the rest of the floured blueberries.

Bake the cake for about 1 hour and 10 minutes or until it is golden and a skewer pushed into the centre comes out clean.

Cool the cake in the tin for about 10 minutes, then lift onto a cooling rack. Serve when the cake is still slightly warm with a spoonful of Greek yogurt, creme fraiche, ice cream or whipped cream. Add the reserved blueberries on top (and a little more lemon curd if you wish).
Notes
Use room temperature butter.
Be careful not to overmix when adding the flour, yogurt and lemon.
How to serve: This blueberry lemon curd cake is wonderful served warm out of the oven with greek yogurt and extra blueberries and lemon curd.
Alternatively it also goes really well with cream or ice cream – but of course!
Storage: The cake will stay moist and tasty for 2-3 days in an airtight container at room temperature. To keep longer, store in the fridge in an airtight container for up to a week. You can reheat individual slices by warming through in the microwave for a few seconds.
Freezing: This cake also freezes well. Simply let cool completely, then wrap well in plastic wrap and aluminium foil and freeze for up to 3 months. Let defrost at room temperature for a few hours, or in the fridge overnight.
Variations: Try the cake with raspberries instead of blueberries, or with cherry, raspberry or blackberry jam instead of lemon curd.
Nutrition
Calories:
382
kcal
Carbohydrates:
43
g
Protein:
7
g
Fat:
20
g
Saturated Fat:
12
g
Polyunsaturated Fat:
1
g
Monounsaturated Fat:
5
g
Trans Fat:
1
g
Cholesterol:
116
mg
Sodium:
198
mg
Potassium:
88
mg
Fiber:
1
g
Sugar:
24
g
Vitamin A:
641
IU
Vitamin C:
1
mg
Calcium:
36
mg
Iron:
1
mg