To make this easy lemon mascarpone cake, just toss everything together, pour into two pans and bake. Then sandwich together the cake layers with a ridiculously easy 2-ingredient lemon mascarpone cream. It's classic Victoria sponge meets lemon cake – light, moist and delicious, and perfect for a special occasion or just a simple afternoon tea.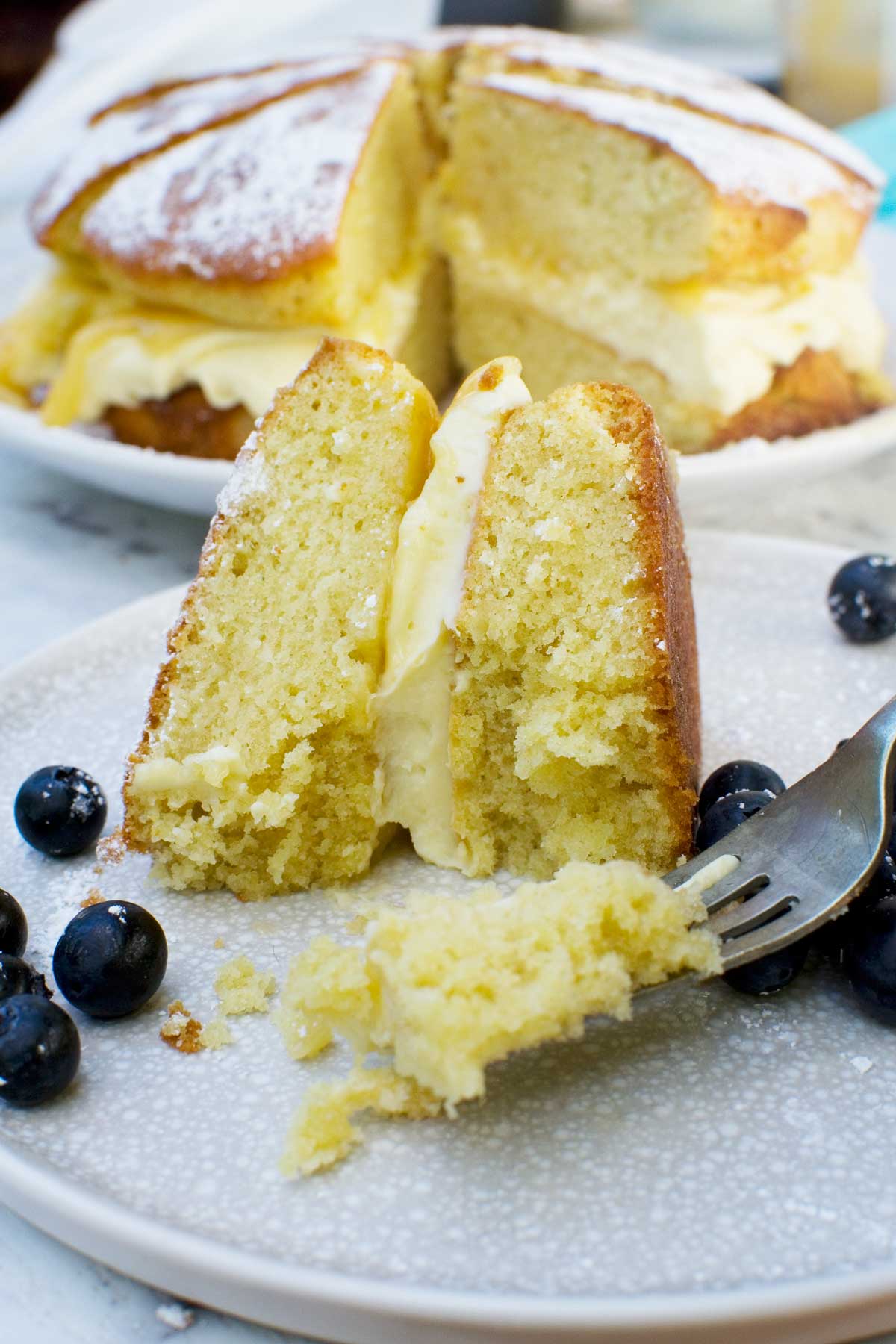 Why this is a great layer cake
Is there such thing as a layer cake snob?
I don't mind if it doesn't look perfect (rustic rules), but I want it to taste as good as it sounds. Like this really good, really simple chocolate orange cake. Or this peanut butter, banana and chocolate chip cake which hits the spot every time.
This mascarpone lemon cake makes the cut because:
It starts with the most basic vanilla cake recipe (otherwise known as Victoria Sponge). Traditionally you make it with equal amounts of butter, sugar and flour. Except I like to reduce the sugar just a little… 😉
It's an all in one cake recipe. In other words, throw everything into the bowl and mix! No creaming of butter and sugar first, I promise. Just a bit of careful mixing either in a food processor (= super easy) or with an electric mixer (=pretty easy too).
It's sandwiched together with a 2-ingredient mascarpone and lemon curd cream. How easy is that? Also great for people who aren't fans of a whipped cream filling (like myself). And no cream whipping necessary!
In summary, this must be the easiest Victoria sponge cake recipe. Perfect if you aren't into fussy baking recipes, but you still want an impressive and crowd pleasing layer cake.
What's a Victoria sponge? (just in case you aren't British and were wondering) It's an airy vanilla cake traditionally filled with fresh cream and jam.
This lemon mascarpone cake has all the yummy-ness but is even easier to make – and it's perfect for lemon lovers!
About the ingredients
For the easy cake batter
Butter: Use real, good quality unsalted butter. Get it out of the fridge a little while before you're ready to bake your cake. If you live in a hot country like I do, it's a fine balance. You want soft but not melted butter!
Sugar: Fine/Caster sugar is best. But I sometimes use regular sugar, and the cake still turns out fine.
Eggs: You need 4 large eggs for this cake. I like to use the best quality I can get!
Vanilla: I usually use a teaspoon of vanilla essence but if you want to be a bit fancy pants, you can use a real vanilla pod instead.
Self-raising flour: Just a reminder that self-rising flour (US) is not the same as self-raising flour. If you're in the USA and using self-rising flour, add an extra teaspoon of baking powder.
Alternatively you can use all-purpose/plain flour and add 2 teaspoons baking powder for each cup of flour.
Baking powder: Just a teaspoon for extra 'oomph'!
Milk: You only need a few tablespoons. Add it little by little until you have the right consistency. The batter should easily drop off a wooden spoon without being too runny.
Optional: Add some lemon zest to the cake batter for even more yummy lemon flavor in your cake.
For the lemon mascarpone cream and topping
Mascarpone cheese: Here in Australia mascarpone usually comes in 250 gram tubs (a UK/Aussie cup). The amount doesn't have to be exact though so don't buy another tub just to make it up to 250 grams.
Lemon curd: Here's where the magic happens. All you have to do is roughly mix a few tablespoons of lemon curd into the mascarpone cheese. Voila – you have a stupidly simple (but amazing tasting) cake filling that's a bit different to 'just' fresh cream.
To keep this lemon layer cake super easy, I always use ready-made lemon curd from the store. Find out how to make your own lemon curd from Sally at Sally's Baking Recipes.
Icing sugar (US = confectioners' sugar): No fussy toppings here. Just sprinkle a little icing sugar over the top of the cake to serve. Do this just before serving so it doesn't have time to dissolve into the cake.
How to make it
The step-by-step guide below should help you make the recipe perfectly first time. Scroll down to the end for the full recipe including ingredient amounts.
In a food processor

Steps 1 and 2: I usually start by pulsing the softened butter with the sugar for a few seconds until well combined.
Strictly speaking you could throw all the batter ingredients in together, but I like to make sure the butter is well mixed in before adding the flour. This avoids overmixing and making your cake too dense.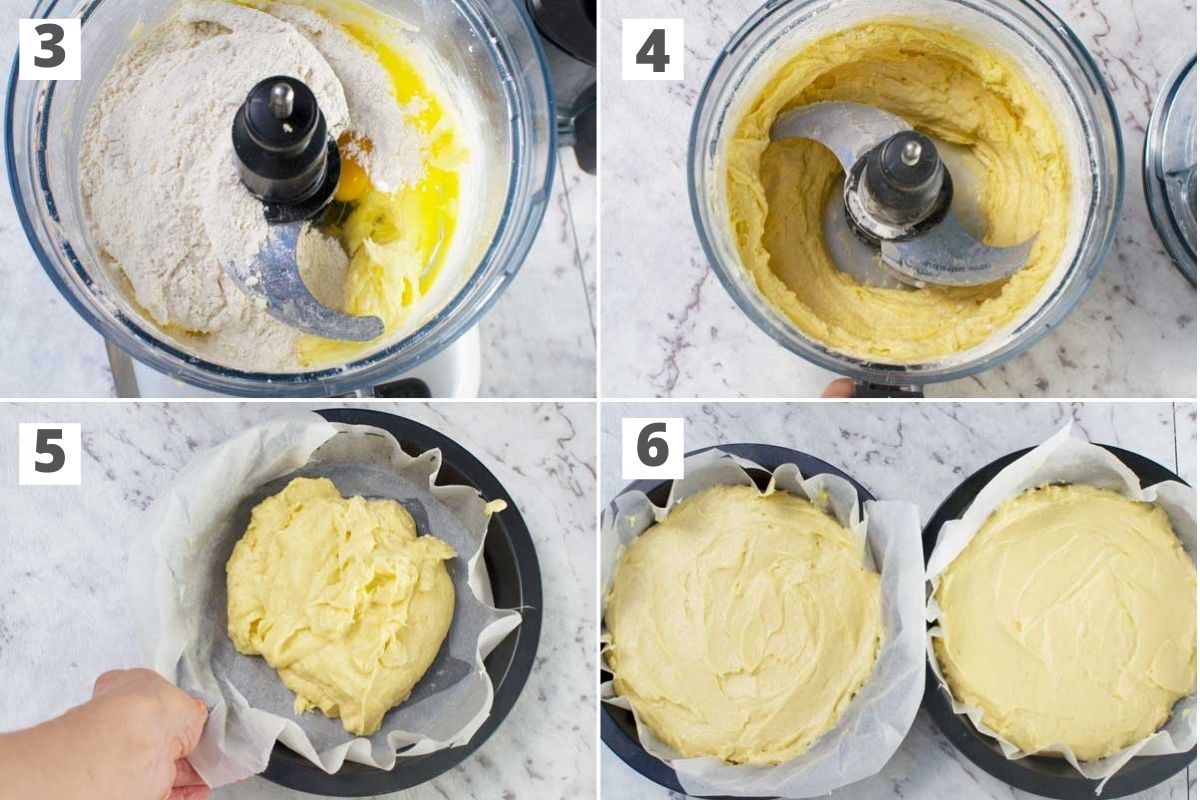 Steps 3 and 4: Throw in all of the other batter ingredients, including the flour, and process for a few seconds. Just until well combined. As with any cake, you don't want to overmix.
Steps 5 and 6: Divide batter roughly in two and scrape into two prepared cake pans. Smooth down with a spatula and bake for about 25 minutes.
With a hand-held whisk
There isn't too much difference in the method. Just use a hand mixer to combine the softened butter and sugar first in a large bowl. Then briefly whisk in the other batter ingredients.
The only difference is that there's no need for the extra teaspoon of baking powder if you mix by hand. I have to admit that I don't know why!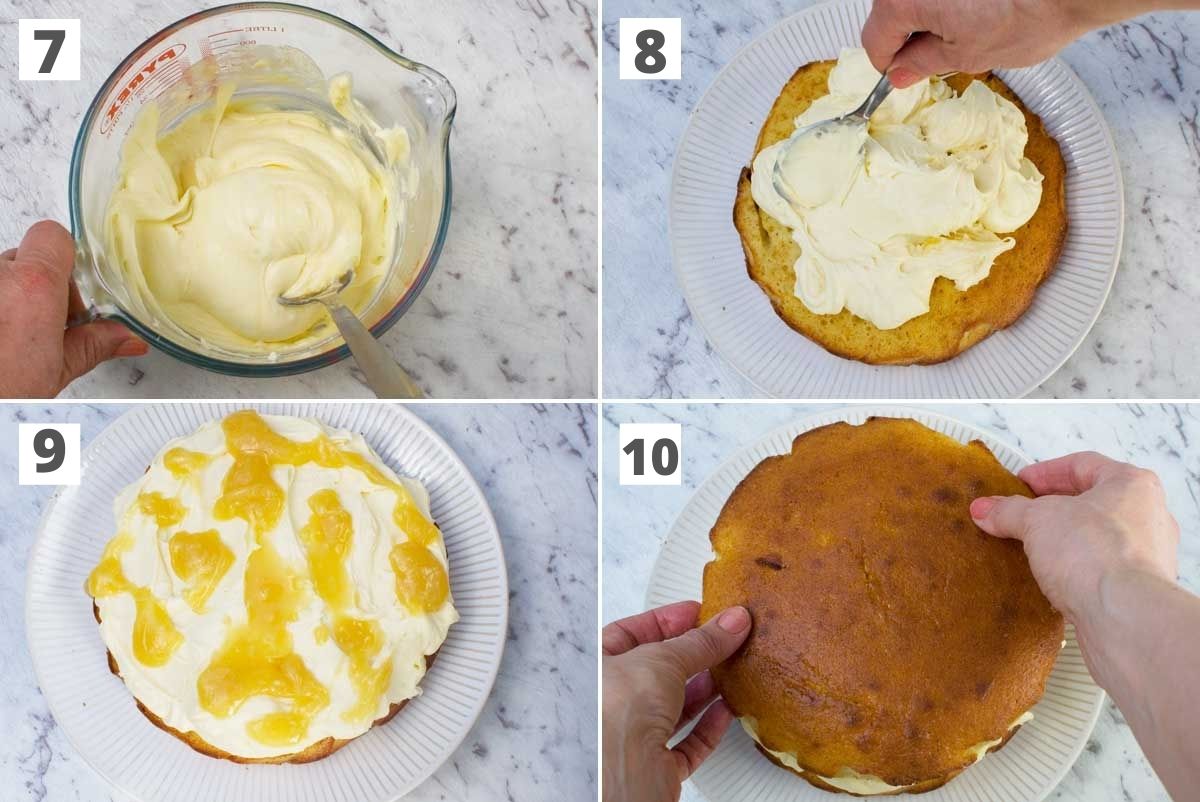 Step 7: To make the mascarpone cake filling, mix a few tablespoons of lemon curd into the mascarpone cheese.
Step 8: Spread it all over one of the cakes. Don't be shy!
Step 9: Spoon more lemon curd over the top. Again, don't be shy!
Step 10: Place the second cake layer over the top and push down a little. Some lemon curd might drip down the sides, but this adds to the rustic effect!

Last but not least, sprinkle over a bit of icing sugar.
Then serve and impress with your simple but classy mascarpone cake!
Expert tips
Use slightly softened butter so that it combines with the sugar easily. Just try to remember to get it out of the fridge shortly before you're ready to make the batter.
Only mix until the ingredients are well combined, whether you make the batter with a hand-held whisk or food processor (or even a stand mixer). If you overmix your cake can end up tougher and heavier than it should be.
When you think the cakes are cooked, quickly flip them over and check they're cooked on the bottom. If they aren't quite done, pop them back into the oven for a few more minutes.
FAQ
Can I use a stand mixer?
Absolutely! Just follow the instructions for the hand-held whisk method. Again, don't overmix.
Is self-rising flour (USA) the same as self-raising flour (UK/Australia)?
Actually, no. Self-raising flour contains more baking powder. You can use self-rising flour – just add an extra teaspoon of baking powder. Or just use plain/all-purpose flour and add 2 teaspoons of baking powder per cup.
What's the best way to store this cake?
Mascarpone cake is best eaten the same day. If there are any leftovers, store it in the fridge to keep the mascarpone cheese filling fresh. But if you cover it well, the cake shouldn't dry out overnight. Take it out of the fridge a while before serving to let it come back to room temperature and it'll still be very tasty.
Can you freeze it?
You can. Wrap the cakes really well individually and make and add the filling when you're ready to eat the cake. You can also freeze it after you've added the filling – either whole or in separate pieces. Just wrap well and freeze for up to 3 months. Defrost and enjoy!
I want to make this but I can't find mascarpone. What's a good substitute?
The easiest substitute for mascarpone cheese in this cake is whipped cream. Crème fraiche, which tastes similar to mascarpone, would also work.
Alternative ways to make it
If you wanted to you could quite easily make this very simple lemon layer cake a bit fancier.
Here are some ideas:
Add some blueberries into the cake batter. You'll end up with a simple lemon blueberry cake.
At the last minute, top the cake with some freshly sliced strawberries.
Spoon passionfruit pulp over the lemon mascarpone cream instead of extra lemon curd. Either fresh passionfruit or canned works.
Similar to the above! There is also a blueberry passionfruit version of this cake that will blow your mind. Full instructions with the recipe below!
Be really fancy. Make a little extra lemon mascarpone cream and pipe little swirls around the edge of the top of the cake. Leave like that or top the cream with extra lemon curd or fruit.
Make extra filling for the top and sides of the cake. Decorate with fruit.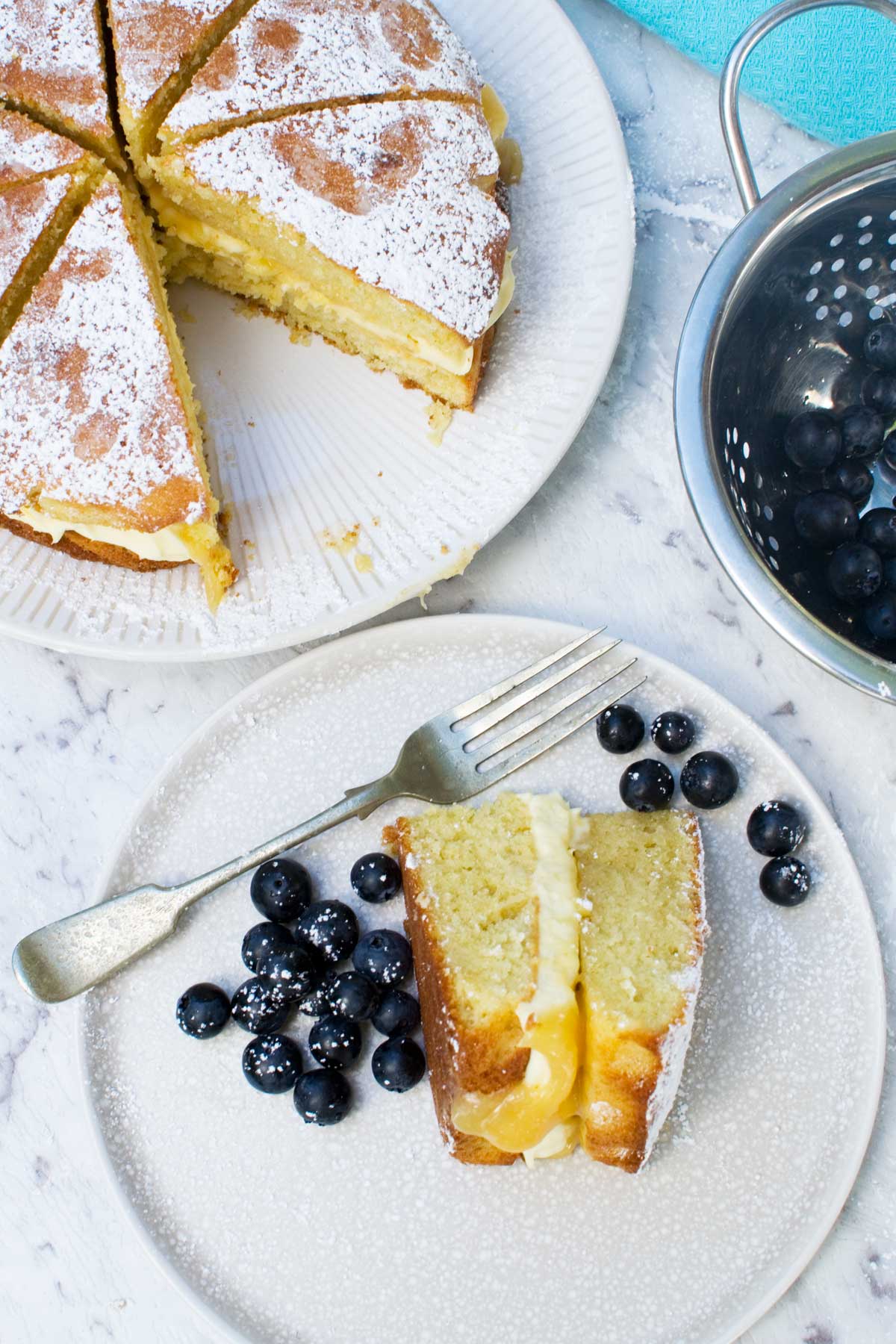 More showstopper desserts
This Basque cheesecake looks burnt, but it isn't. A basque burnt cheesecake is the ultimate easy show-stopping dessert, perfect for guests.
Or browse all my easy desserts!
Got lemon curd to use up? Check out this list of best lemon curd dessert recipes!
IF YOU MAKE THIS RECIPE, LET ME KNOW HOW YOU GET ON BY LEAVING A COMMENT AND RATING BELOW… AND DON'T FORGET TO SIGN UP TO RECEIVE ALL MY NEW RECIPES BY EMAIL!
FOLLOW ME ON FACEBOOK, INSTAGRAM, PINTEREST AND YOUTUBE.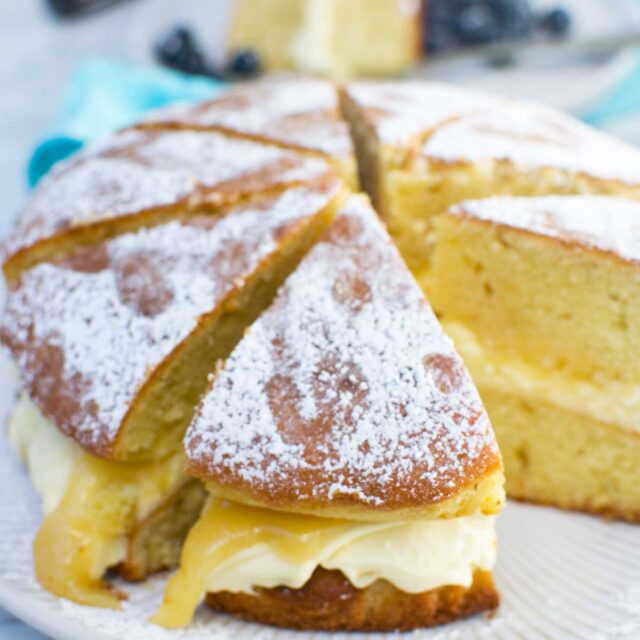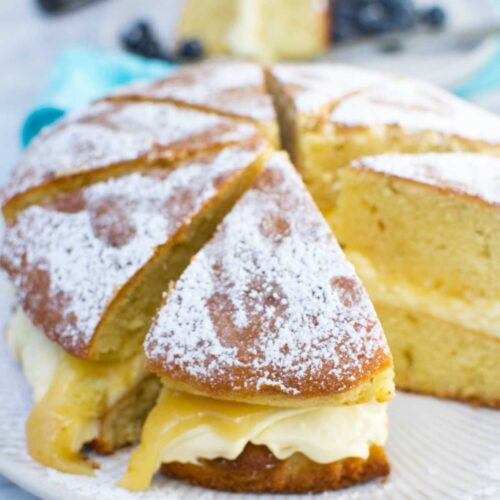 Lemon Mascarpone Cake
A delicious vanilla sponge cake (AKA Victoria sponge!) that's sandwiched together with a very simple but very delicious 2-ingredient lemon mascarpone cream. It couldn't be easier to make. Mix the ingredients up in a food processor, then bake and sandwich together with a 2-ingredient mascarpone lemon cream. Perfect for Easter, Mother's day, baby showers, a grown-up birthday cake or any other event!
Ingredients (UK/Australia? Click below for grams/ml)
8

ounces

butter

(2 sticks) unsalted, soft

1

cup

sugar

I used fine / caster sugar (based on a US cup size)

1

tsp

vanilla essence

4

eggs

large

1¾

cups

self raising flour

self-raising flour

1

tsp

baking powder

3

tbsp

milk

(3 to 4 tablespoons)

icing / confectioner's sugar

to decorate
For the cream
1

cup

mascarpone cheese

1 cup mascarpone cheese

8

tablespoons

lemon curd

or more, to taste (you need around 4 tablespoons to mix into the mascarpone and 4 to dollop over the top of the filling)
Instructions
Preheat oven to 355F/180C. Line (with baking paper) and butter two 7" sandwich cake pans.

Process the soft butter and sugar together in the food processor for a few seconds. Alternatively, mix with a hand-held whisk. Then add the vanilla, eggs, flour and baking powder and mix until just combined and smooth. Be careful not to over-mix.

Whisk in the milk gradually until the mixture is a soft dropping consistency. You may not need to use it all.

Pour the batter equally into the pans and bake for about 25 mins, until a metal skewer or knife comes out clean.

Cool the cakes for 10 minutes in the pans, then turn out onto a wire rack and cool completely.

Meanwhile, make the lemon mascarpone cream. Simply whisk 4 tablespoons of the lemon curd into the mascarpone cheese, then spread thickly over one of the cakes. Dollop the rest of the lemon curd (you don't have to use it all) over the top of the filling, then sandwich the cakes together.

Just before serving, dust with icing/confectioner's sugar.
Notes
Only slightly adapted from Nigella Lawson's recipe for Victoria Sponge in her book How to Eat. Lemon mascarpone cream also adapted from an idea from Nigella.
Lemon curd: Feel free to taste the mascarpone cream and add more lemon curd if you like!
Using US or Australian/UK cups?: The cup measurements stated in this recipe are US sized cups. If you're using an Australian/UK cup (which is slightly larger), use 1.5 cups of flour only. Also use only 3/4 cup of sugar (around 200 grams).
How to mix the batter: If you don't have a food processor, no problem! Just cream the butter with the sugar with a stand mixer or hand held mixer, then slowly add the other ingredients.
I've made this cake several times both in the food processor and with a stand mixer. The food processor method is faster (BUT this is debatable, depending on how easy your food processor is to clean!).
A couple of times though I over mixed the batter in the processor, which led to a slightly heavier cake. Just make sure you use soft butter so that everything combines easily and quickly in the processor.
Above all only process until everything is nicely combined and smooth. Please let me know which method you followed and how your cake turned out!
Storing and freezing the cake: This cake is best eaten on the day it's made because the mascarpone cream needs to be refrigerated if there are any leftovers. You can store it (well covered) in the fridge, but let it come back to room temperature before serving. Essentially though it will last for a day or two in the fridge.
If you'd like to freeze the cake (or pieces of it) either with the cream in the middle or not, just wrap well and freeze for up to 3 months.
Blueberry and passionfruit version: If you like you can make a delicious blueberry and passion fruit version of this cake.
Simply add approximately 100 grams / 3.5 ounces blueberries to the batter before baking. Sandwich with whipped cream, then make a passion fruit icing for the top. Scrape out the contents of 2 passion fruit and sieve to get the juice (if you put the flesh, seeds and juice in a blender first and give it a quick whizz before sieving then you release more juice). Mix with 100 grams / 3.5 ounces icing sugar, then drizzle or spread the thick icing over the top of the cake.
Nutrition
Calories:
396
kcal
Carbohydrates:
35
g
Protein:
6
g
Fat:
26
g
Saturated Fat:
16
g
Trans Fat:
1
g
Cholesterol:
114
mg
Sodium:
188
mg
Potassium:
82
mg
Fiber:
1
g
Sugar:
21
g
Vitamin A:
820
IU
Calcium:
61
mg
Iron:
1
mg