When you need a freshly baked cake in a hurry, this very easy ricotta lemon cake doesn't disappoint. It's moist and dense, and yet light and tangy with a subtle but delicious lemon flavour. it's lowish in sugar and contains olive oil, which complements the lemon flavour really well. The best part? You need just 6 main ingredients to make it!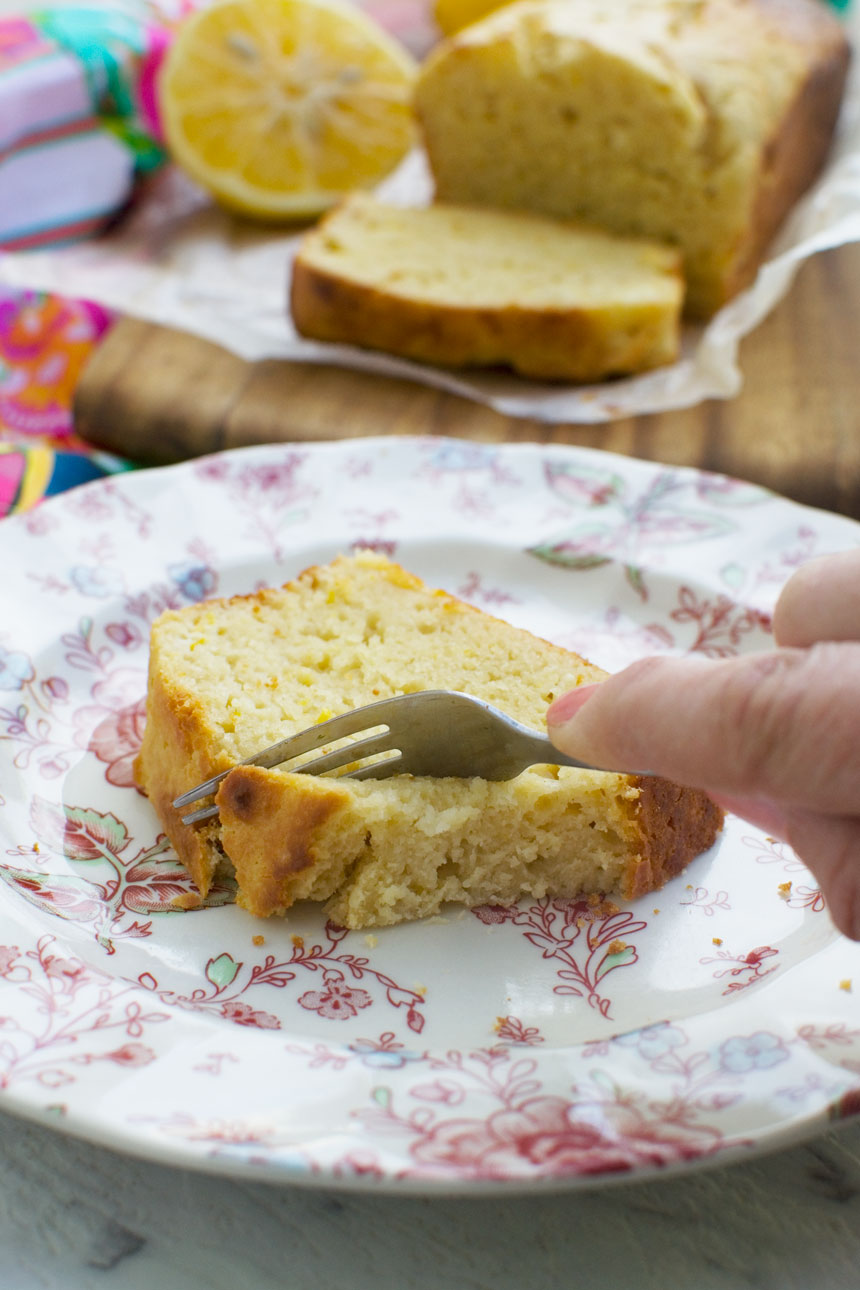 Easy cakes – the only way to go!
Easy cakes are one of my 'accidental' specialities. You seem to go wild for this 6-ingredient gooey Swedish chocolate cake, this mini banana bread and these epic Greek yoghurt blueberry muffins.
One category of cake that epitomises the easy cake is the humble loaf cake! (US = pound cake!)
I have a few loaf cake recipes on the site already, which I've listed at the end of this post. But let's face it, there's always room for one more. Especially when it's as easy and delicious as this lemon ricotta cake!
This Italian orange ricotta cake is similar. If you love the chocolate-orange combo, you might like to try this as well.
Why you'll love lemon ricotta loaf cake
You need only 6 main ingredients and it takes just 10 minutes to make the batter. 🙂
No tiresome creaming of butter and sugar. Just stir all the wet ingredients together, then add the flour!
It's not too high in sugar – just 3/4 of a cup. A typical loaf cake contains at least a cup and sometimes more. So it's a healthy lemon cake? Well, not bad… 😉
It contains ricotta and olive oil rather than butter. Nothing wrong with butter, but you get extra protein from the ricotta and cool antioxidants and other good things from the olive oil in this cake.
It stays moist and tasty for quite a few days. Bonus!
About the ingredients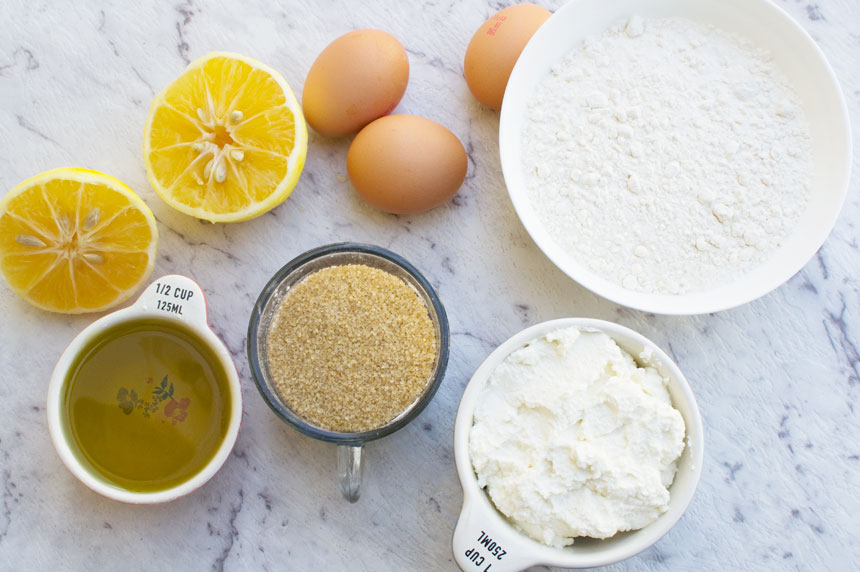 ricotta cheese: 1.5 cups, so quite a lot!
eggs: three large
olive oil: I use half a cup of light olive oil. It complements the lemon flavour amazingly
sugar: just 3/4 of a cup (not too bad)
lemons: the juice of 1 lemon and the zest of 2
self raising flour mixed with a bit of salt: 1.5 cups. If you don't have self raising flour you can make your own using plain flour and baking powder.
You see, just 6 simple ingredients, and one of those is salt. It's the simplest lemon cake imaginable!
How to make it
This is an incredibly quick and easy cake to make. Not only because it's only got a few ingredients in it, but because there are just two main steps to making the batter.
It literally takes 5 to 10 minutes to do. The baking time is about the same as a banana bread – about 55 minutes in my oven. But once it's in the oven you can put your feet up and enjoy the delicious smell as your cake bakes.
Step 1: Whisk together all the 'wet' ingredients. Start by whisking the eggs into the ricotta, then stir in the oil, and the lemon juice and zest.
Step 2: Fold in the flour and salt.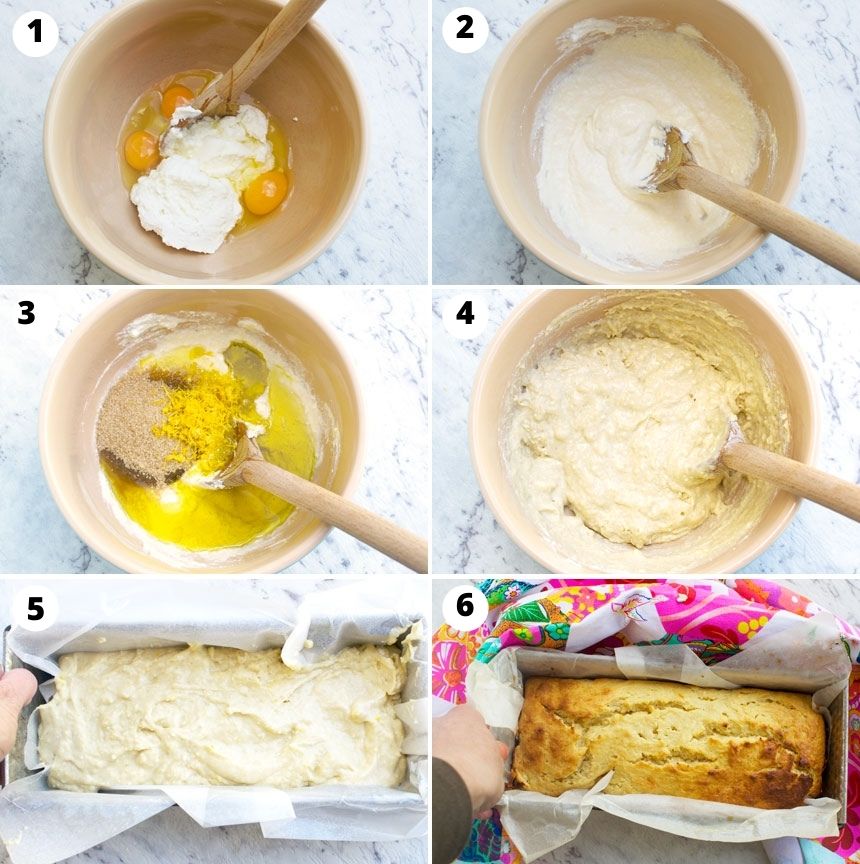 How long to bake
All that's left to do now is to tip your batter into a loaf cake tin and bake! 50 minutes to an hour should do it. In my oven this cake turns out perfectly after 55 minutes, but check every 5 minutes after 45 minutes to be sure.
How to serve it
The beauty of this very easy lemon cake is that it's moist and flavourful enough to serve it as it is. No fancy frostings or icings necessary!
It's particularly delicious served warm. It goes wonderfully with a cup of tea or coffee, but you can also turn it into a dessert by adding a scoop of ice cream on the top.
My top tip for elevating this dessert into something special? Make some of this 5-minute raspberry sauce to drizzle over the top!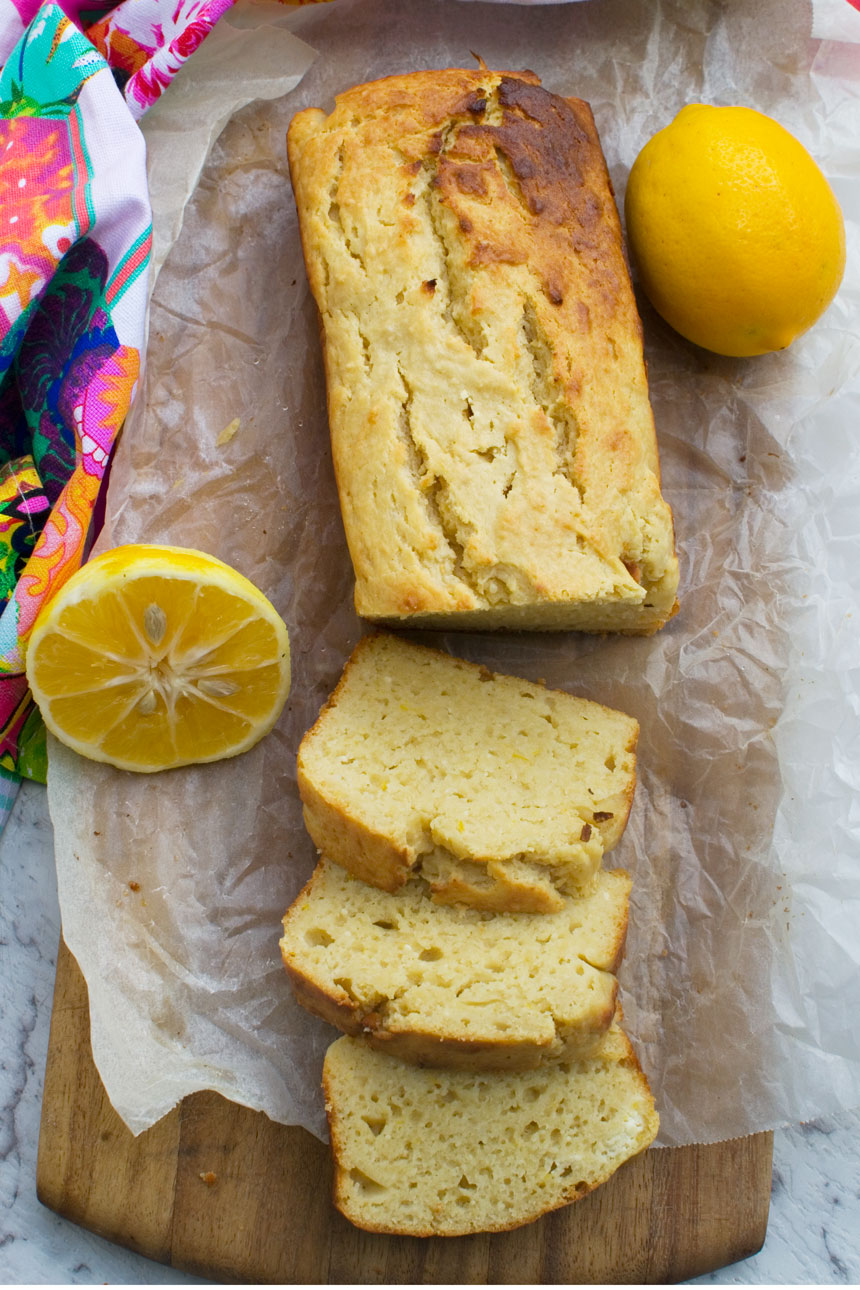 Lemony… or even more lemony?
This cake has a subtle lemony flavour. If you'd like to take the lemon taste up a notch, you can easily do this by adding the zest of a second lemon!
Variations
One of the reasons I like this cake so much is that it's a very simple but very delicious cake. You can throw it together at the last minute and everyone will still ooh and ahh and think you're the best baker ever!
There are however ways to potentially switch things up a little and make your lemon loaf even more delicious:
Make it a glazed lemon pound cake by mixing lemon juice into icing/powdered sugar. When you have a thin(ish) icing, drizzle it over the top of the cake when it's cooled.
Fold some raspberries or blueberries into the cake batter before you pour it into the baking tin.
Swirl a bit of lemon curd lightly through the batter.
Stir in some white chocolate chips and/or some nuts such as pistachios, hazelnuts, macadamias or chopped brazil nuts.
Use lime or orange juice and zest instead of lemon.
How long does it keep, and can you freeze it?
I find that this cake stays nice and moist and tasty for several days. Just keep it in an air tight container and enjoy it for days… if it lasts that long!
You can freeze it too – either whole or in separate slices. Simply wrap well in aluminium foil and/or cling wrap/plastic wrap and freeze for up to 3 months.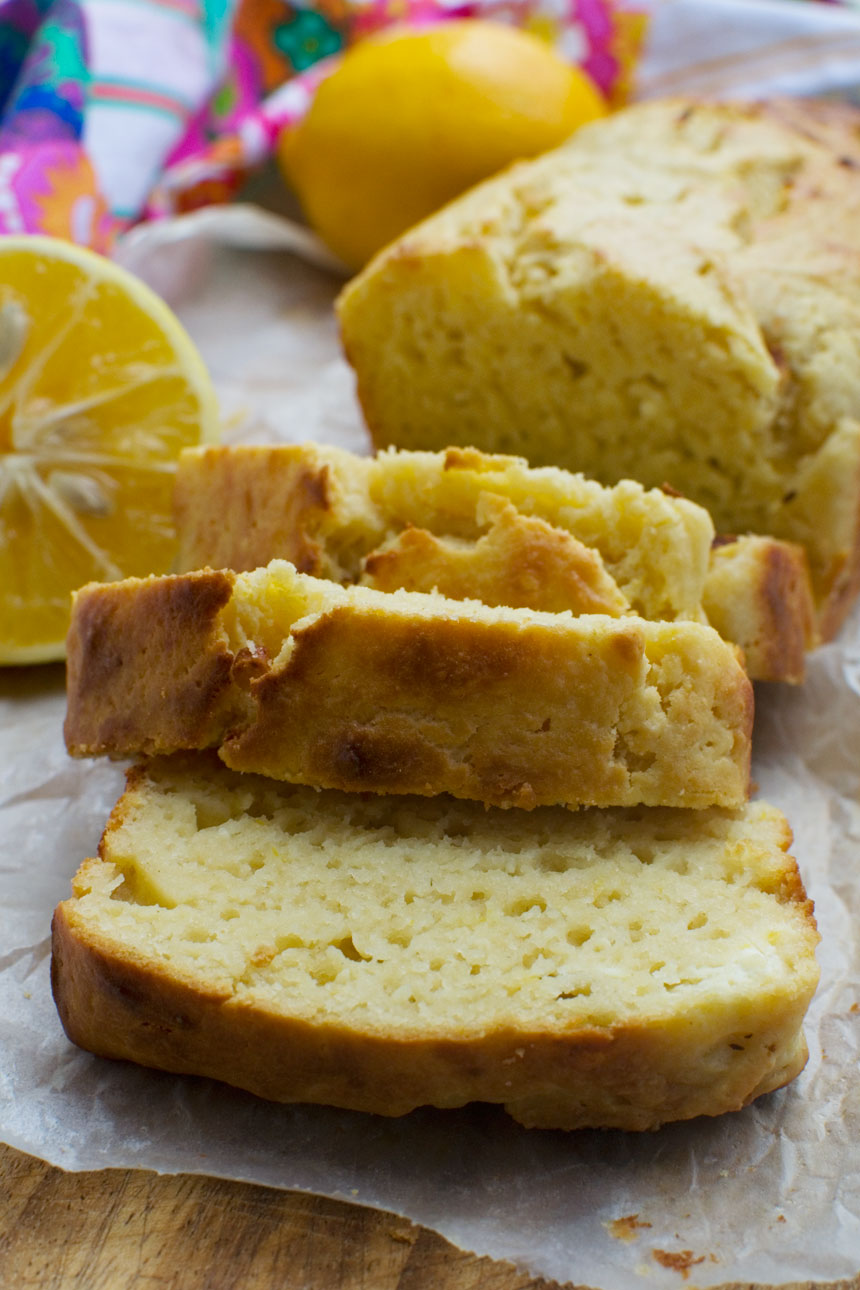 More delicious lemon recipes
More easy loaf cake recipes
Got some ricotta to use up? Try this 20-minute farfalle pasta with prosciutto recipe. Perfect for spring – or any time!
IF YOU MAKE THIS RECIPE, LET ME KNOW HOW YOU GET ON BY LEAVING A COMMENT AND RATING BELOW… AND DON'T FORGET TO SIGN UP TO RECEIVE ALL MY NEW RECIPES BY EMAIL!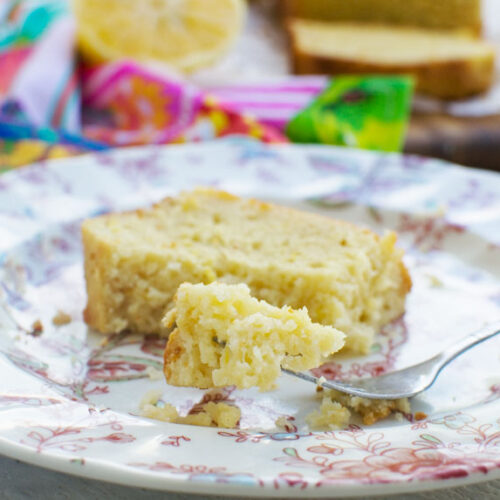 6-ingredient ricotta lemon loaf cake
This lemon ricotta loaf or pound cake is the perfect easy cake to make when you need something homemade in a hurry. It's very simple, made with just 6 ingredients, but it's super moist and subtly lemony. It's a real crowd pleaser!
Equipment (affiliate links)
Ingredients (UK/Australia? Click below for grams/ml)
1½

cups

ricotta cheese

3

large

eggs

½

cup

light olive oil

(or use another kind of oil – any works)

2

medium

lemons

juice of one lemon, zest of two lemons

¾

cup

white sugar

I've used ordinary white sugar, caster (super fine) sugar and raw organic sugar – all work

1½

cups

self raising flour

Or make your own: 1½ cups plain flour + 2½ teaspoons baking powder

½

teaspoon

salt
Instructions
Line a 9 or 10 x 4 inch loaf tin/pan with baking paper. Pre-heat the oven to 180C / 355F.

In a large mixing bowl, stir the eggs into the ricotta cheese with a wooden spoon until smooth.

Add the oil, lemon juice and zest and sugar. Stir with the wooden spoon again until well combined.

Fold in the flour and salt until just combined (be careful not to overmix).

Tip the cake batter into the prepared loaf tin/pan. Bake for 50 to 60 minutes or until a skewer poked into the middle of the cake comes out clean. (It takes 55 minutes in my oven, but check at 45 minutes and every 5 minutes after that)
Notes
How much lemon to use
I think this cake has a lovely subtle lemony flavour using the zest of just one lemon. But if you think you're a super lemony kind of person, simply add the zest of another lemon.
How long to bake for
This cake takes about the same length of time to bake as a banana bread. In my oven it takes 55 minutes, but it's best to check your cake after 45 minutes and then again every 5 minutes. When a skewer comes out of the cake clean (or almost clean) your cake is ready.
Adaptations you can try
Add raspberries, blueberries or a swirl of lemon curd before baking.
Make a simple icing out of icing/powdered sugar and lemon juice and drizzle over the top.
How long it lasts and freezing instructions
The cake will last for a few days in an airtight container. Maybe even longer but it's never lasted beyond this time in our house!
To freeze, either freeze whole or slice first and wrap each slice separately. Make sure you wrap tightly in plastic/cling wrap and/or aluminium foil. You can freeze for 3-6 months.
Nutrition
Calories:
391
kcal
Carbohydrates:
40
g
Protein:
11
g
Fat:
22
g
Saturated Fat:
6
g
Cholesterol:
93
mg
Sodium:
67
mg
Potassium:
135
mg
Fiber:
1
g
Sugar:
20
g
Vitamin A:
307
IU
Vitamin C:
14
mg
Calcium:
117
mg
Iron:
1
mg