Have you ever tried Spanish patatas bravas? They're delicious fried potatoes with tomato sauce. Now imagine how tasty they are baked with chicken and chorizo … all in an easy one-dish tray bake!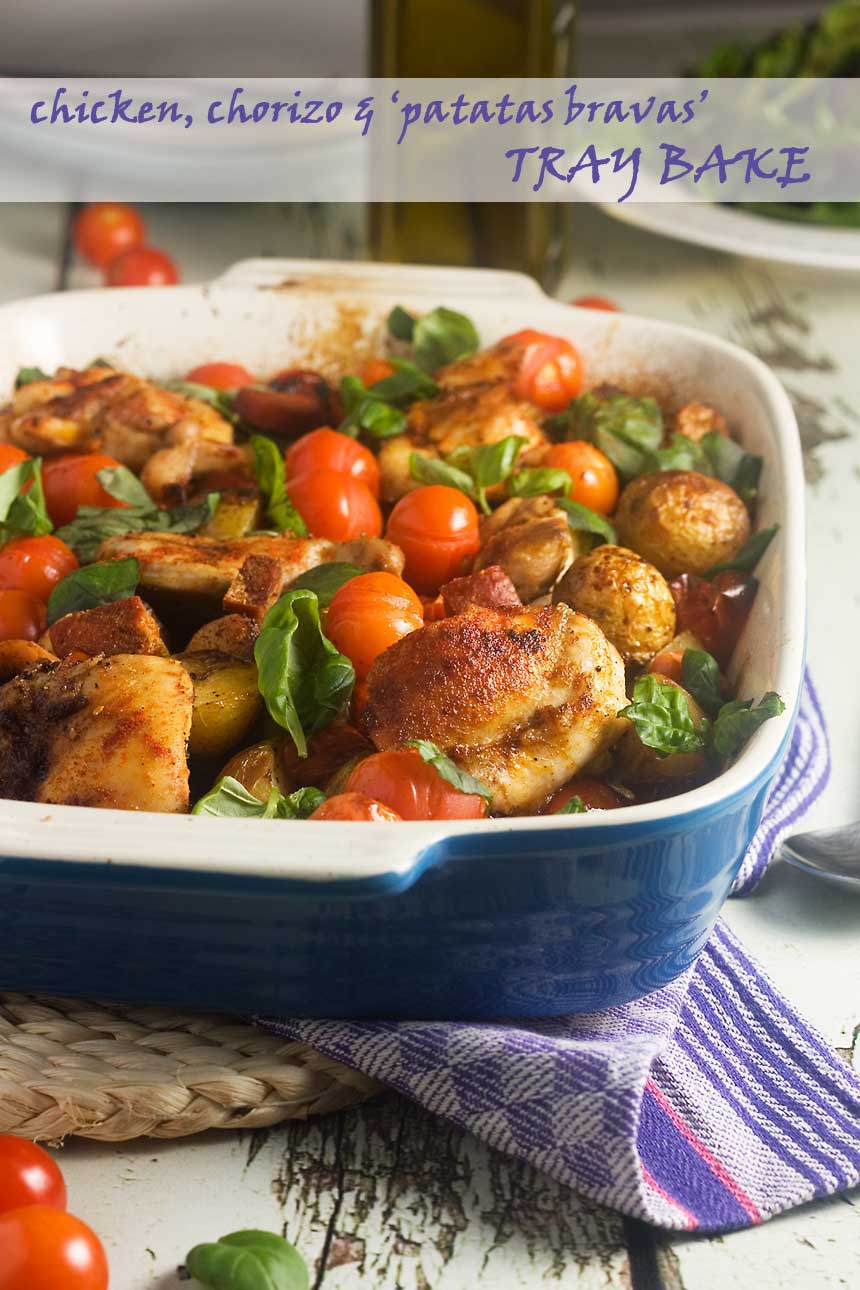 One of the reasons (well, OK then, the main reason …) I chose my university course was because I got to spend a term in southern Spain. I was even more sure of my choice though when that time in Spain arrived and I got to sample some ah-mazing (and totally free!) tapas in the local bars.
In one bar at the end of my street, you were actually able to order your free tapas with your drink from tens of options on the menu – as in, order exactly which one you wanted. Where else in the world would a bar owner offer so many top quality little morsels with their drinks … and all for nothing? OK, you buy the drink, but still … I love southern Spain!!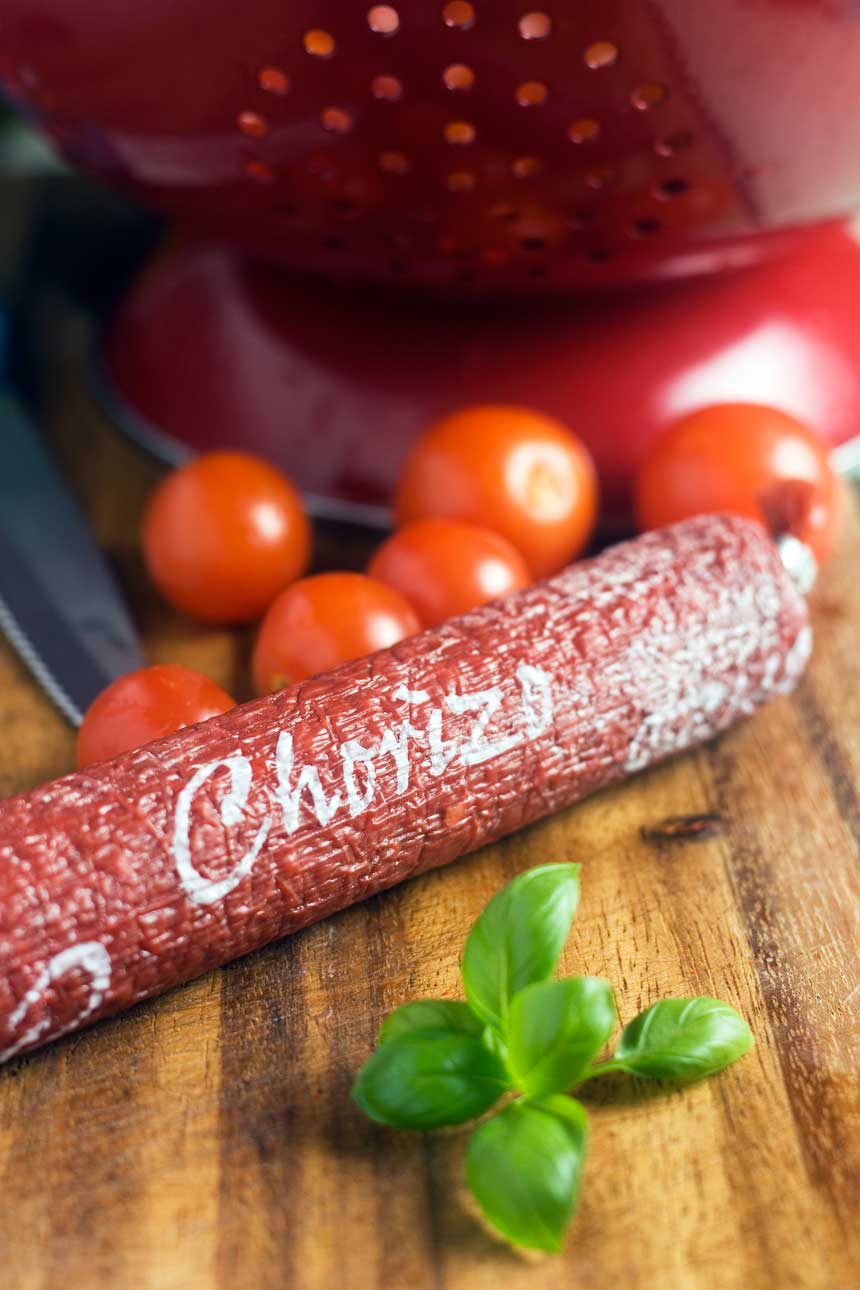 Anyway, one of these free tapas that I remember licking my lips over the most was 'patatas bravas' – a simple dish of fried potatoes with a tomato sauce. There are many different versions of this in different areas of Spain. In Valencia, for example, the sauce can have paprika, chili and vinegar in it.
Soooo … I know it's a bit of a stretch to call this tray bake of mine a 'patatas bravas' tray bake, but I added plenty of paprika, garlic, a bit of chili zing, a drizzle of balsamic vinegar and loads of chorizo, which patatas bravas are sometimes topped with. So on second thoughts, why can't I call it a patatas bravas tray bake? 😉
You are going to love this tray bake. Mr. Scrummy and I have been 'testing' it out in various forms for months now, so I know it's delicious. We always add plenty of cherry tomatoes so that you get loads of juice but this was the first time we'd added the potatoes. I made sure I gave the potatoes and chicken a head start in the oven, too, before adding the juicy tomatoes. This way, some of the potatoes end up quite well done and even a bit crispy in parts … just like real patatas bravas.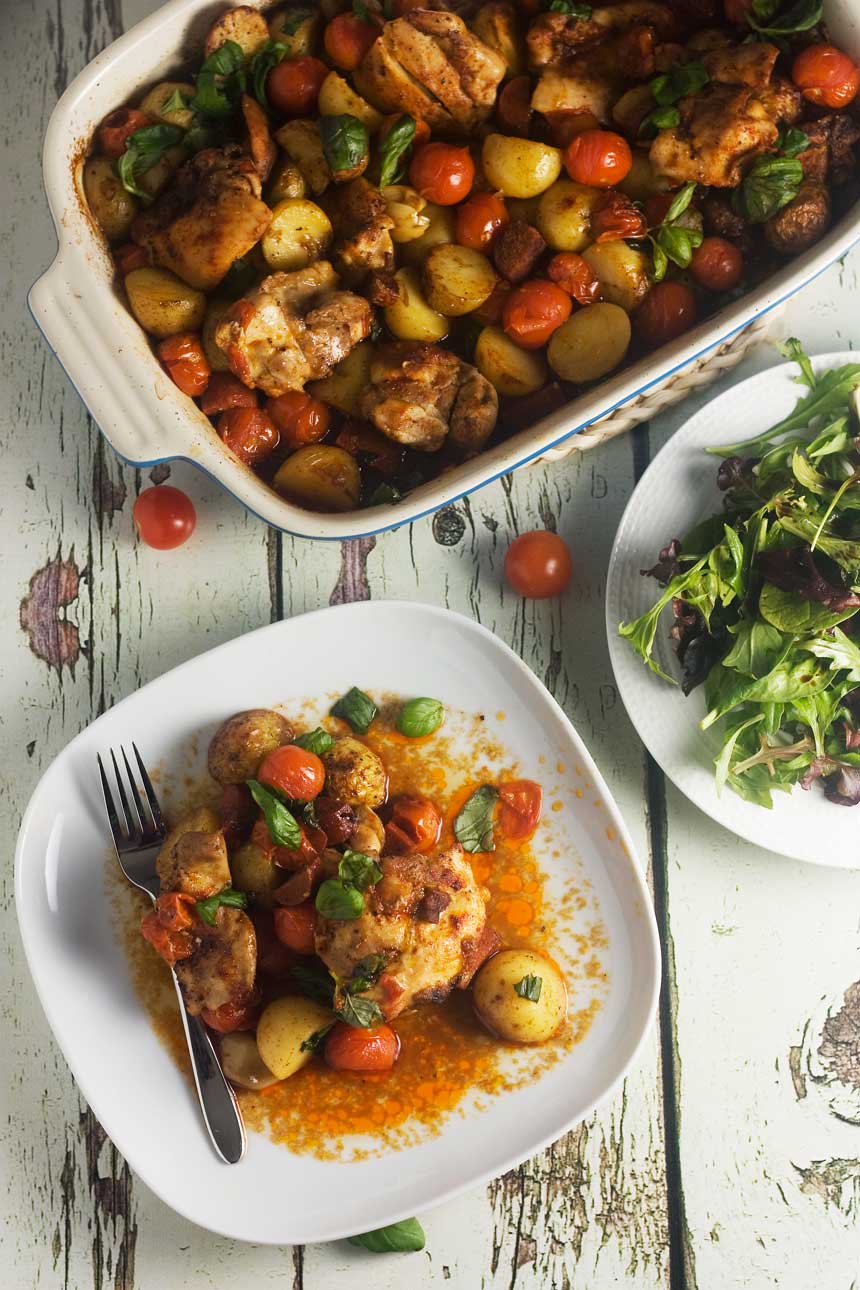 This is a very no-fuss, one-pot meal – my favourite – and is ready within about an hour. Just peel and chop, stuff into the dish and bake! Then serve either by itself or with a nice fresh green salad and a bit of bread to mop up the juices. Honestly, those juices are truly delicious. All tomato-y and sweet and paprika-y and with a slight tang from the balsamic. Mmmm!
Oh, and most of the credit for this beautiful dish should go to Mr. Scrummy as he's been making something similar for aaages. Thank you very much, Mr. Scrummy!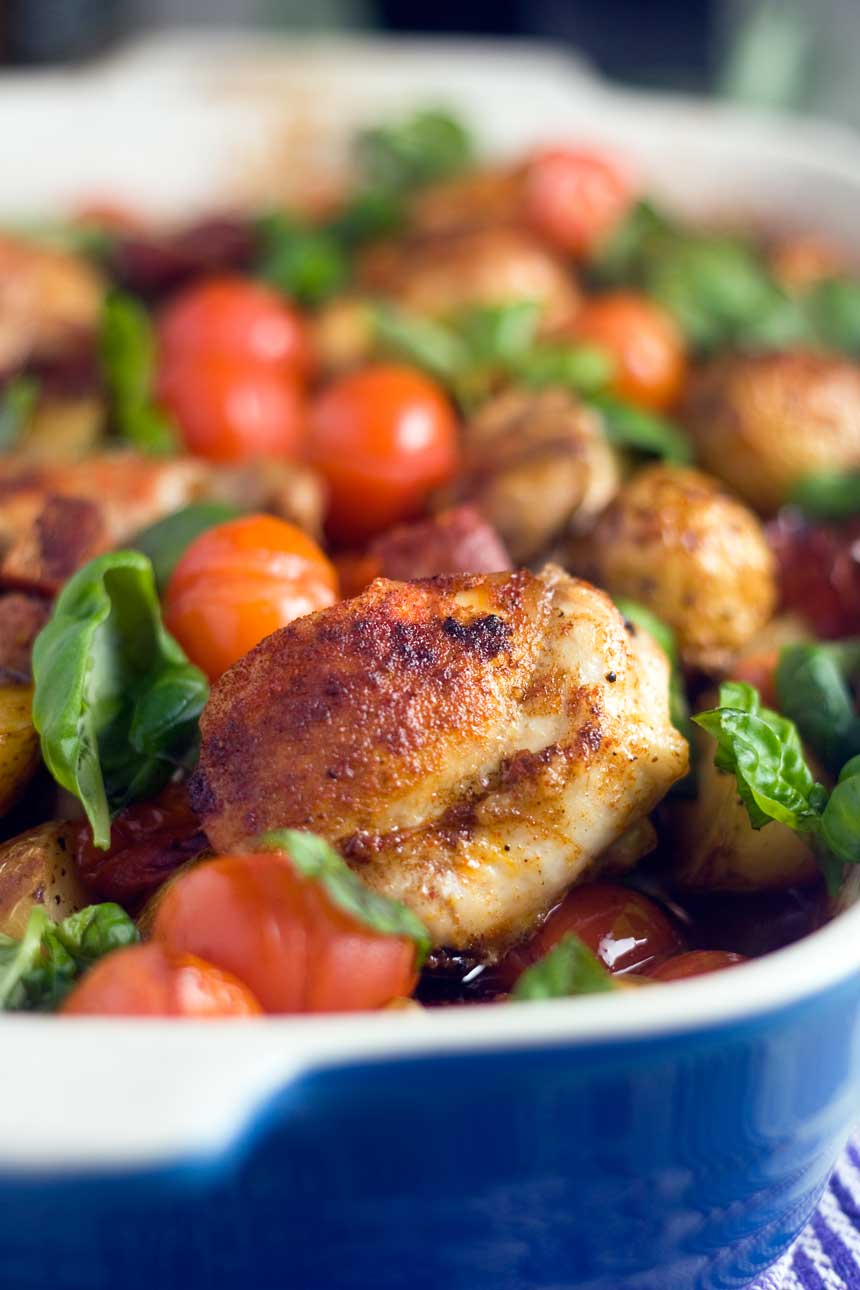 Chicken, chorizo & 'patatas bravas' tray bake
Chicken thighs, spicy chorizo, mini potatoes and lots of garlic ... all sprinkled liberally with smoky paprika and baked in just one pot. This is like a Spanish 'patatas bravas' but with lots more 'oomph'! Such a deliciously juicy and easy mid-week meal!
Ingredients (UK/Australia? Click below for grams/ml)
25

ounces

baby potatoes

washed and sliced in half

1/2 to 1

bulb garlic

broken up into cloves (unpeeled)

28

ounces

skinless boneless chicken thighs

(about 6 thighs)

1

teaspoon

paprika

large pinch cayenne chili pepper

optional

salt

pepper & olive oil

1

chorizo

about 125 grams/4.5 ounces, sliced fairly thickly (about 1 inch slices)

21

ounces

cherry tomatoes

2

tablespoons

balsamic vinegar

large handful of fresh basil leaves
Instructions
Preheat the oven to 180C/355F.

Put the baby potatoes in a large baking dish or roasting tray along with the garlic.

Rub the paprika all over the chicken, then tuck it in between the potatoes and garlic in the dish/tray. Drizzle everything with olive oil (probably about 2 tablespoons) and jiggle around a little. Finally, sprinkle the cayenne pepper over the chicken (if using) and grind a generous amount of salt/pepper over the whole dish.

Bake for about 30 minutes, then remove from the oven, jiggle the potatoes around a bit and add the chorizo to the dish (poke it down well so that it doesn't dry out). Then add the tomatoes. Return the dish/tray to the oven for another 30 minutes.

Remove from the oven and drizzle over the balsamic vinegar. Scatter over the basil and serve.
Notes
Lovely served with a fresh green salad and some fresh crusty bread.
Don't forget to squeeze all the lovely sweet, roasted garlic cloves out of their skins when you're eating .... yum!
Nutrition
Calories:
476
kcal
Carbohydrates:
38
g
Protein:
46
g
Fat:
14
g
Saturated Fat:
4
g
Cholesterol:
201
mg
Sodium:
391
mg
Potassium:
1636
mg
Fiber:
5
g
Sugar:
6
g
Vitamin A:
1020
IU
Vitamin C:
68.8
mg
Calcium:
55
mg
Iron:
4.4
mg

You can also find more from Scrummy Lane on Facebook, Pinterest, Twitter and Instagram and follow me on Bloglovin! Thanks so much for reading!
*This post may contain affiliate links which means that if you click on a link and make a purchase I get a small percentage of the amount you spend. At no extra cost to you, of course! Thank you!*