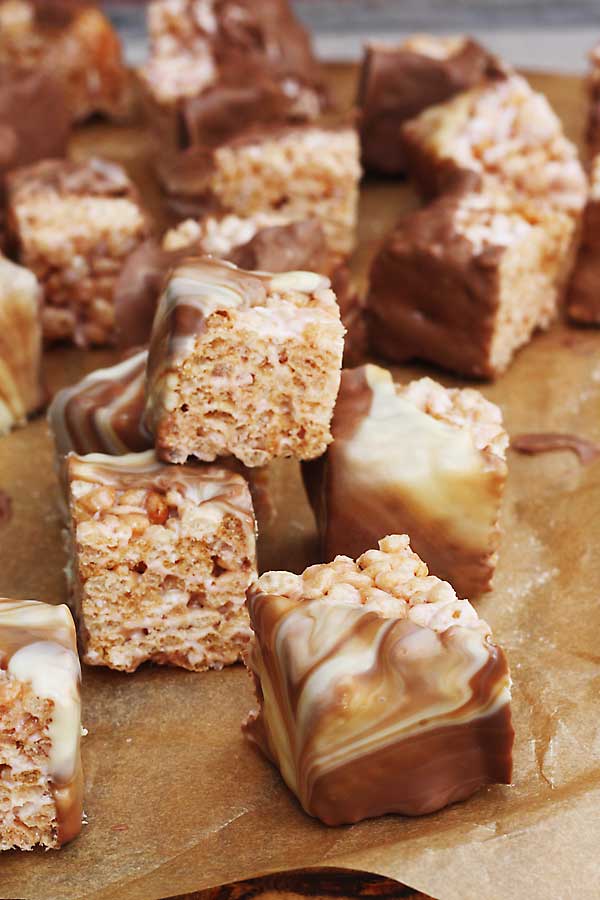 We've all heard the saying 'the best things in life are free', which of course is mostly true. But allow me to suggest that the second best things in life are 'simple'.
When I had only just met Mr. Scrummy and was showing him around Athens, we spent one glorious late afternoon sitting at one of the oldest, most traditional little tavernas in the old neighbourhood that sits on the slopes of the Acropolis. (< You thought I was going to suggest Mr. Scrummy was 'simple' then, didn't you? 😉 ) The warm sun was sinking lower over this ancient part of the city as we ate the most beautiful fried cheese with honey you can imagine. We squeezed over some lemon, cut the oozing, just-cooked snack into small squares and devoured it with little pieces of fresh bread and glasses of iced ouzo. The free entertainment was provided by the neighbourhood's resident cats performing their sneaky Mission Impossible style antics to catch the tastiest morsels dropping (or being dropped in our case) from the tables.
Now for the best part. We returned a couple of weeks later to this same spot to repeat our experience, enjoyed it just as much, drank a little too much ouzo, then went for a stroll and had our first kiss right under the lit-up night-time Acropolis. The rest is history and I'm guessing you're either saying 'Aw, how sweet!' right now or wanting to vomit with the 'cheesiness' of it all (< sorry, very bad joke). For those of you in the 'wanting to vomit' camp, it might make you feel better to hear that on our last day in Athens recently we promised ourselves that we would get everything finished early and leave time to enjoy our favourite cheese and honey one last time, but we just didn't manage it. Not even close. Unfortunately our 'simple pleasure' that time was not to be.
You would be forgiven for thinking that I'm now going to give you the recipe for that wonderful cheese with honey. Well, sorry, no. Maybe another time (but in the meantime have a go at this baked feta which is just as good, I promise).
What I am going to share today is how to make these marshmallow & swirly chocolate crispy squares, because they too are almost too simple and good to be true. You would also be forgiven for wondering why I am sharing a sort of posh rice krispy treat that you would probably more suitably imagine yourself making with children. But trust me, these were shared with the three other adults I'm living with at the moment and they were raved about by them all. If you're British and have ever tried a 'toffee crisp' chocolate bar, these crispy squares really reminded me of those. If not, I bet there's a similar chocolate bar in your country that you'll think of if you make these and when you first bite into them.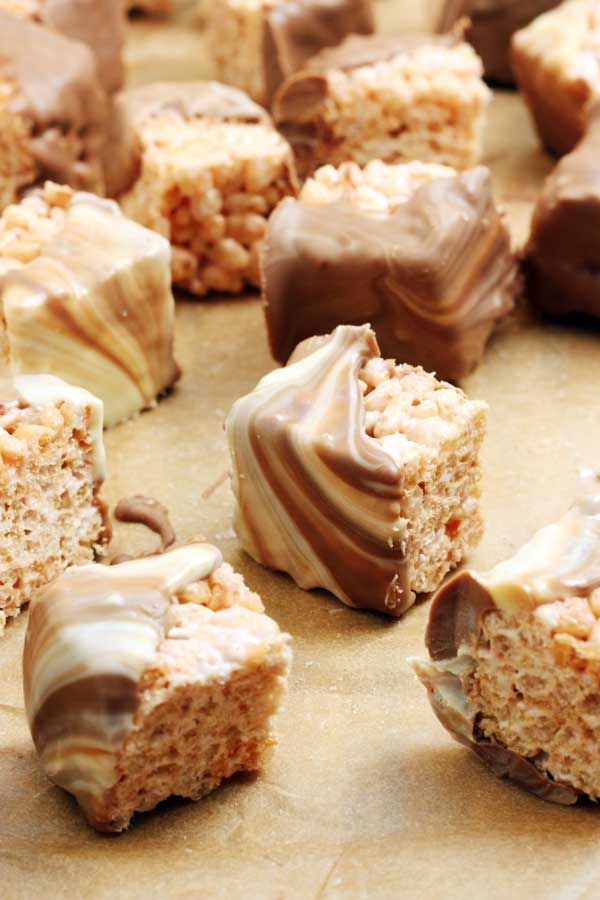 So all that is required to transport you to crispy, chewy, marshmallow-y heaven is to melt marshmallows with a little butter, stir in rice krispies and press the mixture into a baking tin. It'll be too sticky to use a spoon so press it in with your fingers (go on, just do it!) Pop into the fridge for an hour or so to set, cut into small squares, then dip them into melted chocolate. I chose to melt both milk and white chocolate together so that when I dipped the crispy squares in it the chocolate set in a swirly pattern (as you can see from this post, I'm getting a bit obsessed with swirly patterns!) I also dipped the 'pointy' edge of the squares in chocolate only so that half of them were covered in chocolate and half were left plain, but you could dip the whole square in if you wanted to. You could even add a little peanut butter to the rice crispy mixture (mmm … now there's an idea). The possibilities are many!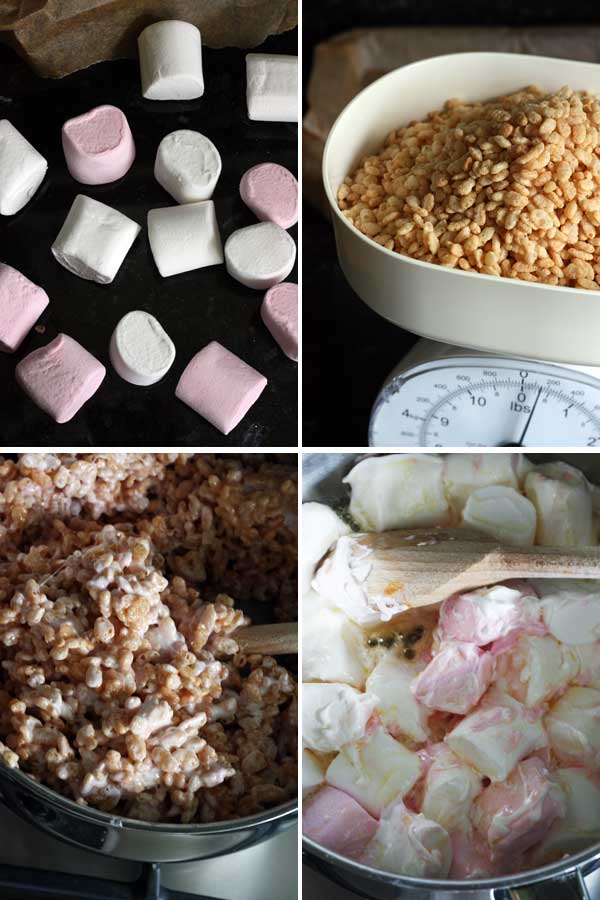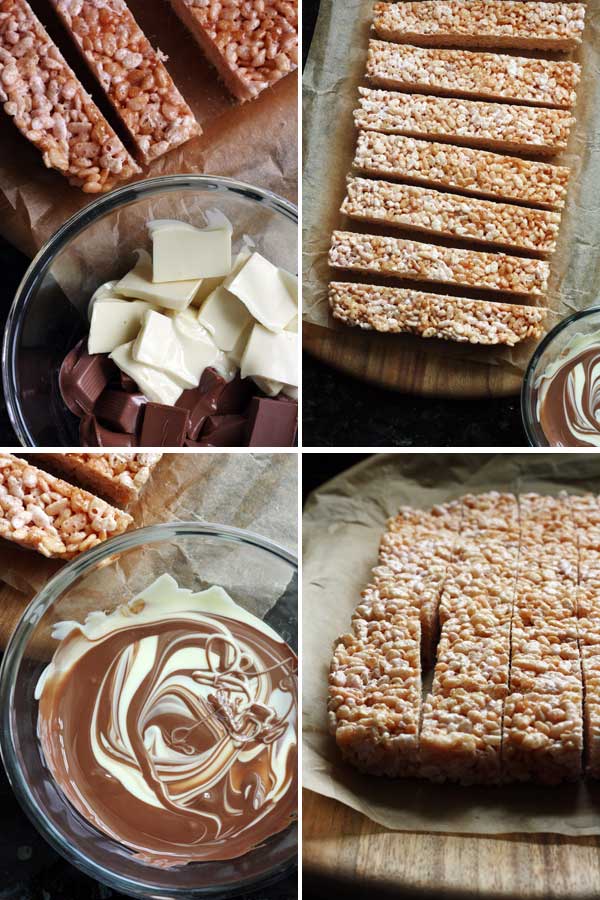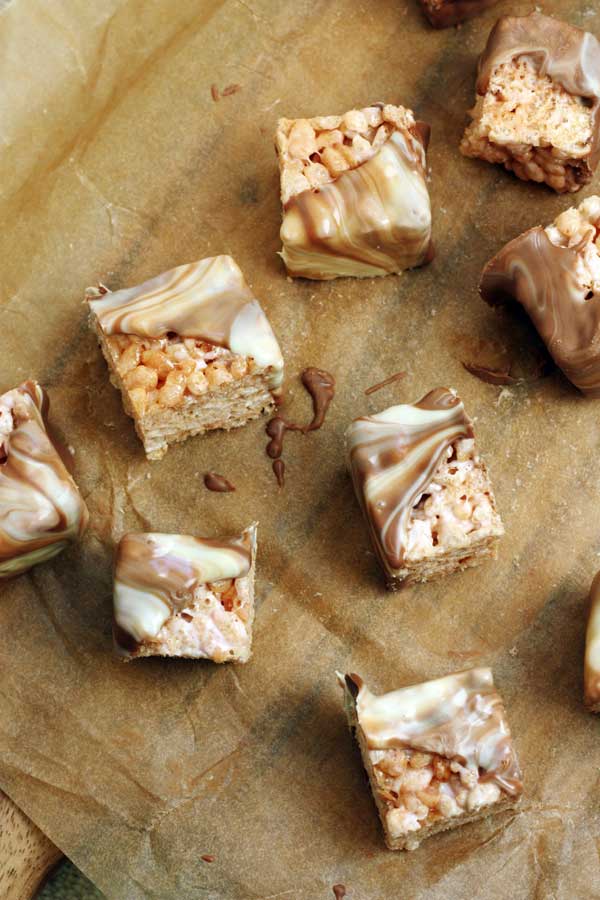 As you can see in the photographs below, I decided to package these marshmallow squares to give as little gifts. Well, sort of. Actually, I just packaged them up like this to show you that you could and then presented one of them to each member of my family. Completely silly, but they all seemed to like having their own little bag of treats. My mum even ate two of her four little squares and put a note on the bag that said 'MINE!' to stop anyone from eating the rest. (< haha … hope she doesn't read this!)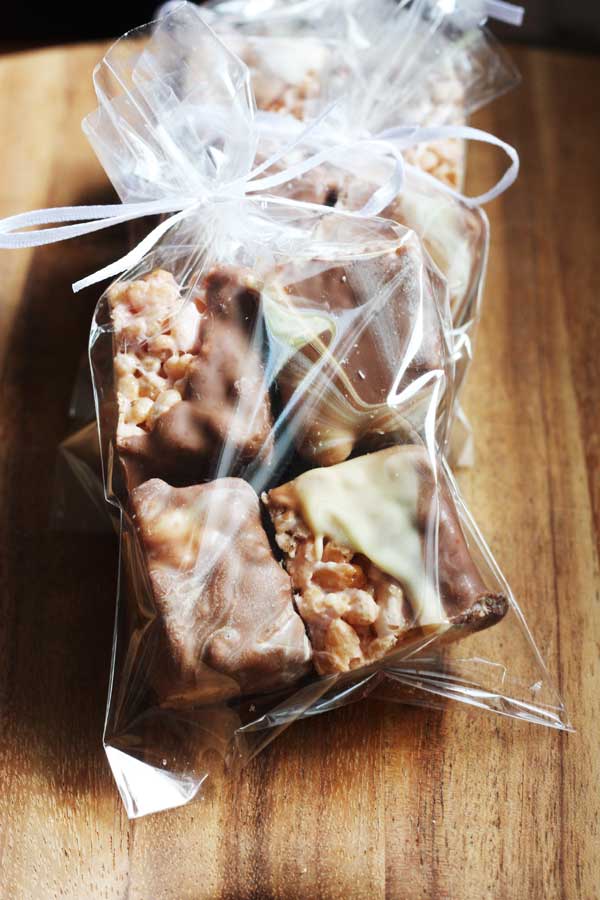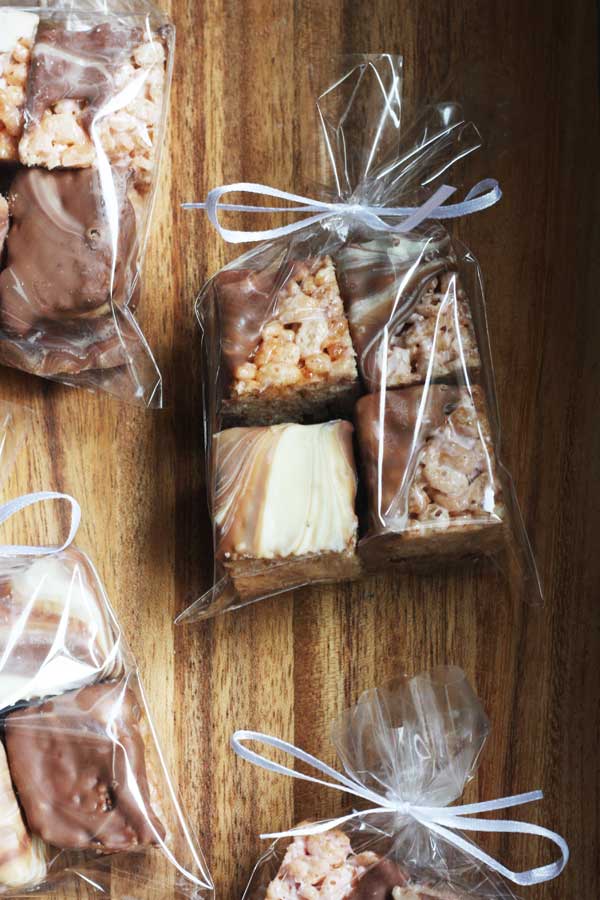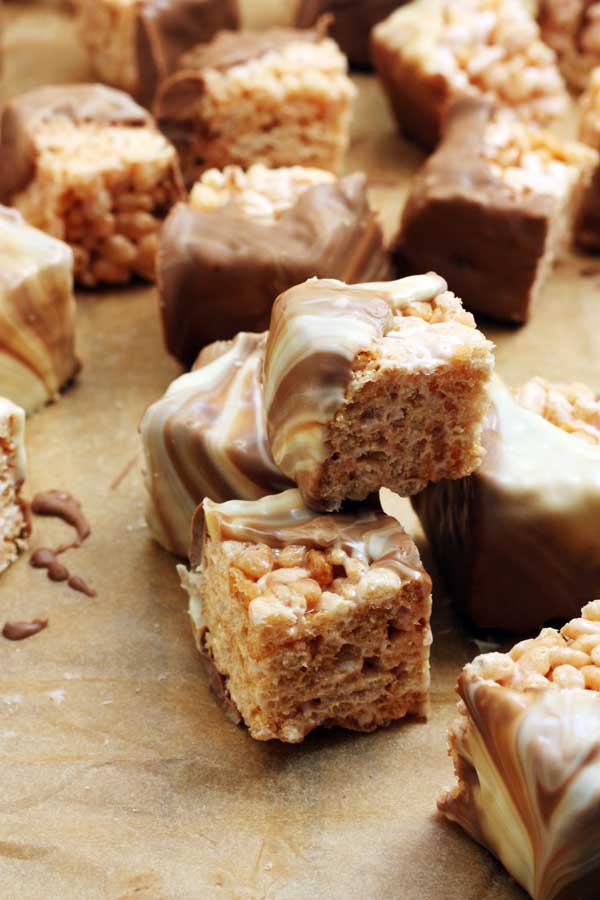 These simple little chocolate treats might not be quite as satisfying as an afternoon scoffing fried cheese and honey and drinking ouzo on the slopes of the Acropolis, but they aren't too far off.
What 'simple pleasures' have you enjoyed recently?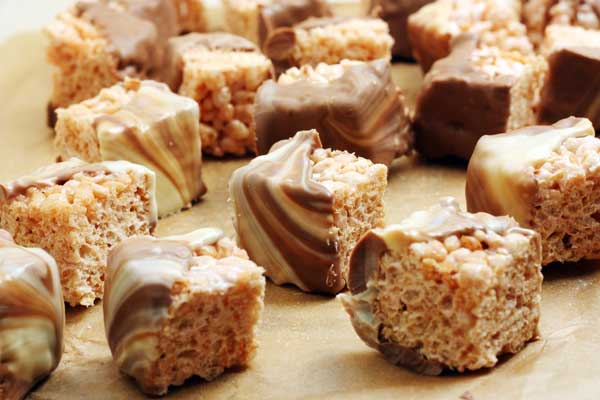 Homemade food gift: marshmallow & swirly chocolate crispy squares
Remember your childhood rice krispie treats? Make this version that both adults and children will enjoy by melting marshmallows with a little butter and stirring in rice krispies. Cut into bite-sized squares, then dip into melted white and milk chocolate for a swirly effect. Lovely packaged in a little transparent bag to give as a gift.
Ingredients (UK/Australia? Click below for grams/ml)
7 3/4

ounces

marshmallows

I used pink and white!

2 1/2

tablespoons

butter

5

ounces

rice krispies

11

ounces

good quality chocolate

I used about two thirds milk chocolate and one third white
Instructions
Line a baking tin with baking paper (I used a 10 x 7 inch tin but it would be fine to use a

slightly larger one

).

Put the marshmallows into a large pan along with the butter and melt on a low-ish heat. (The mixture might start to look as if it's turning to caramel in spots – that's OK, but just make sure it doesn't burn. As soon as it has more or less melted, take it off the heat.)

Quickly add the rice krispies and stir until they are all covered with the sticky mixture. Tip into the baking tin and press down into the corners and flatten as much as you can with the tips of your fingers.

Put the whole tin in the fridge to harden for an hour or so. Just before the hour is up, melt the white and milk chocolate in a small but deep bowl in the microwave in 30 second or so bursts until just melted. Swirl the chocolates together a little if you like with a knife.

Lift the whole crispy-marshallow slab out of the tin and cut it into bite-sized squares on a cutting board. Dip each crispy square into the melted chocolate (I dipped them so that only a triangular-shaped half was covered in chocolate), letting some of the excess chocolate drip off before placing on a fresh piece of baking paper (non-chocolate-covered side down) to set.

After the chocolate has set, package the squares nicely in clear gift bags tied up with a piece of ribbon if you like. If not giving as a gift, keep the squares in an airtight container.
Notes
Adapted from this recipe by Nigella Lawson.
Variations:
- Add a couple of tablespoons of melted peanut butter to the mixture before pressing it into the baking tin.
- Cover the whole square in chocolate, or keep the different types of chocolate separate and dip some squares in each.
To stop your chocolate from developing white streaks after it dries, barely melt your chocolate and let the last chunks melt into the rest without heating any more. This is a 'cheat's' way to temper your chocolate.
Nutrition
Calories:
87
kcal
Carbohydrates:
14
g
Fat:
2
g
Saturated Fat:
1
g
Cholesterol:
3
mg
Sodium:
39
mg
Potassium:
5
mg
Sugar:
9
g
Vitamin A:
315
IU
Vitamin C:
2.6
mg
Calcium:
10
mg
Iron:
1.4
mg
I love homemade food gifts! Other food gifts to try:
mango & pistachio chocolate bark
I hope you enjoyed this post! You can subscribe to receive posts directly to your inbox by entering your email address in the box below or at the top of the sidebar on the right.
You can also find more from Scrummy Lane on Facebook, Pinterest and Twitter and follow me on Bloglovin! Thanks so much for reading!
*This post contains affiliate links which means that if you click on a link and make a purchase I get a small percentage of the amount you spend. At no extra cost to you, of course! Thank you!*