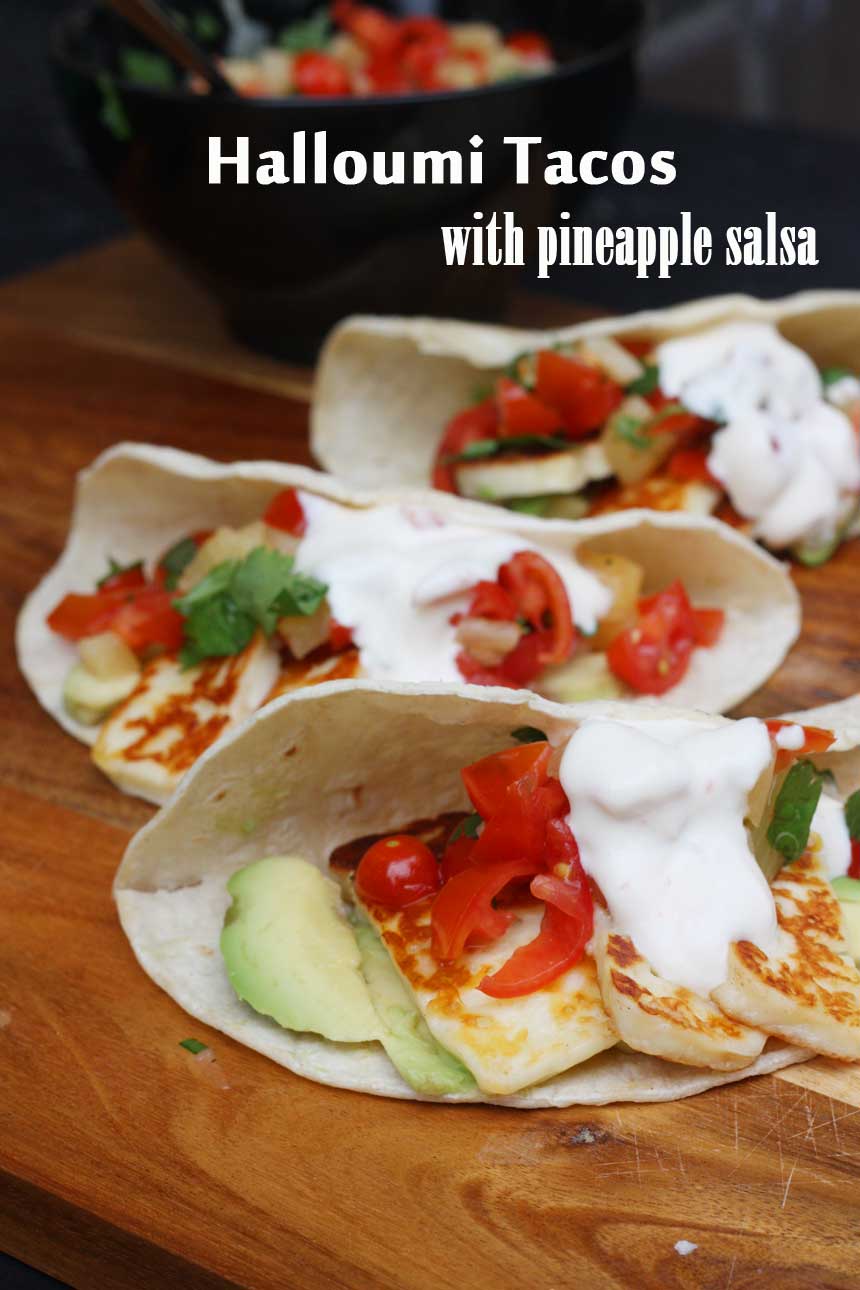 A family member and I had a conversation this week about the fact that we like to do things right. As in, we find it difficult to do personal photocopies at work if we're not supposed to, or tell a friend we've got a headache when we haven't to get out of going somewhere we don't want to. Apart from anything else, the stress of the worry of being found out is just too much for us. Total lightweights – but not in a bad way, I suppose.
We also had a bit of a laugh about the fact that on the very (very) few occasions that we do end up doing something 'naughty' along these lines … you can bet we'll end up getting caught (I know, it's no doubt the extreme guilty and/or nervous expression we have on our faces). For instance … there was a time a while ago, while I was still living in Greece, when I didn't buy my usual monthly travel card for the metro because I'd been on holiday that month and wouldn't get my full use of it. Instead, I bought some tickets for individual journeys. All very well, but … well, one day I totally forgot to stamp my ticket before boarding, as you're supposed to. And … of course … that one time that I did that, I happened to notice the ticket inspectors waiting to board a train about half way through my journey. Instead of acting cool and hoping they didn't get on my particular train, what did I do? Well, totally stupid me panicked and jumped off the train right then and there to try to stamp my ticket and then get back on. But (duh), the inspectors were looking for exactly that kind of 'shifty' behaviour and immediately pounced on me, asking to see my ticket. Result? Here's your fine, Madam, because why should we believe that you forgot to stamp the ticket and didn't do it on purpose. Too bad and don't do it again.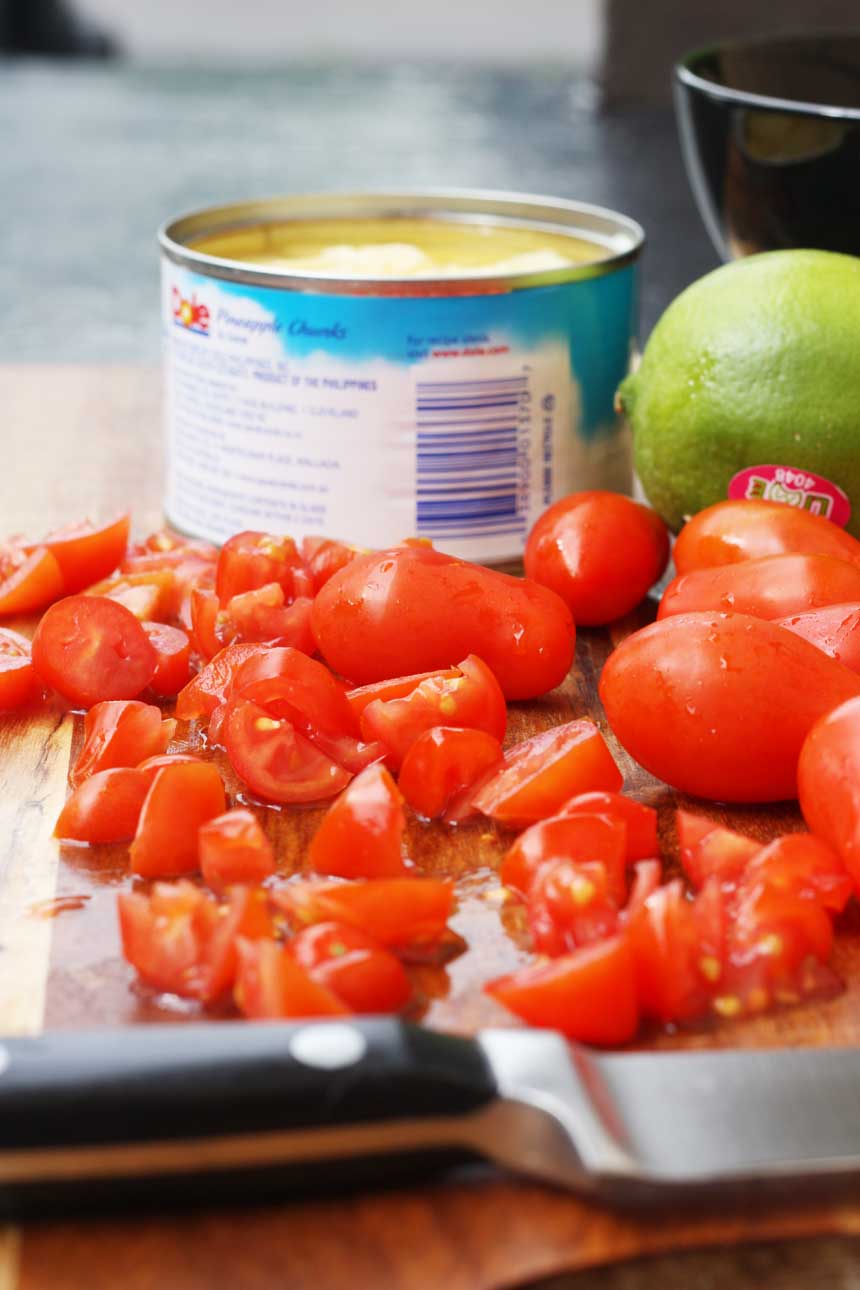 So, Greek bureaucrats are not really so good at giving you the benefit of the doubt in these kinds of circumstances. Unless of course you're a friend of the uncle of the son of the particular bureaucrat you're dealing with. When, as you can imagine, things can be a little bit different. But we'd better not go into too many more details about that kind of thing!
Another thing that I found the Greeks generally didn't do so well was Mexican – or at least Mexican-inspired food (sorry, Greece, it's true. But I think we'll let her off, seeing as Greece is rather a long way away from Mexico, and has her own delicious traditional foods!) Lately though I've noticed that some Greek restaurants have at least started to 'play with' their food a little and add subtle (and not so subtle) twists to traditional recipes.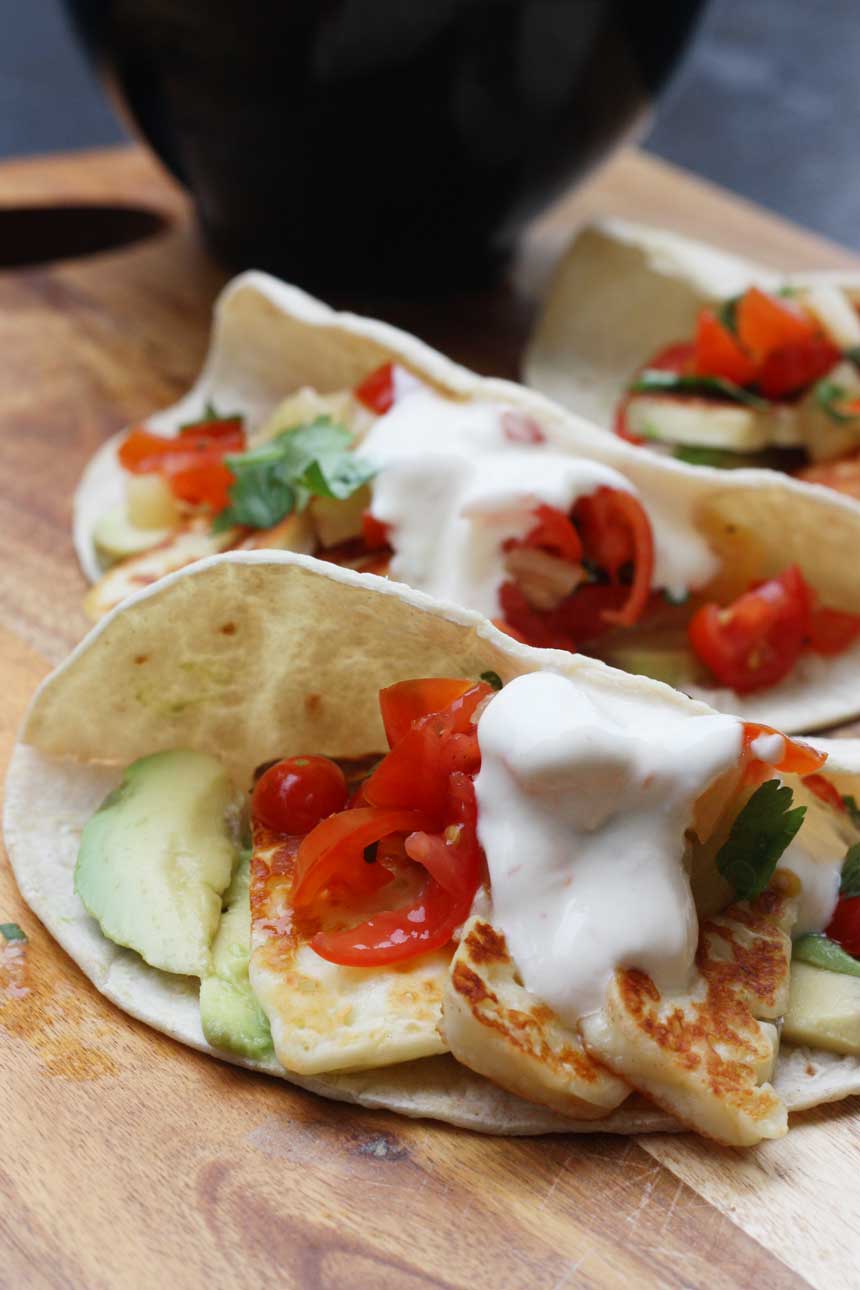 So I guess in creating these halloumi and pineapple salsa tacos I took a little inspiration from this trend. You could say I've created a sort of Greek-Mex dish (very sort of, I know). I loved halloumi cheese while living in Greece, which is made in Cyprus but popular in Greece, too. If you didn't know, halloumi is a little like mozzarella, but definitely saltier. Because it's firmer as well, it lends itself beautifully to cooking because although it softens, it doesn't melt. It also gets a wonderful crispy crust when you pan fry it in a tiny bit of olive oil. Mmmmm.
So for my tacos I fried slices of halloumi and then wrapped them in slightly crispy (because that's how I like them) tortillas with avocado, a spicy tomato and pineapple salsa and a sweet chili and Greek yoghurt sauce.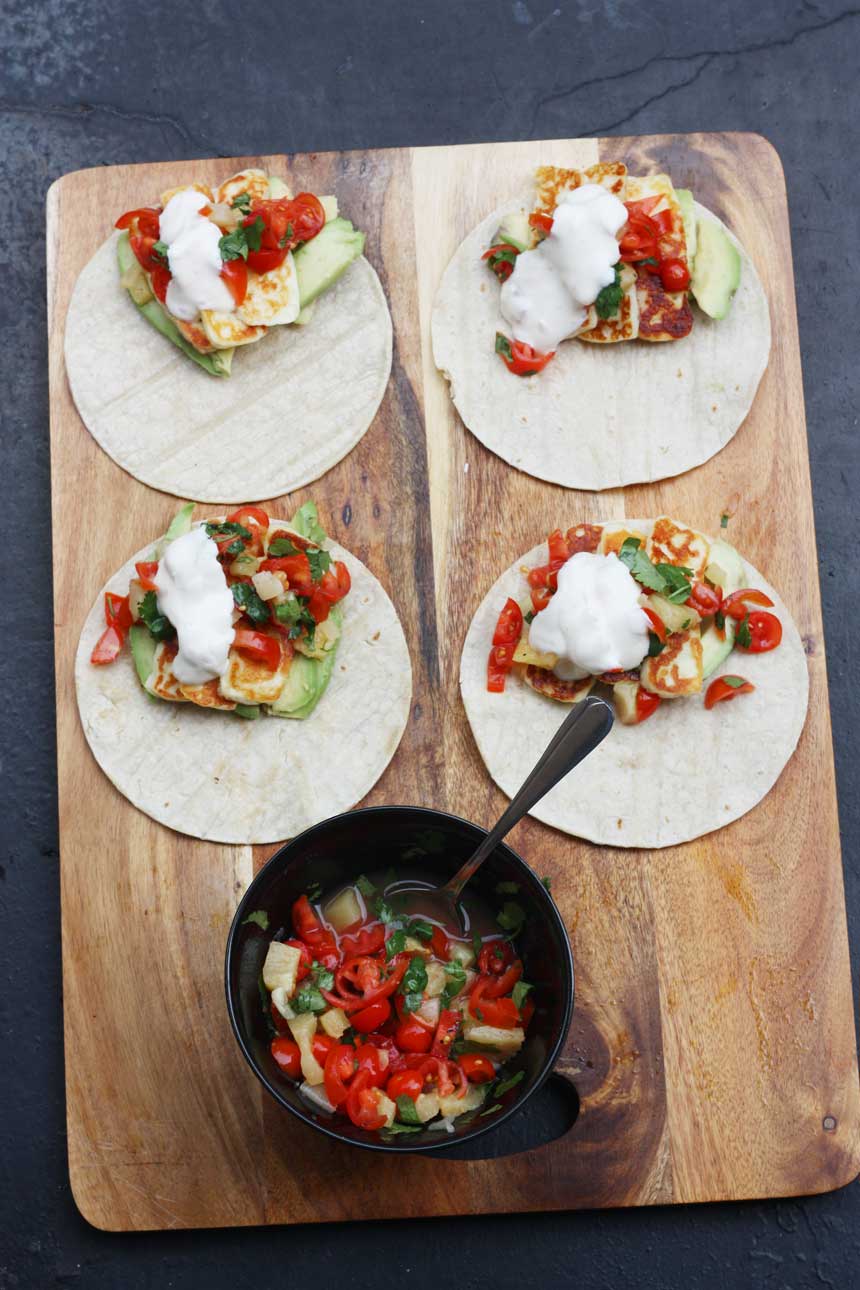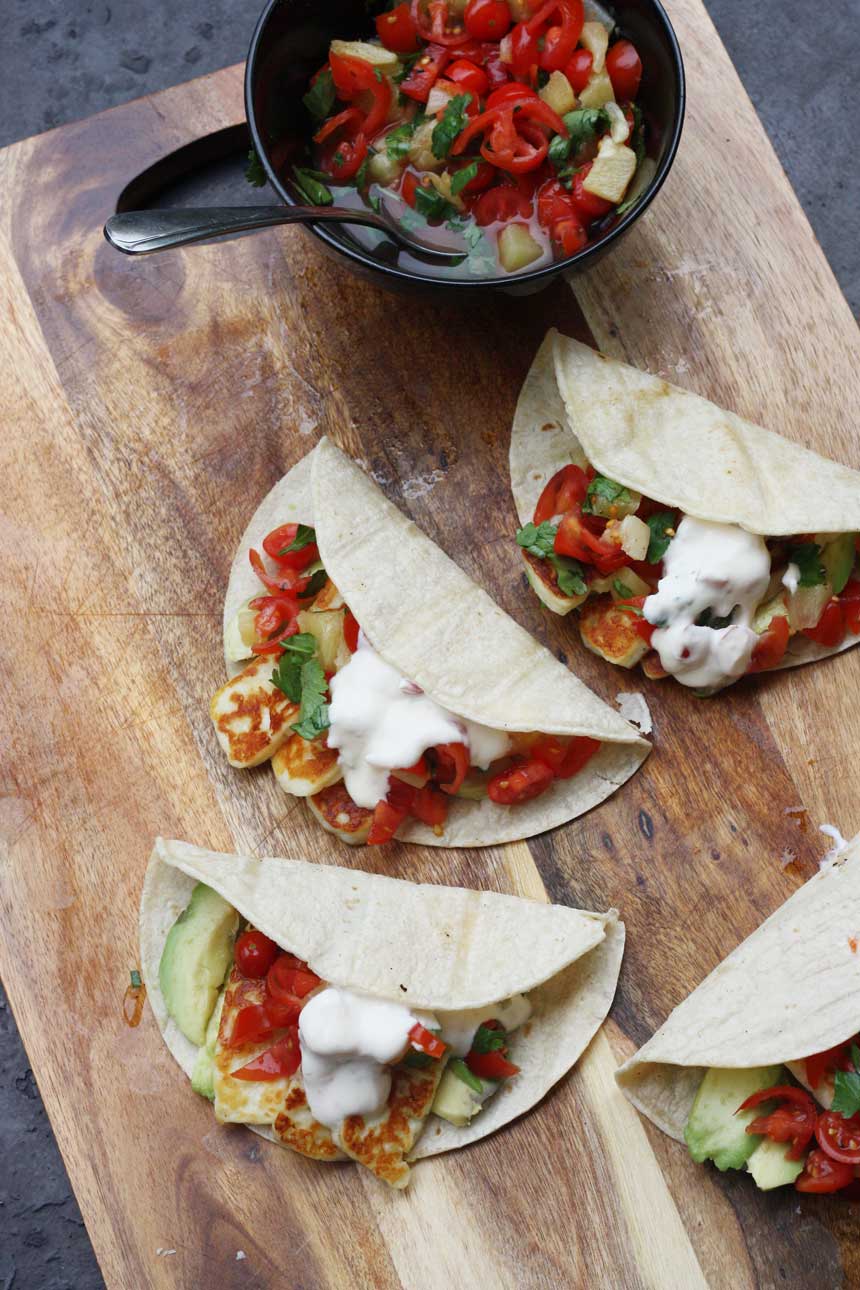 I tried this combination of ingredients both as tacos and the next day as a salad, and both ways were delicious. If you try making this, just try to find real Cypriot halloumi cheese (not any kind of supermarket own-brand imitation). As you can probably guess, I'm speaking from experience here. The imitation stuff is dry and yucky – so get the real deal!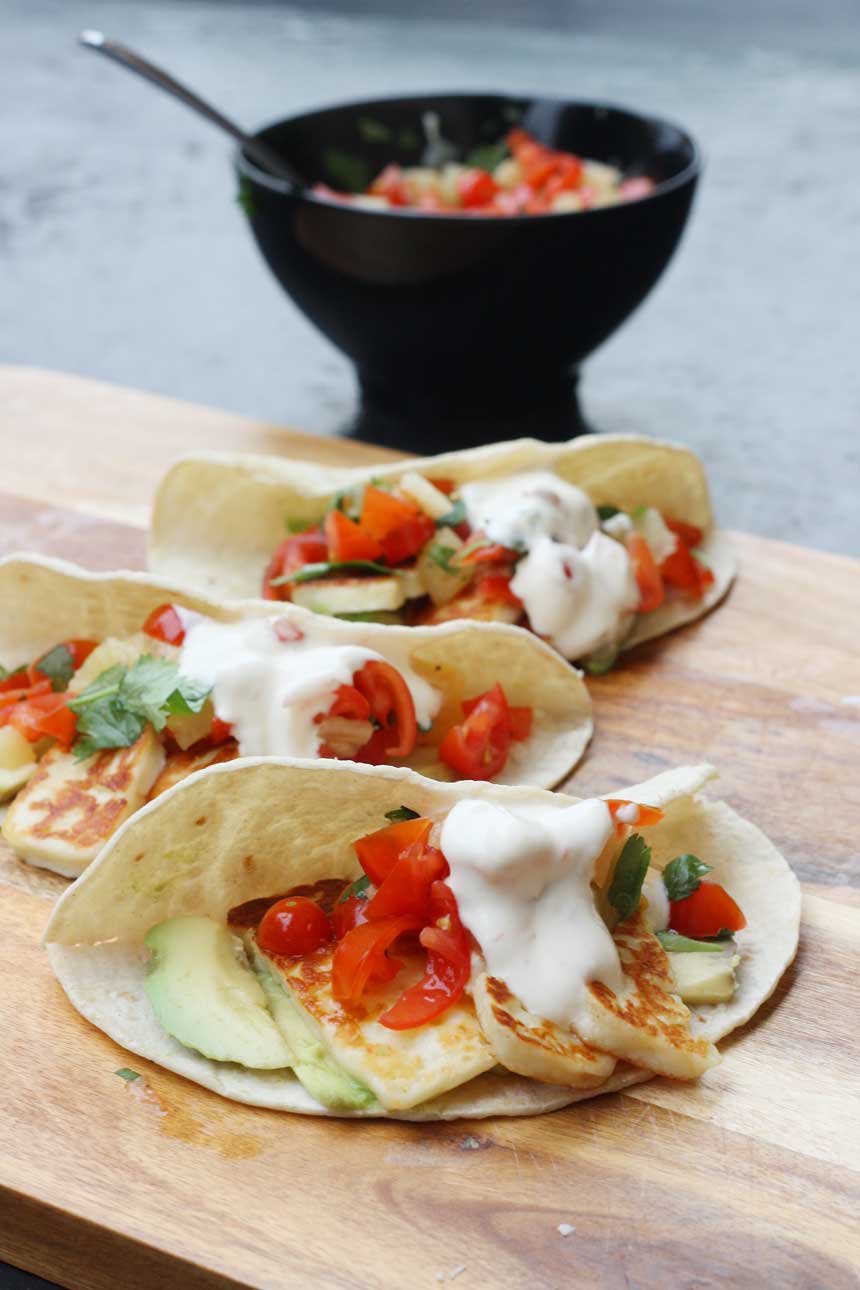 P.S. Apologies if I haven't visited your blogs this week or replied to your comments – I've been flying 10,000 km from one side of the world to the other, buying up entire home stores, attempting to move into an apartment in the UK … and then falling into bed beyond exhausted only to wake up a few hours later wide awake due to the dreaded jet lag. So I hope it's easy to forgive me! 😉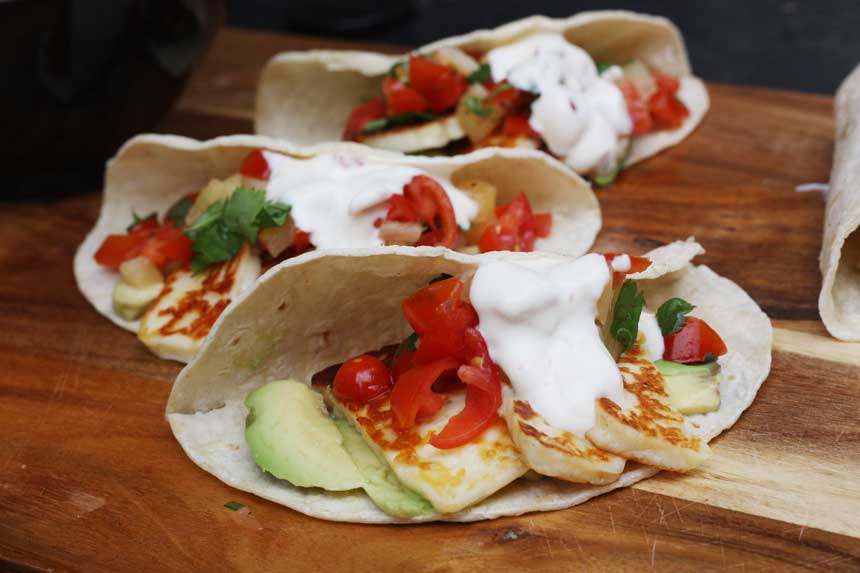 Halloumi & pineapple salsa tacos
Delicious crispy fried halloumi cheese served in a small taco with a tangy pineapple and tomato salsa. A sort of Greek-Mex creation, if you like!
Ingredients (UK/Australia? Click below for grams/ml)
For the salsa & sauce
8

ounces

finely chopped pineapple

(most of one can)

2/3

cup

finely chopped tomatoes

I used about 5 ounces cherry tomatoes

a few slices of finely chopped red onion

1

red chili

optional

1 1/2 to 2

tablespoons

chopped fresh cilantro/coriander

2

tablespoons

Greek yoghurt

or sour cream if you prefer

2

tablespoons

sweet chili sauce
The rest of the ingredients
small tortillas of your choice

1

avocado

sliced

1

'log' of halloumi cheese

sliced into about 1-cm-thick slices.

a little olive oil for brushing

1

lime

optional
Instructions
First, mix all of the salsa ingredients together and set aside. Also mix the Greek yoghurt and sweet chili sauce together and set aside.

Slice the halloumi into roughly 1cm-thick slices, brush the slices lightly on each side with a little olive oil, then heat up a frying pan and fry the halloumi for a few minutes on each side until golden and a little crispy. Keep the slices warm.

Prepare your tortillas to your liking (I heated them in a dry pan until warm and slightly crisp), then assemble your tacos. Start with a layer of avocado slices, then top with the halloumi slices, salsa and Greek yoghurt/sour cream sauce. If you like, squeeze a little lime juice over everything before folding up. Enjoy immediately.
Notes
Use the best quality halloumi you can find (an authentic Cypriot brand would be ideal!) Resist the urge to move the cheese around in the pan too much. Leave it for a couple of minutes before checking to see how it's doing and then ultimately flipping it over.
Nutrition
Calories:
146
kcal
Carbohydrates:
19
g
Protein:
2
g
Fat:
7
g
Saturated Fat:
1
g
Sodium:
99
mg
Potassium:
412
mg
Fiber:
4
g
Sugar:
11
g
Vitamin A:
335
IU
Vitamin C:
58.8
mg
Calcium:
30
mg
Iron:
0.8
mg
I hope you enjoyed this post! You can subscribe to receive posts directly to your inbox by entering your email address in the box below or at the top of the sidebar on the right.
You can also find more from Scrummy Lane on Facebook, Pinterest, Twitter and Instagram and follow me on Bloglovin! Thanks so much for reading!
*This post may contain affiliate links which means that if you click on a link and make a purchase I get a small percentage of the amount you spend. At no extra cost to you, of course! Thank you!*