Love Greek food? Love Mexican food too? You're in luck with these delicious crispy halloumi tacos with an easy pineapple mango salsa. The contrast of sweet and salty flavours could be a talking point when you're next entertaining, or serve them for a quick lunch at home.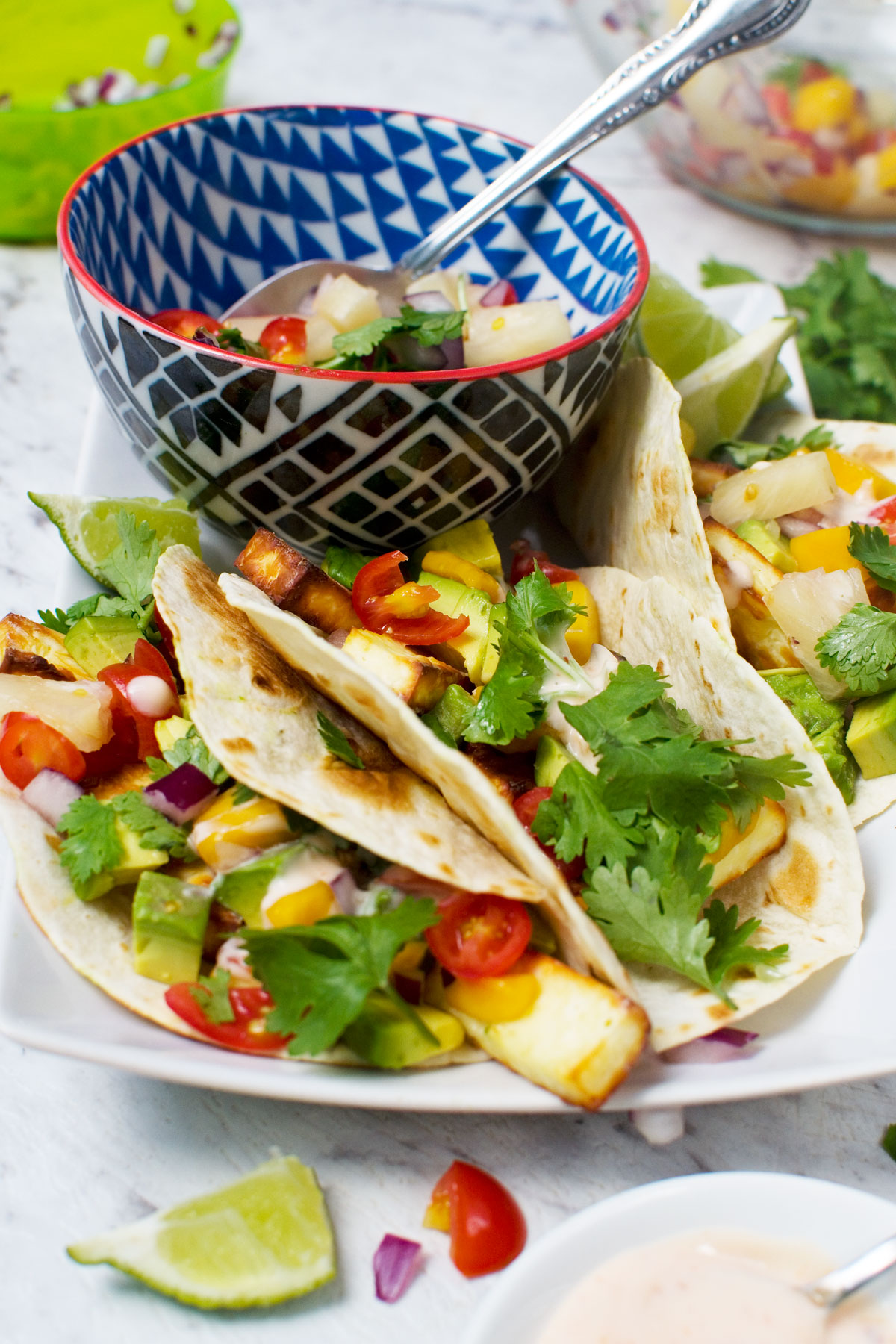 Why halloumi tacos?
Fusion food is everywhere, but have you ever come across Greek-Mex?
I've already dabbled in it with a couple of other recipes. These Greek quesadillas were one of my first popular recipes. Greek nachos are a fun and tasty twist on loaded nachos or a Greek salad – take your pick!
Halloumi cheese might already be quite familiar to you. If it isn't, try these legendary halloumi fries for an introduction to it that will blow your socks off.
If you do try them, you'll understand quickly how halloumi is suited to tacos. It's a little like mozzarella, but saltier. Because it's firmer as well, it doesn't melt as it cooks. It can also get a wonderful crispy crust.
These are simple but colourful and all-round amazing Greek-Mex tacos. You fry slices of halloumi and then wrap them in slightly crispy (if you like) tortillas with avocado, a tomato, pineapple and mango salsa and a sweet chili and Greek yoghurt sauce.
About the ingredients
The most important thing to say is that the ingredients amounts are not that important. Use my suggestions as a guide, but a little more or less of everything will still make for some very delicious halloumi tacos.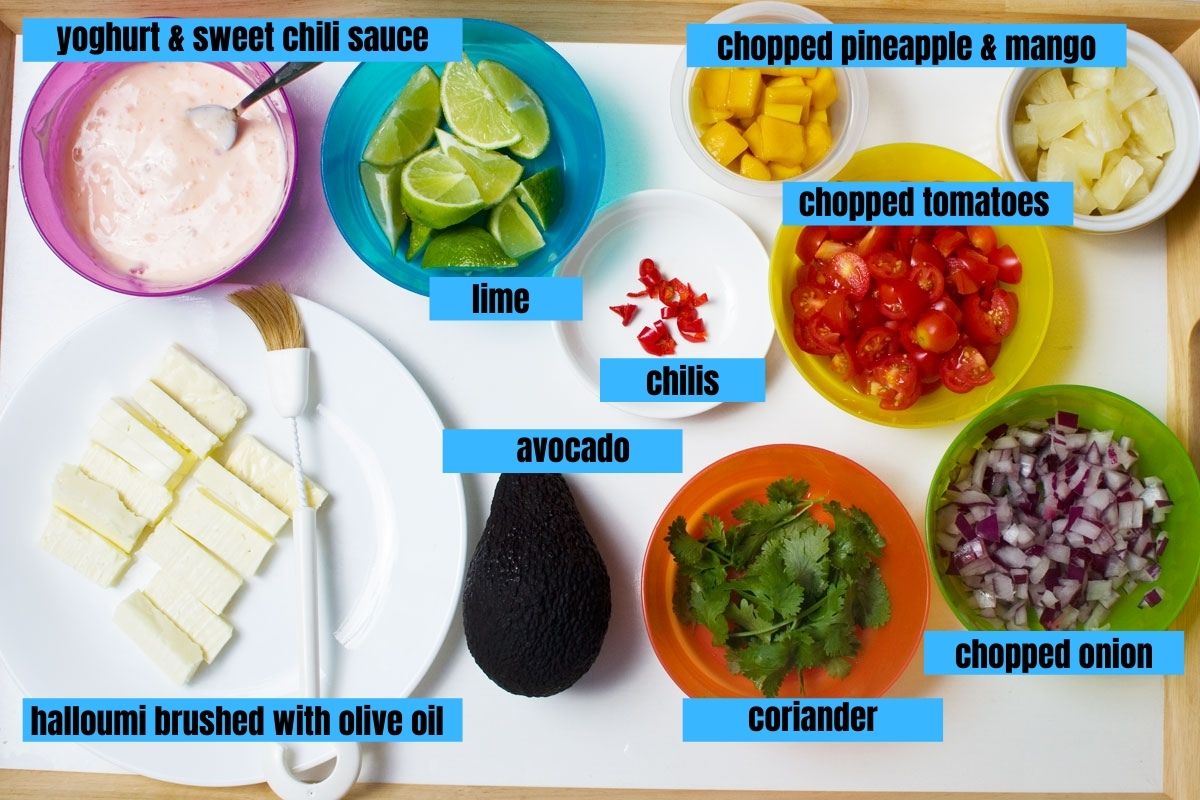 The tacos: I like medium sized corn tortillas. I'm one of those picky people who stand in the aisle inspecting the ingredients because I find some tortillas are full of preservatives etc. whereas others are not. Guess which ones I look for?
The avocado: Either a perfectly ripe one for small cubes, or if it's quite ripe there's no harm in mashing it like a simple guacamole.
The halloumi: There might be a bit of trial and error required here to get the brand you like best. I usually go for either a real Cypriot or Cypriot style halloumi cheese. One supermarket own brand I tried was a bit dry, but not disastrously so!
The salsa: I have a little trick to make the salsa very very easy. Use a can of pineapple chunks (not rings) and a can or snack tub of chopped mango. All you have to do is drain the juice (and drink it!) and dump the fruit into the salsa bowl.
The yoghurt sauce: All I do to make this is mix equal parts of Greek yoghurt and sweet chili sauce. Any plain yoghurt will do, however.
Chili and herbs: Adding a finely chopped red chili adds more colour and a hit of spice. A big handful of fresh coriander is the icing on the cake. If you don't care for coriander, fresh basil or even parsley would work instead.
Pan fry vs shallow fry vs air fry
You can cook halloumi in several different ways. All are delicious, and I tend to cook it in different ways depending on what the recipe is.
For these tacos, I prefer to air fry the halloumi because it's the easiest and cleanest way. To cook halloumi in your air fryer, just lightly spray with olive oil on both sides, then cook for around 5 minutes on each side until golden and crispy. Meanwhile, make the quick pineapple mango salsa and sweet chili yogurt sauce.
The end result is a lovely crispy fried halloumi – again a perfect contrast to the tangy salsa and sauce and the lightly crispy corn tortillas.
If you don't have an air fryer, I'd recommend just pan frying your halloumi in a little olive oil on each side until lightly crispy. Or you can pull out all the stops and shallow fry your halloumi. Roll the halloumi in a little flour before frying for the crispiest, most delicious halloumi you've ever tried.
How to assemble your tacos
The best way to make these is to get all your components ready to go, then assemble the tacos at the last minute.
If you're sneaky you can pop your halloumi in the air fryer (I usually brush it with olive oil first) and make the salsa and sauce while it's cooking. This is the most hands-off way of cooking the cheese.
If you're cooking the halloumi on the stovetop, it's best to make the toppings first, then cook the halloumi so you can give it your full attention.
I usually start by cooking my tortillas in a dry frying pan for a couple of minutes on each side until a little golden and crisp.
This is how I assemble my tacos, but there are no real rules. Just pile everything on if you like!
taco
crispy bites of halloumi
salsa with fresh herbs
avocado cubes
sauce
How and when to serve them
A delicious quick lunch or snack.
Party appetizers.
For a bigger meal, why not serve them with this lemony Mediterranean rice with chickpeas? You can make it either on the stovetop or in your pressure cooker/instant pot if you have one.
Variations
These are incredible exactly as they are. However:
If you want to keep things super super easy, you can make the salsa even simpler. Use either pineapple OR mango rather than both. If you don't happen to have a ripe avocado, no biggie either. The tacos will still be delicious without avocado.
Replace the halloumi with feta cheese (uncooked) or even bites of fish, chicken or steak. Even fish fingers would be yummy!
Make a salad bowl instead of tacos using all the same ingredients. You might like to include some rice, quinoa or pasta. Or just serve your salad with a few tortilla chips for dipping into the salsa.
Pro tip: Leftover salsa? Serve with some grilled or air fried chicken, steak or fish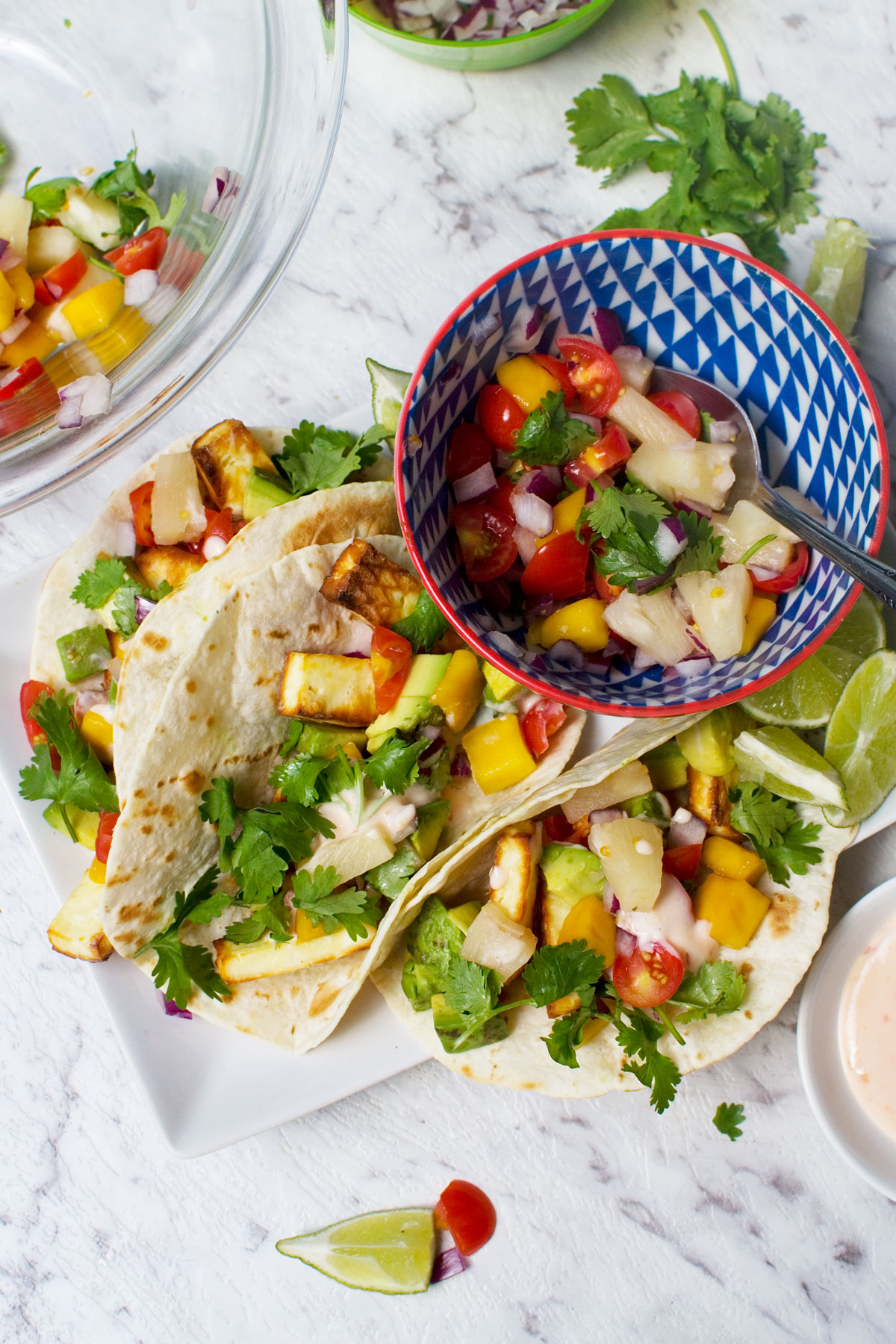 FAQ
Where can I buy halloumi cheese?
In both Australia and the UK, halloumi is widely available in supermarkets. In the USA, it's becoming easier to find. Try Walmart, Trader Joe's or even Amazon!
What brand of halloumi is best?
While there's no definitive answer to this question, I prefer to use a traditional Cypriot or Cypriot style halloumi cheese for the best results. They're usually sold in a 'log-shaped' packet and there's a bit of salty brine inside to keep the cheese fresh. I find that supermarket own brand versions can be a bit hit and miss. If there are several choices, you'll probably need to experiment a bit to find the brand you like best.
What kind of tortillas should I use?
I usually go for small to medium sized corn tortillas. If you can get hold of some handmade ones or make your own that would be fantastic. Otherwise check the back of the packet. I always do this to find the ones with the least amount of ingredients in. The more natural the better!
More recipes for halloumi lovers
Just love halloumi? Check out my expert how to cook halloumi guide. With pro tips, recipes and more.
IF YOU MAKE THIS RECIPE, LET ME KNOW HOW YOU GET ON BY LEAVING A COMMENT AND RATING BELOW… AND DON'T FORGET TO SIGN UP TO RECEIVE ALL MY NEW RECIPES BY EMAIL!
FOLLOW ME ON FACEBOOK, INSTAGRAM, PINTEREST AND YOUTUBE.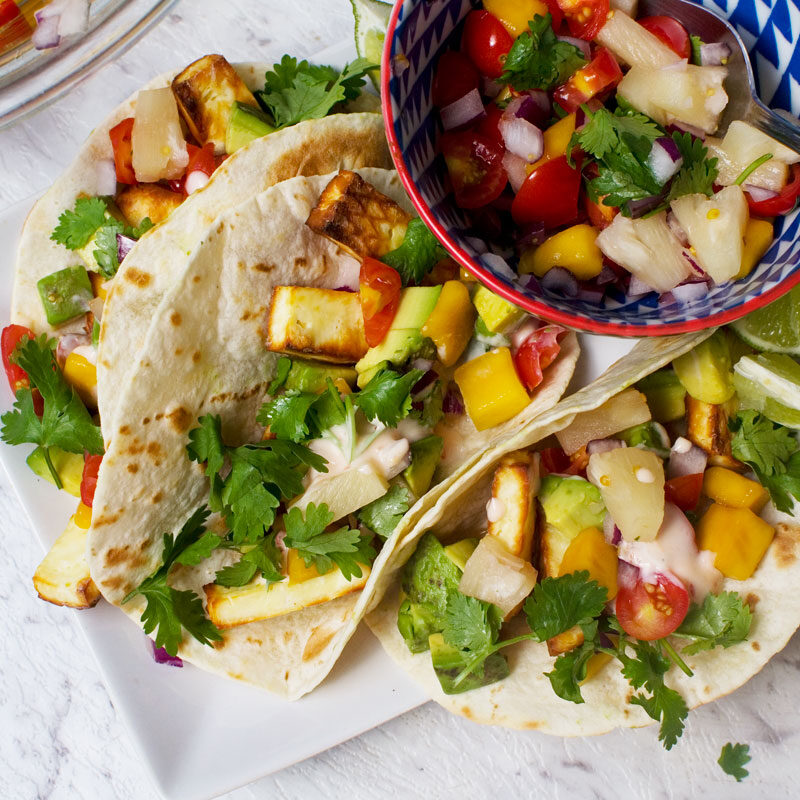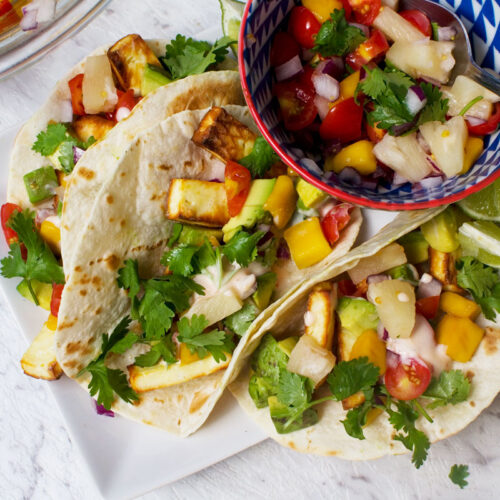 Halloumi Tacos with Pineapple Mango Salsa
Delicious crispy fried halloumi cheese served in a small taco with a tangy pineapple mango salsa. A sort of Greek-Mex creation, if you like! Perfect as party appetizer, or a simple lunch for the family.
Equipment (affiliate links)
Ingredients (UK/Australia? Click below for grams/ml)
For the salsa and sauce
⅔

cup

tomatoes

chopped finely (about 5 ounces cherry tomatoes or equivalent in larger tomatoes)

½

cup

pineapple

chopped (I use a can of ready chopped pineapple in juice, juice drained)

½

cup

mango

chopped (I use a snack container of chopped mango in juice, juice drained)

¼

small onion

chopped

1

red chili

finely chopped

1

handful

fresh coriander

(US cilantro) chopped

2

tablespoons

Greek yoghurt

or sour cream if you prefer

2

tablespoons

sweet chili sauce
The rest of the ingredients
8

corn tortillas

medium

1

avocado

cubed (or mashed if very ripe)

6

ounces

halloumi cheese

1 'log' or block (usually around 180 grams)

a little olive oil for brushing

1

lime

for squeezing over at the end
Instructions
Mix all of the salsa ingredients together and set aside. Also mix the Greek yoghurt and sweet chili sauce together and set that aside.

Slice the halloumi into roughly 1cm-thick slices or cubes, and brush lightly on each side with a little olive oil.

Heat up a frying pan and fry the halloumi for a few minutes on each side until golden and a little crispy. Alternatively, air fry at 375F / 190C for 4 to 6 minutes on each side.

Heat the tortillas in a dry frying pan until warmed through and a little crisp.

Assemble your tacos. Start with 4 or 5 halloumi bites, then top with the salsa and avocado. Finally, drizzle over some Greek yoghurt chili sauce.

Fold over and serve with a lime segment for squeezing over everything. Eat immediately.
Notes
Ingredient amounts: Please note that the above amounts are only a guide. The great thing about this recipe is that the ingredient amounts don't really have to be exact. Just throw everything in and enjoy!
Halloumi: Use the best quality halloumi you can find (an authentic Cypriot brand would be ideal!). If pan frying, resist the urge to move the cheese around in the pan too much. Leave it for a couple of minutes before checking to see how it's doing and then ultimately flipping it over.
To air fry your halloumi instead, brush with olive oil, then air fry for 4 to 6 minutes on each side until golden and crispy. I find that a basket style air fryer cooks slightly faster than an oven style air fryer, which is why cooking can take 8 to 12 minutes. This method isn't faster than pan frying, but it's more hands-off, leaving you free to use the time to make the salsa if you like.
Alternatively, use the shallow frying cooking method to cook your halloumi for ultra crispy halloumi. You can find the method in this post for delicious crispy halloumi fries.
Fruit for the salsa: I always use ready chopped pineapple and mango from a can or snack pot to save time. Feel free to use fresh fruit if you prefer.
Leftovers: The salsa is delicious served over meat or fish, so leftovers shouldn't go to waste!
Nutrition
Calories:
396
kcal
Carbohydrates:
44
g
Protein:
15
g
Fat:
20
g
Saturated Fat:
9
g
Cholesterol:
1
mg
Sodium:
629
mg
Potassium:
541
mg
Fiber:
8
g
Sugar:
13
g
Vitamin A:
693
IU
Vitamin C:
41
mg
Calcium:
500
mg
Iron:
1
mg