It's the perfect time of year for all kinds of marinated chicken pieces. Wait, isn't any time of year the perfect time? Don't like wings? No worries – use drumsticks or thighs! This easy Greek baked marinated chicken is a great crowd pleaser for your next party or picnic.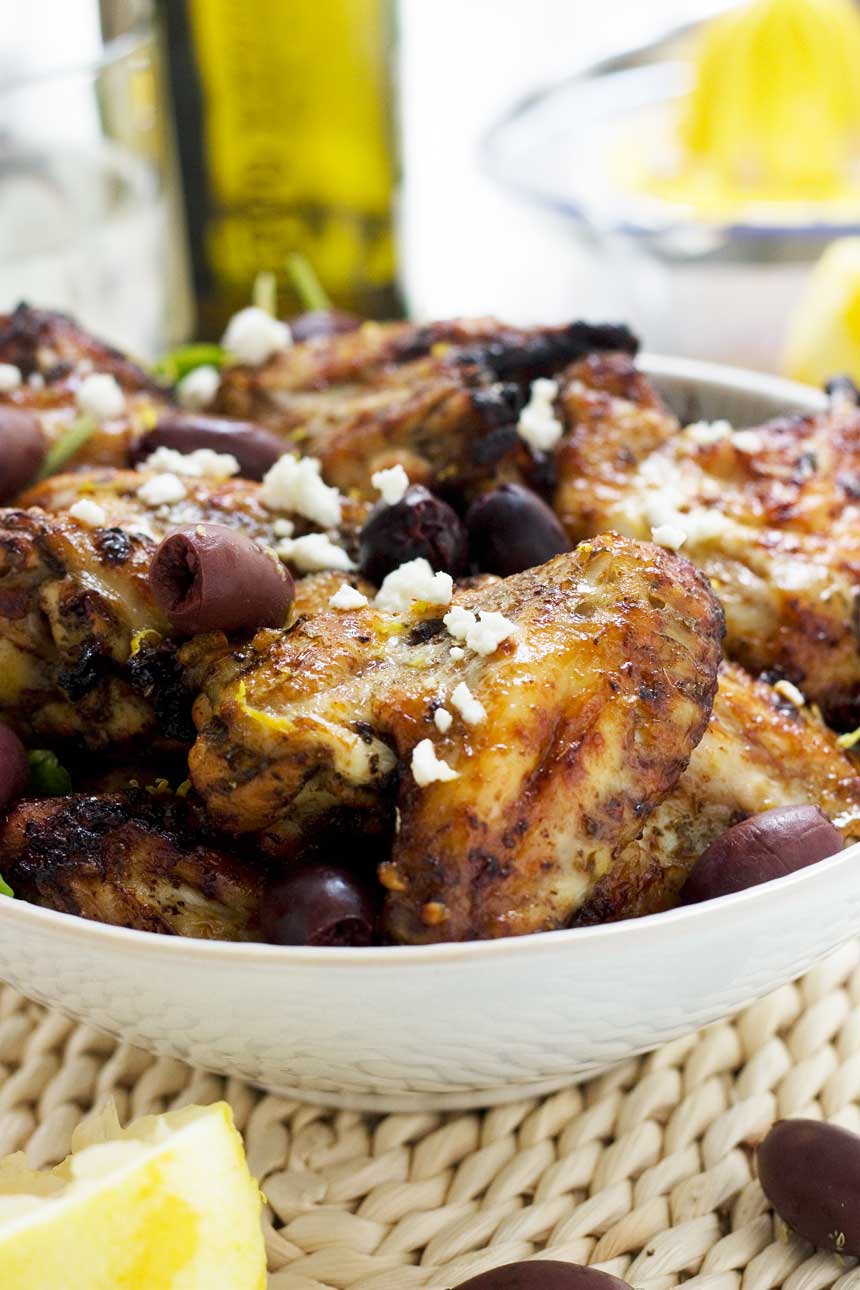 You've got a birthday party coming up. You've been asked to take something to share along to an event. You need New Year's Eve finger food. You're going on a picnic with friends.
We all need some go-to appetizer or stellar party food ideas. If we can come up with something that's both easy and tasty, like this Greek baked marinated chicken, then we know we're on to a winner.
Why you'll love it
It's a recipe from the super talented Nagi from Recipe Tin Eats. I first posted this recipe of hers back in 2015. I've very slightly tweaked the recipe since then and made it work for chicken pieces rather than just wings. But this is still fairly and squarely Nagi's brainchild from her amazing book 'Baked Wings'.
There are just 5 marinade ingredients (plus salt and pepper).
The Greek flavours in the simple Greek chicken marinade just work. There's a perfect balance between the olive oil, garlic, lemon, honey and oregano.
It's a crowd pleaser. The flavours are subtle, but there. There's no spice so children will love them too.
Did I mention it's a super easy idea (my kind of recipe)? Just throw the Greek marinade ingredients together in a ziploc bag, add the chicken pieces and marinate for just an hour. Overnight is better, but in a pinch an hour will be fine.
Scatter with optional (but recommended) olives and feta cheese to send your roasted chicken soaring from good to amazing. Arrange them on a bed of greens and they look even more stunning!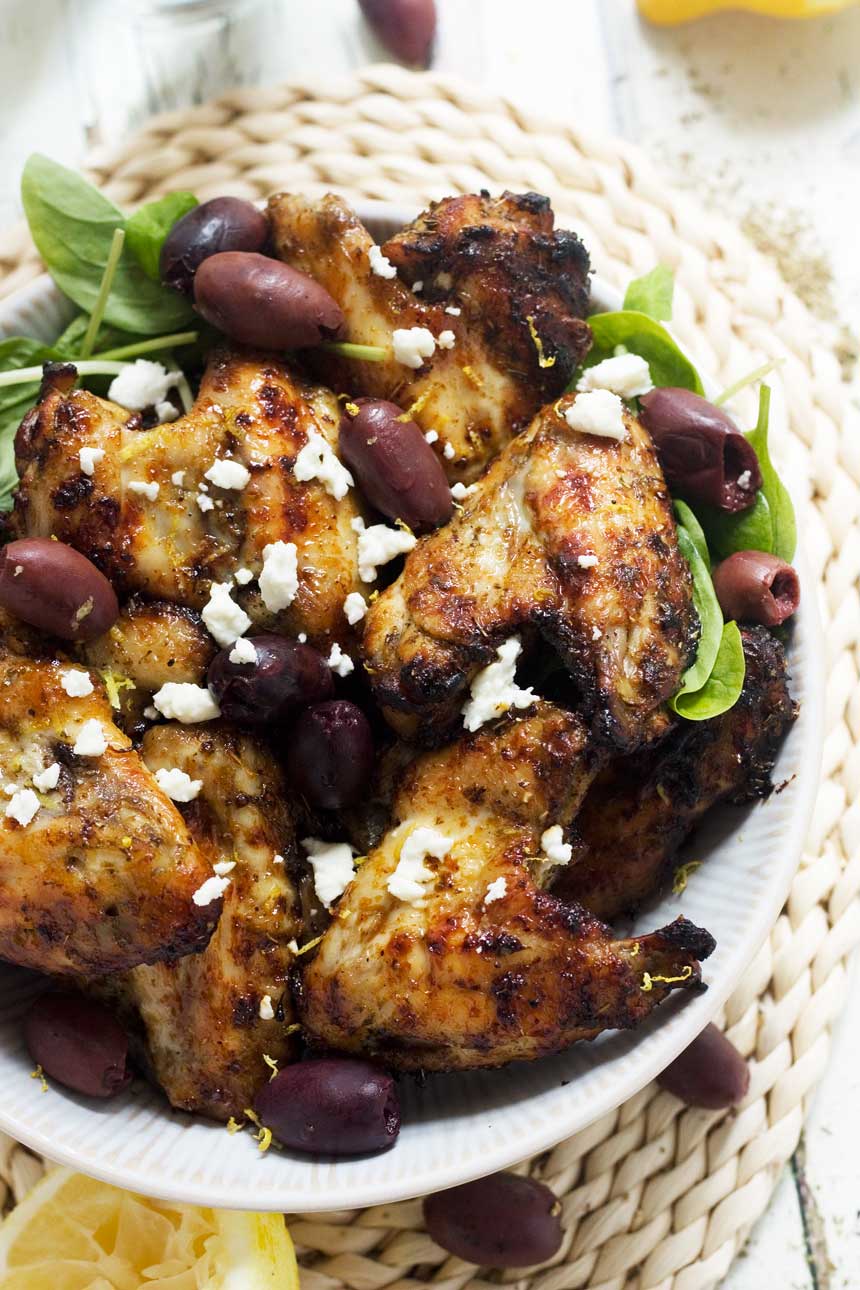 How to make an easy Greek marinade for chicken
You won't believe how easy it is. Just whisk up an easy chicken wing marinade with these FIVE classic Greek flavours:
OLIVE OIL
GARLIC
LEMON
OREGANO
HONEY
Plus a bit of salt and pepper of course.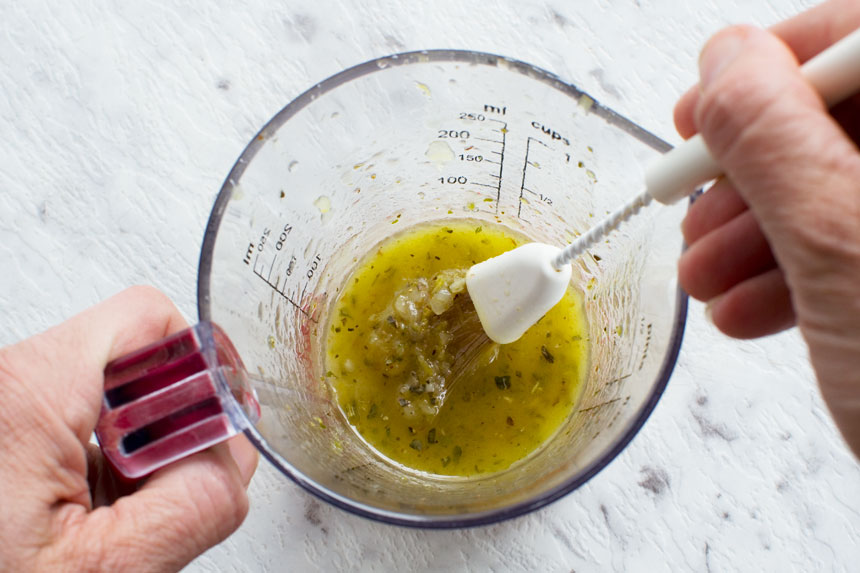 How long to marinate the chicken for
I'll be honest with you. It puts me off somewhat if I read through a recipe and I find out I have to do something the night before.
IF you remember and have the time, throw the marinade ingredients into a Ziploc bag the night before you want to eat. Then add the drumsticks, thighs or wings (or a mixture!).
Zip the top of the bag then SQUISH and massage the bag with your hands until all the pieces are covered in the marinade.
Place on a plate and pop in the fridge until you're ready to cook the chicken the next day.
If you don't remember the night before though (ME), or you're just too exhausted (ME AGAIN), no worries… Just make sure you marinate the chicken for at least an hour.
I'll let you into a secret though. I have marinated the chicken for as little as around 15 minutes, and the chicken still turned out delicious. So don't worry about this part too much.
How to cook it
From here it's as easy as these 5 steps:
Step 1: Grab a wire rack and a large baking tray with a rim. Line the baking tray with foil (for drip catching!).
Step 2: Use small BBQ tongs to grab the chicken pieces out of the bag and place them on the wire rack.
Step 3: Bake for 35 to 50 minutes. The amount of time you bake for will depend on the chicken pieces you have and their size of course. I've added a guide to cooking times below, but it isn't an exact science. Just bake until your chicken pieces are golden, sticky and delicious looking!
Step 4: Pour the leftover marinade into a small bowl and add a tablespoon more of honey.
Step 5: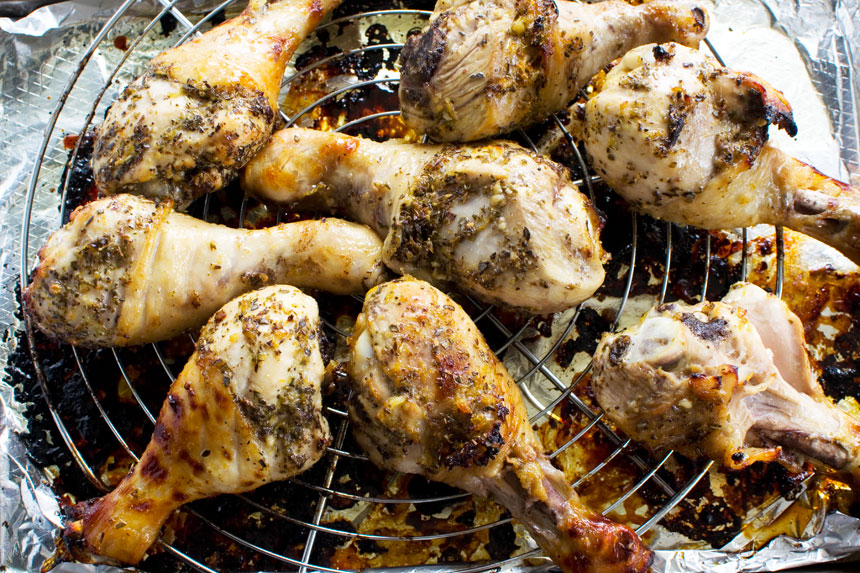 So… how long does it take to bake marinated chicken at 350 degrees? (180C)
Hmmm. Great question, right?
As a general rule I cook all kinds of marinated chicken pieces for 35 to 55 minutes, depending on their size.
For chicken wings…
40 minutes is about right for perfect golden and sticky wings. This is how long Nagi cooks hers for in her original recipe!
For chicken drumsticks…
Depending on the size of the drumsticks, I cook them for 40 to 55 minutes. Supermarket drumsticks in Australia seem to be quite big for some reason – I cook those for 55 minutes for delicious golden and sticky chicken legs.
For chicken thighs…
I find that bone in skin on chicken thighs need 40 to 50 minutes depending on their size.
I bake skinless boneless chicken thighs for a bit less time – around 30 to 35 minutes. I find that thighs don't always look as golden and sticky when they're cooked as the wings and drumsticks, but they're still delicious.
For a mixture of drumsticks, thighs and wings
You can even mix it up if you like! In this case, I'd just use the above guide as a general rule and remove the different pieces of chicken from the oven with tongs when they are lovely and golden and sticky looking.
Or just keep it simple and bake for around 45 minutes. Check any of the larger pieces of chicken are done after this time. You can even use a meat thermometer if it makes you feel better.
But don't stress too much about exact cooking times. I find it's quite hard to ruin the chicken. Again, it's usually done when it's lovely and golden and sticky looking, and of course the juices run clear when you poke it and it's no longer pink inside.
Pro tip: If in doubt, check the internal temperature with a meat thermometer. The thermometer should read 165 Fahrenheit (if you're in the USA) or 75 Celsius (if you're in the UK or Australia!).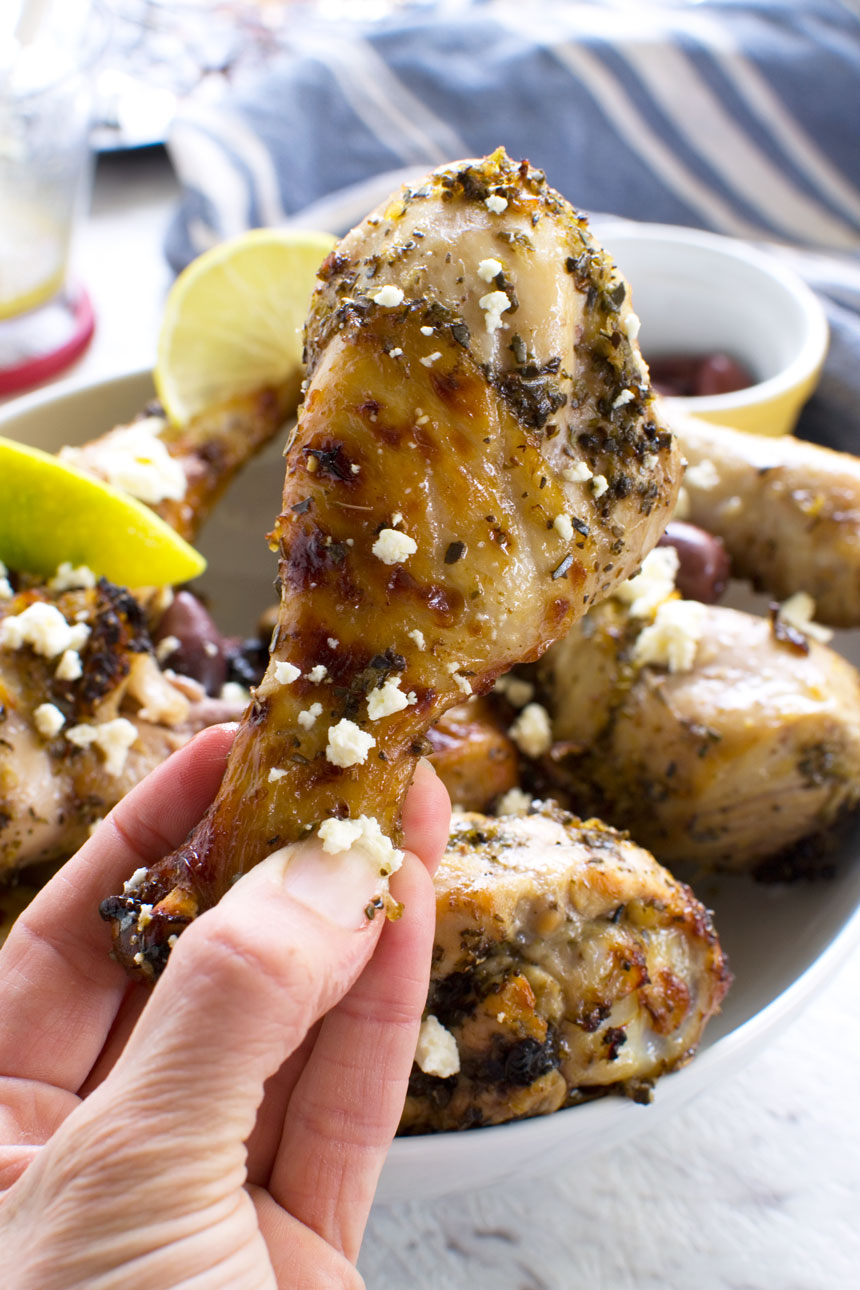 Where to buy chicken wings and how to prepare them
I ask this question because… in the two countries I've lived in most recently (the UK and Australia) supermarkets don't always seem to sell plain old chicken wings.
So if you'd like to use this recipe to make chicken wings (for a Superbowl or New Year's Eve party, maybe?), and you can't find them in the supermarket, pop into your local butcher. Even the butcher may only have frozen wings, but that's OK…
Another point to mention about chicken wings. If like me you didn't know too much about chicken wings until you came across this recipe (!), you didn't know that sometimes you buy them 'whole' and other times they are separated into the drumettes and the wingettes.
Here in Australia they tend to be whole, so if you'd like to separate them into drumettes and wingettes, there's an excellent photo tutorial in this post from Nagi at Recipe Tin Eats. It's just below her recipe at the bottom of the post! She also has a video that shows the process really clearly.
Pro tip for using frozen chicken wings: You can use frozen chicken wings if you like. To defrost them quickly and easily, just soak them in cold water for half an hour, then dry on kitchen paper. Then marinate and cook as normal.
Can you freeze marinated chicken?
Absolutely. In fact, as it defrosts, it will continue to marinate. So, yum…
Just prepare as normal and then throw the sealed bag of marinated meat into the freezer until you want to use it. In an ideal world, I'd recommend taking the marinated meat out of the freezer the day before you want to cook it. Defrost it in the fridge overnight.
Don't do this however if you bought the meat frozen. It's best not to refreeze it for food safety reasons.
You can also freeze any leftover cooked chicken if you like – for up to 4 months. As long as it hasn't been hanging around out of the fridge for very long.
What to serve with it
This chicken is incredibly versatile. I cook it ahead and take it on picnics.
It's also great served as a crowd pleasing meal with sides – may I suggest these amazing Greek potatoes and a Greek salad? Also don't forget a dish of delicious Greek tzatziki sauce to go on the side! This is a meal that words winter or summer, for midweek meals or for guests.
Alternatively you can serve them as part as a Greek style 'mezze' or sharing platter. These crispy brussels sprouts with tahini sauce and almonds are incredible, or grab more ideas below!
Psst… you could even cook it on a BBQ!
An even easier chicken recipe
If you like this recipe but you're interested in a chicken recipe that's EVEN EASIER, may I suggest these easy baked chicken thighs? They're our go-to chicken thigh recipe!
More amazing Mediterranean recipes that you must try!
Or browse all my Mediterranean recipes here
IF YOU MAKE THIS RECIPE, LET ME KNOW HOW YOU GET ON BY LEAVING A COMMENT AND RATING BELOW… AND DON'T FORGET TO SIGN UP TO RECEIVE ALL MY NEW RECIPES BY EMAIL!
FOLLOW ME ON FACEBOOK, INSTAGRAM, PINTEREST AND YOUTUBE.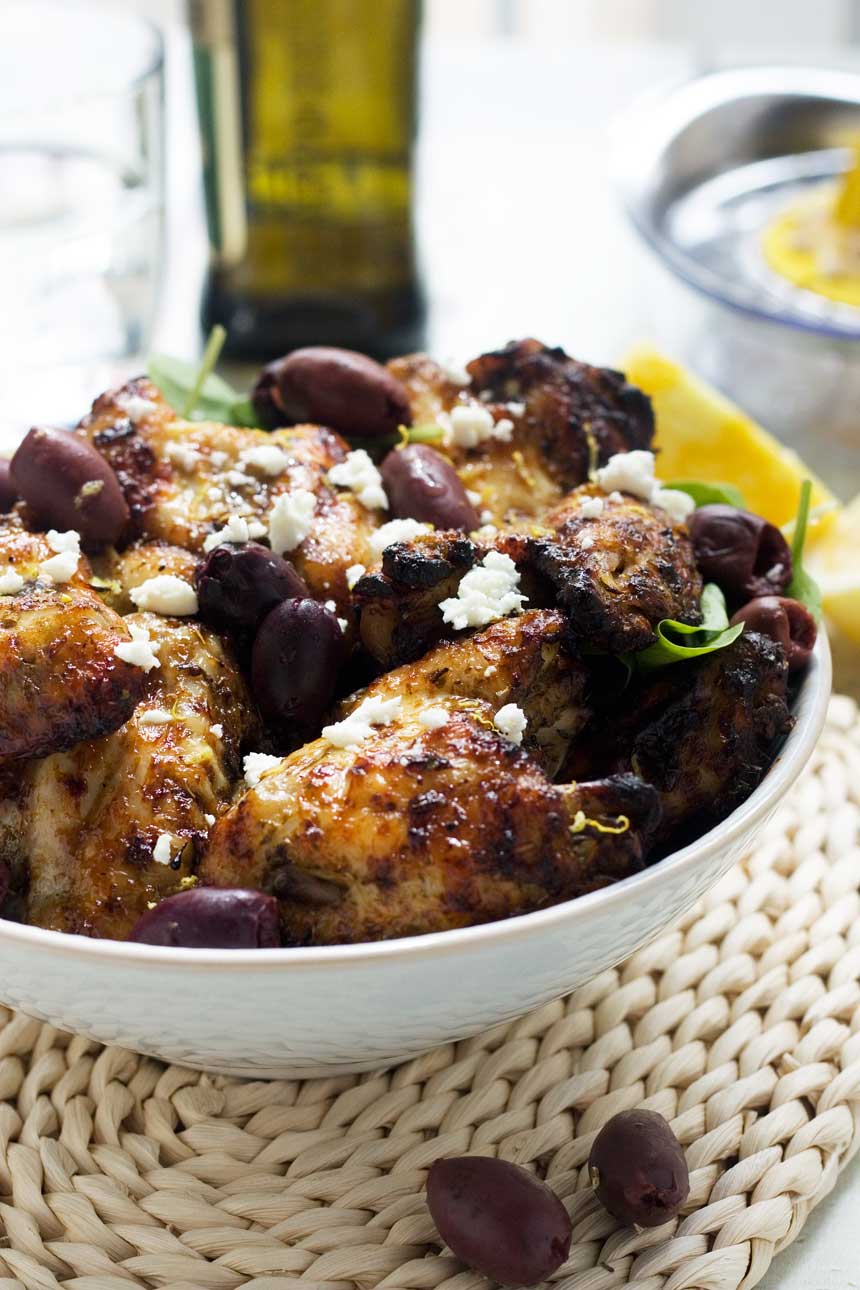 6-ingredient Greek Baked Marinated Chicken
Hands up who doesn't like marinated chicken…. Yep, thought so – there isn't a single hand. So pleeaase try these Greek baked chicken drumsticks, wings or thighs (your choice). They're sticky and caramelised and full of gorgeous Greek flavours.
Ingredients (UK/Australia? Click below for grams/ml)
3

pounds

chicken pieces

(drumsticks, wings and/or thighs – see notes)
Marinade
1/3

cup

olive oil

1

large lemon

(zest and juice)

7

garlic cloves

crushed

3

tablespoons

dried oregano

1½

tablespoons

honey

1½

teaspoons

salt

black pepper

to taste
Garnish
1

small lemon

for squeezing over at the end

a good sprinkle of crumbled feta & a big handful of olives

optional
Instructions
Pierce a few holes in the chicken wings with a skewer to help the marinade infuse into the flesh.

Put all the marinade ingredients into a big ziplock bag, then add the chicken pieces to the bag. Massage the bag to make sure all the chicken gets well coated in the marinade. Leave for the flavours to infuse for at least half an hour (overnight is even better!).

Preheat oven to 180C/350F. Line a rimmed baking tray with foil or baking paper and put a metal rack on the tray. Spray the rack with oil.

Shake any excess marinade off the chicken (reserve the marinade) and place on the rack (skin side up if using wings or thighs). Bake for 35 to 55 minutes or until sticky and golden and the juices run clear when the chicken is poked.

Mix the tablespoon of honey into the reserved marinade. Then turn and baste the chicken all over 2 to 3 times during cooking.

Pile the cooked chicken pieces into a bowl. Drizzle with the juice of ½ a lemon and garnish with lemon slices and the feta and olives, if using.
Notes
Original recipe from Baked Wings Cookbook by Nagi from Recipe Tin Eats.
How many the recipe serves
I would say this amount of chicken is good for about 4 to 6 people as an appetizer or part of a meal.
What chicken pieces are best for this recipe?
Honestly – it's your choice. You can use drumsticks, thighs, wings, or a mixture. Cooking times will vary a little of course, but as a general rule it's 35 to 55 minutes.
The chicken needs to be golden, sticky, and of course properly cooked in the centre. Use a meat thermometre if you prefer.
Take the different kinds of chicken out of the oven when they seem done if you're cooking a variety of drumsticks, thighs and wings. Generally though aim for around 45 minutes (more detailed notes about cooking different pieces of chicken in the post above!).
I find that skinless boneless thighs don't look as sticky and golden as the other chicken pieces, but they're still delicious!
Can you use frozen chicken?
Yes. I sometimes put the frozen chicken in the marinade, squish it around, then leave it to defrost in the marinade – in the fridge of course.
One little tip I picked up from my local butcher … I couldn't find any fresh wings (horror of horror). Nowhere I looked had them, so I bought frozen ones from the butcher. He told me just to soak them in water for half an hour to defrost them. This did the trick – just remember to blot the wings well on kitchen paper afterwards to dry them off if you use frozen too.
Can you freeze the chicken after cooking?
Yes again. Just wrap well and freeze for up to 4 months. Let defrost and reheat well before eating.
Nutrition
Calories:
714
kcal
Carbohydrates:
15
g
Protein:
44
g
Fat:
53
g
Saturated Fat:
13
g
Cholesterol:
174
mg
Sodium:
1037
mg
Potassium:
506
mg
Fiber:
2
g
Sugar:
11
g
Vitamin A:
388
IU
Vitamin C:
5
mg
Calcium:
95
mg
Iron:
4
mg