We might be into a new year, with the 'naughty food' season behind us, but healthier food doesn't need to mean boring. This broccoli, apple and bacon salad is delicious, with a perfect balance of flavors!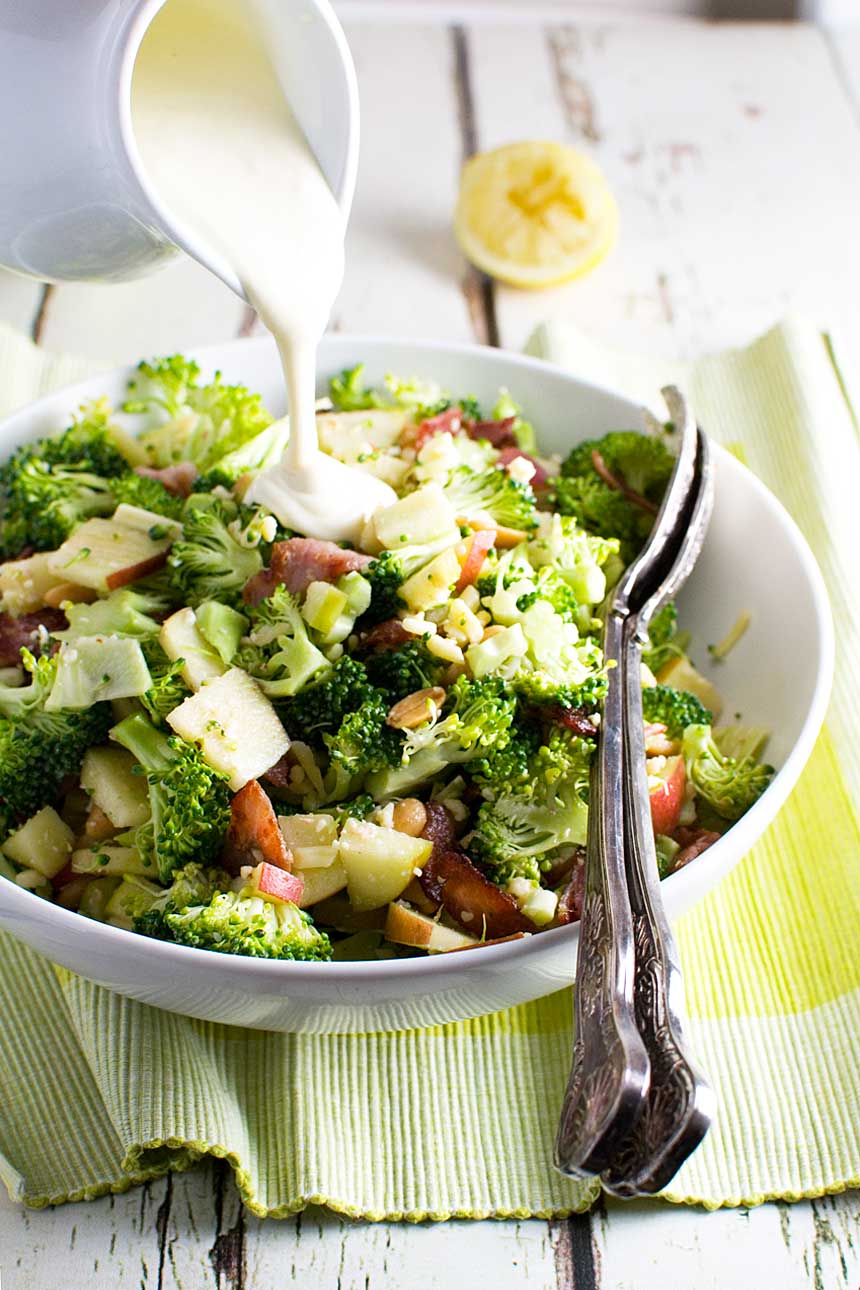 I'm writing this on my very first day of maternity leave. Well, the start of proper maternity leave, that is – we won't count the Christmas and New Year holidays that everyone gets, right?
And ooooh, am I enjoying myself already! I have 101 things to do – cleaning this, cleaning that, washing and tidying and cooking the other. But how lovely it is to get up just a little bit later (or in my case at the moment haul myself up with my arms and roll myself out of bed); to do my little jobs in my own time and with plenty of breaks in between; to meet a friend for coffee if I like; then to sit down and write my blog post at my leisure, with the Pioneer Woman cooking up a storm on the Food Network in the background.
I'm genuinely sorry if I'm making you a bit envious. It's just that I haven't really taken any kind of proper break from working full-time for 15 years AT LEAST. So it's kind of fun to revel in it!
I'm already at 37 weeks, so in theory baby could arrive at any time. I wouldn't mind the little wriggler arriving a smidge early, as I can't wait to meet him or her, but not too early baby, please – I'm enjoying this beautiful thing they call maternity leave a little too much!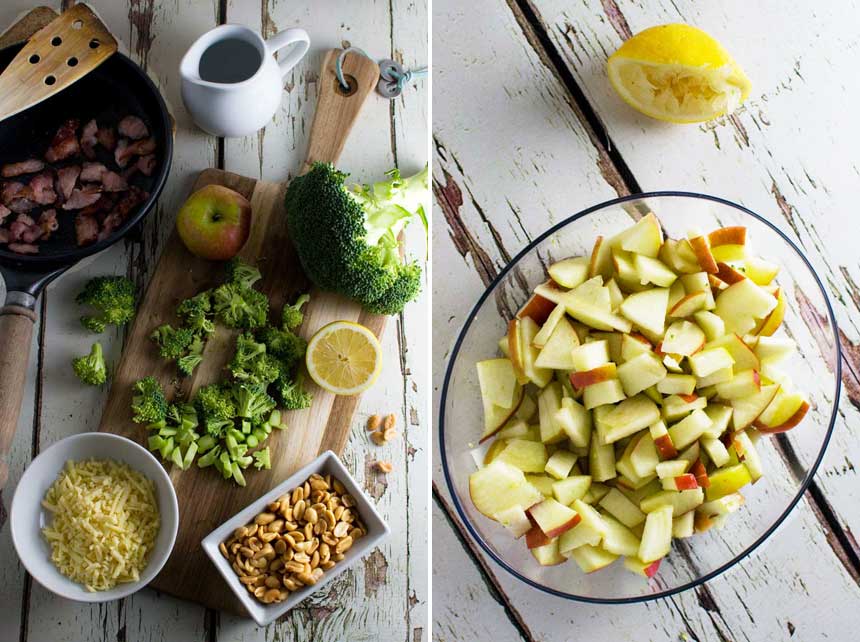 So life might be anything but ordinary for me right now, but I must admit it feels nice to get back to eating somewhat 'normal' food. I'm not exactly going on a diet – because we've still got far too many Christmas chocolates hanging around the house, not to mention I've got a really good excuse not to – but it's nice to start getting back to healthier and lighter meal choices.
I figure a great place to start is with something like this tasty broccoli, apple and bacon salad. It's not saintly (erm, bacon and cheese, anyone?), but it's certainly got plenty of goodness in it.
And it's all bound together mostly with yogurt, not mayo! (insert halo emoji here)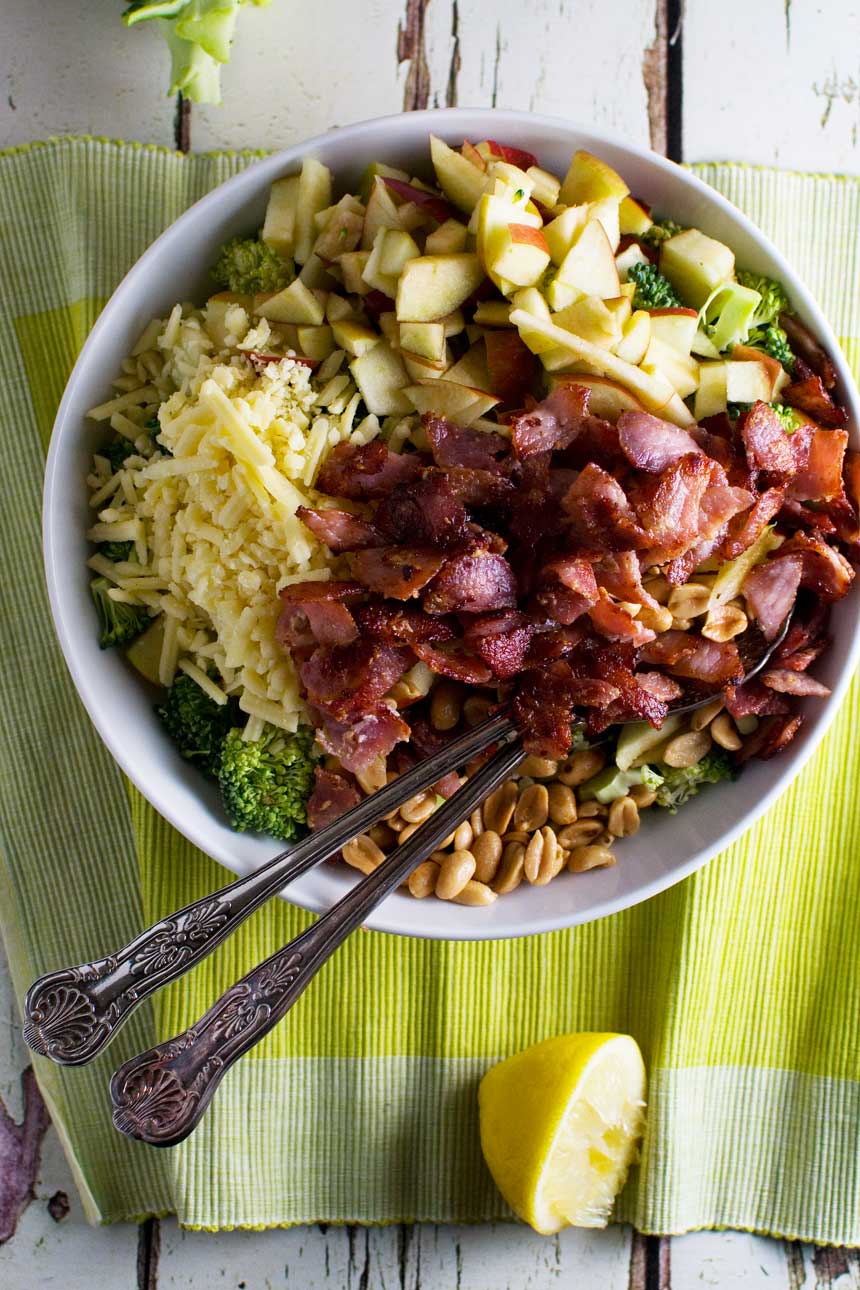 If you're the kind of person who likes an explosion of different flavours and textures in your mouth all at one time, then this salad is definitely for you. There's:
… crunchy little raw florets of broccoli
fresh, juicy apple
sharp cheddar cheese
super flavoursome bits of bacon
salty peanuts
the subtle zing of a little raw onion, if you like
all bound together in a creamy (but on the light side) dressing made of Greek yoghurt, a little mayonnaise, mustard and honey.
I enjoyed a bowl of this salad by itself, with a little piece of toasted bread, and it was very satisfying indeed. I think it would be great as a side with roast chicken, quiche, or fish, too. It could also be a great make-ahead take-along buffet dish. If you soak the apple in lemon juice before adding it to the salad, the apple doesn't go brown and you can quite happily keep it in the fridge for a day or so.
If you do make this salad ahead, though, it's best to add the peanuts at the last minute because they don't hold onto their crunchiness for too long.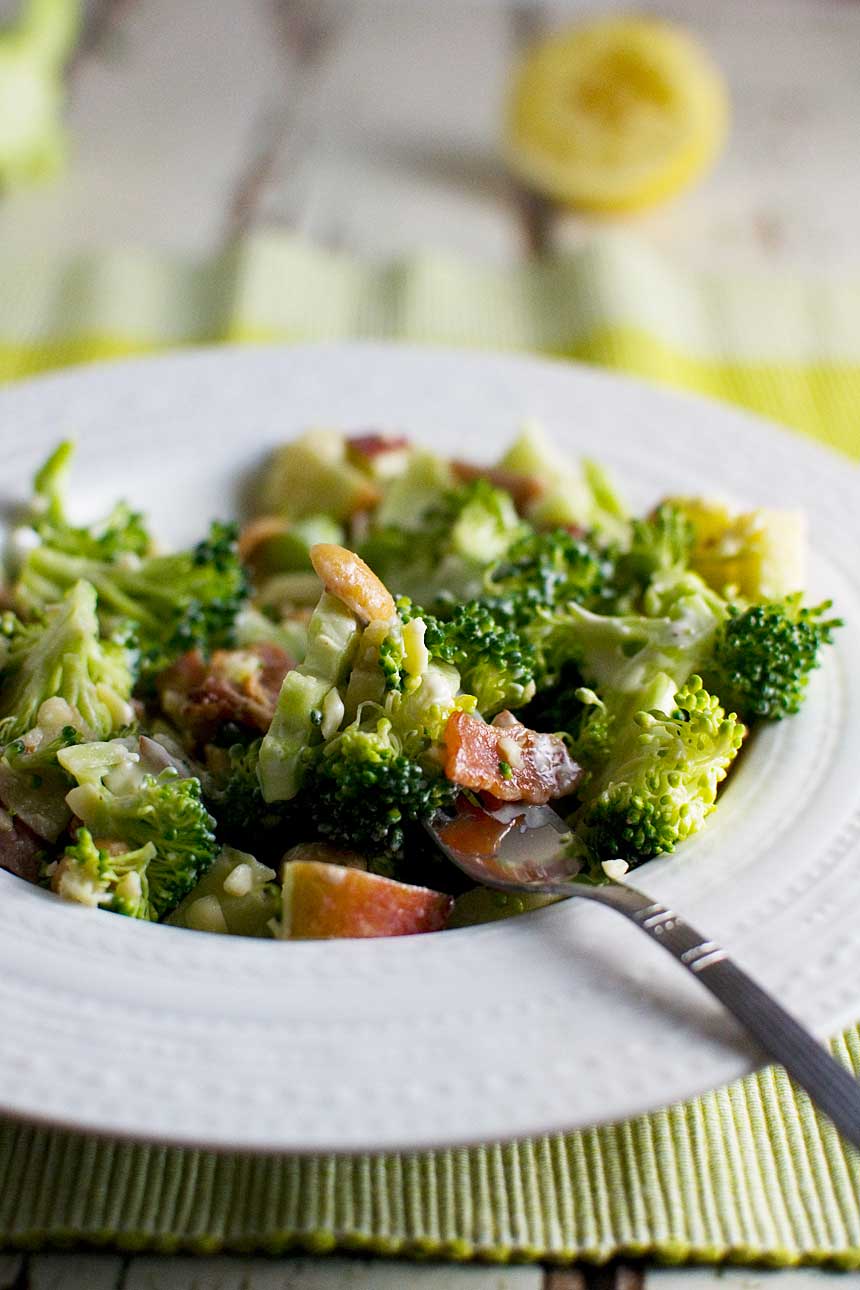 Those of you who've been following along for a while might have noticed that I've actually posted this salad before. It was a LONG time ago though, the recipe needed a bit of tweaking, and those piccies needed a major upgrade!
So how's 2017 been for you so far? Are you happy to get back to 'normal' (both food and life!) or are you pining after the holidays already?
HAPPY NEW YEAR!!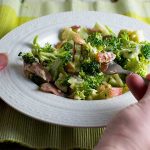 An even healthier broccoli, apple and bacon salad
A crunchy, salty, crispy, zingy, tangy salad made with broccoli, apple, bacon, cheese and peanuts - and a healthier dressing made mostly with Greek yogurt. So delicious by itself or served with grilled fish or meat.
Ingredients
For the salad
5 - 6

slices of bacon

sliced into small pieces

a little oil of your choice for cooking the bacon

1

broccoli

(1 small to medium head), thoroughly washed

2

apples

(small)

1/2

lemon

1

onion onion

small, chopped finely

1/2

cup

cheddar cheese

grated

1

large handful of salted peanuts

freshly ground black pepper
For the dressing
1/2

cup

Greek yoghurt

2

tablespoons

mayonnaise

2

teaspoons

mustard

1

tablespoon

honey
Instructions
Fry the bacon in the oil until starting to crisp, then set aside (8 - 10 minutes).

Discard the 'woody' end part of the broccoli stalk, then chop the rest of the stalk finely. Then separate the broccoli heads into really small florets. Put the florets and chopped stalk into a large bowl.

Slice the apple (no need to peel) into small pieces and put them into a small bowl. Squeeze the juice of the lemon all over the apple, then add the apple and any extra juice to the large bowl with the broccoli.

Now add the onion, cheese and peanuts.

Stir all of the dressing ingredients together well in a medium-sized bowl, then add to the salad. Add black pepper to taste. Mix really well.
Recipe Notes
You could substitute the apple for grapes and the peanuts for pecans or walnuts if you like. This salad is also delicious with a handful of raisins added.
Nutrition Facts
An even healthier broccoli, apple and bacon salad
Amount Per Serving
Calories 210
Calories from Fat 99
% Daily Value*
Total Fat 11g 17%
Cholesterol 19mg 6%
Sodium 223mg 9%
Potassium 552mg 16%
Total Carbohydrates 19g 6%
Protein 11g 22%
* Percent Daily Values are based on a 2000 calorie diet.

Why not save this to your Healthy Food or Salads Pinterest board for later? 🙂
Would you like to follow me on Pinterest, too? I'm always pinning tasty food!